18 Top-Rated Tourist Attractions in Bath
We may earn a commission from affiliate links ()
Widely considered one of England's most attractive cities, Bath is famous for the archeological attraction from which it takes its name: its 2,000-year-old Roman baths.
Nestled in the Avon Valley between the Cotswolds and the Mendip Hills in the beautiful county of Somerset, Bath is also well known for its perfectly preserved honey-colored Georgian houses.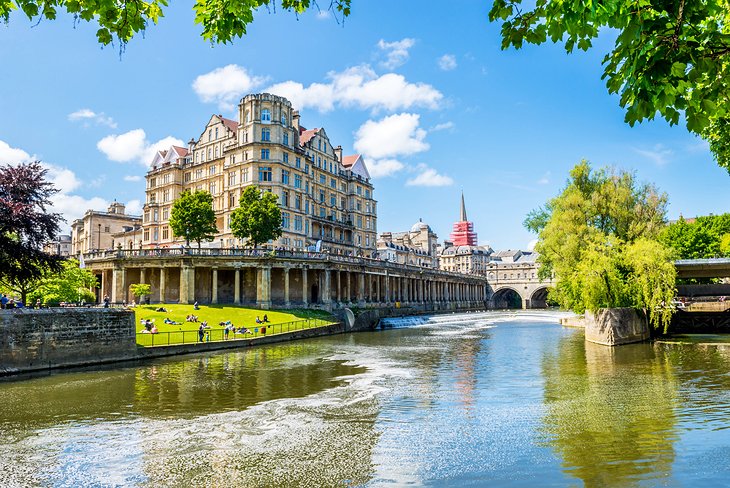 Today, some 500 of the city's buildings are considered of historical or architectural importance. Bath was granted World Heritage Site status in 1987, one of only a handful of such locations in the UK.
In addition to enjoying the city's spectacular architecture, parks, and gardens, popular things to do include exploring Bath's many museums, entertainment venues, and tourist attractions. And don't worry about getting lost. Handy maps and signage are located in most public areas and major intersections, making the job of finding your favorite points of interest that much easier.
Bath is well known for its many festivals and events, including the Bath Christmas Market, held mid-November to mid-December. Also noteworthy is the Bath International Music Festival, held over two weeks each May.
Learn more about what to see, as well as popular sightseeing opportunities and tours, with our list of the top things to do in Bath, England.
See also: Where to Stay in Bath
1. Visit the Historic Roman Baths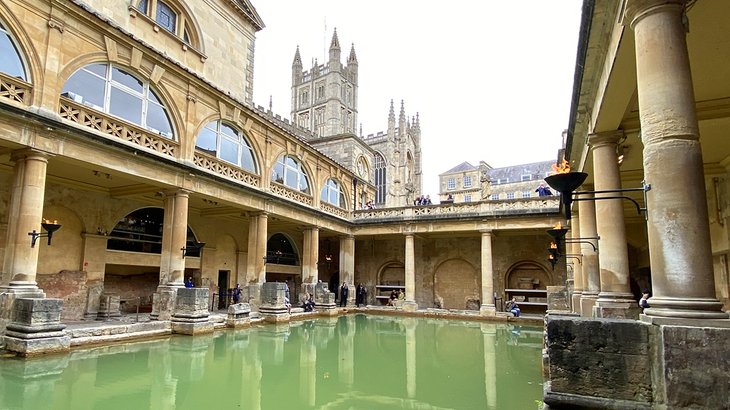 While the ancient Romans are credited for having established Bath's ancient hot springs as a place of relaxation and rejuvenation, legend has it their healing powers were discovered some 500 years earlier by a British king.
But it was the Romans who left their mark, building the city's famous Roman Baths and Temple of Sulis Minerva in 75 BCE around the largest of the city's three hot springs. It's not difficult to see the attraction: the water contains 43 different minerals, gushes from a depth of nearly 10,000 feet at a rate of 275,000 gallons a day, and is a constant 46.5 degrees Celsius.
Voted Britain's most romantic buildings, the award-winning Roman Baths and Temple are among the finest examples of Roman architecture remaining in England and attract more than 1.3 million visitors each year. Many of the artifacts found during various archeological digs, including altar stones and exquisite mosaics, are on display in the museum or around the Great Bath itself.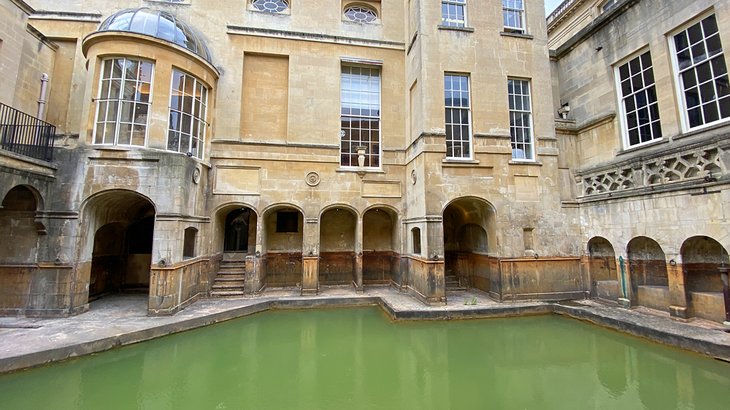 While regular free guided tours are available, those wanting to go at their own pace can pick up an excellent audioguide with their tickets. A version of this handy guide is also available for children, who are encouraged to engage with staff dressed in authentic period costumes. Tickets for the Roman Baths are timed and need to be booked in advance.
Feeling peckish after all that sightseeing? Book a table at the elegant Pump Room Restaurant in a setting that has been serving great meals and afternoon teas for over 200 years. Past guests have included no less than Charles Dickens and Jane Austen. Live music and samples of fresh spring water are included.
2. Explore Bath's Georgian Roots in Royal Crescent
Exploring Bath's perfectly preserved Georgian architecture is probably the second best excuse to visit this beautiful city. A great place to start your adventure is the Museum of Bath Architecture. This unique facility located in a former private chapel perfectly demonstrates how classical design influenced the city's buildings. It's also home to the incredibly detailed Bath Model, a magnificent 1:500 scale architectural model of the historic city center.
Next, walk to the northwest section of the city, where most of the best architectural examples are found. Check out Queen Square and Gay Street, with their beautifully symmetrical façades dating from the early 18th century. Next, head to the Royal Circus, a perfect circle of three-story homes with different classical orders (column types) on each level.
Finally, there's Royal Crescent. This monumental semicircular sweep of residential townhouses is famous for its breathtakingly uniform, palace-like façade. While most homes on the crescent remain privately owned, No.1 Royal Crescent is open to the public and provides a rare glimpse into what life was like for the wealthy, along with their not-so-wealthy servants, in the 1770s.
3. Take a Tour of Bath Abbey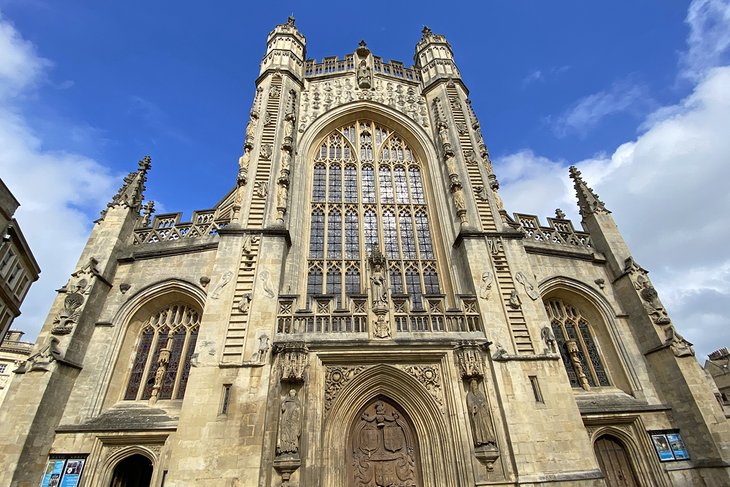 The Gothic cathedral of the Bishop of Bath and Wells, traditionally referred to as the Bath Abbey, was founded in 1499. According to legend, it was built after Bishop Oliver King experienced a vivid dream of angels climbing up and down ladders to and from heaven. He also heard a voice declaring: "The crown should plant an olive tree and the king restore the church."
Interpreted as a sign to rebuild the church, the site of which had been used by Christians as a place of worship since 757 CE, the dream was intricately immortalized in stone on the building's west side. A good time to visit for those with flexible itineraries is during one of the frequent music concerts or public lectures (check the abbey's website for dates and details).
There's also a guided tower tour program, which takes in the bell chamber, clock face, and roof. From here, you'll get a superb view over the city and the neighboring Roman Baths. However, it's a 212-step climb, but a rest area is available halfway up. For a truly memorable experience, an after-dark private tower visit is also available for couples.
4. Pulteney Bridge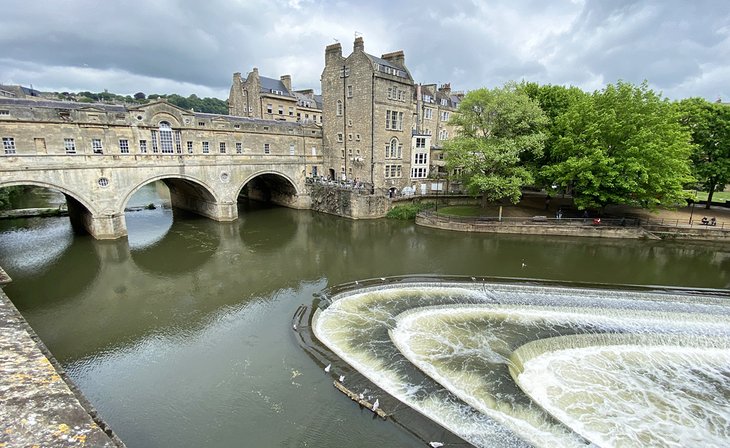 One of the most recognizable pieces of architecture in Bath, Pulteney Bridge is one of only a handful of bridges with buildings atop them that still exists. Completed in 1774 to connect central Bath to undeveloped land on the opposite side of the River Avon, it's considered one of the most iconic such bridges in the world, and even played a starring role in the film version of Les Misérables).
5. Get Pampered at Thermae Bath Spa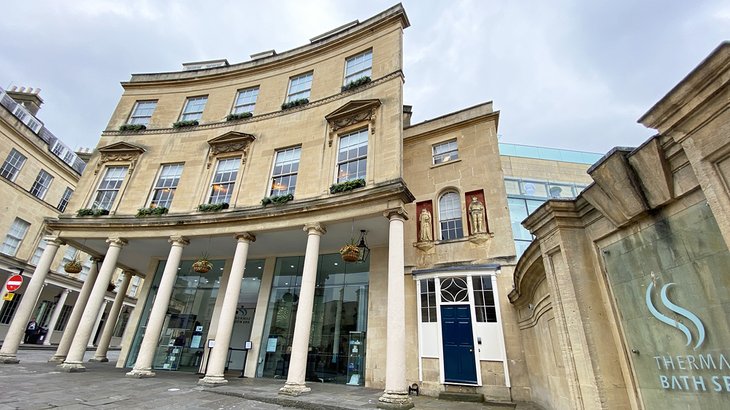 If you'd like to enjoy the same bathing experience as the ancient Romans who built the original baths here, you're in luck. A dip in the waters of Thermae Bath Spa, located across the street from the Roman Baths, is a unique opportunity to experience the same thermal waters that have drawn people as far back as the Celts to the area for thousands of years.
The facility itself is a pleasing architectural blend of a new modern glass-faced structure built in 2006 and original Georgian-era buildings. The main bathing area, the New Royal Bath, consists of a stunning open-air rooftop swimming pool plus an indoor pool, two thermal baths, two steam rooms, as well as an ice chamber. Also worth checking out are the original 18th-century "hot bath" and the delightful garden-side wellness suite.
6. Take a Peek inside the Cross Bath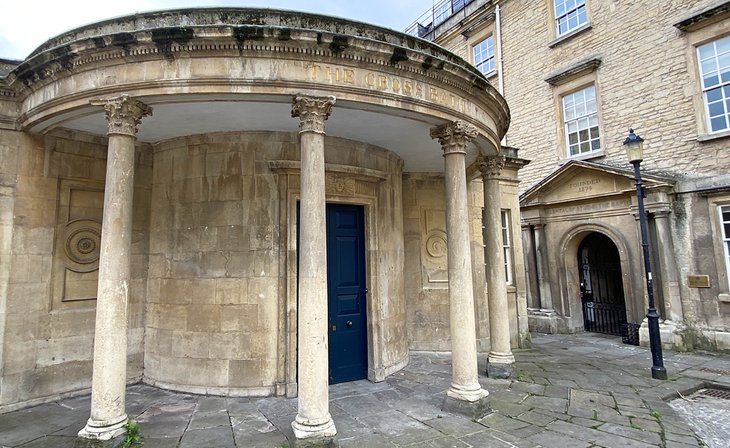 Just a hop, skip, and a jump away from Thermae Bath Spa, and operated by the same company, is the Cross Bath. This historic spa facility provides a unique opportunity to take a dip in the city's ancient waters.
A highlight of a visit to this fully-renovated 18th-century building includes having access to the original open-air thermal bath. Adding to the fun is the fact that only 10 guests are permitted at a time.
7. Get Your Art Fix (and More) at the Holburne Museum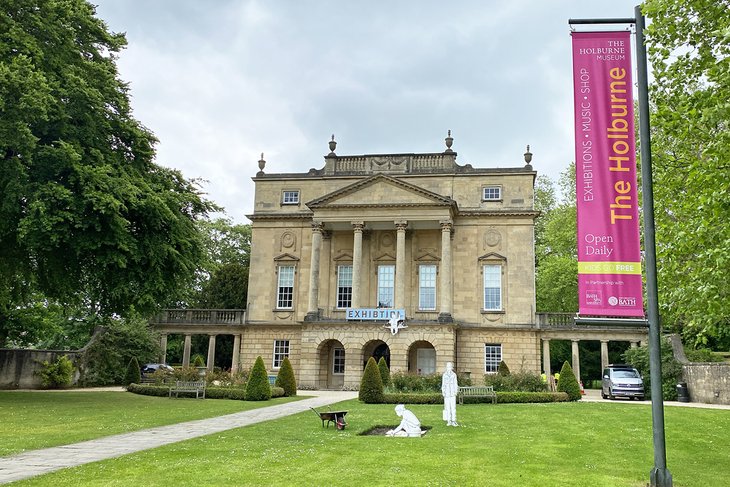 The mainstay of the Holburne Museum's excellent collection of art includes paintings by Gainsborough, Reynolds, and Stubbs. There's also a large collection of 18th-century silver, Wedgwood porcelain, Renaissance bronzes, and early period furniture.
Housed in the former Sydney Hotel, the museum now includes a garden café overlooking lovely Sydney Gardens, famous as Britain's only surviving 18th-century pleasure gardens.
8. Get Dressed Up at the Fashion Museum Bath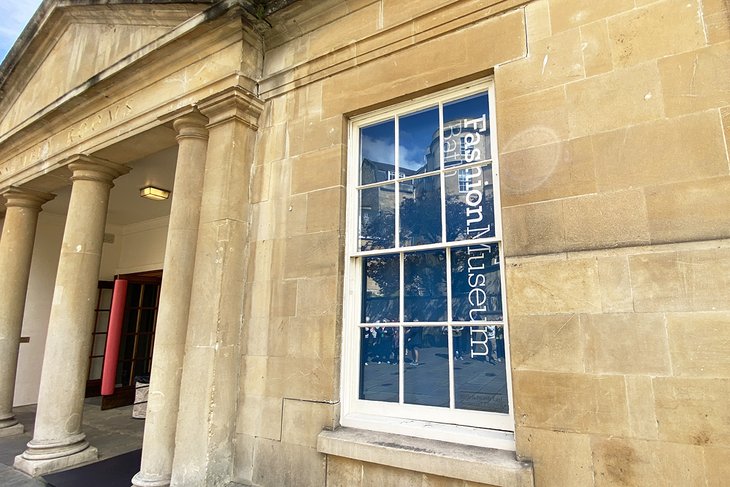 After taking in Bath's splendid architecture, you'll no doubt want to learn a little more about the styles and fashions that would have adorned the residents of the city's many exquisite homes. Housed in the architecturally stunning Assembly Rooms, the Fashion Museum contains a world-class collection of contemporary and historical clothing, including 150 dressed figures and more than 30,000 original items dating from the late 16th century to the present day.
Established in 1963, the museum's displays cover a variety of themes such as men's and women's wear, day and evening dress, as well as modern alternative fashion.
Highlights include a unique "dress of the year" wardrobe of dresses from the best-known dressmakers and designers, which have been collected since the museum's opening, with one new example being added each year. Examples can be seen from such leading brands as Mary Quant, Giorgio Armani, and Ralph Lauren.
9. Sally Lunn's Historic Eating House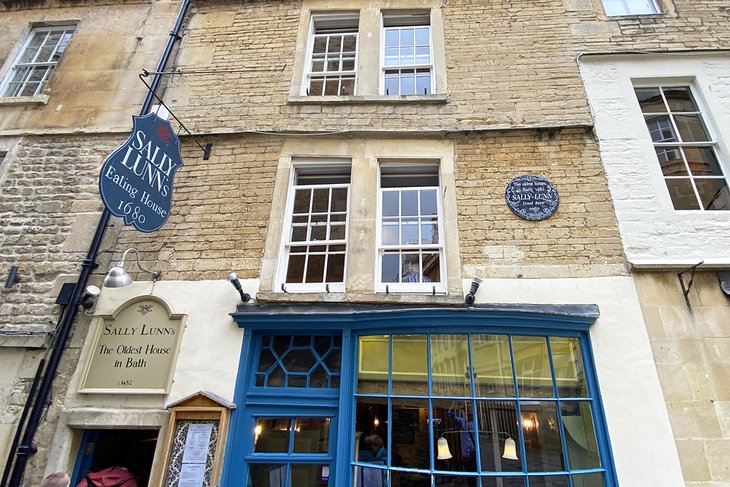 Dating from 1482 and rebuilt in 1622, this living museum and historic eating house is famous for its delicious Sally Lunn's Buns, made from secret traditional recipes. Actor Nicolas Cage is reportedly a fan of their cinnamon butter topping. And he's right: they're delicious.
Also try the homemade lemon curd with clotted cream bun. So popular are they, you'll more than likely find yourself lining up with people from across the globe, and versions of the bun are popular in places like Williamsburg, Virginia, and New Zealand.
Just steps from Bath Abbey, the cellar museum demonstrates how the site has been used to refresh weary travelers since Roman times. Highlights include the original kitchen, an old oven dating from 1140, along with the only visible remains of medieval Bath.
The museum also features a fascinating display portraying how parts of the old city were raised an entire story to save it from flooding, and, of course, to allow posh Georgians a better place to promenade.
10. Herschel Museum of Astronomy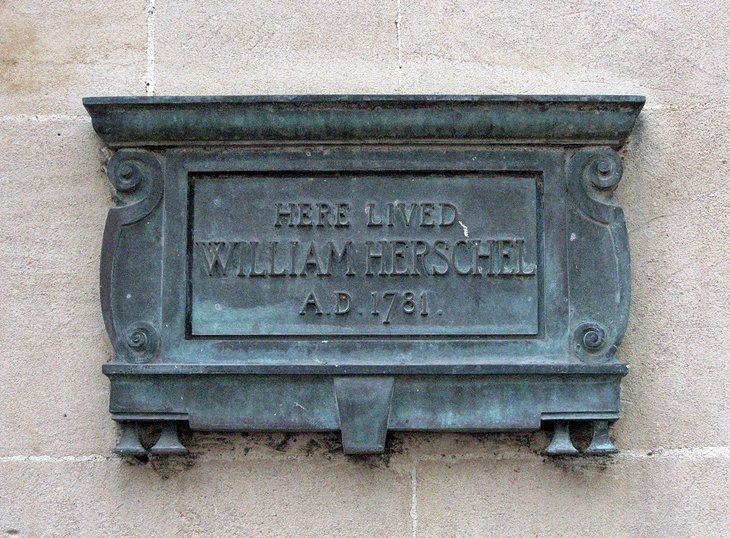 Housed in a beautifully restored Georgian townhouse, the Herschel Museum of Astronomy contains numerous artifacts related to the acclaimed musician and astronomer, William Herschel.
Notable things to do at the museum include viewing original pieces of music and numerous instruments, as well as many references to his greatest achievement, the discovery of the planet Uranus in 1781. This groundbreaking feat was made using a telescope Herschel designed and constructed himself in this very building.
Self-guided audio tours are available, with many replicas of Herschel's equipment being available for visitors to handle and experience. A variety of fun educational programs are also available in the museum and its workshop. An authentic Georgian-era garden is also available to explore.
Another itinerary-worthy attraction is the Museum of Bath at Work. Showcasing 2,000 years of Bath's commercial development, the museum's highlights include a reconstruction of a Victorian engineering and mineral water business that ran unchanged through to the 1960s, a stone quarry and crane, as well as a fully functioning cabinet maker's workshop.
11. The Jane Austen Centre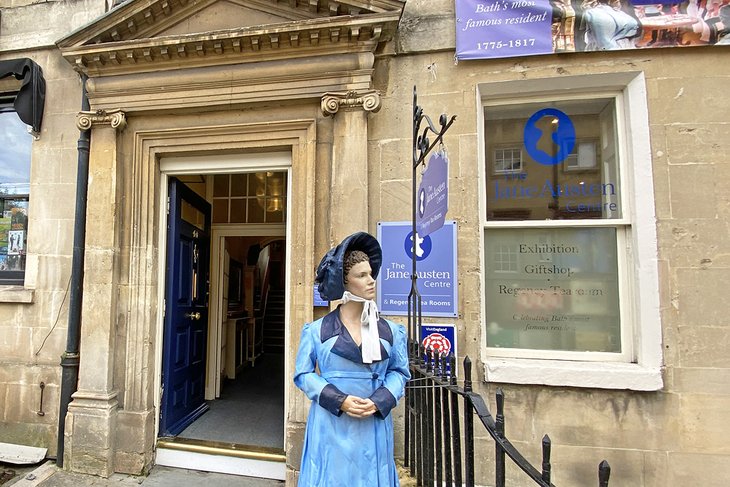 Fans of English literature, and Georgian-era literature in particular, will want to make sure a visit to the Jane Austen Centre on historic Gay Street is included in their Bath travel itinerary. Austen famously vacationed in Bath before living here full-time from 1801 to 1806, a city that, at the time, was a gathering place for the country's upper classes, drawn by its famous baths, rural setting, and vibrant social scene.
Highlights of a visit include touring the well-preserved former townhome with a period-costumed guide (guided tours of other city landmarks are also available), and enjoying a wide variety of displays and materials relating to the author's time in Bath. There's even a waxwork of the author, constructed over a two-year period with guidance from forensic scientists to ensure it resembles Austen (of whom no realistic images exist) as closely as possible.
Another worthwhile place to visit is the center's tearoom, where you can enjoy an authentic high tea experience. There and there's also a well-stocked shop carrying the author's works and other souvenirs.
12. Mary Shelley's House of Frankenstein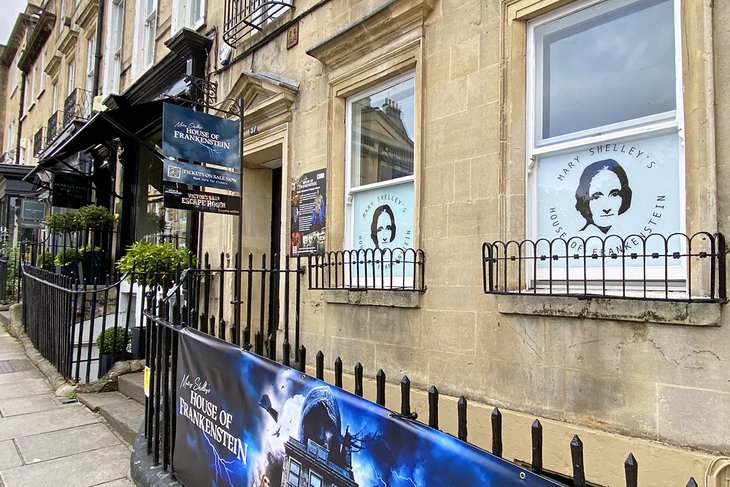 Located just a few steps up from The Jane Austen Centre is one of Bath's newest places to visit: Mary Shelley's House of Frankenstein. Opened in 2021, this one-of-a-kind attraction is an interesting mix of museum and immersive fun.
In addition to the informative displays outlining Shelley's sometimes tumultuous relationships and at times tragic life, it also offers a fascinating look at how her famous story sparked a virtual industry of monster-related literature and, ultimately, cinema.
As you make your way, you'll see, and in some cases have a chance to play with, a variety of interactive devices that help drive the story along until, eventually, you find yourself face-to-face with the monster Frankenstein just as Shelley wrote him.
13. See a Show at Theatre Royal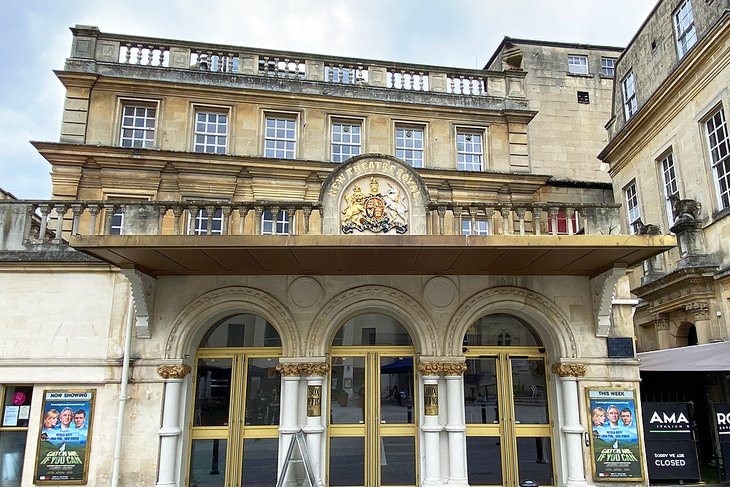 Opened in 1805 and host to some of the biggest stars of live theater ever since, the spectacular Theatre Royal was completely renovated in 2010. Today, it's considered one of the finest examples of surviving Georgian-era architecture in England.
In addition to the opportunity to enjoy first-rate theatrical and musical performances, a visit will expose you to the building's stunningly decorated interior. Highlights include the ornate plasterwork, plush seating, and large chandelier in the 900-seat auditorium, notable for its three separate galleries. It's also rumored to be haunted, its most famous ghost being the perfumed Grey Lady.
In addition to its ever-changing roster of visiting and locally produced performances, a number of annual events are also held here, including the popular Shakespeare Unplugged Festival. Theatre Royal also houses a second stage, the Ustinov Studio. This studio theater opened in 1997 and offers an eclectic mix of theater, dance, music, and comedy.
14. The Museum of East Asian Art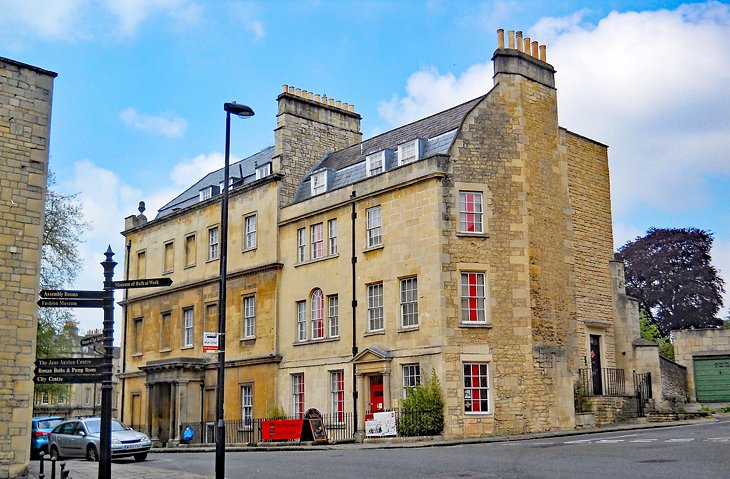 Be sure to add the Museum of East Asian Art (MEAA) to your list of Bath attractions to explore. Housed in another of the city's gorgeous old Georgian townhomes, this fascinating museum opened in 1993 and contains many fine collections of carvings made from jade and bamboo.
There are also many bronze sculptures and ceramics from across East and Southeast Asia, including Korea, Japan, and China, in the collection. Some of the 2,000-plus items you'll enjoy seeing in this one-of-a-kind museum date back more than 7,000 years.
15. Take a Trip to the American Museum and Gardens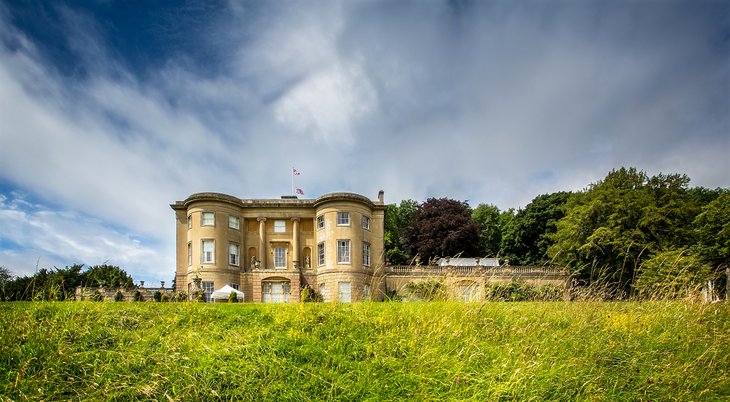 Set amid 120 acres of stunning Somerset countryside just three miles outside of Bath, the American Museum and Gardens is home to a superb collection of antiquities from colonial times right up to the Civil War years. Set in a majestic 19th-century manor house, this fascinating museum was founded by a couple of antique collectors to house their vast collection of American decorative arts, and is the only museum of its kind to be located outside the US.
Highlights include authentic American-styled rooms and furnishings representing various regions and periods from the country's history, along with original quilts, maps, textiles, and folk art. Exhibits dealing with contemporary events are also held and are rotated annually.
Be sure to also allow time to explore the museum's magnificent gardens and grounds. A particularly fun thing to do is to wander the replica of George Washington's Mount Vernon garden. There is also an arboretum to explore, as well as a pleasant trail that takes you past a wide variety of trees native to the US.
The museum's recent addition is the New American Garden, which includes an impressive rose collection along with shrubs and perennials. Time your visit right, and you can participate in a variety of living history programs, including reenactments of battles and events from America's rich history. There's also an on-site gift shop selling a range of related souvenirs.
16. Explore the Victoria Art Gallery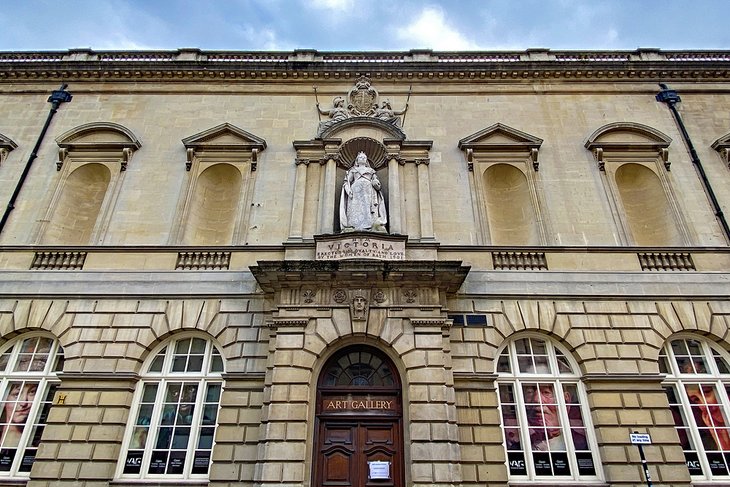 Since throwing open its doors to the public for the first time in 1900, the world-class Victoria Art Gallery has remained one of Bath's most-visited museums. Named after Queen Victoria, who that same year celebrated her diamond jubilee, the museum contains superb collections of works by the likes of such well-respected artists as Gainsborough, Turner, and Sickert.
Additional exhibitions may feature items from the gallery's impressive collections of pottery, porcelain, glass, and watches, and are rotated frequently. As well as being of interest to adult visitors, there are also plenty of fun things for kids to do here, including popular activities such as crafts and drawing.
17. The Bath Festival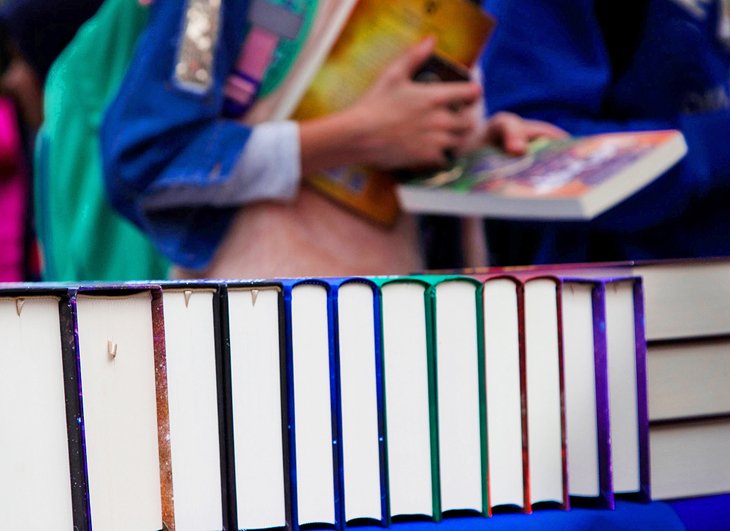 Picking up where the old Bath International Music Festival, established in 1948, left off, the 17-day-long Bath Festival is an exciting multi-arts event that continues to draw huge crowds of festival-goers to the city each May. Music, of course, continues to play a large role in the festival, with everything from jazz to classical to folk and international music being included.
A must-attend highlight is the Party in the City event. This exciting evening of music is free to enjoy, with upwards of 2,000 performers in attendance from various music genres playing at multiple venues across Bath. There's also a strong literary component, which includes everything from poetry to contemporary fiction.
18. Prior Park Landscape Garden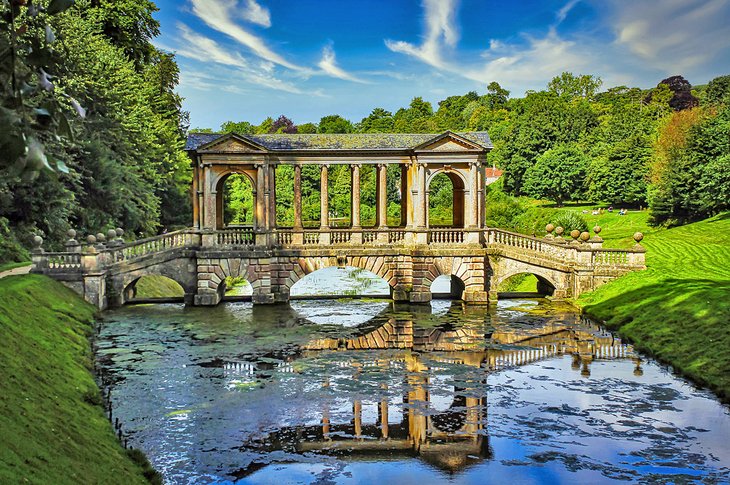 Just two miles southeast of Bath is one of the most picturesque rural settings to be found anywhere in England: Prior Park Landscape Garden. Built between 1735 and 1750, Prior Park itself was the creation of renowned architect John Wood, whose design is considered to be one of the best examples of the Palladian-style mansions so popular during the period.
But it's the beautiful gardens, designed by poet Alexander Pope and famed garden architect Capability Brown, that so define this National Trust property, and which make it a must for any Somerset itinerary.
A focus of any visit should be exploring the magnificent and extremely photogenic Palladian bridge, one of only four such bridges still standing worldwide. Other features of note include a picturesque Gothic temple, a grotto, and a good-sized serpentine lake.
In fact, so pleasing an experience is wandering this property that you'll certainly want to take your time. This is especially true if you combine it with a walk along the Bath Skyline pathway, which can be joined close by.
Also worth doing is taking one of the park's first-rate free guided tours. These 90-minute walking tours include wildlife and fungi excursions, a head gardener option, as well as seasonal explorations. Autumn is a good time to visit for the colors and the smaller crowds.
Where to Stay in Bath for Sightseeing
Thanks to its status as one of the most visited small cities in England, Bath offers no end of choices when it comes to finding top-rated accommodations close to the city's attractions, most of which are located in the heart of this ancient city. Here are some highly rated and conveniently located hotels we recommend that are close to the Roman Baths and the city's other top cultural attractions.
More Related Articles on PlanetWare.com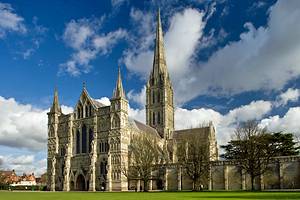 Easy Day Trips: A great excursion from Bath is to make the 40-minute drive northwest to the larger and equally interesting city of Bristol. The country's oldest harbor is found here and is the place from which John Cabot began his epic voyage to the New World in the late 15th century. A visit should also include Bristol Cathedral, SS Great Britain, the world's first-ever iron-hulled passenger ship, and the historic city center.
Another port city to visit is Southampton, located a 90-minute drive southeast of Bath. Here, you'll want to explore the still intact medieval walls and historic homes, as well as the city's maritime connections along the Titanic Trail.
The tourist attractions of Salisbury are an hour's drive in the same direction. This historic city is famous for its magnificent cathedral and its many well-preserved historic buildings.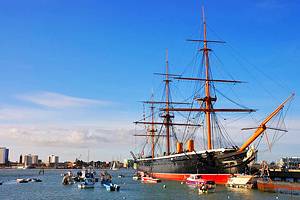 Easy Day Trips (Part Two): The lovely city of Winchester is a popular spot to visit from Bath, just 90 minutes east by car. You'll of course want to visit Winchester Cathedral, as well as nearby Highclere Castle, forever immortalized as the ancestral home of the fictional Crawley family of Downton Abbey fame.
Just a little farther beyond Winchester is Portsmouth, home port of the Royal Naval Museum and HMS Victory, perhaps the country's most famous warship.
Another important naval town is Plymouth, a two-hour drive southwest and worth a visit for its fortifications and the Mayflower Museum, which commemorates the journey of the Pilgrims to North America.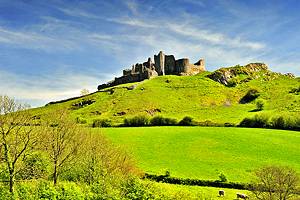 Wales Watching: Thanks to its location, it's easy to cross the Bristol Channel and explore all the highlights of Wales from Bath (it's just over 30 minutes' drive away). Make your first stop Cardiff, a popular destination for the majestic Cardiff Castle and the reconstructed Cardiff Bay area. From here, you're only a few miles from one of the most beautiful parts of South Wales: Brecon Beacons National Park.