11 Best Beaches in Bournemouth, England
Consistently ranked among the top beaches in England, Bournemouth's beaches occupy over 10 miles of beautiful Dorset coastline. Much of this lovely, uninterrupted stretch of sand is easily accessible from a wide promenade that connects Poole in the west with Southbourne in the east.
All told, Bournemouth and the surrounding region boast no less than 14 first-rate beaches, from busy pier-side affairs like West Cliff and East Cliff beaches to quieter beaches far from the maddening crowds. Of these, no less than nine have been awarded coveted Blue Flags for their clean water and well-maintained sand.
To help you find the stretch of sand that's best suited to your needs and preferences, be sure to review our handy guide to the top beaches in Bournemouth, Dorset.
1. West Cliff Beach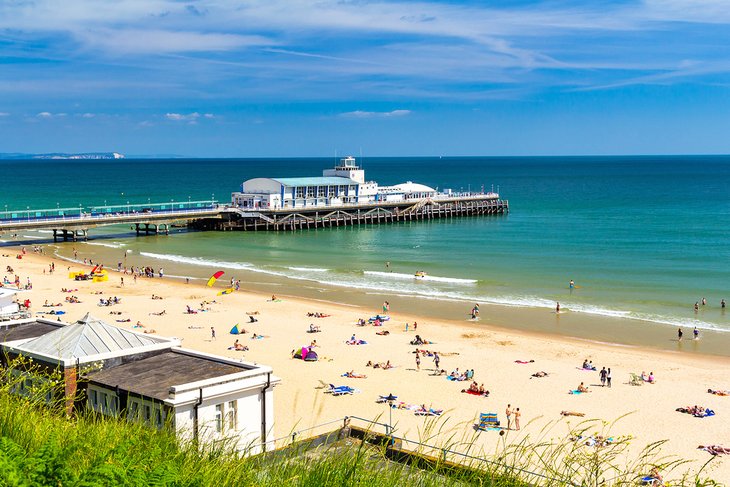 Also known as West Beach, West Cliff Beach is very often the first Bournemouth beach visitors will experience due to its proximity to the downtown core. Located to the west of Bournemouth Pier, it's steps away from some of the top things to do in Bournemouth, such as the Observation Wheel and Oceanarium.
This, plus its location relative to amusements, shopping, and entertainment opportunities, makes West Beach one of the best beaches in Dorset for families.
It also, however, makes it one of the busiest; if you're planning on making a day of things, try to arrive early to claim your spot on its mile-long stretch of soft sand. There's also a dedicated Kidzone area for children to play in that's organized by the local lifeguard services.
In addition to lifeguard stations, West Beach features a variety of useful amenities. Along with beach hut and deck chair rentals, visitors have access to washrooms and change facilities.
It's also backed by the wide West Undercliff Promenade, which connects it to other beaches along Bournemouth's seafront, as well as popular beachside patios including The Beach Hut as well as WestBeach, one of the town's best seafood restaurants.
Address: Westcliff Undercliff Drive, Bournemouth, Dorset
2. East Cliff Beach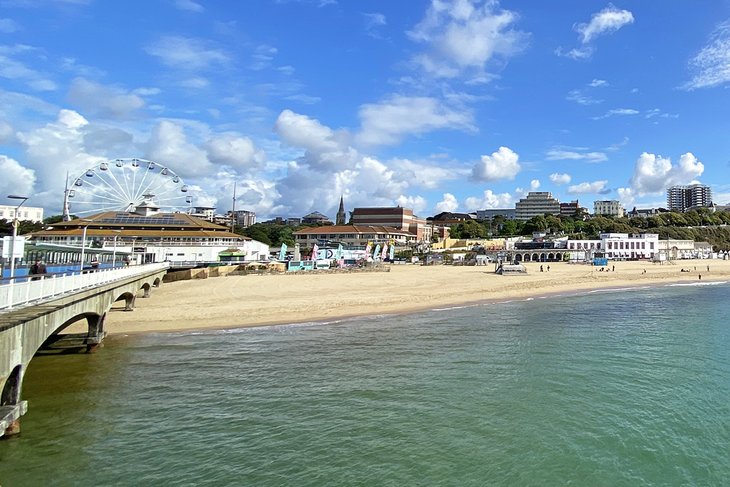 Often simply referred to as East Beach, East Cliff Beach occupies over a mile of soft, clean sand to the east of Bournemouth Pier.
Very much the equal to West Cliff Beach on the other side of the pier, the decision as to which beach to tackle often boils down to whether you're looking for a broader selection of fun things to do on the waterfront.
In addition to beach hut and deck chair rentals, here you'll find a variety of services set up to satisfy adventurers. East Beach rental services can provide everything from kayaks to paddleboards and Jet Skis, as well as sailing, windsurfing, and kitesurfing experiences.
Afterwards, rent a bike from the helpful folks at Front Bike Hire and explore the nearly 10-mile-long promenade connecting Poole to Southbourne. Beach-side exercise stations also dot the shoreline and come complete with tips and instructions, and volleyball courts are also available.
Popular eateries here include Harry Ramsden's, known worldwide for its fresh and tasty fish and chips, and the popular Prom Kiosk, which offers ice creams and snacks.
There's also a dedicated play area for smaller kids, lifeguard services, and public washrooms with changing areas.
Address: Eastcliff Undercliff Drive, Bournemouth, Dorset
3. Durley Chine Beach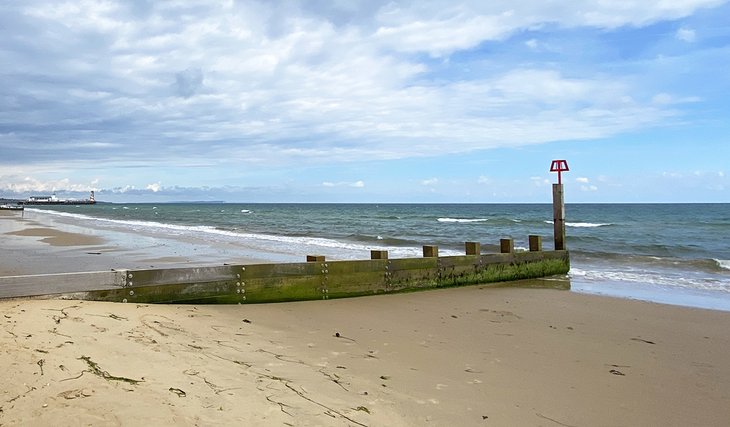 As you venture westward along the Bournemouth seafront in search of other spots to lay your beach towel, you'll notice that many of the beaches are referred to as "chines." This stems from the narrow gorges, or chines, that have eroded enough over time to make for natural entranceways to the beaches and waterfront.
The closest such stretch of sand to West Cliff Beach is Durley Chine. An easy 10-minute walk from the pier, the Blue-Flag-awarded Durley Chine Beach is a popular choice for families for its soft sand, clean waters, and gently sloping gradient offering easy water access.
Useful facilities include baby changing stations, changerooms, washrooms, on duty lifeguards, and a lost children's center. There are also snack and refreshment facilities close by, along with ample parking.
Popular water activities available on Durley Chine include canoeing and kayaking, fishing, jet skiing, surfing, and kite surfing, to name but a few.
Address: Durley Chine, Bournemouth, Dorset
4. Boscombe Beach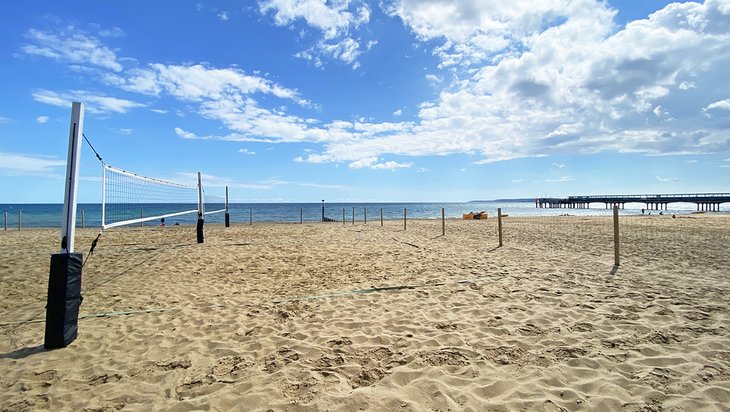 For those wanting a taste of a traditional English beach experience, Boscombe Beach is a great alternative to Bournemouth's busy main seafront area.
While there's ample parking in and around Boscombe, you can also get here via a pleasant 30-minute stroll along the nearly 1.5-mile promenade or by hopping aboard the fun Land Train.
Centered around the 600-foot Boscombe Pier, the mile-long Boscombe Beach boasts the same great sand, clean water, and safe swimming as Bournemouth, but often without the crowds.
Fresh from a recent redevelopment, refurbished and new facilities include volleyball and basketball courts, beachside table tennis, changing rooms with washrooms and showers, and exercise areas.
Be sure to take the kids for a stroll along the pier. In addition to its great fishing, a number of unique hands-on musical installations have been added and are just begging to be played. You can even catch some great views from the pier, including as far as to the Isle of Wight, an especially nice vista at sunset.
In addition to traditional beach hut rentals, you can also opt for a more modern "beach pod" which offers more space and amenities. Lifeguards are located on-site.
Address: Undercliff Drive, Boscombe, Dorset
5. Alum Chine Beach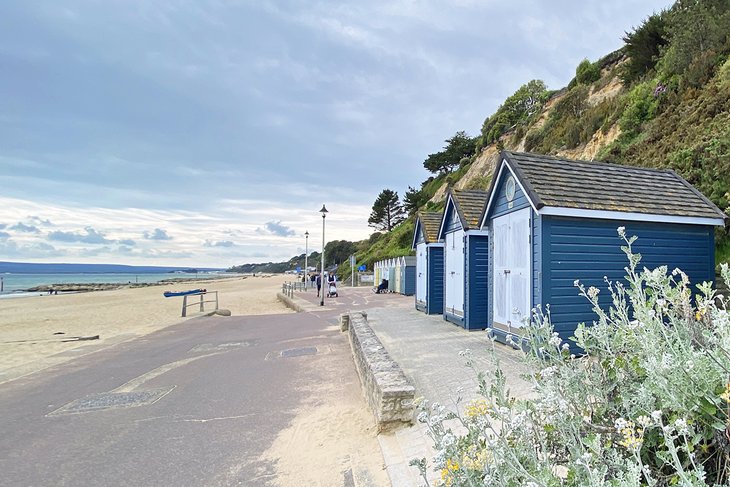 The largest of Bournemouth's four chines, Alum Chine Beach offers another great Blue Flag beach experience.
Boasting a wide, clean sand-and-shingle beach and clear water that's under the watchful eye of lifeguards, it's especially well-suited for families with kids not wanting to deal with the usually much larger crowds around West Cliff and East Cliff beaches.
Fun things to do for families here include a first-rate pirate-themed adventure playground with a water play area complete with paddling pool and sprinklers. There are also snack and ice-cream vendors, and lovely tropical gardens in Alum Chine itself that are fun to explore.
Those wanting to make a full day of it can also rent a regular beach hut for the family, or one of the new luxurious "super huts" available offering greater space and features.
Other facilities include ample parking, washrooms and changerooms, outdoor showers, plus a baby changing area. Handicap washrooms are also provided, as are complimentary beach wheelchairs.
Address: Alum Chine, Bournemouth, Dorset
6. Hengistbury Head Beach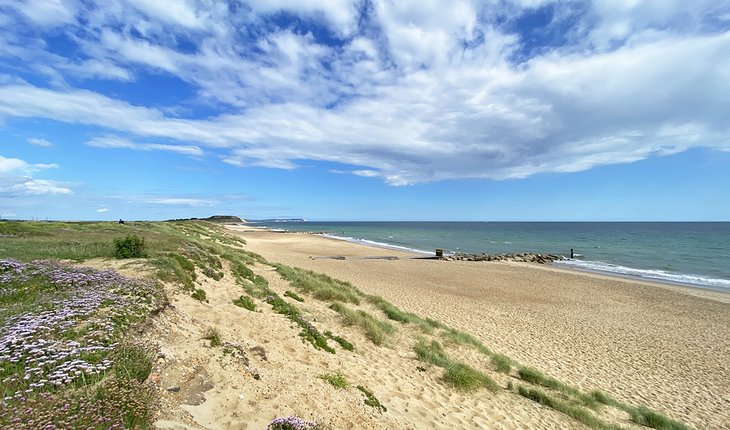 Notable as the most remote and therefore quietest of Bournemouth's many beaches, Hengistbury Head Beach also just happens to be the prettiest.
The beach is best accessed from the Hengistbury Head Visitor Centre, an easy 20-minute drive east of downtown Bournemouth.
Jutting out into the English Channel and overlooking Christchurch Bay, Hengistbury Head is one of Dorset's top attractions, as popular for its large nature reserve as it is its beaches.
In addition to wildlife spotting and nature hikes, it's a popular destination for water sports enthusiasts, with activities such as windsurfing, kayaking, and diving adventures on offer.
Plenty of parking is available at the visitor center, with beach access available via a network of trails or aboard a land train shuttle service.
The top spot for a swim and sunbathing is Mudeford Sandbanks, a less-crowded Blue-Flag-awarded beach that's safe for families. The beach itself is around 10 miles long, so offers plenty of space to stretch out and relax.
Address: Hengistbury Head, Christchurch, Dorset
7. Middle Chine Beach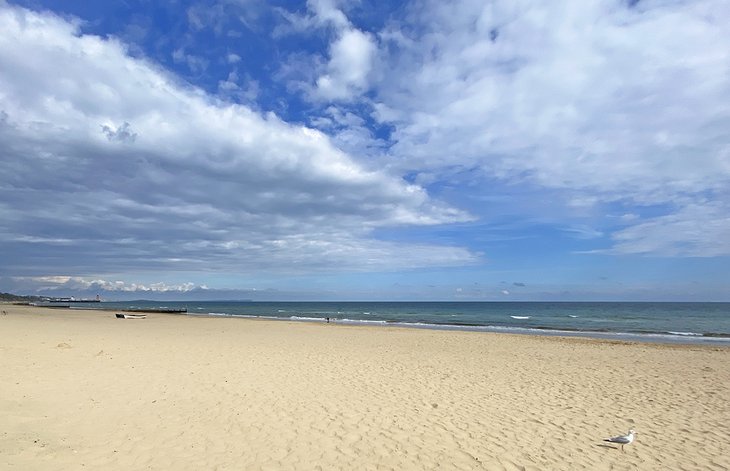 Wedged between Alum Chine and Durley Chine beaches, and just 15 minutes stroll away from the attractions clustered around the base of Bournemouth Pier, Middle Chine Beach is another great choice for those seeking a safe, fun, Blue Flag beach experience.
Popular for its gently sloping soft sand and shallow waters, this comparatively smaller beach is free of the usual beachside amenities such as restaurants and amusements, making it quieter Bournemouth beach experiences.
That said, there is a handy kiosk that sells hot beverages, snacks, and ice cream, but if anything more is required at meal time you'll either want to bring your own or walk along the promenade to busier West Cliff Beach.
What it lacks in amenities it makes up for with fewer beachgoers, with families with younger kids usually heading to the neighboring beaches. On-street parking is available at the north end of Middle Chine itself, a pleasant, wooded walk away.
Address: Middle Chine, Bournemouth, Dorset
8. Branksome Beaches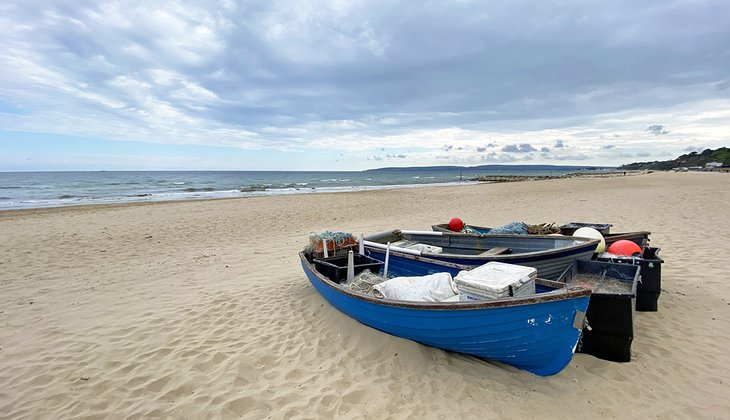 Carry on a little farther west along Bournemouth's promenade and you'll eventually wind up in the neighboring community of Poole. Here, there are two beaches that are fun to hang out on and easy to get to from downtown Bournemouth: Branksome Chine and Branksome Dene.
The first, Branksome Chine Beach, is a mostly sandy beach that features lifeguard services along with a café, shop, and washrooms along the promenade.
Beach huts and lounge chairs are available for rent, and wheelchair access and complimentary beach wheelchairs are available. There's ample parking available in a dedicated pay and display lot, and for those wanting to dine al fresco, beachside BBQs are available.
A little farther to the west is the less busy Branksome Dene Beach. In addition to public washrooms and an ice-cream vendor, there's a great town-owned venue, Branksome Dene Room, that's available for rent for family functions and other events.
Sand and water qualities are equal to that of other Blue Flag beaches in Bournemouth, but there's no lifeguard service.
Both Branksome beaches are fun for water sports enthusiasts, too, with popular activities including kite surfing and wind surfing.
Address: Denecote Lodge, 4-6 Westminster Road, Westbourne, Poole, Dorset
9. Manor Steps Beach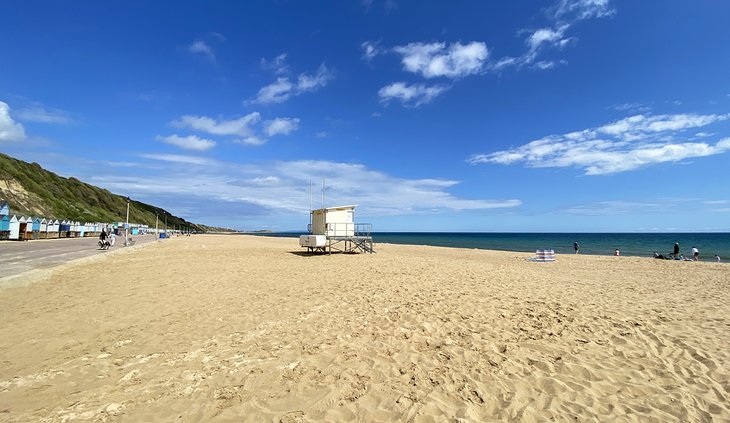 Popular among locals as its generally less-crowded, Manor Steps Beach is an easy 10-minute stroll east of Boscombe Pier.
This sandy beach can also be accessed by the Manor Steps zig-zag pathway, which cuts through the Boscombe Cliffs and connects to the Boscombe Promenade. As you descend, keep an eye out for the famous Boscombe goats, who now graze here and help maintain the cliffs from erosion.
Notable for the groynes protecting the sand from erosion, it boasts great views back over Boscombe and Bournemouth and out over the English Channel.
These views are especially nice from the Bournemouth Beach Lodges. Basically much larger beach huts with sleeping accommodations and living space, the lodges sleep up to six guests and can be rented for overnight stays.
Address: Boscombe Overcliff Drive, Manor Steps, Boscombe, Bournemouth, Dorset
10. Fisherman's Walk Beach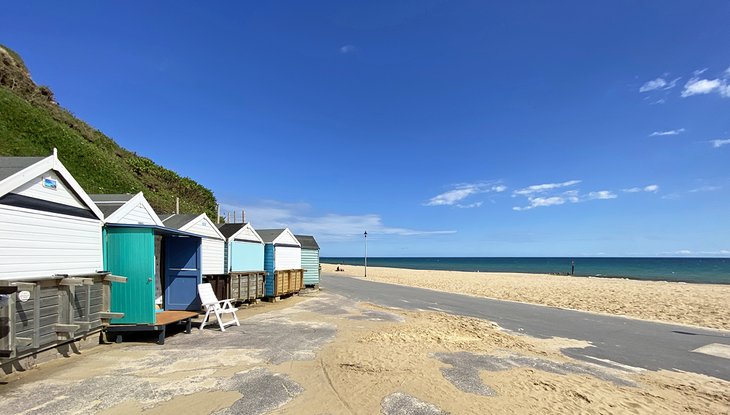 Fisherman's Walk Beach is another great choice for those who enjoy a quieter seaside experience.
In addition to being accessible along the promenade from Boscombe, as well as a clifftop zigzag pathway, visitors can also ride the Fisherman's Walk Cliff Lift. Built in 1935, this funicular railway takes only a few minutes to ascend and is great for those with mobility issues.
Beachside amenities include BBQs, a kids playground, as well as crazy golf. Lifeguard services are provided during the peak summer months.
Popular activities include canoeing and kayaking, sailing, jet-skiing, surfing, windsurfing, and fishing. Ample street parking is available at the top of the cliffs.
Address: Fisherman's Walk Beach, Southbourne, Bournemouth, Dorset
11. Southbourne Beach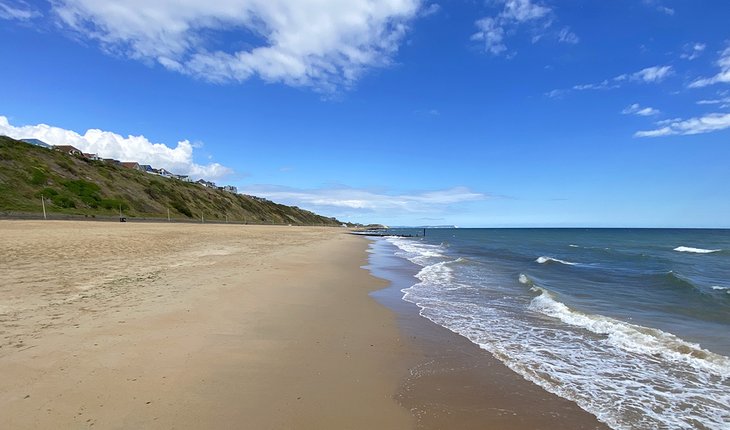 Situated at the east end of Bournemouth's 10-mile-long stretch of golden sands sits Southbourne Beach.
This Blue Flag beach, although popular for its less-crowded feel, is great for families for its shallow, clean waters and lifeguards.
Amenities include public washrooms, baby changing facilities, and a lost children service, ensuring the kids remain safe and watched over. There are aplenty of food options, too, from beachside restaurants and cafés to snack and ice cream vendors.
Off-beach fun includes exploring the neighboring Fisherman's Walk nature trail. Beach hut rentals are available.
Address: Southbourne Coast Road, Southbourne, Bournemouth, Dorset
Bournemouth, United Kingdom - Climate Chart
Average minimum and maximum temperatures for Bournemouth, United Kingdom in °C
J
F
M
A
M
J
J
A
S
O
N
D

8

1

8

1

10

2

13

3

16

7

19

9

22

11

21

11

19

9

15

7

11

3

9

2

PlanetWare.com
Average monthly precipitation totals for Bournemouth, United Kingdom in mm.

89

61

66

48

56

53

41

56

66

79

84

89
Average minimum and maximum temperatures for Bournemouth, United Kingdom in °F
J
F
M
A
M
J
J
A
S
O
N
D

46

34

46

34

50

36

55

38

61

44

67

49

71

52

70

52

66

48

59

44

51

38

48

35

PlanetWare.com
Average monthly precipitation totals for Bournemouth, United Kingdom in inches.

3.5

2.4

2.6

1.9

2.2

2.1

1.6

2.2

2.6

3.1

3.3

3.5