11 Top-Rated Beaches in Portsmouth, Hampshire
Author Bryan Dearsley has lived in England and returns frequently. In the summer of 2022, he spent 8 weeks traveling across the country exploring its many beaches and seaside towns.
The historic naval base of Portsmouth has much to offer the intrepid traveler looking for a great beach experience in the South of England.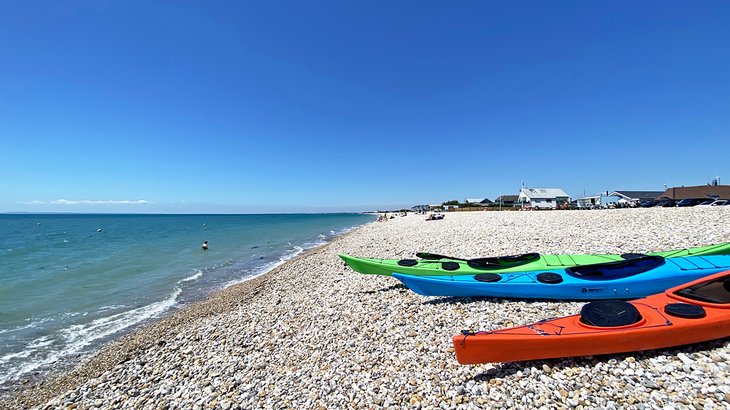 Located in Hampshire and overlooking the English Channel and The Solent, a stretch of sea that separates the Isle of Wight from the mainland, Portsmouth's beaches are generally quieter than those of other popular seaside destinations such as Bournemouth and Brighton.
Made up largely of shingle, with sand exposed only at low tide, they are, however, ideal for those who enjoy sunbathing, swimming, and water sports – without the crowds.
To find out more about the best places to visit for a great beach experience, be sure to read through our list of the best beaches in Portsmouth, Hampshire.
1. Hotwalls: Old Portsmouth Beach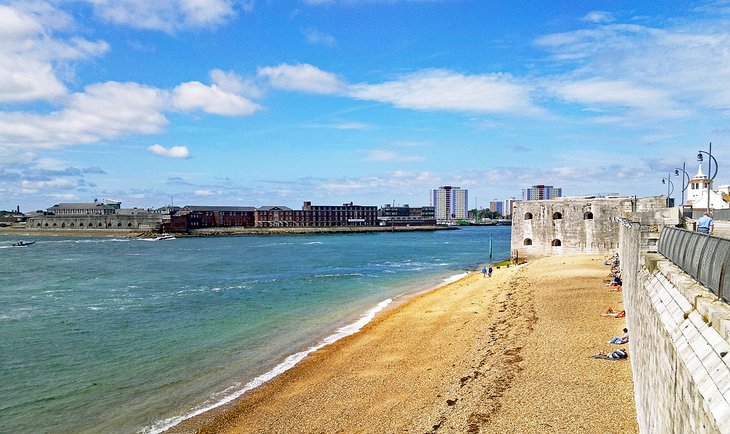 Also known as Hotwalls Beach, Old Portsmouth Beach is the closest you can get to Portsmouth's many attractions for some seaside sunbathing. An easy 15-minutes' walk from the centrally located Spinnaker Tower, this popular beach is something of a sun spot.
Its unusual name is derived from the fact that the old sea walls directly behind the beach tend to heat up when exposed to the sun in the summer months, hence the name "Hotwalls." Without a lifeguard service, the strong currents flowing in and out of neighboring Portsmouth Harbour mean you'll want to forgo swimming here and focus instead on getting a good tan.
It's also a popular spot for fishing, with superb views out towards the Isle of Wight and back towards Portsmouth adding to the experience. When you're done and before heading back into Portsmouth city center, spend a little time exploring the surrounding coastal fortifications of Old Portsmouth.
Other points of interest include an old jetty known as the Kings Stairs at the east end of the beach, and a number of interesting art and craft studios occupying the old Hotwalls battery and barracks buildings.
2. Clarence Beach, Southsea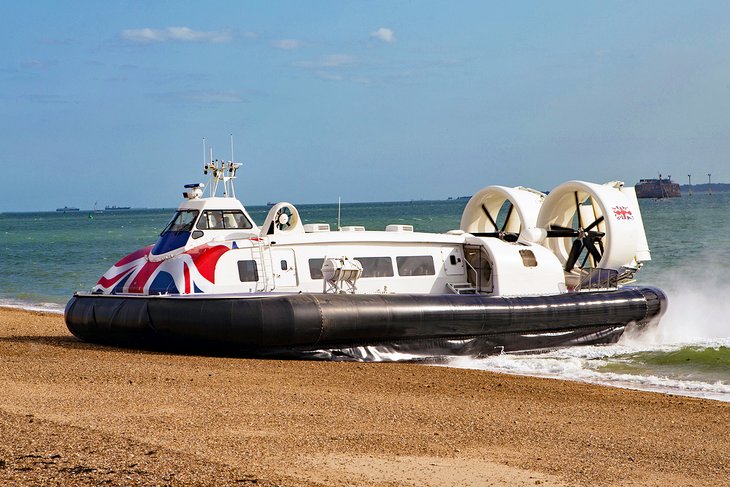 Journey a mile to the east of Hotwalls Beach, and you'll find yourself on another stretch of shingle known as Clarence Esplanade Beach. Bordered on one side by Southsea Common and Clarence Esplanade and on the other by the sea, this relatively small beach is popular with families due to its proximity to Clarence Pier Amusement Park, with its kid-friendly arcade games and rides.
Adding to the fun is the fact that Clarence Beach is home to Britain's only scheduled hovercraft service. Watching these state-of-the-art machines come and go between Portsmouth and Isle of Wight is quite the thrill, especially for younger children.
Other nearby attractions that you can walk to from the beach and its sizable car park include the Blue Reef Aquarium, along with an adventure playground on Southsea Common. A number of interesting monuments are positioned on the esplanade here, too, including one commemorating the Battle of Trafalgar and featuring an anchor from Lord Nelson's flagship, HMS Victory.
Location: Clarence Esplanade, Southsea, Portsmouth, Hampshire
3. South Parade Pier Beach, Southsea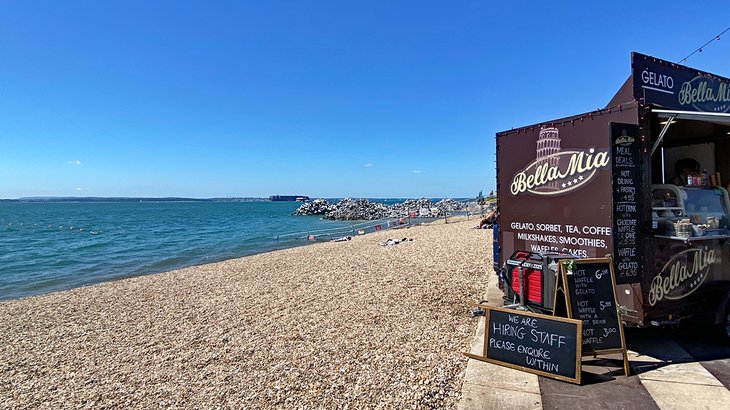 Two miles east of downtown Portsmouth, South Parade Pier Beach has long been a popular Hampshire beach destination for locals and visitors alike. Located in the Victorian seaside resort town of Southsea, this gently sloping, mostly shingle beach does offer some sand for the kids to play on when the tide is out.
Its position between Southsea Castle and South Parade Pier makes it perfect for some off-beach fun, too. In addition to enjoying a stroll along the pleasant promenade behind the beach, there's some excellent views to be enjoyed over The Solent. The coming and going of shipping in and out of Portsmouth Harbour, including the occasional naval vessel out of the Royal Navy base here, is an added dose of fun for young and old alike.
Other fun things to do in Southsea include exploring the attractive Rock Gardens or taking the kids to Pyramids, a leisure center with an excellent indoor playground.
Location: South Parade, Southsea, Portsmouth, Hampshire
4. Southsea Beach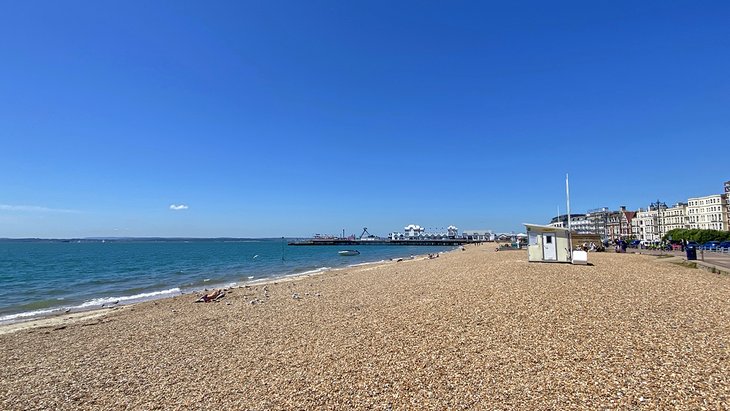 Southsea's main beach, known to most simply as Southsea Beach, is another good spot for families looking to enjoy a day at the seaside.
One of the busier of Portsmouth's beaches, this long stretch of shingle tends to get a little crowded around Southsea Parade Pier. But venture a little farther in either direction, and you'll find plenty of room to spread out. The water here is generally quite calm, making it ideal for a supervised splash-about.
While some sand is only exposed at low tide for a few hours, there's no end of fun off-beach. In addition to the amusements on the pier, which also boasts great seaward views, the promenade stretches for miles in each direction, and is especially nice to stroll along at sunset.
Those who like on-water fun can enjoy sea kayaking, while younger adventurers can enjoy a paddle on Canoe Lake to the east of the pier. This man-made lake is also home to a large population of crabs, so introducing your youngsters to the fun of crabbing is another fun activity to add to your Southsea itinerary.
There's plenty of parking nearby, including dedicated parking spots at nearby attractions like the always fun Southsea Model Village.
Location: Southsea Pier, Portsmouth, Hampshire
5. Eastney Beach, Southsea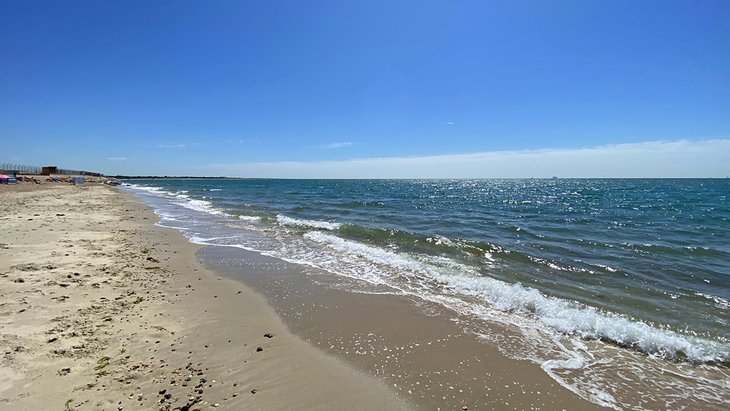 One of the longest beaches in Hampshire, Eastney Beach stretches for some two miles between Southsea Beach and Eastney Pier. This wide shingle beach is perfect for those who don't mind forgoing the usual trappings of an English seaside experience.
While there are no lifeguards on duty, visitors do have access to amenities, including washrooms, a café, and ample parking. Popular water-based activities include swimming, windsurfing, and even the increasingly popular kitesurfing.
Dogs are welcome only during the winter months.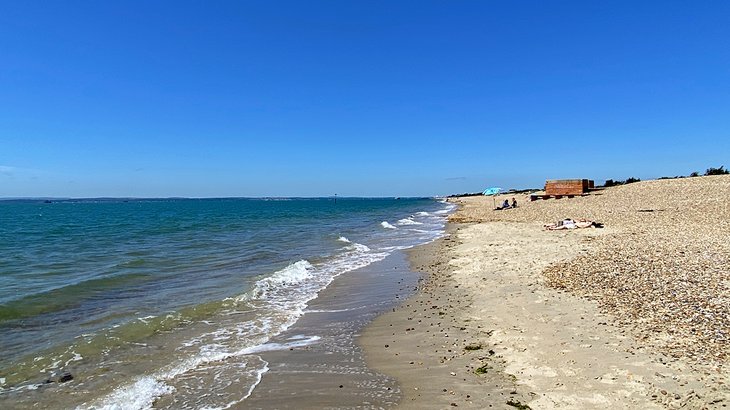 An area of the easternmost section of the beach has been set aside as Eastney Naturist Beach, a popular clothing-optional beach.
If you do want to venture off beach, the Royal Marines Museum is worth visiting. Eastney Esplanade is also worth a wander and extends for the entire length of the beach all the way to Southsea
Location: Eastney, Portsmouth, Hampshire
6. Hayling Island Beach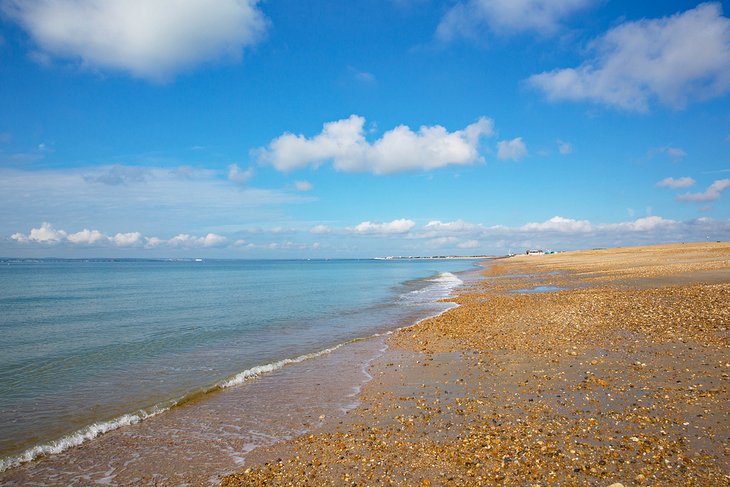 Beachgoer or not, Hayling Island, 12-miles east of Portsmouth, makes for a wonderful day trip. For a memorable experience, take a ride aboard the handy ferry that covers the short distance from Eastney across to Hayling Island. It offers regular foot passenger crossings during the peak summer months and adds a fun dimension to your outing.
Start your adventure on Hayling Island Beach, a three-mile stretch of shingle that's easily accessible and features everything you need for a fun day at the seaside. Those needing a little sand for the kids to play in only have to wait for low tide.
Hayling Island Beach is a frequent recipient of the nation's Blue Flag award for its cleanliness and water quality.
You'll never feel crowded here. In addition to great swimming, popular water-based activities include kitesurfing, windsurfing, and kayaking.
In addition to amenities, including washrooms and food and drink options, there's ample parking just steps away from the water, making it ideal for unloading those picnic supplies or your water sports equipment.
Off-beach fun includes golf, beachside dining, and an amusement park.
Location: Hayling Island, Hampshire
7. Sandy Point Nature Reserve, Hayling Island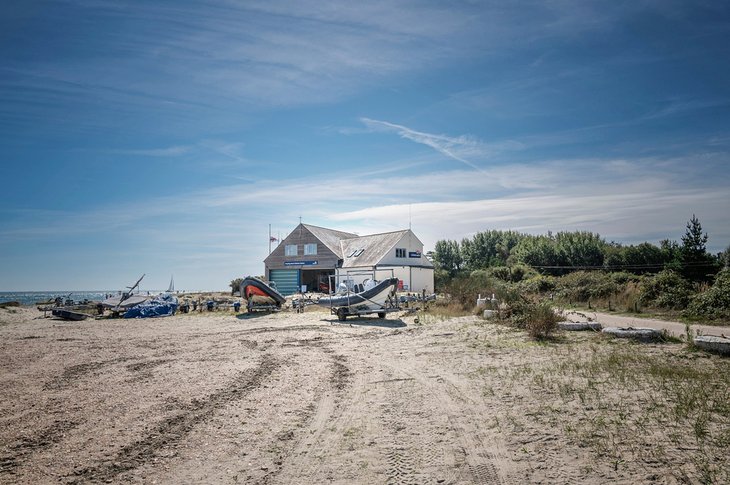 An even quieter Hayling Island beach experience can be enjoyed at Sandy Point. Located on the easternmost corner of the island, Sandy Point Nature Reserve is a beautiful spot that's known for its diversity of wildlife habitats.
Here, you'll find everything from sand dunes to heathland, scrubland, and grassland. While the dunes are off-limits due to their ecological importance, you can access the mostly shingle beach, which connects to the main Hayling Island Beach. A sandy section is accessible during low tide and is ideal for those traveling with kids or who prefer a gentler water access.
Location: Sandy Point, Hayling Island, Hampshire
8. East & West Wittering Beaches, West Sussex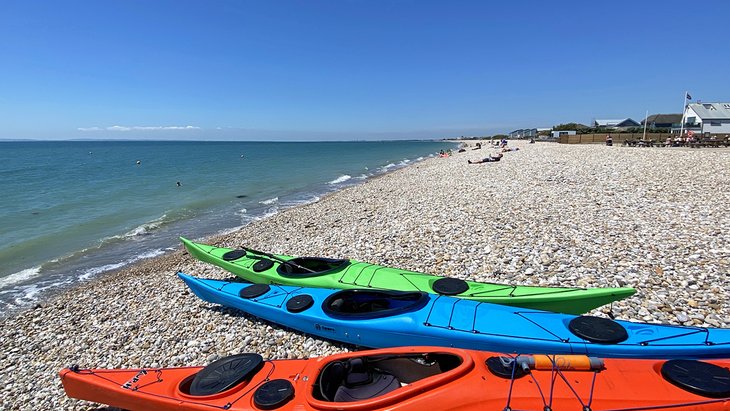 Although a 30-minute drive from Portsmouth's city center, East and West Wittering Beaches in West Sussex are well worth taking the time to visit. Those seeking that feeling of sand beneath their toes should focus on West Wittering Beach.
Here, unlike the many shingle beaches found in around Portsmouth, the sand seems to stretch for miles in each direction. Backed by an impressive array of sand dunes, there's plenty of space on which to stretch out and relax. In addition to the great swimming, the soft, white sand is perfect for youngsters to build sandcastles and splash about on the shallow shoreline.
While equally quiet, East Wittering marks a transition back to a shingle shoreline that's perfect for water sports enthusiasts. In addition to sea kayaking, popular pastimes include windsurfing, kitesurfing, and paddleboarding. A variety of food and drink options are available close by, along with washrooms and change facilities, and ample parking.
Lifeguards are also on duty at both beaches during the summer months. When you're done on the beach, head into the nearby cathedral city of Chichester, which boasts a wide array of fun things to do.
Location: East Wittering, Chichester, West Sussex, England
9. Bracklesham Bay, West Sussex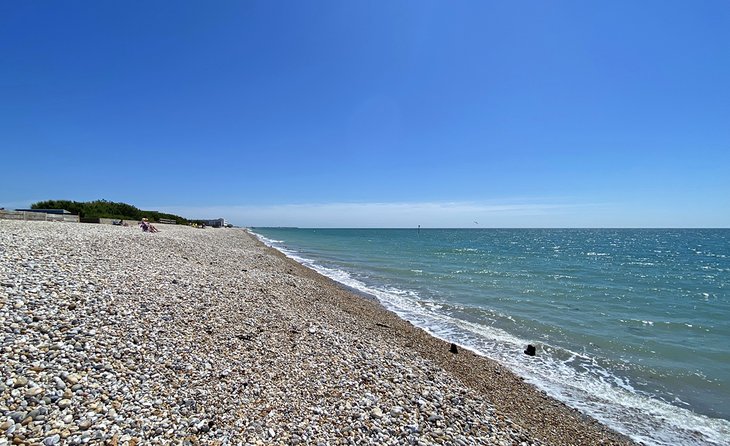 The beach at Bracklesham Bay is another great option for those wanting to enjoy a great day out on the Sussex coast. Just a 40-minute drive from Portsmouth's main attractions, this mainly shingle stretch of coastline, widely considered one of the best beaches in Sussex, is set in a beautiful 500-acre conservation site that's fun to explore.
As well as being popular for bird-watching, it's fun to take a hike along the many trails that crisscross the area.
In addition to relaxing on the beach, you can kick back and enjoy a picnic while gazing out over the English Channel and the Isle of Wight.
Water activities to enjoy here include swimming, kayaking, and canoeing, as well as windsurfing.
A section of hard-packed sand is revealed at low-tide. The area is known for its fossil deposits, so be sure to look a little harder when the tide's out for a few ancient finds.
Location: Bracklesham Bay, West Sussex
10. Ryde Beach, Ryde, Isle of Wight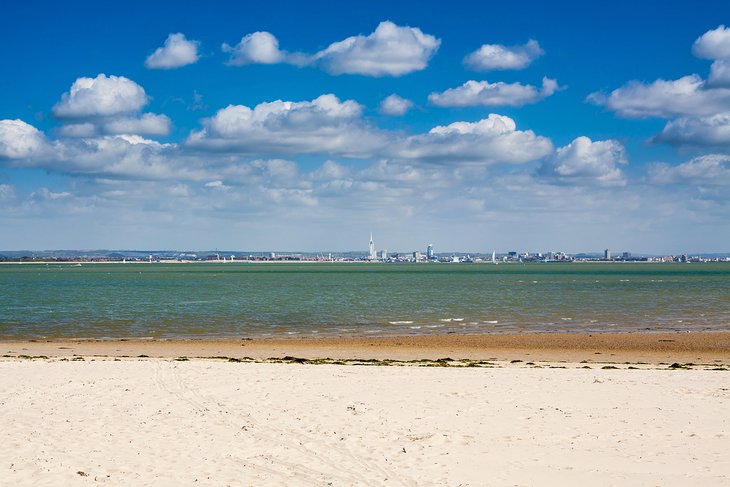 For a completely different beach experience, hop aboard the Isle of Wight ferry from Portsmouth to Ryde. This fun ferry ride takes around 45 minutes, but makes for a perfect family day out.
Better still, check into the regular hovercraft service that's available from Hovertravel. These fast craft take only 10 minutes to get you to the beach in Ryde and operate frequent services throughout the summer.
Boasting miles of soft sand, Ryde Beach, along with adjoining Appley Beach, is every bit as nice as popular English beaches such as Bournemouth in Dorset. Never usually crowded, the sand is perfect for kids to play in or for adults to simply lie on. Rent a deckchair and umbrella, or if you feel like getting out on the water, kayaks and other water sports equipment is available to rent by the hour or by the day.
Other fun things to do in Ryde include visiting Ryde Pier, spending time in the amusement arcades, or letting the kids blow off steam in the beachside playground. There's also a shallow lake offering pedalo and canoe rentals.
Location: Ryde, Isle of Wight, Hampshire
11. Hill Head Beach, Fareham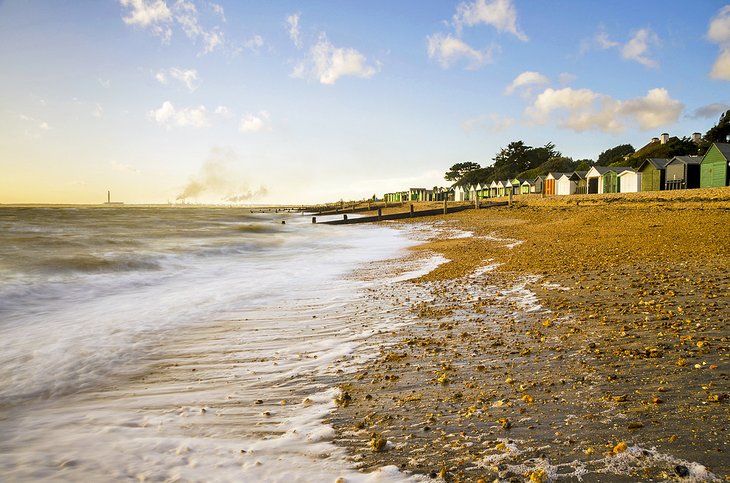 While most of the best beaches in Portsmouth are located to the east of the city, those who do venture west across Portsmouth Harbour can also enjoy a fun beach experience.
Hill Head Beach in Fareham is, like most beaches in the area, largely shingle, with only a narrow sliver of sand exposed at low tide. It's especially popular among windsurfers and kite surfers due to its exposure to good sea breezes. And if you're just here to relax, the boats and ships coming and going from Portsmouth Harbour offer endless entertainment.