12 Top-Rated Tourist Attractions in Brighton
We may earn a commission from affiliate links ()
Brighton, the largest and best-known seaside resort on the English Channel, stretches some five miles along the pebbled and sometimes steep chalk shoreline of the South Downs. Once a fishing village with narrow, winding lanes, the 18th-century saw Brighton blossom into an elegant vacation spot where England's elite relaxed in fashionable spas and hotels under the restorative influence of sea air.
Reminders of this period still abound: charming Regency terraces; the delightful Palace Pier; and the Royal Pavilion, the exotic summer home of George IV, one of the country's most flamboyant and eccentric kings.
Although Brighton's famous pebble beaches are now lined with souvenir shops and amusement arcades, it remains a culturally vibrant destination and one of the most popular places to visit in England – especially in summer. The town's busy calendar of events includes the popular Brighton Festival each spring, horse races in the summer, and the famous London to Brighton Veteran Car Run in November.
Brighton is also a great place for sports enthusiasts. Highlights include sailing, kitesurfing, and diving, as well as hiking and biking along the downs or across the many lovely green spaces, such as historic Stanmer Park just to the north of town. For details of these and many other fun things to do in this popular seaside town, be sure to read our list of the top tourist attractions in Brighton.
See also: Where to Stay in Brighton
1. Royal Pavilion and Brighton Museum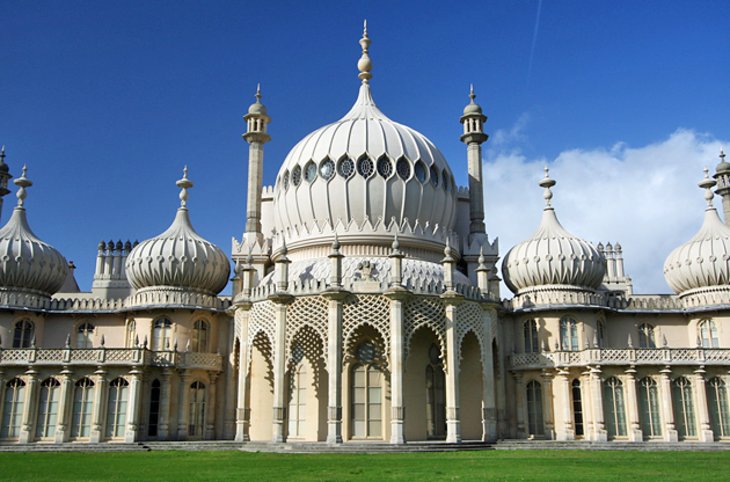 The Royal Pavilion is difficult to miss. Located in the center of Brighton, just steps from the sea, the building's extraordinary peaks and spires look as if they'd be more at home in India. That was certainly the intention of architect John Nash, who designed the summer palace for the Prince of Wales (later George IV) in the Indian Mogul style.
Best seen via guided tour, highlights of the building include the Banqueting Room, with its lovely oriental décor; the Royal Bedrooms; and the tent-like Music Room. Audio guides are available.
For a real treat, partake in a traditional afternoon tea in the Royal Pavilion Tearoom.
Over in the pavilion's former Royal Stables and Riding School is the Brighton Museum & Art Gallery. This first-rate museum is worth visiting for its impressive collection of Art Deco pieces, its costume gallery with fashions from the 18th century, and the excellent Willett Collection of porcelain and ceramics. There's even a good (albeit small) Egyptian Gallery that's worth a visit. A gift shop is located on the premises.
Address: 4/5 Pavilion Buildings, Brighton
Official site: www.brightonmuseums.org.uk
2. Brighton Palace Pier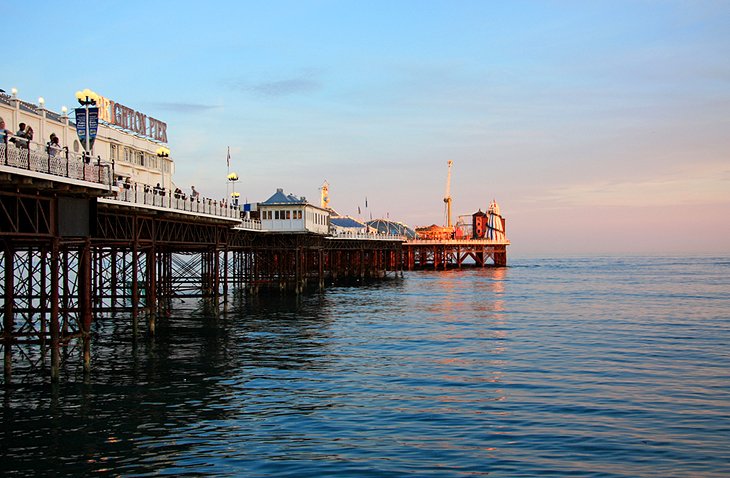 No trip to the seaside would be complete without a visit to a pier, with its amusement arcades, joke shops, and fish-and-chip stands. Thanks to its decorative ironwork and majestic setting, Brighton's Victorian-era Palace Pier is undoubtedly one of the country's most attractive such landmarks.
Jutting out to sea like the upper deck of a steamship on spindly iron legs, Palace Pier is the sole survivor of the town's three original piers (one was destroyed by a storm, while another stands derelict near the town's seafront). Built in 1891 and stretching some 1,700 feet from shore, it has lost none of its appeal.
In addition to its dining and shopping, the pier also boasts other fun things to do, including state-of-the-art thrill rides and game arcades.
Address: Madeira Drive, Brighton
Official site: http://brightonpier.co.uk/
3. Brighton Promenade and Seafront Attractions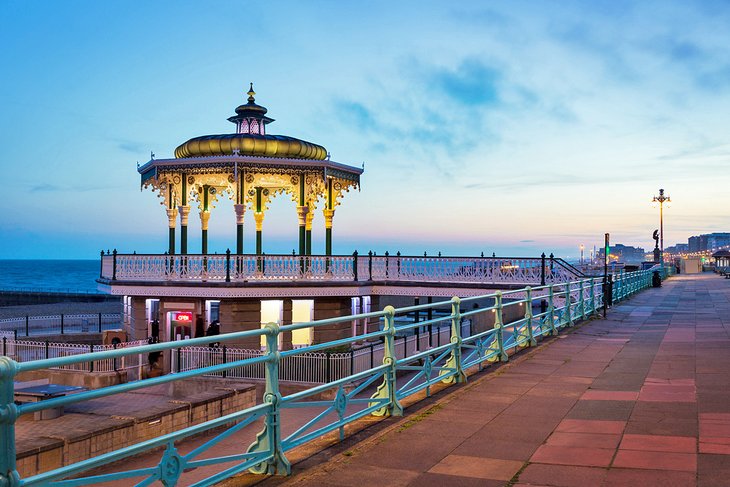 There's no end of fun things to do near Brighton's Palace Pier, too, many of them being just a short stroll away along the promenade. A fun diversion for those traveling with kids is Volk's Electric Railway. Built in 1833 and the oldest operating electric railway in the world, this narrow gauge line runs along the seafront from the pier, with three stations to catch the train.
At 1.25 miles in length, a ride can also save a fair bit of walking between attractions. Along the way, you'll pass the Brighton Fishing Museum, with its interesting exhibits relating to the town's origins and its long history as a fishing town.
The railway also connects to Brighton Marina, via the Black Rock station. Be sure to allocate some time to explore the marina, which offers great shopping and dining experiences.
Aquarium station is where you'll want to disembark for SEA LIFE Brighton. Established in 1872 as Brighton Aquarium, this modernized attraction is now home to more than 100 species of sea life.
Address: Visitor Centre, Madeira Drive, Brighton
Official site: https://volksrailway.org.uk
4. The Lanes and North Laine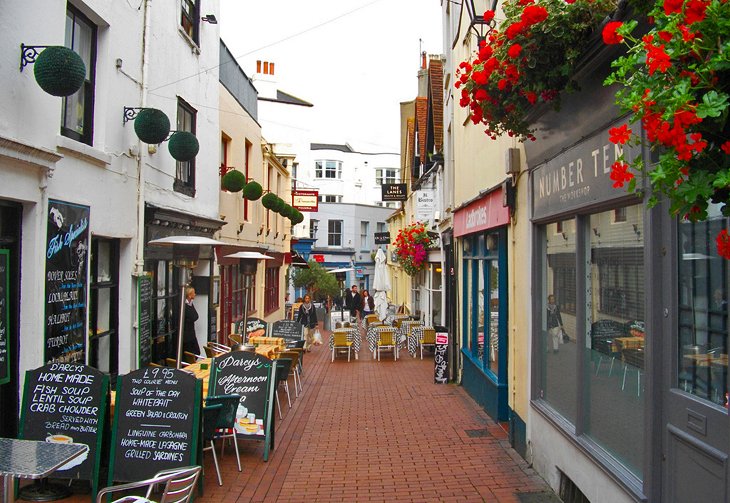 The center of the old fishing village of Brighthelmstone, as Brighton was once called, stood on the site of the bustling narrow alleyways known as The Lanes. The charming little 17th-century cottages, with their colorful wooden façades are now antique shops, boutiques, galleries, and cafés.
To the east of The Lanes is Old Steine, a former village green. It is now a well-tended square extending to Grand Parade, a magnificent boulevard lined with trees and planted with flowers.
Also worth visiting is North Laine, an arts-inspired shopping area boasting an eclectic mix of boutique shops and antique stores, galleries, and cafés, as well as entertainment venues.
Address: Meeting House Lane, Brighton
5. British Airways i360 Viewing Tower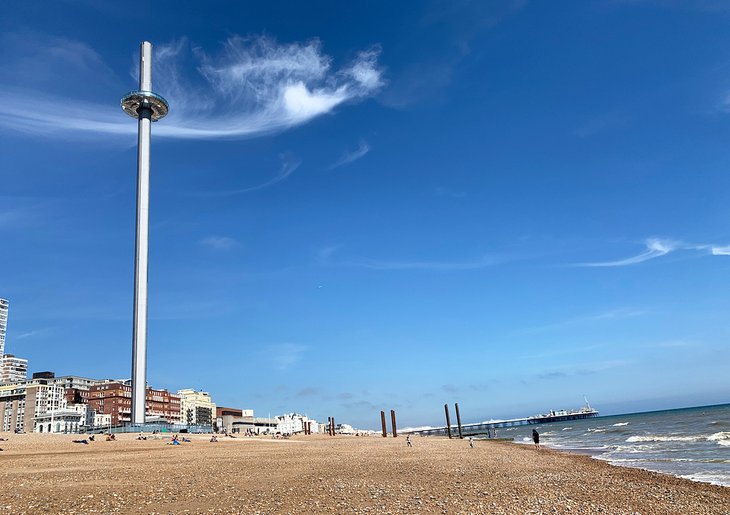 Undoubtedly one of the most impressive new attractions on England's south coast, the British Airways i360 Viewing Tower is a must-do on any Brighton itinerary. Replacing the Brighton Wheel as the town's tallest structure (the wheel has since been dismantled), this 531-foot-tall seafront tower opened in 2016 to great fanfare as the world's first vertical cable car and tallest moving observation tower.
Resembling a huge needle (and referred to as a "vertical pier"), the structure's circular observation platform can lift up to 200 people to heights of 453 feet for a spectacular view of the surrounding area and over the English Channel. Other features include a tearoom and gift shop. For a real treat, check into the availability of the attraction's food and drink options and time your visit for one of their regular special events.
Address: Lower Kings Road, Brighton
Official site: http://britishairwaysi360.com/
6. Regency Houses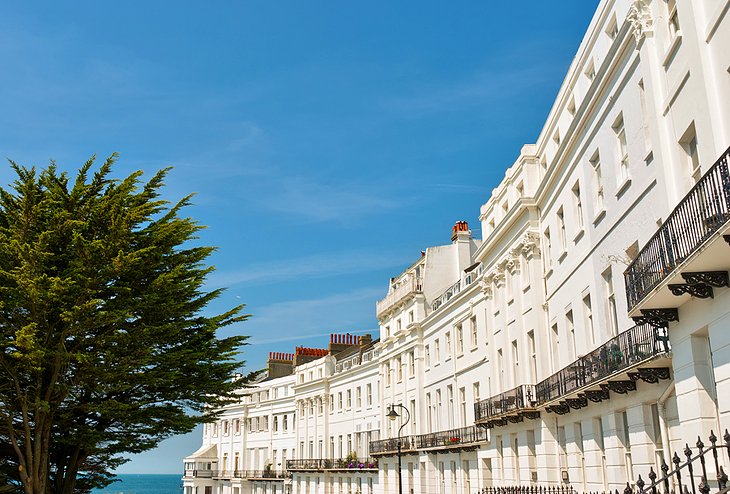 Strolling through Brighton's residential areas, with their lovely Regency-style terraces and squares, is a popular pastime. West of the town center, heading towards Hove, are street after street of old homes, with round bay windows and iron balconies.
The best examples are at Regency Square, Brunswick Terrace, Brunswick Square, and the horseshoe-shaped Adelaide Crescent. Sussex Square, Lewes Crescent, and Arundel Terrace, all east of the town center, are also worth seeing. Another fine local example of historic architecture, Preston Manor is open to the public and perfectly captures life at the turn of the century.
Address: Preston Drove, Brighton
Official site: https://brightonmuseums.org.uk/prestonmanor/
7. Brighton Festival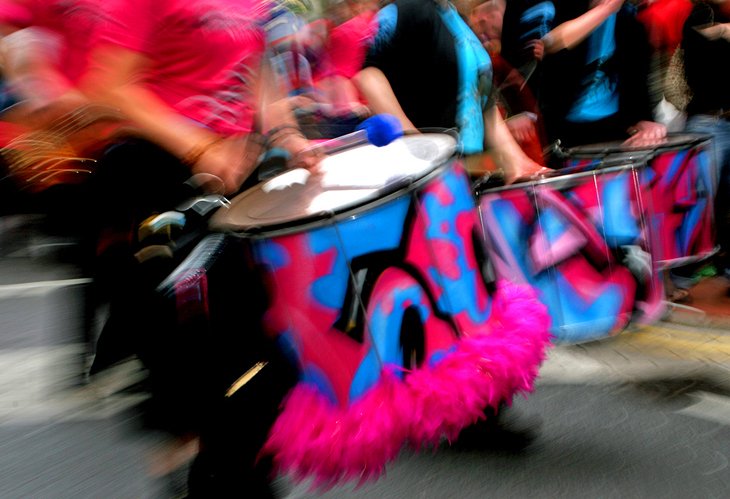 The annual three-week Brighton Festival runs from early to late May and attracts artists from around the world for performances ranging from orchestral and church concerts to jazz and comedy shows. Film screenings and recitals are also among the 400 or so events offered in this diversified festival.
Although the repertoire is varied, 19th-century music predominates. Venues include the Royal Pavilion, the Brighton Dome, the Theatre Royal, and local churches.
Address: 21-22 Old Steine, Brighton
Official site: http://brightonfestival.org/
8. Brighton Toy and Model Museum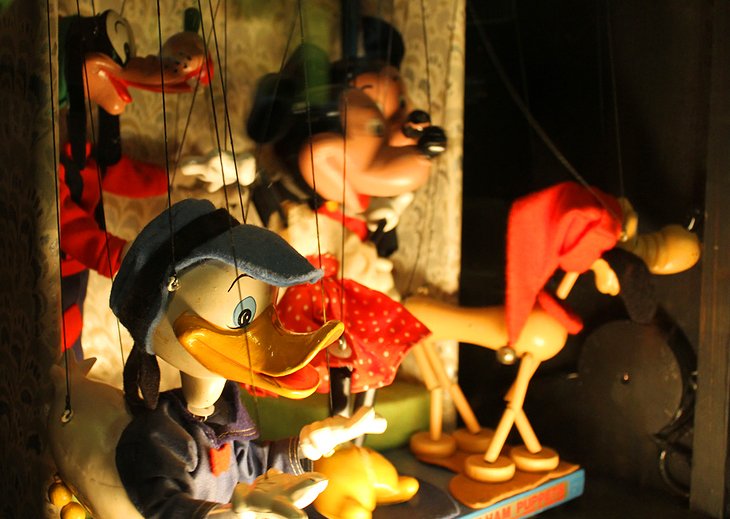 The Brighton Toy and Model Museum, tucked away underneath the town's train station, contains a vast array of vintage, rare, and unique toys from Britain and Europe.
Highlights of the museum's vast collection include antique model trains by Hornby; stuffed bears by Steiff; die-cast cars by Corgi; and all sorts of dolls, toy soldiers, farmyards, circuses, planes, and puppets.
Other collections of note include numerous toy buses, construction sets, boats, stuffed animals, zoos, and character play sets. Particularly fun is a unique train set featuring local tourist attractions.
The museum shop and foyer is also home to a useful Visitor Information Point, offering maps and literature relating to local events in Brighton.
Hot Tip: Try to plan your visit to coincide with one of the museum's special "Running Days" when you'll get to see much rarer toy trains in action.
Address: 52-55 Trafalgar Street, Brighton
Official site: http://brightontoymuseum.co.uk/
9. Booth Museum of Natural History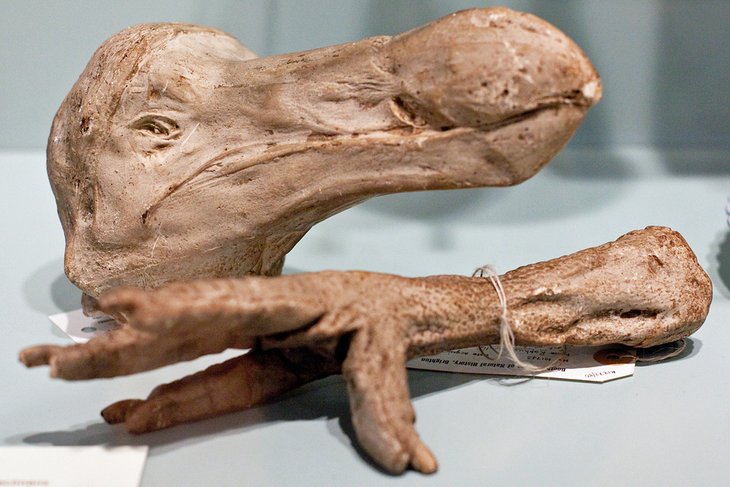 Another Brighton attraction that's certainly worthy of a visit is the Booth Museum of Natural History. It's notable for being home to one of Britain's largest collections of stuffed birds. Other highlights include a large collection of insects, fossils, and skeletons.
Founded in 1874, the museum is also home to the (in)famous "Merman," a Victorian-era hoax creature that many people at the time believed to be real. Be sure to check out the fascinating audio-visual displays that recount the exploits of the museum's "Victorian gentleman" founder, Edward Booth.
Address: 194 Dyke Road, Brighton
Official site: https://brightonmuseums.org.uk/booth/
10. Bluebell Railway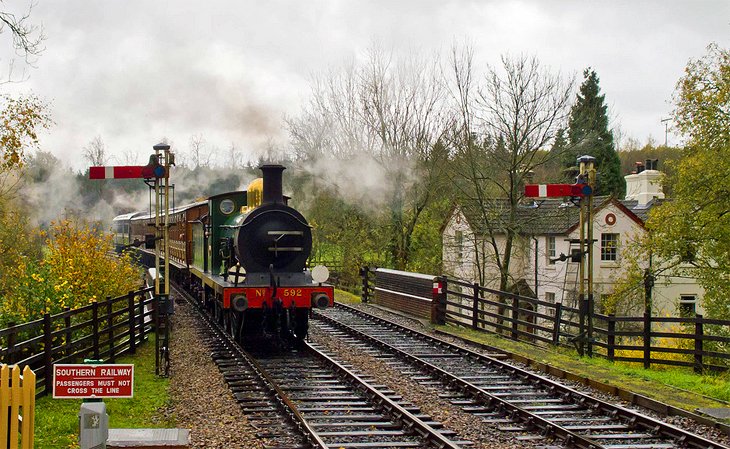 Just a few miles from Brighton, the Bluebell Railway is a fascinating piece of Britain's engineering heritage. Running some 11 miles along the border between East and West Sussex, this fully functional railway operates between Sheffield Park and East Grinstead. From here, you can catch a connecting train to London or Brighton.
Famous as the first preserved steam passenger railway in the world to operate a public service, the railway's collection includes 30 vintage engines and almost 150 carriages and wagons, most of them pre-1939.
Special themed train rides are offered, including fine dining, murder mystery nights, and Thomas the Tank Engine excursions for the kids. For a special treat, book an afternoon tea experience, served aboard one of the attraction's historic dining cars.
11. London to Brighton Veteran Car Run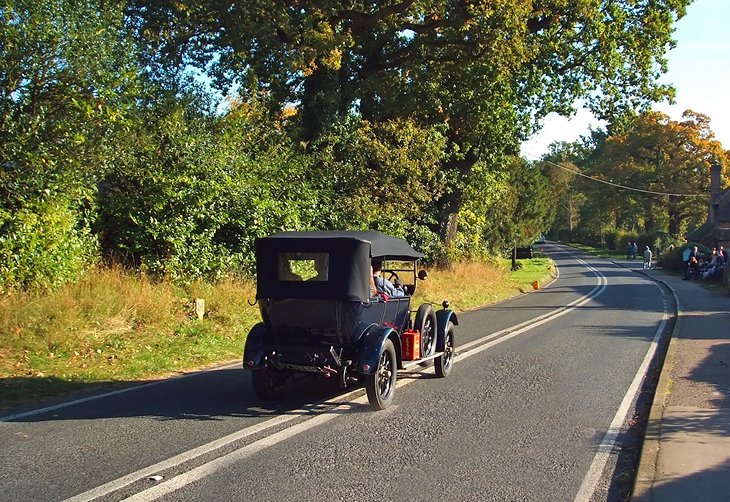 While not quite Wacky Races, the Royal Automobile Club's annual London to Brighton Veteran Car Run is probably the largest collection of unusual looking vehicles you're ever likely to see. The world's longest running motoring celebration has been held almost every November since 1927 and attracts entrants from around the globe.
Typically, some 500 pre-1905 cars attempt the trip, their drivers eager to test their vintage vehicles on the historic 60-mile run from Hyde Park in London to Brighton's seafront. The event's a huge draw for the throngs of spectators and tourists who line the route to cheer these often slow-moving machines onward to the finish line.
Address: Finish Line, Madeira Drive, Brighton
Official site: www.veterancarrun.com
12. Brighton Racecourse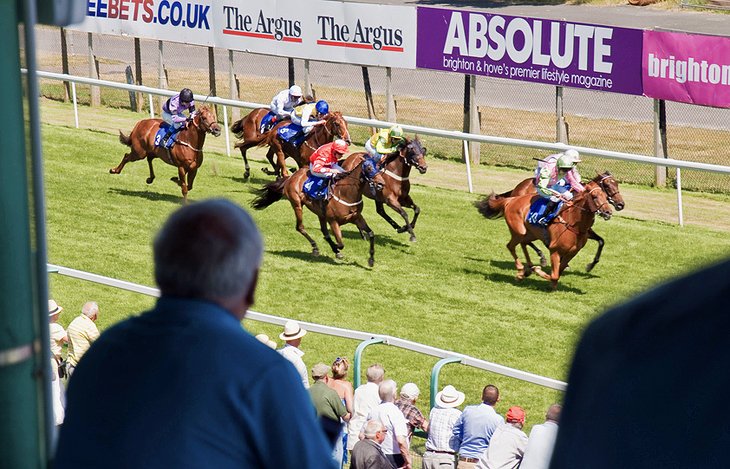 Set high up on the Sussex Downs, the stunning views of Brighton and the English Channel from Brighton Racecourse provide a unique background to the races held here throughout the spring, summer, and fall. It is regarded as one of the most intimate racecourses in the country (horses cross the line no more than a few feet from the crowd).
Horseracing fans can enjoy a great day's outing here at one of the country's oldest courses (1783). A restaurant and snack options are available on-site. For those wanting to bring their own food, a picnic area is also available.
Address: Freshfield Road, Brighton
Official site: www.brighton-racecourse.co.uk
Where to Stay in Brighton for Sightseeing
We recommend these unique hotels in Brighton near town and the sea: