10 Best Beaches in Brighton, East Sussex
When pulling together a shortlist of idyllic places to visit in England for a memorable beach vacation, you'll want to be sure to include the popular seaside town of Brighton in East Sussex.
Getting to Brighton's beaches from London by train, bus, or car takes only about an hour, making it an ideal spot for a fun day trip, weekend getaway, or perhaps an even longer stay.
Popular as a seaside destination even before the advent of the railway, Brighton and the surrounding area are home to a number of superb beaches suitable for sunbathing, swimming, and water-based adventures.
Travel a little beyond the usually busy Brighton Beach itself, and you'll find a number of smaller, chalk-cliff-backed beaches that are great for those who like a more remote, less crowded beach experience.
To learn more about these and other great destinations for a seaside break, read through our list of the top beaches in Brighton, East Sussex.
1. Brighton Beach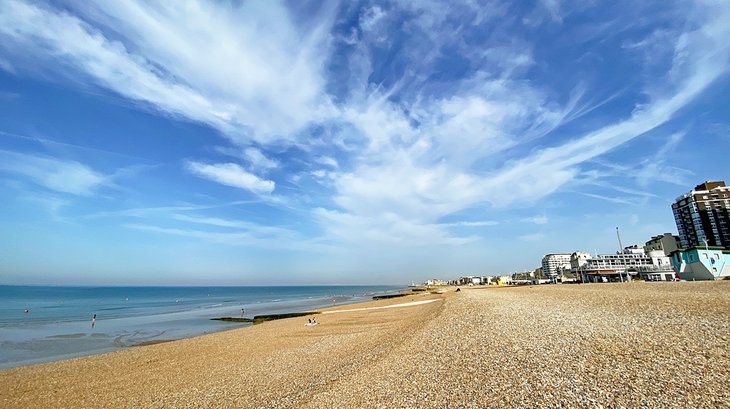 One of the best-known of England's many beaches, Brighton Beach is a must-visit for travelers looking for some traditional seaside fun.
Backed by one of the widest and longest promenades you're likely to encounter anywhere in the UK, Brighton Beach also features a number of must-do seaside attractions to add further fun to your time at the seaside, most notably Brighton Palace Pier.
Also known as Brighton Central Beach, Brighton Beach extends for miles either side of the pier and is predominantly shingle with some hard-packed sand revealed at low tide.
While it can get extremely busy, especially around the pier, couples and adults wanting to get away from the crowds usually won't have to venture too far to find a quieter spot to lay down their towel and plant their beach umbrella. It's for this reason Brighton Beach is hugely popular among sunbathers.
When it's time to hit the water for a swim, rest-assured the beach is under the watchful eye of lifeguards during peak months. The water is quite shallow when the tide's out, so this beach is very popular for casual swimmers wanting to cool off.
The beach is also a must-visit for water sports enthusiasts, with available activities including sailing, windsurfing, kayaking, and paddleboarding, as well as wakeboarding.
Other amenities include a volleyball court, basketball hoops, a kids' paddling pool, as well as public washrooms and change rooms.
Address: Brighton Seafront Office, 141, Kings Road Arches, Brighton, East Sussex
2. Albion Beach, Brighton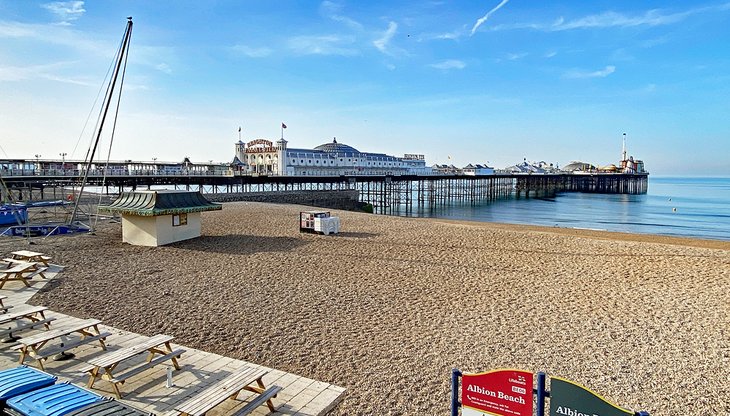 Located directly opposite the Royal Albion Hotel after which it's named, Albion Beach, while often lumped in with Brighton's main beach, has a character all its own.
Sandwiched between the pier and the town's famous "Doughnut," a large metal sculpture actually named "Afloat," this small section of beach offers some sheltered sunbathing and swimming thanks to its two large breakwaters, or groynes.
While the ALBION/Brighton palace pier groyne was largely destroyed by a storm in 2019, it still serves as a great fishing spot, as well as a place from which to do some bird-watching.
In addition to plenty of food vendors offering traditional seaside treats, sports equipment rentals are available close by for those wanting to hit the water or to enjoy a bike ride along the town's long promenade.
Address: 254 Kings Road, Brighton, East Sussex
3. Kemptown Beach, Brighton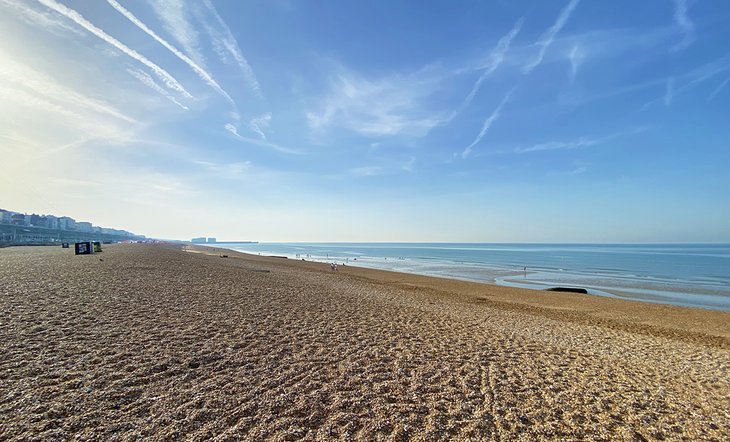 Located an easy 15-minute walk east of Brighton Palace Pier and directly opposite the neighborhood after which it's named, Kemptown Beach extends as far as Brighton Marina and is popular among those who enjoy a less crowded beach experience.
Not that the beach doesn't get busy–it does, but it tends to draw a more adult crowd than the family-oriented main beach.
In addition to sunbathers catching the rays on the mostly shingle beach (some sand is revealed at low tide), Kemptown Beach is popular for activities such as windsurfing, surfing, paddleboarding, and kayaking.
Lifeguard services are provided during the peak season, and a section of the beach here has been open to naturists since the early 1980s, the first such designation in the UK.
When you're done having fun on the beach, spend some time exploring the surrounding area. Highlights include the marina as well as the Kemptown neighborhood, popular for its historic townhomes and vibrant dining and entertainment scenes.
Address: Madeira Drive, Brighton, East Sussex
4. Hove Beach, Brighton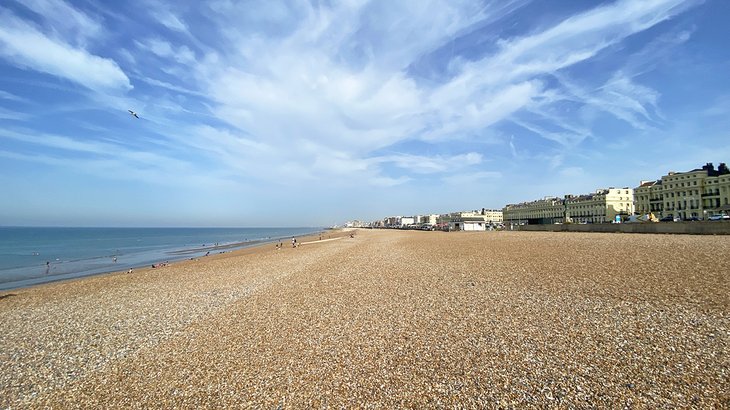 Located around a mile west of the pier, the community of Hove has grown to such an extent that it now lends itself to Brighton's official name: Brighton and Hove. Despite this, Hove Beach has a quite different feel to Brighton Central Beach.
Backed by a wide section of esplanade, a cycle path, and the pleasant Hove Lawns, a green space that's a contrast to the built-up seafront nearer the pier, the beach here is a continuation of the shingle shoreline that extends along this section of East Sussex coastline.
The absence of the typical seaside attractions ensures that people usually visit Hove Beach for the serious business of sunbathing, swimming, and having fun on the water.
Water-based adventures include kayaking, windsurfing, paddleboarding, and surfing, with equipment rentals available on this stretch of beach.
Off-water fun includes tennis courts, lawn bowling, crazy golf, a lagoon used for model ship sailing, plus a large kids play area with a splash pad. Beach huts and beach chairs are available for rent.
Address: Kingsway, Hove, Brighton, East Sussex
5. Ovingdean Beach, Brighton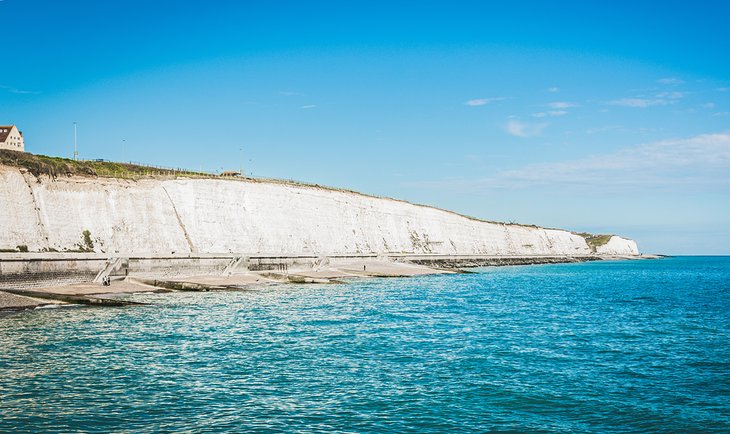 Even if you don't take the opportunity for a swim at Ovingdean Beach, it's well worth a visit.
A scenic one-mile stroll from Brighton Marina along Undercliff Walk, this usually quiet pebble beach is perfect for those wanting to be close enough to Brighton to enjoy the many fun things to do here, but far enough away to avoid the crowds.
Set at the base of a stunning row of white chalk cliffs, the clear, clean waters are perfect for swimming at low or high tide. It's also a popular diving and snorkeling spot, with the many rockpools being as much fun to explore when underwater as they are when exposed.
While Ovingdean Beach has no dedicated parking, a bus service from Brighton can drop you off at the top of a steep set of stairs leading to the beach. Public washrooms are available, and a café is located on the promenade.
Address: Marine Drive, Brighton, East Sussex
6. Rottingdean Beach, Brighton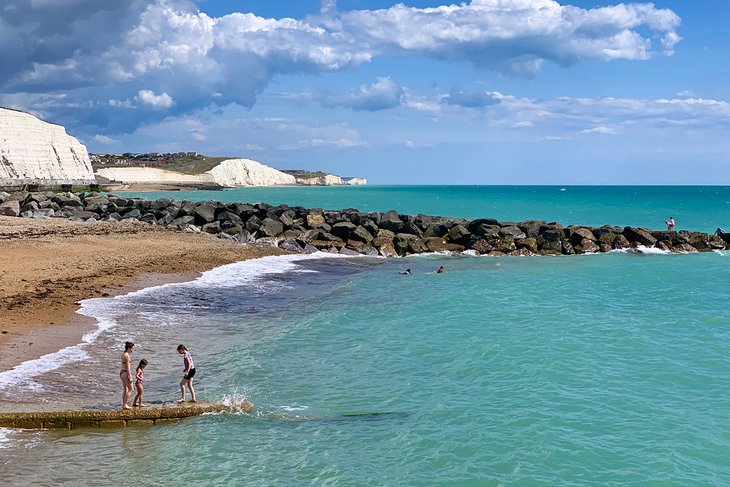 Head another mile farther along Undercliff Walk eastward from Brighton (a total of two miles), and you'll find yourself on Rottingdean Beach.
You can also get to the beach by bus or car and then access the beach from the village high street. There's plenty of street parking available along with a dedicated clifftop parking lot.
While as quiet as neighboring Ovingdean Beach, Rottingdean attracts families with its lifeguard services and numerous rock pools, which kids love to explore at low tide. Like Ovingdean, these same rock pools are popular with snorkelers who will explore the coastline at high tide. Lifeguards are on duty during the summer months.
Off-beach fun includes wandering the village in search of a good place to eat (Smugglers Fish and Chips comes highly recommended) and souvenir shopping.
Kids will appreciate the beachside basketball court, while parents can sit close by and admire the views along the coast and out over the English Channel.
Address: Marine Drive, Rottingdean, Brighton, East Sussex
7. Worthing Beach, West Sussex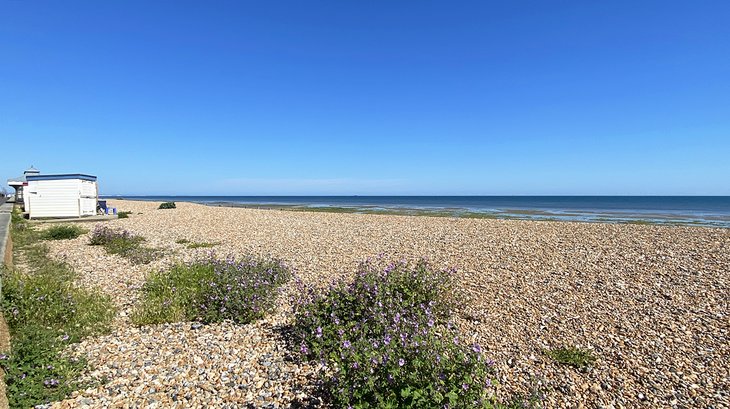 Just 10 miles west of Brighton is another of the best beaches in Sussex: Worthing Beach.
Half the size of its neighbor, Worthing seafront has managed to maintain much of its Victorian-era charm, and while offering typical English beach experiences, remains a lot less busy.
Five-mile-long Worthing Beach itself is part of a 14-mile stretch of mostly shingle coastline that does, when the tide's out, offer up some sand to play in.
Easy to get to from downtown Worthing, it's backed by a wide promenade with beachgoing necessities such as washrooms and change facilities placed at convenient intervals. Plenty of street parking is available, and numerous eateries are within an easy stroll.
On-water activities include everything from windsurfing to sea kayaking, swimming, as well as fishing. If you are bringing a rod, a great place to cast a line is Worthing's historic pier, where there are three designated fishing areas to choose from.
Address: Marine Parade, Worthing, West Sussex
8. Seaford Beach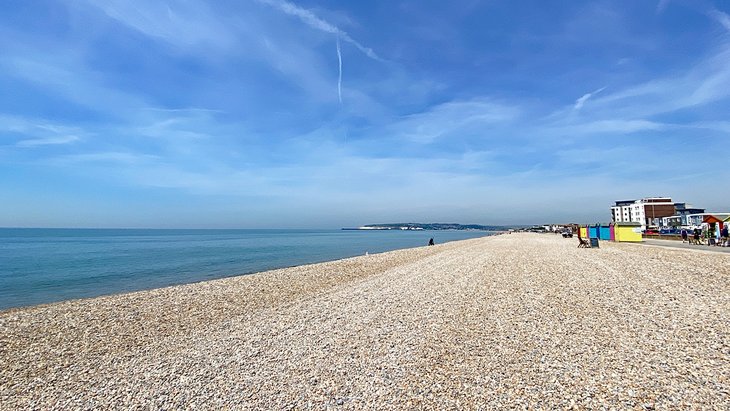 Situated halfway between Brighton and the seaside attractions of upmarket Eastbourne, Seaford Beach is a four-mile stretch of pebble beach that's well worth a visit.
Also known as Dane Beach, it's a little trickier to get to via public transit, with those traveling by rail having to transfer at Brighton, meaning a journey time of up to two hours from London.
It is, however, easy to get to by car, with street parking available even in the busy seasons. As a result, this wide, pebble beach is usually a lot less crowded than its larger neighbors, and the presence of lifeguards on weekends adds a level of comfort for parents.
While the kids won't be playing in the sand here, there's still plenty of fun things to do in Seaford, from amusement arcades to sweet treats to keep them satisfied.
Fun activities to indulge in include canoeing and kayaking, snorkeling, jet skiing, waterskiing, and fishing. While this is a pet-friendly beach, a few of the most popular sections won't allow dogs in the summer.
Address: Marine Parade, Seaford, East Sussex
9. Saltdean Beach, Brighton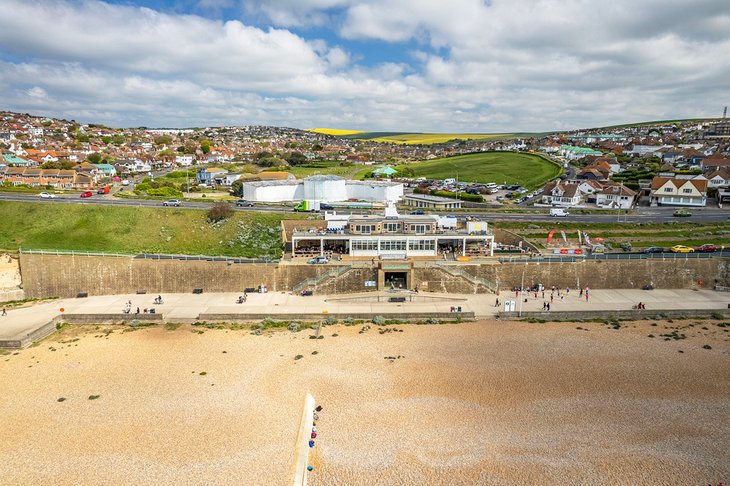 Just a hop, skip, and a jump from Ovingdean and Rottingdean beaches, Saltdean is the eastern-most coastal village to fall under the Brighton municipal umbrella. And it's a big beach, backed by a wide promenade, the Undercliff Walk, that connects it to Brighton some four miles away.
Part of the same white-cliff coastline that stretches four miles west to Brighton, Saltdean Beach is, like its neighbors, predominantly pebble, although some sand is exposed at low tide.
Much of the beach itself is actually relatively new, mostly having formed after the addition of a series of groynes, or breakwaters, underneath the cliffs to help prevent coastal erosion.
Parking is provided in the village at the Saltdean parking lot, adjacent the lido swimming pool, and a concrete walkway provides easy access to the beach. In addition to sunbathing and swimming, popular on-water activities include snorkeling, surfing, windsurfing, and kayaking.
It's also a popular rock-pooling spot, so be sure to time your visit for low tide to explore the exposed rocks and their marine life.
A cliff-top café is located in the village, or alternatively bring your own food and enjoy a picnic.
Address: Marine Drive, Saltdean, Brighton, East Sussex
10. Lancing Beach, West Sussex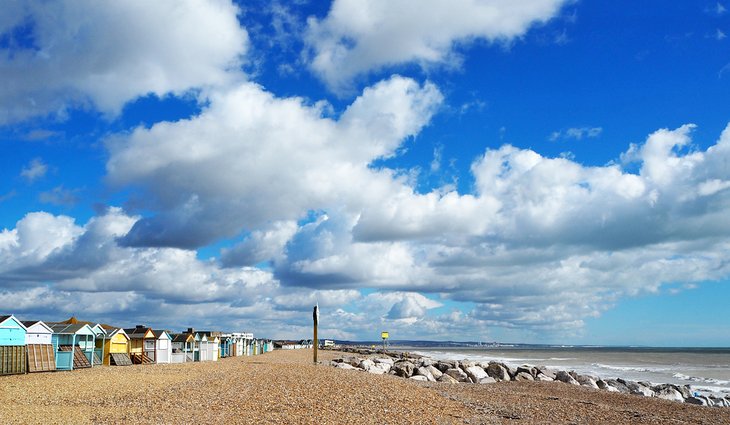 This one's for the kitesurfers. Lancing Beach, just two miles east of Worthing, has earned a name for itself as a hub for seasoned kitesurfers, as well as those new to the sport.
Set along this wide, shingle beach are a number of first-rate establishments that specialize in this rapidly growing water sport, offering sales, rentals, and lessons. Popular choices include Lancing Kitesurf School and the Kite, Surf & SUP Co. School, while the beachside Lancing Kitesurfing Club is worth checking out, too.
As for the beach itself, it's also well-suited for family enjoyment. Though mostly shingle, it's a wide beach, with a large swath of hardpacked sand revealed at low tide.
It's also an ideal spot for taking the dog for a walk, and is one of the few area beaches that observes a year-round pet-friendly policy.
Address: Brighton Road, Lancing, West Sussex
Brighton, United Kingdom - Climate Chart
Average minimum and maximum temperatures for Brighton, United Kingdom in °C
J
F
M
A
M
J
J
A
S
O
N
D

7

0

7

1

10

2

13

3

16

6

20

9

22

11

21

11

19

9

15

6

10

3

8

1

PlanetWare.com
Average monthly precipitation totals for Brighton, United Kingdom in mm.

79

51

61

53

56

56

46

56

69

74

76

79