14 Top-Rated Tourist Attractions in Eastbourne, East Sussex
Author Bryan Dearsley traveled to England in the spring of 2022 where he spent eight weeks exploring its towns and cities, including Eastbourne.
Originally a fishing village that later developed into a large Victorian beach resort, the East Sussex town of Eastbourne is one of the most popular places to visit in South East England for those seeking a seaside getaway. Its elegant three-mile-long seafront promenade extends along wide pebble beaches, and a marvelous holiday atmosphere permeates the spectacular mid-19th-century Grande Parade.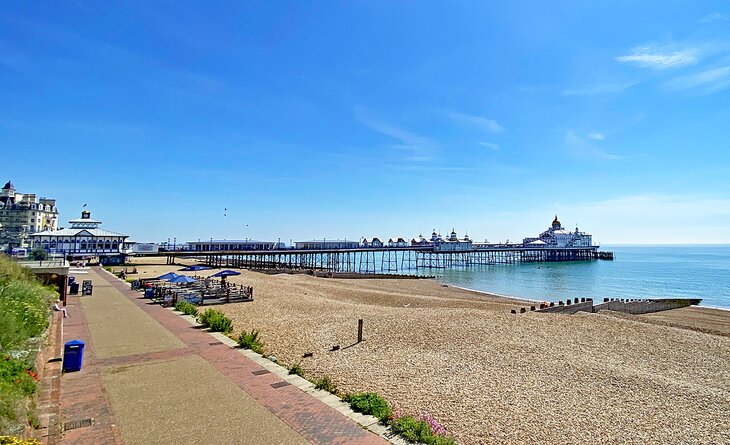 This is the perfect place for a stroll past magnificent white- and pastel-hued houses and luxury hotels, including The Grand Hotel Eastbourne, a famous hotel that overlooks the brightly colored deckchairs on the beach. At the end of the wide esplanade, Eastbourne Pier projects far out to sea behind the Winter Garden theater.
The traffic-free areas around the High Street offer a colorful array of shops, art galleries, and other attractions, as well as plenty of entertainment at locations like the historic Royal Hippodrome Theatre.
Eastbourne also boasts several fine parks and leisure facilities, and sports enthusiasts are well catered to with numerous golf courses and tennis courts (the Eastbourne International ladies' tennis tournament is held here each June). Hikers will want to take on the South Downs Way, a magnificent 100-mile trail that begins in Eastbourne and extends all the way to Winchester.
Be sure to use our list of the top tourist attractions in Eastbourne to plan your seaside vacation.
1. Beachy Head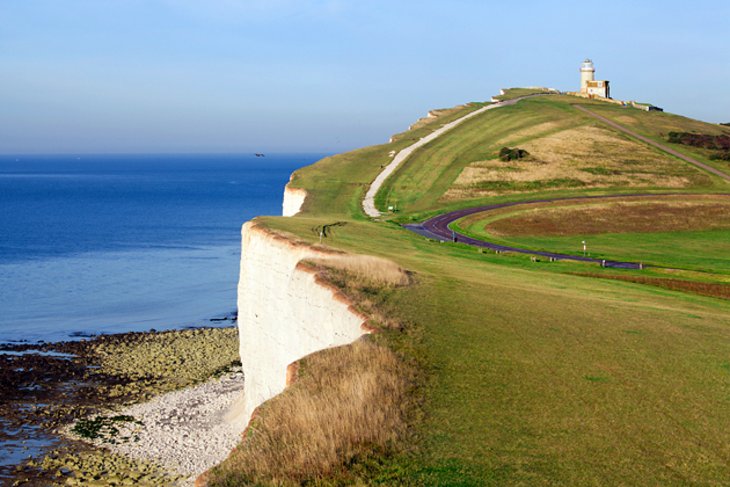 Within walking distance of downtown Eastbourne, the 530-foot-high Beachy Head is a favorite sightseeing spot for tourists due to its spectacular views. This striking snow-white cliff at the end of the South Downs amply justifies its fame, taking its name from the French Normans who called it "Beauchef," or beautiful headland.
While not accessible to the public, the 141-foot-tall, red-and-white striped Beachy Head Lighthouse at the foot of the cliff is a pleasing contrast. So, too, is the Belle Tout Lighthouse on the clifftop to the west of Beachy Head. Built in 1832, the Belle Tout Lighthouse now offers B&B accommodations with stunning views over the English Channel.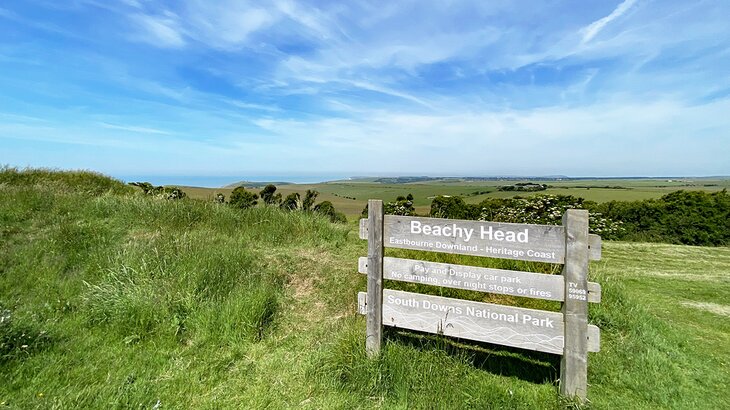 After soaking up the views, take the three-mile-long cliff path passing through Cuckmere Haven and Seaford, or try one of the Guided Walks hosted by the Downland Rangers. Be sure to visit the Beachy Head Countryside Centre, with its interesting Downland Experience exhibit featuring the archaeology, flora, and fauna of the area.
Location: Beachy Head, Eastbourne, East Sussex
Official site: www.beachyhead.org.uk
2. Carpet Gardens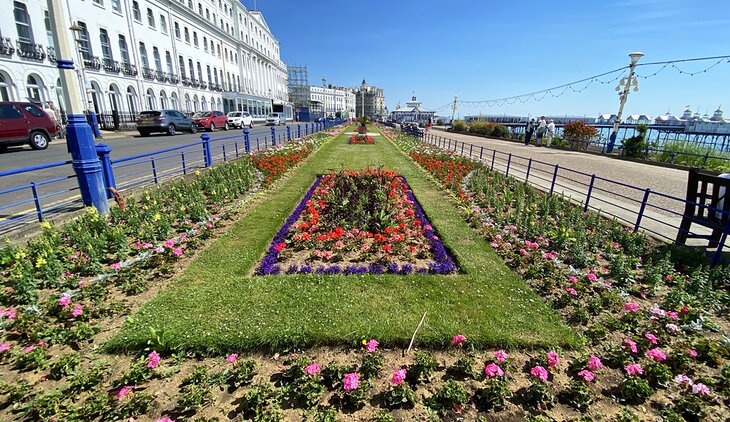 The famous Carpet Gardens are the centerpiece of Eastbourne's Promenade and should definitely be explored. With vibrant displays of bedding plants and fountains, these award-winning gardens are a welcome splash of color between the Western Lawns and Eastbourne Pier. Shrubs and plant species from around the world, including from Mexico, New Zealand, and the Mediterranean, thrive in the town's mild climate.
Another gardener's delight, tucked away below Helen Gardens at Holywell, is the lovely old Italian Gardens. Located in a wooded amphitheater carved out of the cliffs, the gardens were constructed in 1904 and provide the perfect setting for open-air theater productions.
Location: Seafront, Eastbourne, East Sussex
3. Marine Parade Beaches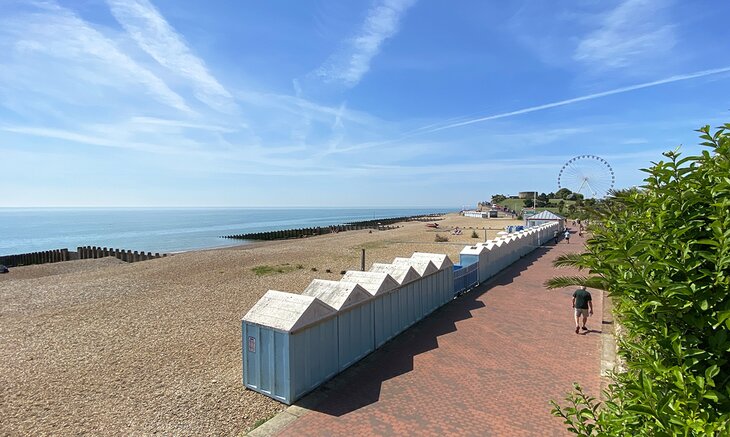 Eastbourne's most popular beaches are located between the pier and the Wish Tower, a Martello Tower built in the late 18th century to keep Napoleon out. Known as the Marine Parade Beaches, they're the area's cleanest swimming areas and offer amenities including lifeguards, safe bathing zones, showers, and toilets, as well as refreshment facilities and bathing cabins.
Another beach area to check out is Holywell Retreat. Situated at the foot of the South Downs, this quaint enclave boasts a popular café, beach huts, and beach chalets.
Address: Grand Parade, Eastbourne, East Sussex
4. Eastbourne Pier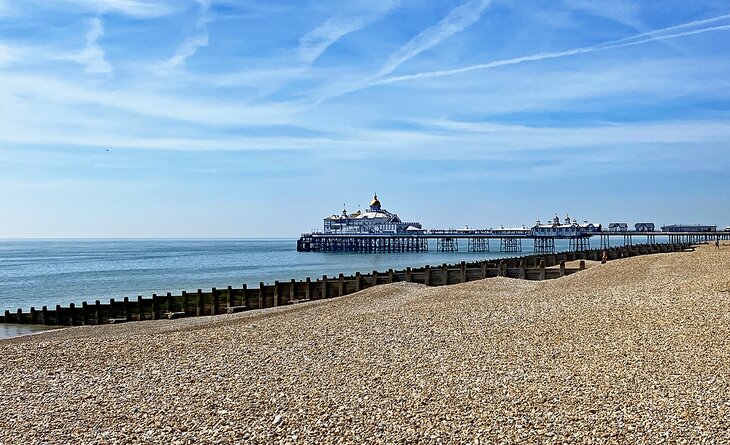 Built in 1870, Eastbourne Pier is a wonderful example of Victorian seaside architecture. A highlight of a visit is enjoying the superb views of the town and the English Channel, as well as participating in the many fun things to do here.
The structure's boardwalk leads to a number of tourist attractions, including dining opportunities, including the Victorian Tea Rooms, an amusement arcade, and novelty and souvenir shops.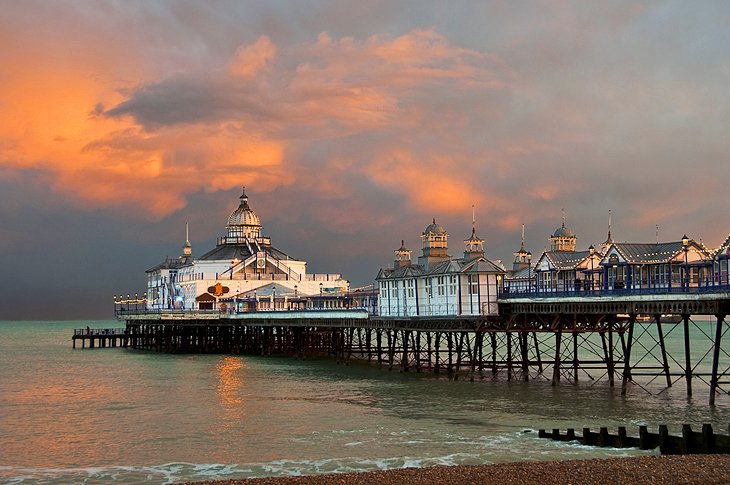 Also popular with tourists is the original Camera Obscura, a Victorian projector with a 360-degree view of the seafront. Although severely damaged by a fire in 2014, much of the pier and its attractions remain open, including its restaurants, and yes, there's a chip shop!
Address: Grand Parade, Eastbourne, East Sussex
Official site: www.eastbournepier.com
5. Eastbourne Lifeboat Museum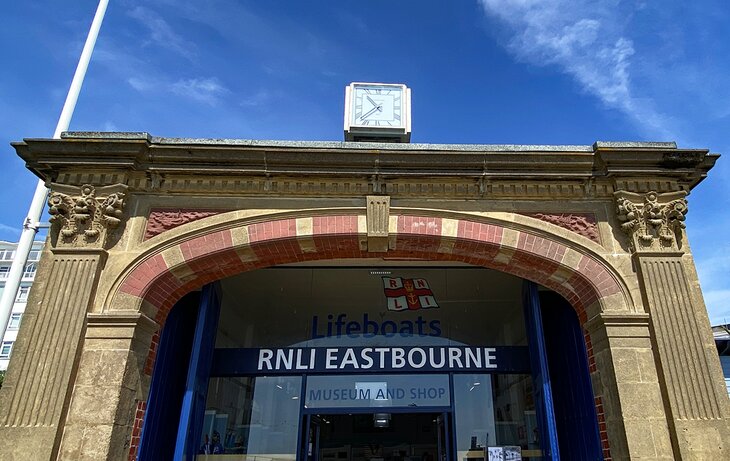 Located just a little farther along Grand Parade on the edge of the picturesque Wishtower Slopes park stands the Eastbourne Lifeboat Museum. Housed in a 19th-century boathouse and established in 1822, this fascinating museum features interesting displays and exhibits related to the town's lifeboats and maritime history.
Highlights include a display relating to the British navy's rescue of allied troops from Dunkirk in WW2, as well as a collection of medals and stories related to dramatic rescues at sea. A great gift shop is located in the same building, and admission is free.
Address: King Edwards Parade, Eastbourne, East Sussex
Official site: https://rnli.org/find-my-nearest/museums/eastbourne-museum
6. Big Wheel (Eastbourne Eye)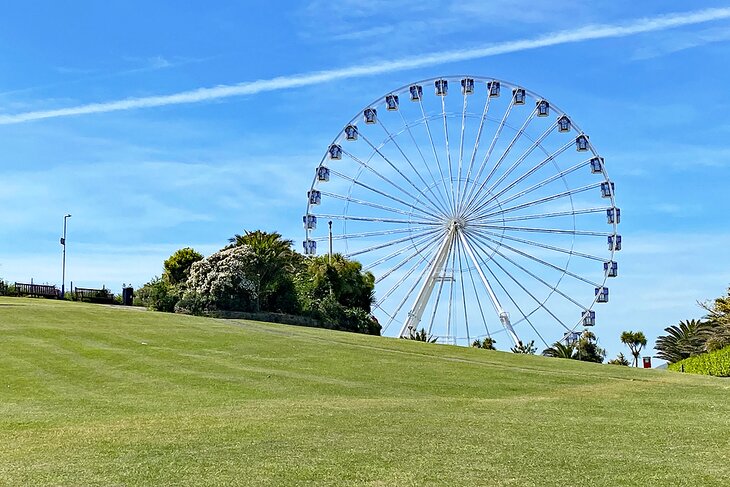 A ride aboard Eastbourne's Big Wheel, the UK's largest transportable Ferris Wheel, is one of the top things to do on the town's seafront. Also known as the Eastbourne Eye, this 160-foot-tall observation wheel boasts great views not only over the town, but also along the beachfront as far as Beachy Head.
Set on a hilltop in the Western Lawns park area and just a short walk from Eastbourne Lifeboat Museum, this family-friendly attraction took only eight days to build and features comfortable enclosed gondolas, some with wheelchair accessibility.
Location: King Edwards Parade, Eastbourne, East Sussex
Official site: www.eastbournewheel.com
7. Eastbourne Redoubt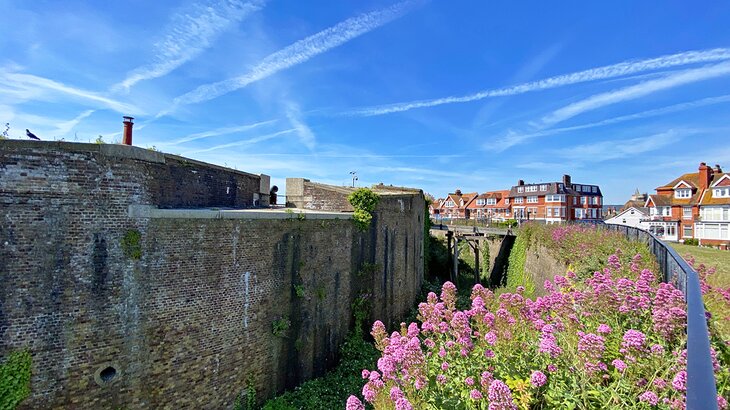 The 200-year-old Eastbourne Redoubt was part of a chain of fortifications known as Martello Towers designed to deter Napoleon's forces in the early 1800s. Garrisoned by troops until the early 1900s and again during WWII, the fortress houses three excellent military collections, including artifacts and displays related to the Royal Sussex, the county's regiment for more than 250 years.
Visitors can view artifacts from the 1702 Spanish War of Succession right up to the North Africa campaign of 1942. The Queen's Royal Irish Hussars collection celebrates the history of two famous cavalry regiments: the 4th Queen's Own Hussars and the 8th King's Royal Irish Hussars, famous for their part in the ill-fated Charge of the Light Brigade. On-site amenities include a cinema and a café. Guided tours are available.
Editor's note: The Eastbourne Redoubt is currently closed to the public for renovations and repairs.
Address: Royal Parade, Eastbourne, East Sussex
8. Eastbourne Miniature Steam Railway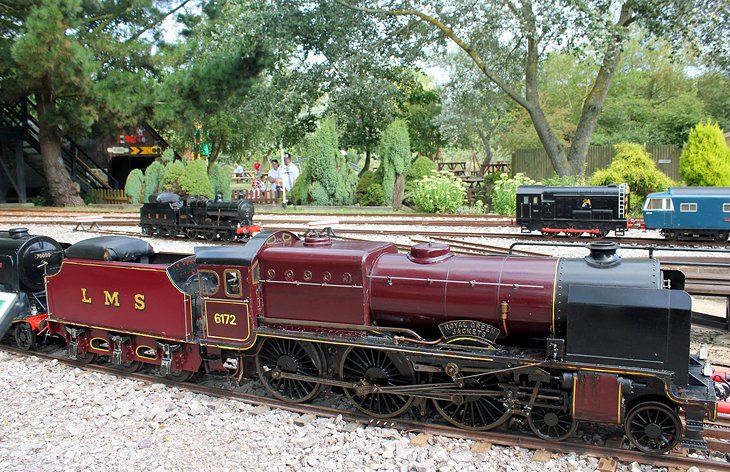 Model train enthusiasts and kids of all ages won't want to miss the Eastbourne Miniature Steam Railway. This family-oriented adventure park includes a mile-long ride through five acres of quaint gardens and parkland aboard fantastically detailed 1/8th-scale miniature trains has been one of the most fun things to do in Eastbourne for families for years.
In addition to the nine different engines to look for while trainspotting, there's also a nature walk, an adventure playground, model railways, a café, and a gift shop. Fishing can also be enjoyed on Southbourne Lake.
Address: Lottbridge Drove, Eastbourne, East Sussex
Official site: https://emsr.co.uk/
9. Seaford and the Seven Sisters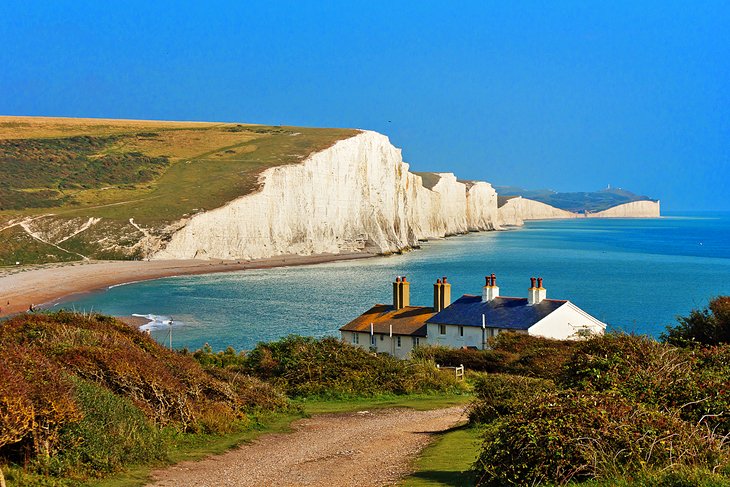 Just nine miles from Eastbourne, the seaside town of Seaford is famous for its Martello Tower at the eastern end of the promenade. However, what it's most famous for are the superb views of the Seven Sisters Country Park. A number of walking trails can be enjoyed, including one that provides easy access to the beach at the foot of the cliffs.
Among England's most impressive cliff views, the incredible Seven Sisters - Haven Brow, Short Brow, Rough Brow, Brass Point, Flagstaff Point, Bailey's Brow, and Went Hill Brow - are just begging to be explored. The best view of these seven chalk hills, which form part of the foothills of the South Downs, can be enjoyed from Seaford Head.
Address: E Dean Road, East Sussex, Seaford, East Sussex
Official site: www.sevensisters.org.uk
10. Towner Art Gallery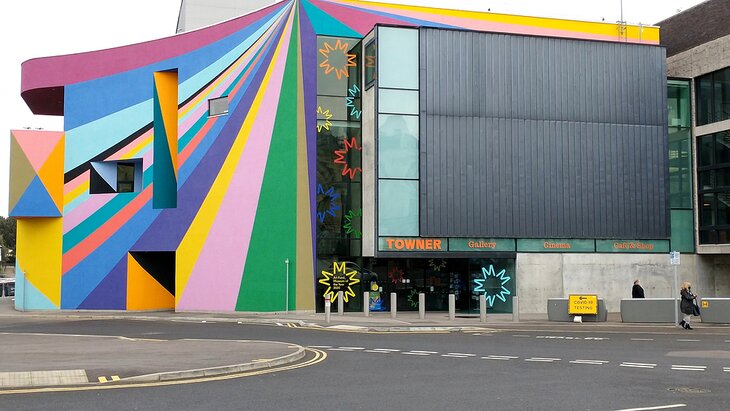 Founded in 1923 and located in its current modern facility since 2009, the Towner Gallery boasts an impressive collection of more than 4,000 oil paintings, watercolors, sculptures, and sketches. The gallery features numerous examples relating to Sussex artists with a special connection to the country, including traditional and modern art works.
Numerous "big name" artists also appear in this surprisingly eclectic collection. These include the likes of Henry Moore; Pablo Picasso; and Eric Ravilious, a student then later teacher at the Eastbourne School of Art. Tours and educational programs are available.
Address: Devonshire Park, College Road, Eastbourne, East Sussex
Official site: www.townereastbourne.org.uk
11. Michelham Priory, Hailsham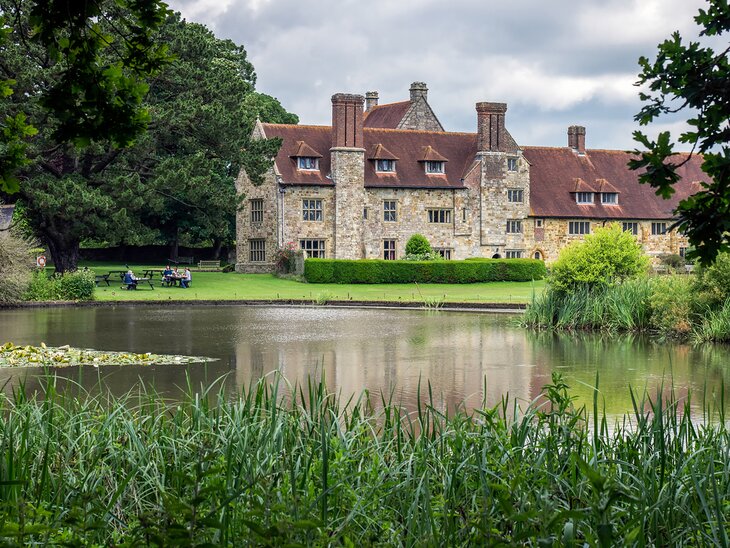 Set on a moated island near Hailsham, eight miles north of Eastbourne, Michelham Priory is considered one of the most impressive historic houses in Sussex. Built in 1229, most of the original buildings were destroyed during the Dissolution and the remains converted into a Tudor farm and country house.
Interior highlights include the mansion's Victorian and Tudor kitchens, along with a room modeled to look as it would have done in WWII, when evacuees from London were housed here.
Other big draws today include picturesque grounds and gardens, a working watermill, a sculpture garden, a smithy, and a rope museum. Be sure to look for the Elizabethan Great Barn, which serves as a backdrop for art exhibits and theater productions. A café and shop are located on the property.
For those seeking a different kind of thrill when in Hailsham, nearby Arlington Stadium features a quarter-mile-long raceway for hot rod and stock car racing.
Location: Upper Dicker, Hailsham, East Sussex
Official site: https://sussexpast.co.uk/attraction/michelham-priory/
12. The Cuckoo Trail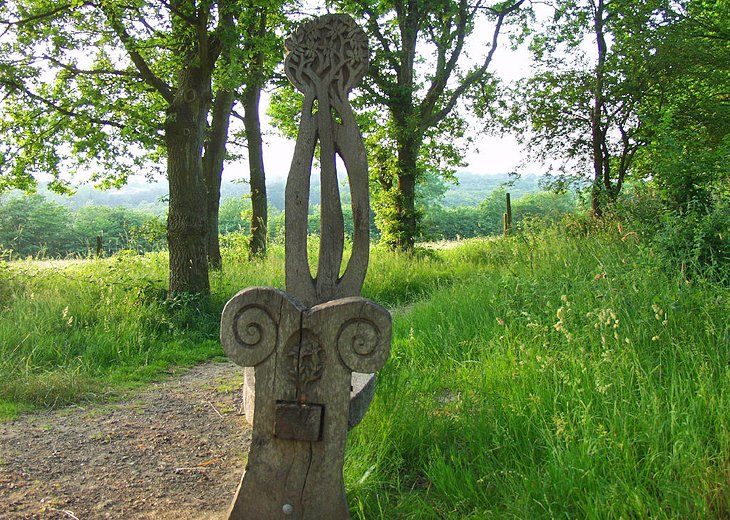 This nationally acclaimed 14-mile trail follows the route of the former "Cuckoo Line" railroad linking the towns of Polegate, Hailsham, Horam, and Heathfield. The level and surfaced trail offers ideal opportunities for walking for those of all abilities.
It's popular for horseback riding and cycling and is part of the National Cycle Network. Mostly traffic-free, the route offers superb opportunities to explore the region's beautiful countryside. Part of the trail even passes through a former train tunnel, the Heathfield Tunnel.
Official site: https://new.eastsussex.gov.uk/leisureandtourism/countryside/walks/cuckootrail/
13. The Observatory Science Centre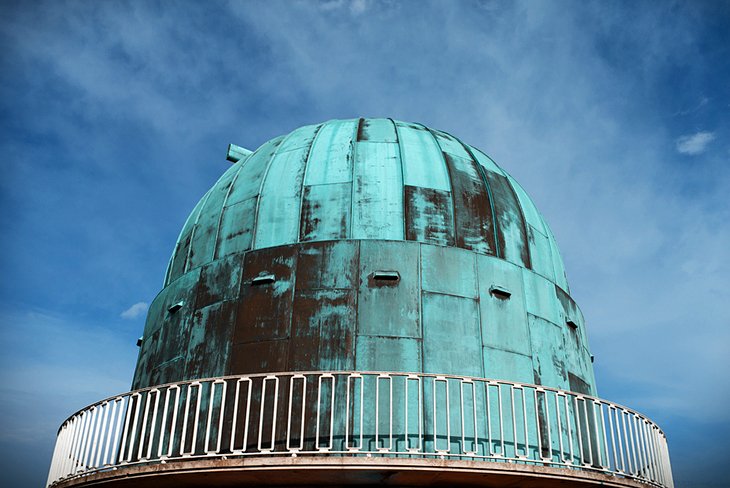 The Observatory Science Centre in Herstmonceux features an incredible historic astronomy site that was once part of the Royal Observatory in Greenwich. Highlights of a visit include fun exhibits, with an emphasis on discovery and sharing the miracles of science, as well as many unique displays relating to the history of the building itself. Tours and occasional open evenings are available after hours that allow guests a chance to view the night sky.
No visit would be complete without spending time exploring neighboring Herstmonceux Castle, one of the oldest brick buildings in England. Surrounded by a large moat, this impressive 15th-century mansion offers tours of its interior, as well as the chance to explore its extensive gardens and grounds, including some 300 acres of woodland.
Location: Herstmonceux, Hailsham, East Sussex
Official site: www.the-observatory.org
14. Take a Drive to East Dean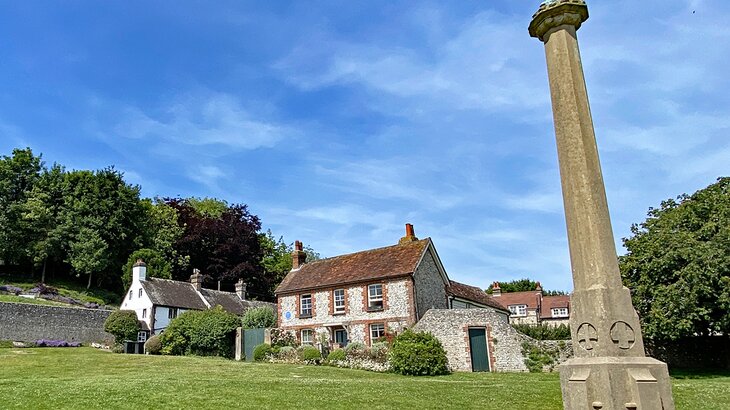 A scenic 15-minute drive away from Eastbourne's seafront, and you'll find yourself in the small community of East Dean. One of the prettiest villages in England, charming East Dean (East dean and Friston in full) makes for a great stopover for those hiking through or driving to Beachy Head and the famous Seven Sisters white chalk cliffs.
With ample free parking, the village is virtually traffic free, with its quaint village green forming a hub for those picnicking or simply sitting and soaking up the traditional English village experience. The village church, St. Simon and St. Jude, is also worth visiting.
Location: East Dean & Friston, East Sussex