11 Top-Rated Small Towns in Kent, England
Home to some of the best places to visit in England for a weekend getaway, the county of Kent has much to offer the curious traveler. While well-known as the "Garden of England" for its attractive countryside, Kent is also home to numerous pleasant small towns, big and small, that are fun to explore.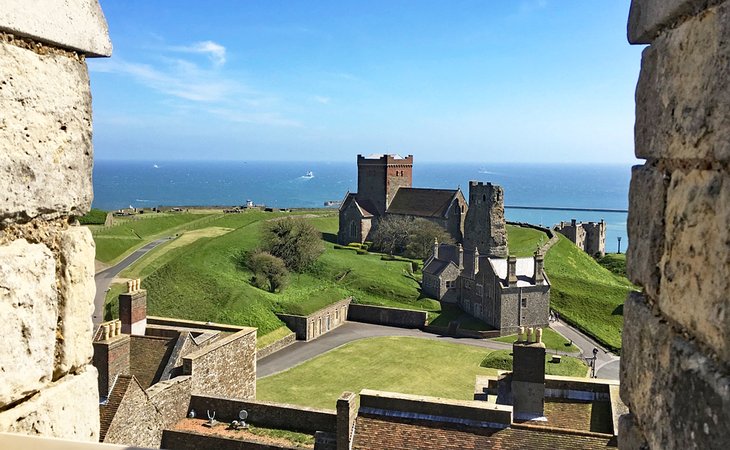 Located in South East England and only 20 miles away from France, Kent is surprisingly easy to get to via rail and bus networks from London and even mainland Europe. And it's a journey that's worth making, as Kent's small towns have something for everyone.
Looking for a great shopping experience? Kent's small towns have you covered with everything from quaint craft galleries to luxury boutique shops. Other fun things to do in small towns in Kent include dining, sightseeing, hiking, and enjoying unique cultural activities, to name but a few.
To help guide you while you explore this beautiful corner of England, we've put together this handy list of the very best small towns in Kent.
1. Sandwich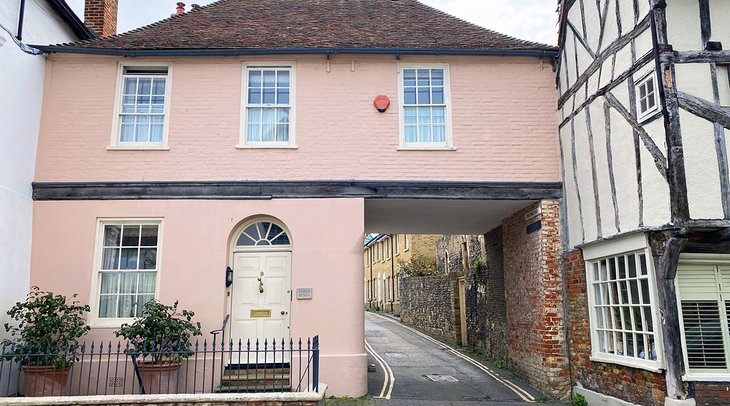 Despite its relatively remote location and small population of just 4,985 people, the small Kentish town of Sandwich is served by rail services from Central London, a journey of around two hours that makes it a very doable day trip.
Sandwich was founded by the Romans and was once one of the Cinque Ports that protected the Kent and Sussex coasts from marauders and invaders from Europe. But receding waters have left this pretty town about 2.5 miles inland from the English Channel. Despite this, its location on the River Stour means it's home to an attractive waterfront with boats visiting from other parts of the UK and even Europe.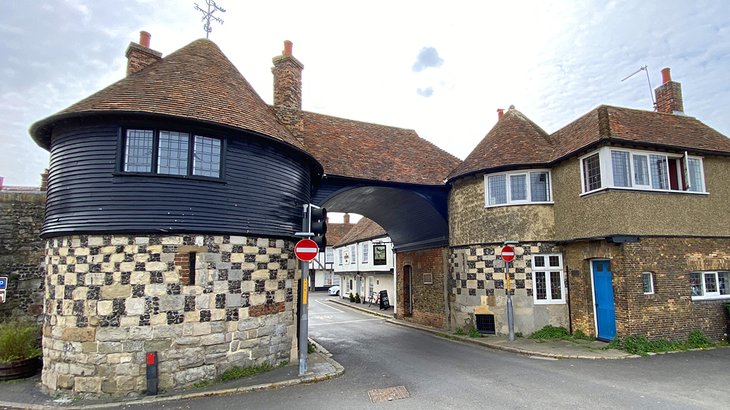 Be sure to spend time wandering the well-preserved old streets with their remarkably preserved medieval homes and shopfronts. You can learn more about the buildings and life during the town's past, including building techniques and trades, at the Sandwich Medieval Centre.
Location: District of Dover, Kent, England
2. Tenterden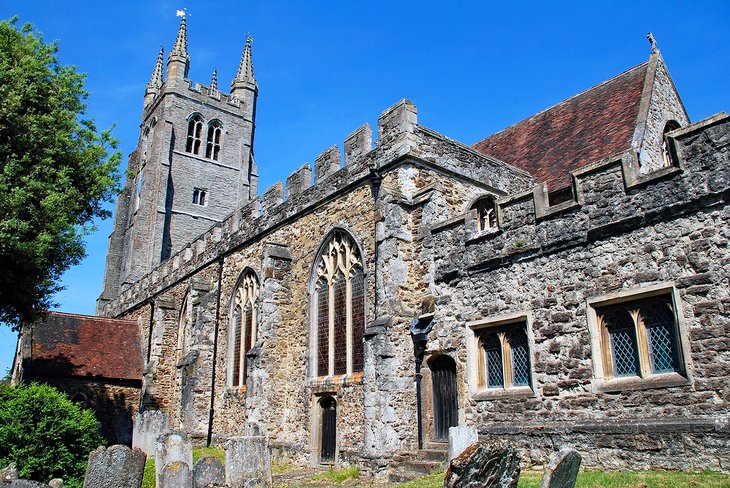 The attractive small Kentish town of Tenterden, located 12 miles southwest of the main terminus of passenger rail traffic to Europe, was also a former Cinque Port but now no longer has water-access to the English Channel.
Undoubtedly one of the prettiest small towns in Kent, Tenterden has a lot going for it, from locally and internationally inspired eateries to some of the county's best family attractions. Tenterden is nicknamed the "Jewel of the Weald" for its picture-perfect High Street.
One of the best places to visit in Tenterden if you're traveling with kids is the Kent & East Sussex Railway. With a station just steps away from the High Street, this fun heritage railway operates year-round and offers scenic steam train excursions as far as Bodiam Castle, one of England's most attractive castles.
Immensely walkable, Tenterden also makes for a great jumping-off point for memorable countryside "loop" walks that begin and end in town. It's also handily located for those wanting to explore the nearby medieval port town of Rye in Sussex.
Location: Borough of Ashford, Kent, England
3. Hythe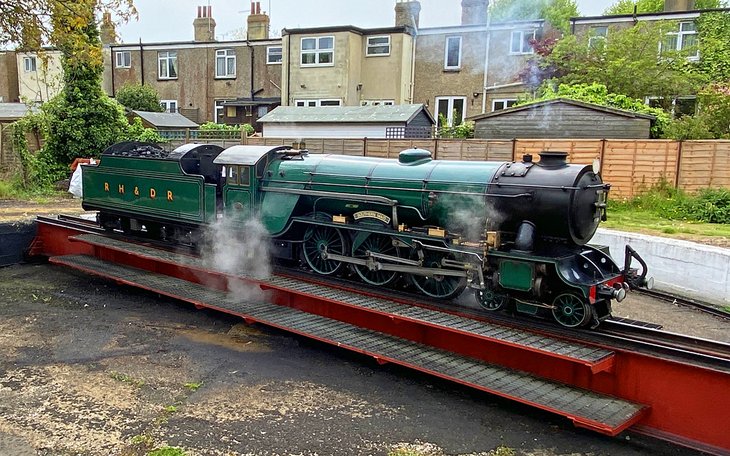 Located just four miles west of Folkestone, the small town of Hythe has managed to retain its old Victorian seaside resort feel. Fun things to do in Hythe include enjoying traditional seaside arcade games with the kids, strolling along the wide promenade, or simply relaxing and enjoying the great views over the English Channel.
Hythe Beach is also popular for beachgoers wanting to avoid the crowds descending on other popular Kentish beaches. The town's also a great destination for those who enjoy a variety of water sports, including swimming, wind- and kitesurfing, paddleboarding, and kayaking.
Hikers can enjoy a walk along the trails adjacent to the 28-mile Royal Military Canal, a defense built during the Napoleonic war, while train enthusiasts can hop aboard the Romney, Hythe & Dymchurch Railway (RH&DR). Billed as the world's "Biggest little railway," this pint-sized miniature railway travels the coast for 14 miles all the way to Dungeness.
Location: Folkestone and Hythe District, Kent, England
4. Faversham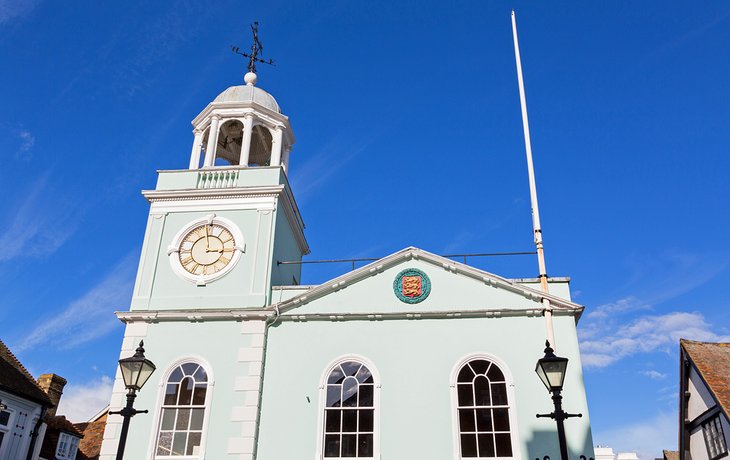 Its location 48 miles east of London and just 10 miles north of the cathedral city of Canterbury makes Faversham an easy stopover for travelers heading into Kent. Boasting a well-preserved historic town center with a number of fine old medieval-era buildings, its location on the River Swale with its connections to the Thames and the English Channel saw it being an important market town over the centuries.
Faversham's roots, however, go back even further when it was established on the old Roman road connecting London to Dover. You'll certainly get a sense of the town's age as you stroll the downtown core with its over 300 historic listed buildings. You can even find evidence of the town's important role in the manufacture of gunpowder at sites such as Gunpowder Works Country Park.
Fun 90-minute guided tours of the town are available free of charge, while those wanting to go it alone can pick up maps from the Town Hall's visitor center.
Location: Swale District, Kent, England
5. Sevenoaks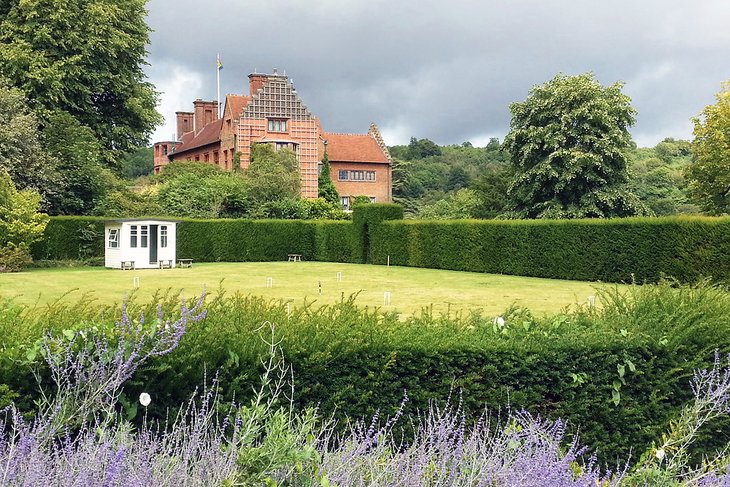 Just 21 miles from Central London, the historic small town of Sevenoaks makes for an easy and fun day trip from London. It has long been considered one of the poshest parts of the county for its fine country estate homes and exquisite Regency and Georgian-era townhomes, and you'll not get bored strolling the High Street while soaking up the traditional Kentish architecture.
Just a mile away from the High Street, Knole Park is one of the most visited former stately homes in South East England. Set amid its spectacular 1,000-acre grounds, Knole is simply massive, boasting seven courtyards, 365 rooms, and no-less than 52 staircases. It was built in the mid 15th century.
Your visit here will include a chance to view its rare furnishings, artworks, and silverware. The grounds are also certainly worth exploring and are home to a large deer herd.
Another famous property located close to Sevenoaks is Chartwell Manor. Once home to Winston Churchill, this National Trust property can best be explored via an informative guided tour.
6. Margate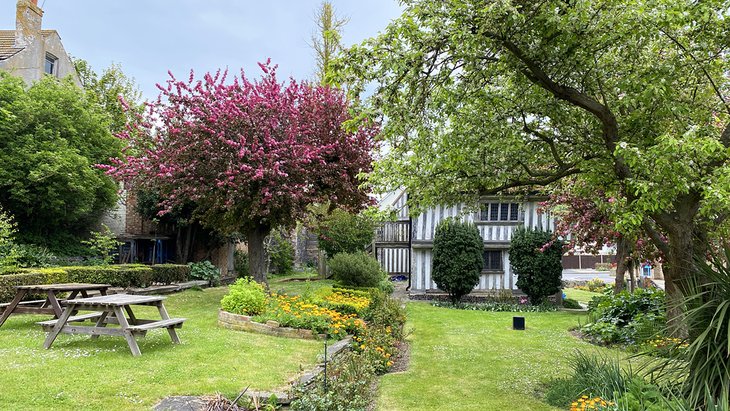 Long considered the "go to" Kentish resort destination for Londoners, the once slightly tacky and tarnished Margate has undergone a dramatic transformation in recent years. In addition to the excellent Margate beaches, overseas tourists and day trippers alike will enjoy a modern-day take on the traditional English seaside break.
While the usual souvenir shops and fast food outlets are still here, dig a little deeper, and you'll find artisan galleries and great seafood eateries selling locally caught fish are now as popular. Even the once maligned Dreamland has reinvented itself having been rebranded as a fun family retro-style theme park with classic old rides from days gone by.
The shining star among Margate's newer attractions is the Turner Contemporary. This world-class art gallery pays homage to Joseph Turner, one of Britain's most revered artists who spent a great deal of time in Margate.
Location: Thanet, Kent, England
Read More: Best Things to Do in Margate, Kent
7. Royal Tunbridge Wells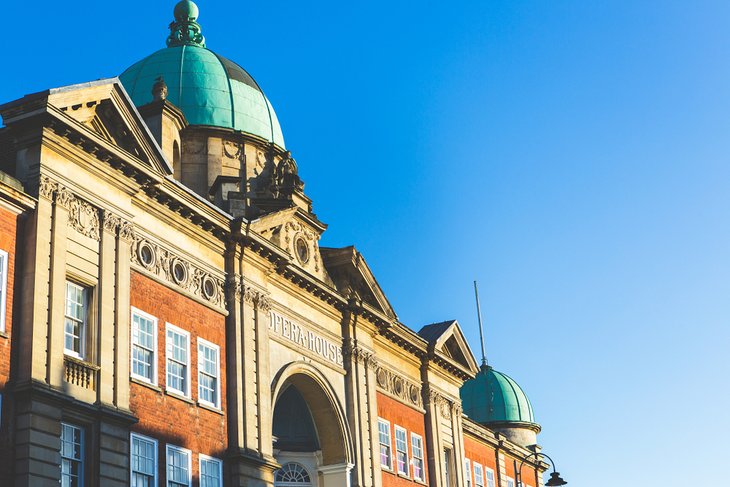 One of only a handful of small towns in England with "Royal" status, Royal Tunbridge Wells was granted the title in 1909 by King Edward VII due to its being a favorite among members of the monarch's family, including his mother, Queen Victoria. A big draw was the health-giving springs found here, which led to the town becoming a popular spa destination among the upper classes.
One of the county's most picturesque towns, it's fun to explore on foot. As pleasant as strolling the colonnaded Pantiles can be, don't limit yourself to just the attractive downtown core. The town's well-developed network of walking and hiking trails extend in a nearly 28-mile loop around the town and offer plenty of great scenery and green space along the way.
Other highlights of a visit include exploring the 250-acre grounds of Groombridge Place Estate, or simply staying in town shopping and dining.
Location: Borough of Tunbridge Wells, Kent, England
8. Folkestone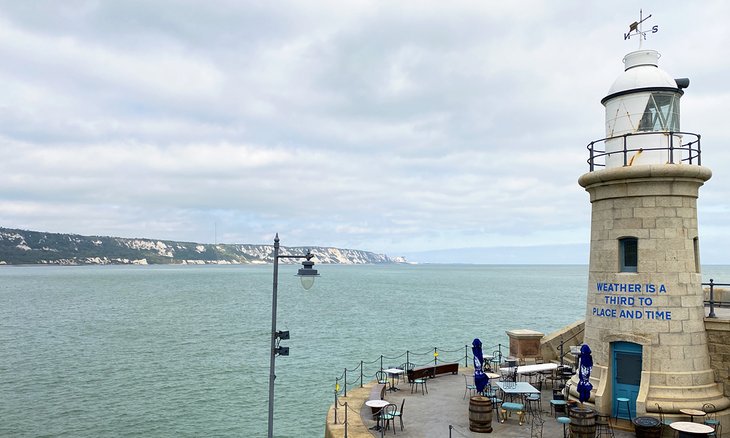 Folkestone is another English seaside town that's got its mojo back. Once a rival to neighboring Dover for cross ferry channel traffic, Folkestone's harbor area has been revived and redeveloped to appeal to visitors from within the UK, as well as Europe.
The key to the development is the wonderful Harbour Arm, originally built in the early 19th century to handle cross-channel passenger and cargo shipping. The downturn in ferry traffic left the old harbor area languishing, but today, it's a bustling hot spot, drawing visitors for its food and entertainment options, as well as its superb views over the channel and along the coast all the way to the famous White Cliffs of Dover.
Steps away from the Harbour Arm is another successful revitalization project: the Creative Quarter. This colorful pedestrian-friendly zone features cobbled streets and laneways lined with old shopfronts and townhomes repurposed as art galleries, studios, and boutique stores selling all manner of unique goods.
Another highlight of Folkestone is its revitalized town center. It's fun to wander and is home to a great local museum and numerous cafés and restaurants.
Location: Folkestone and Hythe District, Kent, England
9. Dover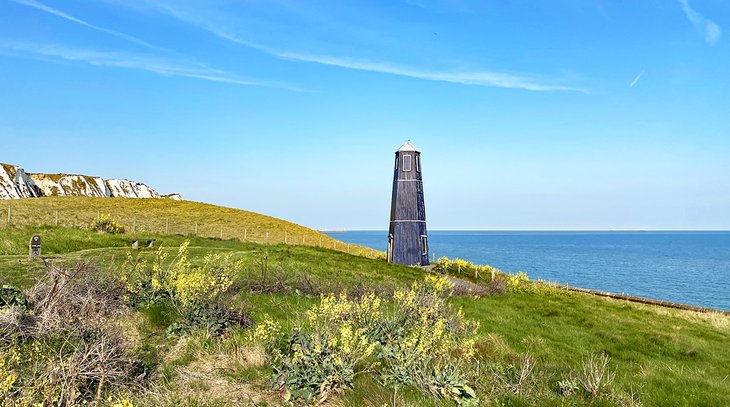 Just a hop, skip, and a jump north of Folkestone, and you'll find yourself in Dover. In addition to being home to the famous White Cliffs of Dover, this bustling port town sees much of England's cross-channel ferry traffic pass through.
To catch a fun glimpse of the ferries coming and going, head up to the Gateway to the White Cliffs Visitor Centre perched almost directly above the harbor.
Dover was first settled by the Romans, and it was the building of beautiful Dover Castle in the 12th century that really put the town on the map. This defensive fortress saw action as recently as WW2, when it served as a command base overseeing the English Channel. Today, a visit includes seeing the ruins of an original Roman-era lighthouse, the wartime tunnels, as well as its state rooms and grounds.
Location: District of Dover, Kent, England
Read More: Top-Rated Things to Do in Dover
10. Maidstone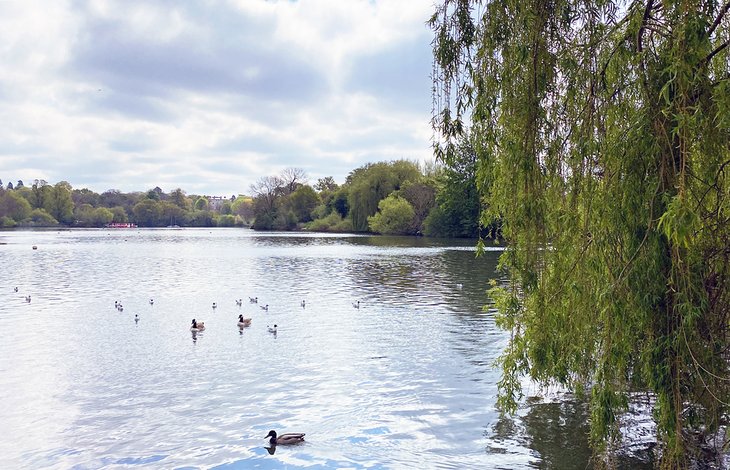 The county town of Kent, Maidstone is under an hour's train ride from London and is well worth a visit. It was historically important due to its strategic position on the River Medway, which connects to the Thames Estuary. Today, you can still enjoy Maidstone's former small-town feel by taking in some of its quieter corners.
Head first for Maidstone River Park, straddling the River Medway in the town center. Here, you can enjoy a quiet stroll while enjoying peeking at the old river barges and newer pleasure craft lining the quays. Die-hard hikers will want to carry on along the riverside trails all the way to the village of Allington. This eight-mile route is equally pleasant by bike.
Mote Park is another quiet corner of Maidstone that is worth exploring. Covering 440 acres and once a private estate, these well-manicured grounds include a man-made lake for leisurely boating, plenty of walking trails, a great afternoon tea experience in Mote House, and even a fun miniature railway for the kids to ride.
Location: Borough of Maidstone, Kent, England
11. Whitstable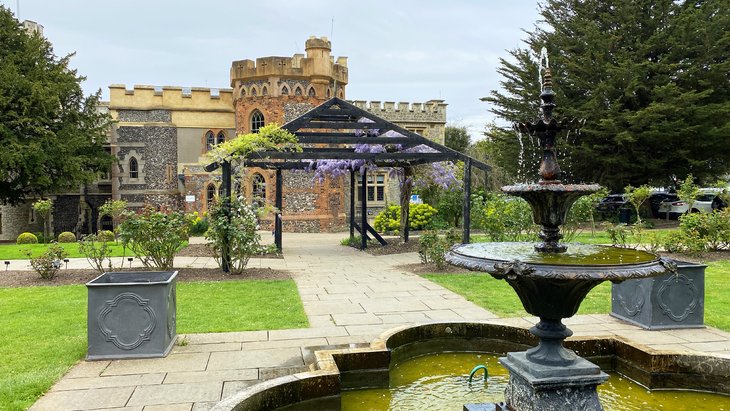 The closest of Kent's resort towns to London, Whitstable is one of the best places to visit on the county's north coast for those seeking an authentic English seaside experience.
Start your sightseeing adventure at Whitstable Harbour, where you can still enjoy watching the town's fishing fleet come and go and afterwards eat fresh caught seafood in the nearby kiosks, chip shops, cafés, and restaurants.
Designed to look like a cluster of traditional fishing huts, Harbour Market is a pleasant open-air market set around the harbor wall and promenade. It's also fun to explore – you'll find plenty of things to spend money on here, from artworks to local crafts, as well as dining options. You can also book fun on-water tours and cruises for seal watching or fishing.
And don't forget to pack your bathing costumes. Whitstable's beaches are among the best in Kent, and while most are pebble/shingle beaches, hard-packed sand is usually revealed at low tide. They're also popular with kids at low tide, when exposed rock pools provide an opportunity to search for crabs and other marine life.
Location: City of Canterbury, Kent, England
Map of Small Towns in Kent, England