12 Top-Rated Weekend Breaks in England
Author Bryan Dearsley traveled to England in the spring and summer of 2022 and spent eight weeks exploring its towns, cities, and beautiful countryside.
Thanks to its rich history and the reputation of its many must-visit cultural attractions, England offers no end of fantastic options for memorable weekend breaks for couples, families, or solo travelers. It's also an easy place to get around, and you're never more than an hour's drive from a coastline.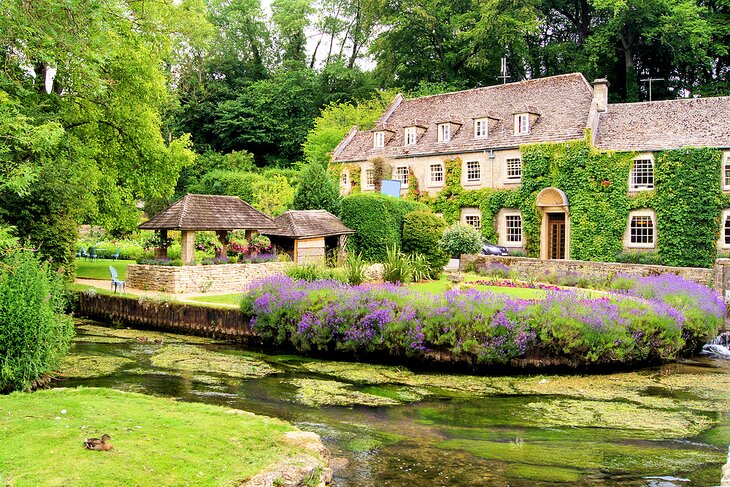 England also offers something for all travel tastes. History buffs are particularly spoiled for choice, with an endless array of lovely old cathedral cities to visit such as Canterbury and Durham.
Head even further back in time, and you'll find well-preserved evidence of the Roman era of nearly 2,000 years ago in places like Bath, famous for its Roman Baths, while fans of the Royal Family can even get a taste of what it's like to be Queen (or King) for a day with immersive tours through places like Buckingham Palace and Windsor Castle.
Find the most rewarding places to visit in the "Olde Country" with our list of the best weekend breaks in England.
1. Experience Royal London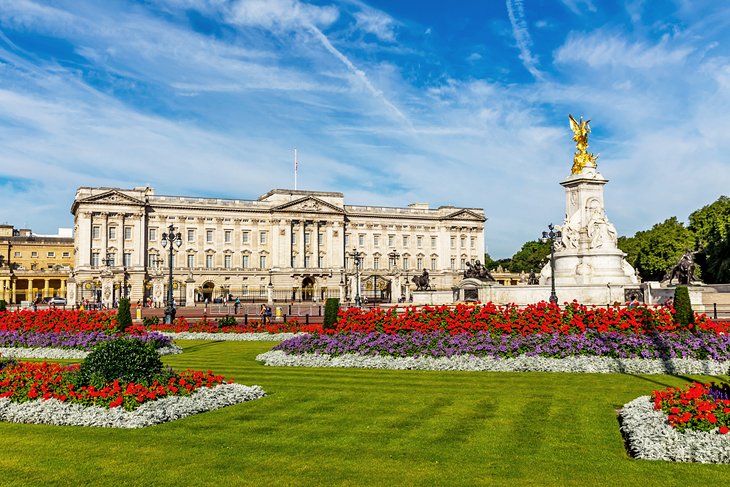 Highlights: Tour Royal palaces and gardens, watch the famous Changing of the Guard ceremony
For a city break, London is definitely the place to go and the best place get your royalty fix. The center of English power for centuries, it's here you'll find the most symbolic embodiment of the country's Royal Family: Buckingham Palace.
While tours of the palace are available, it's possible to get a taste of the importance the country places on royalty and all its trappings simply by turning up at the gates of nearby St. James's Palace at 11:30am any day during the spring and summer.
Here, you'll witness the Changing of the Guard ceremony. Considered one of the top things to do for free in London, this colorful display of music and marching offers the perfect chance to enjoy a little pomp. Afterwards, you can even follow in the footsteps of the military band as it marches back to its barracks).
Back to Buckingham Palace. Constructed in 1837, it has been the London home of the royals since Queen Victoria's day. It's easy to know whether the King is in residence by checking whether the royal flag is hoisted above the palace; if it's raised, he's in.
As impressive as it is on the outside, it's inside that really rocks, something tourists can experience a little of during the summer months when the King is at Balmoral, undoubtedly one of the most interesting castles in Scotland.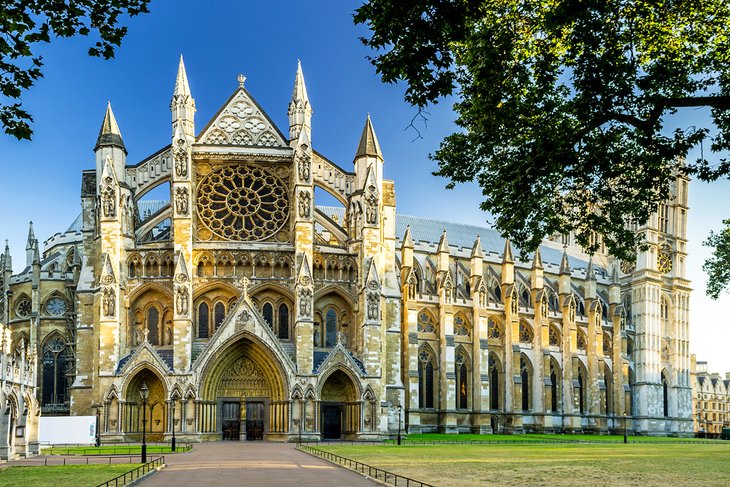 While tour options are limited, they're well worth joining as they provide a unique opportunity to see interior highlights, such as the palace's State Rooms and The Queen's Gallery. Other nearby royal-related attractions include Westminster Abbey, scene of many a royal wedding, and the spectacular Tower of London, famous for its displays of the crown Jewels.
For those wanting to stay as close to London's royal landmarks as possible, you can't do much better than checking in to The Rubens at the Palace. This elegant luxury hotel is as close as you can get to Buckingham Palace for an overnight stay. Overlooking the Royal Mews and a short stroll from St. James's Park, the hotel will pamper you royally thanks to its chic rooms and suites, tremendous food service, and great nightly entertainment.
Another good choice is the opulent Mandarin Oriental Hyde Park in Knightsbridge, well-known as a favorite haunt of the Royal Family down the decades.
Accommodation: Best Resorts in London
2. York: England's Walled City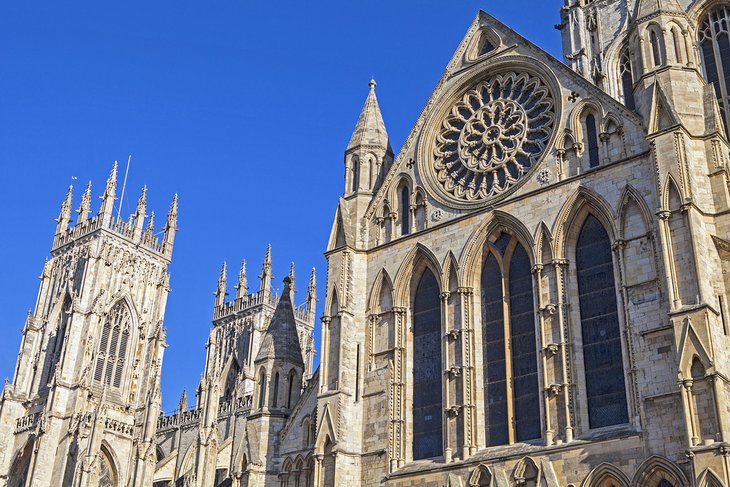 Highlights: Walk England's longest intact city walls and explore the Shambles' cobbled lanes
One of England's most attractive historic city centers can be explored in York, North Yorkshire. Established by the Romans, the original fortifications gave way to an impressive array of historic structures, including the magnificent York Minster, the city's remarkably well-preserved medieval cathedral. Surrounding the old church (the largest of its kind in the country) are a myriad of old alleys and laneways just begging to be explored.
The best-known of these old streets is the Shambles. Much of what started in the 14th century as butcher shops and meat stalls is now a collection of quaint timber-framed buildings with upper levels literally hanging over the street. Unchanged for 700 years, many of these historic buildings are now home to boutique shops and tearooms.
The real fun, though, is exploring the city's medieval walls. The largest remaining such fortifications in the country, these tall walls extend some three miles around York's medieval city center, offering a unique chance to enjoy views that have remained unchanged for centuries. Along the way, you'll come across former Roman structures, as well as the well-preserved old city gates.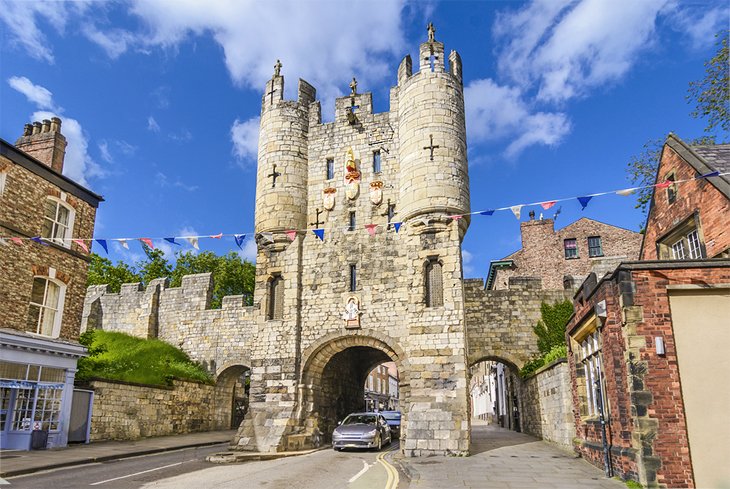 Walking the walls can take a few hours, so take your time. Better still, if you've managed to secure a stay at a hotel within the walls themselves (or close by), you can always break your exploration into smaller chunks, diving back into the hustle and bustle of the crowds when the mood strikes, even saving some of it (or making a return visit) as the sun sets behind York Minster.
Although located just outside the city walls, the majestic Principal York is a great hotel for those seeking a memorable weekend break in this part of England. Steps away from the city's train station (and the excellent York National Railway Museum), you'll enjoy first-rate services, amenities including a health club and spa, as well as elegantly appointed suites with large, comfortable seating areas.
Situated about as close to York Minster as you can get (you can see the cathedral tower from some of its rooms), the charming Grays Court Hotel offers a choice of uniquely decorated rooms with en suite bathrooms and complimentary breakfasts.
3. The Cotswolds: Idyllic England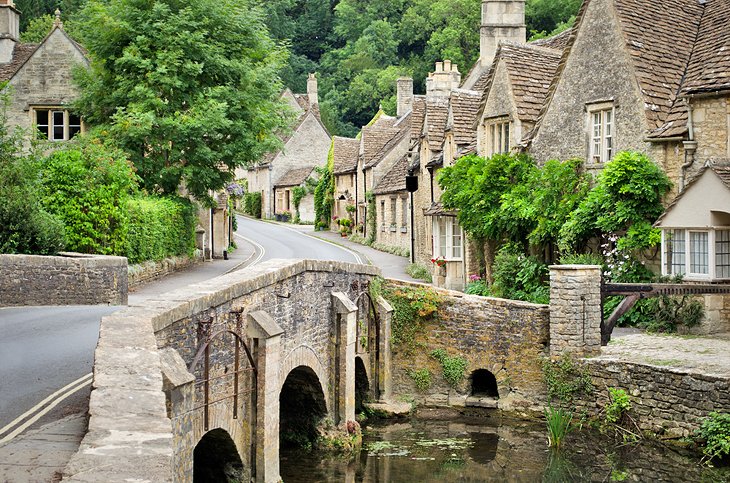 Highlights: Explore England's idyllic villages, charming estates, and country hiking trails
If you want to spend a romantic weekend break exploring this island nation's picturesque countryside, nowhere shouts "weekend break in the country!" louder than the magnificent Cotswolds. Long regarded as the prettiest corner of England, the Cotswolds cover the best parts of six counties just two-hours' drive west of London, encompassing some 787 square miles of attractive rural scenery.
It's now protected as an Area of Outstanding Natural Beauty for its unique flora and fauna. Tourists are also drawn for the many quaint villages that dot the countryside, such as Castle Combe, a great place to stay as you explore the many gentle footpaths and trails that crisscross the region. One of the most popular, the Cotswold Way, is a nearly 10-mile-long route taking in many pretty villages.
If you can pull yourself away for a few hours, the Cotswolds also serve as a great jumping-off point for excursions into popular nearby travel destinations, including Bristol, with its historic old port area, and Bath, famous for its Roman baths.
A popular choice of accommodation in the Cotswolds is the stunning The Manor House Hotel and Golf Club, popular for its location near Castle Combe. It's known for its historic medieval architecture, classy rooms, and excellent high tea. The charming Lucknam Park in Colerne offers a lovely park-like setting, posh rooms, and great dining, all just eight miles from Bath.
4. Bath's Roman Heritage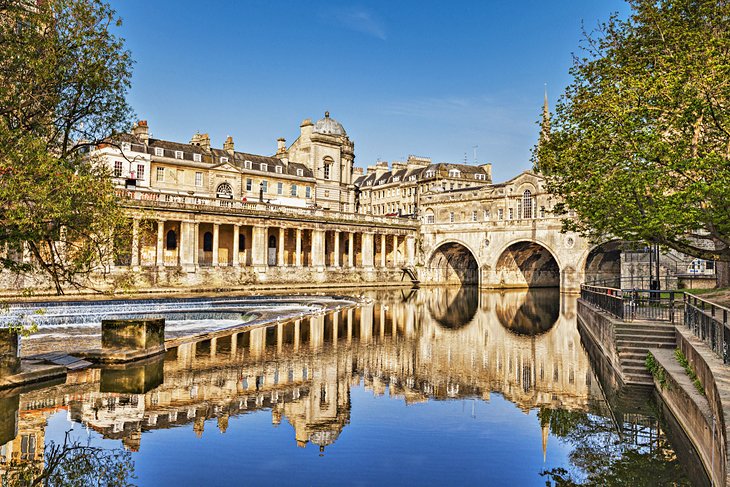 Highlights: Preserved Roman Baths, day spas, elegant Georgian architecture, and Jane Austen
The historic city of Bath has much to commend it for those seeking a family or couples' weekend break. Not only is this beautiful city one of those English gems that one can get to faster by rail than car, it's home to some of the best-preserved Roman structures anywhere in the world. Best of all, those same hot springs that first drew the attention of the Romans, continue to be available for those wanting to experience them.
Before getting wet, though, spend a little time exploring the remarkably well-preserved Roman Baths themselves. Entrance to the Roman Baths and Temple, widely considered the most important surviving Roman architecture in the country, includes a chance to view original artifacts discovered during excavation over the decades, a highlight being the incredible mosaics dating back some 2,000 years.
The rest of your weekend mini-break can easily be spent wandering the city's more recent architectural delights. Be sure to include the stunning Georgian-era townhomes on Royal Crescent, one of which (#1) has been turned into an excellent museum that reveals a little of what life in the late 18th century would have been like, upstairs and downstairs.
Other top-rated tourist attractions nearby include the fascinating Museum of Bath Architecture, home to an impressive scale model of Royal Crescent and other important city landmarks. From here, head to Pulteney Bridge, a historic river crossing that features a number of boutique shops and restaurants on it.
Finally, great views over the city can be enjoyed along the six-mile-long Bath Skyline Walk, a route that circles Bath and is an especially fun thing to do as the sun sets.
After all that walking, you deserve to soak those weary body parts. For a chance to bathe like a Roman, head to the spectacular Thermae Bath Spa, located directly across the road from the ancient baths. It's attractive and modern without detracting from the surrounding historic buildings. Here, you can enjoy impressive views from the rooftop swimming pool, take a plunge in a thermal bath — sourced from the same hot springs the Romans enjoyed — and just kick back and relax. Alternatively, the old Cross Bath, set in a nearby historic building dating from the 18th century, can even be rented for some private bathing.
A number of city hotels also offer great spa packages. Topping our list of favorites is the chic The Gainsborough Bath Spa, which in addition to providing guests with amazing rooms, allows use of the spa facilities, including those on-site, with thermal pools, saunas, and full-service treatment rooms. An equally classy stay can be enjoyed at The Bath Priory, located in a magnificent Georgian mansion, with unique rooms and spa facilities.
5. The University City of Oxford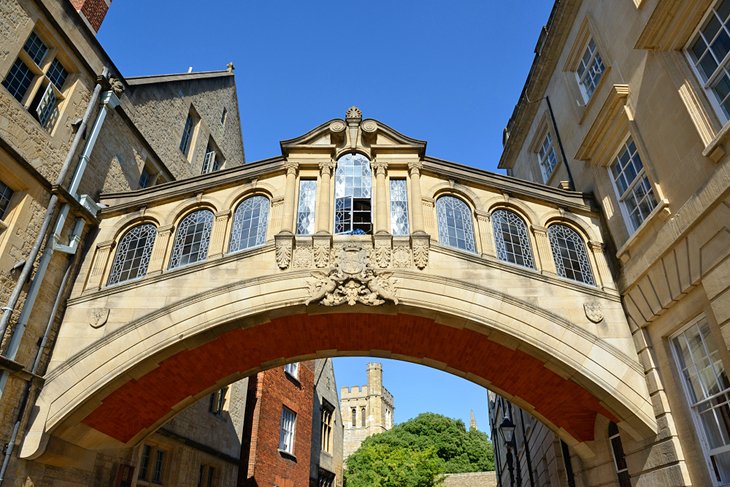 Highlights: Historic university city with old colleges, Harry Potter tours, museums, and galleries
As famous as its long-time rival, Cambridge, Oxford is a great weekend getaway destination for those who enjoy learning. An easy 55-minute train ride from London, Oxford has been a seat of higher education since medieval times, with many examples of architecture from its first colleges still available to see.
Among the top must-see sights to take in on a self-guided walking tour are the stunning Bridge of Sighs, an attractive walkway that crosses a road and connects two buildings in Hertford College, and Carfax Tower, which can be climbed and is popular for its great city views.
While access to many of the colleges can be limited during term time, some do offer insightful guided tours of their most important historic buildings, including some that were included in film shoots, such as the dining room of Christ Church College, which was used as the basis for Hogwarts Great Hall in the Harry Potter movies. Still others have tapped into the growing interest in their history and open their doors during the summer months to tourists interested in spending a night or two on campus (breakfast included).
Alternatively, excellent accommodation options can be enjoyed at places like The Head of the River Hotel, with some rooms overlooking the River Thames (breakfast included), and the delightful De Vere Oxford Thames Hotel, which, although located a little outside the city, offers stunning views over its 30-plus acres of grounds adjacent to the same river.
6. The Historic Port of Bristol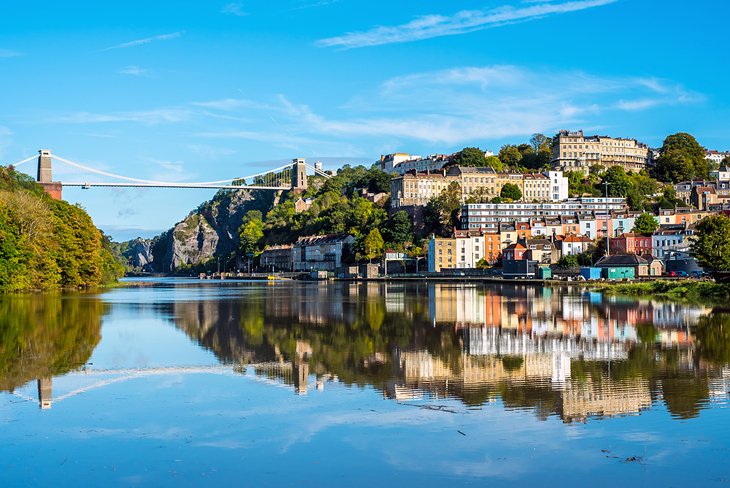 Highlights: Walkable port city with preserved historic harbor, ships, and buildings
It was from Bristol, less than two hours due west of London by rail, that many of England's best-known adventurers started their explorations of faraway lands. From the city's sheltered harbor on the Avon River, easily accessible from the Bristol Channel and the Atlantic, John Cabot embarked on his voyage of discovery to North America in the late 15th century, helping establish the city's reputation as one of the country's most important ports.
A Bristol weekend break should include ample time to explore the port. This once-neglected area, known as the Floating Harbour for its ability to keep ships afloat despite the tides, has been spectacularly re-imagined as a tourist destination, with its warehouses and wharves turned into a collection of interesting, must-visit galleries and museums, as well as great shopping and entertainment opportunities.
In addition to fun family attractions and great things to do such as the Bristol Aquarium, At-Bristol Science Center, and museums such as M Shed, which focuses on the city's long history, it's in the port area you'll find the SS Great Britain. Designed by Isambard Brunel, it was the very first iron-hulled passenger ship ever built. This historic vessel is a delight to explore and gives a sense of what travel in the mid-19th century was really like.
Getting around the city on foot is easy and can be a lot of fun, too, especially if you also make use of the hop-on, hop-off city-run ferries to get from attraction to attraction. It's also easy to find good centrally located accommodations, too.
Favorites include Hotel du Vin Bristol, a classy boutique hotel located in an old sugar warehouse, which offers trendy, well-appointed rooms and free parking, and Berwick Lodge, which, although set a little outside the city center, more than makes up for it with its 18-acre park-like setting, full-breakfasts, and afternoon teas.
7. Durham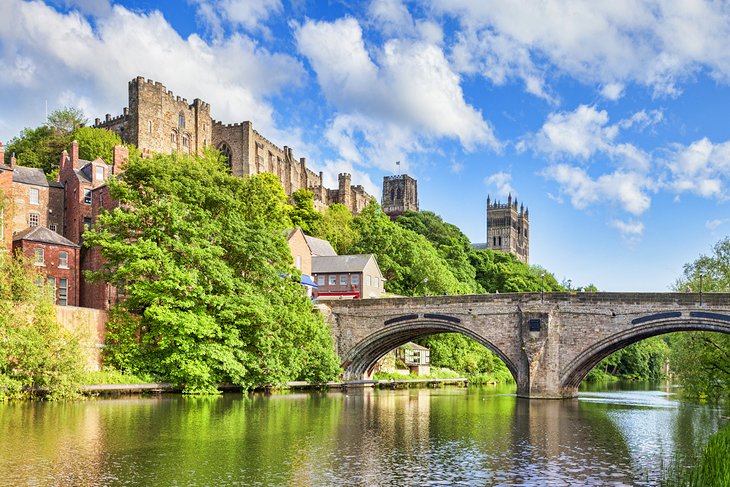 Highlights: World Heritage site with medieval town center, beautiful cathedral, and castle
Now one of England's most visited UNESCO World Heritage Sites, the old city of Durham in the county of the same name offers plenty of things to do for those visiting for a weekend break. All told, its UNESCO status covers an impressive collection of some 600 listed buildings, most of them situated in the old city center.
It's here that you want to spend the bulk of your time exploring the city's well-preserved medieval architecture, including the historic Town Hall and the big draw, Durham Cathedral. Started in 1093 and completed 40 years later, this stunning edifice dominates the old part of the city, with half the fun being making your way along the many narrow, winding streets that lead to it. Each are lined with boutique shops, galleries, and cafés tempting you to stop and linger.
After touring the spectacular cathedral (guided tours are available, and recommended), be sure to take in other great tourist sites. These include the popular 11th-century Durham Castle, the bustling Indoor Market, the splendid riverside, and Durham University's lovely botanical gardens, all of which can be easily accessed on foot from a centrally located hotel.
A good choice of in-town hotels includes the Delta Hotels Durham Royal County, popular for its chic rooms and river views, and the Radisson Blu Hotel Durham, which offers quality stays and a choice of great weekend and other holiday packages.
8. Kent: The Garden of England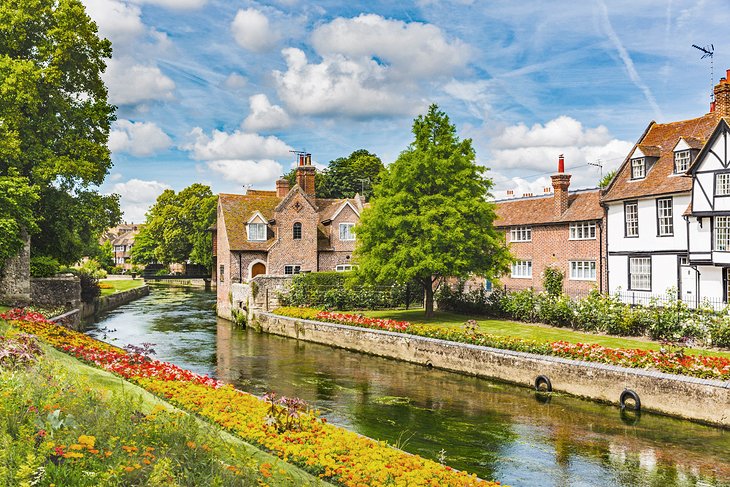 Highlights: Close to London, boasting elegant cathedrals, old castles, and charming seaside towns
The county of Kent, an easy train ride away from London (not to mention Europe, thanks to the Eurotunnel), has long been known by its nickname, 'The Garden of England'. Blessed by a great location and some of the mildest weather in England, it's a wonderful and attractive county to explore.
A great place to base yourself for a weekend break in Kent is the cathedral city of Canterbury. This charming market city boasts plenty of well-preserved medieval character to explore. Must-visits include Canterbury Cathedral, seat of the Anglican church, and infamous as the place where Archbishop Thomas Becket was murdered in 1170 — a fascinating tale that can best be told by one of the cathedral's professional tour guides.
And if there's availability, book a stay at the wonderful Canterbury Cathedral Lodge. Located in the cathedral grounds, it's a unique opportunity to experience this magnificent location after nightfall, relaxing in the gardens or pleasant hotel lounge.
Other Canterbury points of interest include the Canterbury Roman Museum, which delves even further back in time to a period in history dominated by the Roman Empire. Shopping in Canterbury can also be fun, especially around the historic King's Mile thoroughfare with its numerous boutique shops, galleries, and cafés.
From Canterbury, it's easy to explore other parts of this beautiful corner of England, too. Just a short drive away is Dover, famous for its chalky White Cliffs and the spectacular Dover Castle. Be sure to also wander downtown Dover, taking in the old 13th-century Maison Dieu Halland, used as a hostel for pilgrims making their way to Canterbury.
A little farther south, you'll find the classic English seaside resort town of Folkestone. The highlight of a visit is taking a stroll along the promenade overlooking the English Channel before heading into the town's trendy Creative Quarter, popular for its many cafés, restaurants, art galleries, and shops.
9. Wonderful Windsor and its Castle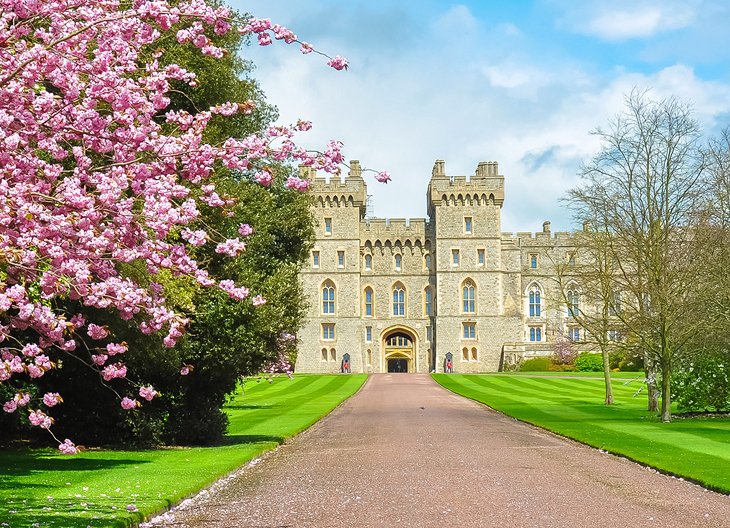 Highlights: Beautiful Royal castle with guided tours and vast park setting with gardens
Those looking for a fun weekend escape from London should hop aboard a 30-minute train ride from the city to Windsor on its westerly borders. In the beautiful county of Berkshire, Windsor is located on the south bank of the Thames and is famous not only for its attractive old medieval homes and narrow cobblestone alleys — all of them begging to be explored — but, perhaps most of all, for Windsor Castle.
Long a residence of the British Royal Family, Windsor Castle makes a splendid weekend destination, with the sheer size and number of things to see here making it well worth spending a couple of days exploring.
A good option is to spend your first day viewing the many indoor elements of this top-rated attraction, using your second day to explore its vast 13 acres of parklands (though this itinerary could be swapped, pending the often-unpredictable weather).
Windsor Castle was the summer royal home for over 900 years. Your interior adventure should include such sites as St. George's Chapel, famous for its Order of the Garter; the spectacular State Apartments, with their dining hall and the Queen's Gallery, each boasting elaborate ceiling paintings and woodcarvings; and the burial place of Prince Albert, Queen Victoria's husband, Albert.
The grounds, known as the Great Park, are also worth exploring. If the weather allows, wander through the gardens at your leisure, stopping for a picnic, with the castle making the most idyllic of backdrops.
As for places to stay, a popular choice is the elegant Sir Christopher Wren Hotel, located just steps away from the castle and boasting magnificent Thames views from many of its luxurious rooms and suites.
If you're traveling with kids and don't mind being a little farther away, check out the Legoland Windsor Resort Hotel. Located adjacent to the brand's Windsor theme park, there's plenty of fun to be had in-room and around the resort, including great swimming pools and activities.
10. Shakespeare's Stratford-Upon-Avon Home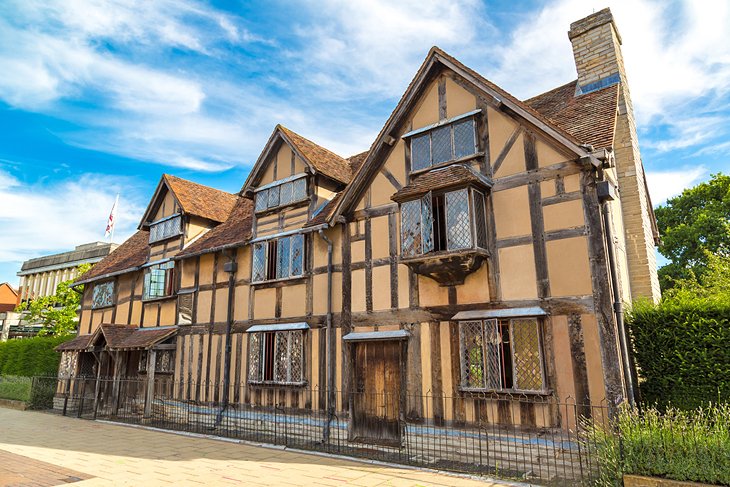 Highlights: Birthplace and hometown of William Shakespeare with museums and theaters
Few writers in history have had so great an influence on a country as William Shakespeare has had upon England. Born and bred in the idyllic riverside market town of Stratford-upon-Avon, the Bard, as he's known, spent much of his life here, writing his classic plays with a backdrop that looks straight out of the pages of a fairy tale.
Preserved much as it would have been back in the 1600s, Shakespeare's birthplace can in fact be toured and comprises a charming half-timbered two-story home typical of the middle class at the time.
In addition to collections of authentic period furniture, there are also originals of his greatest works, along with graffiti carved into the walls by other greats of English literature, such as Charles Dickens and Thomas Hardy, there, like you, to pay their respects.
From here, it's just a short walk to the historic town center, largely unchanged since the 16th century. In addition to its many fine restaurants and shopping, there are plenty of other fun things to do here, too. If you're visiting in the quieter autumn months, try to time it so you can catch the fun of the famous Mop Fair, a funfair held here ever since the 15th century.
Warmer weather activities include strolling along the banks of the River Avon or, better still, booking a few days to explore the river and the region's canal networks on a river barge, many of them now converted (or built) as comfortable floating cottages.
Those seeking an unforgettable high-end place to stay during your exploration of this gorgeous part of Warwickshire should splash out on the elegant Welcombe Hotel. Situated just a short distance from the center of Stratford-upon-Avon — the Royal Shakespeare Theatre is less than two miles away — this former estate is set on 150 acres of rolling countryside and offers a variety of rooms and suites to choose from, along with on-site dining.
Those wanting to be in the heart of the action should check out Hotel du Vin Stratford-upon-Avon, a chic spot near Shakespeare's birthplace, which boasts lovely rooms and suites.
11. Cozy Up in Cambridge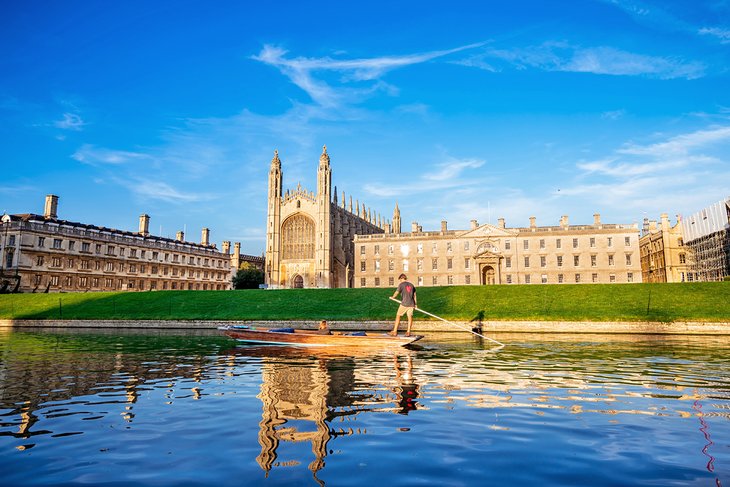 Highlights: Picturesque university city with historic museums, colleges, and river punting
Few destinations can offer the kind of opportunities for a romantic break that Cambridge does. And when you think of romance in this stunningly beautiful university city, you no doubt conjure up images of couples entwined, being chauffeured along the city's waterways in a classic punt, the traditional shallow-bottomed vessels that have been used to navigate the waters around the city for centuries.
The best of these fun trips are in boats being punted along the most scenic parts of the River Cam, often by students from the University of Cambridge, who, if prompted, may even point out their college (you'll pass seven of the university's 31 colleges along the way).
Some of the most romantic views are reserved for the very heart of the college, an area known as the College Backs, famous for the expansive lawns and green spaces belonging to these historic places of learning.
Afterwards, in addition to wandering the college grounds on foot, be sure to include a few other attractions on your Cambridge itinerary. Highlights include the university's lovely botanic gardens, a sprawling 40-acre site established in 1841 that features over 8,000 plant species from around the world; and the Fitzwilliam Museum, notable for its rare artworks and ceramics from across the globe.
For a truly memorable weekend away, consider timing your visit to coincide with one of the city's many festivals. Of these, the best are the famous Cambridge Folk Festival, which attracts performers from far and wide, or the 800-year-old Midsummer Fair, one of the oldest such events in England.
And for details of somewhere good to cozy up and spend your romantic Cambridge weekend away, check out our favorites: the Varsity Hotel & Spa or the luxurious Gonville Hotel.
12. Bournemouth Beach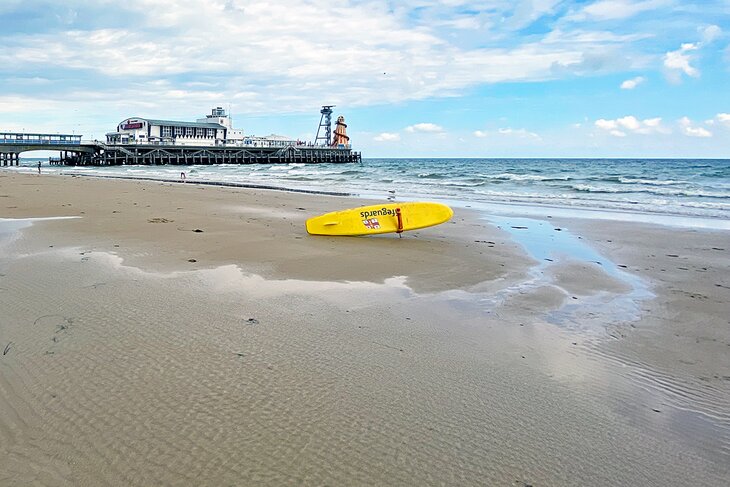 Highlights: Ten miles of wide sandy beach with a promenade and beachside accommodations
Ranked one of the top beaches in the UK, beautiful Bournemouth Beach in the county of Dorset is also one of the longest stretches of sand in England. Extending 10 miles from neighboring Poole to the west, all the way to Southbourne in the east, you'll find some of the very best swimming, sunbathing, and water sports in the country here.
The beach is also quite wide, making it well-suited for families with younger children, as there's always plenty of exposed sand even when the tide is in. Backed by a 10-mile walking promenade that's also fun to cycle, the beach is in fact broken up into easily identified sections, each with its own particular appeal.
Those wanting to be closest to the best attractions and things to do in Bournemouth will want to stick close to Bournemouth Pier, which separates West Cliff and East Cliff beaches. In addition to the attractions, you can rent bikes as well as paddleboards and kayaks here.
Those wanting a quieter beach experience should head east toward Hengistbury Head, which is popular with couples as well as water sports enthusiasts.
You're also spoiled for choice when it comes to places to stay in Bournemouth. Our favorites include the fun Bournemouth Beach Lodges, a series of beach huts with bedrooms overlooking the water; and the 4-star Hotel Miramar, only a short stroll from the pier and also a favorite of author J.R.R. Tolkien (ask for his room!).
Read More: Best Beaches in Bournemouth, England
Map of Weekend Breaks in England