12 Top-Rated Castles in England
While the exact number of castles in England is a matter for debate, there's little doubt there are a lot of them. While some estimates place the total inventory of existing English castles as high as 1,500, either in ruins or largely intact, still others quote figures many times this number.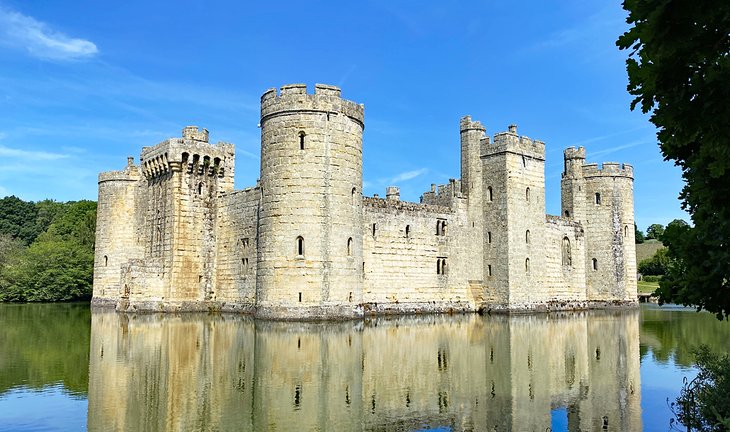 Whatever the true number, you'd be hard-pressed to visit this part of the world without actually seeing a castle. From the ruins of huge old towers that still display the scars of war to well-preserved stately homes with fortress-like flourishes, England is home to more castles than you could ever hope to visit in a lifetime.
To help you make the most of your time exploring these historic relics from a bygone era, read through our list of the top castles in England.
1. Windsor Castle, Berkshire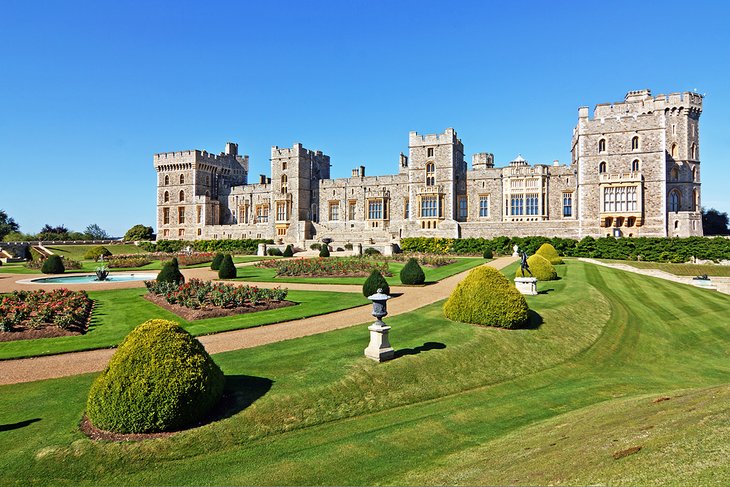 The jewel in the crown of English castles, Windsor Castle is a must-visit destination. The world's oldest still-inhabited royal residence, this spectacular building can trace its roots all the way back to the 11th century, when William the Conqueror chose it as the location of a castle. Since then, it has housed many kings and queens, and in modern times serves as the summer residence of the British Royal Family.
Visitors to the castle can access a variety of interesting areas. Topping most people's lists are the sumptuous State Apartments, home to the spectacular Queen's Gallery and the dining hall, with their ornate woodcarvings and lavishly painted ceilings. You can also take a look at St. George's Chapel, the scene of Royal memorial services and weddings.
Be sure to also allocate time to explore the castle grounds. Known as the Great Park, this lovely green space stretches for six miles on the south side of the castle. Guided tours of the castle and its courtyards are available.
2. Dover Castle, Kent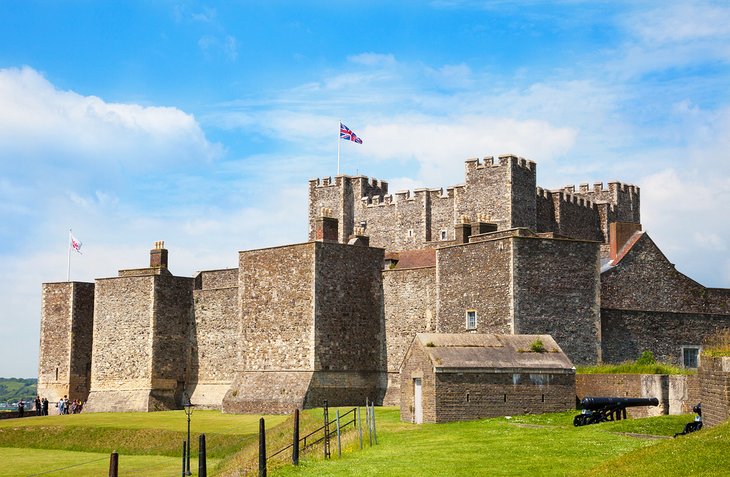 Standing majestically above the Kentish port town after which it's named, Dover Castle has been a symbol of British strength and resilience ever since it was built in the late 12th century. But even some 1,000 years before that, the same site was used by the Romans for a lighthouse, the remains of which can still be seen today.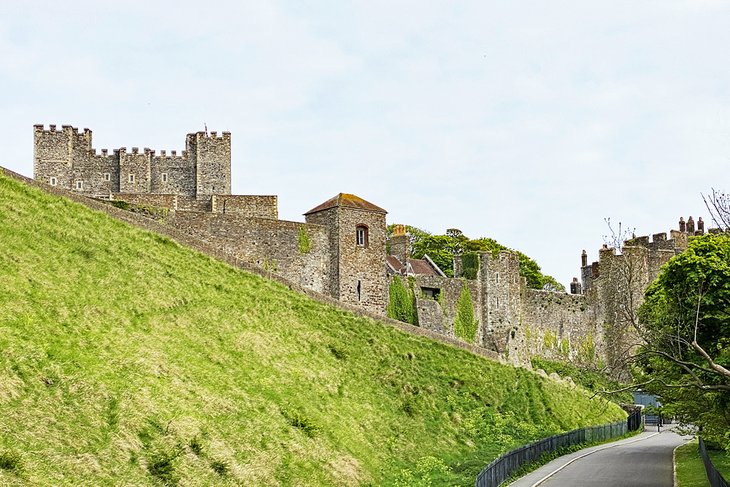 Immaculately preserved, a visit to the castle is one of the top things to do in Kent, and can easily take the best part of a day if you plan on seeing everything. Highlights include historic artifacts and furniture, displays relating to its use in WWII, over 80 acres of grounds to explore, and those spectacular views over the English Channels towards France. Guided tours are available.
Location: Castle Hill Road, Dover, Kent
Official site: www.english-heritage.org.uk/visit/places/dover-castle/
3. Tower of London, City of London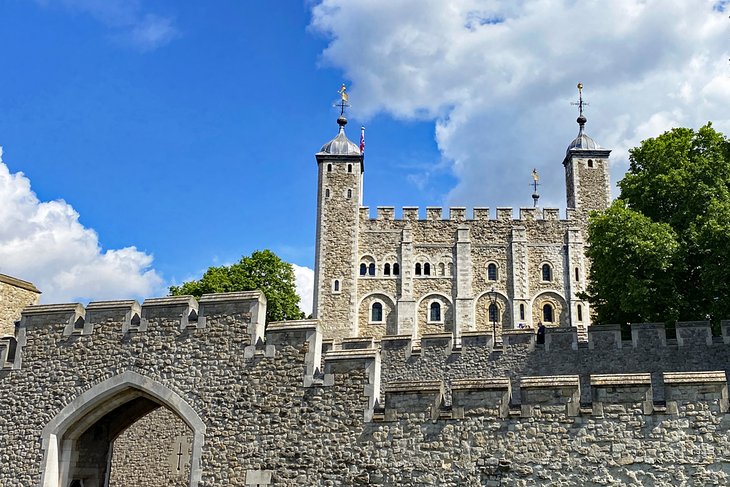 Instantly recognizable, the Tower of London is one of the most visited castles in England. Located on the northern bank of the River Thames just a stone's throw from Tower Bridge, this iconic old fortress includes sections dating over 1,000 years of age.
Now a UNESCO World Heritage Site, it has served as everything from a palace, a prison, the nation's treasury, and even a spell as a Royal zoo.
These days, this top London attraction offers plenty of unique experiences well suited to young and old alike. Topping most tourist itineraries is taking a tour of the central White Tower with its impressive displays of old armor and weaponry, the former Royal Apartments, as well as the magnificent Crown Jewels.
Location: Tower Hill, London
4. Warwick Castle, Warwickshire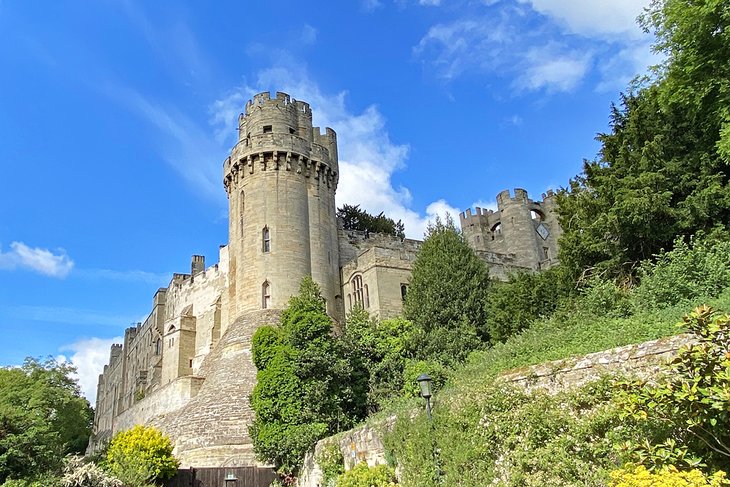 Those looking for a fun day out with kids who have an interest in the old days of knights and princesses would do well to include a visit to Warwick Castle on their England travel itinerary.
Dating back to the time of William the Conqueror, this 11th-century castle is a picture-perfect embodiment of a traditional English castle, complete with imposing battlements, towers, and, on most days during the busier months, heavily armored knights and other characters from this time in history.
Highlights of a visit include fun interactions with guides in period costumes, hands-on learning experiences, as well as jousting tournaments, dressing up, and even enjoying overnight glamping stays. Other highlights include an original dungeon, a working trebuchet, and a fun maze.
You may also want to use your visit to the castle as an opportunity to explore other fun things to do in Warwick, many of which are within an easy walk,
Address: Castle Lane, Warwick
Official site: www.warwick-castle.com/
5. Highclere Castle, Newbury, Hampshire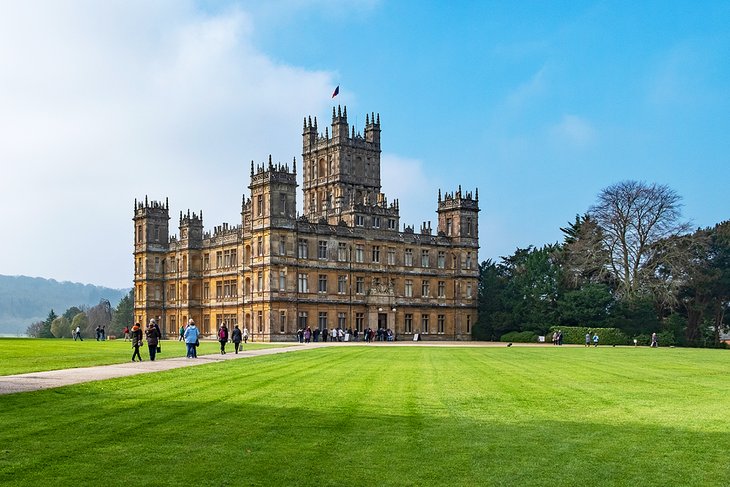 While more a country manor than fortress, Highclere Castle is, nevertheless, a must-see when in Hampshire. Located an easy drive from the cathedral city of Winchester and widely regarded as one of the top day trips from London, Highclere is well-known the world over for its role as the fictional Downton Abbey.
This opulent manor home's real history, however, is equally as rich and interesting. In the hands of the same family since 1679, it may appear recognizable to many, as it was designed by the same architect responsible for London's Houses of Parliament.
In addition to viewing its immaculately preserved decor and furnishings, visitors will want to allocate time to explore the grounds of this 1,000-acre estate.
A variety of unique experiences can also be enjoyed here, from private guided tours to elegant meals served in the opulent dining room.
Location: Highclere Park, Highclere, Newbury, Hampshire, England
Official site: www.highclerecastle.co.uk
6. Leeds Castle, Broomfield, Kent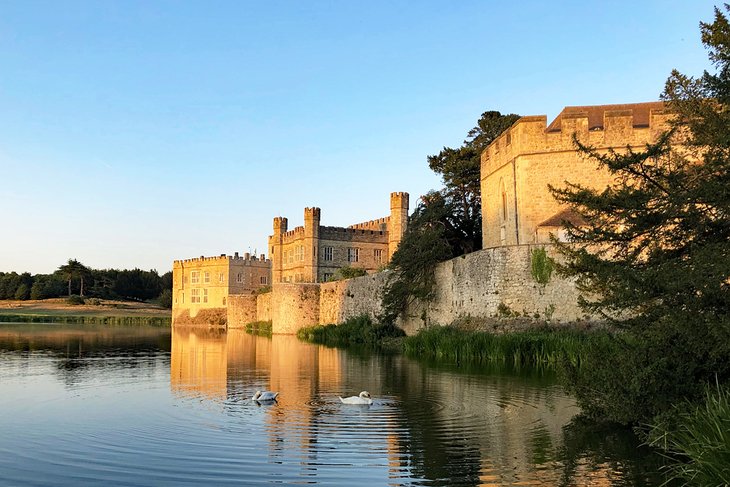 Widely regarded as one of the prettiest and best-preserved castles in England, Leeds Castle is definitely one of the best places to visit in Kent. Built on the site of an even older castle around 1280, its large moat and rural setting lend it a remarkably romantic look from pretty much any angle.
In addition to tours of the castle's elegant interiors, guests can enjoy a variety of fun activities, including medieval fairs and craft shows, jousting tournaments, and a land train, as well as adventures such as ziplining and Segway tours.
Leeds Castle has also made a name for itself as a classical music venue, with its famous outdoor concert held each summer drawing huge crowds of music lovers.
Address: Broomfield, Maidstone, Kent
Official site: www.leeds-castle.com
7. Alnwick Castle, Northumberland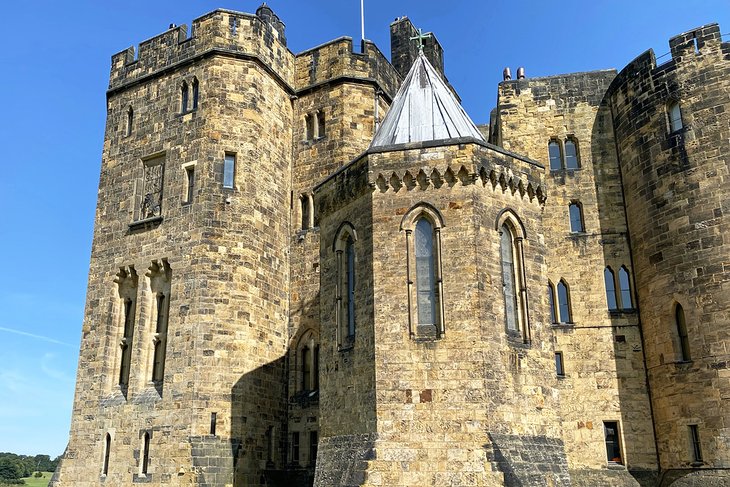 The official seat of the Duke of Northumberland and the country's second-largest still inhabited castle after Windsor, Alnwick Castle was built in the 11th century and makes for an easy day trip from the English city of Newcastle Upon Tyne, 45 minutes' drive to the south. Though much has changed over the centuries, it remains every inch as imposing a structure today.
In addition to exploring the beautiful grounds and gardens, visitors can enjoy a variety of fun things to do here. As well as guided tours of the castle's plush interiors, visitors can access a variety of interesting exhibits relating to its long, rich history, as well as displays of artifacts collected by the family, including relics from ancient Rome and Egypt, as well as local events.
Movie fans will recognize the castle for its role in the Harry Potter movies, and TV shows, including Downton abbey.
Location: Alnwick, Northumberland
Official site: www.alnwickcastle.com
8. Bodiam Castle, East Sussex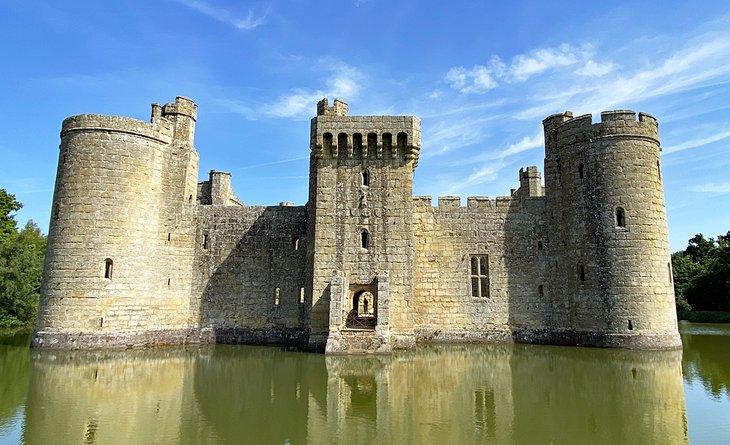 Set in the pretty countryside of East Sussex, 14th-century Bodiam Castle is undoubtedly one of the most romantic of England's many remaining castles. Though its interior is partly in ruins, this moted fortress dominates the surrounding countryside with its imposing towers and sturdy walls, much of which can be explored and climbed, opening up incredible views over the surrounding River Rother countryside.
There's plenty of fun things for kids to do on-site, including participating in hands-on learning activities, dressing up in period costumes, and participating in authentic medieval-period games. The castle's visitor center offers a variety of snacks and beverages, including a tasty cream tea option.
When you're done, be sure to stop in at Ewhurst Green, home to one of the prettiest churches in South East England. And if you're planning on making a day of it, consider taking the fun steam train ride from nearby Tenterden. The Kent & East Sussex Railway extends all the way from this beautiful Kentish town to Bodiam train station and makes for a fun day out for the whole family, with Bodiam Castle just a short walk away.
Location: Bodiam, East Sussex, England
Official site: www.nationaltrust.org.uk/bodiam-castle
9. Arundel Castle, West Sussex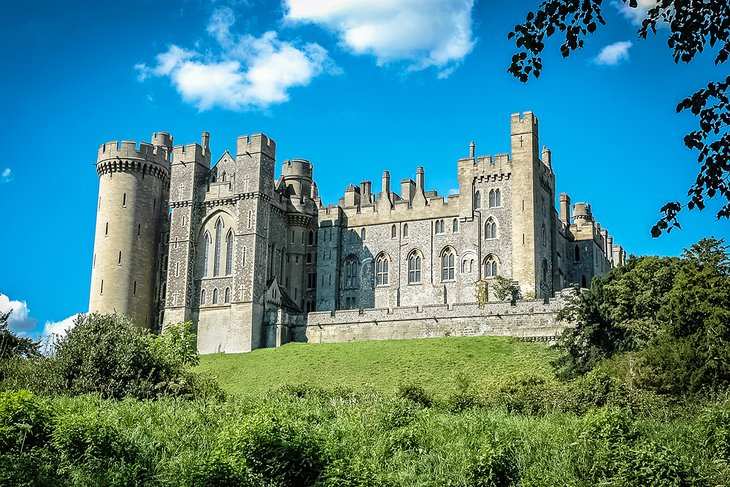 Over in West Sussex and only a short drive from the charming cathedral city of Chichester, Arundel Castle was built in the late 11th century. Though remodeled and restored many times since, much of its medieval-era influences remain, and it remains an imposing sight from miles away as you arrive.
Highlights of a visit include guided tours of the castle's well-preserved interior, which features collections of period furniture, historic tapestries, and a number of important artworks. There's even a unique collection of artifacts that once belonged to Mary Queen of Scots.
Be sure to allocate time to explore the castle's grounds. In addition to immaculate flower beds and vegetable gardens, here you'll also be able to visit the castle's historic chapel. A café, restaurant, and gift shop are located on the premises.
Location: Arundel, West Sussex
Official site: www.arundelcastle.org
10. Rochester Castle, Kent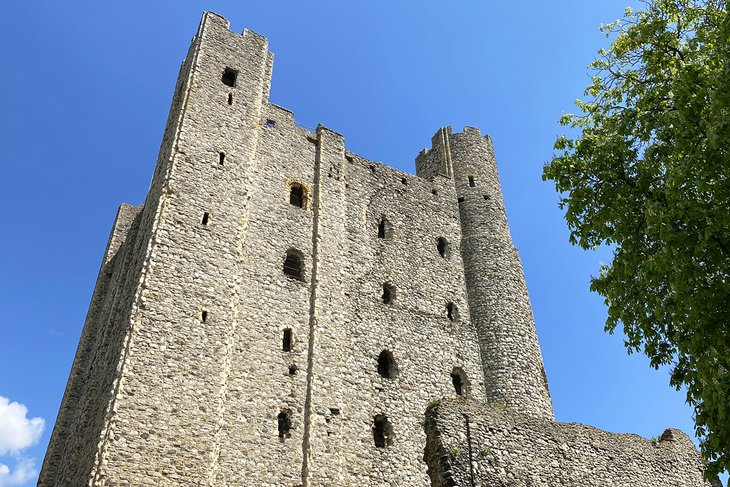 Exploring the Kentish town of Rochester makes for a fun and easy day trip from London. Just steps away from the train station, you'll find yourself immersed in a pedestrian-friendly downtown area once popular with famed English author Charles Dickens, who wrote some of his best-known works here.
When you're done exploring the many old buildings and attractions on Rochester High Street, take the short walk up Boley Hill to Rochester Castle. Though now largely ruins, much of this imposing 12th-century castle can be explored either as part of a guided or self-guided tour.
If traveling with kids, try to time your visit to coincide with regular events and festivals held here such as a popular medieval fair.
Directly opposite the castle stands Rochester Cathedral, built in 1127. Some of the original features still remain, including the impressive Great West Door.
Address: Castle Hill, Rochester, Kent
Official site: www.english-heritage.org.uk/visit/places/rochester-castle
11. Bamburgh Castle, Northumberland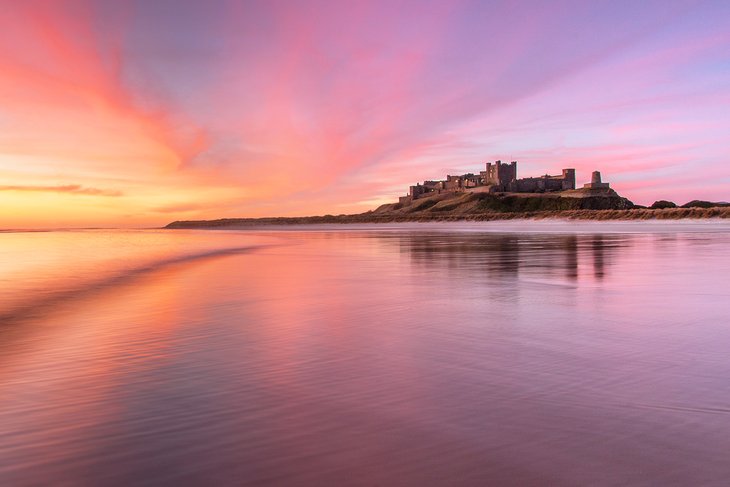 Part of one of the most dramatic coastal settings in all of England, Bamburgh Castle in Northumberland can trace its roots all the way back to the 6th century. Occupying a strategic hilltop overlooking the North Sea, the original fort was replaced some 500 years later, and it's this newer structure that impresses visitors today.
Boasting incredible sea views, highlights of a visit also include exploring the castle's richly decorated interior, including its opulent staterooms and the vast King's Hall.
Privately owned by the Armstrong family since the 1800s, the castle offers a variety of unique guest experiences, including overnight stays in the Clock Tower or Neville Tower, as well as re-enactments and theatrical events.
Location: Bamburgh, Northumberland
Official site: www.bamburghcastle.com
12. Canterbury Castle, Kent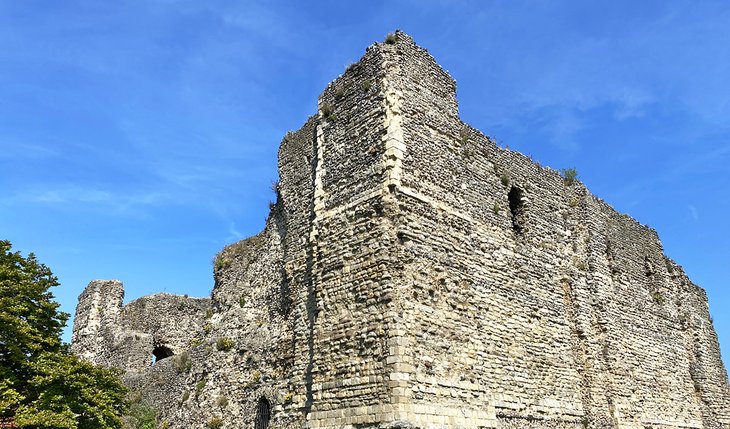 While most famous for its even older cathedral, Canterbury Cathedral, the city of Canterbury in Kent is the site of what once was one of only three "Royal Castles" ordered built by William the Conqueror after he took the English throne.
Though Canterbury Castle is now mostly ruins, what can be seen today nevertheless provides a glimpse of just how imposing the original castle would have been at the time.
Make the most of your visit by following the three-mile-long City Wall Trail, which also takes in a number of other once important Canterbury fortifications, including the imposing Westgate Tower.
Address: Castle Street, Canterbury, Kent
Map of Castles in England