14 Top-Rated Weekend Breaks in the UK for Couples
We may earn a commission from affiliate links ()
One of the top travel destinations in the world, the United Kingdom has plenty of great things to do for couples. Whether the kids have grown or simply don't factor into the equation any longer, couples are spoiled for choice when it comes to choosing a romantic UK weekend getaway.
Adventure seekers, in particular, have plenty of options and often simply "head for the hills" once Friday rolls around. Those who do so are rewarded with some of the most stunning scenery to be found anywhere in Europe, from the endless hiking and biking trails in the Brecon Beacons of Wales to the idyllic rolling hills of the Lake District in England. Scotland, of course, is equally attractive, with some of the best Scottish couples getaways in lovely Loch Lomond.
For culture lovers, spending time together in the nation's larger towns and cities can be extremely rewarding, too. Favorites include the historic Scottish capital of Edinburgh, along with the English capital, London. Both offer superb accommodations for couples, plenty of cultural attractions, including some of the world's top art galleries and museums, as well as great dining and entertainment.
Find the most romantic places to visit with our list of the top weekend breaks in the UK for couples.
1. Edinburgh's Romantic Views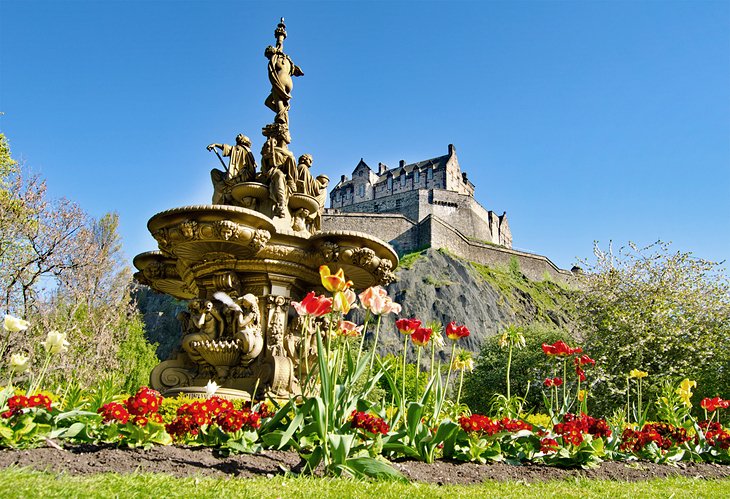 When it comes to romantic getaways in the UK, few places in Europe can match that of Edinburgh. The Scottish capital boasts no end of great views over its most important historical landmarks. Highlights include catching a glimpse of a stunning sunset behind Edinburgh Castle, a great place to spend a day exploring, or relaxing on Calton Hill with its spectacular views across Princes Street. These views are especially good from Calton Hill's famous folly, a replica of the columns from the Acropolis in Athens.
After taking in these and other top Edinburgh sites, including the lovely Royal Mile and the Palace of Holyroodhouse, the Queen's Edinburgh residence, treat your loved one to a sumptuous dinner at one of the city's top restaurants. Some of the best come with stunning views over landmarks such as the castle; the award-winning Tower Restaurant atop the National Museum of Scotland is a great choice.
If great theater and cultural activities are your thing, try to time your visit to include such world-renowned events as the Edinburgh Fringe (August), a 25-day celebration of the arts, or the equally popular Royal Edinburgh Military Tattoo (August). In winter, it's all about the city's great Christmas Market (December).
2. London for Couples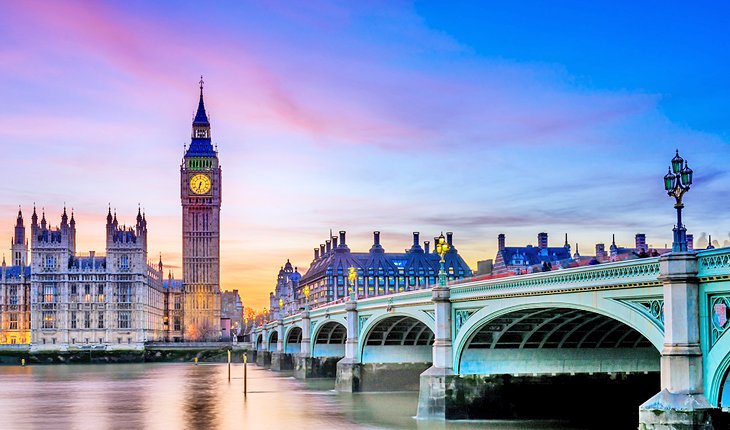 Thanks to its immense size, it doesn't take a great deal of imagination to find fun things for couples to do in London. In fact, given its endless opportunities for sightseeing, it's possible to satisfy the preferences of both partners, whether this involves attending world-class theater in the West End; a musical performance at the iconic Albert Hall; or its many museums and art galleries, such as the splendid Victoria and Albert museum, or V&A.
Even those who prefer walking can be accommodated. London is extremely easy to get around on foot, and where greater distances are involved, such as from St. Paul's Cathedral to Greenwich, there's no end of public transit to get you close enough to key points of interest, where a pleasant stroll can be included.
Other favorite strolls include the South Bank, a popular cultural destination with a superb classical music program, then heading over the majestic Tower Bridge over the Thames to the Tower of London. In fact, time your walk right, and you may even see the sun set behind the bridge. One other popular stroll takes in amazing Regent Street, famous the world over for its high-end luxury shopping and attractive architecture.
The luxurious The Rubens at the Palace is a great choice of a place to stay in London for couples. Not only is this chic hotel literally across from Buckingham Palace, its location on the Royal Mews means it's perfect for those who enjoy walking, as it's also very close to Hyde Park. The hotel also boasts plenty of great amenities to enjoy, from dining to live entertainment.
Accommodation: Where to Stay in London: Best Areas & Hotels
3. The Hot Springs of Bath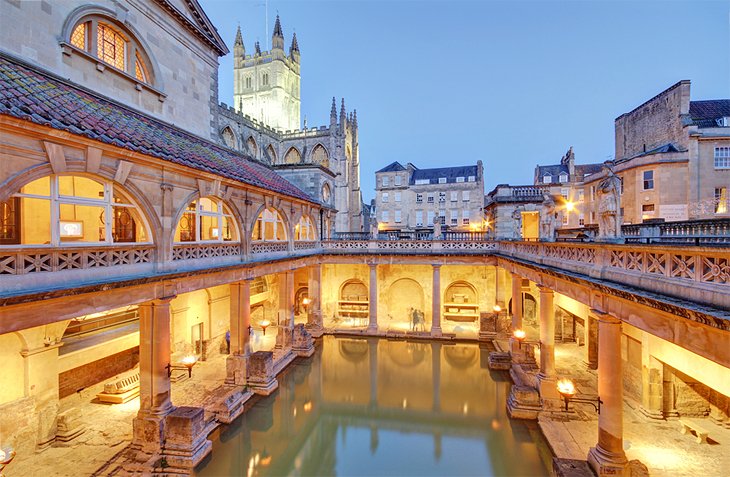 Bath, the most attractive of the UK's many smaller towns, is the perfect weekend break for couples who enjoy plenty of pampering. In fact, the city has been providing travelers with somewhere to soak their weary body parts for over 2,000 years, ever since the first Brits recognized the healing qualities of the hot springs that still gush, countless centuries later, at an impressive 275,000 gallons a day.
But it was the Romans who built the first structures here. These include the spectacular Roman Baths, largely unchanged since those first visitors from far and wide availed themselves of these therapeutic waters.
Best of all for couples, it's still possible to partake in much the same rituals as these ancient bathers. After touring the Roman Baths and its ancient pump house, head to the modern equivalent, the Thermae Bath Spa. Located just around the corner, it's here you can dip your toes (okay, your whole body) in these same warm waters, whether in the facility's impressive rooftop pool at sunset, or in one of its two thermal baths.
A variety of special packages are available for couples, including massages for two with a lovely meal served afterwards. An alternative spa experience can be enjoyed at the historic Cross Bath, an 18th-century open-air facility that can be booked for private 1.5-hour sessions.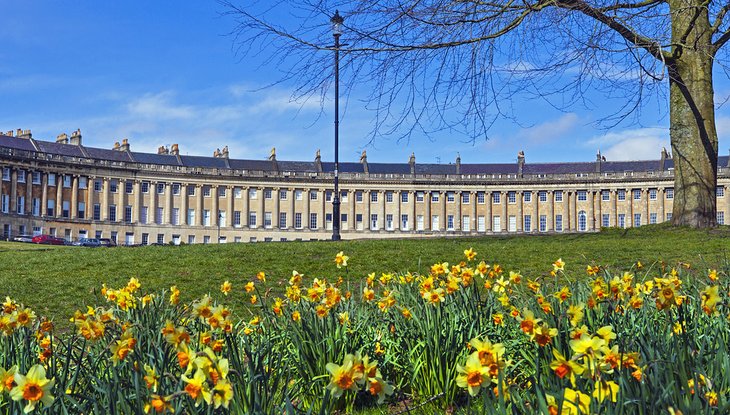 In addition to its ancient springs, romantic Bath offers many other fun things to see and do. Must-visits include the stunningly attractive Royal Crescent, an area of outstandingly well-preserved Georgian architecture that is partly responsible for the city's UNESCO World Heritage status.
The highlight here is popping into No.1 Royal Crescent. Set up as a museum, this exquisite townhome has been preserved exactly as it would have been in the 18th century, when England's upper classes flocked to Bath to get away from the noise and pollution of London. Better still, live the Georgian-era dream and book an uber-luxurious stay in The Royal Crescent Hotel & Spa, complete with its elegant, opulent period décor and comfortable four-poster beds.
Accommodation: Where to Stay in Bath: Best Areas & Hotels
4. Hiking the Brecon Beacons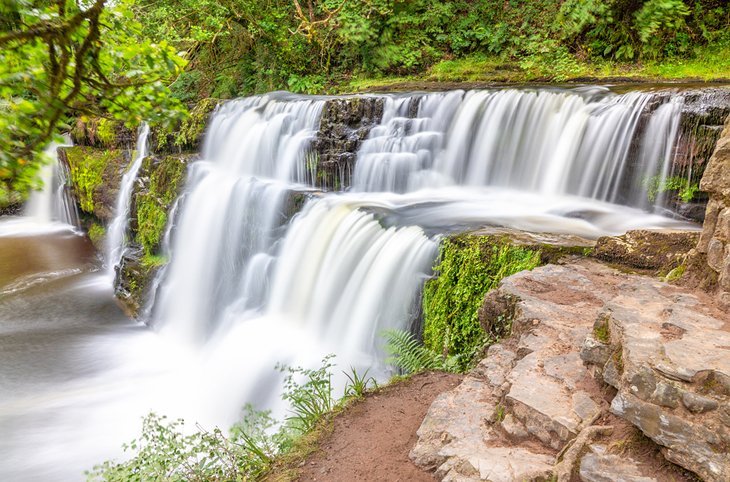 Like Scotland, Wales is another superb destination for couples, particularly adventurous couples. One of the top places for couples to visit, and one that is easy to get to from big cities like London and Cardiff, is the Brecon Beacons in south Wales. This hiker's paradise is where you'll find no end of excitement, from hiking and biking adventures to camping and even stargazing.
It's easy to head for the hills and start walking along any one of the many well-marked trails. One of the most popular is the spectacular Four Falls hike, taking in – as the name of this great walk suggests – the park's most scenic waterfalls: Cwm Porth, Sgwd Clun-Gwyn, Sgwd y Pannwr, and the Sgwd yr Eira falls; a fun hike can take upwards of four hours.
Another nice waterfall to explore is the 90-foot Henryd Falls. The country's tallest falls, it's a relatively easy hike that can be enjoyed even by those of moderate stamina.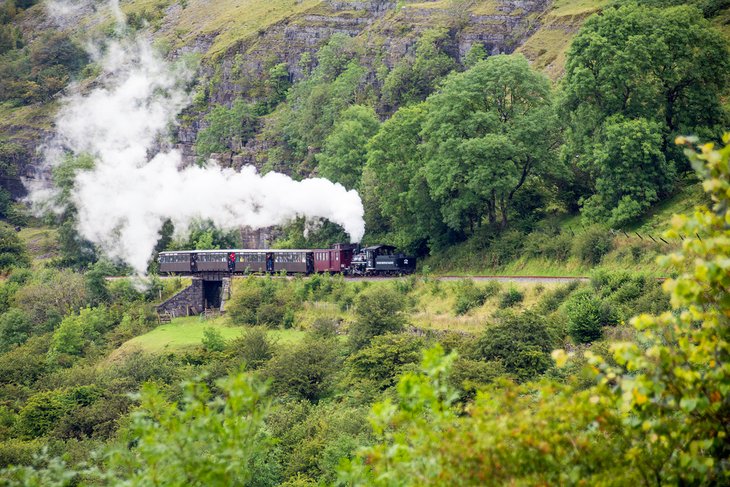 Other fun things to do in Brecon Beacons include paying a visit to Merthyr Tydfil, a picturesque town that serves as a starting point for cyclists hitting the UK's National Cycle Route. From here, you can also hop aboard the excellent Brecon Mountain Railway, an authentic steam train journey taking in some of the park's most stunning scenery. Join a gorge walking experience, a wet adventure that will have you swimming and climbing over some of the same waterfalls mentioned earlier.
For those planning on hiking Brecon Beacons National Park, check availability at any one of the many fine places to stay in or near the park. Favorites include the elegant Gliffaes Country House Hotel, a charming country estate with fun trails of its own, as well as activities including fishing, tennis, and bike rentals, and The New White Lion Hotel, a great choice for its proximity to the park just a short walk away, as well as traditional Welsh hospitality.
5. Cambridge for Couples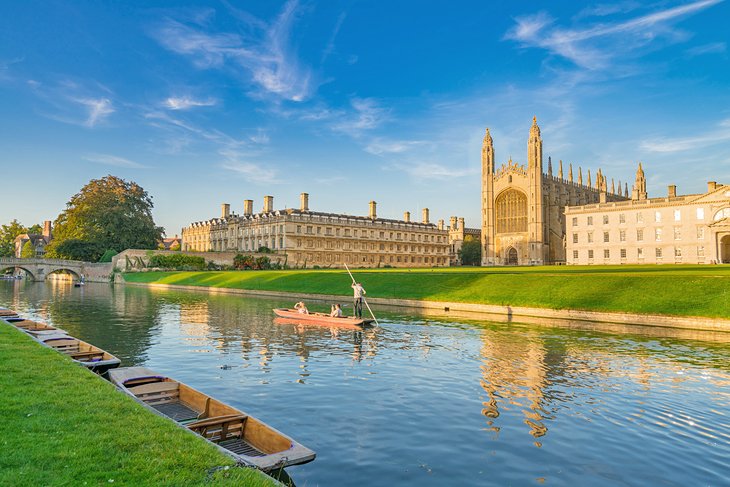 Those seeking a romantic weekend break couldn't do much better than visit the university city of Cambridge. Less than an hour north of London by train, it's easy to get to and a lot of fun to explore on foot, so leave the car behind.
Start your Cambridge adventure with an exploration of the city's many magnificent university colleges. There are 31 of these historic colleges here, together providing an endless array of architectural eye-candy, with historic attractions that date back as far as the late 1200s.
It would take weeks to visit them all, so if you're pressed for time, be sure to include King's College in your Cambridge itinerary. It's notable for its large well-manicured grounds and river views, and its stunning chapel. Better still, try to time it for a choir practice or service – early evenings are often good.
And for the ultimate romantic selfie, head to the 15th-century Queens' College with its many well-preserved medieval buildings, and look for the old Mathematical Bridge for an unforgettable backdrop.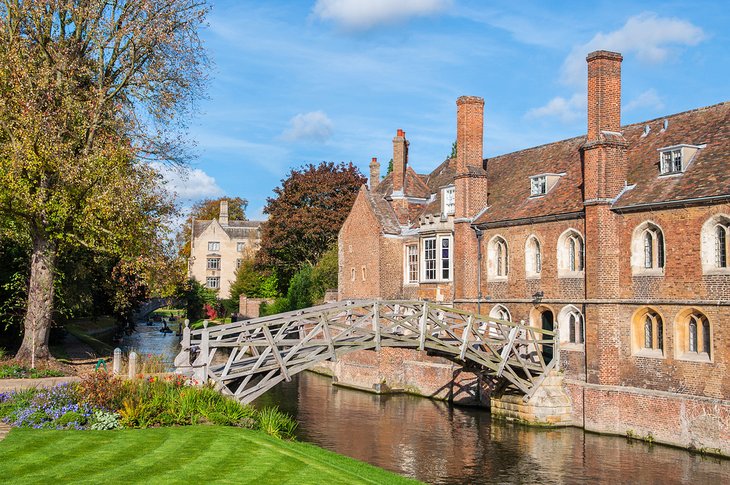 Finally, no visit to Cambridge would be complete without hopping on one of the many people-powered punts, the distinctive flat-bottomed watercraft used to move people around the city's shallow canals and on the River Cam. Punting is a delightful way to spend an hour or two with a loved one and provides views of this historic college town you may otherwise have missed (not to mention the chance for some quality time together).
From the city's centrally located train station, you're just minutes from great hotels, including the elegant Hilton Cambridge City Centre, a popular choice for its contemporary décor and comfortable rooms and suites, and The Varsity Hotel & Spa, a resort-style affair offering affordable rates and the perfect romantic dinner spot on its rooftop, with some of the best views over the city.
6. Loving the Lake District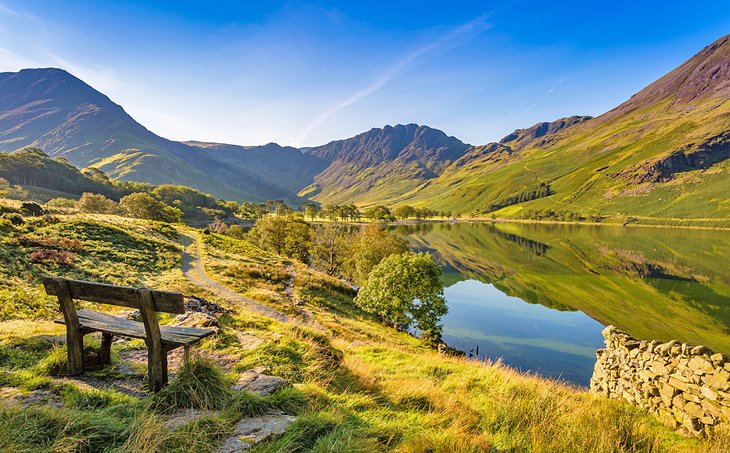 The Lake District in Cumbria is one of those unique destinations that encapsulates the quintessential English scenery, its gently rolling hills and pleasant pastures interspersed with lovely lakes and charming villages, ensuring a timeless appeal. Whether you're simply looking for a place to rest your heels while enjoying the views, or are seeking something a little more adventurous, this collection of 16 gorgeous lakes, moors, and valleys is ideal.
Hill-walkers are spoiled for choice thanks to the large Lake District National Park, home to the tallest peaks, including England's tallest mountain, Scafell Pike, and the prettiest lakes. There are trails suitable for all levels, from gentle lake-side affairs to those that require a little more fitness but are well worth the effort for the spectacular views. Park highlights include a great visitor's center in Kendal, a variety of boat tours, and numerous lovely old villages in which to stop and rest awhile over a well-deserved lunch or dinner.
If you're wanting lakeside views, stick close to the shores of the region's largest lake, Windermere. Most of the Lake District's tourist attractions and related things to do are to be enjoyed here, including pleasant lake cruises that carry guests from quaint village to village. There's also the fun Haverthwaite Steam Railway, which travels through the spectacular scenery of the Leven Valley.
There are also numerous lovely spots for a picnic or great restaurant patios for a romantic lunch or sunset dinner. Plan appropriately, and you can even enjoy such activities courtesy of packages provided by leading area hotels, such as The Samling Hotel, set on 67 acres of land overlooking Lake Windermere and just a short walk from the ferries.
7. Loch Lomond: The Queen of Scottish Lakes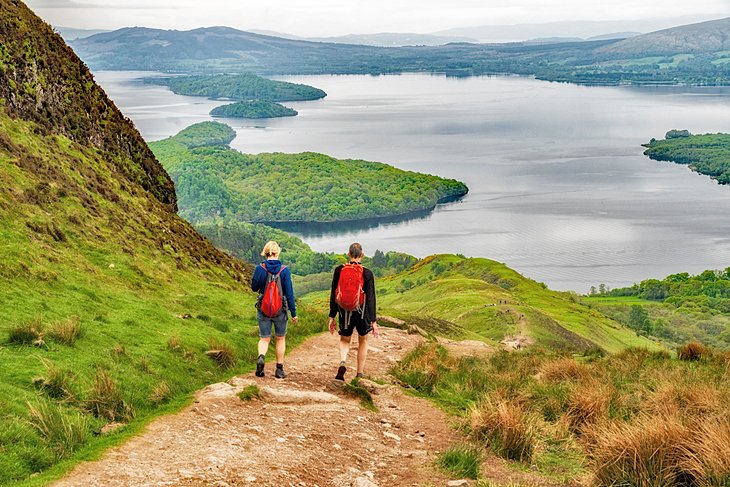 Scotland also boasts its very own lake district: the stunning Loch Lomond. An easy 30-minute drive from Glasgow, Loch Lomond - famously dubbed "The Queen of Scottish Lakes" by writer Walter Scott - offers no end of fun things to do for couples.
Outdoor enthusiasts are drawn not just for the superlative fishing (the lake's trout and salmon are often found on menus at the region's top restaurants), but for experiences such as hiking and mountain biking. The best trails are part of the spectacular Western Highland Way and through the Loch Lomond and the Trossachs National Park. Rock climbing on Ben Lomond, as well as water sports like kayaking are also popular.
Those preferring more relaxed pursuits can enjoy the beautiful scenery from the comfort of one of the many boats that cruise the waters or, for that matter, from the comfort of their room or suite. Such views are certainly not hard to come by from the lake's top hotels and resorts.
A few favorites include the elegant (and completely renovated) Cameron House, perched overlooking the water at the south end of the loch and popular for its romantic castle-like setting, couples' spa packages, and superb dining and activities add-ons. From here, it's easy to get your fix of one of the most idyllic natural attractions in Scotland, without even having to travel far after arriving.
8. Explore the Channel Islands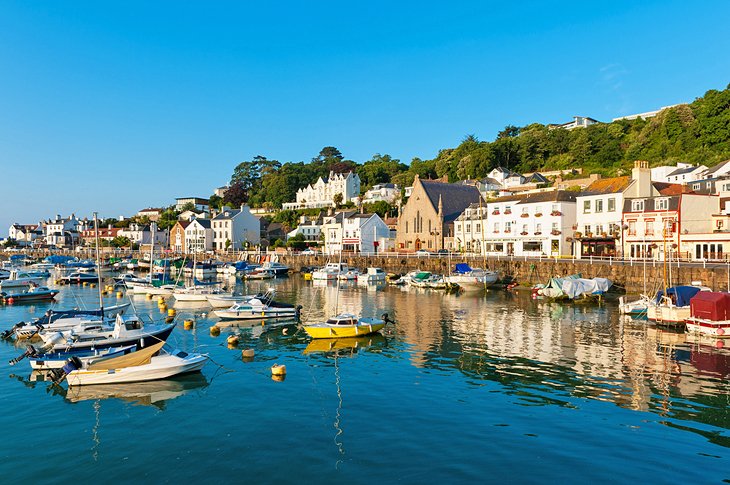 When it comes to choosing the perfect couples getaway, make sure you include the English Channel Islands on your shortlist. Although closer to France than they are England, this collection of islands consist of, in descending order of size: Jersey, Guernsey, Alderney, Sark, and Herm. They're all surprisingly easy to get to from the mainland, with regular flights from London and ferries from Portsmouth (not to mention from France).
While it might be tempting to base yourself on Jersey for the duration of your stay, you'd be missing out on some truly amazing sites if you do. While this might mean spending a little longer than just a two-day weekend (stretch it out over a bank holiday weekend), an extra night or two will allow you to explore beautiful Guernsey. You'll then be able to hop aboard a locally operated charter for a quick exploration of Alderney or Sark, each of which are delightful to explore on foot.
Naturally, your choice of final destination will likely be decided by accommodation availability. A few favorites include The Atlantic Hotel, a delightful luxury hotel offering activities such as golf and tennis, as well as superb ocean views, especially nice at dusk over dinner. After a couple of nights here, you'd do well to head to Guernsey for a stay at The Old Government House Hotel & Spa, a superb couple-friendly location offering great food and ocean-view rooms and suites.
9. A Not-So-Hard-Day's-Night (or Two) in Liverpool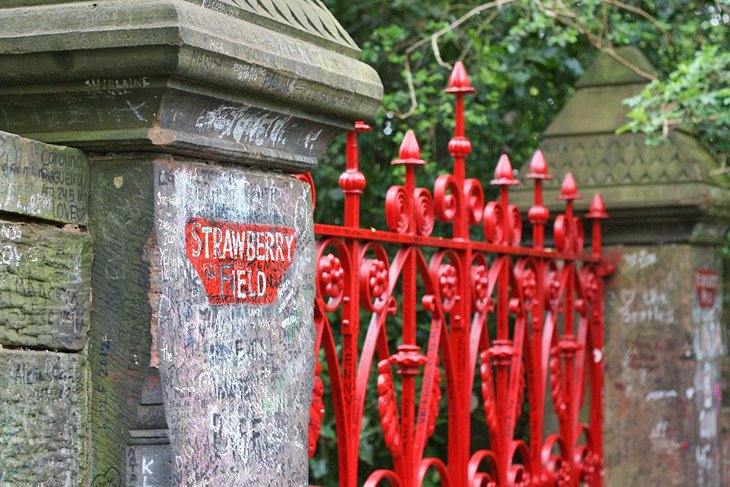 Few rock bands have had as lasting an impact on a country's cultural scene than The Beatles, quite possibly the one band in the world both individuals in a couple can agree to actually like! And nowhere is this more evident than in the Fab Four's home town of Liverpool.
Popular things to do in this once again hip port city include hopping aboard any one of the many guided tours that will whisk you to the best-known Beatles' landmarks. These include the better-known spots such as the informative The Beatles Story, a museum dedicated to the band's time in Liverpool and on the world stage. It just so happens to be located in the Albert Dock area, so be sure to spend time exploring this old harbor area with its modernized wharfs and warehouses.
Those who enjoy a little exploration on their own would do well to pick up a Liverpool map and mark out a route that takes in some of the other Beatles-related points of interest. Be sure to include the Cavern Walks, a series of murals created by John Lennon's first wife, Cynthia, in the downtown area. Then head further afield to places like 20 Forthlin Road, the childhood home of Paul McCartney and now a museum. Also worth a visit are sites such as Lennon's old home on Menlove Avenue, along with the selfie opportunities along Penny Lane and at Strawberry Field.
And where better to stay, come nightfall, than in a Beatles-themed hotel? The centrally located Hard Days Night Hotel offers great rooms and suites with names like the McCartney and Lennon Suite, the latter with, of course, a baby white grand piano. All rooms and public spaces are chock-full of enough memorabilia, photos, and Beatles-related artwork to ensure a thoroughly immersive Fab Four weekend.
10. England's Seaside Getaway: Brighton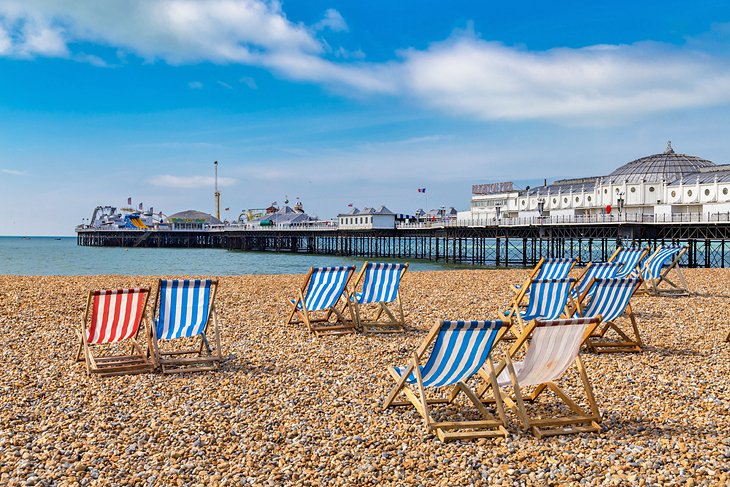 For generations, Brighton was known as the place for couples to escape to for a "quiet," no-frills weekend away from prying parents and crying kids. This delightful seaside resort town overlooking the English Channel has cleaned up its act in recent decades, gentrification bringing a new reputation as a classy place to travel to for time away with a sweetheart. It's certainly an idyllic setting, boasting a charming old pier, a lovely promenade, and a five-mile-long beachfront on which to sit and soak up the sea air.
In addition to walking along its waterfront, be sure to delve a little deeper into the town center and its outlying regions, too. You'll be rewarded with Regency-era terraced homes, plenty of great shopping along the famous Lanes pedestrian area, as well as plenty of great food options, from casual eateries to fine-dining restaurants.
Brighton's top attractions are also well-worth spending time exploring, especially the very elegant Royal Pavilion, built as a summer home for King George IV, and now housing collections of period furniture and related artifacts.
For couples who enjoy cultural activities, try to time your weekend break to coincide with the popular Brighton Festival. A good excuse for a spring break, this three-week marathon includes worldwide talent in the fields of classical and jazz music, theatrical performances, as well as comedy.
Planning ahead for accommodation is a good idea if you're intending to visit during the summer or the festival. A good waterfront option overlooking the beach includes the classy Brighton Harbour Hotel & Spa, offering a variety of room sizes, all just a short walk from Palace Pier and the entertainment hub and marina.
Accommodation: Where to Stay in Brighton: Best Areas & Hotels
11. Take a Stroll through York's Shambles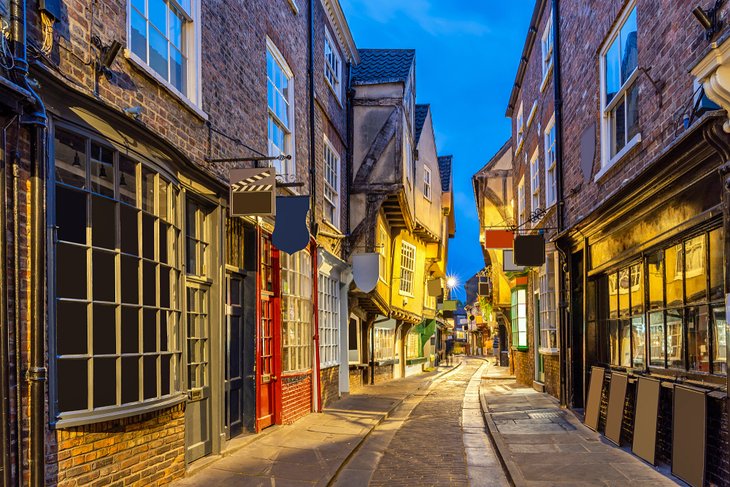 Few cities anywhere in England have so deep a connection with romance as the city of York. Located in North Yorkshire in the northeast corner of the country, this beautiful city is rich in stunning historic architecture, including majestic York Minster, as well as the country's longest and best-preserved medieval city walls. It's also home to countless picturesque lanes, and all look like they're straight out of a storybook, a fact that has resulted in York becoming England's unofficial pre-wedding celebration destination.
It's this spectacular setting, not to mention its association with weddings and celebration, that also makes York one of the best places to visit for a romantic weekend getaway. And nowhere's more fun to explore with your significant other than York's famous Shambles. Laid out (or rather, thrown together!) in the 1300s, the area features numerous old timber-framed buildings that seem to defy gravity, as their fronts literally protrude over the narrow cobbled streets.
The name, in fact, has less to do with the seemingly chaotic design of these streets than it does the once plentiful butcher shops and meat stalls that were to be found here, which at the time was referred to as "The Great Flesh Shambles." They are now a mix of boutique shops, tearooms, and eateries.
You'll want to reserve a table at a restaurant here to experience dining in this historic quarter. Our favorite for affordability, ambience, and food quality is the Italian-inspired L' antica Locanda. While obviously not as old as The Shambles, it's been around long enough to be considered one of York's top restaurants.
For an even more romantic York experience, try to swing a visit in the period leading up to Christmas. A section of the Shambles known as Snickelways is lit up to spectacular effect, its narrow laneways lined with stalls and vendors selling gifts, food, and hot beverages as part of what is one of the country's best Christmas markets.
Round your weekend stay with an afternoon tea at The Grand, York. This fine historic hotel is also a great place to stay, and you'll soon want to come back and do it all over again.
12. Get Cuddly in the Cotswolds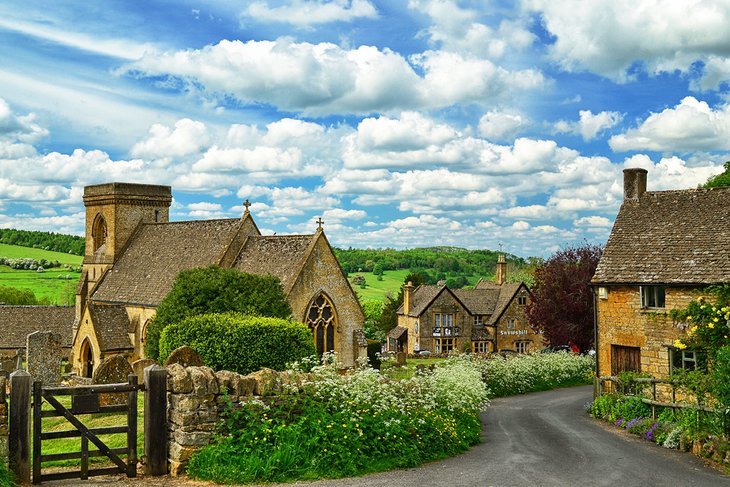 The Cotswolds possess what's widely considered one of the most romantic landscapes in all of England. Covering an area of 800 square miles and within an easy drive or rail journey from London, the Cotswolds' idyllic scenery consists of rolling hills and farmland, lush green valleys and woodlands, as well as the country's most picturesque villages. It's a romantic setting that has been immortalized in everything from paintings to poetry, as well movies and TV.
Whether you're adventurous or amorous, or possibly both, a weekend break in the Cotswolds is just the ticket for couples seeking quality time away together. With countless cottage rental opportunities in the countryside or quaint Cotswold village B&Bs and inns, you'll find no end of great accommodation options to suit your preferences and budget, too.
Favorite places to visit during your stay include Castle Combe and Bourton-on-the-Water, both of which also serve as excellent bases for hikers. They're also within easy reach of the 102-mile Cotswold Way National Trail. Stretching all the way from the city of Bath to Chipping Camden, this well-marked route takes in the beautiful Cotswold Hills' along with some of the region's most picture-perfect villages.
13. Historic Canterbury and its Majestic Cathedral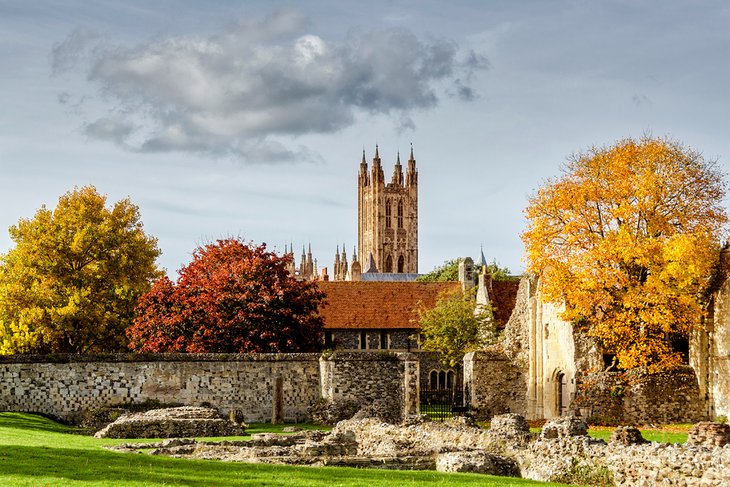 Located in the heart of Kent, a county famously known as the "Garden of England," the city of Canterbury offers plenty of good reasons to be included on lists of the best UK weekend breaks for couples. An easy train ride south of London, Canterbury is immensely walkable, with the top attractions, the best accommodations, and countless fun things to do all located within its historic city center. And if you do drive, a number of handy park-and-ride locations are dotted on the city's outskirts.
The main attraction here is undoubtedly Canterbury Cathedral. Dating all the way back to the 11th century, this majestic place of worship dominates the city's skyline, so it's hard to miss. While a guided tour is a good way to learn more about the building, you'll also want to dedicate time to exploring the cathedral grounds, as well as the many well-preserved old townhomes and shops dotted around its gatehouse.
For a truly unforgettable romantic weekend break in Canterbury, check into the accommodations on offer at Canterbury Cathedral Lodge. Owned and operated by the cathedral and set within its grounds, the lodge offers luxurious rooms and suites with garden views, as well as guest-only access to areas of the property that are usually closed to the public.
Accommodation: Where to Stay in Canterbury
14. Portmeirion: A Little Piece of Italy in Wales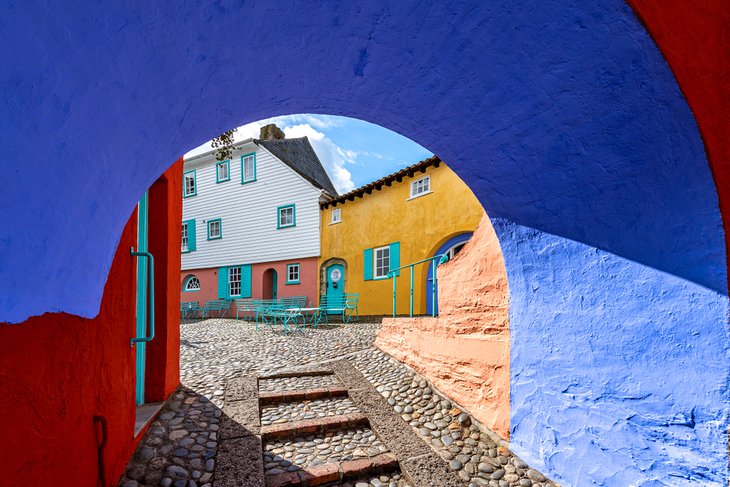 Book a stay in beautiful Portmeirion in North Wales, and you'll have to convince yourself you're not on Italy's Amalfi Coast. It was established in 1925 and was a labor of love for its owner, Sir Clough Williams-Ellis, which continued until it was completed in the 1970s. The Italian flourishes are everywhere here, from the bright Mediterranean-themed buildings to the alleys and laneways that connect them, and the beautiful gardens and fountains dotted here and there.
The best part, though, is having the place to yourself once the gates shut, and the general public go home. Come closing time, guests staying at the resort can wander the property at their leisure, even enjoying a romantic meal on-site at one of the resort's two restaurants. Afterwards, wander down to the water and enjoy the sunset from the riverside lower village.
In addition to being famous for its unique brand of Portmeirion pottery, available from the on-site shops, this unique resort property is often recognizable to visitors and guests from its appearance on TV and movie screens.
Address: Minffordd, Penrhyndeudraeth, Gwynedd
Official site: www.portmeirion-village.com