11 Top Attractions & Things to Do around Loch Lomond
We may earn a commission from affiliate links ()
Loch Lomond, Britain's largest lake, is just a short drive northwest of Glasgow. Referred to by author Walter Scott as "The Queen of Scottish Lakes," this lovely loch is a huge draw for anglers and boasts plentiful trout, salmon, and whitefish. It's also hugely popular among day-trippers, water sports enthusiasts, hikers, and bikers, as well as those simply drawn by the wonderful scenery.
Other popular things to do here include taking a boat cruise around the loch, or embarking on the much longer trek up majestic Ben Lomond (3,192 feet) with its spectacular views over the loch and The Trossachs. Those interested in native wildlife should also visit the Loch Lomond Bird of Prey Centre located within the park.
Loch Lomond is a great first stop when touring the Western Highland Way from Glasgow through the beautiful Argyll countryside to Fort William. Cameron House at the south end of the loch is an excellent place to savor the romance of a Scottish castle, breathe in the lakeside air, and enjoy a wide range of outdoor activities, including golf – in fact, there are seven great golf courses located around the area.
Discover the best places to visit near this beautiful lake with our list of the top things to do around Loch Lomond, Scotland.
See also: Where to Stay near Loch Lomond
1. Explore Loch Lomond & The Trossachs National Park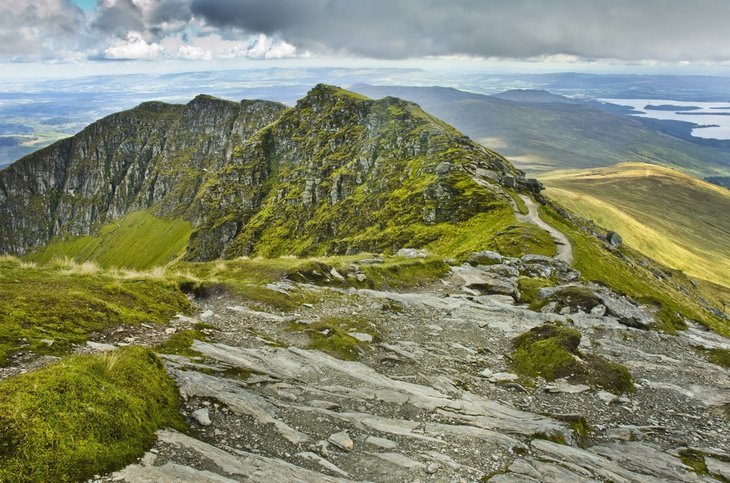 Loch Lomond and The Trossachs National Park – Britain's fourth largest national park – covers an area of 720 square miles with Loch Lomond at its center. It also incorporates a number of mountain ranges, including The Munros and Ben Lomond, as well as the Corbett peaks. The area is extremely popular with outdoor enthusiasts, drawn here for things to do such as fishing, hiking, biking, climbing, boating, canoeing, and kayaking.
The area is also popular among camping enthusiasts, and boasts a wide range of campsites and facilities. Those wanting to camp "off grid" can do so, too, and permits for a maximum of three consecutive nights are easily available for those hankering for a little "wild camping." You'll enjoy spectacular sunsets and sunrises, as well as stargazing, in some of the remotest corners of the park.
For those seeking a more sedate pace, visit the National Park Centre, located in Balmaha, with its displays regarding the area's history and geology, a variety of easy trails, as well as events such as craft and arts shows. There are also a variety of fun ways to experience the water, too, including a park-run waterbus service and private cruises. The park has also started an impressive "dark skies" program, making it an ideal place for stargazers (check their website for details).
A great way to ensure you get the best out of a trip to this beautiful part of the country is to hop aboard a small-group tour of Loch Lomond and Trossachs National Park. These fun, easy adventure tours also take in the historic town of Stirling, famous for its castle, along the way. Embarking from Balloch, you'll be driven through some of the most amazing scenery anywhere in Scotland, stopping for hikes to waterfalls and lovely glens. You'll also get in some wildlife spotting along the way (refreshments and snacks are included).
If you're traveling from Edinburgh, a similar themed tour will also take in Stirling Castle and Loch Lomond. Along the way, you'll also stop for a look at the famous Kelpies horse statues, as well as a nature walk.
2. Be Entertained at Loch Lomond Shores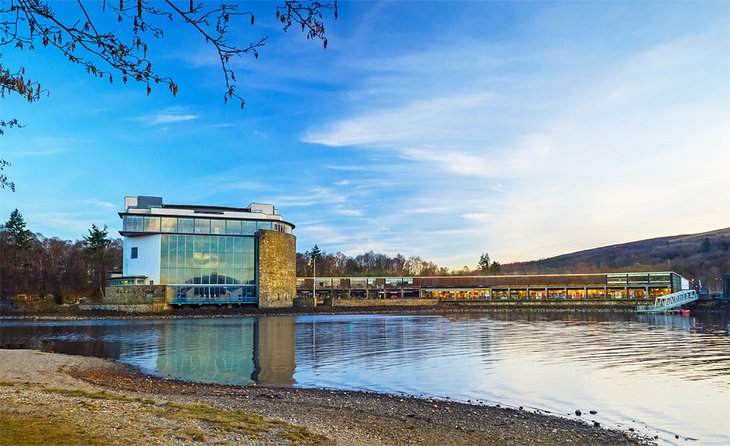 Loch Lomond Shores, the newest attraction on the loch and an easy 30-minute drive from Glasgow, fits in surprisingly well with its surrounds near Balloch. Constructed of local stone to ensure it blends in with the stunning scenery everywhere around it, this once modest entrance way to Loch Lomond and The Trossachs National Park is now one of the region's top tourist attractions, drawing crowds whatever the weather with its long list of fun things to do.
Highlights of a visit include a shopping mall offering big-name brands along with locally produced crafts and goods, along with plenty of great dining options. There are also plenty of fun year-round events hosted that are aimed at keeping young and old alike entertained, from outdoor markets to Christmas fairs.
Outdoor activities and adventures include bike and boat rentals – both people-powered and motorized options are available. Segway tours and archery programs are also available, as is a great farmers market. For those traveling with kids, there are two great beaches for them to have fun on, and which also make great picnic spots (barbecues are available, too).
Address: Ben Lomond Way, Balloch, Scotland
Official site: https://lochlomondshores.com/
3. Take the Kids to SEA LIFE Loch Lomond Aquarium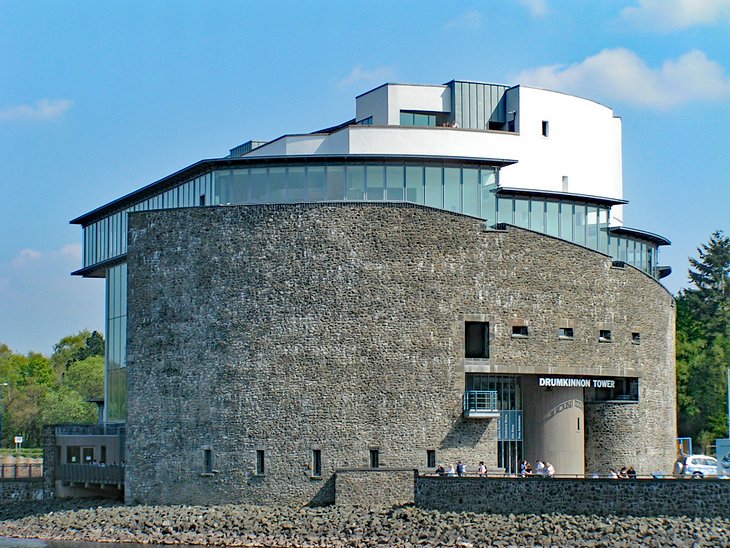 The SEA LIFE Loch Lomond Aquarium is a big draw for families. Set in the impressive, castle-like Drumkinnon Tower, highlights include the largest shark tank in Scotland, along with a superb walk-through underwater viewing tunnel. As you journey through the tunnel, you'll see a fascinating array of tropical species, including sharks, tropical fish, and stingrays.
Afterwards, youngsters get the chance to touch some of the stingrays in a special (and safe) touch tank. In addition to a variety of fun learning programs, there are also feeding opportunities worth checking out. The attraction also boasts a great rooftop terrace offering views over Loch Lomond, and a café.
Address: Drumkinnon Tower, Ben Lomond Way, Balloch, Scotland
Official site: www.visitsealife.com/loch-lomond/
4. Visit the Island of Inchmurrin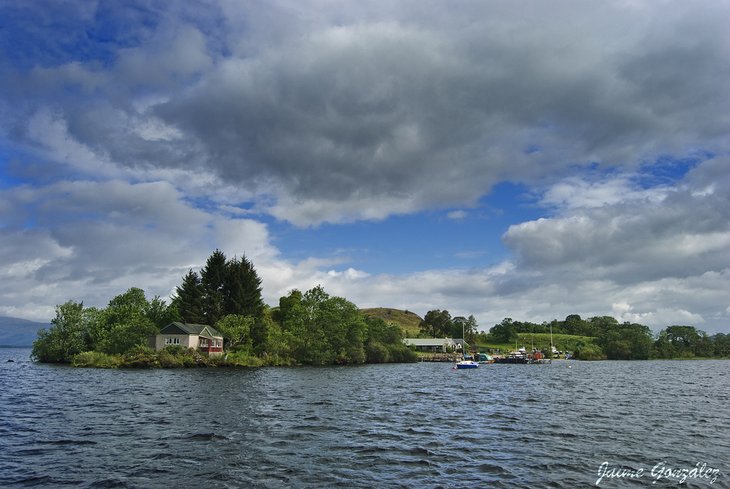 The largest of Loch Lomond's numerous islands – and the largest fresh water island in the UK – Inchmurrin was once home to a 7th-century monastery and chapel dedicated to Saint Mirin. It's also where you'll find the ruins of 8th-century Lennox Castle, famous as a hunting lodge used by King Robert I and later robbed by the legendary Rob Roy.
The island is also famous as the place where the first ever haggis-hurling world record was set in 1984.
Although privately owned and accessible only by boat, it's popular with tourists, particularly canoeists, kayakers, and pleasure boaters. It's also a great place to spend a few days thanks to its self-catering cottages and restaurant. For those who like going au naturel, there's even a naturist camp.
While visiting the island, be sure to keep an eye out for the wallabies (true story).
5. Sail aboard the Maid of the Loch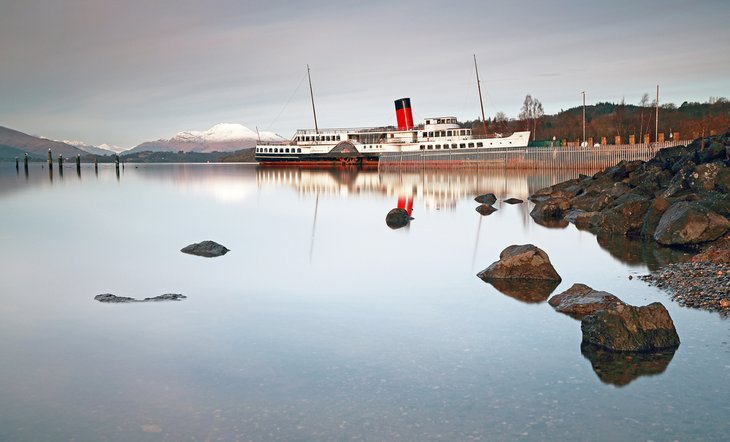 The sole survivor of a long line of paddle steamers once based on Loch Lomond, the 208-foot-long PS Maid of the Loch was built in 1953 and was the last such vessel to serve the train loads of tourists who would visit the area from far and wide. She was also the last such steam vessel built in the UK, and was shipped in pieces from Glasgow and assembled at her present location.
Located at its berth at Balloch, the ship – now run by the non-profit Loch Lomond Steamship Company – and its unique steam slipway are being restored prior to once again offering excursions. Until then, the ship continues to welcome visitors to view displays regarding its history, as well as that of its predecessors who plied the loch since the 1880s. A tea shop and gift shop are also located on-site.
Address: The Pier, Pier Road, Balloch, Scotland
Official site: www.maidoftheloch.org
6. Hike the West Highland Way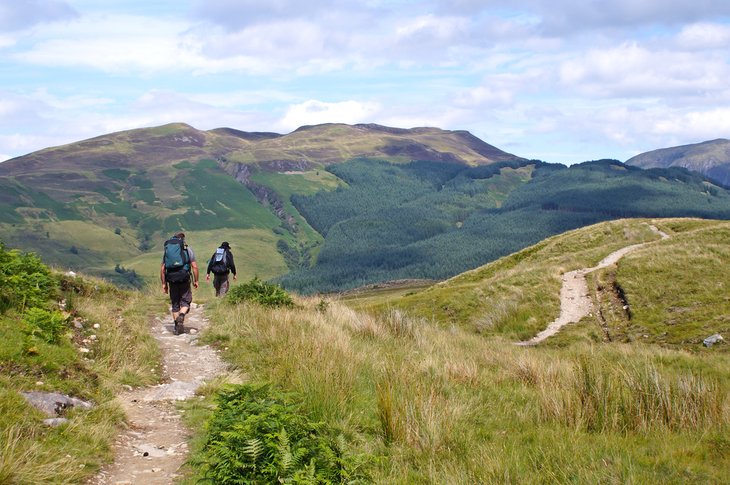 One of Scotland's most popular hiking routes – and one that's becoming increasingly popular among mountain bikers – the 96-mile-long West Highland Way attracts close to 100,000 walkers annually. Trails follow the banks of lovely Loch Lomond as it winds from Milngavie near Glasgow all the way to Fort William - taking in Britain's highest mountain, Ben Nevis, (4,406 feet), along the way.
A number of campsites and great accommodation options are available at various points on the journey, as those trekking the whole trail can expect to spend up to five or more days doing so. Plan in advance to ensure your West Highland Way itinerary goes smoothly.
A good place to pick up the trails is Ptarmigan Lodge in Rowardennan. From here, you can take the loch-side path for a mile until reaching a crag called Rob Roy's prison. This is where Roy was once said to have held hostages. You'll also pass the Inversnaid and Beinnglas Falls before reaching Glen Falloch.
Address: Carrochan, Carrochan Road, Balloch, Scotland
Official site: www.westhighlandway.org
7. Queen Elizabeth Forest Park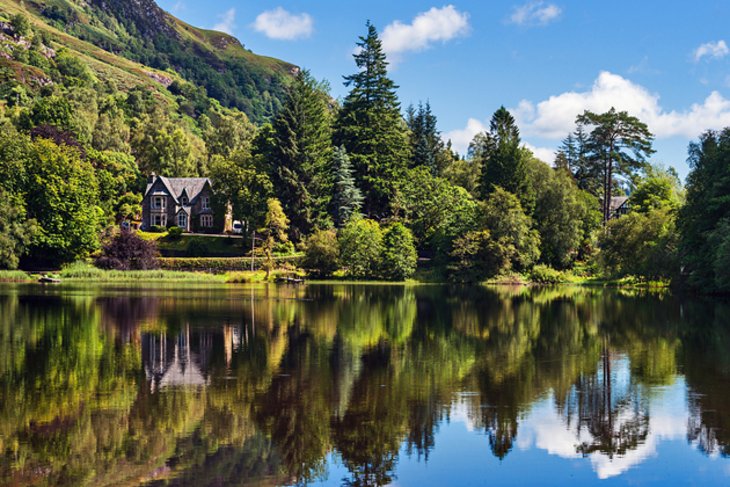 Queen Elizabeth Forest Park is a large area of land situated between Loch Lomond and the Trossachs near Aberfoyle, and has been part of the Forestry Commission since 1928. Footpaths and bike and nature trails are just some of the ways to explore this beautiful countryside.
The excellent Lodge Forest Visitor Centre is the best place to begin an excursion. Located a mile north of Aberfoyle, the lodge includes a café and shop, pathways leading to a lovely waterfall, the Red Squirrel Hide, as well as treetop trekking.
Canoes and kayaks are permitted for soft-paddling, an unhurried adventure that ensures visitors won't disturb the local flora and fauna. For those wanting to spend a night or two in the forest, camping is available, and a number of quaint cabins can be rented.
8. Visit Loch Katrine for a Cruise on the SS Sir Walter Scott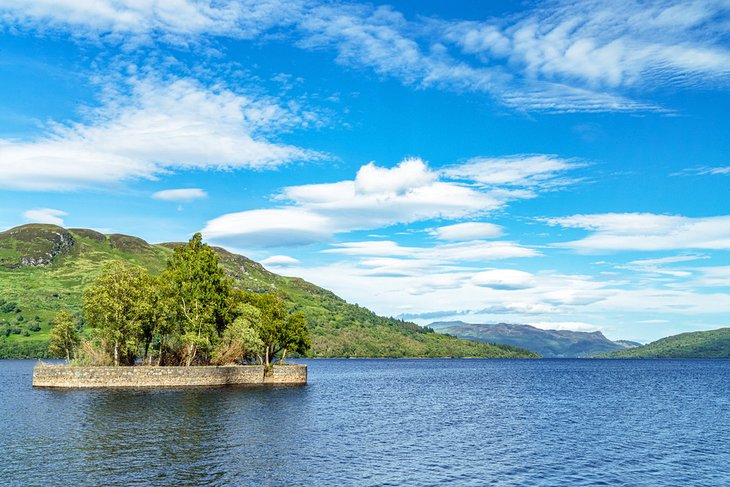 Loch Katrine takes its name from the lawless Catterin family who once instilled fear on the lakeside's inhabitants. The tiny island at the eastern end of this eight-mile-long lake is known as Ellen's Island, after the heroine in Walter Scott's famous poem, Lady of the Lake.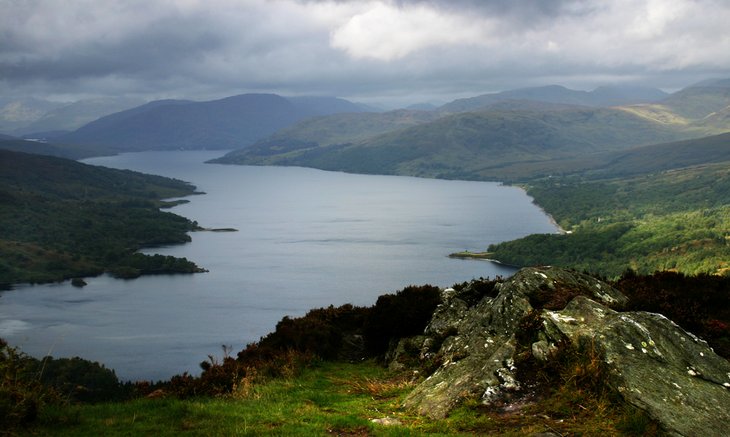 A popular day trip includes a cruise aboard the SS Sir Walter Scott, a former steamer (it now runs on biofuel) built in 1900. The boat travels from Stronachlachar in the west to the Trossachs Pier, dropping passengers off to explore the hills and discover spectacular views. The loch is one of the few in the area where boating isn't permitted (it provides drinking water to Glasgow), which has resulted in an abundance of wildlife, including rare breeds of waterfowl.
Official site: www.lochkatrine.com
9. Take a Tour of Inveraray Castle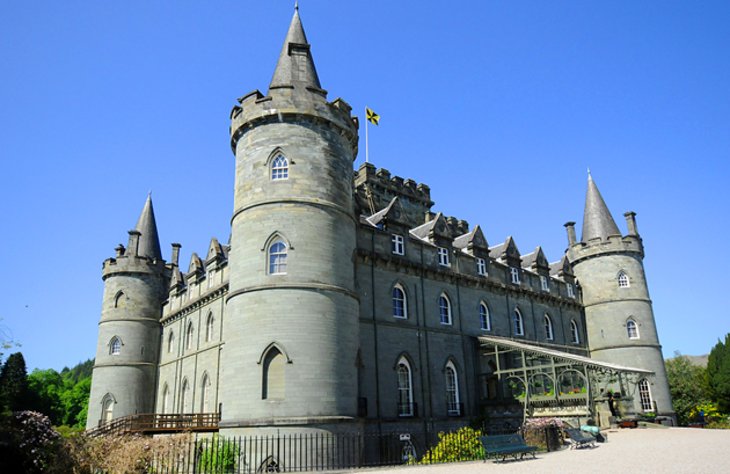 Inveraray makes a good base for tours of both the southern and western sections of the Scottish Highlands. Situated on the banks of Loch Fyne and surrounded by wooded hillsides, the town was the setting for several novels by Sir Walter Scott, as well as stories by Robert Louis Stevenson, and works by local poet Neil Munro. The principal attraction is Inveraray Castle, the seat of the Dukes of Argyll, and a star of Downton Abbey.
This lovely fairy-tale castle, with its round corner towers and turreted conical roofs, was built in the middle of the 18th century on the foundations of a medieval fortress. Interior highlights include collections of fine period furniture and tapestries, and gilded stucco ornaments decorate the elegant lounges. Displays include a large collection of weapons and an amazing range of fine porcelain, as well as family portraits by Gainsborough, Kneller, Raeburn, Ramsay, and Hoppner.
A gift shop and tearoom are located on-site, as well as a number of well-appointed rustic cottages.
Afterwards, pay a visit to the Inveraray Jail and the Inveraray Maritime Experience. The museum is home to the three-masted schooner Arctic Penguin, launched in 1911.
Official site: www.inveraray-castle.com
10. Take a Scenic Drive to Auchindrain Township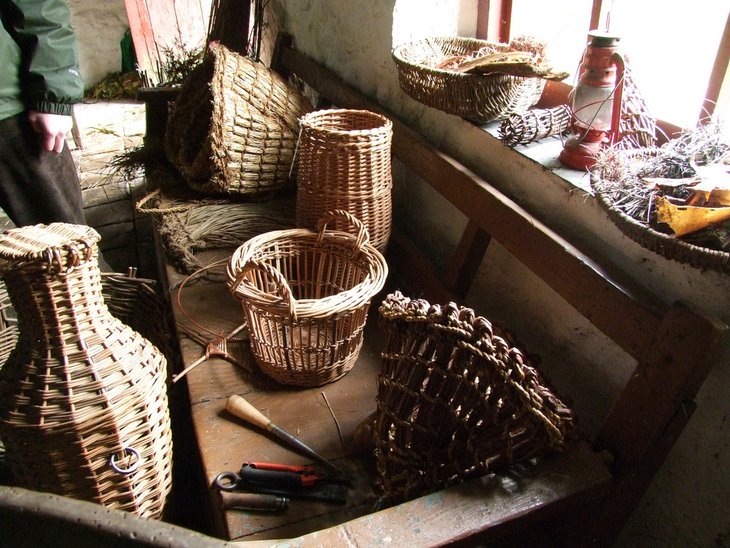 Located six miles southwest of Inveraray, Auchindrain Township is a small farming community maintained in its original condition. The traditional longhouses and peasant cottages aim to show how the rural population of the West Highlands lived during the late 19th century.
Apart from the smallholders of Auchindrain, who grew their cereal crops, potatoes, and root vegetables on the flat land and then grazed their sheep and cattle on the hillsides, the township was also home to the "cottars." As payment for their work, these residents received a small plot of land, which they were allowed to cultivate.
The farmers' longhouses consisted of a living room, a small side room, kitchen, toilet, and barn or stables all under one roof. The cottars, however, eked out a very humble existence in a simple hut. The visitor center offers interesting displays regarding the lifestyle of the township's former residents (it was only vacated in the 1960s), as well as a shop and café. Be sure to check for daily specials made to recipes once common in the township.
Address: Auchindrain, Furnace, Inveraray, Argyll, Scotland
Official site: www.auchindrain.org.uk
11. The Rob Roy Visitor Centre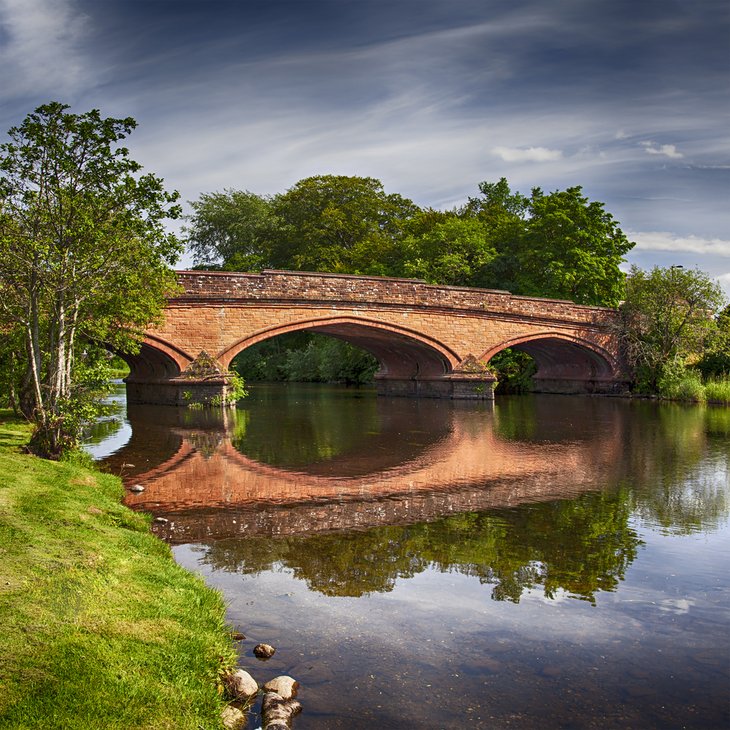 Located in the picturesque town of Callander, the gateway to The Trossachs, the Rob Roy Visitor Centre is dedicated to portraying the life and times of one of Scotland's most contentious sons. While most in Scotland regard Rob Roy as a heroic clan leader, he was also widely known as a cattle thief and blackmailer.
In addition to exhibits and fascinating details of his exploits, the center shows films detailing the history of Roy, as well as The Trossachs, where he made his home. Demonstrations of period costumes and kilt-wearing are also provided.
Location: Ancaster Square, Callander, Scotland
Where to Stay near Loch Lomond for Sightseeing
We recommend these charming hotels with easy access to Loch Lomond & The Trossachs National Park and other top attractions in the area:
Luxury Hotels:
The lovely Knockderry House

Hotel

offers lakeside luxury in an elegant 1846 country house boasting individually styled rooms, a cozy lounge, and fun walking tours for guests.
Monachyle

Mhor

also offers a high-class getaway experience. Located in an 18th-century farmhouse with stunning lake views, the hotel features an upscale restaurant, complimentary breakfast, and activities including hiking and fishing.
After extensive renovations, the Cameron House on Loch

Lomond

is another luxury retreat worth considering and offers five-star accommodations on a large country estate setting.
Mid-Range Hotels:
The Lake of Menteith

Hotel

offers mid-range pricing on a beautiful lakeshore setting, and features a complimentary Scottish breakfast overlooking a pleasant lakefront garden.
Another good choice of quality accommodations, the Oak Tree

Inn

in Balmaha comes with well-appointed modern rooms on the shores of Loch Lomond. Check out the attractive and comfortable Queen of the

Loch

, an inn offering clean, cozy rooms at a great rate.
More Related Articles on PlanetWare.com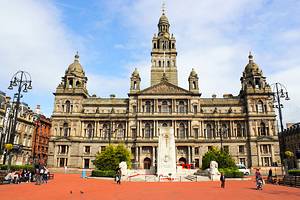 Nearby Things to Do: Located just 25 miles northwest of Glasgow, Loch Lomond is a great jumping-off point for side trips to the port city of Glasgow, home to plenty of great shopping, dining, and entertainment opportunities, as well as attractions including a cathedral, museums, and art galleries. Carry on another 20 minutes past Glasgow, and you'll find yourself in Ayr, birthplace of famed Scottish poet Robbie Burns. An hour-and-a-half's drive due east of Loch Lomond past Stirling, and you'll wind up in the capital city of Edinburgh, with its popular castle, great museums, and the old architecture along the Royal Mile.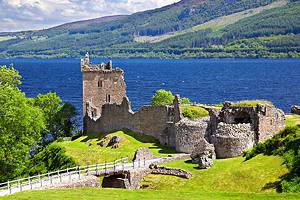 Must-See Scenery: As lovely as Loch Lomond is to look at, Scotland boasts many other equally attractive tourist destinations. Among the most popular spots are the Isle of Skye, accessible by road and where you can enjoy extensive hiking trail networks taking in the gorgeous Cuillin Hills. And don't miss Loch Ness, home not just to the world's most famous sea monster, but also picturesque scenery, including the ruins of Urquhart Castle. Finally, you simply can't visit without spending at least a little time exploring the Scottish Highlands, offering not just incredible vistas and views, but great attractions, including the Culloden battlefields and Cawdor Castle.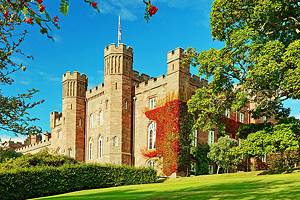 Scotland Travel Ideas: Scotland's towns and cities are also worth exploring. Favorites include the northern city of Aberdeen, a great destination for garden lovers (visit during spring!), as well as lovers of historic architecture. Farther south, the city of Dundee offers one of the country's leading engineering feats, the spectacular Tay Railway Bridge, which crosses the River Tay and connects to St. Andrews to the south, home to the world's most famous golf course, the Old Course at St. Andrews.