17 Best Villages in the Cotswolds
Visiting the Cotswolds is akin to stepping into the pages of a storybook. Undulating hills blanket nearly 800 square miles and five counties that make up this picturesque region. It's the tiny Cotswold villages that really capture your heart in this breathtaking locale, located about two hours west of London.
Honey-colored stone buildings line ancient laneways, and medieval market squares highlight town centers, while thatched cottages push the charm factor to a whole new level in the prettiest Cotswolds villages. The backdrop for films and inspiration for everything from paintings to novels, this lovely region was named an Area of Outstanding Natural Beauty in 1966.
As quintessentially delightful as England gets, the Cotswolds region is one of the best places to spend a weekend. Hike along the 102-mile Cotswold Way National Trail, a footpath stretching from Chipping Camden to the best attractions in Bath, or drive from village to village to truly enjoy the magic found in the most beautiful villages in the Cotswolds.
Before you go, plan your sightseeing with our list of the best villages in the Cotswolds.
1. Castle Combe, Wiltshire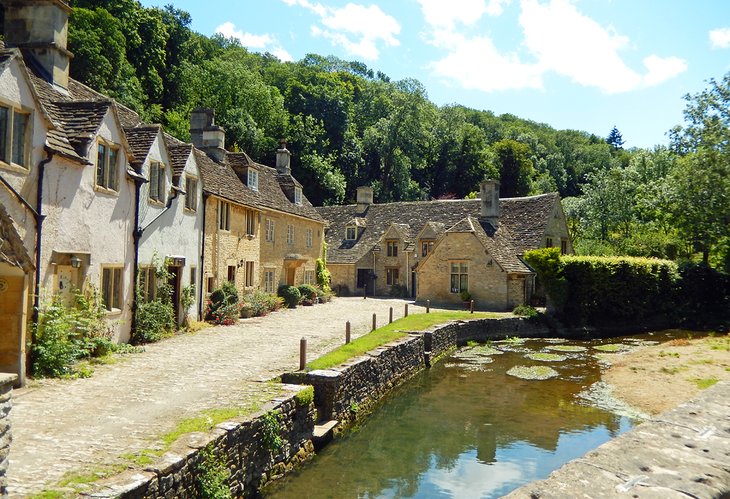 Castle Combe is one of the best places to visit in the Cotswolds, and one of its most beautiful villages.
Time and again, Castle Combe has been deemed "the prettiest town in England." Once you arrive, you'll understand why it gained this title, along with its top placement on our list of the best villages in the Cotswolds. Peppered with slate-roofed, honey-hued cottages and featuring a 14th-century market square, it's hard to beat the authenticity found in this adorable village.
You won't find box stores or tourist shops in this sleepy town. Instead, you'll feel like a local while wandering its tiny streets. Speaking of streets, you'll want to sightsee along these all day. Each building lining the laneways is ancient, dating back to the 14th century at least.
Buy baked goods or flowers left for sale outside a resident's home, enjoy a meal at The White Hart (it's been around since the 1300s), or visit the oldest working medieval Castle Combe Clock. If you're up for adventure, take your car for a spin at the Castle Combe Circuit.
Walk across the stone bridge spanning the winding Bybrook for one of the best photo-worthy backdrops. Then stop at the Manor House Hotel and Golf Club, a five-star hotel with impeccable grounds. This was once home to feudal lords.
2. Bourton-on-the-Water, Gloucestershire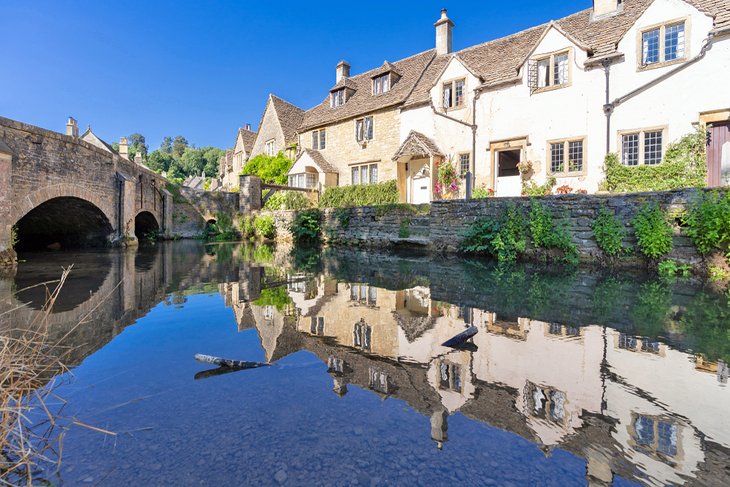 Another area superstar is Bourton-on-the-Water. This captivating village has been dubbed the Venice of the Cotswolds due to the sparkling River Windrush, which runs through the heart of town. Spanned by multiple picturesque bridges, this river and the surrounding town are as pretty as a postcard.
You won't find even a hint of modern architecture, which is a lovely treat for visitors hoping for an authentic experience. Enjoy high tea at a riverside café, find your way out of the Dragonfly Maze, shop in a boutique store, or visit the Cotswold Motoring Museum & Toy Collection.
Expect to share the narrow streets with busloads of tourists if visiting during the summer. This is one of the prettiest places to visit in the Cotswolds, so it gets busy. Plus, there are so many fun things to do in Bourton-on-the Water that it seems to be busy non-stop. If you're hoping for a quieter, more private experience, try booking during the spring or fall.
3. Painswick, Gloucestershire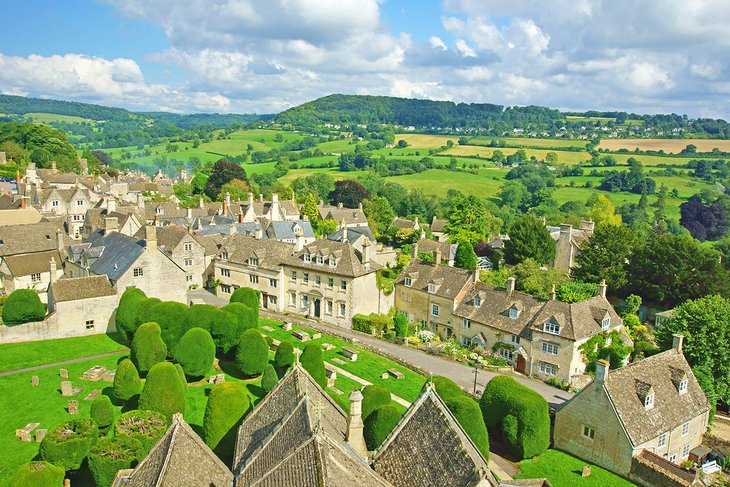 Painswick's most awe-inspiring attraction is the 14th-century St. Mary's Church. Outside lies a churchyard so fabulous, it belongs in a storybook. Tombs dating to the 17th century and 99 perfectly groomed yew trees (legend says the devil won't let the 100th grow) cover the grounds, providing a photo-worthy backdrop.
Once a wool town, Painswick is located just over seven miles south of Gloucester and has been nicknamed "Queen of the Cotswolds" for good reason. This charming town's captivating scenery will put your camera into a frenzy. Quintessential Costwold stone homes line the churchyard's borders and the steep, winding streets of town.
It's easy to get lost in the splendidly narrow laneways, but thankfully Painswick is small, so you'll find your way eventually. Plus, getting lost gives you an excuse to explore areas you might have missed otherwise.
Eagle-eyed visitors can spy remnants of its past (like the donkey doors on Bisley Street) throughout the village. Another must-see is Rococo Gardens, an 18th-century venue featuring fab gardens, family trails, and art exhibits. Slightly outside of town, this is a lovely spot to enjoy sprawling countryside vistas.
4. Bibury, Gloucestershire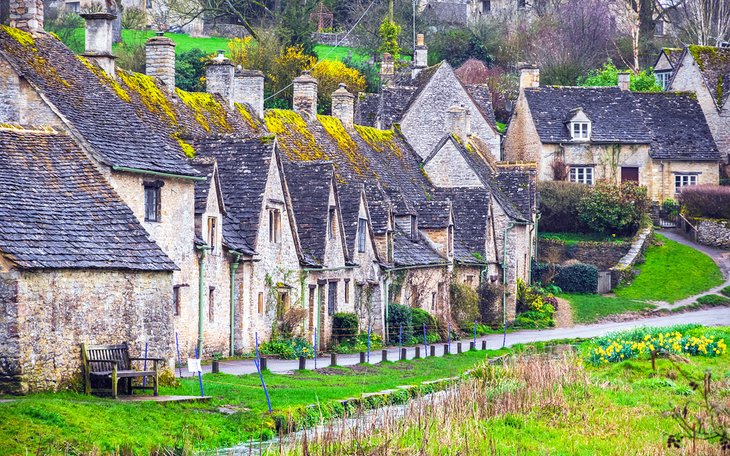 Bibury is a quiet village serenely set along the banks of the River Coln. Thanks to its impeccably preserved cottages, well-manicured gardens, and ancient Arlington Mill, this lovely spot has been dubbed "the most beautiful village in England." You really can't take a bad photograph in this pretty Costwold town.
The most famous street in Bibury is one you won't want to miss and have likely seen on a zillion postcards — Arlington Row is lined by charming 14th-century weavers' cottages. Backed by a rolling hill, this lovely area is breathtaking, making it one of the most photographed spots in the country and one of the best villages in the Cotswolds.
Bibury Trout Farm is a must-visit for anglers. You'll find a "catch your own" fishery on the premises, the oldest of its kind in the country.
Insider's tip: Arrive in Bibury early in the morning or late in the day to avoid crowds. Also, spring is the most beautiful time to visit — the cottages will be covered with colorful blooms.
5. Stow-on-the-Wold, Gloucestershire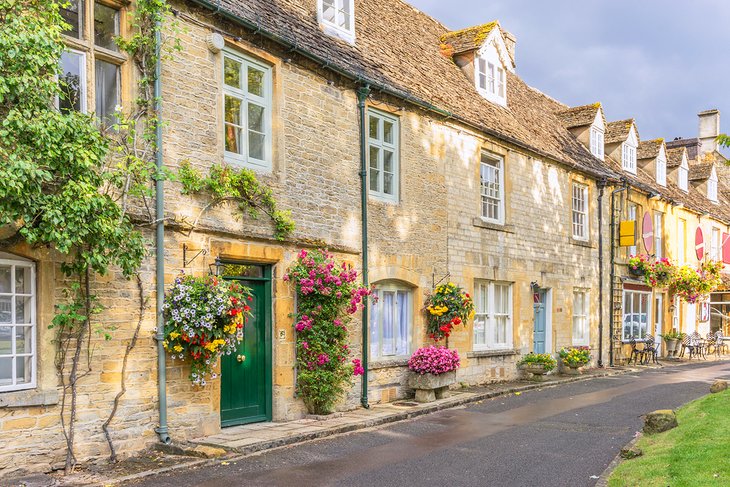 The highest of the Cotswold villages, Stow-on-the-Wold sits 800 feet up, on Stow Hill. What it lacks in size, this small market town more than makes up for with charm. It, too, boasts the typical Cotswold stone cottages with sloping roofs that push it into the category of prettiest Cotswold villages.
At its center lies a large market square, a testament to the village's prior importance. Over 20,000 sheep were once sold during a fair held here. Today, you'll find a vibrant farmer's market taking place in the square from 9am to 1pm on the second Thursday of each month.
St. Edward's Church is a gem you really must see. Built over many years between the 11th and 15th centuries (multiple additions took place), this unique church is most famous for the yew trees that encroach upon the intricate wooden doorway at the north porch.
6. Chipping Campden, Gloucestershire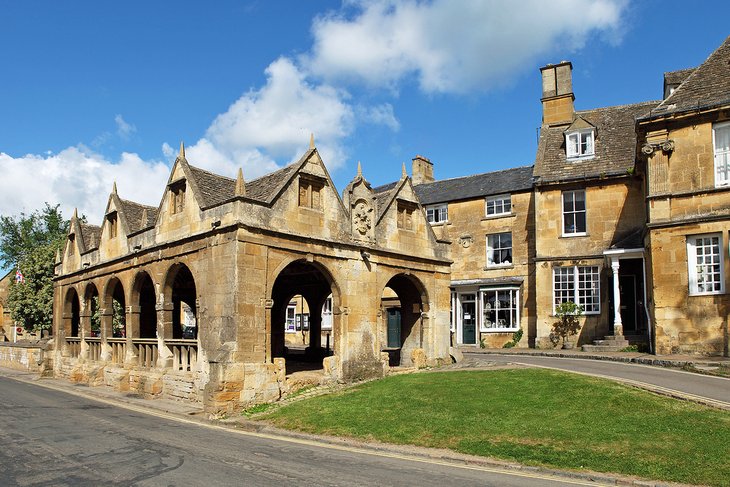 Not only is Chipping Campden one of the most vibrant of the Cotswold villages, but it's also one of the largest. This bodes well for those of you who don't fancy trying to drive a car down tiny narrow streets in search of an elusive parking spot.
An important market town during its wool trade heyday, Chipping Campden boasts a beautiful stone marketplace in the center of town. Alongside the streets lining this marketplace are quaint shops, excellent restaurants, and the most adorable cottages, easily making this one of the best villages in the Cotswolds.
Fulfill your desire to experience a true English teatime with a visit to Badger's Hall Tea Room or Bantam Tea Rooms. Both will delight your senses with a delicious spread.
If you're looking for action, you'll find it in this buzzing Cotswold town, which plays host to music and literary festivals throughout the year. The Cotswold Olimpick Games have been held in Chipping Camden each spring since the early 1600s.
It's here that you'll find people competing in a quirky collection of events: a pentathlon called King of the Hill, rural games (we're talking relays using garbage cans, wheelbarrows, and hay bales), tug o' war, and shin kicking. This will likely be the most interesting games you've ever attended.
7. Burford, Oxfordshire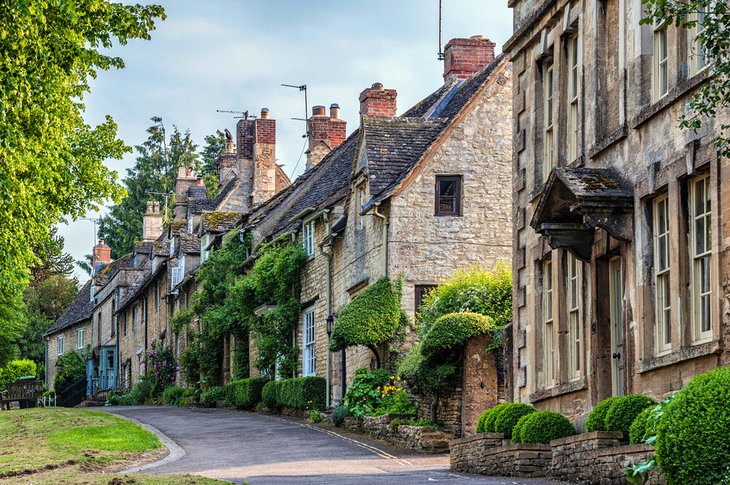 Dubbed the southern "gateway to the Cotswolds," Burford lies 20 miles west of Oxford. The high street in this pretty Cotswold village is literally high — it's perched upon a hill. Lined with charming antique shops, boutique stores, and cafés, it offers stunning views of the countryside and plenty of opportunities to lighten your pocketbook.
The Tolsey Museum, a 16th-century building that once hosted meetings for merchants, lies halfway down the hill. Inside, you'll find a bevy of information about the town's storied past. Speaking of past, the iconic Church of St. John the Baptist stands as a testament to the town's wealthy history.
Built in the late 1100s, this grand building was finished about 400 years later. Inside, you'll find an abundance of ornate beauty, including the 13th-century Lady Chapel, which boasts magnificent stained-glass windows.
8. Broadway, Worcestershire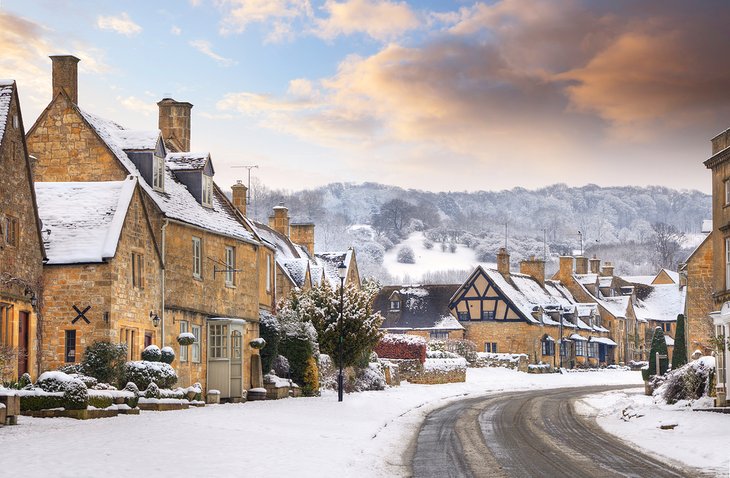 Traditional honey-colored houses line the streets of beautiful Broadway. Its shining glory is the chestnut tree-lined high street, which is peppered with quaint shops, adorable cafés, charming restaurants, and intriguing art galleries. If you're on a hunt for antiques, you'll find them aplenty in Broadway.
The impressive Broadway Tower lies just outside the center of town in the 50-acre Broadway Tower Park. You'll find three floors of museum inside this well positioned structure, which offers spectacular views of the surrounding countryside. On a clear day, you can see 16 counties form the rooftop platform in this beautiful village in the Cotswolds.
The tower has been used for a multitude of purposes including as a home to the printing press of Sir Thomas Phillips, an artists' retreat, and a farmhouse. The property also hosts nuclear bunkers left over from the Cold War.
9. Upper and Lower Slaughter, Gloucestershire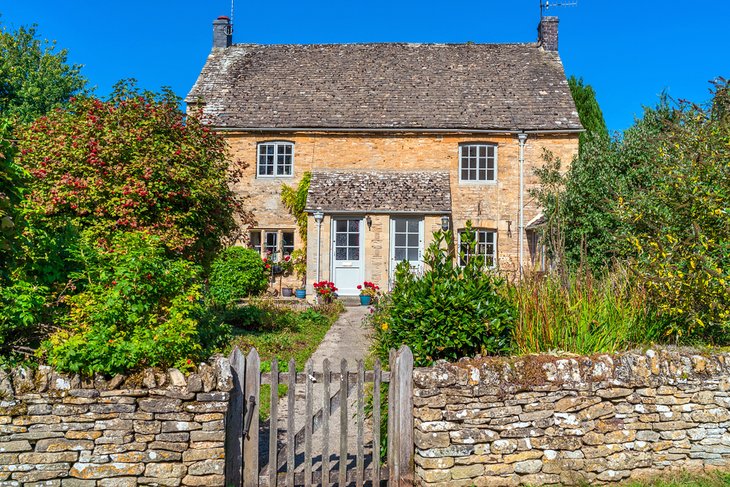 Upper and Lower Slaughter are joined by the River Eye, a tributary of the River Windrush. Don't let their slightly off-putting monikers fool you, these villages are gorgeous. Plus, "slaughter" apparently means "muddy place," which isn't so bad!
Both rife with beauty and history, Upper and Lower Slaughter have been around for a while — they're both mentioned in the 1086 Doomsday Book.
Upper Slaughter is known as a "sainted village," meaning it didn't lose any residents during World War I. A mere four miles from Stow-on-the-Wold, this attractive town is positioned on a verdant grassy slope leading to a picturesque stream.
One mile away lies Lower Slaughter, which is traversed by a lovely stream and peppered with traditional limestone cottages. It's also home to the most romantic street in Britain: Copse Hill Road.
The Slaughters Manor House is a contemporary hotel housed in an exceptional building dating back to the 17th century. If you're looking for a luxurious experience set within five acres of pristine gardens, you'll want to stay in this Lower Slaughter marvel.
10. Kingham, Oxfordshire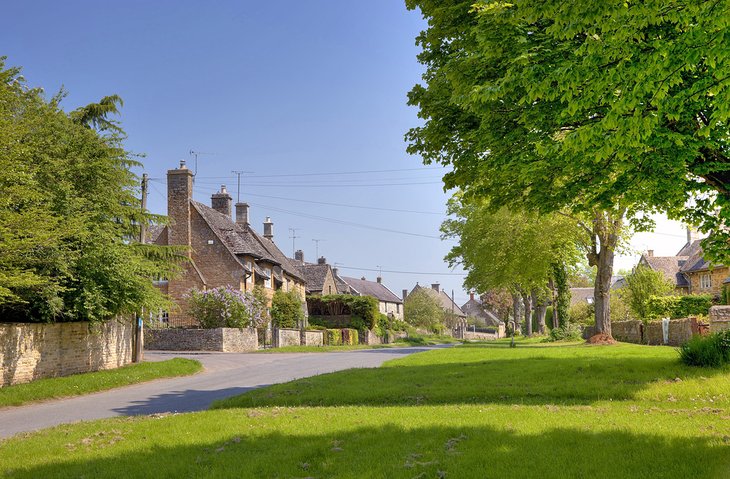 Beautiful Kingham sits between Stow-on-the-Wold and Chipping Norton in the pretty Evenlode Valley. A mere hour-and-a-half train ride from London's Paddington Station, this lovely Cotswold village is a popular weekend destination for big-city folk looking for peace.
For a tiny hamlet, Kingham dishes up a bevy of fantastic food options. The Kingham Plough is a wonderful spot to grab a British meal with a Mediterranean twist. The menu changes daily, so you never know what you'll get, but it's guaranteed to be delicious.
The Wild Rabbit is one of the best restaurants in the Cotswolds. Their innovative menu features food grown on the owners' nearby farm, Daylesford, which is a wonderful place to visit. You'll find everything from candles to creams to cutting boards in its shop. And just outside lies the Bamford Barn, Wellness Spa, and Cookery School.
In addition to its fab food, Kingham boasts the beautiful Cotswolds cottages you've come to see. If you visit in late August, you can catch The Big Feastival, a music and food festival offering concerts, cooking demonstrations, and other family-friendly things to do.
11. Cirencester, Gloucestershire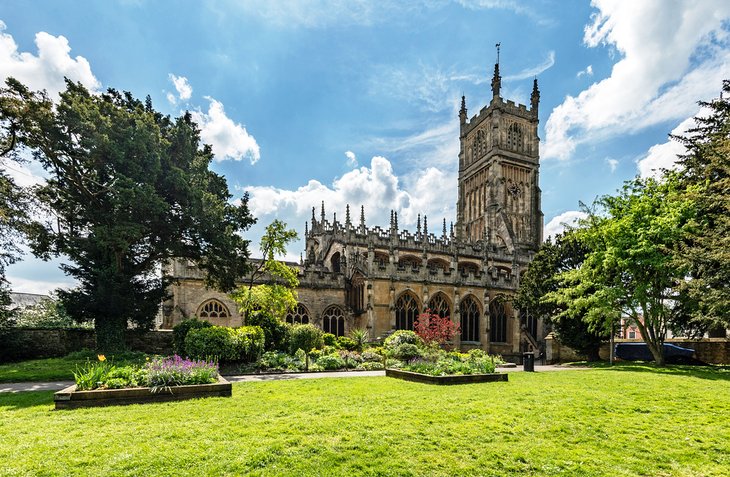 Dubbed the "Capital of the Cotswolds," this ancient town is beautiful and bustling, not to mention one of the best villages in the Cotswolds. The largest village in the region, Cirencester is a popular tourist destination. You'll find plenty of great lodging options, as well as a high street filled with shops ranging from chain stores to eclectic boutiques.
A medieval masterpiece, the Parish Church of St. John the Baptist is the most striking of the three Anglican churches in town. Visitors can join one of two daily guided tours from the middle of March through October. At times, the tower is also available to climb.
Just outside the village lies the extensive remains of one of Britain's largest Roman amphitheaters. It dates to the second century, when Cirencester was known as Corinium. You can learn more about the town's interesting past by exploring the Corinium Museum's diverse exhibits.
12. Naunton, Gloucestershire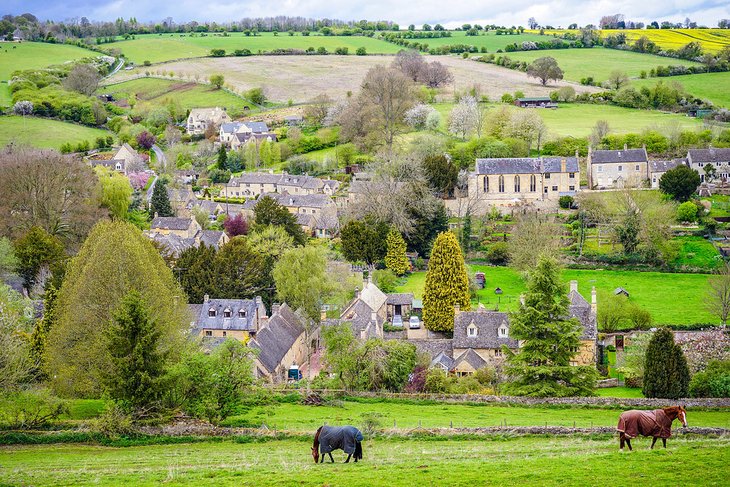 Naunton offers visitors a quiet respite in the loveliest of settings. Pack a picnic and enjoy it on one of the lush green spaces. Wander along the ancient streets lined with historic stone cottages. Or pop into the Black Horse Inn for a typical Sunday Roast. This is one of the best things to do in Naunton.
Naunton isn't plagued by popularity, which means you won't have to jostle through the crowds that descend upon other Cotswold towns (i.e. Bourton-on-the-Water). This lack of tourists leaves you more space to enjoy the beauty of this pretty medieval town and makes it easier to get to know the locals.
Set along the River Windrush, the best view on offer can be found from the top of the hill overlooking the village. This pastoral scene is guaranteed to soothe what ails you!
13. Snowshill, Gloucestershire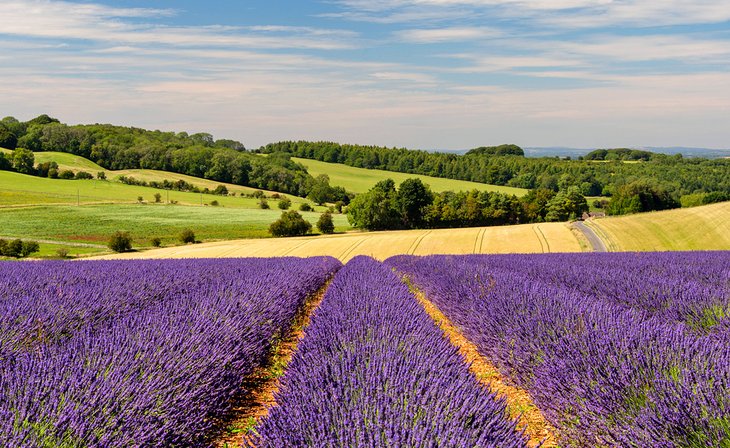 Fields of lavender surround the quaint town of Snowshill, infusing it with the most wonderful aroma. Another Cotswold beauty, the streets here are lined with small stone cottages, cute cafés, and unique shops. The reason most visit this sweet village, though, is for its spectacular views of the Severn Vale.
This bucolic locale is the perfect place to relax and recharge. Purchase lavender products at Hills Barn Farm. This is where you'll find Cotswold Lavender, a company that farms the odorous crop. Visit during the summer when the lavender is in full bloom. Harvesting usually begins late July into August.
Snowshill Manor and Garden are must visits. Run by the National Trust, this unconventional home once belonged to a one-of-a-kind collector, Charles Wade. Inside, you'll find a variety of eclectic toys, armor, bicycles, and musical instruments, among other interesting finds. Outside, the well-maintained garden offers plenty of hidden places to explore.
14. Minster Lovell, Oxfordshire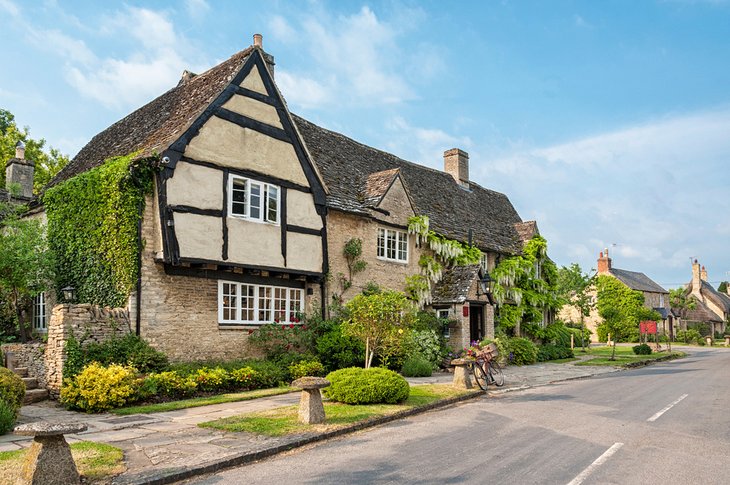 Minster Lovell serves up romance on a grand scale. Home to a babbling brook and set on the picturesque banks of the River Windrush, this lovely, quiet town seeps charm and is one of the prettiest villages in the Cotswolds. Thatched roofs and honey-hued stone cover the homes that line its quintessential Cotswold streets.
Once a 15th-century West Oxfordshire manor home, Minster Lovell Hall and Dovecote are British Heritage sites you won't want to miss. Today you'll find the romantic ruins of the hall, tower, and dovecote on these pristine grounds.
If you're feeling brave (and the sun is shining) the river makes a good place for a summer dip. Pack a towel as well as a picnic to enjoy on the riverbank or stop in at one of the cute restaurants in town.
15. Lacock, Wiltshire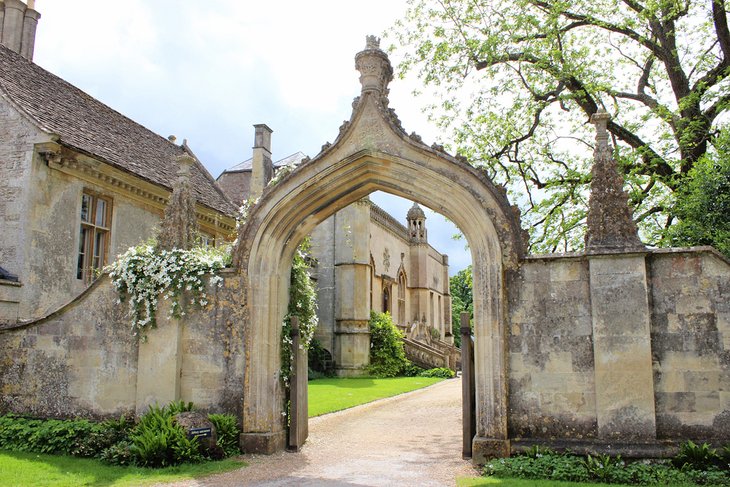 Named in the Saxon times, Lacock translates to "little stream." The bubbling Bide Brook runs dramatically through the center of town, upping the charm factor dramatically in this top village in the Cotswolds.
Run by the National Trust, Lacock is wonderfully preserved, and its greens are perfectly manicured. As a result, it's a popular location for film and television productions. You'll recognize its historic buildings and lovely streets from Downton Abbey, Pride and Prejudice, and Harry Potter and the Half-Blood Prince.
The 13th-century Lacock Abbey is one of the village's most popular attractions. Founded by Ela, Countess of Salisbury, this later became the quirky home of Henry Fox Talbot (he invented the photographic negative). Today, it also houses the Fox Talbot Museum.
16. Stanton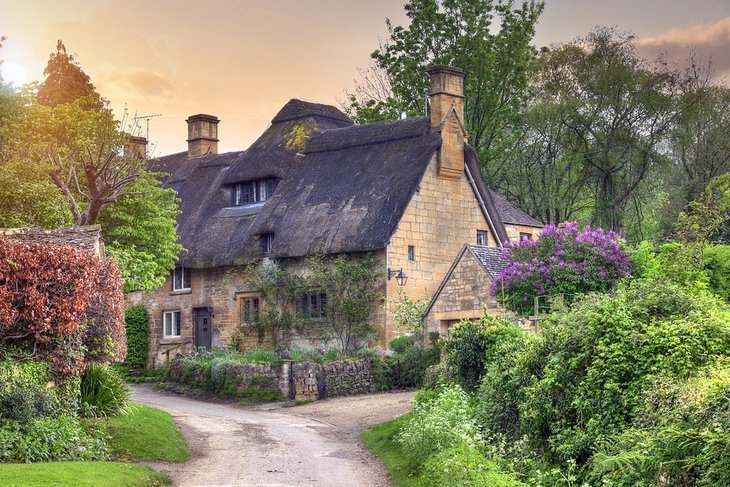 The tiny Cotswolds village of Stanton is pretty no matter what season you choose to visit. Whether covered in a blanket of snow, bursting with vibrant floral blooms, or highlighted by the colorful hues of autumn, this untouched, ancient town is one of the most beautiful villages in the Cotswolds.
Like the other best Cotswold towns, this sleepy village is devoid of modernity and high street shops, as well as crowds and large buildings. Instead, you'll find a peaceful, and incredibly photographable, mix of honey-colored limestone homes and a medieval church (St. Michael and All Angels) that dates to the 12th century.
A mere three miles from Broadway, this charming village is located close to multiple walking trails, making it easy for visitors to spend a few hours exploring the pastoral landscape. Don't miss a trip to the Shenberrow Hilfort, a historic Iron Age camp that overlooks the village.
17. Asthall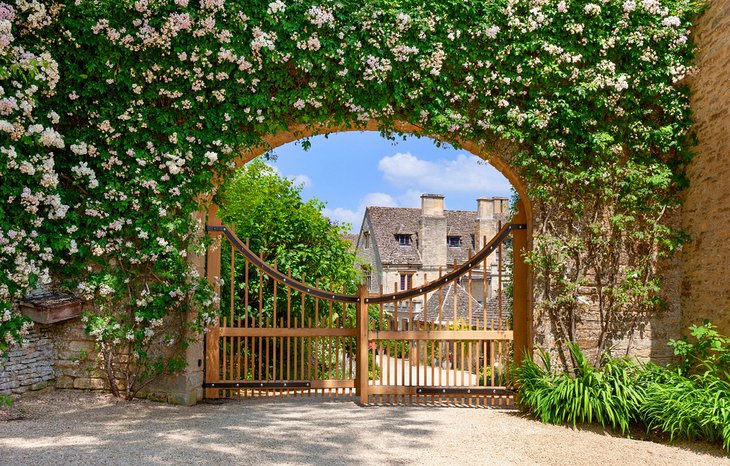 The River Windrush winds its way through the quaint village of Asthall, which is highlighted by an ancient, 12th-century church and its most famous tourist attraction, the historic Asthall Manor.
Once home to the Mitford sisters (Nancy Mitford authored the 1945 novel, The Pursuit of Love), this spectacular Jacobean manor home and its stunning gardens host on form, an artistic exhibition of numerous sculptures created by artists from around the world. It dates to the early 1600s, and its grounds are more than worthy of a visit if you get the chance.
Located in Oxfordshire, the village's name translates to "at the east nooks," and it is as beautiful as you would expect a Cotswold village to be. You'll find the typical honey-colored stone cottages, gabled roofs, and stunning blooms during warmer months.
Map of Villages in the Cotswolds
More Related Articles on PlanetWare.com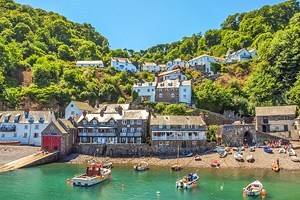 More Small English Villages to Explore: Much of England's beauty can be found in its sprawling countryside, rolling hills, and winding rivers. If you spend all your time in a big city (hello, London), you'll miss out on the relaxing charm found in England's adorable small towns. A lovely fishing town called Whitstable lies on the country's east coast. This is a lovely spot to spend a weekend at the shore.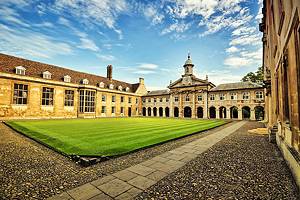 More Places to Visit in England: While you'll likely visit London on your trip to the UK, you'd be amiss if you didn't venture farther into the country to get a real feel for life as a Brit. You can't help but feel smarter in Cambridge. Wandering around the magnificent university's 31 colleges is an unbeatable experience. York boasts a massive and impressive medieval church, as well as a lengthy collection of town walls visitors are welcome to walk.