12 Top-Rated Beaches in the UK
As a nation of islands the UK is blessed with many beautiful beaches. They range from popular pebble shores alongside seaside towns like Brighton to the kind of long expanses of pure white sand found in places like Bournemouth that you'd normally expect to see in the Caribbean.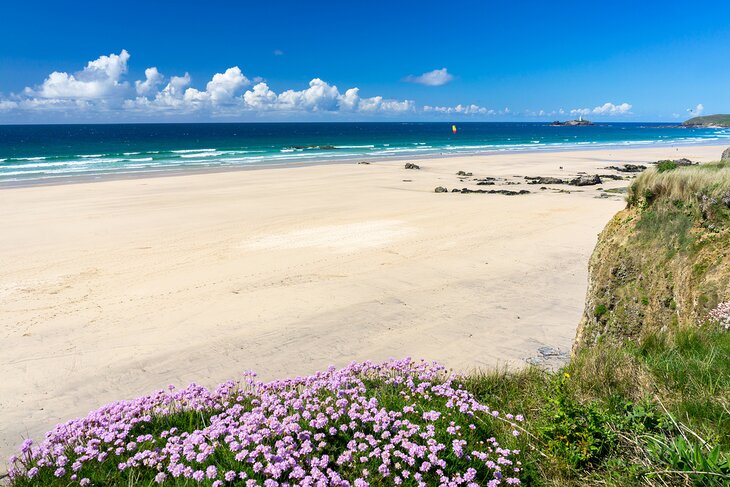 While not as sunny as the beaches of Spain, figures show that the UK gets as much or more sun as many mainland tourist destinations in northern Europe.
As a general rule of thumb, the less-crowded shorelines preferred by nature lovers and hikers tend to be in the remoter corners of the country, such as in Wales and Scotland.
The more family-friendly beaches are most often within an easy commute of major cities such as London and Liverpool, and are popular for day-trippers wanting a short stay on the beach.
Whether you're looking for a secluded beach or a bustling seaside resort town, find the best beach experience possible with our list of the top beaches in the UK.
1. Bournemouth Beach, Dorset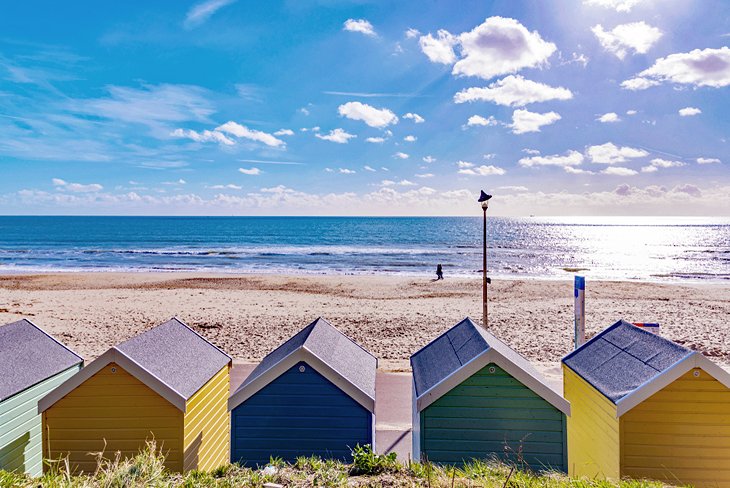 Regularly winning awards and accolades as the country's top seaside destination, including the prestigious Blue Flag award, beautiful Bournemouth Beach has much to commend it. Whether you're seeking a spot to lay down your beach towel or deckchair or are wanting to stretch your legs for a jog or take in some surfing, there's an impressive seven miles of sand to enjoy here.
Consisting of a number of smaller beaches, including Alum Chine, Durley Chine, and Fisherman's Walk, Bournemouth Beach stretches far into the distance in both directions. In fact, it's possible to walk all the way past Poole to Sandbanks beach to the west, and past Boscombe and Southbourne beach to the east, splashing through the water all the way.
Even in its busiest sections adjacent to the boardwalk, the beach is kept clean and groomed regularly. This is where you'll want to hang out if you're traveling with kids.
Fun things to do on Bournemouth Beach include strolling along pleasant Bournemouth Pier while the kids try out the rides; relaxing on the sand as they splash about in the water, watched over by on-duty lifeguards; or letting the kids play on the pirate-themed adventure playground.
Better still, rent one of the charming seaside beach huts as your base, some of the larger of which are set up for fun overnight stays.
Offering some of the best views over the beach, the 4-star Hotel Miramar, a one-time favorite of J.R.R. Tolkien, also offers superb dining, a great afternoon tea experience, plus plush accommodations.
Read More: Best Beaches in Bournemouth, England
2. West Wittering Beach, West Sussex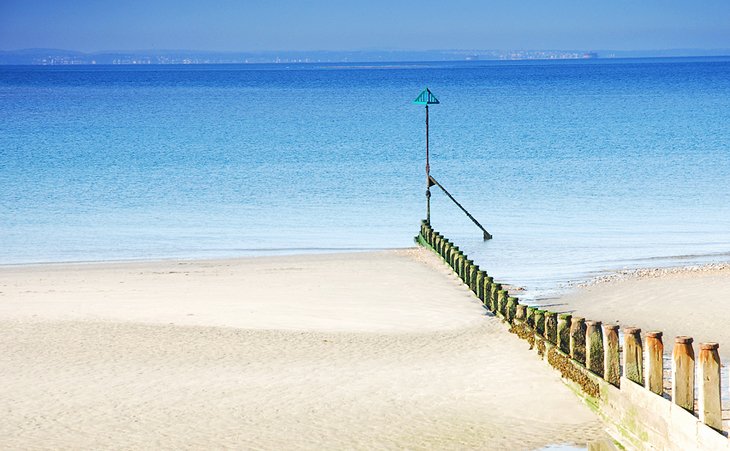 West Wittering Beach is another superb Blue Flag beach location in the south of England. Considered one of the best beaches in Sussex, it's just a short drive from the picturesque old city of Chichester in West Sussex, the sandy dunes and clean, shallow, safe waters of West Wittering Beach have for decades been a draw for families of day-trippers from London.
Activities: Framed by the pleasant parklands of West Wittering Estate, the beach is also a big draw for adventure seekers. Topping the list are kitesurfers and windsurfers, as well as nature lovers, drawn here for its flourishing wildlife, including countless species of birds and seals.
Amenities: On-site facilities include safe and convenient parking, restrooms, and beach hut rentals. Dog walking is permitted only in the quieter off-season, while horse riding, while allowed, is subject to restrictions.
3. Woolacombe Sands, Devon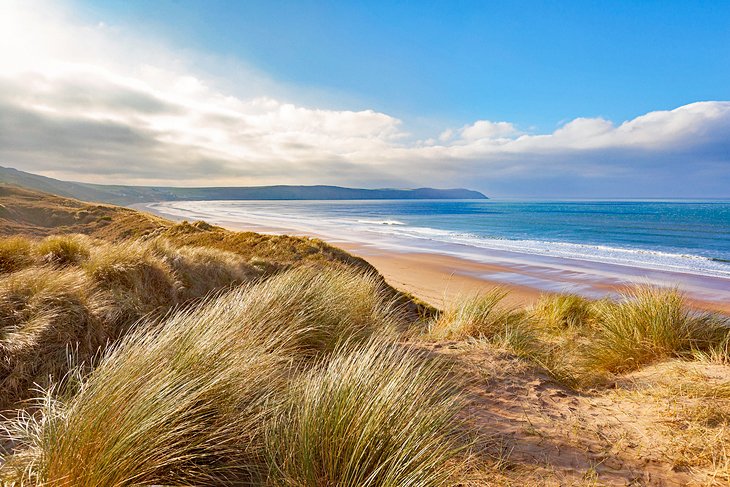 One of the top beaches in the county of Devon, the three-mile-long stretch of sand fronting the attractive and laid-back resort village of Woolacombe has much to commend it. Sloping gently toward the Atlantic Ocean at the end of the Bristol Channel, award-winning Woolacombe Sands, as the beach is most commonly referred to, is immensely popular with families.
Even though the town itself may at times feel busy, it's never difficult finding a quiet, uncrowded spot on the golden sand to lay your towel. It's also regarded as one of the top surfing beaches in England thanks to the rolling surf carried in from the Atlantic, meaning surfers can expect an extended ride when they catch a wave.
Activities: In addition to surfing and sunbathing, there are plenty of other fun things to do in Woolacombe Sands. Kids love exploring the rock pools, exposed at low-tide, for shells and crabs, while the village itself offers good dining, shopping, and entertainment opportunities.
4. Fistral Beach, Newquay, Cornwall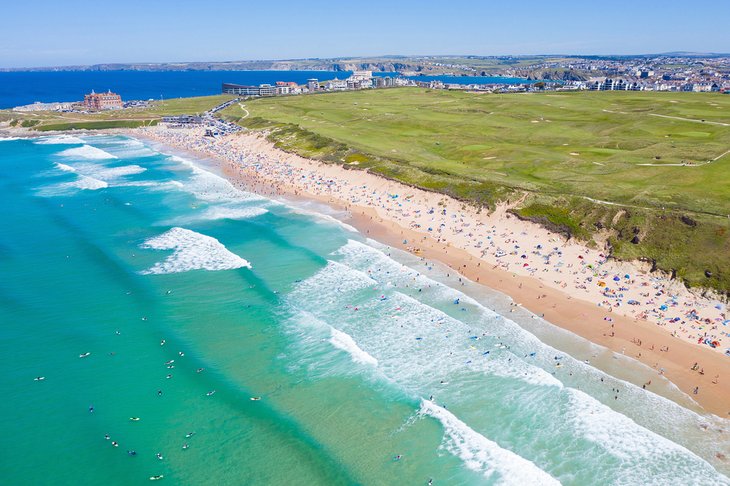 Fistral Beach in Newquay is not only one of the prettiest of Cornwall's many nice beaches, it has also earned itself a reputation as something of a surfer's paradise. Surfers from around the world are welcomed not only by a dramatic backdrop of sand dunes and tall cliffs, but the big waves that roll in from the Atlantic create ideal surf conditions, with waves averaging between six and eight feet.
Fistral is the go-to location for professional surf contests in the UK, as well as for those wanting to learn the sport. Some of the best instructors in the country available to share their skills based at the International Surfing Centre, which overlooks the beach.
It's also a safe place, with lifeguards on duty from March through October to keep an eye on surfers and swimmers alike. Even off-water there's plenty to do here, from sunbathing to catching some of the best sunsets around from the Surf Centre's café.
5. Blackpool Beach, Lancashire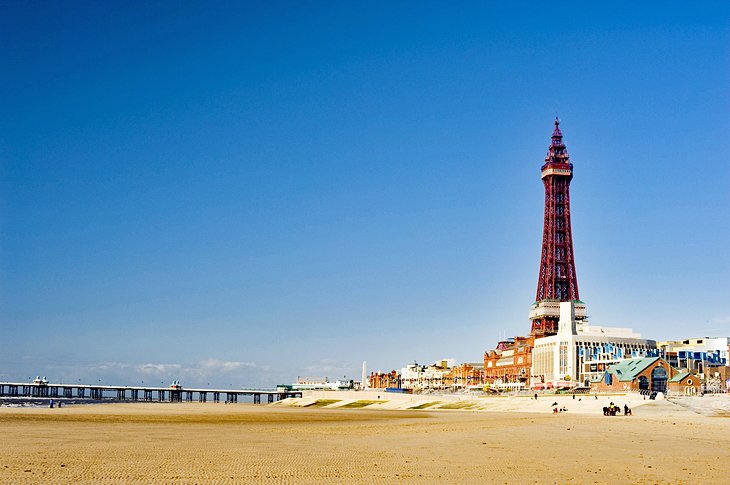 No list of the best beaches in the UK would be complete without at least a mention of Blackpool. While it's as popular for its amusement arcades and roller coasters as it is for its beaches, it's the latter that is the main attraction at what is undoubtedly one of the UK's best-known beach resorts.
A recipient of the prestigious Blue Flag award for the quality of its sand and water, Blackpool's beach stretches as far as the eye can see and totals an impressive seven miles of waterfront.
Activities: Those here for attractions such as the Blackpool Pleasure Beach, a huge waterfront theme park with numerous rides and fun things to do, tend to hang out at the main tidal beach and its promenade.
Those wanting to enjoy an uninterrupted day of sunbathing and swimming should head to the dry beach adjacent to the Central Pier, one of three piers located on the beach. For a less-crowded experience, make your way to the beach areas at Blackpool South Shore or Blackpool North.
Other fun things to do include angling and fishing, sailing and kayaking, as well as kitesurfing and windsurfing.
6. Rhossili Bay Beach, Gower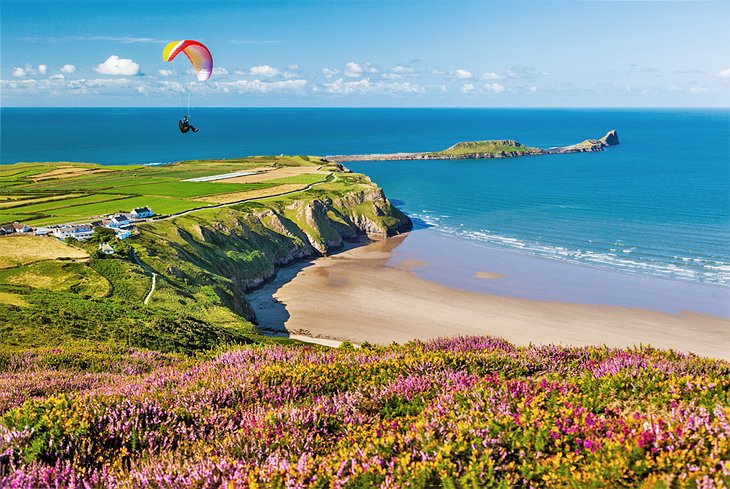 Rhossili Bay Beach in Gower, Wales, is located 45 minutes west of the city of Swansea and is widely regarded as one of the most picturesque of the UK beaches. Stretching for three miles, this unspoiled shoreline is located on the excellent Gower Coast Path hiking trail, making it a popular destination for those looking to include a beach break on a walking tour of Wales.
In addition to drawing sunbathers, surfers are drawn here for the waves created by the impressive Atlantic swell that pounds the shore. Numerous natural attractions are here to be enjoyed, too, like the Gower Peninsula's Worms Head, a series of remarkable cliffs shaped by erosion, lure sightseers from far and wide.
Nature lovers, too, won't be disappointed and usually go away satisfied after seeing wildlife such as seals, dolphins, and rare bird species.
It's also a tremendously popular spot for picnickers, and thanks to its dog-friendly status is also popular among dog owners.
7. Pentle Bay, Isles of Scilly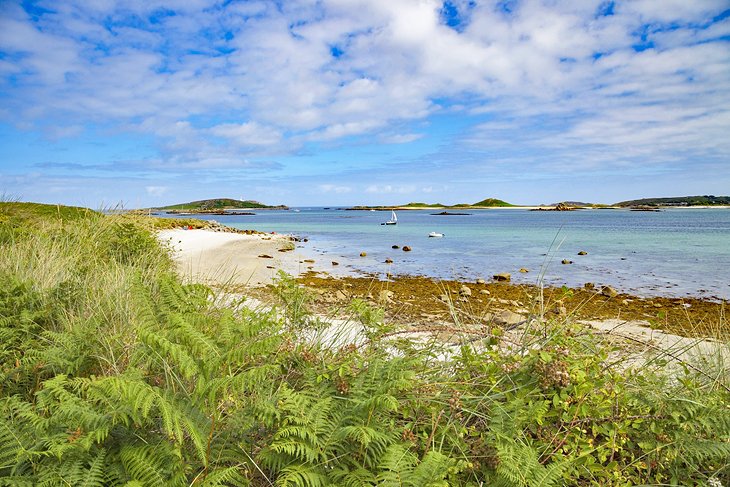 Although one of the most remote beach destinations in the UK, Pentle Bay offers those willing to make the journey an unforgettable experience. The Isles of Scilly, usually known simply as the Scilly Isles, are situated some 28 miles off Lands End on the coast of Cornwall.
Accessible by a three-hour ferry ride from Penzance in Cornwall or a 30-minute charter flight from Newquay, this beautiful tropical (yes, tropical!) corner of the country should be on everyone's bucket list.
Located on Tresco, the second largest of Scilly's five inhabited islands, Pentle Bay is a beach-lover's paradise. The sand is white and powdery, the water as crystal clear as the Caribbean, and also shallow, so it's safe for kids and casual swimmers. There's plenty of beachcombing for seashells to enjoy.
Activities: Adventure seekers are also well catered to. Water sports include kayaking and sailing, as well as fishing. And given its secluded location, there's plenty of places to enjoy some quiet time, whether sunbathing or searching for native wildlife. Birdwatchers in particularly spoiled here. Afterwards, explore the delightful Abbey Gardens (palm trees), or take a hike around the island.
8. Luskentyre Sands, Outer Hebrides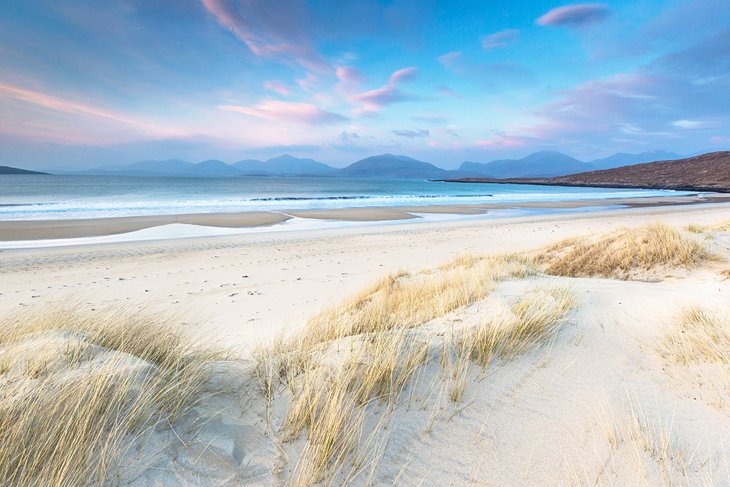 Beautiful Scotland has its own sandy beaches. Leading the pack is a lovely sandy stretch of beach on Isle of Harris in the Outer Hebrides known as Luskentyre Sands.
As one of the UK's most remote beaches, it takes some getting to, given its island location, requiring a journey by ferry or a short flight from the mainland, followed by a three-mile trek down an unpaved road. But as anyone who's ever been here will attest, it's well worth the effort.
Highlights include few, if any, tourists to impede the spectacular views overlooking the bay and beach on the west coast of Harris, the largest of the Hebridean islands. You'll also enjoy pristine, turquoise waters to swim, sail, kayak, or surf, and pure white sands on which to walk or lie.
Luskentyre Sands is also a popular stop for hikers, drawn here to rest and refresh after trekking around the island. It's also a must-visit for nature lovers, who will often catch a glimpse of bird species, including golden eagles on the hunt for a meal.
Read More: Top-Rated Family Adventure Holidays
9. Brighton Beach, East Sussex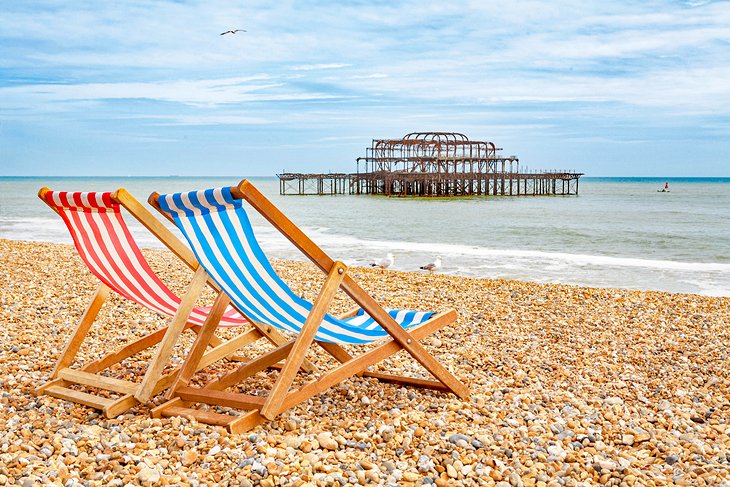 One of the easiest to access of the beaches near London, Brighton boasts an impressive eight miles of beach along the English Channel for visitors to enjoy. While almost 5.5 miles of this shoreline consists of shingle (or pebble) beach, this sprawling seaside town has been a popular destination for day-trippers and vacationers for well over a century.
Activities: While the section of beach along the town's promenade is home to many of the usual seaside attractions, including a pier and the elegant Royal Pavilion, a former palace, it's less well suited for swimmers than for sunseekers, picnickers, and for water sports such as sailing, kayaking, paddleboarding, and windsurfing. There's also a naturist section.
If you're adventurous enough, wander a little farther "up beach" toward the town of Hove. It's an easy and very pleasant stroll, and you'll be rewarded with a chance to enjoy renting one of the many colorful beach huts that line the shore as a base for the day. Other areas of the Brighton beachfront consist of a large public sports complex, including activities such as ultimate frisbee and beach volleyball, as well as one of the largest marina's on the south coast.
Read More: Best Beaches in Brighton, East Sussex
10. Weymouth Beach, Dorset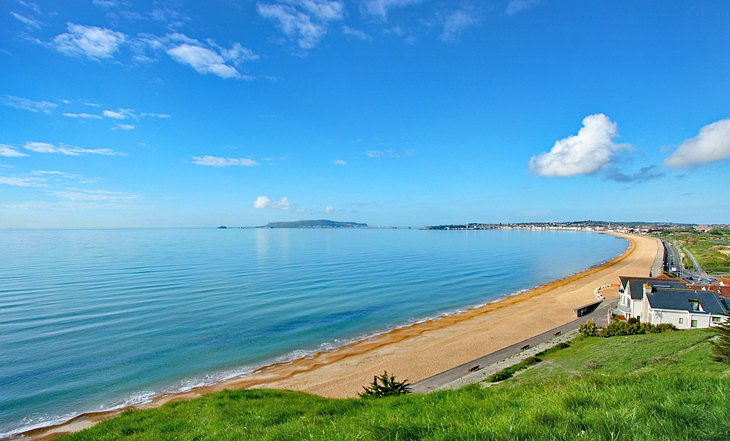 Dorset has long been a popular seaside destination for Londoners, but the secret's out: delightful resort towns such as Weymouth now attract beachgoers from much further afield. Stretching three miles into the distance from the town's picturesque harbor, Weymouth Beach is one of the best places to visit in Dorset.
Thanks to the beach's gentle curving bay setting, its waters are shallow and safe for swimmers, and its fine sand has earned a reputation for its sandcastle-making qualities (seriously!). It's so good, in fact, that regular contests and tournaments result in some amazing sand sculptures.
After all that relaxing on the beach, there's plenty of other fun things to do in Weymouth, too. Highlights for kids include traditional Punch & Judy shows, amusement arcades, a funfair, firework displays, and donkey rides. Older visitors are also well catered to with everything from concerts to beach volleyball, trampolining, and sailing.
It's also a delightful place to simply stroll, particularly along the long Esplanade as night falls. Have a fur baby? Dog owners are welcome to bring their four-legged friends, but only in the quieter seasons.
And, if walking is your thing, carry on beyond the beach, and you'll soon find yourself in the World Heritage Site known as the Jurassic Coastline. This magnificent 96-mile stretch of coastline running between the resort town of Exmouth to Studland Bay is extremely popular for hikers.
11. St. Brélade's Bay Beach, Channel Islands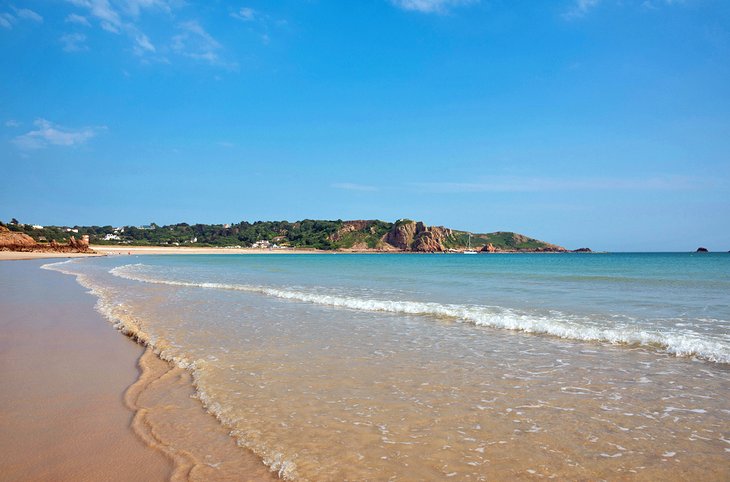 Those able to include a visit to the Channel Islands on their UK travel itinerary will be rewarded with a little taste of what it's like to vacation on mainland Europe. In fact, these charming islands are closer to France than they are to England, with Jersey, the largest island, just 14 miles away from the French coast.
Little wonder, then, that the Channel Islands have retained a distinct French flare and offer many fun things to do for the curious traveler. One of the top attractions in the Channel Islands is St. Brélade's Bay. Located on the southwest corner of Jersey, this bay is ringed by a beautiful stretch of beach that, when the weather's right, could easily be mistaken for the Mediterranean.
It's especially favorable for families, boasting soft white sand and shallow waters that are perfect to splash around and play in. Easy beach access is available for those with mobility issues.
When you're done having fun in the water, there's a delightful boardwalk that stretches along the shoreline. It's especially pleasing to stroll along at dusk, either before or after you've sampled the superb fresh fish menus of one of the many excellent restaurants that line the shady esplanade.
12. Blackpool Sands, Devon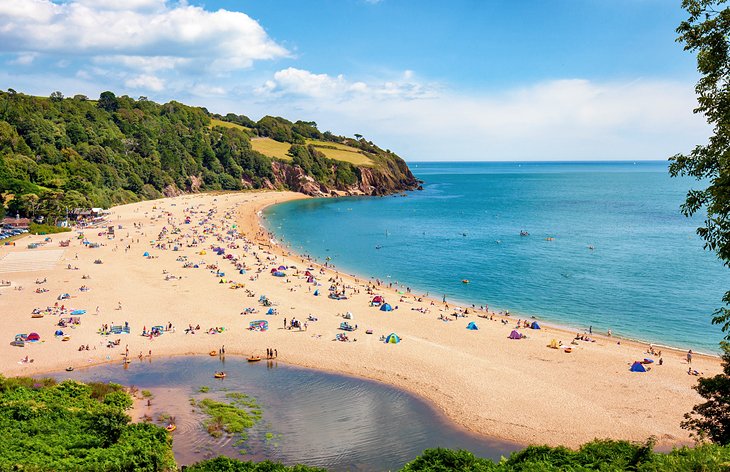 Not to be confused with its namesake to the north of England, Blackpool Sands in Devon is undoubtedly one of the most attractive and unspoiled beaches in England. Instead of hotels and attractions, this Blue Flag beach is ringed by dense woodlands of pine and evergreen trees, ensuring a sense that you really are away from the hustle and bustle.
Although it can get busier than the similarly attractive and more remote beaches in places like Wales and Scotland, it's nevertheless a wonderful spot to lay a beach towel down, splash in the clear, clean water...and relax. Water sports enthusiasts are also well catered to with activities such as kayaking and paddleboarding; rentals are available for both activities.
Hikers also often include Blackpool Sands on their trek along the stunning South West Coast Path, often spending time here to take a dip and explore the area's flora and fauna. On-site facilities include safe parking, change areas with showers, including facilities for those with mobility issues, as well as a shop and a play area for kids.
Map of Beaches in the UK
More Related Articles on PlanetWare.com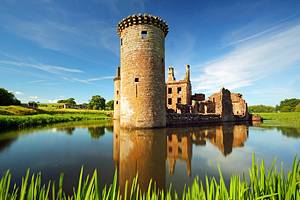 Exploring the UK: For additional information to help plan your holiday, see our articles on the best places to visit in the UK, along with our top-rated tourist attractions in England, Scotland, and Wales.