11 Top-Rated Beaches in Scotland
Scotland's natural wonders include majestic mountains; verdant glens; and deep, shimmering lochs. But the country is also celebrated for its fantastic beaches. Skirting the coast of this scenic nation are some fabulous stretches of golden sand that enrich the landscape and provide visitors with numerous leisure activity opportunities.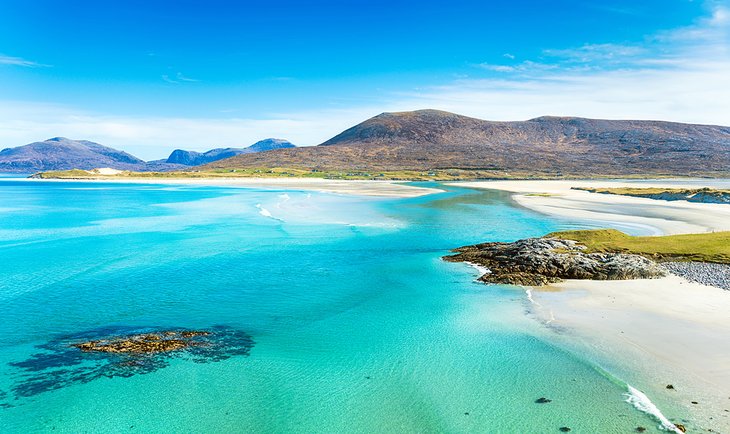 Some of the better-known beaches in Scotland serve favorite tourist resorts, family-friendly destinations with spectacular shores that cater for local as well as international holidaymakers. Others, however, lie in remote corners of the country, hidden away in the nooks and crannies of the Scotland coast and absolutely splendid in their peaceful isolation.
Many of these beaches are situated within protected nature reserves, which can be explored following picturesque cliff-top footpaths. But whether you're a seasoned beachgoer or an enthusiastic outdoor adventurer, Scotland's brilliant sandy coastlines make ideal year-round getaway options.
Find the best place for your next sand-and-sea vacation with our list of the top beaches in Scotland.
Note: Some businesses may be temporarily closed due to recent global health and safety issues.
1. Sandwood Bay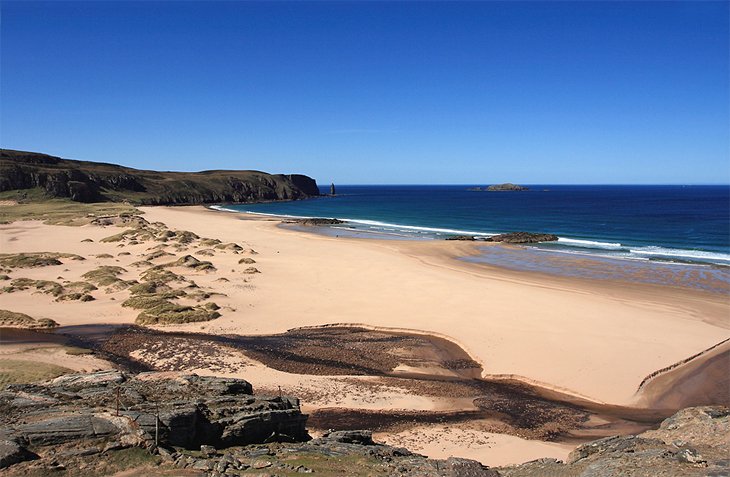 Described by many as the most beautiful beach in the United Kingdom, the spectacular mile-long band of pink sand that enriches Sandwood Bay is considered to be one of the cleanest and most unspoilt beaches in Scotland.
Set near Kinlochbervie, Sandwood Bay is backed by impressive sand dunes and a deep freshwater loch. Facing an often capricious North Atlantic Ocean, precipitous weathered cliffs flank this remote location on the far northwest coast of Scotland, the domain of noisy gulls and other assorted seabirds. The outstanding natural feature, however, is Am Buachaille, a 213-foot-high sea stack, which stands at the tip of the Rubh'a Bhuachaille headland at the southern end of this west coast beach.
You'll need to make an effort to reach this remote bay. There's no road access and getting to the beach requires a four-mile walk from the car park in the hamlet of Blairmore. The trail is fairly flat and snakes through rough moorland, which at times can be quite boggy. Tough, waterproof footwear is advisable. And why not pack a picnic? Sandwood Bay is a magical place, and the views are splendid.
2. Camusdarach Beach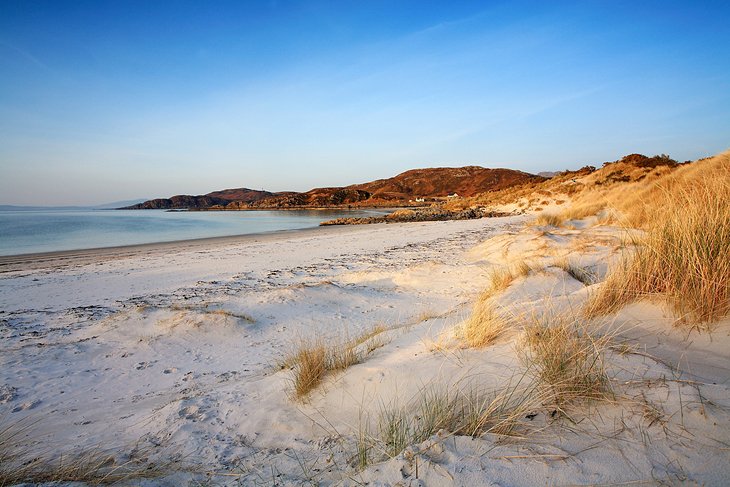 Located a short jaunt south of the Morar estuary is this stunningly attractive beach — a broad half-moon of powdery, white sand accessed by an effortless amble through low dunes. Hemmed in by rocky peninsulas that are carpeted by an array of wildflowers in the summer, Camusdarach Beach is a regional favorite and was popular long before its use as a location in the classic 1983 movie Local Hero, which starred Hollywood legend Burt Lancaster.
Lapped by luminous green waters that remain somewhat chilly even during the high season, this is a place to soak up the sun rather than bathe. But kids will love rock pooling, and the beach is perfect picnic territory. Situated on the so-called "Road to the Isles," Camusdarach and its coastline afford wonderful postcard views of the outlying Isles of Rum and Eigg, their misty blue peaks adding dramatic perspective to the near horizon. The Isle of Skye's Cuillin Hills further enhance the scene to place this particular pocket of Scotland among the most scenic in the country.
Hikers can follow the coastal paths that snake away either side of the sandy arc, or can venture inland above Loch Morar for a sensational change of scenery. And did you know that Camusdarach Beach is a preferred venue for couples wishing to tie the knot? It doesn't get more romantic than that!
3. Seacliff Beach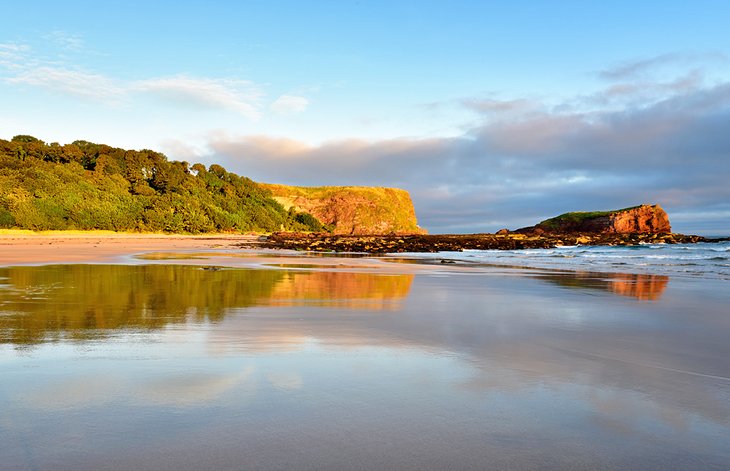 Historic Seacliff comprises a beach, a residential estate, and a harbor. You reach Seacliff via a private road, and a nominal fee is charged in order to access the beach. But it's worth every penny!
This little-known corner of Scotland is steeped in history. Located on the estate is Tantallon Castle, a semi-ruined mid-14th-century fortress and the last medieval curtain wall castle to be constructed in the country. The tiny harbor is remarkable. Dating back to 1890, it was carved out of red limestone using steam-driven compressed air.
The broad sweep of Seacliff Beach attracts surfers, canoeists, dog-walkers, horse-riders, and summer picnickers, but only at low tide: much of the beach is otherwise submerged. Textured with scattered rock, the beach takes on a distinctly rusty hue after the sea has receded due to the prevalence of red limestone in the area.
Seacliff makes for a rewarding amble. Besides the aforementioned Tantallon Castle, look out for the remains of Auldhame Castle, another reminder of Seacliff's strategic military significance throughout history. You'll also catch a glimpse of Seacliff House. Originally built in 1750, this once-grand mansion now stands as a forlorn ruin, unoccupied since 1907. Did anyone mention ghosts?
4. St. Ninian's Isle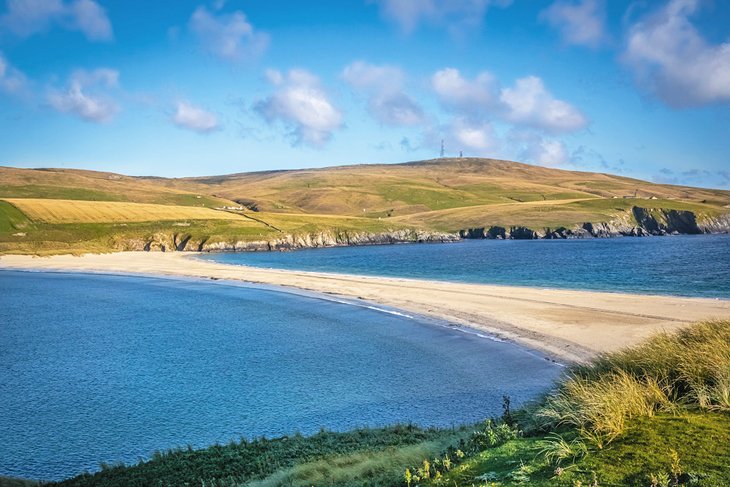 Here's a real treat! Pocket-sized St. Ninian's Isle is connected to mainland Shetland by a spectacular sand tombolo — the largest in the UK. Effectively an enormous sand bank, the tombolo, known locally as an ayre, is above sea level during the summer months and reveals itself as one of the nicest beaches in the area. Accessible by foot, this unusual band of sand is a quarter mile long and while not a very practical destination for swimmers, serves as a perfect bridge for beachgoers wishing to explore St. Ninian's Isle.
The island has an area of about 72 hectares and is crowned by the evocative ruins of a 12th-century chapel. St. Ninian's hit the headlines in 1958, when a hoard of stunning medieval artifacts was discovered under the floorboards of the adjoining church: the destination is celebrated for its ecclesiastical wonders!
There's little in the way of leisure facilities here. St. Ninian's appeal lies in its relative seclusion and historical clout. But if you're the outdoorsy type, there's plenty of distraction. Ornithologists will be amazed by the wealth of seabirds the island attracts, especially puffins.
Hikers can romp through a beautifully stark landscape that embraces some fine cliff-top scenery (trails start at the car park). And on bright clear days, the beach is a veritable sun-trap. Note, however, that in winter the beach is often engulfed by choppy waves, making St. Ninian's a somewhat seasonal destination.
5. Luskentyre Beach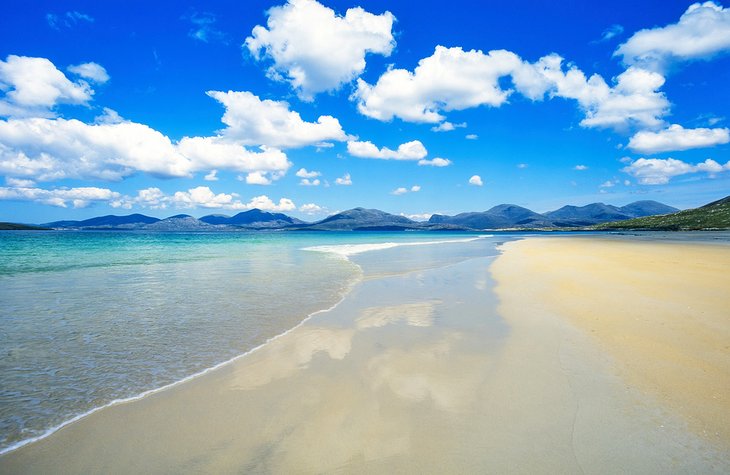 On clear, sunny days, the shallow aquamarine and turquoise waters lapping Luskentyre Beach appear so luminous, you'd be forgiven for thinking you were standing on a beach in Greece. Luskentyre is one of Scotland's great outdoor pleasures, a location set well off the tourist trail but a dream to discover and explore.
This is not a place to enjoy a leisurely swim. Chilly Atlantic Ocean temperatures make Luskentyre a paddling destination at best. But the wide expanse of powder-fine sand, a stunning mountain backdrop, and an exhilarating sense of the remote offer up some truly memorable hiking options.
Besides splendid walking opportunities afforded by the beach itself (undertaken barefooted, of course), the circular 2.5-mile trail snaking through the dunes should also be trodden. Keen cyclists can follow a single-track road that links the beach to Harris's main highway.
Luskentyre Beach is bereft of leisure amenities. For shops, restaurants, and cultural diversions head for towns like Northon. And remember, the Isle of Harris is world-famous for its Harris Tweed. Hand-woven by islanders, the woolen garments make unique souvenirs.
6. Loch Morlich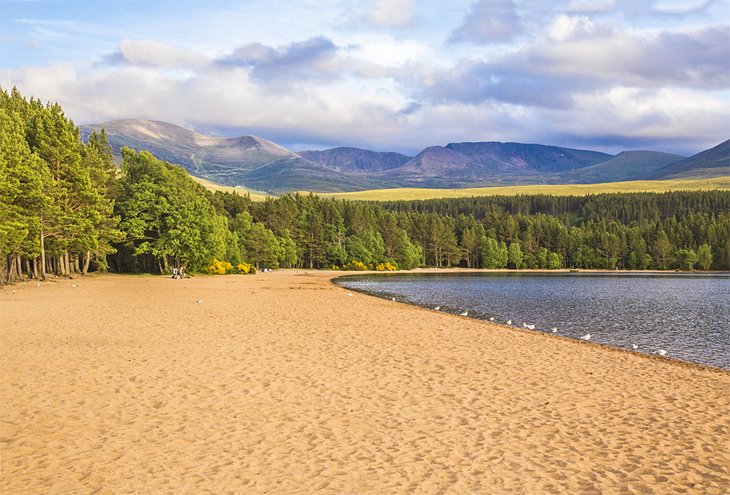 Scotland's only freshwater beach carpets the shores of Loch Morlich, a beautiful lake set in the heart of the Cairngorms mountain range. Surrounded by forest, Loch Morlich is one of the country's premier water sports destinations. The sandy bay provides an ideal site for indulging in an array of outdoor activities both on and off the water.
During the high season, the lake benefits from the first-class Loch Morlich Watersports facility. Activities offered include sailing, windsurfing, stand up paddleboarding, kayaking, and canoeing. Mountain bikers can follow a challenging course through the Glenmore Forest, where a network of trails can also be hiked. Equipment hire is available, and the center offers lessons for beginners and novices.
Of course, for those who'd rather do nothing, the beach — a recipient of a Seaside Award by the Keep Scotland Beautiful campaign — is a marvelous excuse to do just that: nothing! In fact, it's quite novel to lie back and catch a few rays in the middle of the Scottish Highlands, and when you do fancy a dip, the water is as clear and sparkling as a summer's day.
7. Sango Bay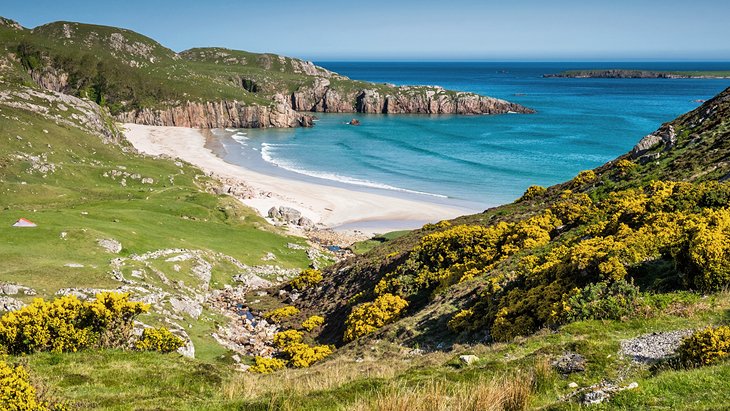 Remote Sango Bay features one of the most northerly beaches in mainland Scotland. In fact, the nearby village of Durness marks the most northwesterly point of the country.
The beach, an alluring slice of sandy seclusion, is divided into three smaller coves by a series of rocky outcrops. Rocks, stacks, and skerries pepper the sand; the surrounding coastline is some of Europe's most spectacular and isolated.
A campsite perched above Sango Bay with access to the beach caters for tourists, as does a youth hostel. There are also modest hotel accommodation options and a couple of good restaurants. But the main attractions here are the natural wonders found in and around Durness. Make sure you explore Smoo Cave, a spectacular combined sea cave and freshwater cave and the largest of its kind in Britain.
A leisurely amble out to any of the nearby headlands will reveal jaw-dropping panoramic views of the North Minch — the channel between the mainland and the Hebrides. Seals and porpoises patrol these waters, and minke whales have also been spotted.
Bainakeil craft village, located just outside Durness, makes for an interesting cultural diversion, and if you're a Beatles fan, look out for a small garden in Durness dedicated to John Lennon, who holidayed here as a teenager and then revisited the area in 1969 with Yoko Ono and their children.
8. Oldshoremore Beach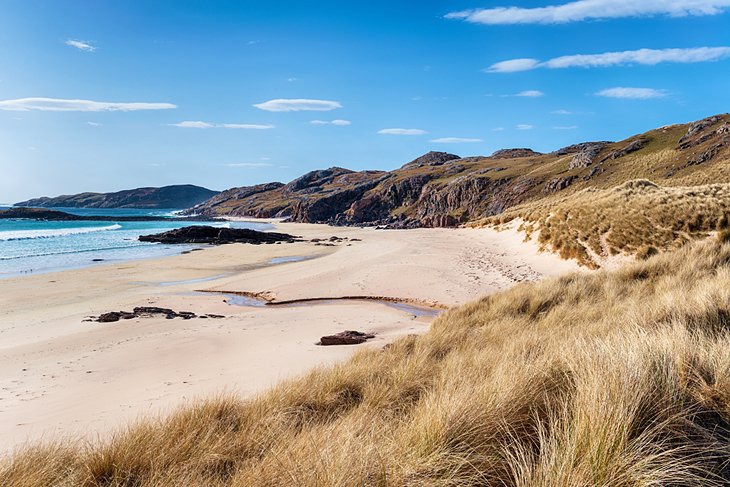 Oldshoremore Bay comprises two pristine sandy beaches, Oldshoremore itself and its sister beach Phollain. A craggy isle known as Eilean na h-Aiteig, which means "isle of the shy girl," separates both. In summer, the ocean is often warm and inviting, as the sheltered bays are south-facing and peaceful.
The location, however, is equally rewarding for hikers. A way-signed walk follows a coastal path, which leads away from the steps down to the sand. In spring, over 200 varieties of flowering plants fleck the grass above the beach, the carpet of color providing dazzling contrast against the lead-blue sea. In fact, the entire region falls within the boundaries of a protected nature reserve.
Oldshoremore itself is a scattered crofting hamlet of around 20 houses. Visitors arriving by vehicle can use the car park, where there are toilet facilities. Unfortunately, the hamlet is served infrequently by public transport.
9. Gullane Beach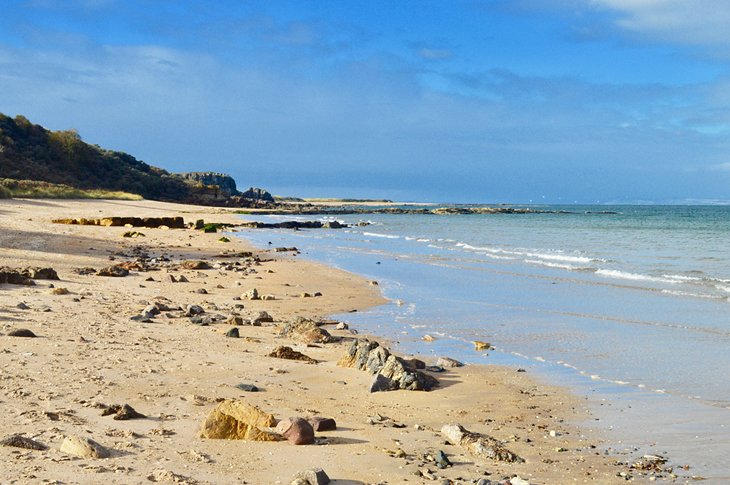 Nestling on the southern shore of the Firth of Forth in East Lothian is the town of Gullane, best known for its golf courses but also celebrated for its magnificent sandy beach. Known as Gullane Bents, this glorious swathe of golden sand draws windsurfing and kitesurfing enthusiasts when the weather is windy. But the beach is an equally alluring destination for picnics and family days out on warm, sunny days.
Backed by impressive dunes textured with sea-buckthorn and other shrubs, Gullane Beach fringes the John Muir Way, a long-distance footpath that snakes along the coast between Musselburgh and Dunglass. The route takes in Gullane Point, a local beauty spot that affords sweeping views across the bay and out onto the Firth of Forth.
Gullane Bents offers limited leisure amenities, so anyone seeking leisurely diversions will need to head into Gulland, where there are plenty of things to do and places to see. By the way, the three golf courses in the vicinity include the famous Muirfield Golf Club. If you want to practice your swing though, you'll have to book well in advance.
10. Portobello Beach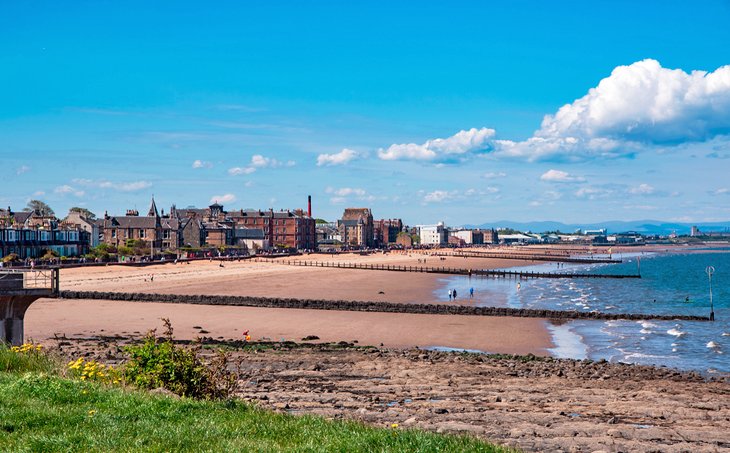 Dubbed Porty Beach by locals, the long stretch of golden sand that makes up Portobello Beach is a hive of action on warm, sunny days. One of the best beaches near Edinburgh, it's less than 10 minutes by train from Edinburgh's Waverly Station, or 20 minutes by bus to reach the charming town of Portobello and its pretty west coast beach.
Sailing, kite flying, sandcastle building, swimming, and beach walking are popular activities on and near the two-mile strip of sand. The paved promenade lining the beach is a lovely place to enjoy a run, push a pram, or simply stop to enjoy the view.
Close by lie the shops and restaurants that make Portobello so inviting. Stopping here for lunch is a nice way to break up the day.
During the summer months, visitors may witness triathlon events and volleyball games, as well as other forms of entertainment that take place at the beach.
11. Pencil Beach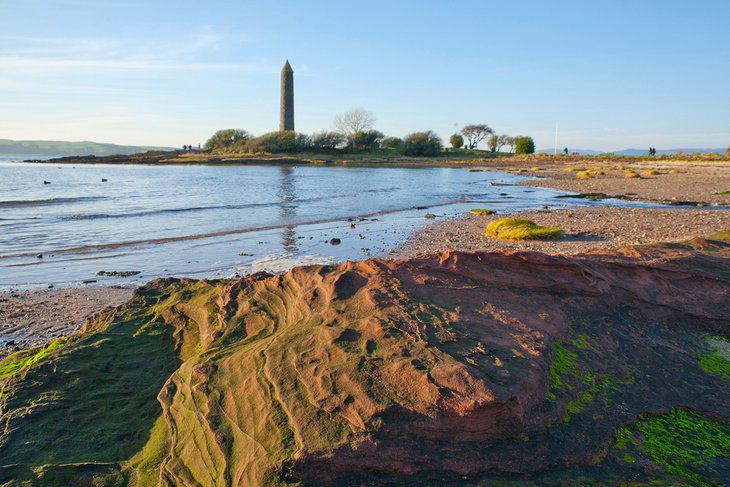 Pencil Beach is a hidden gem set at the southern end of the seaside town of Largs on Scotland's southwest coast. With captivating views of the Firth of Clyde and a mix of sand, grass, and pebble for its base, this pretty sliver of land is one of the best beaches near Glasgow.
From the beach, visitors are treated to an excellent view of the most famous monument in Largs, and the inspiration behind this beach's unique name — The Pencil. It was built in 1912 to honor the 1263 Battle of Largs.
At only 300 meters, Pencil Beach is small enough to be incredibly family-friendly. It also boasts calm, shallow (though chilly) water, which is ideal for little ones who'd like to swim. This is a west coast beach worth visiting.
To get here from Glasgow, simply board a train to Largs from Glasgow Central. It will take about an hour and a half. Driving, on the other hand, will get you here in just over 40 minutes.
More Related Articles on PlanetWare.com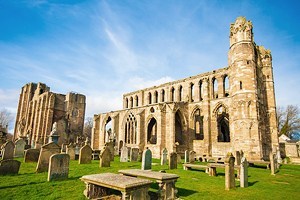 More Holiday Ideas: Only have time for a weekend getaway? Have a look at our article on the top weekend breaks in Scotland for ideas on where to go. For some time in the city, have a read through our list of top tourist attractions in Edinburgh, and then select the perfect hotel with our article on Where to Stay in Edinburgh: Best Areas & Hotels.