13 Top-Rated Small Towns in Scotland
One of the four countries that make up the United Kingdom, beautiful Scotland offers no end of fun things to see and do. And given its size - you can drive its entire length in a few hours - this leading travel destination offers plenty of tourist attractions and points of interest, with many of them located in (or near) some of the most amazing Scottish towns and small villages.
To help you choose the best places to visit during your holiday or weekend getaway, be sure to refer to our list of the top small towns in Scotland.
1. Killin, Loch Tay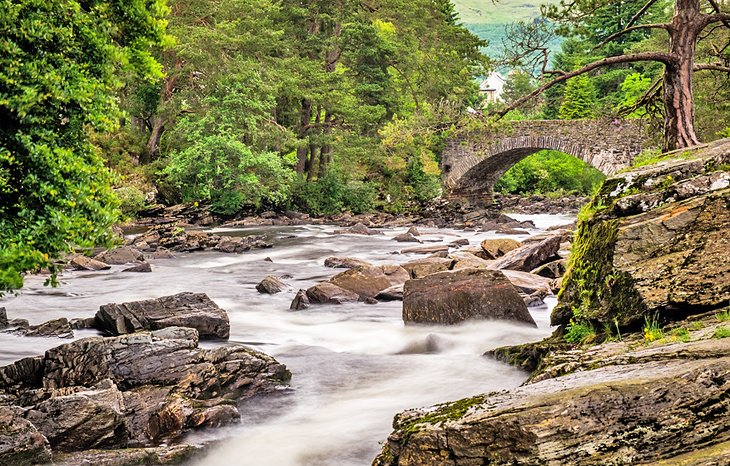 Located on Loch Tay and an easy drive from the historic town of Stirling, the quaint village of Killin should be on everyone's list of the top places to see in Scotland. In addition to its proximity to the lake - itself a popular spot for sightseeing and gentle water sports such as sailing and kayaking - Killin is home to the beautiful Falls of Dochart. The falls are a delight to explore, and given their gently sloping nature, it's not difficult to get up close to really appreciate the beauty of these spectacular rapids.
From here, you can easily explore the village, which also offers a number of nice places to stay and eat. Also fun is taking a hike across the Breadalbane mountains with its spectacular views, or chartering a boat for a spot of salmon fishing. Other sightseeing opportunities in Killin include the nearby ruins of Finlarig Castle, where you can also explore an authentic Scottish longhouse.
Accommodation: Where to Stay in Killin
2. Tobermory, Isle of Mull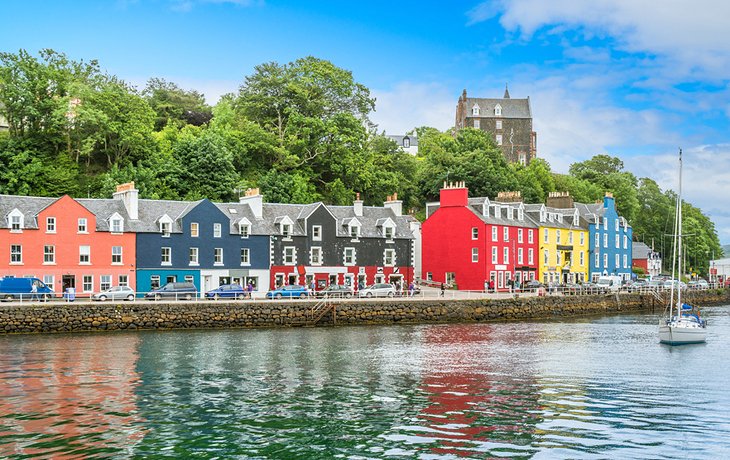 Located on the northwestern tip of the Isle of Mull, the coastal fishing town of Tobermory is certainly a nice small Scottish town to visit. Getting here is part of the fun, with perhaps the best routes being the ferries from either Kilchoan direct to Tobermory, or from Oban to Craignure and driving north to the town (private water taxis are also available). Once ashore, start exploring the sights around the picturesque harbor, popular for its many colorful houses.
From the port-considered one of the prettiest in all of Scotland-head to the Main Street. Here, in addition to its great shops, art galleries, and restaurants, you'll also find some of the best places to stay on the Isle of Mull, from quaint B&Bs to historic old inns and guesthouses. Other tourism highlights include the Mull Museum, the Marine Visitor Centre, and a theater.
Accommodation: Where to Stay in Tobermory
3. Portree, Isle of Skye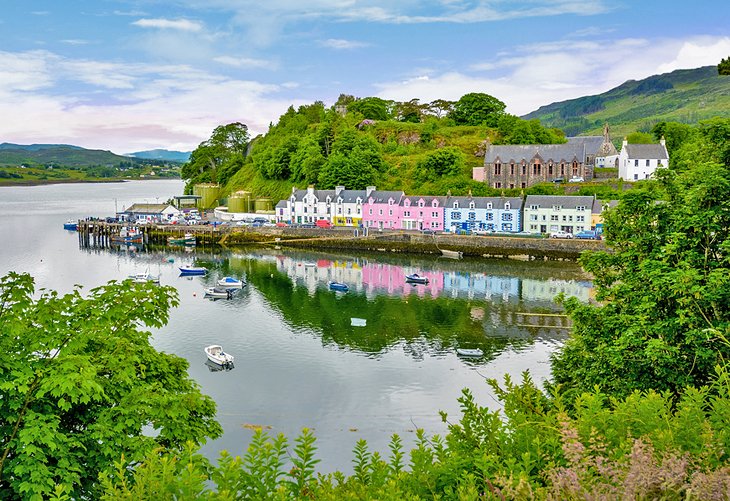 Another great island destination - and this one accessible by road - is the town of Portree on the Isle of Skye. The island's largest community, Portree's attractive natural harbor is fun to explore on foot, especially after the many fishing boats based here return with the day's catch. From here, you can also enjoy a fun sightseeing cruise or fishing trip.
Other fun things to do include shopping and dining, taking in a show or event at the arts center, or even horse riding excursions (especially fun for families traveling with kids). There are also a variety of top-rated hotels and B&Bs worth staying in, a great idea as you can easily extend your stay here and use Portree as a base from which to explore the many other beautiful places to visit on Skye, which has a well-deserved reputation as a hiker's paradise.
Accommodation: Where to Stay in Portree
4. Dornoch, Sutherland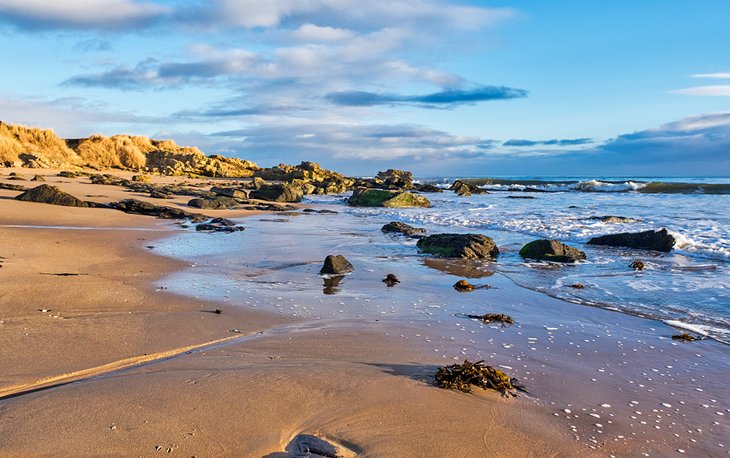 The town of Dornoch has much to commend it to travelers visiting the area. Not only is this historic coastal destination almost as famous among golfers as St. Andrews - the Royal Dornoch is also considered one of the world's top golf courses - it just so happens to benefit from having one of Scotland's sunniest climates thanks to its relatively sheltered location on the northeast coast. This fact alone makes its long sandy beaches even more attractive to day trippers and vacationers alike.
Whether traveling as a family or a couple, there's plenty of other things to do here, too. Highlights include exploring nearby natural attractions such as the Loch Fleet National Nature Reserve, with its abundance of wildlife; taking a tour of the 13th-century Dornoch Cathedral; or checking out the infamous Witch's Stone, site of the country's last witch burning.
Accommodation: Where to Stay in Dornoch
5. Balloch, Loch Lomond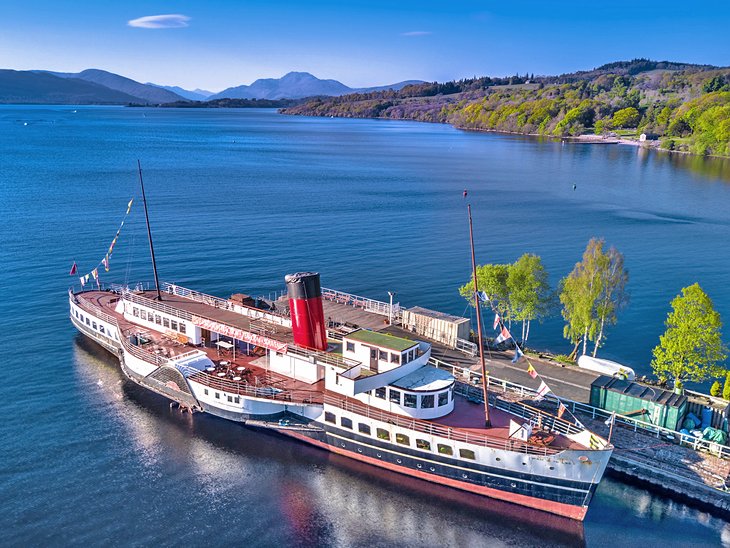 Of the many fun places to visit near Glasgow, it's Balloch that gets our vote. Located at the southern tip of beautiful Loch Lomond, "The Queen of Scottish Lakes," Balloch is just 30 minutes from Scotland's largest city and makes for an excellent and easy day trip.
It's an especially popular stop for outdoorsy-types, many of whom use the village as a base for hiking and biking adventures into the Loch Lomond and The Trossachs National Park. It's also a popular place to cast a line, as Loch Lomond is famous for its awesome fishing, especially for salmon and trout.
Looking for something a little more sedate to do? Fret not. Balloch is where a variety of fun boat cruises across the lake (Britain's biggest) can be enjoyed, taking in the natural splendor of this most photo-worthy of travel destinations.
Other fun things to do here include paying a visit to the Loch Lomond Bird of Prey Centre, and wandering around Loch Lomond Shores, a unique tourist attraction that houses shops selling traditional Scots crafts, food items, and clothing, plus a variety of great dining experiences. It's also where you'll find the SEA LIFE Loch Lomond Aquarium, home to displays of both domestic and exotic marine species.
Accommodation: Where to Stay in Balloch
6. Plockton, Wester Ross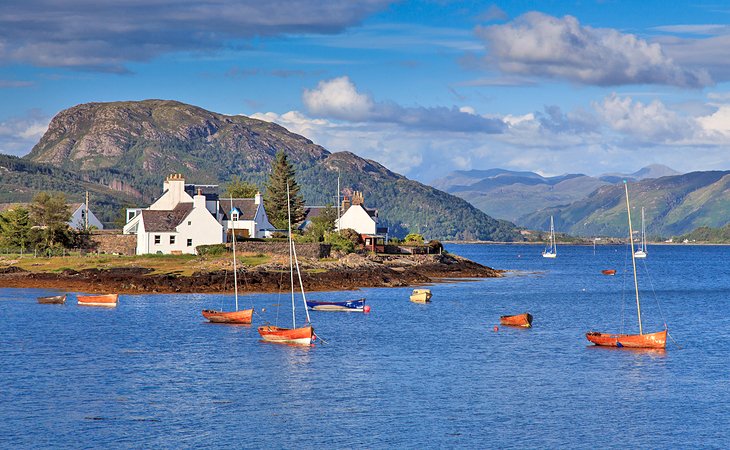 Anyone who remembers the classic 1990s TV detective show Hamish Macbeth will almost instantly recognize the lovely seaside community of Plockton when they see it. Used as the setting for the fictional Lochdubh, Plockton's charm lured many a traveler who had first seen it on the small screen. More than 20 years later, this charming fishing village has lost none of its appeal.
Set on a lovely bay on Loch Carron, this picture-perfect scene is enhanced further by the lovely old terraced homes and cottages spread around the harbor. While it's almost always busy in the summer months, pay a visit in spring or autumn, and you'll enjoy the same superb views without the crowds.
Fun activities include exploring the surrounding countryside or hopping aboard a pleasure craft for a tour of the loch. Fishing, hiking, and biking are also popular things to do in Plockton and can usually be organized by area hotels and B&Bs. And do try to spend a night here if you can. Not only will you enjoy an evening meal featuring fresh seafood caught that day, you'll enjoy a quiet morning in one of the top villages before the other tourists arrive.
Accommodation: Where to Stay in Plockton
7. Brodick, Isle of Arran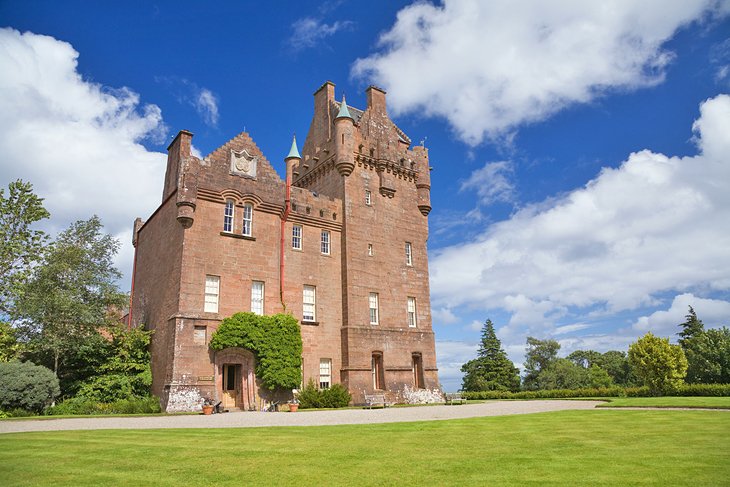 An easy ferry ride away from Glasgow, the lovely Isle of Arran is where you'll find the town of Brodick. Considered the capital of the island - which is often referred to as 'Scotland in miniature' - Brodick is where you'll disembark on the island, opening it up to overseas travelers not wanting to drive (the island also has a great bus service that circles the whole island).
In addition to enjoying water sports such as fishing and sailing, visitors can participate in other outdoor activities such as golf on the town's 18-hole course, sunbathing and swimming, along with horse riding.
Be sure to also spend some time exploring historic Brodick Castle, a sprawling and well-preserved manor house boasting an impressive collection of antique furniture and a delightful garden. As Brodick offers a variety of cool places to stay, it also serves as a great base from which to explore other island attractions, such as the fun-to-hike 873-meter-tall Goat Fell mountain.
Accommodation: Where to Stay in Brodick
8. Pittenweem, Fife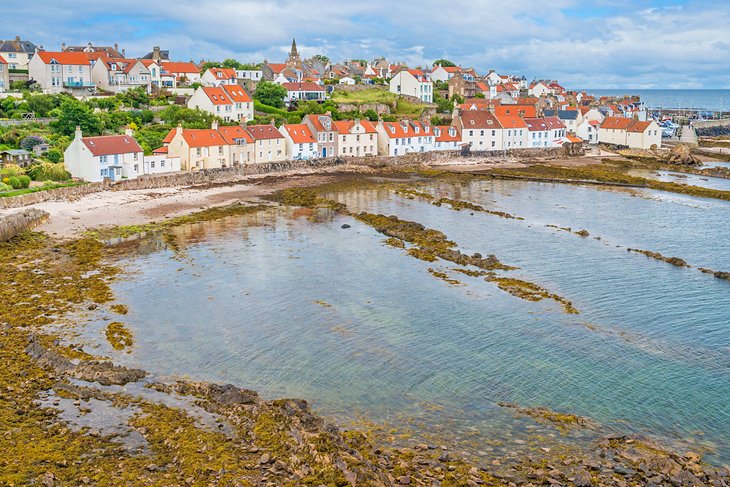 Pittenweem is another quaint old fishing village on Scotland's east coast that's well worth a visit. If you can manage to find somewhere to sleep (things do book up quickly in the busy summer season), try to stay for at least a night or two-yes, it's that nice.
A highlight of a stay here will undoubtedly be exploring the harbor area, especially early in the morning after the fishing folk return with their fresh catch, some of which will make its way from the fish market onto the menus of the top restaurants in Pittenweem. It's certainly a picture-perfect scene, and even more so, as the harbor is surrounded by numerous restored old townhomes.
If you're able to visit in the summer, try to have it coincide with the popular Pittenweem Arts Festival, held each August and a big draw for visitors from across the UK. Other things to do in Pittenweem include visiting Kellie Lodge, a splendid old home built in the 1500s, as well as the ruins of an even older Augustinian priory next to the village church. Other interesting historic sites worth checking out are St. Fillan's Cave, used to shelter a saint, along with attractive Kellie Castle.
9. Roslin, Midlothian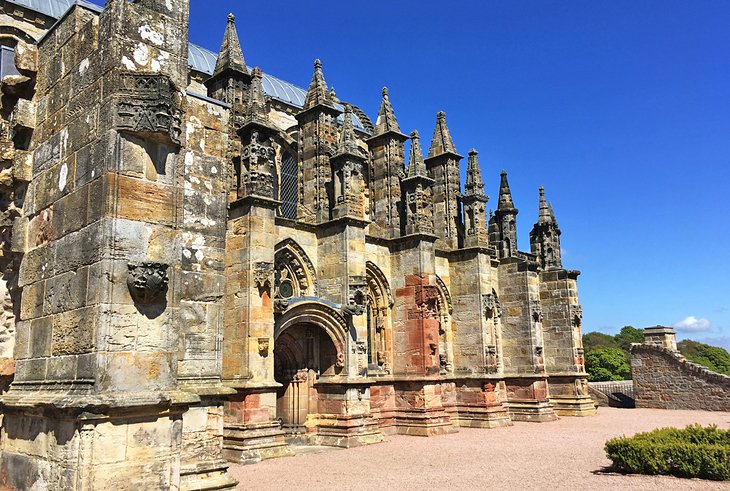 One of the top places to visit near Edinburgh (it's an easy seven-mile commute away), Roslin makes for a great day trip from its larger neighbor. A highlight of a visit to this charming village is the chance to explore the beautiful Rosslyn Chapel, a 15th-century late-Gothic masterpiece. Festooned with amazing gargoyles and elaborate flourishes, it's a remarkably romantic spot and one that was immortalized by The Da Vinci Code.
Also worth checking out: the ruins of Roslin Castle, just a few minutes' walk from Rosslyn Chapel; the hiking trails of Roslin Glen Country Park; and Pentland Hills Regional Park, a pretty area of rolling hills and peaks that's fun to walk, and will reward you with amazing views over Edinburgh in the distance.
Accommodation: Where to Stay in Roslin
10. Peebles, Peebleshire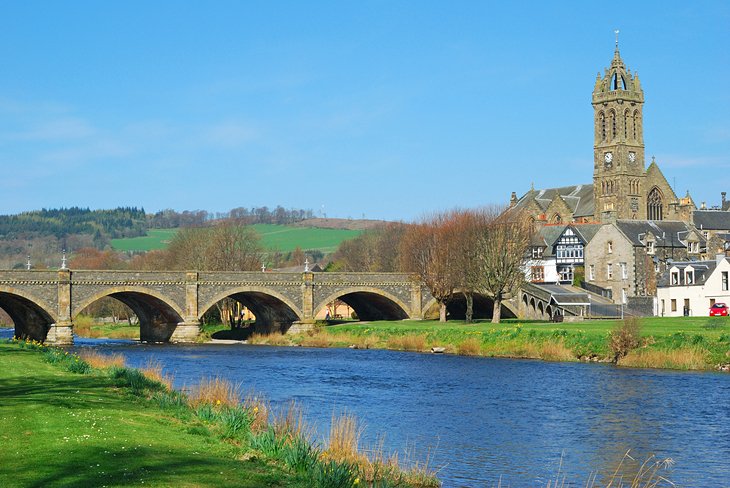 Another great small town close to Edinburgh - and one which can easily be visited the same day as a stop at Roslin, as they're only a few miles apart - is the picturesque market town of Peebles. Settled since Roman times (possibly even earlier), Peebles is rich in history-and churches. While exploring the town, be sure to pop into one or two, including attractive Leckie Memorial Church (you won't miss its 146-foot-tall spire).
After exploring the shops and stopping for a bite to eat, be sure to visit the local museum, the Tweeddale Museum and Gallery, with its fascinating displays relating to local history and customs, and the nearly 600-year-old Tweed Bridge. A few minutes' drive away but well worth a visit is Neidpath Castle, built in the 14th century. Though closed to the public, it makes for a stunning backdrop.
11. Portnahaven, Islay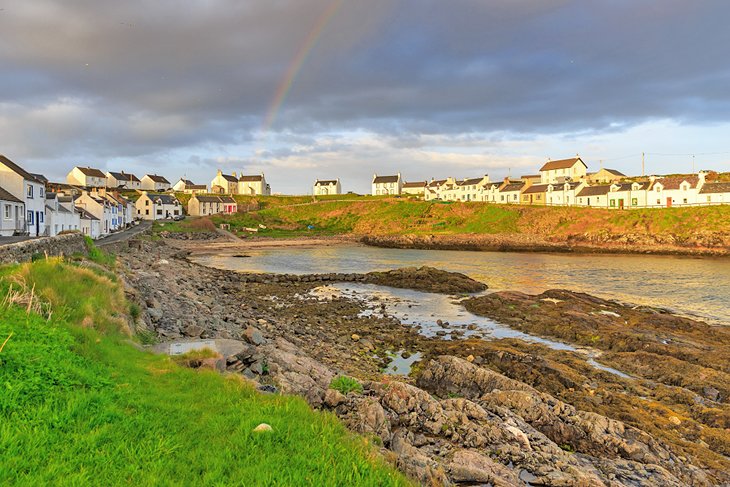 For a taste of life in the Inner Hebrides, plan on visiting the village of Portnahaven. Located on the western tip of the island of Islay, the effort to get to this attractive Scottish fishing village is definitely worthwhile (it involves a ferry and a fair bit of driving).
The rewards, though, include the chance to enjoy the kind of place people typically picture in their heads when conjuring up images of Bonnie Scotland: a quaint fishing harbor surrounded by tidy whitewashed terraced homes, and relaxed, laid-back residents. Both are definitely true here, especially the latter, as those not involved in traditional pursuits, such as fishing, include everything from artists to service industry workers, here to make a living from the tourists.
Given its distance from the mainland and the planning required to get here, you should certainly consider booking at least a night in a quaint B&B or classic inn. This will not only ensure you've got plenty of time to really enjoy this idyllic and peaceful setting, but to explore a little, too. For example, if you plan your day around the tides, the low tide will enable you to make the short journey to the tiny island that sits near the harbor, and which serves as home to a variety of species of wildlife, from birds to seals.
Accommodation: Where to Stay in Portnahaven
12. Hopeman, Moray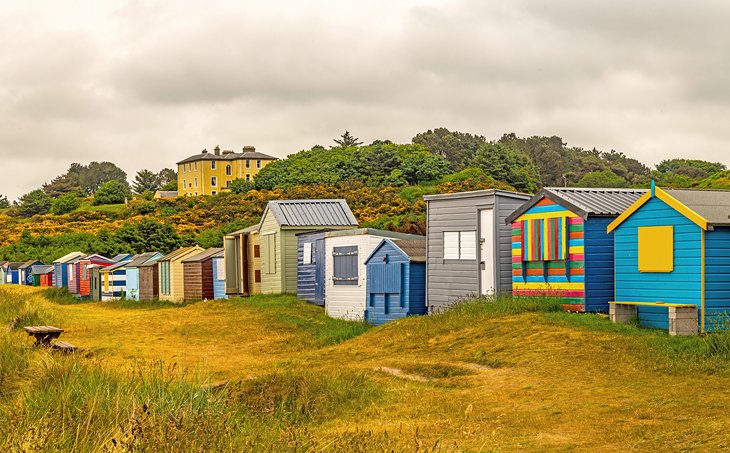 Many visitors are often surprised to learn that the UK's most northerly holiday destinations in Scotland are often situated near excellent beaches. Hopeman in Moray is one such spot. Located in northeast Scotland on the Moray Firth, this small fishing village in fact boasts two great beaches, both sandy and pleasant for a swim, sunbathing, or enjoying activities like windsurfing.
When you're done exploring the beaches, be sure to check out other highlights including fossils, an old druid site, plus a number of quaint shops (and an excellent tearoom) along the main street. From here, you can also check out two other attractive locations: Burghead Bay and Findhorn.
Accommodation: Where to Stay in Hopeman
13. Anstruther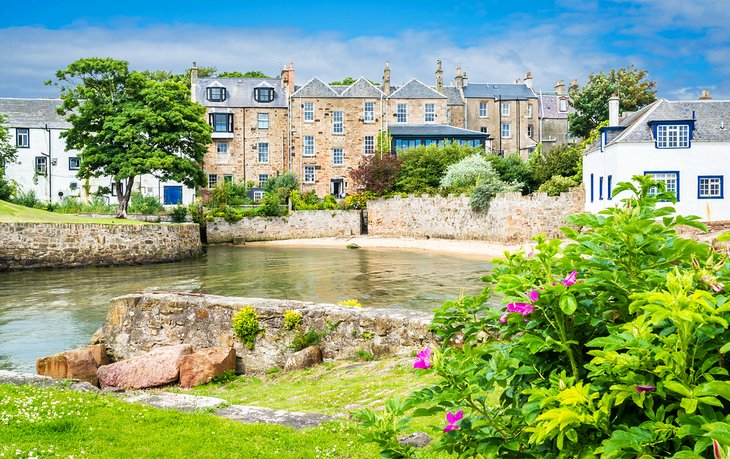 Located just 20 minutes' drive south of the famous golf courses of St. Andrews (and an hour and a half from Edinburgh), the charming coastal town of Anstruther in Fife makes for a pleasant day trip for visitor's to Scotland. Set overlooking the Firth of Forth, Anstruther is easily as pretty as any town you'd find in the UK, and offers plenty of related fun seaside things to do, from beaches and tea shops to a pleasant stroll along the old harbor walls.
In fact, the harbor area has long been the heart and soul of this community, with the fishing industry still playing a major role here. In fact, Anstruther has the distinction of being home to the excellent Scottish Fisheries Museum. Spread across a number of heritage buildings dating back to the 16th century, this unique attraction explores fishing over the centuries to the current times, with fascinating hands-on exhibits and displays.
No visit to a seaside town is complete without a visit to a traditional fish and chips shop, and Anstruther is blessed with one of the best. By far the best known is the Anstruther Fish Bar, where freshly caught fare has been served to everyone from British Royalty to Hollywood celebrities (Prince William and Tom Hanks are fans).
Adventure seekers also visit, using Anstruther as a jumping-off point to visit the nearby Isle of May. This popular nature reserve can be reached by tour boat, and is a delight to hike. Along the way, you'll likely see a variety of wildlife, from puffins to seals.
Accommodation: Where to Stay in Anstruther