12 Best Places to Visit in Scotland
For those looking for a memorable vacation or weekend break full of historical attractions, countless great cultural experiences, and other fun things to do, Scotland should rank highly on your list of great places to visit in the UK. Part of the appeal is the fact that, as a relatively small country with a population of just 5.5 million, you're never too far away from fantastic sightseeing opportunities and interesting places to go whatever season you visit Scotland.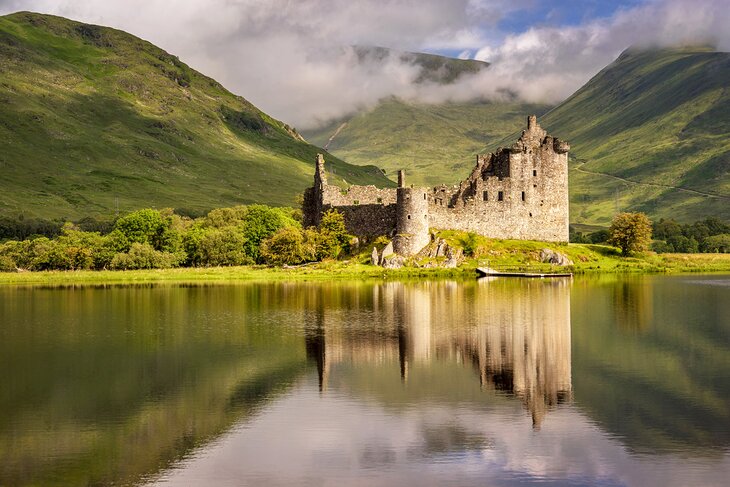 Those seeking world-class cultural events should head to Edinburgh, the country's capital. Here, you'll enjoy major festivals such as the Edinburgh Fringe, one of the world's leading art festivals. Best of all, much of the fun takes place around the magnificent Edinburgh Castle. Visit Edinburgh in winter and it's a whole other world, with numerous festive light displays and events to keep you busy.
Glasgow, too, is a must-visit and offers some of the country's top museums and art galleries to explore. Smaller Scottish cities like Aberdeen and Inverness in the north are not without their charms and make great bases from which to explore the majestic Scottish Highlands and lovely natural attractions such as Loch Ness and Loch Lomond.
To help you decide where to go, be sure to use our list of the best places to visit in Scotland.
1. Edinburgh
If you're only able to visit one city in Scotland, make it Edinburgh. The country's capital is home to well-preserved architecture from a number of different periods of history, including numerous examples from medieval times. Of these, the most famous is, of course, the spectacular Edinburgh Castle, a picturesque, must-visit landmark that dominates the city skyline.
From the castle, you should take a stroll down the incredible shop-lined Royal Mile. One of the top free things to do in Edinburgh, this famous cobbled street connects Edinburgh Castle with the Palace of Holyroodhouse and is home to numerous historic landmarks, many dating to medieval times.
Among the most interesting are the tall old townhomes known as "lands" that can be found as you explore the many narrow laneways known as "winds" that sprout off from the Royal Mile.
You'll also want to explore the more recent New Town area, much of which was built in the 18th century. A highlight of this newer part of the ancient city is simply wandering among the many elegant Georgian townhomes, taking in the Grassmarket. This attractive pedestrian-friendly public square is popular for its shops, galleries, and cafés. Some of Edinburgh's best parks are located here, too, including Inverleith Park.
Edinburgh is also an important cultural destination, hosting numerous popular events and festivals throughout the year. One of the largest arts festivals in the world, the famous Edinburgh Fringe Festival draws huge crowds, as do the Edinburgh International Book Festival and the Royal Edinburgh Military Tattoo, the latter held on the grounds of the castle.
Other fun things to do include visiting the Royal Yacht Britannia. Once the Queen's personal yacht, it's now a fascinating museum that allows visitors to tour the State Apartments and Royal Bedrooms. For a true British treat, book a table in the Royal Deck Tea Room for a proper high tea experience.
Top it all off with an overnight stay on the Fingal, an opulent floating hotel berthed near the former Royal yacht, and you'll have plenty to brag about back home.
Read More:
2. Glasgow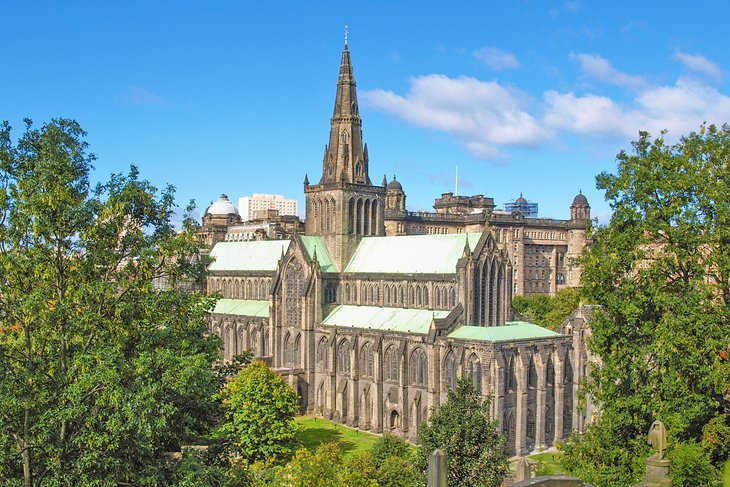 Situated on the River Clyde on Scotland's west coast, the city of Glasgow has, in the last few decades, reimagined itself as a major European cultural center. These days, its many excellent museums, art galleries, and festivals attract tourists year-round. It's a great city to explore on foot thanks to its many lovely parks and pedestrian-friendly streets, especially if you also take in Glasgow cathedral and the famous Glasgow School of Art.
After exploring the city center, head down to the waterfront and the Riverside Museum. One of the top tourist attractions in Scotland, this superb modern facility focuses on the history of transportation in the city through its large collections of vintage steam engines, trams, buses, carriages, cars, and seafaring vessels. There's even an authentic reproduction of 1930s shops and homes.
Glasgow has also earned a reputation for other cultural activities, too. Highlights for theatergoers include a chance to take in a play at the King's Theatre, partake in a little opera at the home of the Scottish Opera in the Theatre Royal, or a classical concert at the Royal Scottish Orchestra at the Concert Hall.
Other must-see arts-related attractions include the Kelvingrove Art Gallery and Museum, notable for its displays of local art; and the wonderful Charles Rennie Mackintosh and the Glasgow Style Gallery with its diverse collection that includes works by Van Gogh and Salvador Dali.
Read More:
3. Scottish Highlands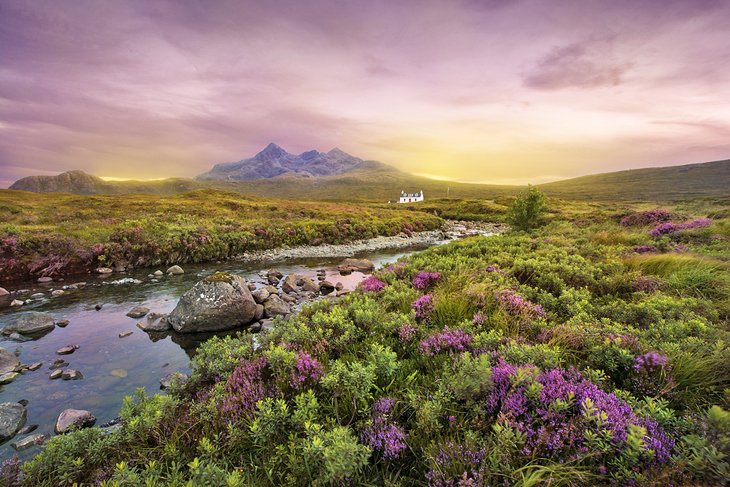 Few travel destinations have captured the imagination to the extent of the magnificent Scottish Highlands. Stretching from the attractive garden city of Inverness on the country's rugged east coast all the way to John O'Groats in the north, this area of outstanding natural beauty is where you'll find some of the most romantic scenery anywhere.
It's so stunning, in fact, that it can frequently be spotted serving as the backdrop to hit movies and TV shows, including the hugely popular Outlander series.
Begin your exploration of the Scottish Highlands in Inverness, then head to nearby Loch Ness. Popular for its mythical monster and the dramatic ruins of Urquhart Castle, Scotland's most famous lake is part of Glen More, a natural fault line that's marked by the Caledonian Canal. One of the country's most amazing feats of engineering, you can easily spend a few hours (or days) sightseeing by boat along the canal.
A few popular places to visit in Scotland as you tour the Highlands include the quaint coastal town of Dornoch. One of the prettiest small towns in Scotland, Dornoch is a great place to stop for its old castle ruins and cathedral, and Aviemore, popular as a ski destination in winter.
In warmer weather, the region is popular for the hiking and biking adventures available in the Cairngorms National Park. This sparsely populated area is also great for other outdoor experiences, including sea kayaking, white-water rafting, gorge walking, and fishing.
While there are numerous tours available in the Highlands, a great option for those planning on driving is to travel along the North Coast 500. This great tourist route takes in the best of the Highlands and other great places in Scotland.
4. St. Andrews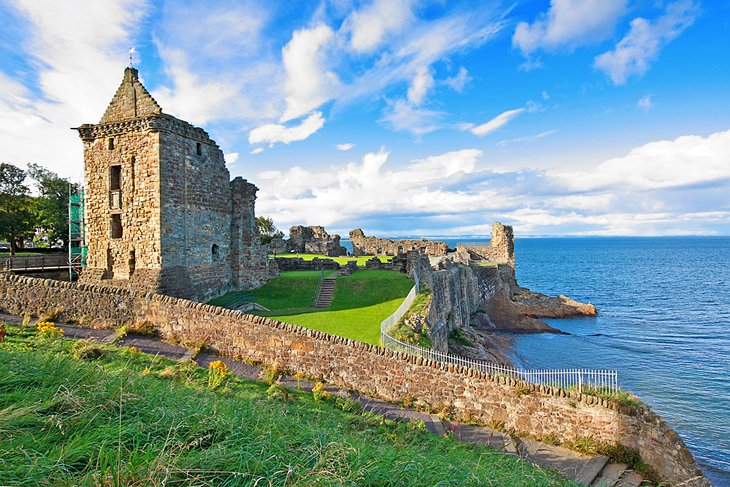 St. Andrews is well-known as one of the world's top golf destinations. Golfers from around the globe make the pilgrimage to St. Andrews' seven classic links courses, drawn by the prestige of playing the world's oldest golf course, the par-72 Old Course, and the chance to play where so many golf greats have teed off before them.
It's also one of the most dramatic courses, its spectacular scenery including a stretch of rugged coastline and the attractive old Clubhouse of the Royal and Ancient Golf Club. Founded in 1754, it's the world's oldest golf club, and its popularity as a golf mecca means you should try to reserve your tee time at least six months in advance to avoid disappointment.
Be sure to also visit the nearby R&A World Golf Museum. This modern facility is something of a shrine to the greats who've played the St. Andrews' courses, as well as detailing the history of the sport over the centuries.
Fortunately for the rest of us, there are plenty of other fun things to do in St. Andrews, too. St. Andrews is also famous as a university town, so be sure to spend time exploring the many fine old buildings associated with the University of St. Andrews.
One of the top free things to do in St. Andrews is to simply wander the university grounds, admiring the well-preserved medieval architecture. If time permits, be sure to check out on-site attractions such as its natural history museum and art galleries. The ruins of St. Andrews Castle and the town's old cathedral are also worth exploring.
5. Loch Ness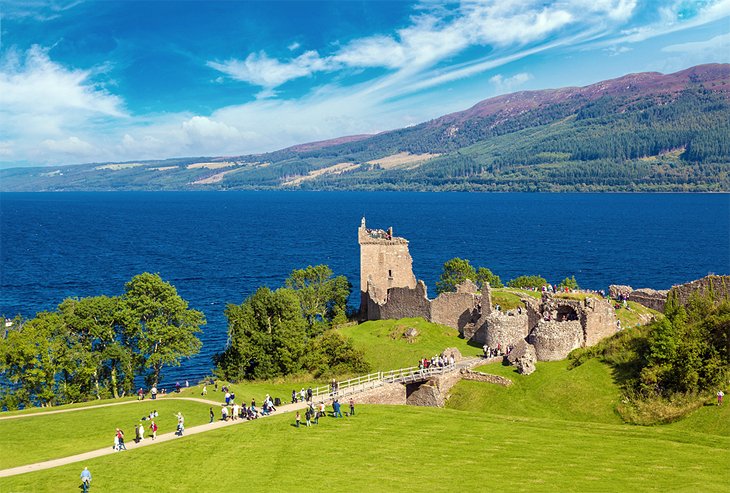 Shrouded in myth and legend, Scotland's beautiful Loch Ness remains one of the country's top places to visit. Despite there being no definitive evidence that Nessie, the world's most famous sea monster, actually exists, that first glimpse of the water doesn't stop excited tourists from scanning the horizon excitedly... just in case.
But even without a monster sighting, you won't be disappointed. Thanks to its starring role in movies and on TV, most recently in the hit series, Outlander, places like Urquhart Castle are enough to make the journey to this Highland attraction worthwhile. Built in the 1100s, the castle now lies in ruins after being devastated by fire some 500 years ago, but not before featuring in some of Scotland's most important historical events.
Expect to spend at least a day exploring the old castle and other Loch Ness attractions. Other fun things to do include a boat cruise along the loch and, if there's time, the Caledonian Canal, which connects Scotland's east and west coasts.
Other points of interest include the Loch Ness Centre and Exhibition in the village of Drumnadrochit, with its displays relating to the loch's history and, of course, its monster. You'll also want to visit Fort Augustus with its old fortifications and Benedictine abbey and its viewing spots over the Caledonian Canal, where it joins the south end of the loch.
Read More: Best Castles in Scotland
6. Inverness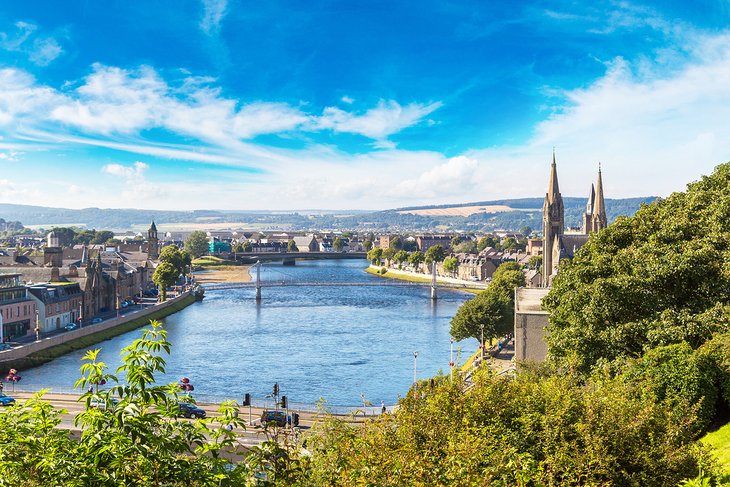 It's actually difficult to visit Loch Ness without seeing at least a little of Inverness. Whether you're traveling from Glasgow to Loch Ness or from Edinburgh to Loch Ness, this stunningly attractive city in the Scottish Highlands is situated at the east end of the country's most famous lake and is a favorite jumping-off point for tours and independent travelers alike. It's also the perfect place from which to explore the magnificent Scottish Highlands.
Those "in the know" will definitely dedicate at least a little time to exploring the "Capital of the Highlands," whether for a few hours or a few days. If you do, you'll find no end of fun things to do in Inverness. This moderately sized city is first and foremost very walkable.
Start your exploration on the grounds of Inverness Castle, spending time admiring the views over the River Ness. You can then follow the river south to the picturesque Ness Islands. Connected to the shore by footbridges, this delightful park area is a perfect spot to kick back and relax.
There are plenty of great Inverness attractions to enjoy on both sides of the river. Must-sees on the west bank include the attractive St. Andrew's Cathedral, which you won't miss as it stands directly opposite the castle; and, nearer the old city center, the Inverness Museum and Art Gallery. The museum is a must-visit for its displays relating not just to Inverness, but the whole Highlands region.
Other highlights include the historic 16th-century Abertarff House, and the Botanic Gardens, finishing up at Victorian Market for a spot of shopping.
7. Aberdeen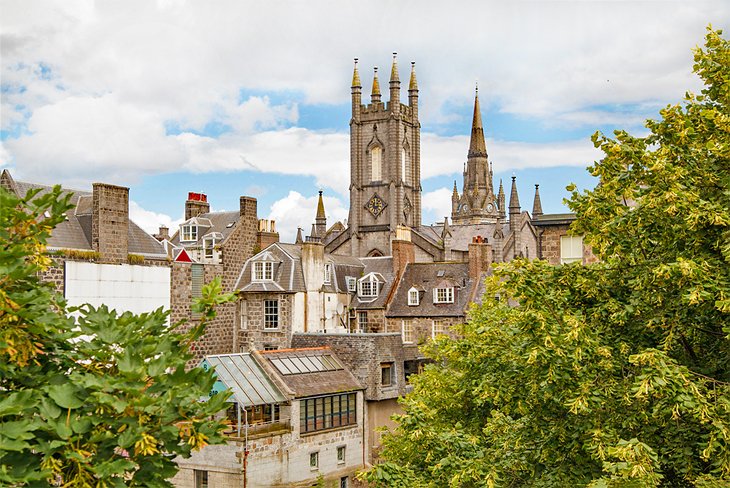 Another of the best city destinations in Scotland, the attractive North Sea port city of Aberdeen is well worth including on your Scotland travel itinerary. Like so many of the country's top city destinations, Aberdeen is a delightful place to explore on foot. Lacing up the walking shoes will not only allow you to explore its many fine examples of old, well-preserved architecture, but also to spend time in its many pleasant parks and gardens.
A highlight of a self-guided walking tour is St. Machar's Cathedral. Built in the 1300s, it's one of the best-preserved examples of medieval architecture construction in Scotland. You'll also see many fine examples of old homes and merchant buildings made from the unique local granite that seems to sparkle in sunlight, giving the town its affectionate Silver City nickname.
Aberdeen has a second, equally complimentary nickname: "The Flower of Scotland." And it's certainly well-deserved thanks to the presence of the city's many lovely green spaces, most notably the David Welch Winter Gardens at Duthie Park.
Here, you can wander one of the biggest indoor gardens in all of Europe, home to numerous species of domestic and exotic plants. Set on some 44 acres, it's a wonderful place to explore, and in the warmer months makes a great picnic spot, especially during the park's concert season.
Other places for a good walk include Aberdeen's two miles of beaches, which are ranked some of the best beaches in Scotland; around one of the many nearby golf courses; or simply up and down the Old High Street. Dating from the late 1400s, it's popular for its shopping and dining experiences.
8. Loch Lomond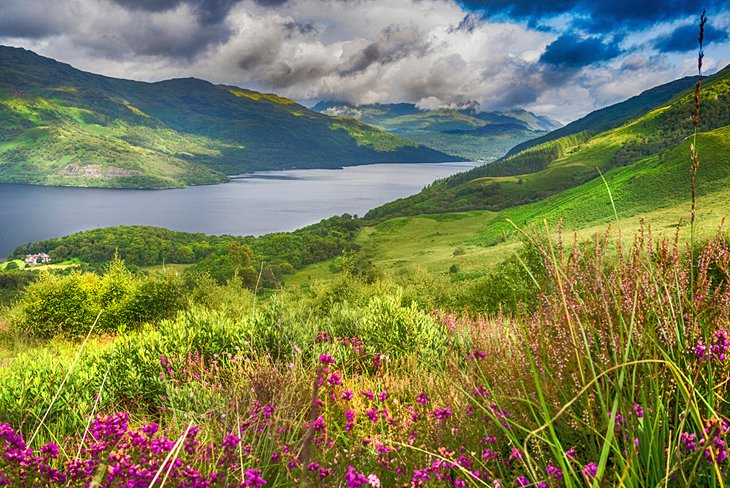 An easy day trip from Glasgow, and also pretty easy to get to from Edinburgh, Loch Lomond is a convenient place to visit in Scotland for those seeking a glimpse of some of the country's most iconic and romantic scenery. The largest body of fresh water in the UK, it's so picturesque that one of the country's leading writers, Walter Scott, famously labeled this magnificent stretch of water the "Queen of Scottish Lakes."
Gentle activities and pursuits include boat tours and cruises and visiting attractions such as the Loch Lomond Bird of Prey Centre. You can even get in some shopping at the modern Loch Lomond Shores entertainment complex with its family-friendly SEA LIFE Aquarium.
As popular a spot as it is for sightseers, Loch Lomond also appeals to those seeking fun outdoor activities. For adventurous sorts, the big attraction is the spectacular Loch Lomond and The Trossachs National Park. This vast tract of unspoiled wilderness covers an area of 1,864 square kilometers with the loch and Ben Lomond at its center. The top things to do for adventurers include fishing, boating, canoeing, and kayaking, as well as hiking and biking along its extensive trail network.
The trail network includes part of the Western Highland Way, which goes all the way north to Fort William. A good place to start your hike is at the National Park Centre in Balmaha, where you can seek expert advice in the planning and execution of your particular choice of adventure.
9. Stirling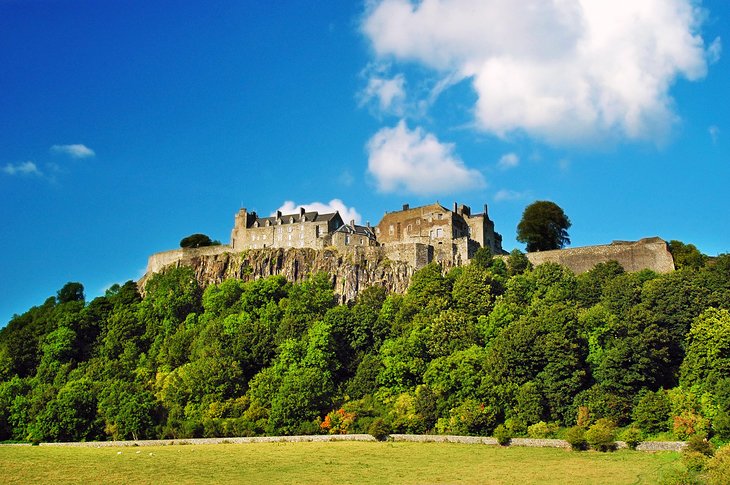 The historic town of Stirling is one of the best places in Scotland to serve as a base from which to explore the country. Situated almost half-way between Glasgow and Edinburgh, it makes for a great day trip and boasts plenty of rewarding things to see and do.
Topping the list is stunning Stirling Castle. This finely preserved old fortress is famous for once having been a royal palace, as Mary Queen of Scots spent her childhood here. It's also famous for its role in the centuries-long struggle between Scotland and England. A visit to this mini-Edinburgh Castle includes a chance to explore the well-preserved medieval structure's grand halls and rooms, either on your own or as part of a guided tour.
On the outskirts of town is the Battle of Bannockburn Visitor Centre, which offers a fascinating retelling of the famous battle that took place here. It was on this spot that Scottish king Robert the Bruce sent the English army packing, and the site commemorates this historic victory with excellent displays and interactive exhibits.
If you can squeeze a little more into your Stirling itinerary, include a visit to the neighboring village of Bridge of Allan, home to the Wallace Monument. This amazing tower dominates the skyline here, offering a little history about the legendary William Wallace, as well as amazing views over Stirling and the surrounding countryside.
Read More: Top-Rated Things to Do in Stirling
10. Isle of Arran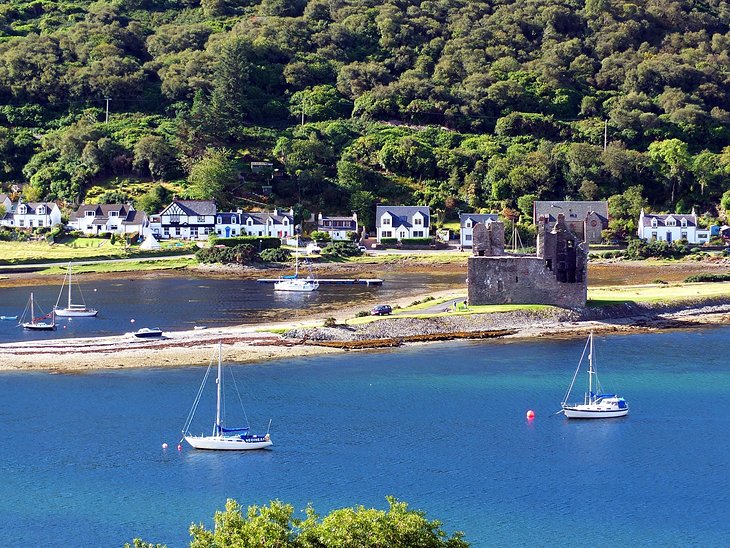 The attractive Isle of Arran has made a name for itself as one of the top places to visit in Scotland, as it's something of a microcosm of everything that's great about the country.
Located just off the mainland from Glasgow and reached via a scenic one-hour ferry ride, this 429-square-kilometer island is therefore perfect either for a day trip from Glasgow, a weekend break, or an extended vacation.
As you tour the island by bike, car, or the regular bus service that circles it, you'll find attractive areas that resemble some of the most beautiful aspects of Scotland. In fact, you'll see everything from moors to tall mountains just waiting to be hiked across, long stretches of sandy beach, quaint fishing villages, great little golf courses, and historic castles.
If you can spare a few hours and are fit enough, be sure to allot the time needed to tackle the 873-meter Goat Fell Mountain. You'll need to set aside a few hours to do so, but you'll be rewarded for your efforts with magnificent views over Arran and the Firth of Clyde toward Glasgow, as well as northward toward Mull of Kintyre.
Also, spend time exploring Brodick Castle. This popular tourist attraction includes displays of period furniture and artworks. You'll also want to explore the castle grounds, which house an authentic iron age dwelling.
There are also plenty of great restaurants on the island, as well as a number of good hotels and resorts. Our favorites include the 4-star Auchrannie Resort, with its excellent dining and spa services; and The Douglas Hotel, set in a historic manor house with stunning bay views.
Read More: Top-Rated Things to Do on the Isle of Arran
11. Isle of Skye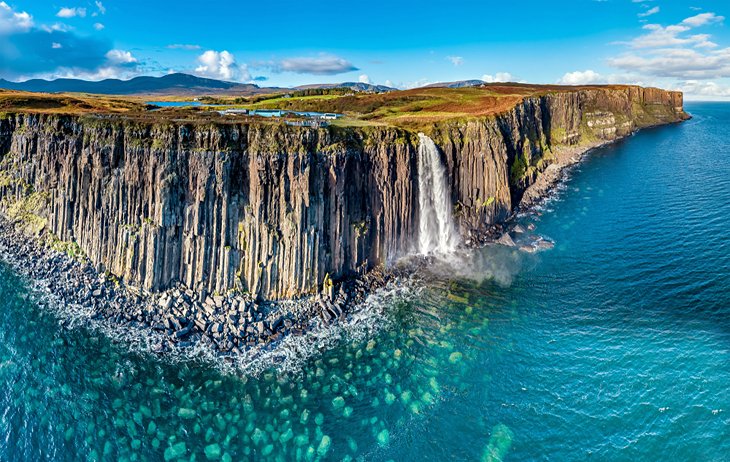 Another Scottish island you'll want to explore is the lovely Isle of Skye. Like Arran, Skye boasts a little something of everything that is Scotland but with the advantage that it's connected to the mainland via a road bridge.
Part of the Hebrides in the northwest section of the Highlands, this large island is some 80 kilometers in length and is a nature-lover's paradise, home to colonies of seabirds, seals, and other native wildlife. It also boasts mile after mile of rugged coastline and spectacular hill views.
Hikers and hillwalkers in particular are well-catered-to here, thanks to the island's extensive trail networks. Many of these head across romantic moors and valleys and up mountains. These include the Cuillin Hills, which boast some of the best views in Scotland.
Man-made attractions include the attractive Armadale Castle. Located near the ferry port of Mallaig, this early 19th-century edifice is set in the heart of a huge country estate and features excellent displays and artifacts related to one of the most powerful of Scotland's historic clans, the Donalds. Expect to easily spend a few hours exploring the large grounds and gardens with their walking trails, as well as the Museum of the Isles.
Also worth a visit is Dunvegan Castle. Once the seat of the MacLeod clan, it's located in the village of the same name and is a great place to embark on a boat tour or fishing excursion.
12. Fort William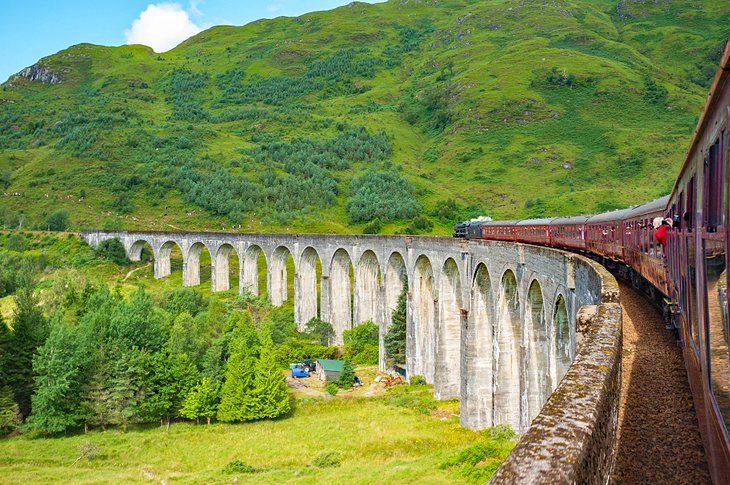 The attractive west coast resort town of Fort William makes an excellent starting point for excursions into the unspoiled Highlands, including Ben Nevis. Located at the south end of the Caledonian Canal, Fort William, named after fortifications built here in the 17th century, offers visitors plenty of points of interest to explore.
One of the best is the West Highland Museum in Cameron Square. Notable for its collections of furniture, paintings, weapons, and Highland costumes, it also houses an impressive collection of artifacts and documents relating to the opening of the West Highland Railway in 1894. Other highlights include exhibits relating to the celebrated conquests of Ben Nevis, notably that by Henry Alexander, who in 1911 drove a Ford Model T to the summit.
While in Fort William, why not book a stay in what's widely regarded as one of the best castle hotels in Scotland? Famously described by Queen Victoria as one of the most romantic castles she'd ever visited, Inverlochy Castle Hotel is just 10 minutes' drive from downtown Fort William and can now be enjoyed by the rest of us when the urge to splurge on a fine 5-star luxury getaway strikes.
A great excursion from Fort William is to Glenfinnan Viaduct. You'll recognize this amazing landmark from its appearances in numerous Harry Potter movies, among other films, where it served as the route the Hogwarts Express took when whisking young wizards to school.
Fun steam excursions can be enjoyed aboard the lovely Jacobite steam train along this stretch of the West Highland Line, taking in the viaduct and some of the most scenic vistas found anywhere in Scotland.
From Fort William, you can also easily get to other popular Scotland destinations. These include Glencoe, a spectacular valley famed for its breathtaking scenery, winter sports, hiking, and mountain climbing.