14 Best Places to Visit in Scotland in Winter
Scotland is an isle of beauty easily appreciated in all seasons. Ruined castles, majestic mountains, craggy cliffs, verdant valleys, and lavish lochs blanket the isle, enticing cameras to start snapping. A dusting of snow and frost transform these natural wonders into an entrancing winter wonderland you won't want to leave.
Whether you're looking to ski, snowboard, ice-skate, or shop in a Christmas market, there is a slew of fun places to visit in Scotland in winter. Book a dogsledding adventure in Cairngorms National Park, climb the basalt hills of Fairy Glen, or cruise the waters of Loch Ness. You could also spy the often elusive northern lights in the Scottish Highlands' Shetland Isles or the Inner Hebrides' beautiful and rustic Isle of Coll.
No matter your plan, be prepared for all types of weather, as it's very unpredictable in Scotland during winter. Warm, waterproof gear is a must, as are thick socks, layers, and a hat. Also, check the tourist attractions you're hoping to visit while sightseeing, as some are only open seasonally.
Our list of the best places to visit in Scotland in winter will help you plan your itinerary.
1. Edinburgh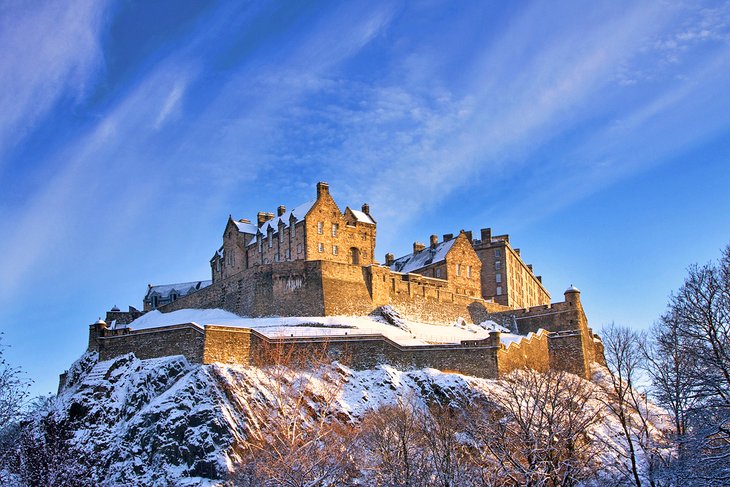 While not often covered in snow, Edinburgh becomes even more enchanting under a dusting of white. Edinburgh Castle emits a romantic glow from atop its hilltop home, high above the winding streets of the Royal Mile. Add charming Christmas markets and twinkling lights, and you're in for a wintery treat at this top place to visit.
One of the best places to visit in winter in the UK, Edinburgh boasts plenty of interesting attractions. If the weather is fair, walk up Arthur's Seat, the highest point in Holyrood Park. At the top, you'll find a stellar view of Edinburgh's steepled churches and medieval buildings.
Then, lace up your skates for a twirl around one of the many outdoor ice rinks (St. Andrew Square offers an oval rink that loops around the Melville Monument). A twilight skate is particularly romantic, and even more enjoyable when topped with a steaming mug of hot chocolate.
Christmas festivities run from November through January and include rides, a Christmas Tree Maze, Santa's Grotto, and a carousel, as well as the 60-meter-tall Star Flyer. Hogmanay (a.k.a. New Year's) is another popular time filled with festive fun and fireworks shows.
2. Inverness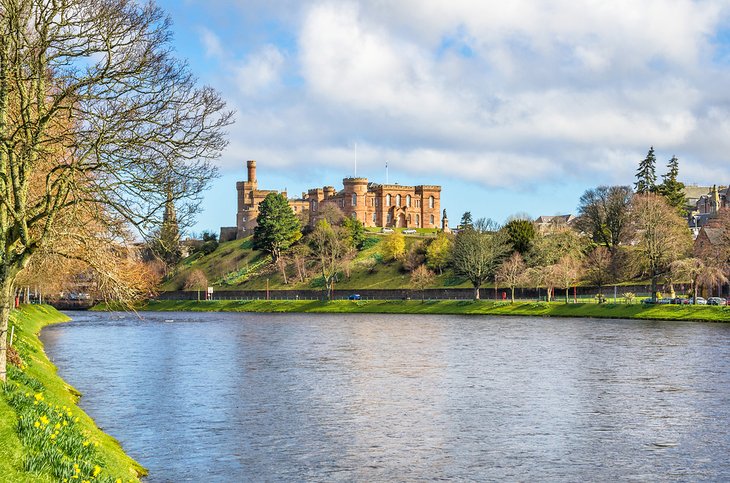 Set at the north end of the spectacular Great Glen, there's no shortage of beauty in Inverness. While you won't want to take a dip in the sparkling Loch Ness at this time of year, walking along its banks and admiring the view from atop Urqhuart Castle is a must-do activity for every winter traveler in Scotland.
Breathe in the fresh, crisp air while marveling at shimmering snow and ice adorning the ancient buildings and picturesque landscape as you hike around the area. Then, book a game of golf at the Inverness Golf Club. Yes, you can still play golf in the winter.
If you're hoping to stay warm, head inside to watch a show at one of the numerous theaters. We highly recommend catching a hilarious pantomime (a.k.a. "panto") at Eden Court Theatre.
Other cozy activities include shopping in the town center, gazing at inspiring works in Castle Gallery, and sitting by a fire while dining in a local restaurant.
3. Glasgow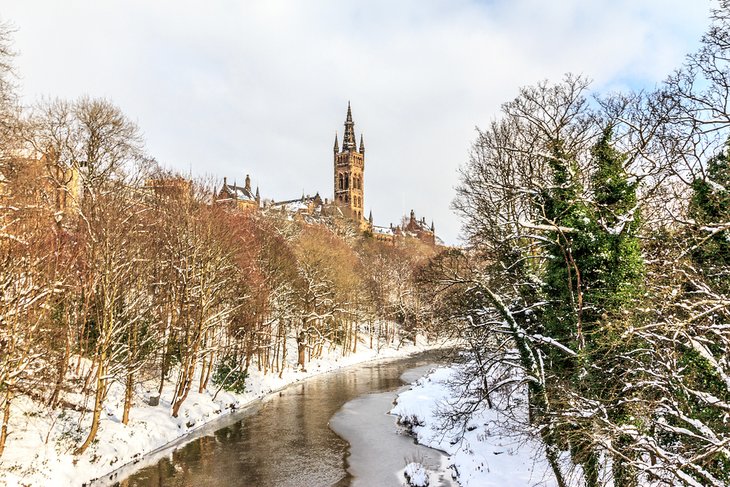 The largest city in Scotland, Glasgow is the place to go if you're looking to flex your shopping muscles, especially around the holidays. There's a large Christmas market in St. Enoch Square filled with interesting gifts, treats, sparkling lights, and music.
George Square plays host to even more festive fun, introducing a skating rink (a.k.a. Glasgow on Ice), giant Ferris wheel, and carousel, not to mention crafts and treats.
As you wander the streets of Style Mile in your warm winter gear, keep your eyes peeled for beauty. You'll pass stately Victorian homes and other historic buildings so charming your camera will quiver with excitement.
For some indoor entertainment, visit the stately Glasgow Cathedral. Or book a couple of hours for a trip to the Kelvingrove Art Gallery and Museum. Established in 1901, this historic building is a mecca of artistic wonders by artists as famed as Van Gogh and Salvador Dali.
Read More:
4. Fort William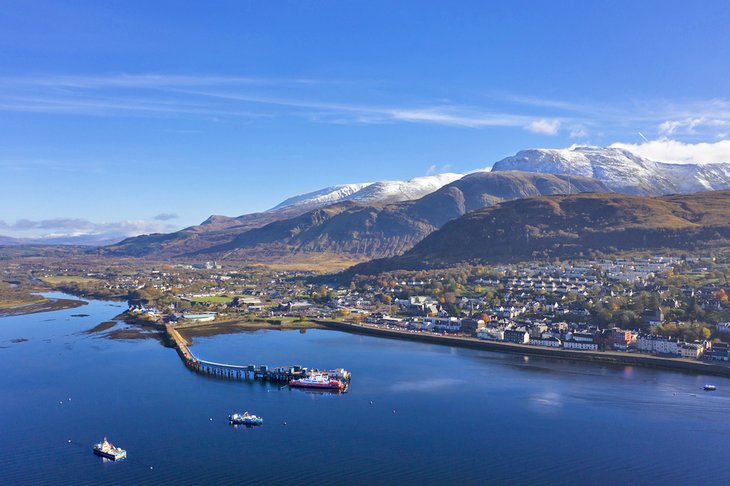 A small city in Lochaber, Fort William is the second largest settlement in the Highlands, just behind Inverness. Its historic streets are packed with fun things to do, like visiting Old Inverlochy Castle, walking across Neptune's Staircase, boutique shopping, or dining in one of the many restaurants.
Caught a chill? Stay warm while you soak up the region's history in the Treasures of the Earth and West Highland Museums, or tuck into a hearty pie by the fire at a local eatery.
Dubbed the UK's "outdoor capital," Fort William offers unsurpassable views of the lovely Loch Linnhe, and serves as a base for explorers. The Nevis Range is seven miles away, and the Great Glen, Mallaig, and Glencoe are also close, providing visitors with vast opportunities to hike, bike, sled, and ski.
Wildlife lovers can challenge themselves to spot Scotland's "Big Five": red deer, seals, red squirrels, European otters, and golden eagles. With fewer leaves to hide behind, this task is often accomplished in one day of exploring the areas just outside Fort William.
5. Ben Nevis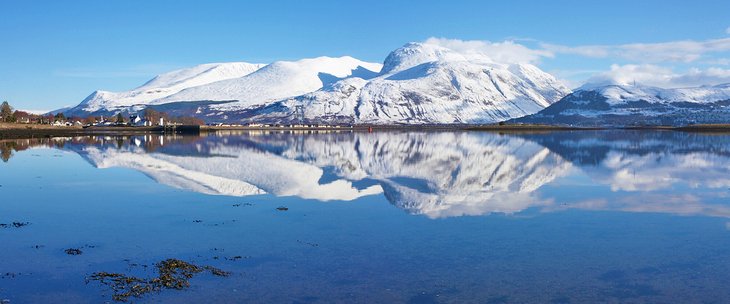 The Grampian Mountain Range is home to the UK's tallest peak: Ben Nevis. In one year, over 125,000 walkers visit these mountains, some making the arduous and challenging trek (also known as "bagging the Ben") to the summit of its massive star.
If you hope to be one of them, plan your route in advance and pack for all types of weather. Only experienced climbers are recommended to attempt this hike during winter. The easiest path is The Mountain Track, which begins at the parking lot of the Glen Nevis Visitor Centre.
While they may pale in comparison with the Alps, the Scottish mountains outside Fort William offer bountiful opportunities to partake in winter sports. Skiers and snowboarders face an extensive selection of runs and an off-piste area. Snow biking and sledding are also popular at this snowy locale.
Prefer to take it slow? Try cross-country skiing or snowshoeing. Even better, hop on the Nevis Range Mountain Gondola for a picturesque ride to the top of Aonach Mòr. Two trails are accessible from here: Sgurr Finnisg-aig (about 40 minutes return) and Meall Beag (about an hour both ways).
Didn't pack gear? No worries: you can rent everything from snowshoes to snowboards at Nevis Range Mountain Experience.
6. Isle of Skye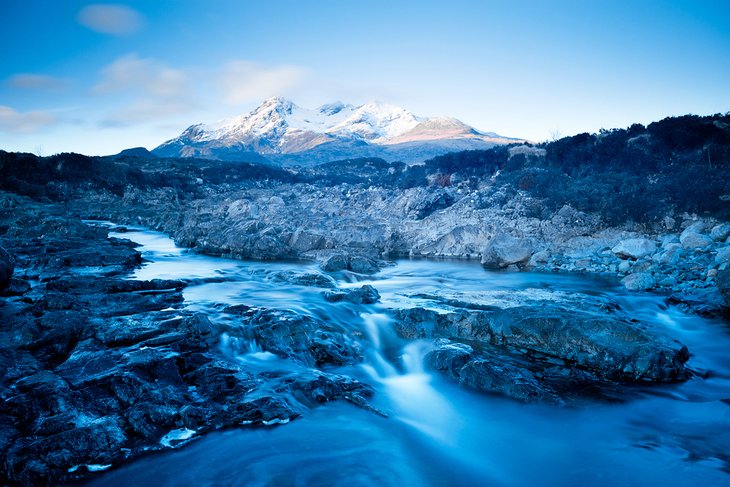 Measuring 80 kilometers in length, the Isle of Skye is the largest of the Inner Hebrides archipelago. It's also, arguably, the most beautiful. Boasting fairy glens, ancient rock pools, majestic mountains, and deep rugged valleys, there's so much to admire you'll want to extend your stay.
Visiting in winter comes with multiple bonuses: you won't have to crop tourists out of your photos or pay exorbitant prices for food and lodging. Also, you can easily enjoy a sunrise, which happens at 9am during winter as opposed to 3:30am at other times of the year.
The Fairy Pools are truly magnificent no matter the season, but winter's warm light and sparkling frost lend them a superlative glow. Enter an otherworldly universe at the spectacular Fairy Glen just above Uig. The basalt hills are a wonder to climb, just be careful you don't slip on ice.
Read More: Top Tourist Attractions in the Isle of Skye
7. Cairngorms National Park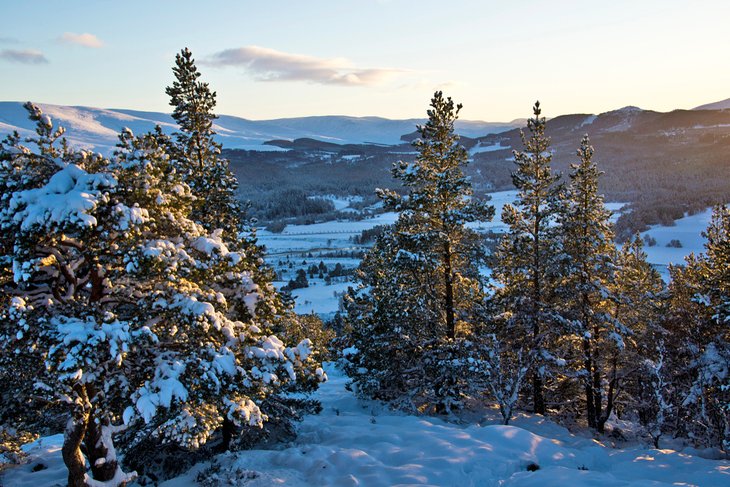 Whether you're a fan of hiking, bird-watching, or taking loads of photographs, you'll love visiting Cairngorm National Park in winter. A sparkling gem of the Scottish Highlands, this top natural attraction is a haven for wildlife. Keep your eyes peeled while walking its trails, and you may spot a red deer or a golden eagle.
You can walk for days in the park's vast expanse, warming yourself with hearty fare at local restaurants. Or, hit the slopes at one of the park's three resorts. Cairn Gorm Mountain, The Lecht Ski Centre, and Glenshee Ski and Snowboard are open (weather permitting) from December to May.
Not a fan of zipping down mountains? Opt for a cross-country ski instead. You can find miles of trails, some through forests, in Slochd and Glenmore. Or book a completely new experience, like a dogsled adventure. Cairngorm Sleddog Center in Aviemore offers guided trips through the Cairngorm Mountain Range.
8. Loch Leven

Deep in the heart of Scotland, 20 miles south of Perth, lies the mesmerizing freshwater Loch Leven. The biggest lowland loch in the country, this is a sanctuary for wildlife and a phenomenal backdrop for photographs.
During winter, over 35,000 birds call Loch Leven home, making it a hot spot for bird-watchers. Visit the RSPB Loch Leven Center to learn more about them, and rent binoculars for an up-close look from the viewing hides.
Loch Leven Castle, located on an island in the loch, is worthy of a visit. Mary Queen of Scots was once held here. The 21-kilometer Loch Leven Heritage Trail is another popular attraction, enticing guests to hike or cycle around the loch, admiring its beauty along the way.
9. Urquhart Castle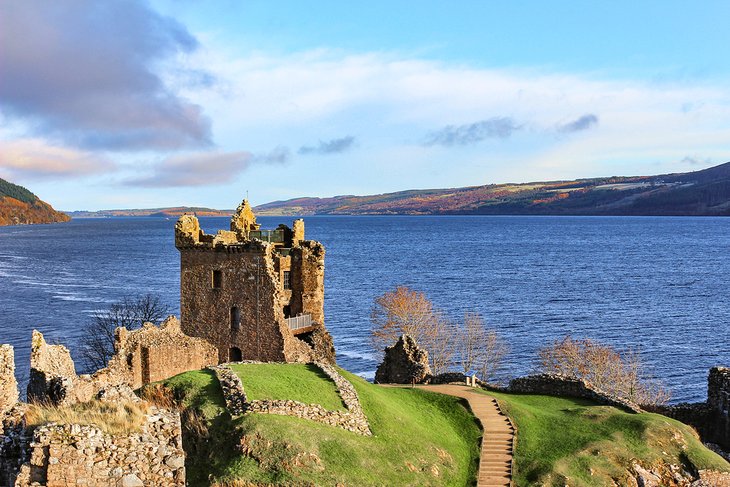 The ruins of Urquhart Castle sit on a headland overlooking the sparkling Loch Ness and offer visitors a glimpse into its 1,000-year-old past. One of the largest castles in the country, this storied spot is unmissable for its innate beauty, unbeatable views, and expansive history.
The best vistas can be had from atop Grant Tower, while a visit to the windowless prison cell is a bit eerie. Kids will be uber impressed by the giant trebuchet plunked in an open area of the main lawn. Then, they can climb the hill to the gift shop for a treat.
Up the fun factor by booking a boat cruise, which offers the added bonus of exploring Loch Ness and seeing the romantic castle from the water. If you're super lucky, you may even spot the Loch Ness Monster, so be sure to have a camera at the ready.
10. Glencoe Mountain Resort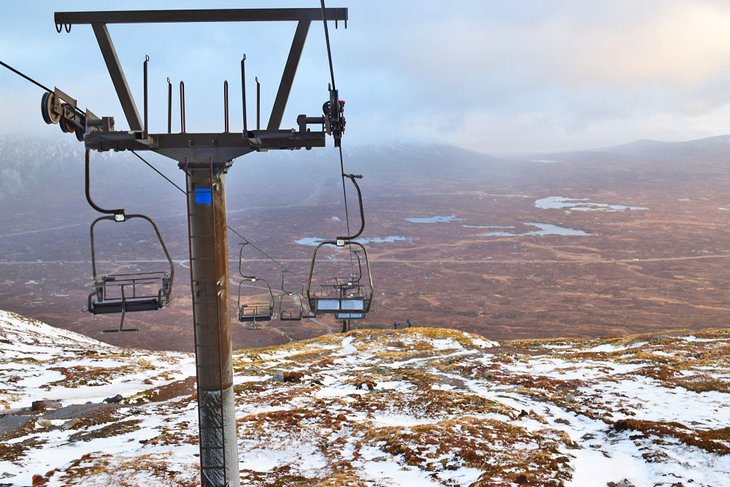 During winter, visitors flock to this resort with skis and poles in hand to enjoy its vigorous runs. Home to "the longest and steepest ski run in Scotland," this is the place to be if you dream of soaring down snow-covered slopes in the UK.
There are 20 runs of all levels to explore on skis or a snowboard, and eight lifts to transport visitors to the top. The Plateau Café serves hot food daily, making it an ideal spot to enjoy a mid-day break.
Not a skier? No problem. Guests can also sled or walk the hills to enjoy the winterscape at this natural wonderland.
11. Perthshire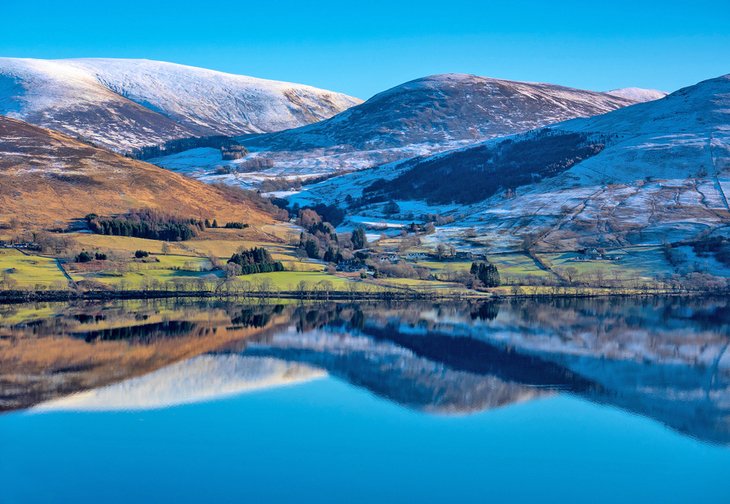 If you're looking for natural beauty, the historic Perthshire region (a.k.a. the county of Perth and Kinross) has it in spades. Nestled in the center of Scotland, this gorgeous area is home to a segment of the Grampian Mountains, dense forests, and picturesque rivers like the splendid Loch Tay.
In winter, these beauties are made more captivating by shimmering ice and snow. Strap on your boots and walk through the Hermitage Forest where you'll gasp over the incredible scenery. Particularly impressive is Ossian's Hall of Mirrors, a Georgian structure built to offer unbeatable views over the Black Linn Falls. This is by far one of the best places to visit in Perthshire in winter.
Stop in the small, charming villages for a warm cuppa while you chat about life with the friendly locals. Lovely Dunkeld sits on the banks of Loch Tay, boasting adorable medieval streets and ancient buildings begging to be photographed.
Pitlochry, which lies serenely beside Loch Tummel, is a wonderful place to unleash your inner tourist – adorable shops line the quintessentially Scottish streets, and the dining options are vast.
12. John Muir Way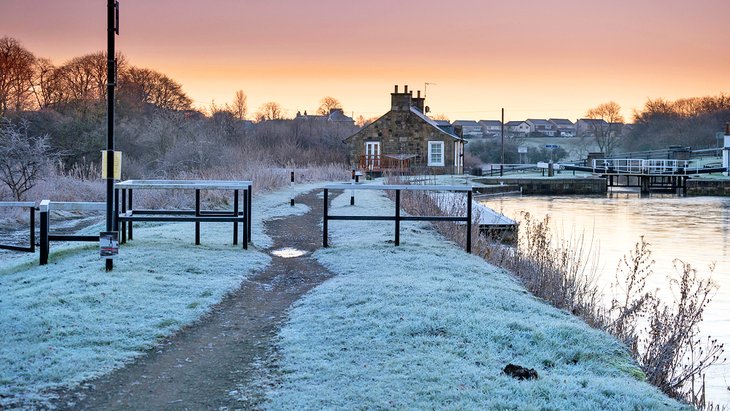 You'll need days to explore the entire 134 miles of the John Muir Trail, dubbed one of the "nicest walks in Scotland." Named in honor of the famed Scottish American naturalist, author, and environmentalist, this massive outdoor route presents visitors with a tranquil way to enjoy the Scottish countryside.
The trail spans central Scotland, from Dunbar on the east coast to Helensburgh on the west. If it's not icy, visitors can bike its length, discovering hidden rivers, bays, and beaches. Walk by sparkling lochs, gaze at rolling hills, and fall in love with enchanting villages on your journey.
Delightful Balloch lies on the shores of Loch Lomond and provides easy access to the vast Loch Lomand & The Trossachs National Park.
13. The Isle of Coll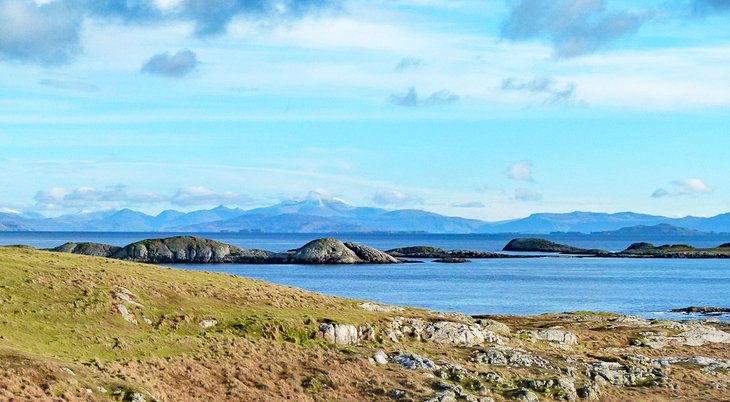 Get back to basics with a trip to the Isle of Coll in winter. Fittingly known as Dark Sky Island, this rustic island is one of the best places to visit for seeing the northern lights in Scotland. The isle has only one small village and no streetlights, hence its unique moniker.
The best time to see the Northern Lights is between 10pm and 12am during December and January, but the lights are often visible on a cloudless night between September and late March also.
During the day, the best things to do in winter include exploring the island's beaches; walking up the isle's highest point, Ben Hogh; golfing on the nine-hole course at Claid; and fishing. As always, it's best to be prepared for weather changes by wearing layers.
On this small island, you won't bump into many other tourists on the Isle of Coll, which is ideal if you're hoping for a quiet vacation. Also, beyond a taxi, there's no public transportation available on the island. It is reachable by a two-hour-and-40-minute ferry from Oban or a 55-minute boat from Tiree. Told you it was a place to get back to basics.
Bikes can be rented in the main (and only) village, Arinagour and provide an excellent way to explore this 13-mile-wide island in the Inner Hebrides.
14. The Shetland Islands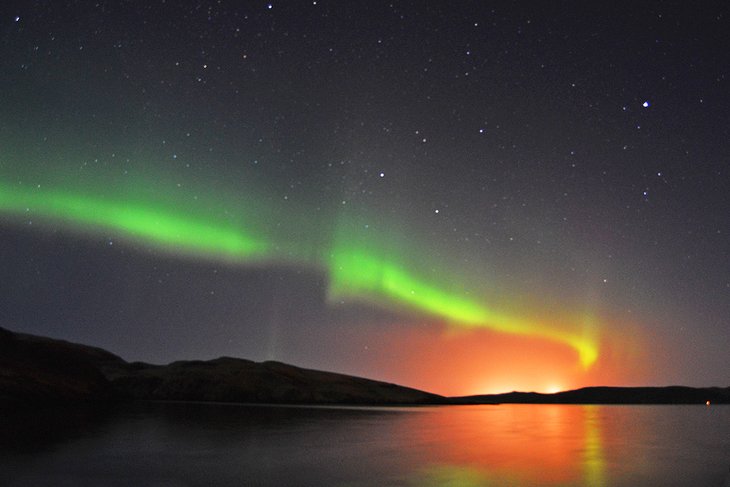 The Shetland Islands also top the list of the best places to view the northern lights in Scotland. It's known here as the Mirrie Dancers, and viewing Mother Nature's spectacular nighttime light show is one of the best things to do in Scotland in winter.
This isn't the only tourist attraction worth seeing during your visit, though. Some museums are still open during winter, including the Shetland Museum in Lerwick.
Winter hikes are a popular activity, especially if you stick close to the coast, where you have a heightened chance of spotting whales and otters. The Knab in Lerwick is one of the best places to hike at this time of year, and lucky visitors can spy seals during their trek.
The Shetland Islands consist of close to 100 isles, each of which is worthy of a visit. Time your trip for the Up Helly Aa festival, which takes place in Lerwick, on the last Tuesday of January. This fun-filled event happens over one day and is linked to the Shetland Islands' Viking heritage. It culminates in a torch-lit procession that ends with the community burning a Viking longship created just for this purpose.
Can't make it to Lerwick? No worries. There are 12 other smaller versions of this festival on other Shetland isles.
Map of Places to Visit in Scotland in Winter
More Related Articles on PlanetWare.com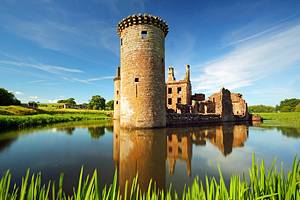 More Places to Visit in Scotland: Now that you know the best places to visit in Scotland in winter, check out the country's best tourist attractions, which include boat trips on Loch Lomond and visiting Urquhart Castle. Along the way, stop off in Scotland's most charming small towns. If you want more information on the season, see our guide to the Best Time to Visit Scotland.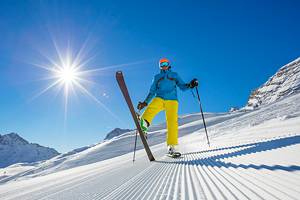 Visit these Winter Havens in Europe: Winter comes but once a year. Enjoy building snowmen, visiting Christmas markets, and seeing some of Europe's best cities aglow with festive lights. A trip to Germany in winter is pure magic, while Prague turns into a fairy-tale land under the snow.