12 Top-Rated Things to Do in Falkirk
Falkirk, in the Central Lowlands of Scotland, is a tourist-friendly city with a laid-back appeal, beautiful scenery, and a wealth of things to do. It's home to two popular Scotland attractions: the Falkirk Wheel and The Helix: Home of the Kelpies. These two larger-than-life attractions are worth the travel alone.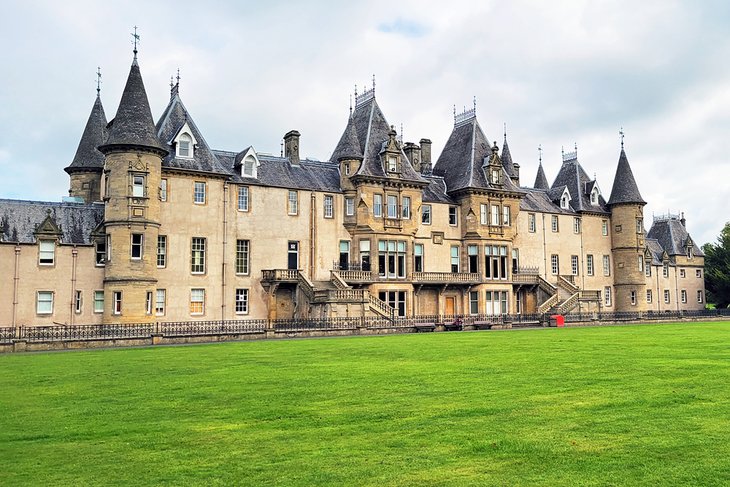 But it's much more than giant Clydesdale horses and impressive engineering in Falkirk. The city has a lively and historic town center, abuzz with shops, restaurants, and plenty of people-watching opportunities. Falkirk also lends easy access to its brilliant scenery, with plenty of parklands and places to play outside.
Falkirk is often a stop on a more extensive Scotland journey. The John Muir Way and Forth & Clyde Canal towpath run through the city on their long journeys across Central Scotland. If you're traveling on either of these long-distance paths, book some time in Falkirk to recharge and take in the sights.
Enjoy your visit with our list of top attractions and things to do in Falkirk.
1. Gawk at The Kelpies at The Helix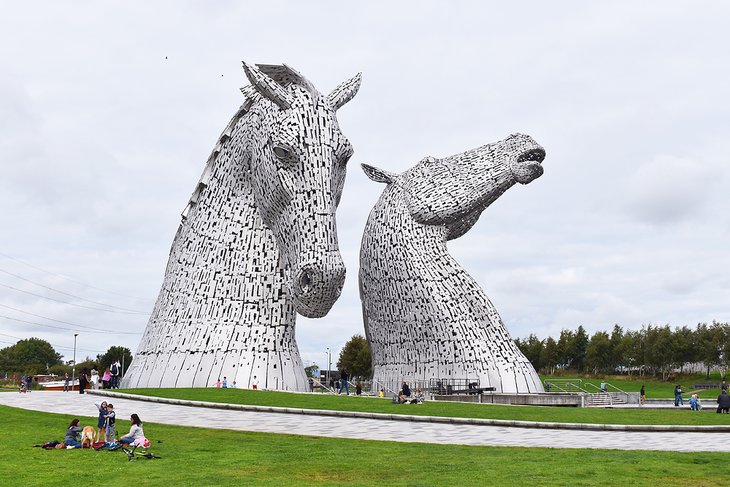 The Helix is a famous public park in Falkirk and home to the region's most outstanding attractions. The centerpiece of this 350-hectare park is undeniably The Kelpies — dual Clydesdale sculptures standing 100 feet tall. These magnificent works of art stand out on the horizon for miles and draw worldwide visitors.
Water surrounds the sculptures, paying homage to their aquatic mythology. Visitors can pay a fee for a guided tour that navigates inside the massive sculptures. Green space, walking trails, and The Kelpies Visitor Center are also nearby, offering plenty of places to sit and admire the scenery.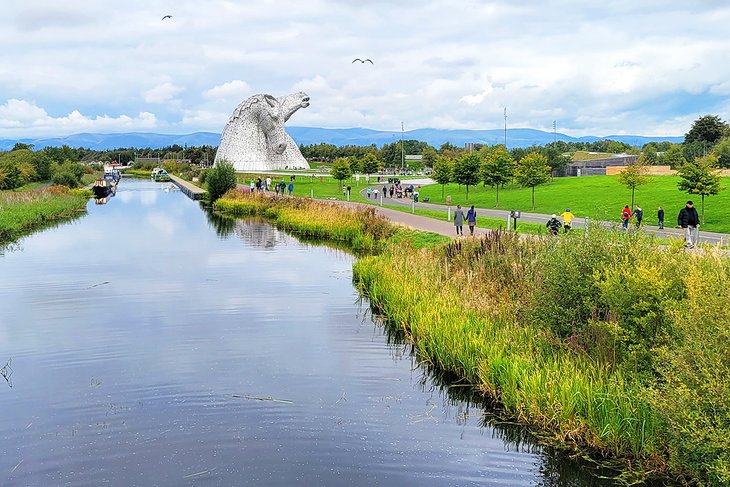 The Kelpies are free to enjoy every day of the year and typically light up at night up until an hour after dusk. The on-site visitor center has more limited hours, with services like a café, gift shop, and exhibition area.
Don't limit a visit to The Helix only to The Kelpies. This outstanding public park has tons to explore. Among the acreage are a popular adventure play park and water fountains. It's also home to many beautiful landscapes, including wetlands, woodlands, and a lagoon.
2. Appreciate the Engineering of the Falkirk Wheel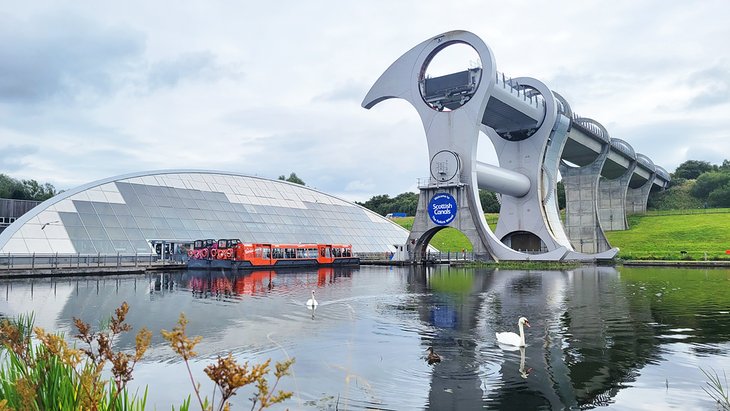 The Falkirk Wheel is a beautiful demonstration of human engineering. It's touted as the world's first rotating boat lift and is a true spectacle of modern Scottish innovation.
The wheel connects the Forth and Clyde Canal and the Union Canal with a 115-foot rotation into the sky. It's simply fun to witness this mechanism at work, and interested visitors can opt for a boat ride to experience it firsthand.
Boat rides on the Falkirk Wheel take place throughout the day. Tours last approximately 50 minutes and include two trips on the wheel, one going up and one going down. Narration along the way explains the history and science behind the wheel. Advanced tickets are recommended for this popular attraction.
A boat ride is not required to enjoy the Falkirk Wheel. Simply watching the rotation from the sidelines is also enjoyable. The area surrounding the Falkirk Wheel also has several family attractions, including mini-golf, archery, and paddleboat rentals, and the visitor center at the Falkirk Wheel offers hot food items and a café.
3. Spend the Day at Callendar Park & Callendar House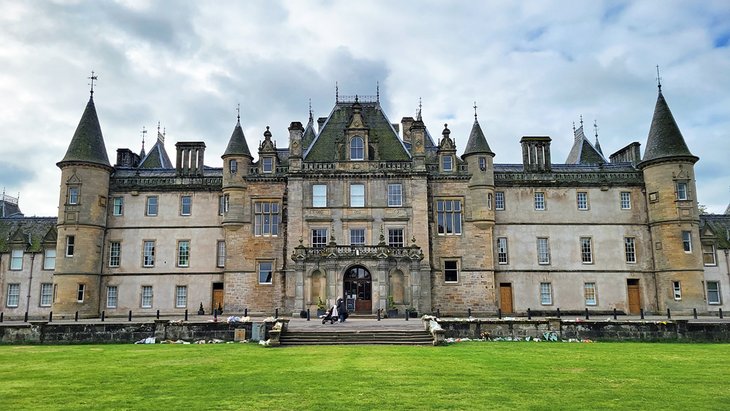 Callendar House is a magnificent 14th-century French chateau-style mansion. It's also the centerpiece feature of the 140-acre Callendar Park in Falkirk. This wonderful home and public park radiates its history and provides several visitor attractions.
It's free to enter the Callendar House for a self-guided sightseeing tour. Within, permanent displays cover the history of the home and the surrounding region, including insight into its Roman occupation as early as the 11th century. Other highlights of the interior include a restored 1825 kitchen.
Calendar Park is worth a visit without ever stepping into the house. It contains a large Roman-themed playground area and a spiderwebbing network of woodland trails.
Families and visitors often use this green space for picnics, dog walking, and other sunny-weather activities.
4. Wander around Falkirk Town Centre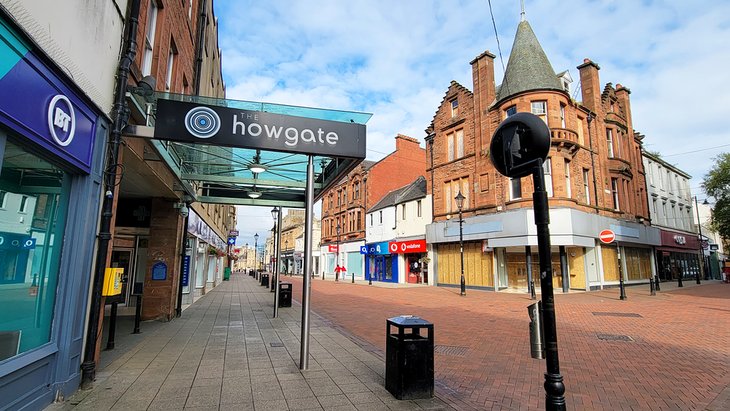 No trip to Falkirk is complete without a visit to its bustling town center. Shops, cafés, and full-service restaurants line this pedestrian part of town, inviting all sorts of window shopping and wandering around. And with restaurants catering to every meal throughout the day, it's a great place to visit for a bite to eat.
The Howgate Shopping Centre is the most concentrated shopping area in the region. This shopping mall has several local and national shops to peruse, offering everything from fashion to housewares and beauty boutiques. This indoor shopping area is open seven days a week.
Falkirk Town Centre is also a central spot for history buffs. The entire town center reflects the town's legacy dating back hundreds of years. The best way to experience this history is to follow the Falkirk Town Heritage Trail. This self-guided tour starts at the historic Falkirk Steeple, dating back to 1814, and includes 25 other points of interest.
5. Enjoy the Gardens at Dollar Park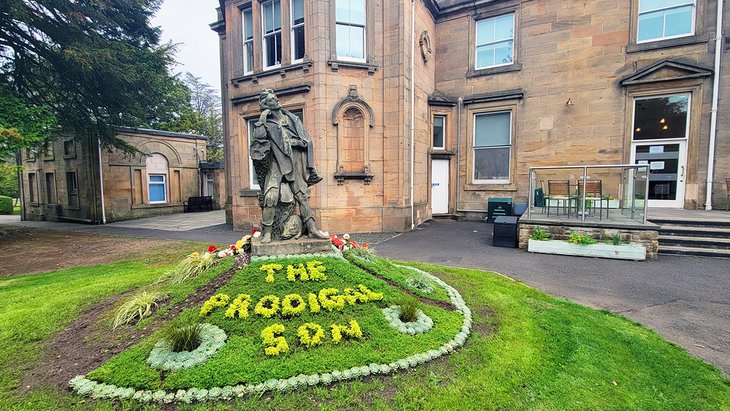 Dollar Park is a beautifully landscaped space close to the town center. It has several family-friendly attractions, including a broad collection of flowers blooming throughout the year. Alongside the ample gardens, the park also features a playground area, open green space, and a beautiful two-story Victorian mansion.
The Victorian mansion is home to Arnotdale Cafe, which is open seven days a week. Here, enjoy lunch, tea, and other light fare before or after exploring the park. Outside the Arnotdale House is the entrance to the park's beautiful Walled Garden, home to several eye-catching elements.
The park offers several attractions only during the summer holiday (April - September). This collection includes tennis courts and an 18-hole putting green. A bouncy castle, extremely popular with young children, is also available during this summer season.
6. Take a Day Trip to The Dunmore Pineapple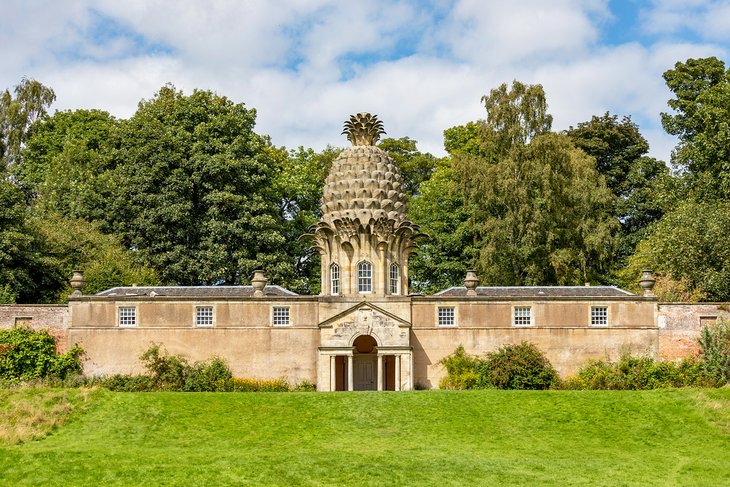 The Dunmore Pineapple is a unique 18th-century summer home built by the Earl of Dunmore. Its standout feature is an immense stone pineapple towering above the building, representing one of the most exotic fruits once found in Scotland. Today, visitors can visit and photograph the Dunmore Pineapple and tour the beautiful woodland grounds.
The Dunmore Pineapple is accessible with an approximate eight-mile drive north of Falkirk town center. Downloading directions before heading out helps in navigating the rural setting. Expect potholes and other slow-going traffic conditions when visiting.
It doesn't take much time to explore and photograph The Dunmore Pineapple. Bring some walking shoes to tour the lovely estate — and surrounding woodlands to extend the trip. Visitors can also plan an overnight trip by booking accommodations at The Pineapple through the National Trust for Scotland.
7. Take a Walk on the John Muir Way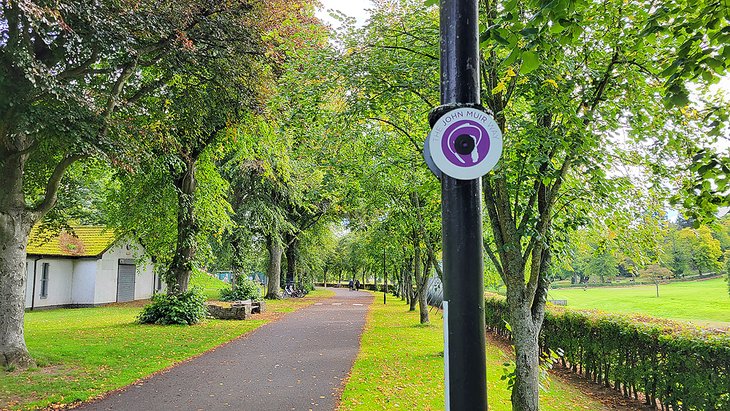 John Muir Way is one of Scotland's Great Trails and a popular route for long-distance cycling and walking. The route spans 215 kilometers (133 miles) across Central Scotland from coast to coast. The western terminus of John Muir Way is in Helensburgh, near Loch Lomond & The Trossachs National Park. The eastern terminus is in Dunbar, the birthplace of John Muir.
The middle of John Muir Way passes right through Falkirk's town center and connects with other significant tourist attractions, including the Falkirk Wheel and Callendar House. Visitors to Falkirk often enjoy this section of the John Muir Way as a pleasant day hike or bicycle ride. Falkirk is also a popular place to spend a night or two for those traveling the entire route.
John Muir Way also offers excellent avenues for exploring away from town. The section heading east from Falkirk extends 13.6 kilometers (8.5 miles) to Linlithgow and passes by attractions like Muiravonside Country Park and the Avon Aquaduct. Alternatively, the route spans 20.8 kilometers (13 miles) west to Kilsyth. Colzium Estate and Rough Castle offer places to pull over along this section.
8. Catch a Game at Falkirk Stadium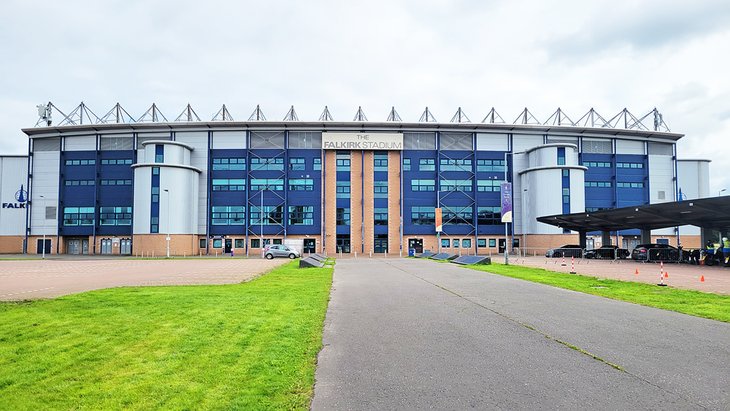 Falkirk Stadium is home to the Falkirk Football Club, founded in 1876. The club competes with the Scottish Professional Football League in Scottish League One. The regular season spans from October through April. If visiting during this time, consider buying some tickets and participating in the undeniably fun and electric atmosphere.
Falkirk Stadium is also home to several other community events. This lineup includes disco nights, Christmas parties, and afternoon teas. Stadium tours are also available throughout the football season.
9. Visit Muiravonside Country Park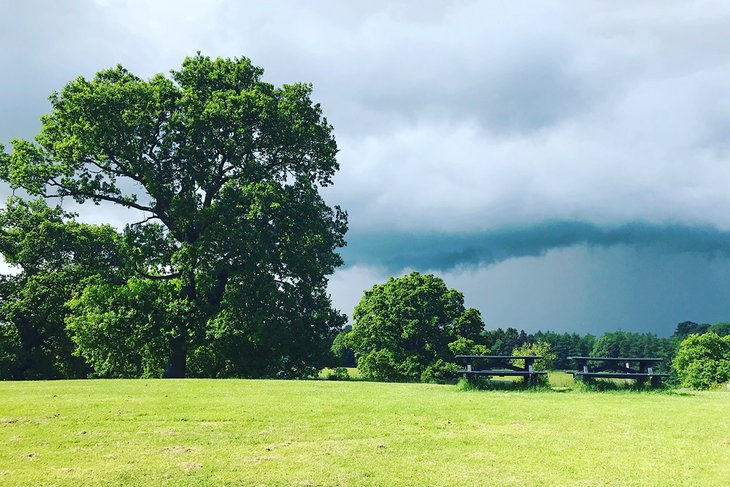 Muiravonside is Falkirk's only country park and offers a fantastic place to spend the day outside. It's located approximately seven miles southeast of town and encompasses over 170 acres of woodlands and open green space.
Among its many attractions are a working demonstration farm, a play park, and a winding network of nature trails.
Newparks Farm, located within Muiravonside, has several resident animals to meet. These farm animals include highland cattle, horses, donkeys, and several species of pigs. Visitors have the chance to meet these farm animals and tour their living quarters in restored farmstead buildings.
Walking and cycling are also popular within the park. The River Avon Heritage Trail tours the entire parkland, offering several side trips for exploring the countryside. John Muir Way also travels next to the park, connecting to the town center with a moderate bike ride.
10. Ride a Bicycle on the Forth & Clyde Canal Towpath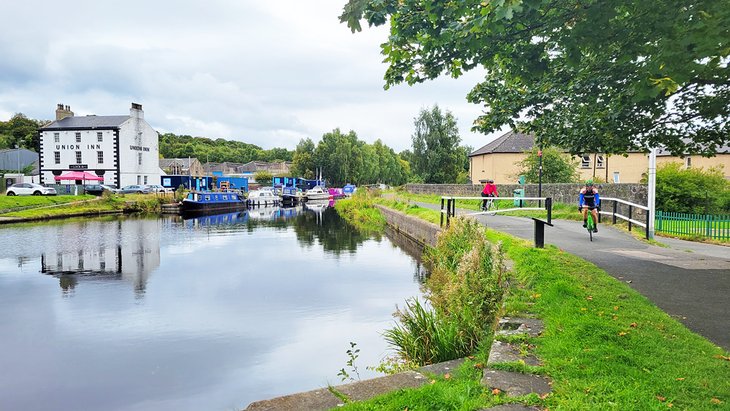 Falkirk is home to several walking and bicycling trails that quickly occupy an entire day. Not only do these pedestrian routes provide an enjoyable form of exercise, but they also offer direct connections to the city's best attractions.
One of the top routes to follow is the Forth & Clyde Canal towpath, which connects the Falkirk Wheel and The Kelpies.
The Forth & Clyde Canal towpath is bicycle and pedestrian-friendly. The section in Falkirk is only a small segment of the larger 106-kilometer (65-mile) towpath, which also includes the Union Canal towpath. This larger route spans Edinburgh and Glasgow and is a viable long-distance route for bicyclists looking to travel between Scotland's two largest cities.
11. Dive into the History of Blackness Castle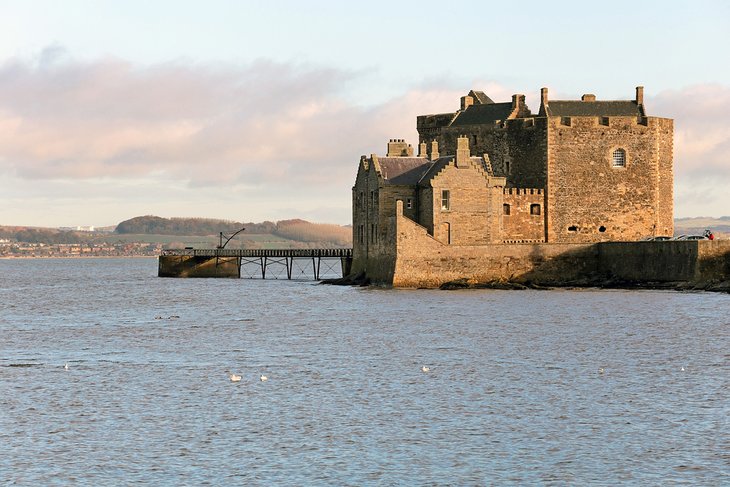 Blackness Castle offers an easy and exciting day trip from Falkirk, accessible with a 14-mile drive from town.
The castle has a rich history. It was first built as a royal residence for the powerful Crichtons family in the 15th century. Its royal residency didn't last long, as the castle soon became home to a garrison fortress, a prison, and an armory.
Visitors experience this history immediately upon viewing the castle next to the sea, sometimes referred to as the "Ship that never Sailed" due to its boat-like appearance.
With paid admission, tourists tour the grounds and the castle, where several information plaques delve deeper into its centuries-long legacy.
12. Visit Stirling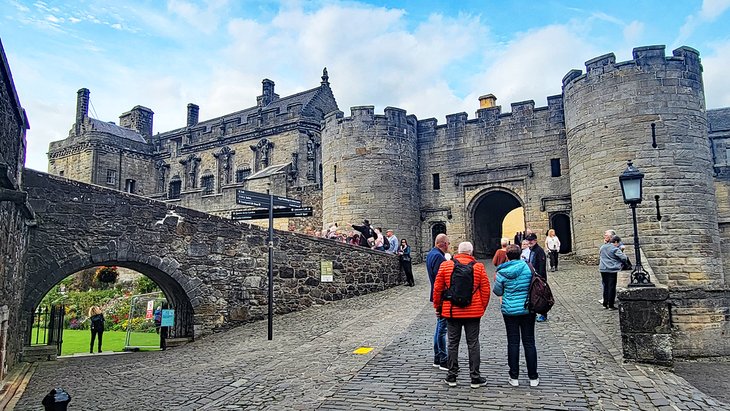 Stirling is a beautiful city in central Scotland, accessible with a short drive or train ride from Falkirk. The city has several attractions, including one of Scotland's largest castles, Stirling Castle. This impressive historical monument dates as far back as the 14th century and is worth visiting Stirling on its own.
Other things to do in Stirling include visiting the National Wallace Monument, touring the Stirling Old Town Jail, and wandering the bustling town center. The city is also home to historic churches and several historical monuments, including Stirling Old Bridge, home to the Battle of Stirling Bridge in 1297.
Getting to Stirling from Falkirk is easy. It's approximately a 12-mile drive that takes less than 30 minutes. Alternatively, ScotRail offers a direct journey for those looking for easy travel along the tracks. This proximity makes for easy day trips without booking a place to stay the night.
Map of Things to Do in Falkirk
Falkirk - Climate Chart
Average minimum and maximum temperatures for Falkirk, United Kingdom in °C
J
F
M
A
M
J
J
A
S
O
N
D

6

0

7

0

9

2

11

3

14

6

17

9

19

10

19

10

16

8

13

6

9

2

7

1

PlanetWare.com
Average monthly precipitation totals for Falkirk, United Kingdom in mm.

56

43

51

41

51

51

56

66

66

66

64

58