14 Top-Rated Tourist Attractions in Scotland
We may earn a commission from affiliate links ()
Think of Scotland, and you'll likely conjure up images of tartan-kilted Highlanders, skirling bagpipes, the Loch Ness Monster, lonely castles, golf, magnificent scenery, and shaggy Highland cattle. All of these are part of the mystique of this unique country, but also (apart from Nessie) a very real preview of what tourists see there.
You can explore Scotland by boat, on foot along its trails, on scenic train rides, or touring by car, and each will lead to unforgettable experiences. History is everywhere as your sightseeing adventures take you to the castles and fabled battlefields where clans fought, see you trace the footsteps of legendary kings and queens, or follow literary trails blazed by Robbie Burns and Sir Walter Scott.
Another of Scotland's great attractions is its solitude, with its remote stretches of heather-covered moors; secluded beaches; and wild, romantic mountains, with their deep glens and lochs. Whether you choose vibrant cities, historic towns, or remote moors and islands, you'll find they are all filled with memorable things to see and do.
Plan your trip to some of the best places to visit in the UK with our list of the top attractions in Scotland.
1. Edinburgh Castle and the Royal Mile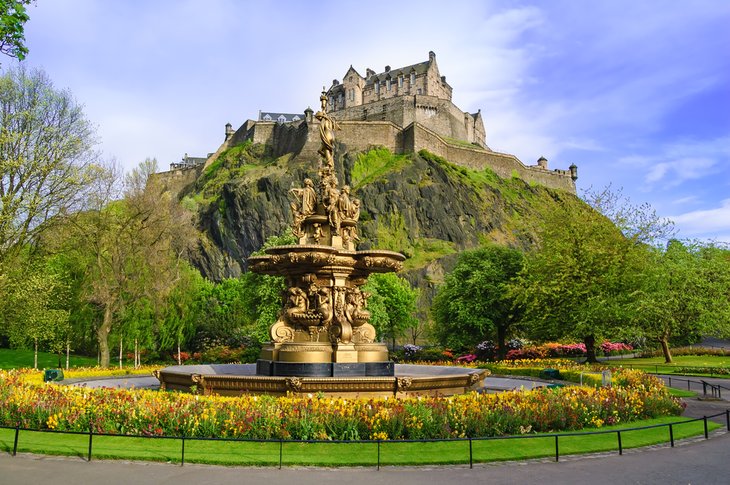 The stone towers and walls of Edinburgh Castle have dominated the Edinburgh skyline since the 13th century. Perched atop black basalt rock, it offers magnificent views of the city and a trip through Scotland's tumultuous history.
Highlights of Edinburgh Castle are the spectacular Crown Jewels, the famous Stone of Destiny (the Stone of Scone), and St. Margaret's Chapel, built in 1130 and the oldest building in Edinburgh. Enter the castle over a drawbridge across an old moat from the broad Esplanade, where the famous Edinburgh Military Tattoo is held every August. Bronze statues of legendary heroes William Wallace and Robert the Bruce seem to keep watch over the castle gates.
Below, the Royal Mile stretches down the steep escarpment to the elegant Palace of Holyroodhouse, another of Edinburgh's most famous landmarks. Lined by brick townhouses and historic landmarks, the Royal Mile is also filled with small shops, kilt makers, tearooms, museums, and cafés. Between its tall buildings – some reaching to more than 10 stories on the downhill side – are narrow little alleys, called "winds," that weave between tiny hidden closes.
Be sure to also include the National Museum of Scotland in your Edinburgh itinerary, too. One of Scotland's top attractions, this fun museum includes everything from medieval artifacts to displays relating to art and science.
Accommodation: Where to Stay in Edinburgh: Best Areas & Hotels
2. Loch Lomond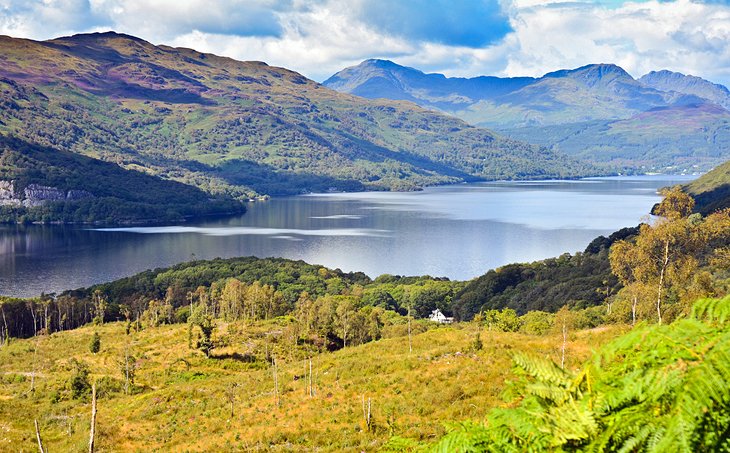 Idyllic Loch Lomond, just a short drive northwest of Glasgow, is Britain's largest lake. According to Scots author Walter Scott, it's also "The Queen of Scottish Lakes." With an abundance of trout, salmon, and whitefish as a lure for anglers; water sports; and plenty of open space for hikers, this beautiful corner of Scotland is also a favorite day trip from the city.
Boat trips are popular things to do in Loch Lomond, as are lakeside rambles and longer treks up majestic Ben Lomond (3,192 feet), with its spectacular views across the Trossachs National Park.
The latest attraction to be added here is Loch Lomond Shores, home to a great shopping mall selling local crafts, a farmers market, restaurants, and bike and boat rentals. A major draw here is the Loch Lomond SEA LIFE Aquarium. In addition to its displays of native marine life, this family-friendly attraction houses Scotland's biggest shark tank. Weather permitting, be sure to pay a visit to the rooftop.
Loch Lomond is a good first stop on a tour from Glasgow along the Western Highland Way through the Argyll countryside to Fort William. Savor the romance of a Scottish country estate at Cameron House at the south end of the loch, where you can enjoy a wide range of outdoor activities that include its lakeshore golf course.
Accommodation: Where to Stay in Glasgow
3. Cruising Loch Ness and the Caledonian Canal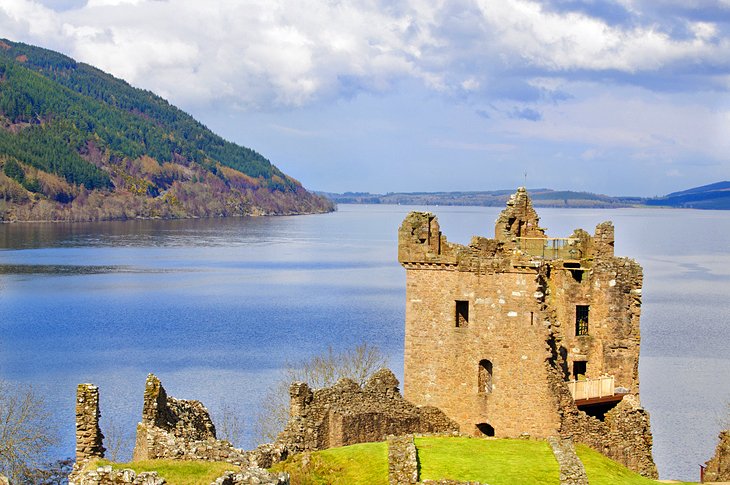 Think of Loch Ness and you'll probably picture the mythical monster that, according to legend, has made this 23-mile-long loch home for countless centuries. The largest body of water in Scotland's Great Glen, Loch Ness is part of a waterway connecting the east and west coasts of Scotland. It and three other lochs are joined together by the Caledonian Canal, which you can cruise on short excursions, or on a six-hour voyage from one end to the other, through the canal locks that adjust the varying water levels.
The canal and each of the lochs are surrounded by some of the most beautiful highland scenery, but no part is more scenic than Loch Ness itself, with the romantic ruins of Urquhart Castle on its hillside above the water. The center of many ancient myths, the 12th-century castle fell victim to a fire some 500 years later.
The best views of the castle are from the water, and you can arrive by boat or drift past on a Loch Ness cruise. Fueling the Nessie legend with exhibits and accounts of sightings, Loch Ness Exhibition at Drumnadrochit Hotel also has interesting information on the geological formation of Loch Ness and the surrounding area. The castle, the canal, and Loch Ness are easily accessible from Inverness.
Accommodation: Where to Stay near Loch Ness
4. The Royal Yacht Britannia, Edinburgh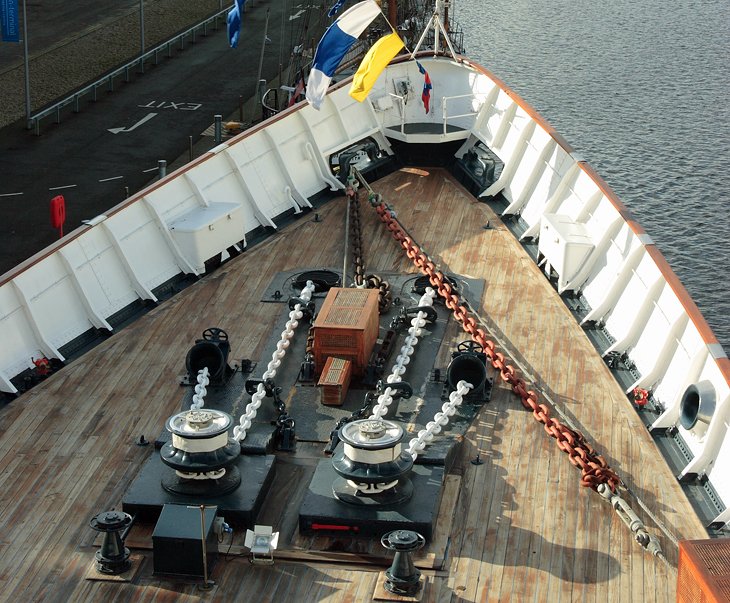 For more than 40 years, the Royal Yacht Britannia was a floating royal residence, traveling more than 1,000,000 miles around the world. Glimpse the life of the royal family, their guests, and the crew as you explore Britannia's five main decks with an audio tour, visiting the Bridge, State Apartments and Royal Bedrooms, Crew's Quarters, and Engine Room.
You can also see the Rolls-Royce Phantom V that used to travel onboard, and stop for tea and cakes in the Royal Deck Tea Room. Newly added to the attraction in 2019 is the Fingal Hotel, offering luxury accommodations set in a former lighthouse tender berthed next to the royal yacht.
Address: Ocean Drive, Edinburgh
Official site: www.royalyachtbritannia.co.uk/
5. Isle of Skye and the Inner Hebrides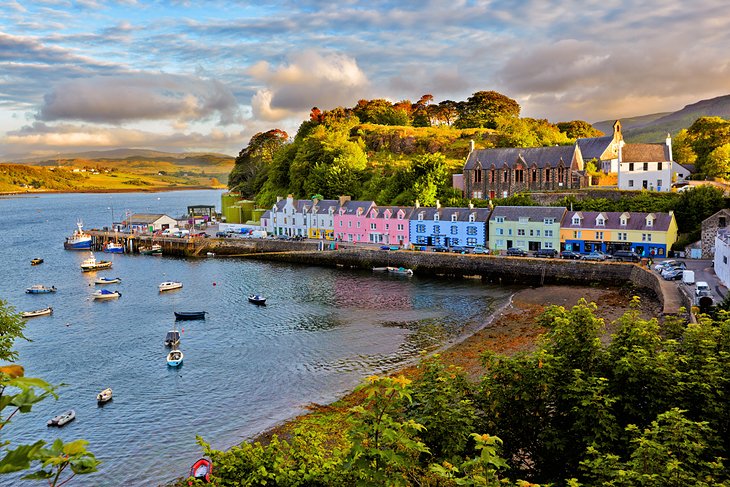 The largest of Scotland's inner isles, Skye is especially popular with birders, ramblers, and nature lovers. Its wild, romantic mountain scenery is marked by green valleys, caves, lonely glens, sandy beaches, and rushing waterfalls-quite a remarkable variety for an island just 50 miles long and never more than 15 miles wide.
The island has the remains of primeval oak forests, as well as an abundance of wildlife that includes otters, seals, and at least 200 species of birds. Getting to Skye is easy, as it's connected to the mainland via a bridge. You can also get here by ferry.
The other islands in the Inner Hebrides include, among others, Islay, Jura, Mull, Raasay, Staffa, and Iona. Getting to Iona is a bit more complicated, requiring two ferry rides but is tremendously rewarding. This is considered Scotland's "Cradle of Christianity" as it was here that St. Columba arrived from Ireland in the 6th century to spread the gospel.
A 12th-century church, atmospheric ruins of an abbey, and a carved stone memorial from the 10th century are among its attractions. It's also home to Scotland's oldest Christian cemetery, with graves of more than 60 Scottish kings, including Macbeth.
Accommodation: Where to Stay on the Isle of Skye
6. Stirling Castle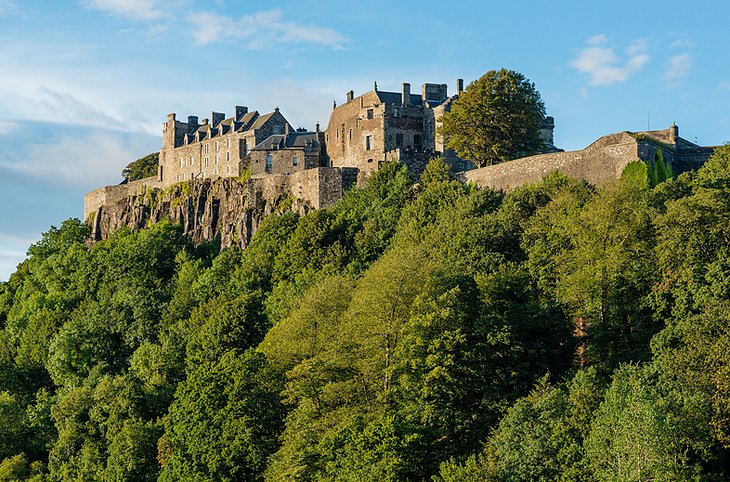 The palace of James V and childhood home of Mary Queen of Scots, Stirling Castle is one of the best-preserved Renaissance buildings in the UK. While some earlier structures still stand, the castle's grand halls and rooms are carefully restored and furnished to its 1500s appearance, even to painstaking reproductions of its tapestries. Costumed interpreters interact with visitors to bring the castle and its history to life, and History Hunter programs on weekends are designed for young explorers.
Ideally situated between Edinburgh and Glasgow, Stirling is famous for the Battle of Bannockburn, which saw Robert the Bruce defeat the English invaders in 1314, as well as the Battle of Stirling Bridge, a victory for Scottish independence secured by the legendary William Wallace. The splendid Bannockburn Heritage Centre offers excellent displays and exhibits regarding this important era.
Between Stirling and Bridge of Allan stands the majestic Wallace Monument, a spectacular 246-step tower with incredible views of the area. You'll also see a number of artifacts said to have belonged to the great Wallace himself.
Official site: www.stirlingcastle.gov.uk/
Accommodation: Where to Stay in Stirling
7. Kelvingrove Art Gallery and Museum, Glasgow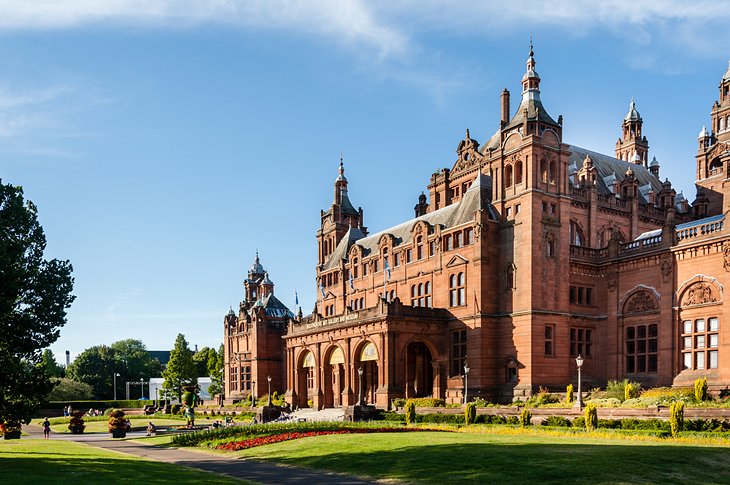 Since a fire devastated much of the work of Charles Rennie Mackintosh at the Glasgow School of Art, Kelvingrove Art Gallery and Museum has become the primary destination for admirers of the Glasgow Style, a distinctive part of the Arts & Crafts movement and Art Nouveau styles of the early 20th century.
Created and opened shortly before the fire, the Charles Rennie Mackintosh and the Glasgow Style Gallery includes several entire Mackintosh rooms, as well as works by other prominent artists of the movement.
Along with other notable treasures-a Van Gogh portrait, Bronze Age tools and jewelry from Arran and Kintyre, a 1944 Mark 21 Spitfire, and a magnificent 1901 organ used for daily free concerts-one of the museum's most popular exhibits is Salvador Dali's Christ of St. John of the Cross.
Address: Argyle Street, Glasgow
8. Golf at St. Andrews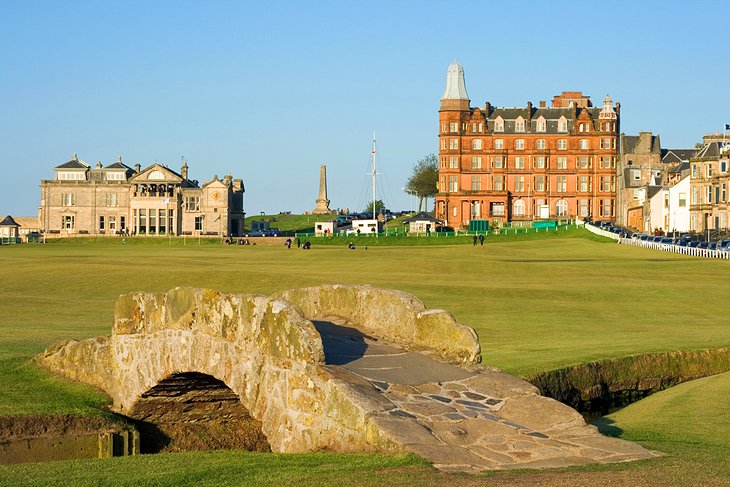 The Scots lay claim to many inventions, including the bicycle, postage stamps, telephones, and steam engines. But perhaps their most enduring invention is the game of golf.
One of the lifetime dreams of dedicated golfers is to play the much revered Royal and Ancient Golf Club located in historic St. Andrews and just 12 miles southeast of Dundee. Founded in 1750 and recognized internationally as golf's ruling body, St. Andrews regularly hosts the famous British Open at one of its many 18-hole courses, the most famous of which is the par-72 Old Course running alongside the rugged coast.
Although tee times are often reserved six months in advance, some are kept available by lottery two days in advance for those who do not have reservations. Worth visiting are the majestic old Clubhouse and the British Golf Museum, which documents the history of the "home of golf" from the Middle Ages to the present day.
Accommodation: Where to Stay in St. Andrews
9. Fort William & Ben Nevis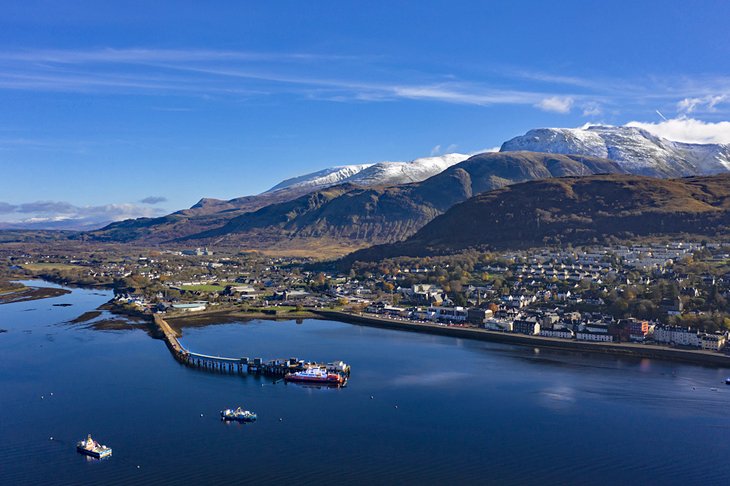 The best place to explore Ben Nevis, Britain's tallest mountain, is from the picturesque town of Fort William. Situated at the southeastern end of the Caledonian Canal, this coastal town can trace its roots back to the original fort built here in the 17th century. Although since long gone, the history of the fort can be explored in the West Highland Museum, along with sizable collections of paintings, Highland costumes, and weaponry.
A must-do is hop aboard The Jacobite steam train. Made famous by the Harry Potter movie franchise, the train follows the West Highland Line over the spectacular Glenfinnan Viaduct.
Then, there's Ben Nevis. Easy to discern from Fort William on a clear day, it's an impressive sight, and one that draws many a-hiker, both amateur and hardcore alike. Despite its elevation, the ascent can be achieved in around 2.5 hours. And it's well worth it for the spectacular views, extending as far as 150 miles across the Scottish Highlands and as far as Ireland.
10. Riverside Museum and Tall Ship, Glasgow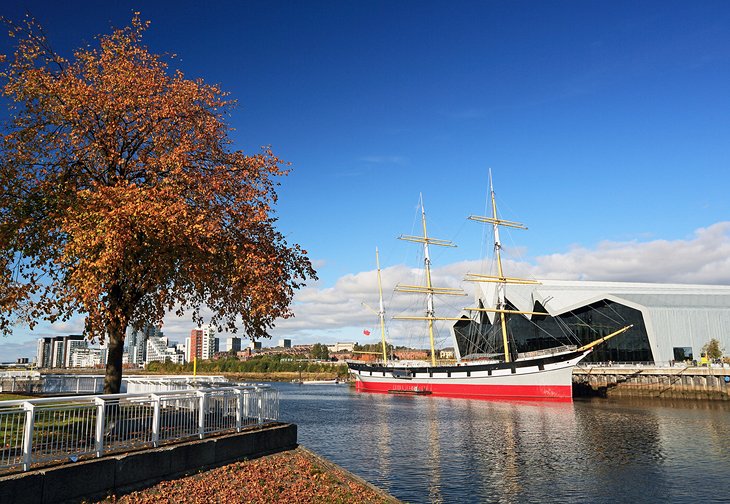 One of Scotland's most visited attractions, the free Riverside Museum in Glasgow gathers together the history of transportation by land and water in an eye-catching new venue. During the course of a visit, you'll see trams, locomotives, buses, horse-drawn carriages, and vintage cars, along with ships and other models.
A highlight is the authentic reconstruction of 1938 Glasgow streets, with shops you can enter, and platforms leading up to all the locomotives on display. In all, more than 20 interactive displays and 90 large touch screens add images, recollections, and films that bring added meaning to the collections.
11. The Northern Highlands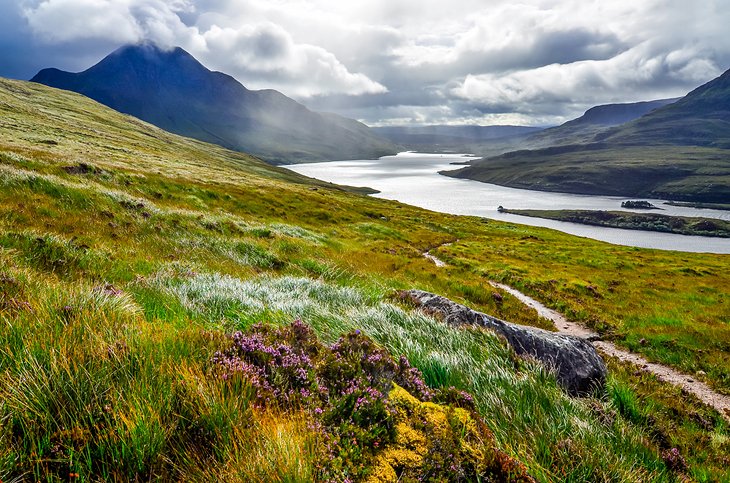 The Scottish Highlands have a mystique born of rugged, untamed landscapes and a long history, at once violent and romantic. Sparsely inhabited, these mountains and rocky shores are loved equally by hikers and bikers and by those who enjoy fishing, golf, sea kayaking, white-water rafting, gorge walking, and other outdoor adventures in Britain's largest area of outstanding natural beauty.
Sprinkled through it are lovely little villages and towns with lodging and eating places. Stop in the tiny coastal village of Dornoch to see its cathedral and castle ruins, and in John o'Groats, overlooking the Pentland Firth, where a much-photographed sign proclaims it the northernmost point of Britain, 874 miles from the southernmost point at Land's End in Cornwall. You can explore this northern tip of Scotland on a new tourist route, the North Coast 500.
12. Isle of Arran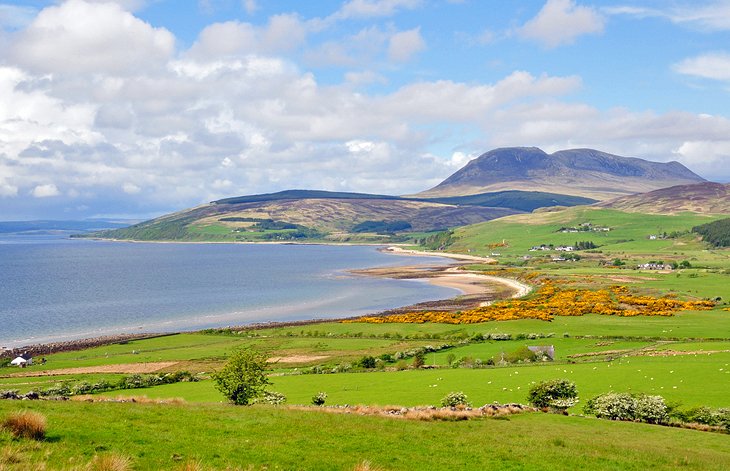 The lovely Isle of Arran is called "Scotland in Miniature" for good reason. This picture-perfect island off the country's west coast mirrors the landscapes of the entire country in an area of scarcely 166 square miles. Here, you can find rolling moors, rugged mountains, sandy beaches, fishing harbors, castles, and golf courses, all less than an hour's ferry ride from Glasgow, and all within an area you can easily explore in a day or two.
Best of all, there's no need for a car because buses run regularly around the island, connecting its main attractions. Although its highlights-including Brodick Castle and Goat Fell Mountain (2,866 feet)-can be visited in a day (including the ferry ride), you could easily spend a few days to explore this little sampler of Scotland. And you really, really should.
Accommodation: Where to Stay on the Isle of Arran
13. Visit the Site of the Battle of Culloden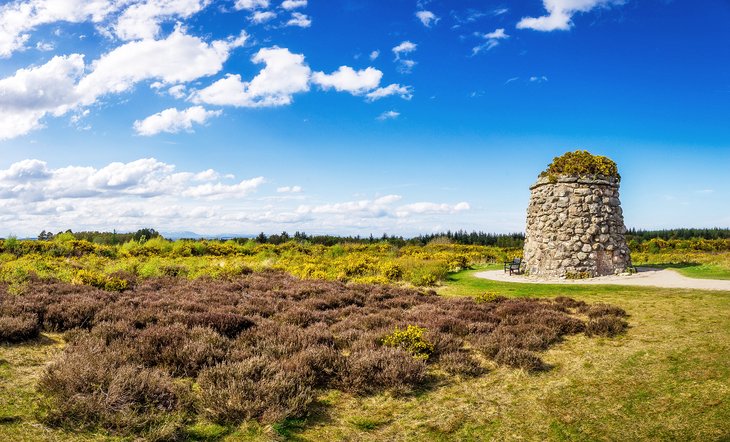 Few tourist attractions in Scotland yank the heartstrings in quite the same way as the Culloden Battlefield and Visitors Centre. It was here in April 1746 that Scotland's last attempt at attaining its independence from England was quashed in what came to be known as the Battle of Culloden, although many consider it a massacre.
The state-of-the-art visitor's center is where you should begin your visit. In addition to its excellent displays offering perspective along with first-hand accounts of this fateful day in Scottish history, there's a superb immersive film that outlines the key events as they unfolded. There's also a rooftop viewing platform overlooking the battlefield itself.
Be sure to spend some time wandering these grounds themselves. Highlights include a number of Scottish clan gravestones; a Memorial Cairn; as well as the Cumberland Stone, which marks the place from which the English commanded the battlefield. There are also a few surviving buildings, including the Old Leanach Cottage.
While the site is easy enough to get to from Inverness – it's less than 15 minutes east by car – those who prefer letting someone else do the heavy lifting may wish to combine the attraction as part of an organized tour. One of the best, especially for fans of the hit TV show, is Diana Gabledon's Outlander Experience Tour. In addition to Culloden, these fun Scottish tours take in other major attractions including Loch Ness and Urquhart Castle.
Address: Culloden Moor, Inverness
Official site: www.nts.org.uk/visit/places/culloden
14. Robbie Burns Country: The Burns Heritage Trail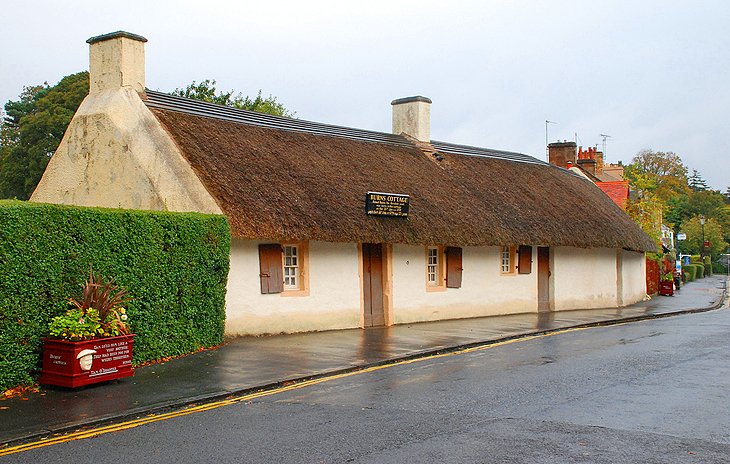 No visit to Scotland is complete without visiting at least one or two sites associated with the country's most famous son: poet Robbie Burns. A great way to experience a little of Burns' life and times-as well as seeing some of the most beautiful parts of the country-is along the Burns Heritage Trail.
Start at the Robert Burns Birthplace Museum in Alloway, on the outskirts of Ayr, where you'll find the perfectly preserved thatched house where the poet was born and spent much of his childhood.
After visiting other Burns-related landmarks-including a monument and gardens created to commemorate his life and time in Ayr, a collection of his most important writing, and the 16th-century Auld Kirk where his father is buried-this circular tour heads south to Dumfries.
Here, you can see the excellent Robert Burns House where the celebrated poet spent the last four years of his life (he died here in 1796, aged just 36). Now a museum displaying Burns-related memorabilia, this attraction portrays a vivid portrait of his life, and his final resting place is just a short distance away in St. Michael's Churchyard.
More Must-See Destinations in Scotland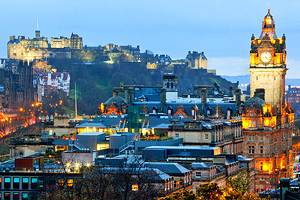 Scotland's Cities: As you tour around Scotland, there are places you'll want to spend more time, digging deeper into the country's fascinating culture and seeing more of its top attractions. You could spend an entire vacation exploring the sites in Edinburgh without seeing everything. In Glasgow, enjoy the art treasures and music scene.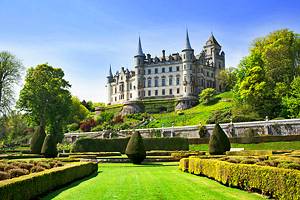 Rural Scotland: Both lovely Loch Lomond and fabled Loch Ness have more things to do around their shores, and the Scottish Highlands are filled with places to pursue outdoor sports. There's more than golf around St. Andrews, and you can island-hop through the Hebrides by ferry and bus.