14 Top-Rated Weekend Breaks in Scotland
Scotland offers no end of exciting vacation adventures. It's also a tremendously popular place for a weekend or a short-stay getaway. In fact, one of the best ways to see the tourist attractions on offer in Bonnie Scotland is to break a longer stay into manageable, "bite-sized" stopovers, seeing all there is to see in two or three days before moving on to your next location.
Covering everything from remote island stays and the lochs of the beautiful Scottish Highlands to romantic castles and world-class cultural destinations such as Glasgow and Edinburgh, Scotland is a truly unique travel destination that should be on everyone's bucket list.
To help you get the most out of your visit, see our list of the top weekend breaks in Scotland.
1. Edinburgh and its Castle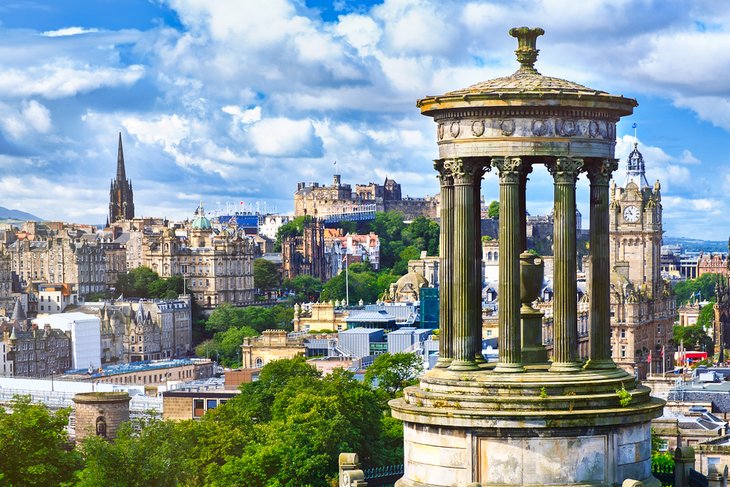 Without question one of the most attractive cities in the UK, Edinburgh offers no end of exciting things to do for those wanting to enjoy a fun-packed weekend break. For starters, Edinburgh boasts many amazing historical attractions.
Of these, none is more visited than Edinburgh Castle, which can in itself easily take upwards of a day to explore and is open year-round whatever the weather. This spectacular edifice also serves as a backdrop to numerous events and festivals, most notably the Royal Edinburgh Military Tattoo and the Edinburgh International Festival, one of the world's leading arts and cultural events.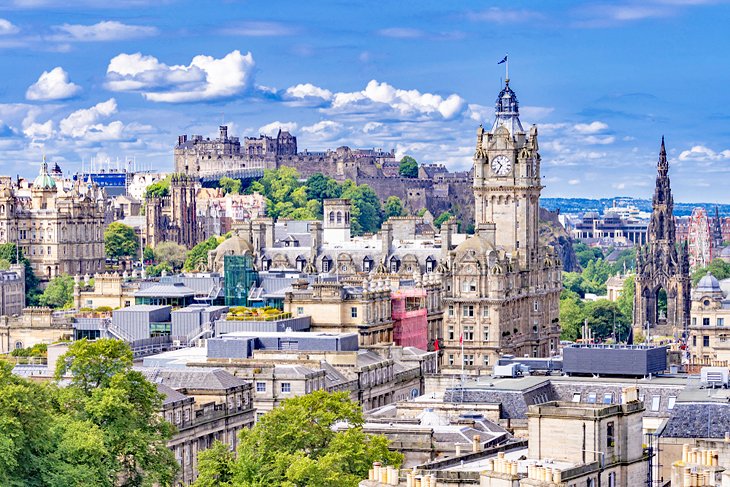 From the castle, it's easy to access Old Town Edinburgh. Famous for the stretch of architectural gems lining the Royal Mile, including well-preserved historic townhomes and the Palace of Holyroodhouse. Be sure to also explore the attractive New Town area. It can be easily accessed off Princes Street and features superb shopping and dining opportunities, including a number of excellent Michelin-star restaurants.
If your budget can handle it, consider staying in The Balmoral Hotel. It's centrally located and just a short distance from Edinburgh Castle and Waverley train station. You'll enjoy luxurious rooms and world-class amenities.
2. Inverness and Loch Ness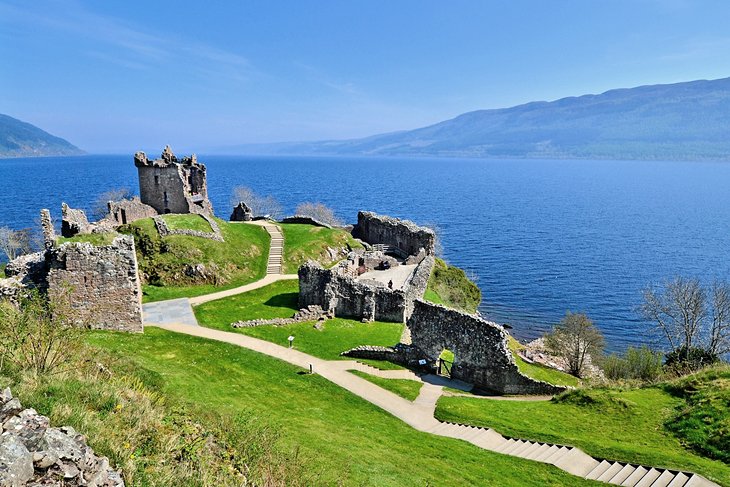 While the pretty city of Inverness is well worth exploring, it also makes the perfect base from which to explore one of Scotland's best-known tourist sights: Loch Ness. Located just seven miles away from downtown Inverness, it's here you'll enjoy some of the most romantic views to be found anywhere (although likely without the Loch Ness Monster).
One of the most picturesque spots on this long, deep lake includes Urquhart Castle near the village of Drumnadrochit. These old ruins contain a history that dates back as far as the 1100s, and for centuries, the castle played an important role in Scottish history. Other nearby attractions worthy of a visit include the interesting Loch Ness Centre and Exhibition with its displays relating to local history and the myths surrounding Nessie, the Loch Ness Monster.
Also an easy drive from Inverness is the battlefield of Culloden. It's infamous as the spot where the Scots were defeated and brought under English rule. Just a short distance from Culloden is another of the country's most-loved castles: Cawdor Castle. Well known as the place where Shakespeare set much of the action of Macbeth, these days it's a popular tourist spot for its fine interiors and exquisite garden.
For a truly unforgettable Scottish weekend experience, consider a stay at the magnificent Culloden House. Set amid a 40-acre country estate a short distance from Culloden battlefield, this historic mansion offers a variety of unique luxury accommodation options that leave you feeling a little like royalty.
Wherever you choose to stay, though, make sure you allow time in your Inverness itinerary to explore this delightful old city. Highlights include the park-like grounds of Inverness Castle, the historical exhibits at the Inverness Museum and Art Gallery, and St. Andrew's Cathedral.
3. Glasgow: Scotland's Cultural Capital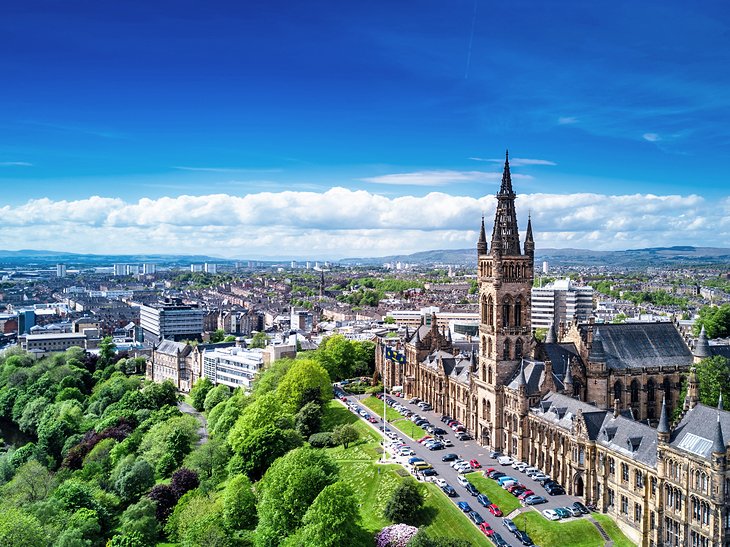 Situated astride the River Clyde, Glasgow's rise from an impoverished industrial city to one of the top must-visit cultural destinations in Scotland is a success story that's often told by proud Glaswegians. Given its name - Glasgow is Gaelic for "lovely green place," a nod-to the city's many pleasant parks - perhaps none of us should have been surprised. Now home to numerous excellent art galleries, museums, and festivals, this port city makes a wonderful break for those seeking a cultural buzz.
In addition to including top places to visit such as Glasgow Cathedral and Victorian-era George Square with its cafés, restaurants, and boutique shops, be sure to allow time in your Glasgow itinerary for a little entertainment. Glasgow has made a name for itself as a theater destination, with fantastic shows held frequently at historic venues, including the King's Theatre, while the Theatre Royal and the Concert Hall, home of the Scottish Opera and Royal Scottish Orchestra, respectively, present unforgettable concert experiences.
Art fans are also well-catered to. A highlight for art-lovers is The Glasgow School of Art and Mackintosh's Art Academy, a splendid Art Nouveau facility built in 1909, popular for its remarkably well-preserved interior (tickets sell-out in advance, as admission is by tour only, so avoid disappointment and plan ahead).
For those wanting a stay in a similar-vintage building, book into the sumptuous Hotel du Vin at One Devonshire Gardens. Just a short walk from key attractions such as the city's botanic gardens, you'll enjoy this lovely old Victorian building's ambience, elegant rooms, and chic décor as you explore all that Glasgow has to offer.
4. Aberdeen: The Flower of Scotland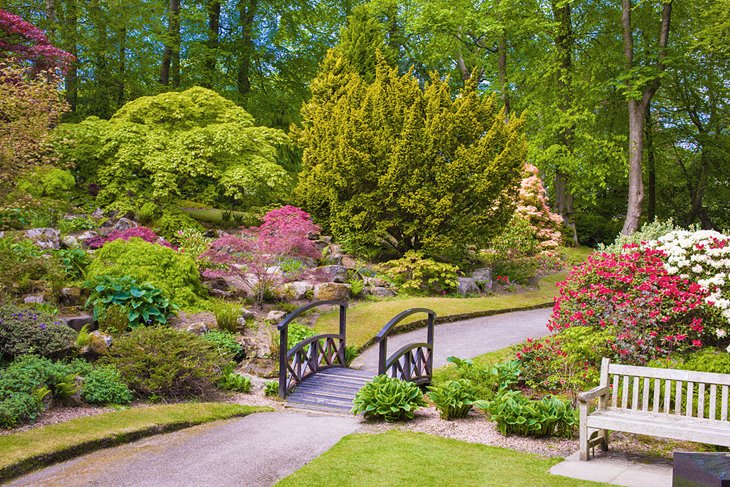 Aberdeen is known, for good reason, as "The Flower of Scotland." A visit during spring or summer rewards travelers with some of the prettiest urban gardens and parks to be found anywhere in the UK.
As a result, it's a delightful place to explore on foot, taking in as part of a self-guided walking tours such lovely sights as Seaton Park, established in 1947 in the city center, and the equally pleasant David Welch Winter Gardens in the 44-acre Duthie Park, which can in fact be enjoyed year-round thanks to its large greenhouses.
The city's architecture certainly enhances its good looks, too. It's also known as the "Silver City" for the unique silver-gray hues of the local granite used to construct many of the city's most important structures, and the possibilities are endless when it comes to which historic buildings to explore further.
Top of your list should be St. Machar's Cathedral. Dating back to the 14th century, its sandstone spires make for a dramatic photo or selfie. Other notable structures include the University's Marischal College and the splendid His Majesty's Theatre. Similarly attractive stonework adorns the Malmaison Aberdeen, a great place to stay for those seeking a memorable getaway in Aberdeen.
Other fun things to do for vacationers in Aberdeen is paying a visit to the city's two miles of impressive sandy beach. Here, you can lay down a towel and sunbathe, weather permitting, or hop aboard a Jet Ski and explore the coastline. Aberdeen is also a great golf destination, not to mention being popular among those who prefer more cultural pursuits, such as taking in a theatrical performance or concert.
5. Elgin & the Scottish Highlands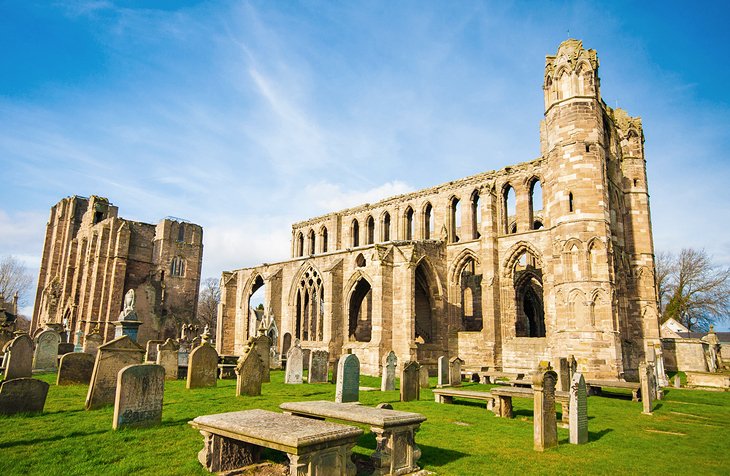 The town of Elgin in Moray is a great place to spend a few days while exploring the Scottish Highlands. Just 38 miles east of Inverness, Elgin is perhaps best known for its ruined cathedral. Once known as the "Lantern of the North," it's a wonderful place to explore before heading out to enjoy the dramatic scenery of the surrounding highlands. For a great place to stay, check out the magnificent Mansion House Hotel, a classy spot located on the banks of the River Lossie.
Ready to explore farther afield? Start by paying a visit to Brodie Castle and Country Park. This spectacular historic attraction near Forres has been in the same family since 1160 and is home to fine collections of antique furniture, and paintings by leading Impressionists. If you are able, consider booking a stay in the castle's Laird's Wing, with its quaint self-catering apartments. From here, it's a scenic drive to lovely Loch Maree, a popular spot for hikers and wildlife enthusiasts, and the pleasant village of Gairloch.
6. The Isle of Skye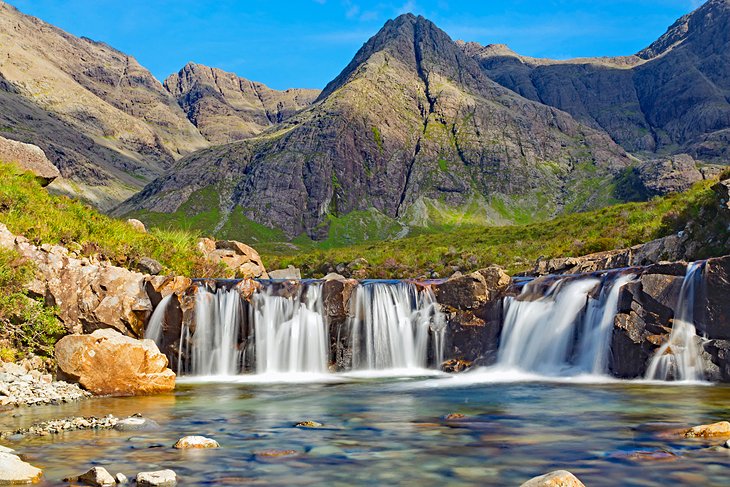 Scotland's many beautiful islands offer a rich diversity of weekend break options. The easiest to get to, and therefore the most popular, is the lovely Isle of Skye. It's joined to mainland Scotland by a scenic bridge over the western tip of Loch Alsh.
The drive alone is a memorable experience, taking in the very best this part of the Hebrides has to offer. Along the way, you'll see a spectacularly rugged coastline, pleasant stretches of beach, imposing jagged mountain tops, and verdant rolling hills and valleys.
Nicknamed "Cloud Island" by the Vikings, who once ruled the area, for its frequent heavy mists, Skye is a hiker's paradise, its unspoiled natural beauty attracting enthusiasts from far and wide. Crisscrossed by countless trails, there's something to suit all abilities, from those seeking adventures such as cave explorations to climbing to the base of waterfalls, or simply taking a stroll through the many picturesque fishing villages that dot the shoreline.
It's also a great place for wildlife spotting, home to a diverse array of creatures, including otters and seals. Bird-watchers, too, are drawn here for the chance to see upwards of 200 species of birds.
Manmade attractions here include Armadale Castle, part of a huge 20,000-acre estate located not far from the ferry terminal at Mallaig. Fun things to do here include exploring the castle ruins, walking its pleasant woodland trails, and paying a visit to the Museum of the Isles, which brings the island's rich history to life.
As for somewhere to stay while you explore the island, Duisdale House Hotel is a great choice. Set in a former Victorian hunting lodge, the hotel provides chic accommodations with stunning views plus a full traditional Scots breakfast.
7. Loch Lomond: Queen of the Scottish Lakes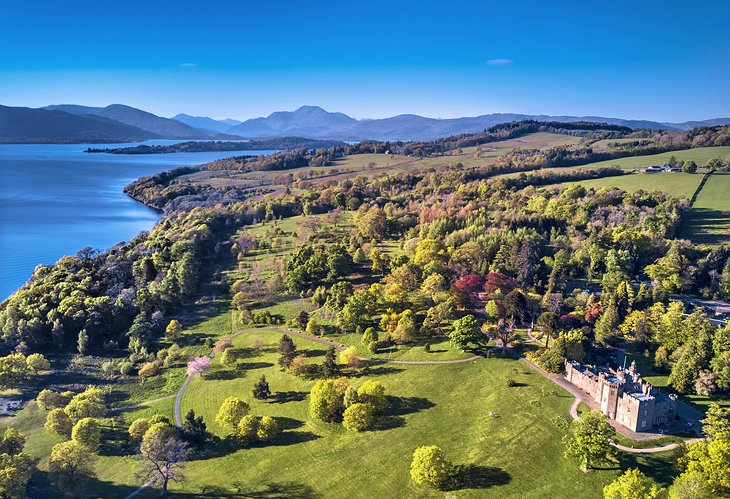 Although apparently monster-less, Loch Lomond is almost as popular a getaway destination as Loch Ness. This beautiful stretch of fresh water is the largest lake in the UK and is easy to get to from Glasgow. Once you get here, it's not difficult to see why renowned author Walter Scott labeled it "The Queen of Scottish Lakes."
Surrounded by forest-clad hills and a largely unspoiled shoreline, it's a picture-perfect scene straight out of a painting. In fact, this stunning scenery was often committed to canvas, perhaps most famously by French artist Gustave Doré, whose Loch Lomond from 1875 perfectly captured the lake in a scene that is easily recognizable today.
These days, you're far more likely to catch a glimpse of an angler than an artist, thanks not just to the stunning backdrop of the Trossachs, but the abundance of salmon, whitefish, and trout. The lake's also popular for paddleboard enthusiasts and kayakers, as well as for sailing and boating.
There's even a wonderfully preserved steamship, the Maid of the Loch, available for sightseeing tours during the warmer months. Hikers and mountain bikers are also spoiled for choice, with plenty of trail action to be had here and in the Trossachs National Park, with the hardiest of adventurers climbing the 3,192 feet to the top of Ben Lomond.
After all that outdoor fun, hang your hat for a few days at the elegant and completely renovated Cameron House hotel. Situated at the loch's south end, it undoubtedly offers one of the most romantic breaks in Scotland, offering incredible views, plenty of grounds to explore, and as much pampering as one can bear at its spa and restaurant. Other great options include the classy Loch Lomond Arms Hotel or the chic rooms at the Innkeeper's Lodge Loch Lomond.
8. Stirling: Home of Scotland's Heroes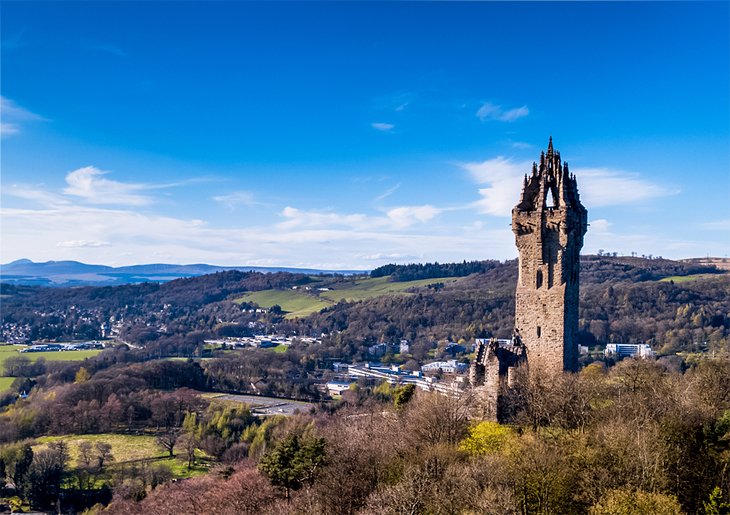 One of the easiest places to get to for a weekend break in Scotland thanks to its proximity to both Glasgow and Edinburgh, Stirling has long played an important role in the country's history. Once the country's capital, it was here that, way back in 1314, King Robert the Bruce trounced the English at the Battle of Bannockburn, firmly setting his reputation as the country's ruler in defiance of the invaders.
It was also here that William Wallace so famously confronted the might of the English army. His subsequent victory at the Battle of Stirling Bridge set the stage for Scottish independence.
References to these two important Scottish heroes are everywhere to be seen, nowhere more so than the Wallace Monument, a 246-step tower that dominates the skyline between Stirling town center and the neighboring Bridge of Allan and built to honor its namesake (the views over the town and the University of Stirling are certainly impressive).
Be sure to also spend time exploring the Bannockburn Heritage Centre. This historic site commemorates Robert the Bruce's life and victory, and the imposing Stirling Castle, built in the 12th century and offering equally stunning views over the town and the surrounding countryside.
One of the best places to stay in Stirling is the majestic Hotel Colessio. Set in a gorgeous Victorian-era mansion, this high-end hotel is just minutes away from Stirling's top-rated tourist attractions, and offers a variety of room and suite choices. Add to this a vibrant restaurant and entertainment scene, and you'd be hard pressed to find a better place to enjoy a great Scottish mini-vacation than in Stirling.
9. Fort William and the Harry Potter Train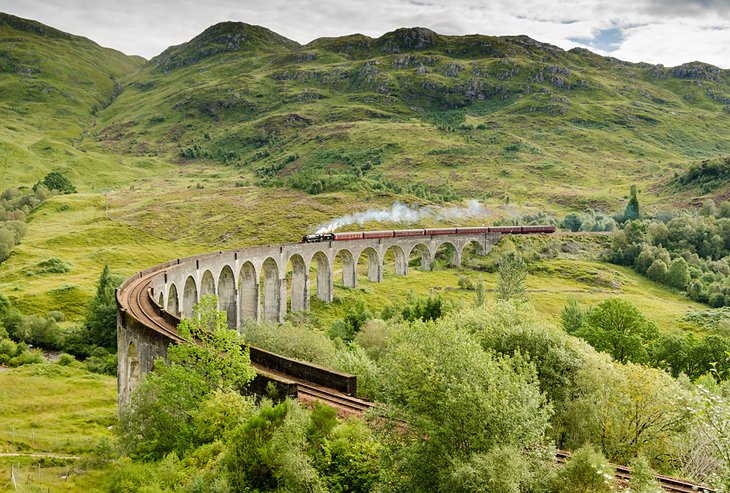 Fort William is the perfect destination for a short family break, particularly for fan of Harry Potter. There's little doubt the Harry Potter book and movie franchises have been good for business in Scotland. Nowhere more so, perhaps, than in and around the attractive coastal town of Fort William, which serves as a jumping-off point for an exploration of the stunning Glenfinnan Viaduct.
This stunning structure is instantly recognized the world over for those spectacular scenes where the Hogwarts Express ferries kids to and from the famous school for wizards. Considered (and rightly so) as one of the top rail journeys on the planet, you can now book train rides aboard the Jacobite (the train's real name), a journey that begins in Fort William and travels past iconic landmarks, including Ben Nevis, the country's tallest mountain, and Loch Morar.
After all the excitement of a train ride, you'll find plenty of great things to do in Fort William itself, long a popular resort town. Attractions include the historic Caledonian Canal, along which you can actually take boat rides all the way to Loch Ness.
The town is named after the old fort constructed in the 17th century by England's Oliver Cromwell. You can learn much about its fascinating history at the West Highland Museum, popular for its collections of traditional Highland clothing, tools, and furniture.
For those with deep pockets, book a stay at the stunning Inverlochy Castle Hotel, set in a mansion overlooking its own private lake. For those with a more modest budget, the quality accommodations at Nevis Bank Inn or Premier Inn Fort William Hotel may be better suited.
Read More: Top-Rated Attractions & Things to Do in Fort William
10. The Home of Golf: St. Andrews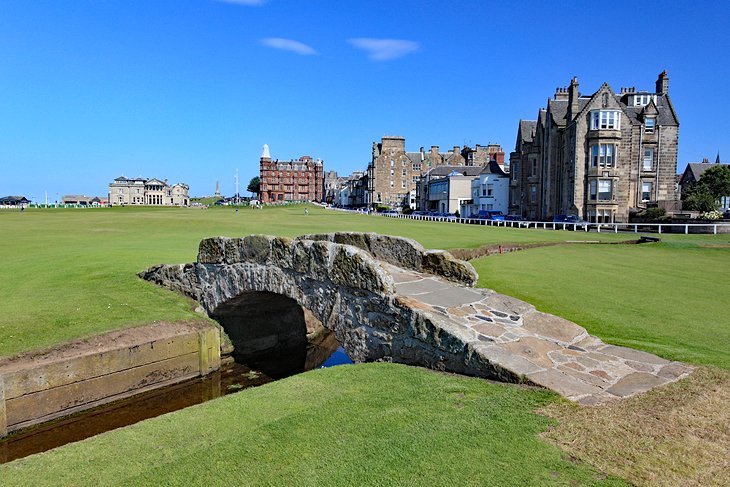 When one thinks of St. Andrews, one inevitably thinks of golf (and vice versa). And after paying a visit to this charming town on the Fife Peninsula on Scotland's east coast and walking its magnificent golf course, the Royal and Ancient Golf Club of St. Andrews, it's easy to see why it has become a must-play destination on every golfer's bucket list.
Founded in 1750 - though the sport dates back further to earlier courses located here 300 years or more before that - the course has never lost its luster, nor its well-earned reputation. Where else can you play a round of golf and claim you've mastered (hopefully) the world's oldest golf course, the aptly named Old Course?
But a word of warning: though public golf is available, it does book up many months (or more) in advance, so be prepared to plan as far ahead as possible. The nearby British Golf Museum in St. Andrews should also be included on your St. Andrews golf itinerary.
But there's much more to St. Andrews than just the golf. Other popular things to do during your short break include visiting St. Andrews cathedral. Now mostly ruins, what was once the largest Scottish church is certainly fun to explore. Another big draw for non-golfers, St. Andrews University welcomed its first students in 1411 and is certainly worth a visit for its stunning medieval architecture, art galleries, and museums.
When it comes time to park the clubs and settle down for the night, you couldn't do much better... or get much closer to the action... than booking a stay at the Old Course Hotel. In addition to rooms overlooking the course, you're also spoilt for choice of places to dine thanks to this impressive golf resort's six on-site restaurants.
11. Ayr: The Birthplace of Robbie Burns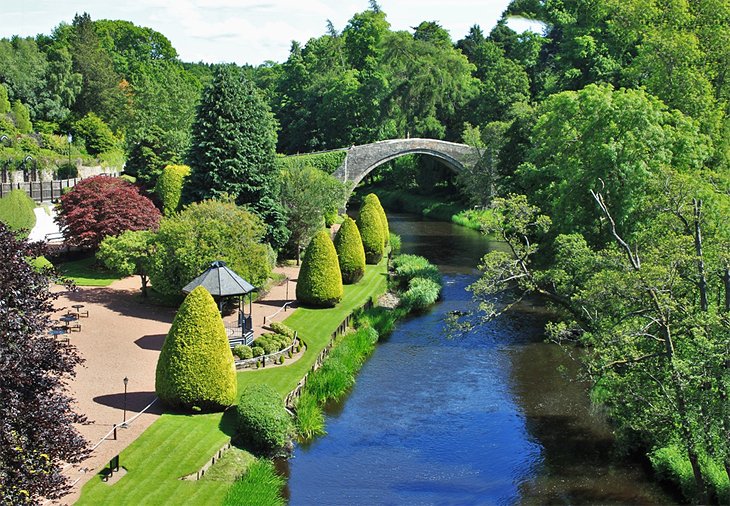 When it comes to famous Scotsmen, the country's greatest poet, Robbie Burns, ranks right up there with the likes of Robert the Bruce and William Wallace. Born and raised in the town of Ayr in the southwesternmost corner of the country, the life of Burns is celebrated everywhere here, making it a very attractive travel destination for those seeking a truly authentic Scottish break.
A great way to get started on your Burns adventure is to grab a map of the Burns' Heritage Trail. In addition to taking in the many memorials and attractions related to the poet, including the must-see Robert Burns Birthplace Museum and the family's humble cottage, you can also explore a little farther afield, taking in related sites in Dumfries, too. Time it right for a visit in May, and you can have plenty of fun at the excellent Burns an' a' that! Festival for a month-long celebration of his life, and Scottish heritage and culture.
Other fun things to do in Ayr after you've had your fix of Robbie Burns include a visit to the town's horse racetrack, strolling (or sunbathing) on its lovely sandy beach, or grabbing the clubs and hitting the fairways of one of its three courses. Ayr is also home to one of the most romantic bridges in the UK: the stunning Brig o' Doon. Built in the early 1400s, it's the perfect place to enjoy a picnic - or a safe selfie.
Ayr also boasts numerous great places to stay. Among the most popular choices for an authentic Scottish stay close to the heart of Burns' birthplace are the Enterkine House Hotel, the Fairfield House Hotel, and the Savoy Park Hotel.
12. Island Hopping: The Orkney Isles and Shetland Islands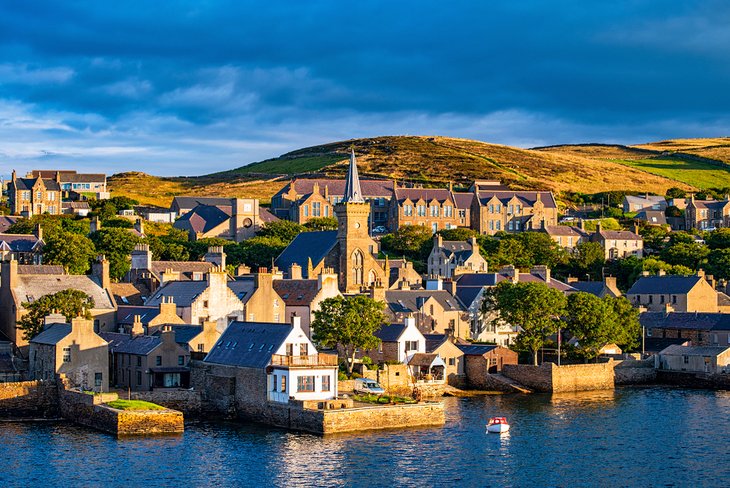 For those who relish the great outdoors and adventure, why not consider spending a weekend on Scotland's Orkney Isles or the Shetland Islands? Or better still, both. Located off Scotland's northeast coast, these charming islands offer some of the country's top hiking and biking experiences and are perfect for an adventurous weekend or extended getaway.
Both can be accessed via Northlink Ferry from the mainland port of Aberdeen. Or if you prefer flying (it's certainly faster), either destination can be reached via an easy flight from the cities of Glasgow and Edinburgh.
The closest to the mainland, the Orkneys are especially good for those who enjoy wildlife spotting. The naturally abundant birdlife is a big draw for bird-watchers, while anglers are drawn to its customizable fishing charter packages, or fly fishing for trout in its lakes, rivers, and streams. At the end of your exciting day outdoors, head back to your inn or traditional B&B in one of the lovely communities here such as Stromness, popular for its picture-perfect seaside setting.
A little farther north, the dramatic landscapes of the Shetland Islands make the perfect backdrop for serious hiking and biking enthusiasts. With more than 100 islands waiting to be explore, the Shetlands are an endless source of excitement and adventure, both on land and on water.
In fact, water sports enthusiasts can enjoy splashing around on some 350 lakes, not to mention countless miles of rugged shoreline. Add to this a number of interesting historic sites - the Vikings once inhabited the Shetlands - and you'll no doubt be wanting to extend your stay (or come back soon!).
13. Dundee and the Firth of Tay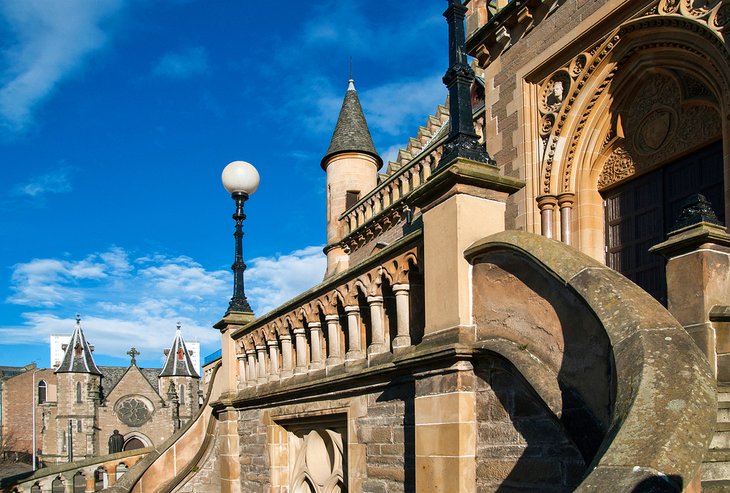 Its location an hour's train ride north of Edinburgh makes the city of Dundee the perfect place for a Scotland weekend break. This attractive riverside city boasts one of the most dramatic arrival experiences, with those arriving from the south by train having to cross the spectacular Tay Rail Bridge.
Built in 1887 over a period of nearly 10 years, this remarkable feat of engineering stretches for two miles across the River Tay and is quite rightly considered one of the UK's top scenic rail experiences. Crossing the Tay by car along the Forth Road Bridge is equally breathtaking. Both bridges can also be crossed on foot, with handy viewing platforms allowing you to take some memorable holiday snaps.
If walking is your thing, be sure to allow plenty of time to explore Dundee on foot. It's immensely walkable, with popular areas for a stroll including along the banks of the Tay, around the harbor area, as well as the city's cultural hub with its many interesting attractions. After visiting the ultra-modern V&A Dundee, head to the historic McManus Art Gallery and Museum in Dundee's Old Town Center. The downtown core is also worth spending time exploring, especially if you fancy a spot of shopping or a meal.
Be sure to include Dundee Law on your must-see list. At 572 feet, it's a bit of a climb, but the views over the city, its famous bridges, and the River Tay from this former volcano are priceless.
14. Oban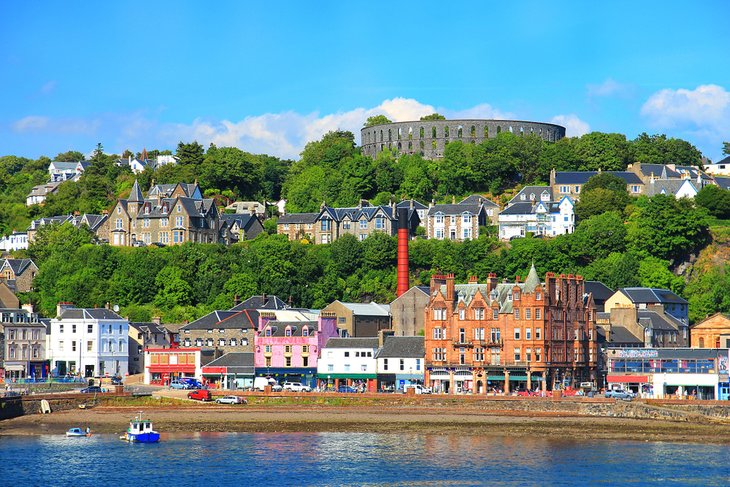 Although just two hours north of Glasgow by car, the pretty west coast town of Oban can take up to four hours to get to by rail from Scotland's largest city (add an hour to each if you're traveling from Edinburgh). But however you choose to get here, a visit to Oban is certainly time well spent.
Ranked one of the prettiest towns in Scotland for its sheltered bay and views over to the island of Kerrera, Oban has been on the radar for tourists since Victorian times, its fresh air and attractive harbor the perfect prescription for those wanting to get out of the noisier, busier cities to the south.
People still travel here for the same reasons, as well as the many fun things to do in Oban that have sprung up over the decades. Topping the list is enjoying a cruise to the Scottish islands of Iona and Staffa, cameras at the ready to take some shots of the stunning coastal scenery around Oban and the Isle of Mull.
Another must-do is to make the short but steep 144-step climb up to McCaig's Tower. Looking not unlike a smaller version of Rome's Colosseum, this unfinished folly was built in the late 1800s and offers excellent views over Oban, its harbor, and the surrounding water. Afterwards, spend time along Oban's waterfront as you await the sunset, enjoying a stroll along Corran Esplanade, or pull up a chair at one of the town's many excellent seafood restaurants for an unforgettable dining experience.
Map of Weekend Breaks in Scotland