From Glasgow to Loch Ness: 4 Best Ways to Get There
Often referred to as Scotland's cultural capital, the city of Glasgow makes for a great jumping off-point to explore the endless mountains and valleys of this beautiful country.
One of the most popular excursions from Glasgow is to famous Loch Ness. This 23-mile-long and remarkably deep lake has long been the stuff of legend, and today continues to draw vast crowds. The big draw? It's as much to do with the spectacular scenery as it is having the chance to catch a glimpse of the elusive Loch Ness Monster.
In spite of its popularity as one of the top places to visit in Scotland, getting to Loch Ness from Glasgow is not without its challenges. Approximately 160 miles away from Glasgow city center, its location in the midst of the Scottish Highlands with its mountainous topography means there's no direct route, with major roads and rail lines skirting around the hillier parts, such as the Trossachs and the Cairngorms.
But don't let its location deter you. Loch Ness and its surrounds, including the charming city of Inverness, offer no end of exciting and unique adventures to those prepared to include it in their travel itineraries.
Whatever your reason for visiting this remarkable area of outstanding natural beauty, be sure to review our list of the top ways to travel from Glasgow to Loch Ness.
1. From Glasgow to Loch Ness by Tour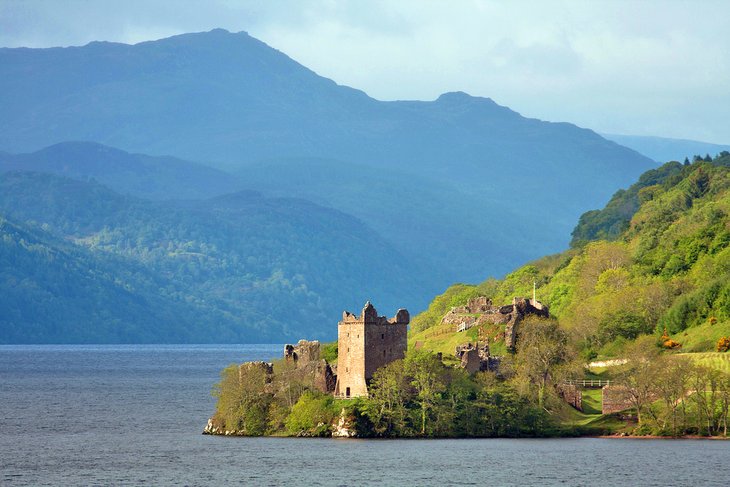 When it comes to ensuring you get the most from your Scotland travel itinerary, there's much to be said for letting a tour company handle the legwork. This is especially true if you're planning on taking a day trip from Glasgow to Loch Ness.
A journey of some 160 miles, it can take up to four hours to complete (one way) by road, as the same photogenic mountains of Scotland's Highland region that brought you here in the first place tend to make travel a little trickier.
A great option for those wanting to sit back and enjoy the sights while someone else does the driving is to join a Loch Ness, Glencoe, and Highlands day trip from Glasgow. This full-day, small-group excursion departs from Glasgow Buchanan Bus Station on Killermont Street at 8am, returning later that evening. Arrive at least 15 minutes early for check-in (the bus leaves from Stances 23 to 32) and a good seat. Drop-off is at the same central location, which is within easy striking distance of most city hotels.
Along the way, you'll see some of Scotland's top tourist attractions, including Loch Lomond, Stirling Castle, and Fort William, to name but a few. The tour stops in at Glencoe, one of the country's most famous mountains, for a short 15-minute break. Have your cameras at the ready, as the views of the mountain are simply stunning.
The real highlight, though, is Loch Ness. You'll arrive at the west end of the loch in Fort Augustus, where you'll have time to stroll along the waterfront, get in some souvenir shopping, and even join an hour-long cruise along the loch. Afterwards, your driver/guide will take you through spectacular Cairngorms National Park with a final stop in picturesque Pitlochry.
It's a full-itinerary, but by day's end, you'll have gotten a good taste of the majesty of the Scottish Highlands.
2. From Glasgow to Loch Ness by Train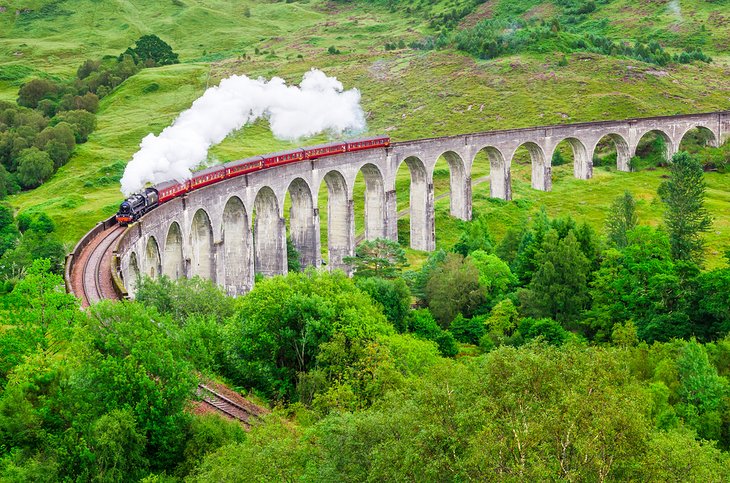 While there are no direct rail connections from Glasgow to Loch Ness, you can travel part of the way by train. Departing from Glasgow Queen Street station daily and at frequent intervals, the West Highland Line connects to the resort town of Fort William, a journey of close to four hours.
But while it's a long train ride, it's an incredibly worthwhile one that's considered by rail enthusiasts to be one of the most beautiful train journeys in the UK. Along the route, you'll pass mountains and glens, lochs and waterfalls, as well as forests and ocean views. It's also a route that's well-suited to those who want to break up their journey from Glasgow to Loch Ness with a hotel stay in Fort William being a great option.
For an extra special treat (and to help pass the time), consider splashing out on something to snack on. Bookable in advance when reserving your tickets, the aptly named "Great Scenic Tasting Box" includes a sampling of traditional Scottish treats such as oatcakes and shortbread, along with pâté, charcuterie, and beverages. Once in Fort William, you can make use of local bus connections to get you to Loch Lomond, rent a car, or even pick up a boat cruise along the Caledonian Canal.
Planning on traveling even further afield in Scotland? If so, consider buying a BritRail Spirit of Scotland Pass. Available before you leave home, these excellent passes enable travelers to hop-on and hop-off the country's trains wherever they like. Also worth considering: book your rail tickets three months out through ScotRail, and you'll enjoy prices as low as £5 per trip.
Editor's Note: If you're able to stay longer in Fort William, be sure to consider taking a train from Fort William to Mallaig, a journey that will take you over the spectacular Glenfinnan Viaduct, made famous by the Harry Potter films.
3. From Glasgow to Loch Ness by Car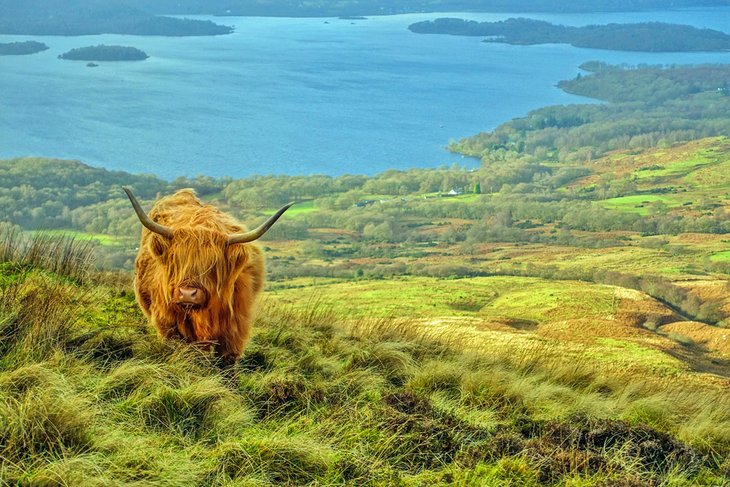 Renting (or "hiring," as they say in the UK) a car is a great means of getting from Glasgow to Loch Ness. And when it comes time to punch in the destination on your GPS, you'll likely be faced with two routes to choose from: north to Fort William, or east to Stirling before heading north to Inverness. Expect to spend about 3.5 hours or so driving (not including breaks), regardless of which route you take.
Why not mix things up a little and do both? Fort William on the outward journey, and back to Glasgow via Inverness and Stirling, an especially good idea if you can stay in Loch Ness for a night or two. This route will ensure you get to see a vast array of spectacular scenery, including the lovely Loch Lomond area north of Glasgow; Ben Nevis, located near Fort William; Inverness, just a 30-minute drive from Loch Ness; as well as Cairngorms National Park.
4. From Glasgow to Loch Ness by Bike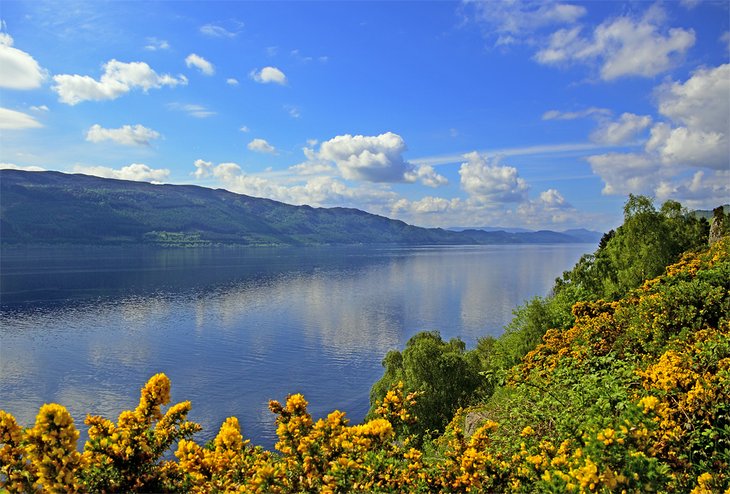 Ok, so we don't expect you to cycle the full 160 miles from Glasgow to Loch Ness. But if cycling's your thing, you may want to consider including at least the last 80 miles of the journey on two wheels.
Starting in Fort William (and therefore accessible partly by train), the Great Glen Mountain Bike Trail actually includes not just Loch Ness, but carries on to Inverness, too. Consequently, it would be possible to do a full loop of the Highlands, completing the journey by train to Edinburgh, and then back to Glasgow, so long as you allow a few days to complete the journey.
If hiking is more your thing, a number of walking trails also crisscross the area, joining up with the excellent Loch Ness 360° Trail. The trail circles the loch, meaning you could either head back to Fort William after completing it, or carry on to Inverness. Either way, expect to spend up to six days to complete the trek in its entirety.