Scotland in Pictures: 23 Beautiful Places to Photograph
Thanks in part to hit TV shows like Outlander and movies such as the Harry Potter series, Scotland has become a hot commodity when it comes to tourism. Little wonder, really. As anyone who has seen these or other blockbusters filmed in Scotland knows, it's one very beautiful – and romantic – country.
And due to advances in photography and video technology, even the least expensive camera or smart phone can help amateurs capture remarkable images of their Scottish vacation, and it certainly helps when the scenery they're shooting is as breathtaking as that found across bonnie Scotland.
Whether you're looking for places to take an award-winning travel photo or simply a great spot for a selfie, be sure to review our list of the most beautiful places to photograph in Scotland.
1. Kilchurn Castle, Dalmally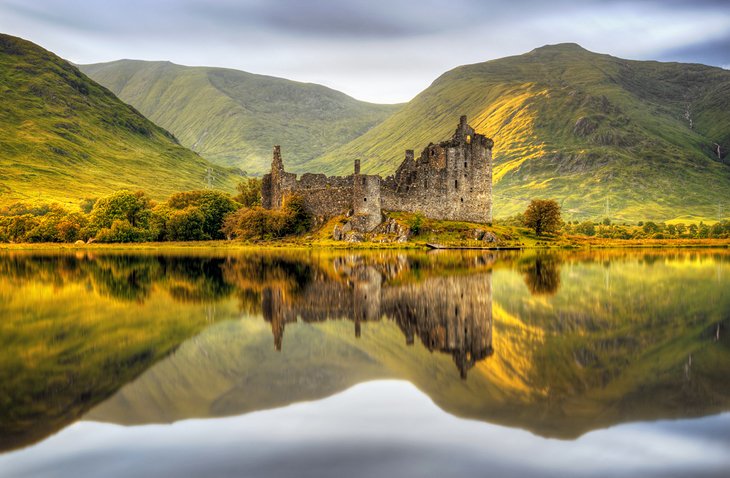 With hundreds of examples from which to choose, there's certainly no shortage of great locations to capture a memorable castle photograph.
Shown here is Kilchurn Castle, perched on the shores of beautiful Loch Awe in Dalmally.
2. Glencoe, Lochaber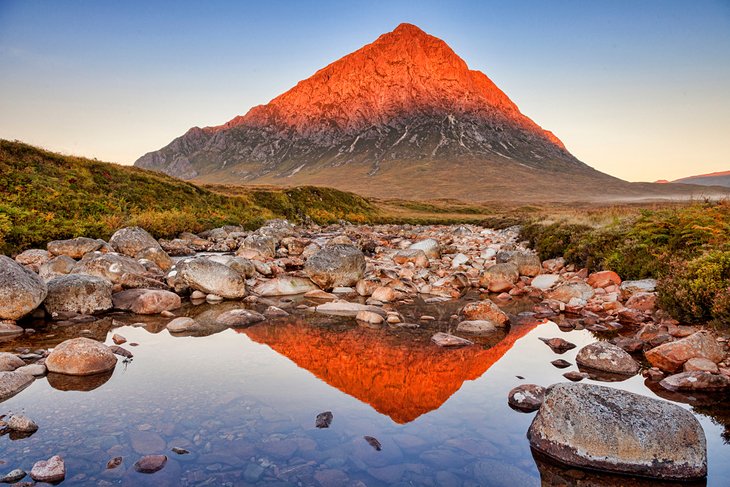 Famous as one of the most picturesque valleys in all of Scotland, Glencoe – also known as Glen Coe – is home to some of the most quintessential of Highland scenery.
Here, you'll find everything from quaint thatched cottages to rushing waterfalls, mountain peaks, and native wildlife, just waiting to be photographed.
3. Glenfinnan Viaduct, Inverness-shire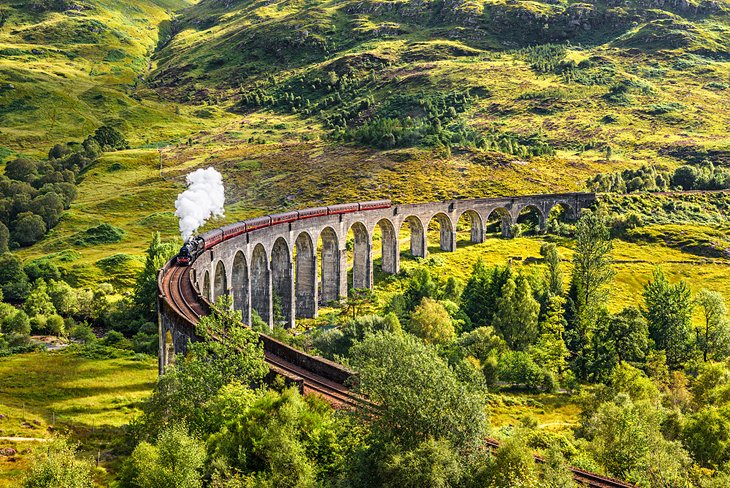 Made famous by its role in the Harry Potter movies, a train ride aboard the famous Jacobite steam train over the stunning Glenfinnan Viaduct is considered one of the world's top rail journeys.
For many, however, the best photos are taken of the train, rather than from the train, as it passes along this stunning curved viaduct.
4. Eilean Donan Castle, Dornie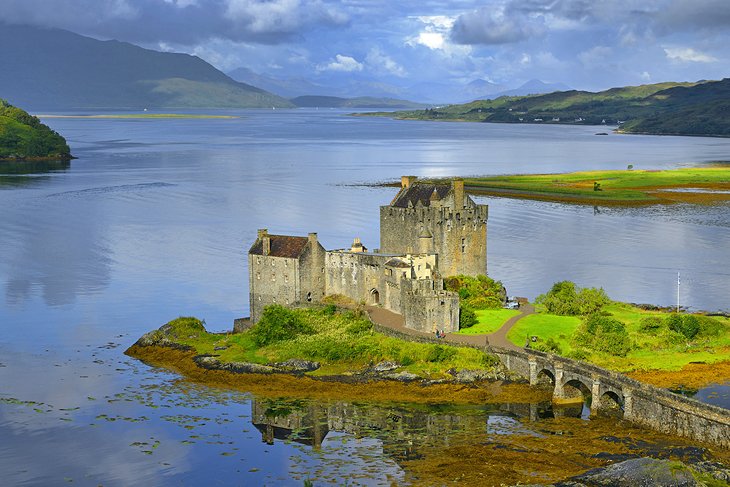 Thanks to its location at the point where three sea lochs meet, there are no shortage of vantage points from which to grab a fine photo of Eilean Donan Castle.
As you can see from this image, the use of drone photography creates an even more dramatic view.
5. Calton Hill, Edinburgh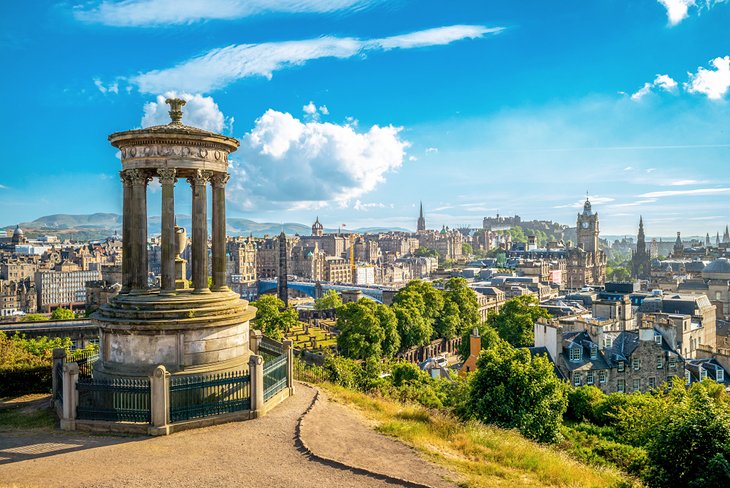 Situated at the opposite end of Princes Street from Edinburgh Castle, Calton Hill offers some of the most pleasing views over the city.
6. Edinburgh Castle, Edinburgh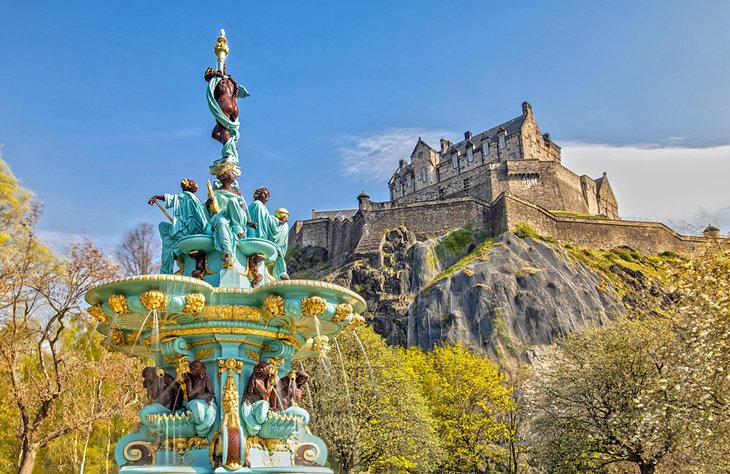 At the east end of Princes Street stands Scotland's most famous fortress: Edinburgh Castle. This is one of Scotland's top tourist attractions.
After exploring the castle, spend a little time wandering the surrounding streets for great photo ops, such as this one taken from Princes Street Gardens.
7. Trossachs, Stirling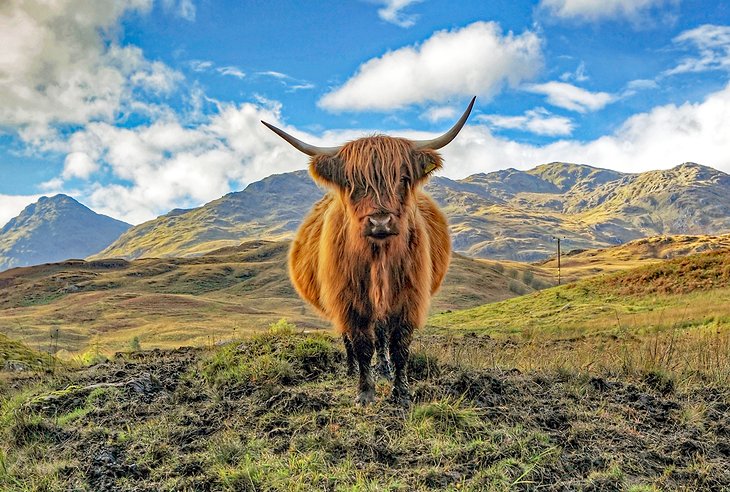 Nothing says, "I've been to Scotland!" quite like a photo of a Highland cow. While these fascinating creatures can be seen roaming across glens throughout the country, locations such as the Trossachs near Stirling are relatively easy to get to from Edinburgh and Glasgow.
With the addition of a mountainous backdrop, these photos will make a great keepsake of your Scottish vacation.
8. Iona, Hebrides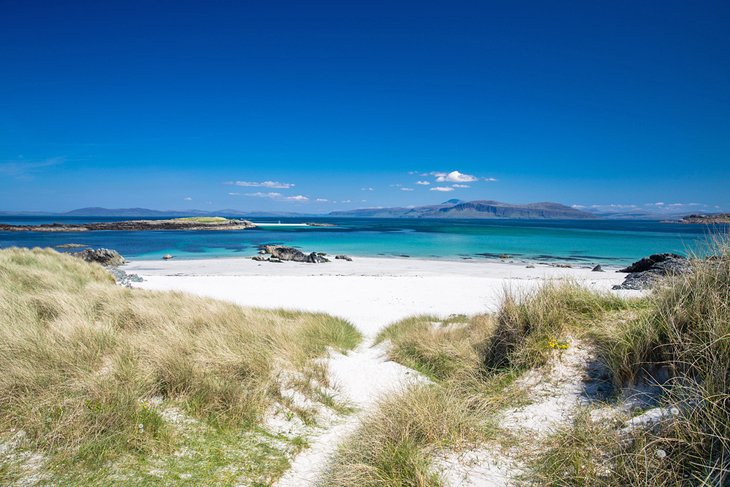 The island of Iona offers plenty of fun things to do for travelers and no end of great photo ops.
A favorite spot for a photograph are the sand dunes of North Beach, just one of many superb beaches to be explored in Scotland.
9. Neist Point, Isle of Skye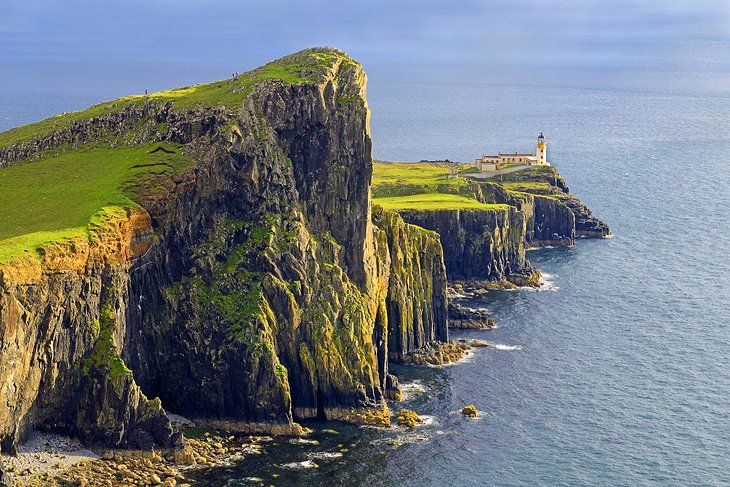 Another great island destination to explore and photograph is the Isle of Skye.
Accessible via a bridge from the mainland, be sure to include a visit to Neist Point for a dramatic photo, like this one of the old lighthouse, one of 12 still operating on the island.
10. Urquhart Castle, Loch Ness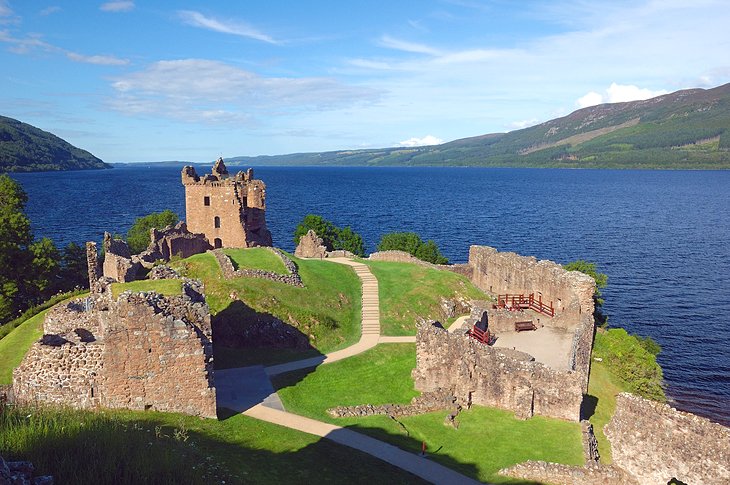 The stunning views over Urquhart Castle and Loch Ness, as seen in this photo, are considered some of the most romantic in all of Scotland.
And hey, you might even see the loch's famous monster.
11. Loch Lomond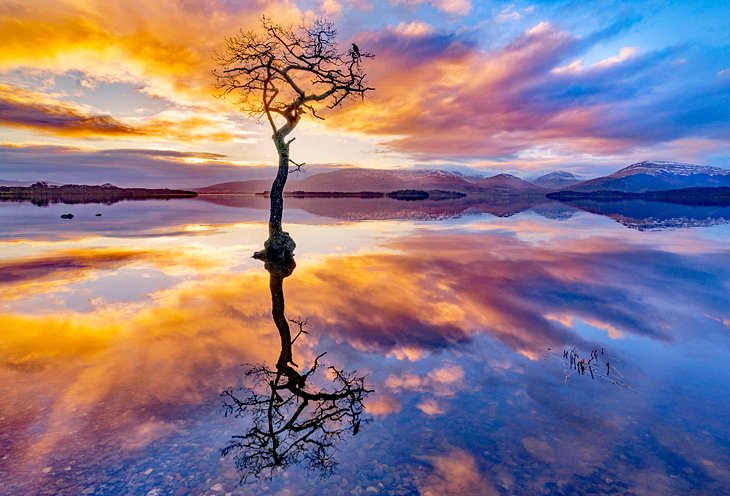 Not only is Loch Lomond one of Scotland's most picturesque lakes, it's also one of the easiest to get to thanks to its proximity to Glasgow.
In addition to a camera, take your hiking boots, as Loch Lomond and Trossachs National Park features numerous great trails. You'll find plenty of interesting things to do around Loch Lomond.
12. John O'Groats, Caithness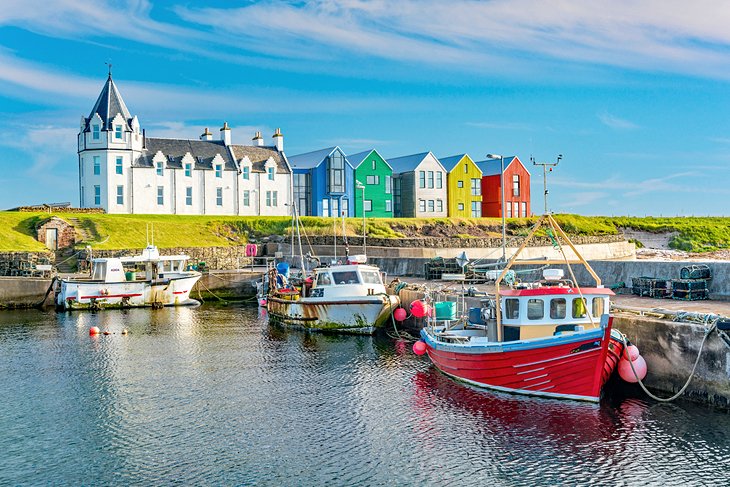 Famous as the British mainland's most northerly point, John O'Groats is well worth visiting.
In addition to its rugged coastline, you'll find many interesting old homes and buildings to photograph in the area, along with this quaint fishing port.
13. The Kelpies, Falkirk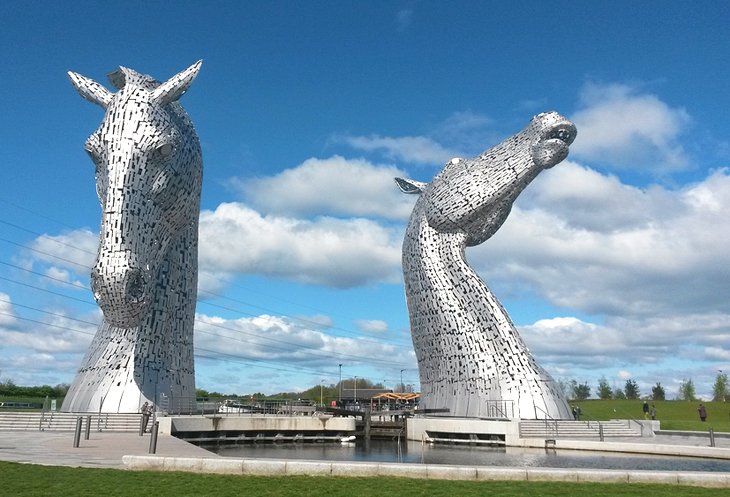 One of the newest tourist attractions in Scotland, the famous Kelpies in Falkirk are also the most photographed sculptures in the country.
Here, these mythical shape-shifting water spirits resemble horses and stand 30 meters above the Forth and Clyde Canal.
14. Forth Bridge, Firth of Forth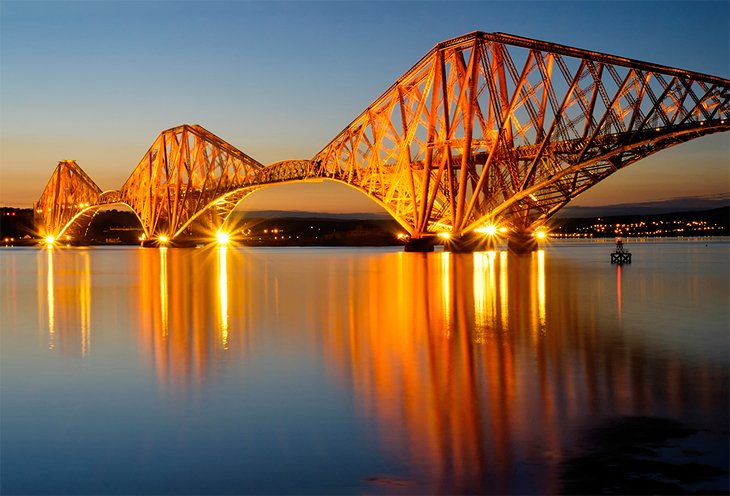 Another famous rail journey in Scotland crosses the spectacular Forth Bridge, shown here illuminated at night. It was built in 1890 and is now a UNESCO World Heritage Site.
Be sure to disembark at North Queensferry for some great shots over the estuary.
15. Isle of Arran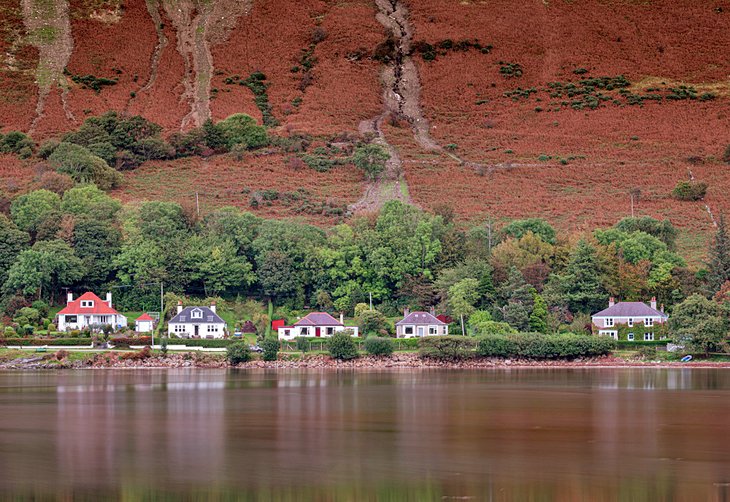 Billed as "Scotland in Miniature" for its abundance of natural beauty, the Isle of Arran is an easy ferry ride from Glasgow.
You can visit it on a day trip from Glasgow. Pictured here is the small village of Lochranza on the island's north side.
16. North Coast 500, Highlands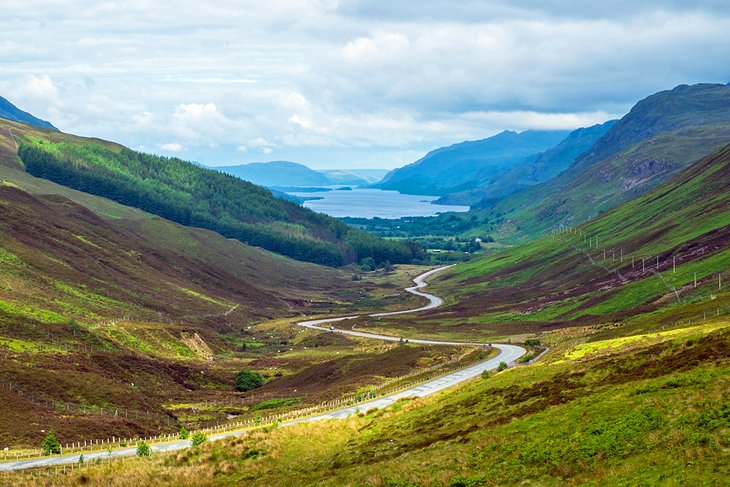 Starting and finishing in the attractive town of Inverness, the superb North Coast 500 tourist route takes in much of the best scenery in the Scottish Highlands.
Pictured here is the view from the road leading through Glen Docherty towards Loch Maree.
17. Royal Mile, Edinburgh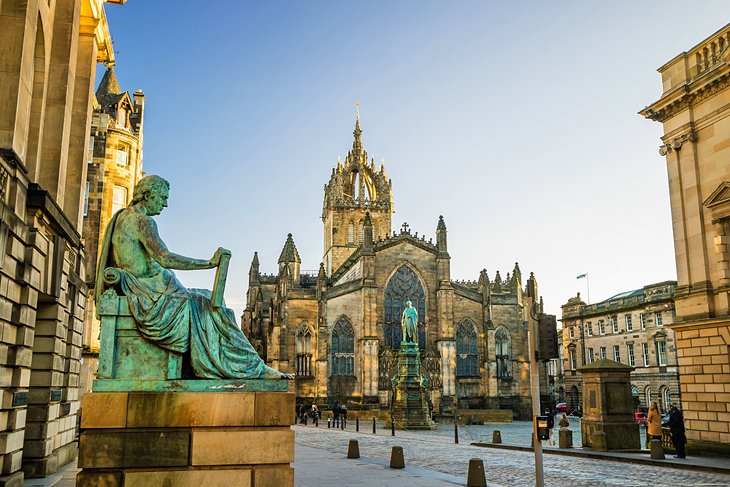 Consisting of meandering old streets and alleys, the picturesque Royal Mile links Edinburgh castle to the oldest part of the city. It offers plenty of great streetscapes and attractions to photograph. Walking along here is also one of the top things to do in Edinburgh.
18. Dunnottar Castle, Aberdeenshire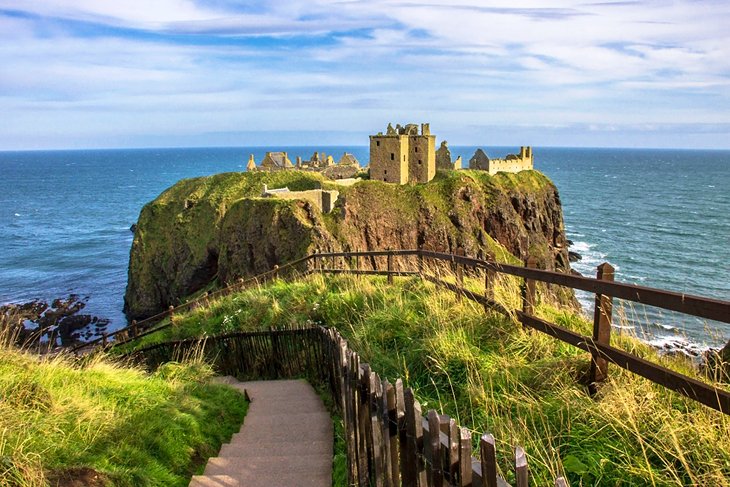 Few fortresses anywhere in the world can match the rugged beauty of Dunnottar Castle. Perched high above the North Sea in Aberdeenshire, it's a scene right out of Hollywood. Grab your camera and capture some stunning images.
19. Ben Nevis, Lochaber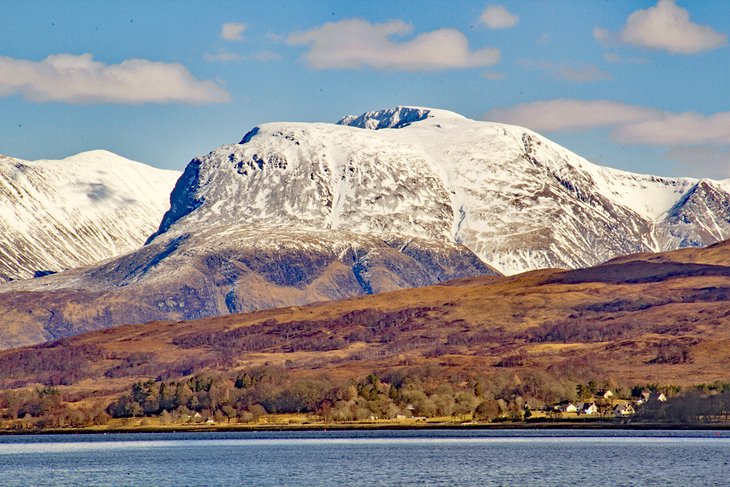 Easy to get to from the resort town of Fort William, Ben Nevis has the distinction of being, at 1,345 meters, Britain's tallest mountain.
While it's accessible by hiking trails, you may want to consider joining a guided tour to ensure a safe ascent.
20. The Old Course, St. Andrews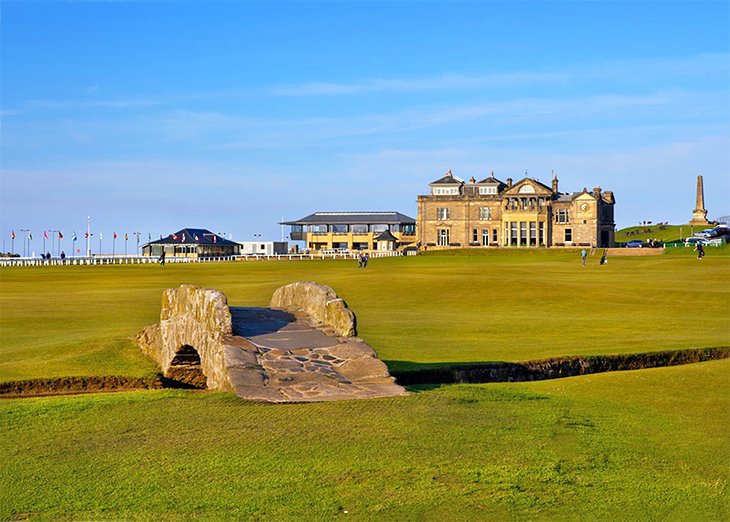 Ok, so this one's for the golfers out there. St. Andrews Old Course is the Holy Grail for fanatics of the sport and is famous as the world's oldest golf course.
Here, the photographer has perfectly captured the attraction's famous Swilcan Bridge.
21. Aberdeen's Beautiful Bridges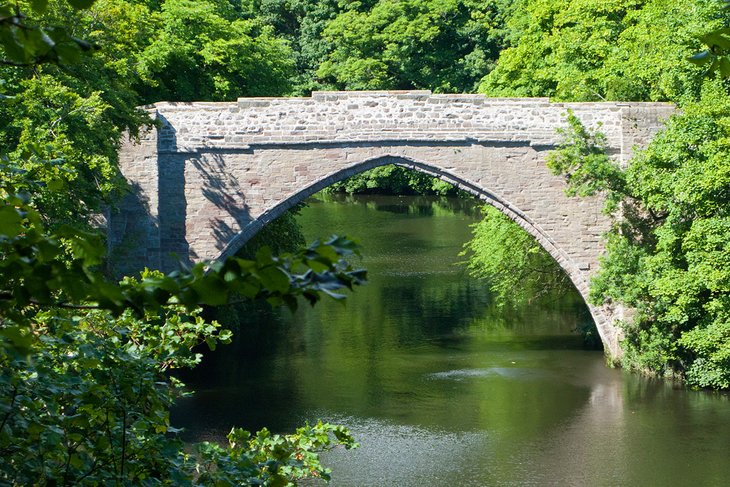 Aberdeen is a delightful city to explore on foot with camera at the ready. It's known as "The Flower of Scotland," there's a lovely photo just waiting to be taken around every corner.
One of our favorite places to visit in Aberdeen is the romantic Brig o'Balgownie (Bridge of Don). Scotland's oldest bridge was built in 1320 by Robert the Bruce, and can be reached through Seaton Park.
Equally as charming a setting is Brig o'Dee. Built in the 1520s, it's located in Duthie Park and also makes for a great selfie backdrop.
22. Glasgow's Necropolis & Cathedral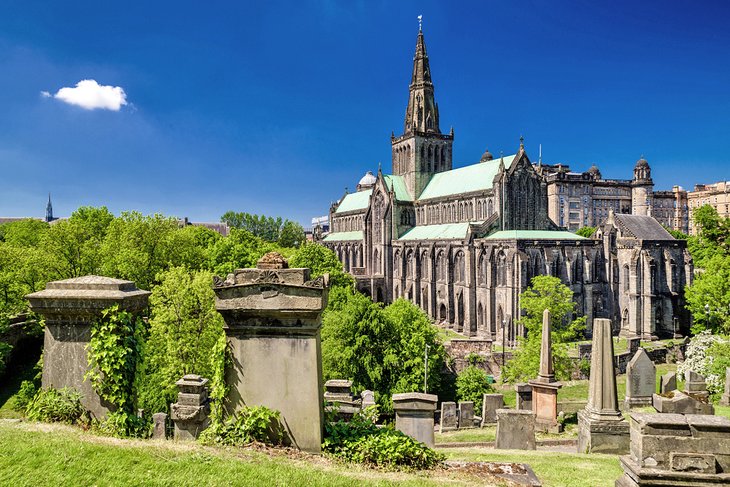 For a city that grew up in the industrial era, Glasgow is home to a surprising number of quaint and historic photo spots. One of the most interesting is the Necropolis. This sprawling Victorian Gothic garden cemetery covers over 37 acres and features more than 3,500 grave stones.
It's known locally as the "city of the dead." Framing a photograph over these monuments towards Glasgow Cathedral, as shown here, makes for a very memorable photograph.
Read More: Top-Rated Tourist Attractions in Glasgow
23. Stirling Castle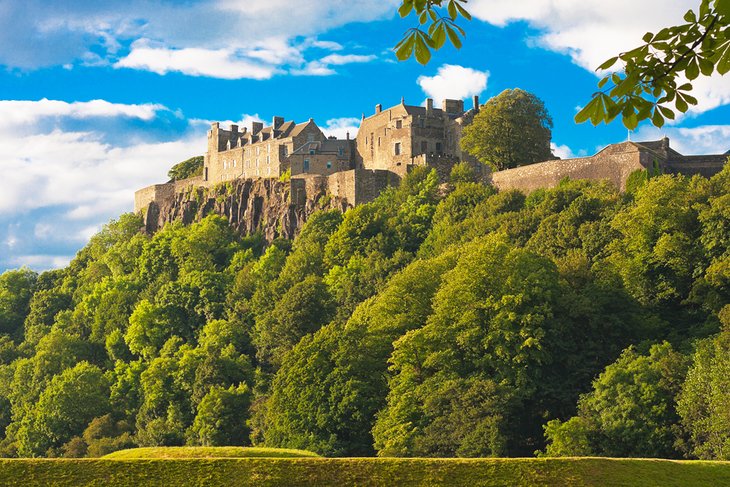 Located an easy drive (or train ride) from both Glasgow and Edinburgh, Stirling Castle makes for a very dramatic photograph.
Perched atop a steep cliff face that protected it from the invading English, the castle boasts a long and rich history, and is well worth including in your Scottish travel itinerary for its breathtaking views.