12 Top-Rated Things to Do in Ayr
Ayr is in southwest Scotland, overlooking the Firth of Clyde and the lovely Isle of Arran. It's part of the larger South Ayrshire Council, and offers many excellent sightseeing opportunities and attractions. The town itself is a popular place to visit for shopping, and boasts several things to do on both the coast and inland.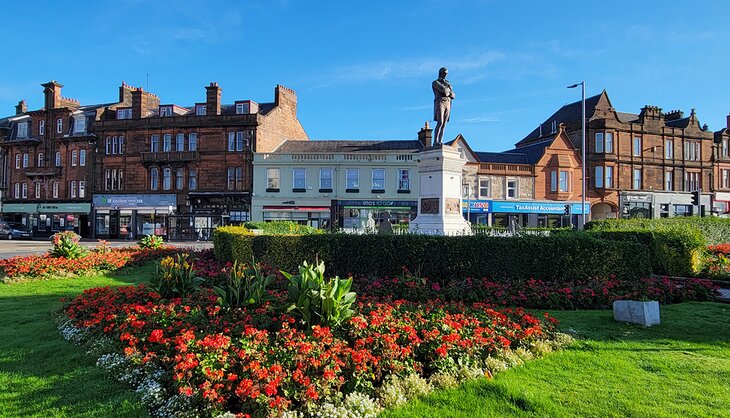 Visitors to Ayr often enjoy activities like golfing, castle viewing, and exploring the long strip of sand known as Ayr Beach. Wandering around High Street or having a lovely picnic at a park are other popular things to do.
Memorials and museums honoring Scotland's most famous poet, Robert Burns, are unmissable attractions when visiting Ayr and the surrounding region. Burns Cottage and the Robert Burns Birthplace Museum are in the southern suburb of Alloway, and Ayr celebrates this local legend up and down the streets.
Make the most out of your holiday with our list of top things to do in Ayr.
1. Visit the Home of Scotland's Poet: The Robert Burns Birthplace Museum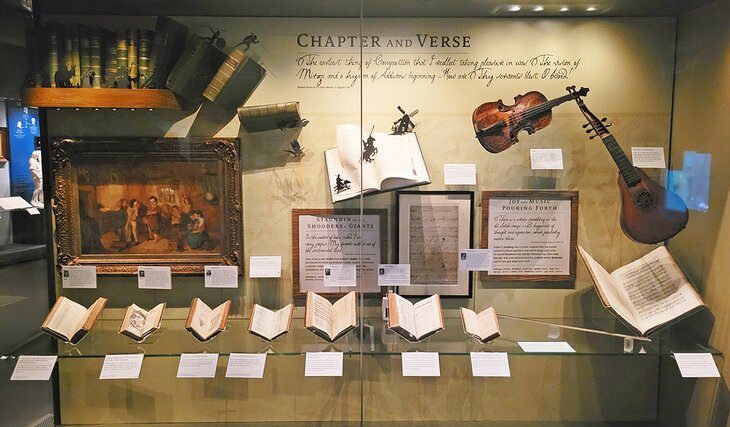 The thatched house where Scotland's most famous poet was born is in Alloway, a suburb south of Ayr. Built by his father, it was in Burns Cottage that Robbie Burns spent the first seven years of his life.
Today, the cottage is one of several satellite exhibits of the Robert Burns Birthplace Museum. This popular attraction celebrates the local author and one of Scotland's most famous writers. It features a collection of Burns' artifacts and exhibits within an immersive exhibit space. Original manuscripts, interactive elements, and deep historical context comprise many displays.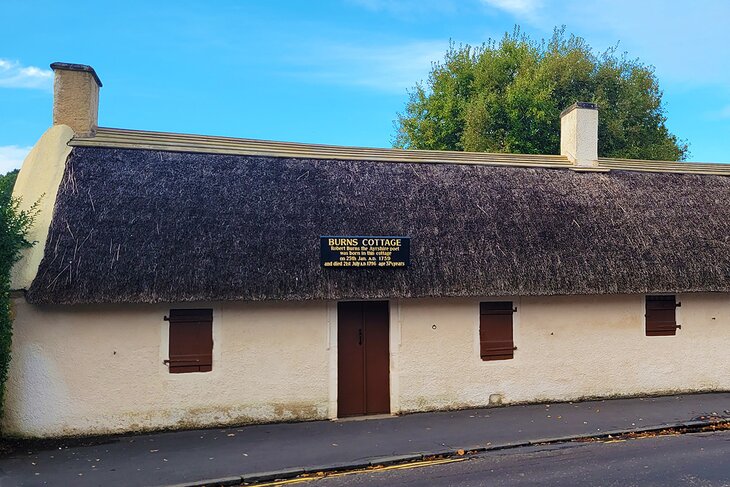 The museum also oversees many other historic landmarks, such as Burns Cottage. Other notable landmarks include the nearby Burns Monument and the 16th-century Alloway Auld Kirk church — perhaps best known for setting the scene in Burns' famous "Tom o'Shanter" poem.
The Robert Burns Museum is open seven days a week. The facility also has a popular café and gift shop. And for the kids, an on-site Burns-themed playground encourages a little learning alongside play.
Address: Murdoch's Lone, Alloway, Ayrshire, Scotland
2. Explore Rozelle Park and the Rozelle House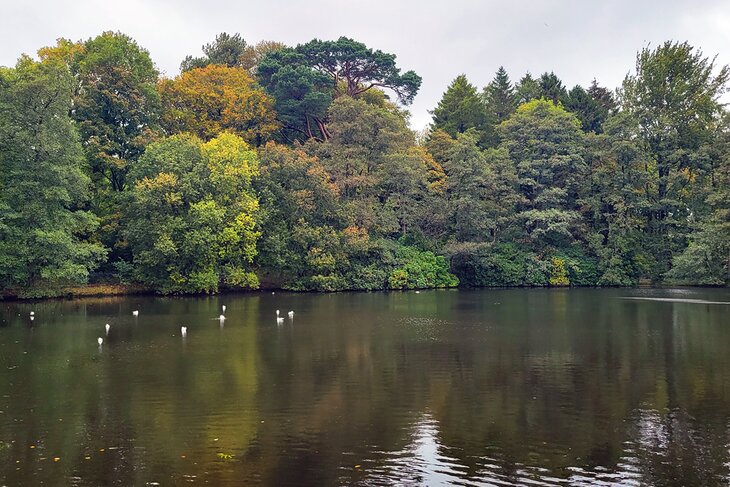 Rozelle Park is a beautiful public space on the south side of Ayr. It was originally a country estate and is still home to its 1760s mansion — the Rozelle House. This inspiring manor now hosts public art galleries and a tea room. And the larger Rozelle Estate offers a grand place to spend the day or afternoon.
The park and woodlands of the estate are expansive. Dirt trails, landscaped gardens, and natural ponds teeming with wildlife comprise much of the property. This verdant acreage makes the estate an excellent spot for walking, field games, picnics, and wildlife watching.
Rozelle House also always has something new on display. It's an accredited museum with a constantly rotating gallery of local and regional artists. It also houses a permanent collection of paintings of Robert Burn's famous "Tam o'Shanter" poem, which takes place nearby.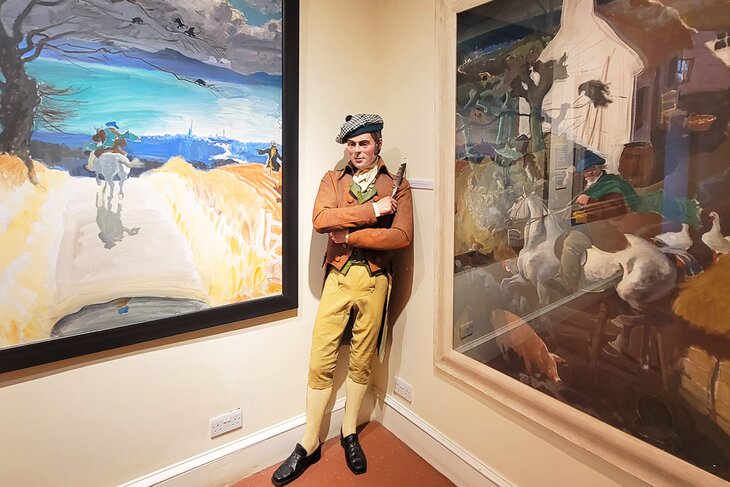 Budget some time for the Rozelle Tea Room during a visit. Alongside a full menu of hot and iced drinks, the homebaked cakes and other confections also entice a sit-down. The Tea Room's courtyard is lovely when the weather is nice.
3. Take a Stroll along Ayr Beach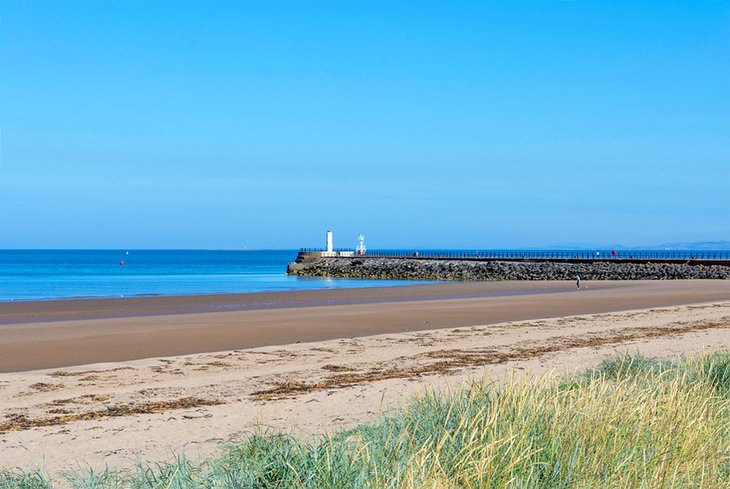 Ayr Beach is a long stretch of sand overlooking the Firth of Clyde. It's a popular sunny-weather destination for locals and those coming from Glasgow, less than an hour away. There's plenty of sand for activities like laying out a towel or constructing sand castles.
It's not just the beach that attracts a crowd. This entire area of Ayr is tourist-friendly and inviting throughout the year. A wide sidewalk follows much of the sand for pleasant strolls near the water. Part of this path comprises The Lang Scots Mile, commemorating the nation's heritage spanning well before today's metric mile.
Ayr's Low Green, across the street from the beach, is also a popular place to visit. This expansive green lawn has plenty of room for picnics, ball games, and exploring with a dog. Public restrooms are also available at Ayr's Low Green.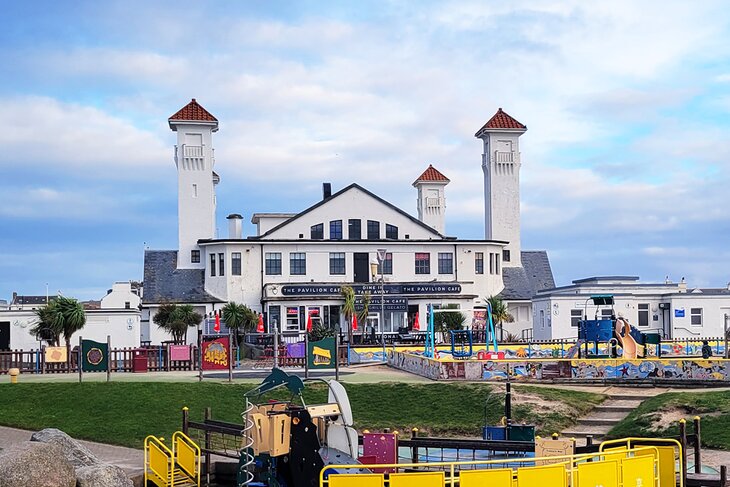 Pirate Pete's is also across the street from Ayr Beach, just north of Ayr Low Green. This family entertainment center has a small town's worth of play equipment, including a soft play area. The facility has several pieces of indoor equipment and a matching number of outdoor play areas with great beach views.
Read More: Top-Rated Beaches in Scotland
4. Take a Day Trip to Culzean Castle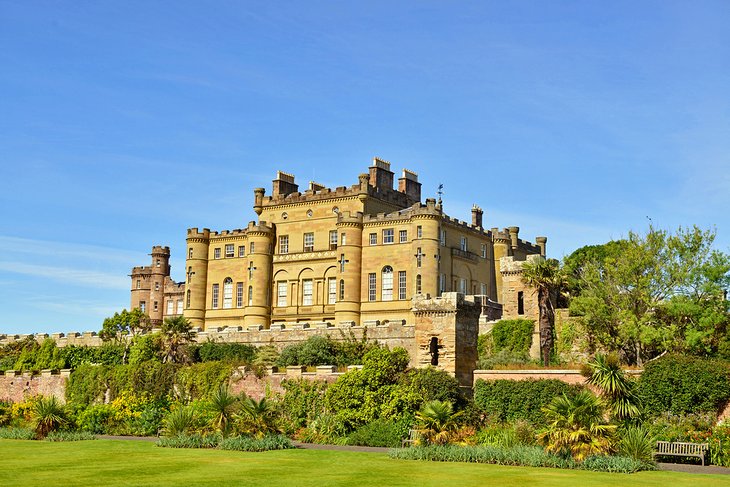 Culzean Castle lies in a picturesque spot on the clifftops just 12 miles south of Ayr. A fortress has stood on this spot since the 14th century, with the present postcard castle constructed sometime during the 18th century. Today, the National Trust of Scotland oversees this top tourist destination, which is among the best castles in Scotland.
Visitors are welcome to take a self-guided tour of the castle throughout much of the year. Free guided tours are also available daily. Highlights are the extensive collection of pistols in the Armory, and the old Dining Hall, with a ceiling decorated with paintings by Antonio Zucchi. Also of note is the elegant Chippendale-style furniture.
Visitors from the United States like to visit the apartments used by President Eisenhower. The legendary American was granted the right to stay in Culzean Castle whenever he wished in acknowledgment of his role in WW2. For a unique overnight stay, guests can rent out his room.
The castle grounds cover more than 568 acres of countryside and gardens. Their most striking features are the Fountain Court, the Walled Garden with its colorful flowerbeds, and Sir Herbert Maxwell's Scottish Garden. There's also a fun adventure playground for kids to enjoy. With all to do inside and outside the castle, it's easy to spend an entire day at Culzean.
Address: Maybole, Ayrshire, Scotland
5. Explore Dalgarven Mill Museum of Country Life and Costume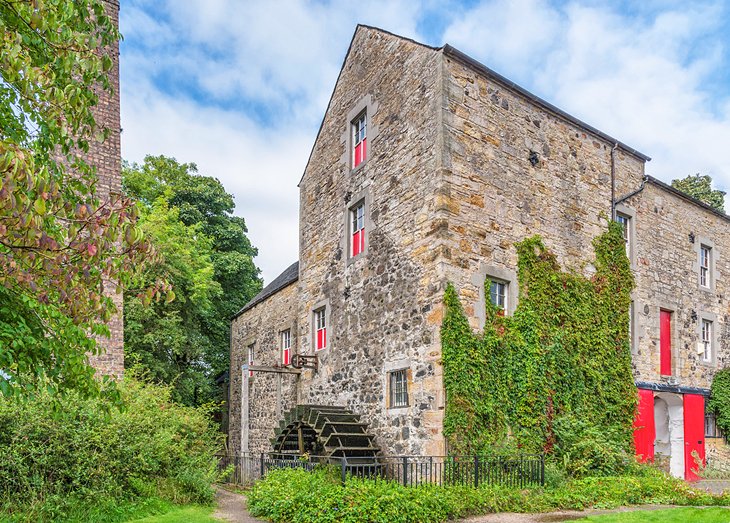 The Museum of Ayrshire Country Life and Costume is a treasure trove of facts and artifacts relating to the area's rich cultural history. It also lends valuable insight into traditional farming techniques and tools. The museum is within the fully restored Dalgarven Mill in Kilwinning, approximately a 30-kilometer drive north of Ayr.
The museum's centerpiece is the authentic working water wheel and its connected Victorian machinery, still powered by the River Garnock. Visitors also enjoy the granaries with displays of costumes and everyday tools and possessions. Guided tours are available.
After a museum tour, sample some of the bread baked on-site and made from locally produced flour. An antique shop and café are also on-site.
A pleasant riverside walk along the Garnock is also available for visitors to enjoy
Address: Dalgarven Mill, Kilwinning, Ayrshire, Scotland
6. Take the Kids to Heads of Ayr Farm Park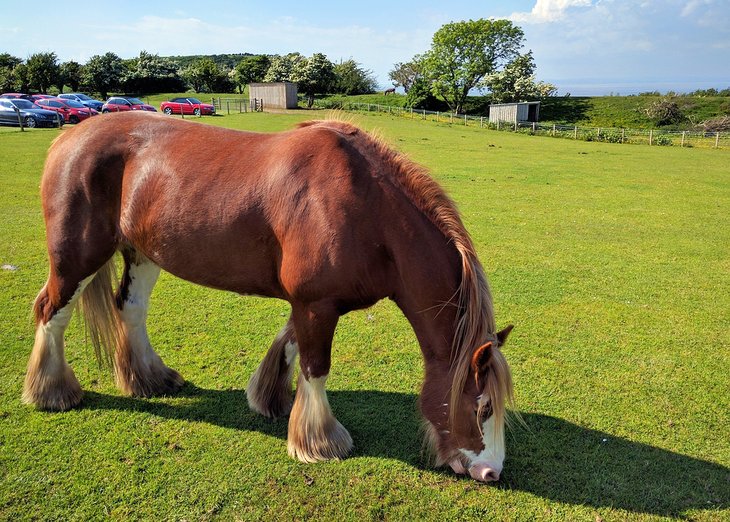 One of the top things to do with kids in Ayr is visiting the Heads of Ayr Farm Park. This popular family attraction is a mini-theme park and petting zoo with plenty of fun activities for children. Highlights include thrilling water attractions, such as bumper boats, waterslides, and water guns.
The park's animal collection mainly comprises cute and cuddly varieties, including guinea pigs and rabbits. A few larger species (domestic and exotic) also call the farm home, including camels, llamas, and monkeys.
Other fun activities for kids include playing on the mini construction equipment, which features a chance to drive mini electric tractors and diggers. Electric quad bikes are also available. Other interactive elements include an adventure playground, a giant sand play area, trampolines, and an aerial runway. An on-site café is also available.
Address: Dunure Road, Alloway by Ayr, Ayr, Scotland
7. Spend the Day at Belleisle Park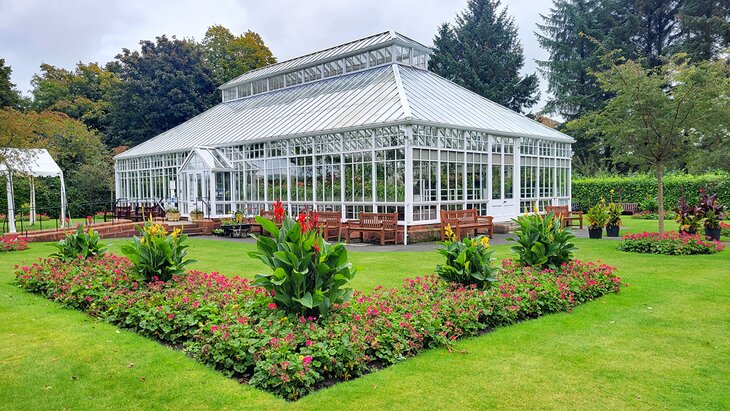 Belleisle Park is approximately 1.5 miles south of the city center and provides plentiful grounds to spend the day. Its outdoor spaces include gardens, nature paths, and two popular golf courses. The park is also home to the glass-wall Belleisle Conservatory, with blooming plants throughout the year.
The public is welcome to book a tee time at the park's Belleisle or Seafield Golf Courses. Both courses are nearly 100 years old within the community. The historic Belleisle House used to stand next to the clubhouse, though a devastating fire in 2019 closed the doors of this equally old manor-turned-guesthouse.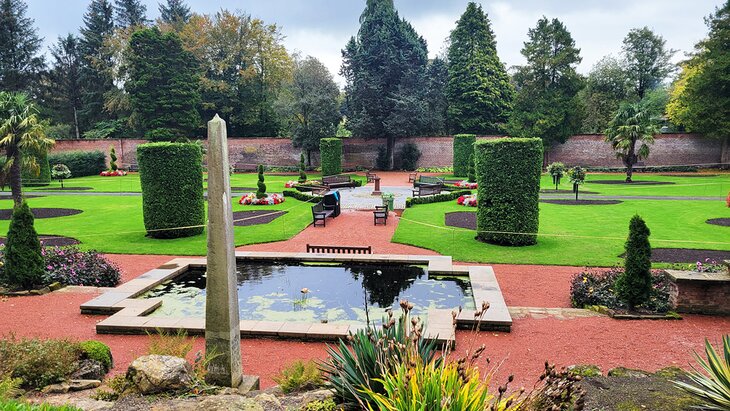 Belleisle is much more than just a place to play golf. The gardens and nature trails throughout the park are as scenic as they are sprawling. The park's Walled Garden is incredibly eye-catching, with delicate landscaping throughout. The Belleisle Conservancy is next to the walled garden, offering similar blooming attractions throughout the year.
8. Wander around Ayr High Street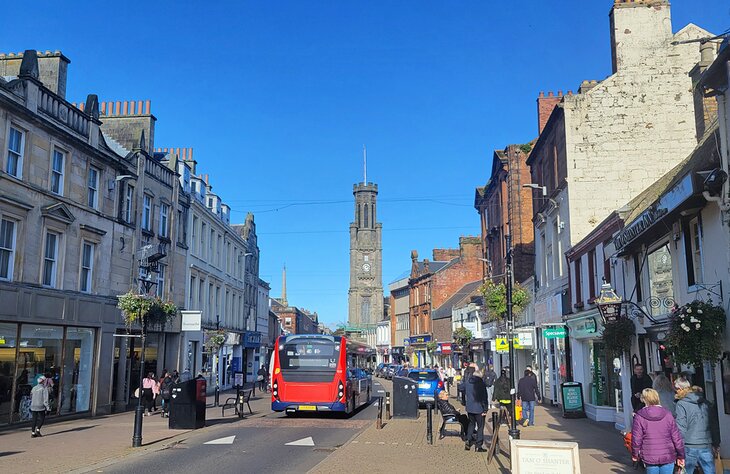 Enjoy some time simply wandering around the Ayr town center when visiting. The local community comprises most of the foot traffic along High Street and other surrounding avenues, alongside plenty of shops, restaurants, and historical monuments. The town center is also home to other city attractions, including The Gaiety Theater.
The Auld Brig of Ayr is one such historical monument near High Street. This stone bridge spans the River Ayr with foundations dating to the late 1500s. Evidence suggests that it's been the site of a water crossing for hundreds of years prior. Today, it's a lovely pedestrian bridge with great views across the water.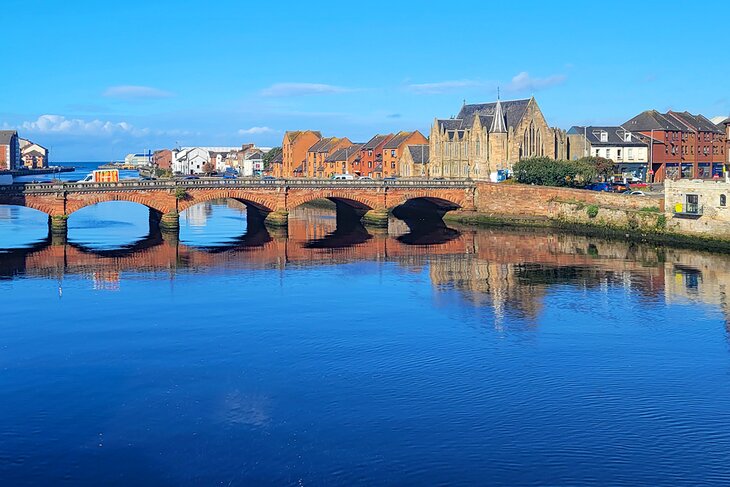 Other historical monuments near the town center include Loudoun Hall and St. Johns Tower. St. Johns Tower is a few blocks west of the town center, standing as the oldest structure in Ayr and the only remaining relic of a 12th-century church. Dating a few hundred years later, Loudoun Hall is Ayr's oldest house and is a rare example of Scottish architecture from the period.
9. Explore the Ruins of Greenan Castle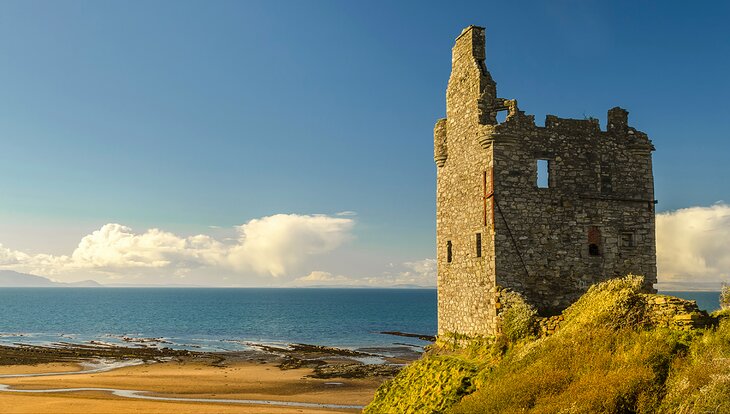 Closer to Ayr are the stunning ruins of the 16th-century Greenan Castle. The most striking feature is the impressive tower house, which clings to a clifftop overlooking the sea. Its ruined status and seaside nature prevent visitors from touring the remaining interior of the castle, but its seaside stature makes for a dramatic photo opportunity.
10. Attend the Burns an' a' that! Festival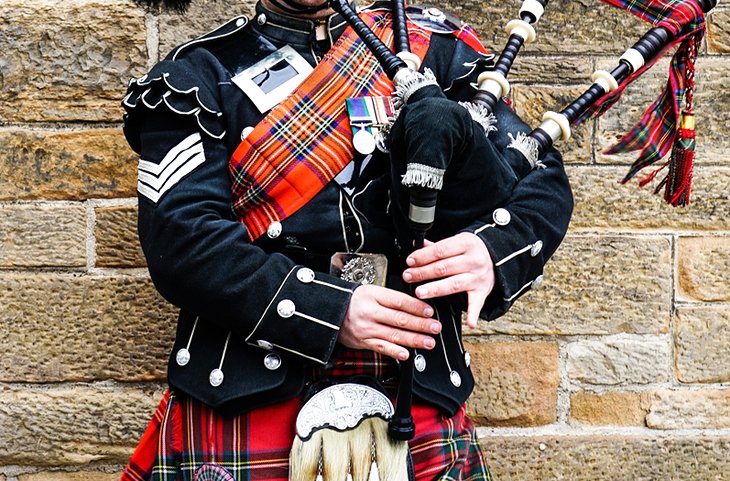 The Burns an' a' that Festival is the centerpiece of annual events and festivals celebrating the life, work, and influences of Scotland's greatest poet and local legend, Robbie Burns. It takes place over four days each May at Rozelle Park. Comedians, musicians, and poets fill the town during this always-busy event that has become the region's leading art festival.
A fringe program, BurnsFringe, is also part of the fun. It includes everything from culture to food and drink, as well as visual and performance arts and bagpipes.
11. Travel Uphill on the Electric Brae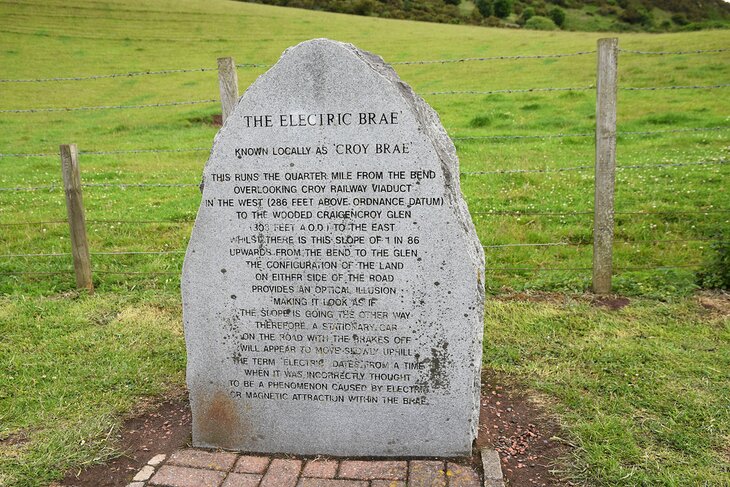 The Electric Brae refers to a section of the A179 roadway south of Ayr, whose incline seems to defy gravity. A car left in neutral will seemingly travel uphill on the street, thanks to the unique slope of the surrounding hillside. This unique phenomenon has built itself a small reputation as a tourist attraction.
A179 is an active roadway, and blocking traffic or stopping on the street may prove dangerous. Small parking spots along parts of the Electric Brae are more suitable for smaller experiments, such as dumping water on the ground and watching it travel uphill.
12. Shop at Ayr Central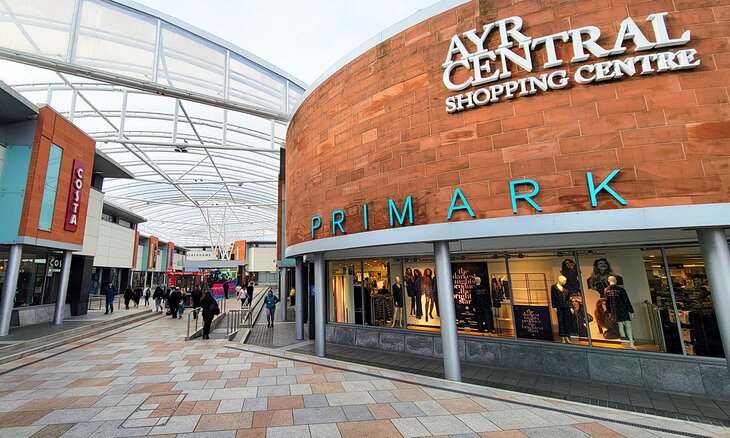 This covered shopping center links the Ayr Train Station and Ayr High Street. It opened over 15 years ago and has grown to incorporate several UK-based storefronts covering various interests. Fashion, fragrances, and toy stores all have storefronts connected by a lovely covered pedestrian mall.
Underground parking is available at Ayr Central Shopping Centre for up to 500 cars. High Street is easily accessible from its western entrance for extended shopping opportunities. Food at Central Shopping Centre includes light fares from places like Costa Coffee, Subway, and High Tea.
Address: Skye Square, Ayr, Scotland
Luxury Hotels:
Situated on a huge 300-acre estate on the outskirts of Ayr, the delightful Enterkine House Hotel comes with quaint décor, a lovely garden, and silver service dining.
The equally attractive Savoy Park Hotel is another great former country estate and comes with a cozy lounge; a free full Scottish breakfast; and a walled garden, which is popular as a wedding venue.
Fair-priced quality stays can also be enjoyed at the Fairfield House Hotel, set in a Victorian mansion just two miles from the Robert Burns Birthplace Museum.
Mid-Range Hotels:
One of the best bed-and-breakfasts in a town full of such accommodations, Bythesea has just six well-appointed rooms offering quality beds and furnishings, and a good, peaceful night's sleep.
Equally highly rated is The Burnside Guest House, popular with guests for its friendly owners and clean, attractively decorated rooms.
Budget Hotels:
Those on a tight budget would do well to consider Travelodge Ayr, a no-frills location that offers clean, comfortable rooms.
More Related Articles on PlanetWare.com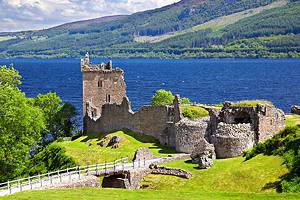 Must-See Lochs and Islands: Scotland boasts some of the most beautiful scenery in the UK, especially around its lovely lochs. A must-visit is Loch Ness, site of the picturesque ruins of Urquhart Castle, the perfect spot to do some monster watching. Loch Lomond is another of the country's best lakes, popular with hikers and nature lovers trekking the Trossachs National Park. The Isle of Skye is another must-see, where the top things to do include paying a visit to Armadale Castle and climbing the island's Cuillin Hills.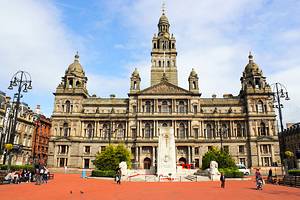 Must-See Cities: No trip to Scotland is complete without spending at least a day or two in Edinburgh. The country's capital is home to stunning Edinburgh Castle; the lovely Royal Mile; as well as the bustling Princes Street, a great place to shop, dine, and people watch. Glasgow, too, is not without popular attractions of its own, including a lovely cathedral, plenty of art galleries and museums, and superb shopping. Although smaller, the country's northernmost city, Aberdeen, is well-known as the "Silver City" for its stunning sandstone buildings.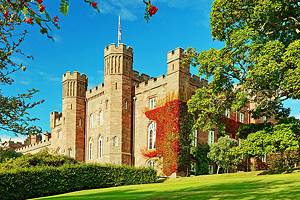 Scotland Travel Ideas: Top destinations in beautiful Scotland include the majestic Highlands, where you'll be rewarded with a chance to explore the lovely city of Inverness and nearby attractions such as Cawdor Castle and the infamous Culloden. Traveling with golfers? Then St. Andrews is a no brainer. While golfers can enjoy a round on the world's most famous course, non-golfers can explore the town's historic churches and spend time on the attractive high street. Also worth visiting — and just a stone's throw from St. Andrews — Dundee on the Firth of Tay is famous for its long railway bridge, maritime museum, and numerous cafés and restaurants.