14 Top-Rated Cities in Scotland
For those seeking a memorable family vacation, or perhaps a romantic couples' getaway, Scotland has plenty to offer. From exploring the country's top attractions to participating in exciting outdoor adventures, this tiny country to the north of England offers no end of fun things to do.
Those interested in sightseeing and photography are simply spoiled for choice, especially if you choose to spend time in Scotland's cities. And while the larger urban destinations such as Edinburgh and Glasgow are among the best places to visit in Scotland, don't shy away from the chance to visit some of the country's equally attractive smaller cities, too.
Favorites among tourists not afraid to venture further afield include historic Stirling, famous as the site of the Battle of Bannockburn, and St. Andrews, home to the world's most renowned golf course.
To help you get the most out of your Scottish travel itinerary, be sure to refer to our list of the best cities in Scotland.
1. Edinburgh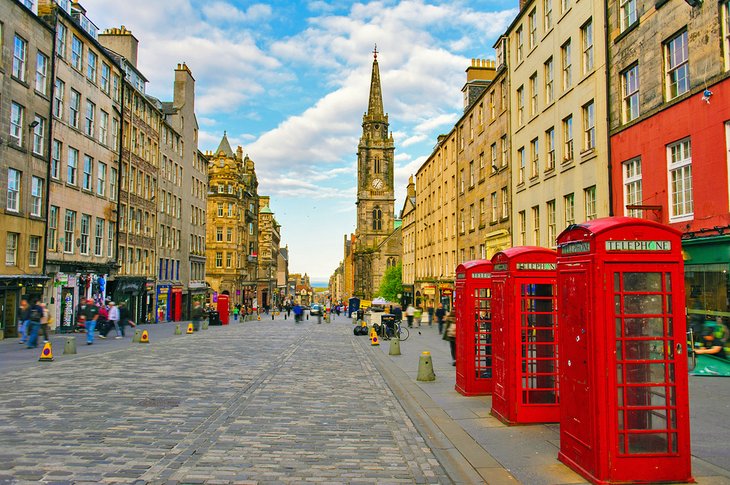 Whether you're here for a weekend or a week, Edinburgh offers no end of things to do. While the capital city of Scotland is best known for its incredible medieval castle - Edinburgh Castle is consistently ranked as one of the UK's most visited tourist attractions - there are numerous other parts of this beautiful city to explore.
Leading from the castle to the Palace of Holyroodhouse, this long stretch of cobblestone street known as the Royal Mile is lined with numerous fine old townhouses and historic buildings, including museums and churches. It's also a great place to visit for some serious souvenir shopping, too, or to stop for a break at a great restaurant or café.
Suitably refreshed, be sure to let your curiosity get the better of you and tackle some of the steep steps heading into the nooks, crannies, and courtyards leading from the Royal Mile. It's a pleasant diversion. Edinburgh is also well known for its festivals, which include the famous Edinburgh Fringe and the Royal Edinburgh Military Tattoo.
2. Glasgow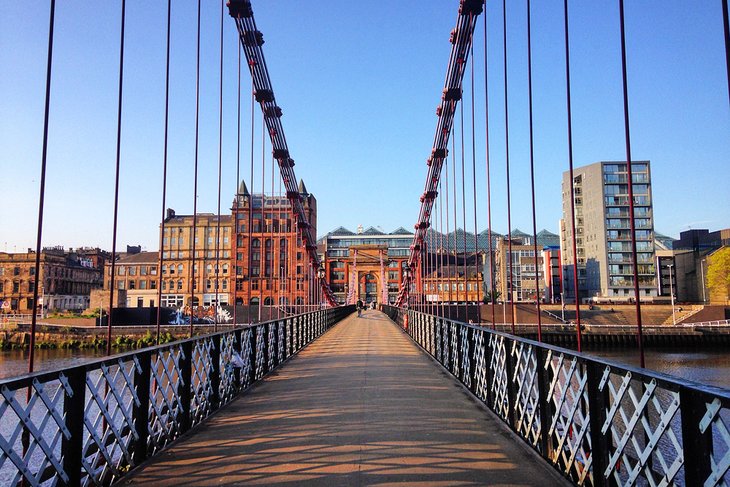 Since its transformation from an industrial city to the cultural center of Scotland, Glasgow has become one of the country's top-rated tourist destinations. Part of this transformation has taken place on former industrial land along the River Clyde, which has been rebuilt and revitalized in the past few decades.
The area is a delight to explore on foot. Along the way, take time to visit top attractions, including the Riverside Museum with its numerous exhibits related to transportation, as well as the architecturally attractive Glasgow Science Centre, clad in titanium; see if you can spot its resemblance to a ship's hull.
Glasgow's city center is also worth walking. Highlights include Glasgow Cathedral and the pedestrian friendly George Square, along with the shopping opportunities of Merchant Square. Be sure to also wander through the city's parks - they're everywhere, and make for great picnic spots.
If you want to base yourself here, you can easily exlore the surrounding attractions on day trips from Glasgow. Favorite nearby destinations include Loch Ness and Loch Lomond.
3. Aberdeen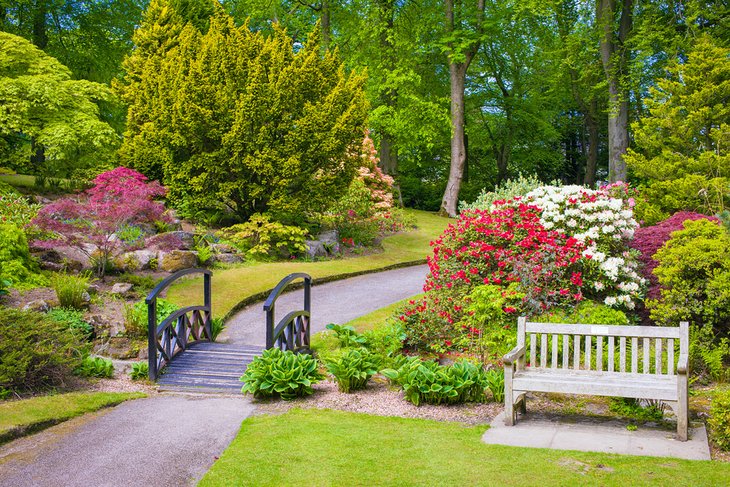 Known locally as the "The Flower of Scotland," Aberdeen, like Glasgow, is full of parks and gardens. By far the most famous is Duthie Park, home to the internationally acclaimed David Welch Winter Gardens, one of the UK's biggest indoor gardens. Here, you can visit and enjoy year-round displays of tropical plants and exotic flowers located in a variety of large greenhouses.
If visiting in spring and summer, be sure to allow time to wander Duthie's outdoor attractions, including ponds and flowerbeds; stay until evening, and you might catch a performance of the attraction's popular Opera in the Park season.
Part of the appeal of this old city is its well preserved historical buildings. Built from local granite, these silver-grey structures are known to sparkle in sunlight, hence Aberdeen's other nickname: "Silver City."
4. Dundee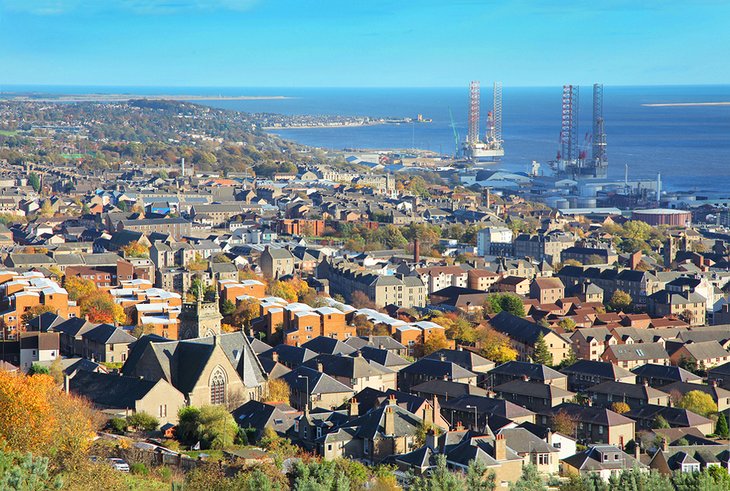 An easy day trip from Edinburgh, Dundee is famous for its spectacular river crossings. Stretching as far as the eye can see across the Firth of Tay from Dundee all the way to the village of Wormit, the Tay Rail Bridge was constructed in 1887 and remains an impressive - and much photographed - feat of engineering.
Considered one of the world's top rail trips, the views are simply stunning as you travel the structure's two miles of steel. If you can't make the crossing by rail, two viewing platforms offer excellent views over Dundee.
From the bridge, you're only a short walk to the city's waterfront. This old port area has been given a major makeover and is now home to top Dundee attractions such as Discovery Point, a maritime museum, and a number of historic vessels, along with a kid-friendly science museum.
If you've still got energy left, wander the Old Town center before ascending Dundee Law, an old volcano boasting superb views over the town and its famous rail bridge.
5. Inverness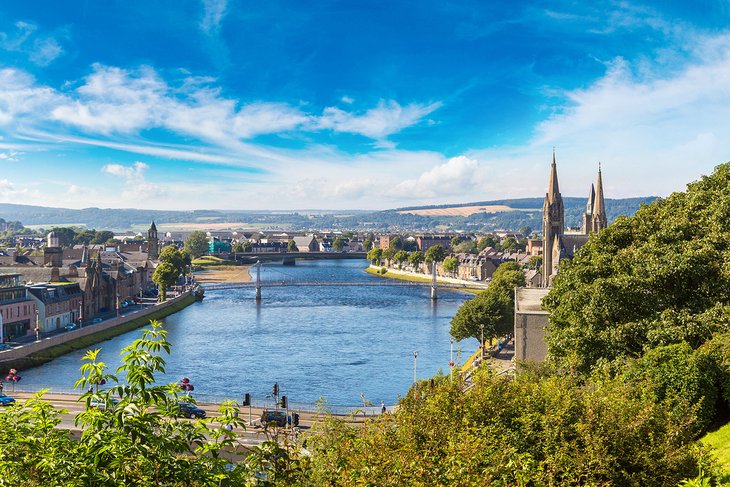 Exploring the Scottish Highlands should be a highlight of your Scotland travel itinerary. And there's no better place to use as your base than the beautiful Highland city of Inverness.
From here, you're just a short drive away from such iconic Scottish scenery as Loch Ness and Urquhart Castle, and some of the most memorable views you'll experience in a country that, frankly, is full of incredible vistas. Be sure to take your hiking boots with you, too, as plenty of trails crisscross the glens and mountains of this breathtakingly beautiful region.
Inverness is certainly not without its charms, either. Places to go include Inverness Castle, parts of which are open to the public, as well as the city's cathedral.
A must-visit for its excellent shopping, the historic Victorian Market was built in 1890 and offers plenty of fun shopping and dining opportunities.
6. Perth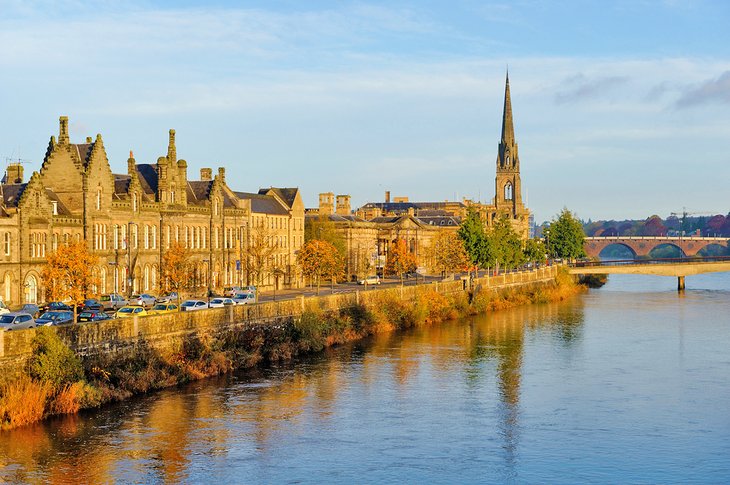 Just a short hop from Dundee - and accessible by rail from Edinburgh, providing a chance to cross the famous Forth Rail Bridge - the small city of Perth offers a pleasant taste of a less-busy Scotland.
Kick things off by heading to the River Tay. While you'll already have seen parts of the incredibly romantic vistas from the train, you'll now want to wander back across the river, camera (or mobile phone) in hand to capture them for posterity. The best views include the Old Town from the park-like setting of Moncrieffe Island.
Speaking of the Old Town, be sure to visit the Church of St. Johns, which dates from the mid-1400s, and the Perth Museum and Art Gallery, with its fascinating exhibits of local history and artwork.
If visiting in spring, head to Branklyn Garden, a popular place to visit for its magnificent flowerbeds and walking paths.
7. Stirling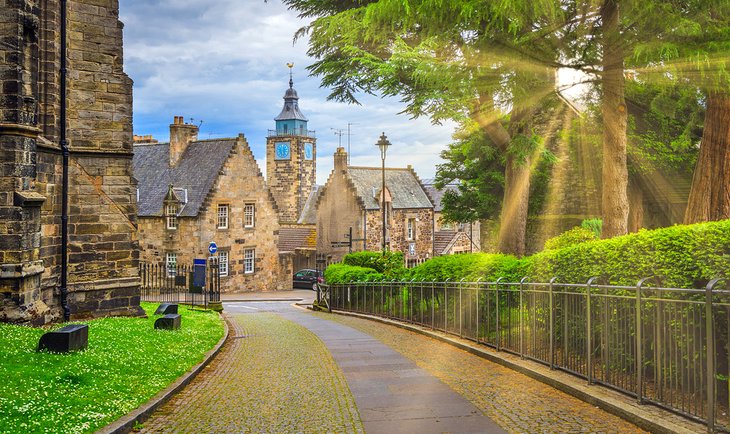 The lovely university city of Stirling has a long and rich history, especially as it relates to Scotland's struggle for independence through the centuries. Just 50 minutes' drive from both Edinburgh and Glasgow, Stirling is where Scottish king Robert the Bruce sent the English packing in 1314.
The remarkable victory that came to be known as the Battle of Bannockburn is commemorated at the Bannockburn Heritage Centre. First-rate displays and exhibits outline the history of the battle, along with William Wallace's success in the Battle of Stirling Bridge.
Wallace is also commemorated at the National Wallace Monument, located just outside the city on the road to the University of Stirling and the pretty town of Bridge of Allan. Some of the best views of the Wallace Monument can be enjoyed from the ramparts of Stirling Castle, a well-preserved medieval fortress that offers fun tours by guides in period costumes.
8. Ayr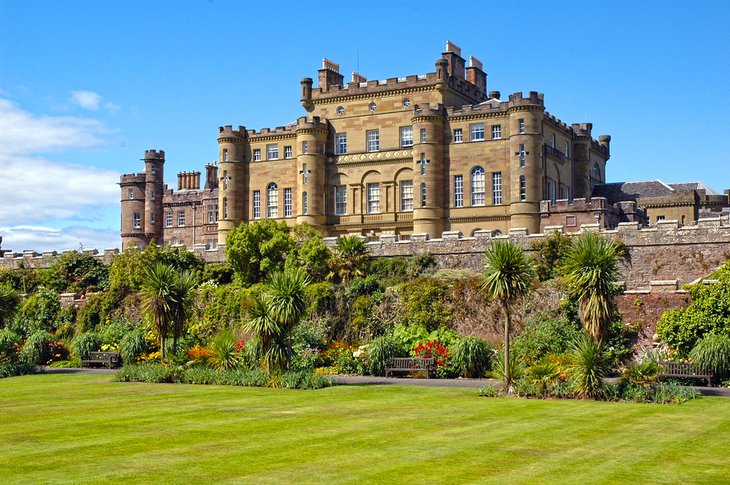 Best known as the birthplace of Robbie Burns, the city of Ayr on the west coast of Scotland is well worth exploring. Scotland's most famous poet is celebrated everywhere here.
To make sure you don't miss any of the best landmarks related to this legendary Scotsman, follow the Burns' Heritage Trail to Alloway on the outskirts of Ayr. Here, you'll find the cottage in which Burns was born, as well as an excellent museum dedicated to his life and times.
Americans also have a hero who's forever connected to Ayr: Dwight Eisenhower. It was at Culzean Castle to the south of the city that the famous general stayed for a period after the war.
Today, the original apartments he enjoyed can in fact be booked for a truly memorable vacation getaway. Set amid over 560 acres of stunning countryside, the property has become a much-visited attraction, especially among Americans.
9. Dumfries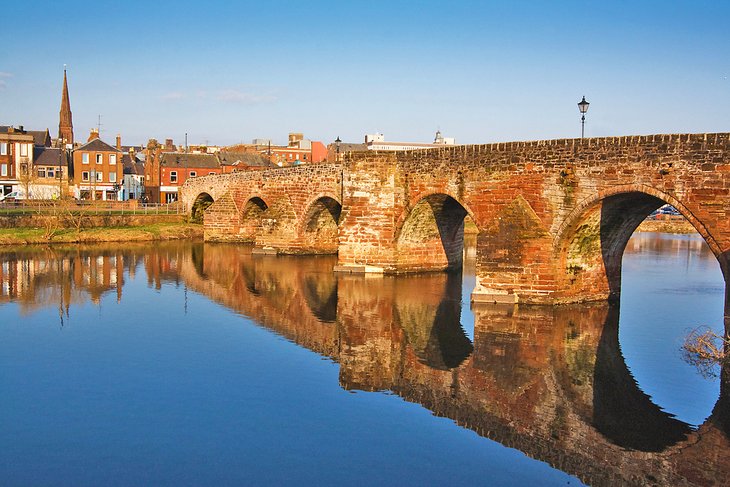 From Ayr, it's only a short drive to Dumfries, which also harbors a number of Robbie Burns-related attractions. Topping the list is the poet's former home on Burns Street.
Now an excellent museum dedicated to the poet and his life, it was here Burns lived for the last few years of his life; and thanks to its free admission, the museum is also considered the top thing to do for free in Dumfries.
Also of interest is nearby St. Michael's Churchyard, notable as the burial place of the poet, and the Robert Burns Centre. Located in a mill built in the 1700s, this fascinating attraction features original manuscripts, artifacts, and exhibits.
Other must-visit attractions include the Dumfries Museum. Here, you'll find plenty of information related to local history and the worlds' oldest operational camera obscura. Afterwards, head over to the excellent Molly May's Tea Shop for a great afternoon tea.
10. St. Andrews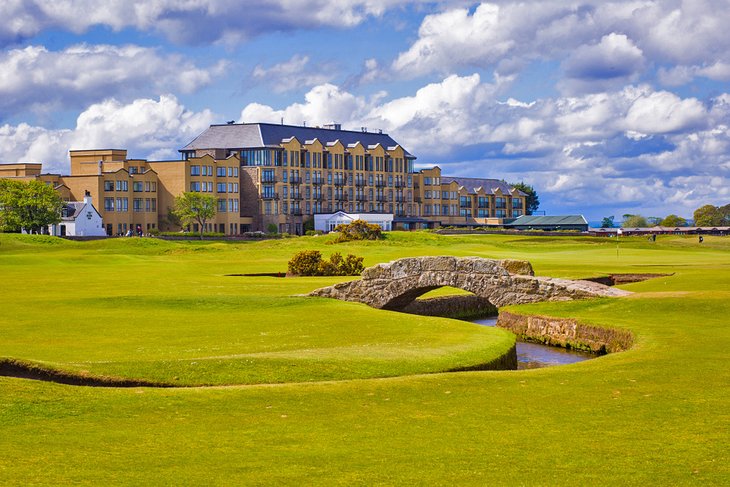 St. Andrews is a must-visit for anyone with an ounce of interest in golf. Now something of a mecca for golfers, the Royal and Ancient Golf Club in St. Andrews was established in 1754, making it the oldest - and most prestigious - course in the world. In addition to its seven golf courses, the excellent British Golf Museum is worth a visit, too.
There's much else to see and do here that's not related to the sport of golf. St. Andrews is a university city, home to the country's oldest seat of higher learning, and one of its top accommodation options when school's out.
The area around St. Andrews also boasts a number of great beaches, the most popular of which is West Sands Beach. This two-mile expanse of sand is just steps away from the golf course and makes for a wonderful stroll.
11. Fort William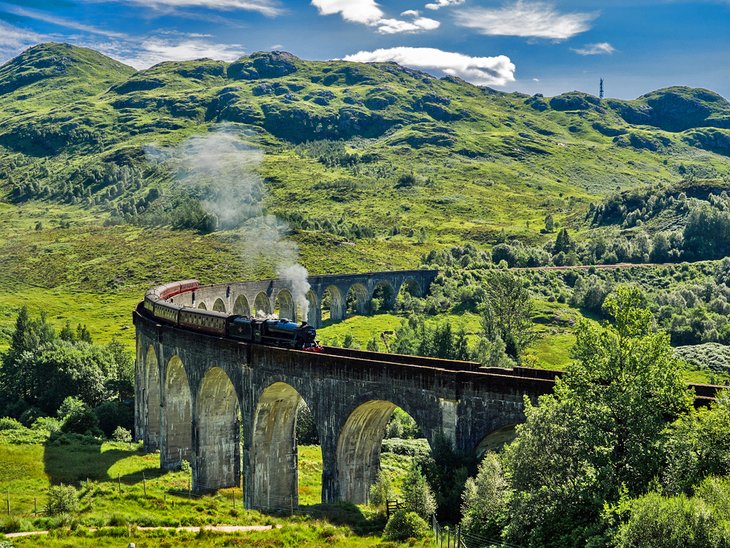 The bustling seaside destination of Fort William lies at the south end of the Caledonian Canal and makes an excellent starting point for excursions into the unspoiled Northwest Highlands and Ben Nevis.
Fort William itself, after which the town was eventually named, was built in 1654 following the 1st Jacobite Rising. One of the town's attractions includes the West Highland Museum, popular for its large collections of period paintings, weapons, furniture, and traditional Highland clothing.
A great excursion from Fort William is to Glenfinnan Viaduct, often recognized from numerous Harry Potter movies. You can also enjoy a steam excursion aboard the Jacobite steam train over the bridge, a journey that's considered one of the world's most stunning rail adventures.
Also within easy reach is Ben Nevis, one of Scotland's most popular natural attractions and a big draw for outdoor enthusiasts.
12. Dunfermlin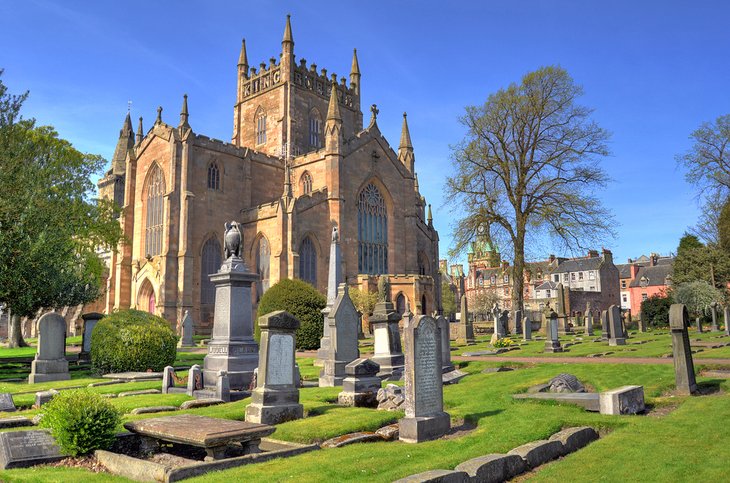 Dunfermline is famous as the historic capital of Scotland, and in later years derived its prosperity from coal mining and damask linen. A good starting point for a tour of the town is Malcolm Canmore's Tower in Pittencrieff Gardens, the foundation walls of which date from the 11th century. The city's old Benedictine Abbey, founded in the 12th century, is also worth visiting.
Another popular sightseeing spot is Andrew Carnegie's Birthplace Museum, located in the small cottage in Moodie Street where Carnegie was born in 1835. A comprehensive collection of pictures and documents describes how this poor weaver's son became one of the world's richest industrialists - and greatest philanthropists - of his time.
13. Oban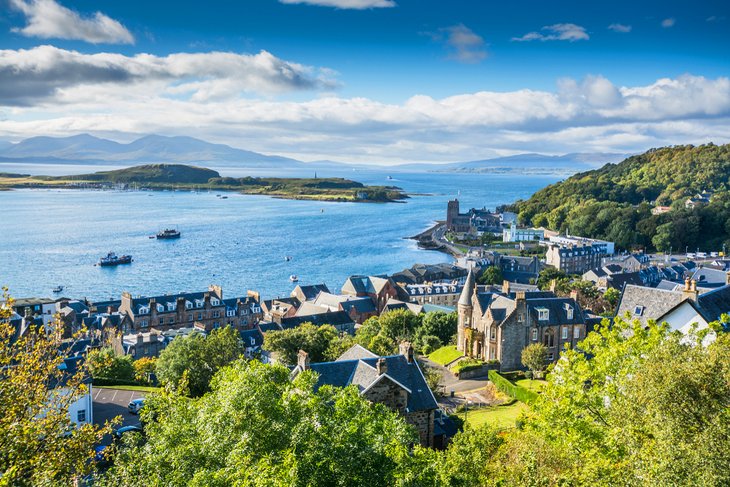 Located just an hour's drive away from Fort William, the pretty town of Oban is well worth including on your Scotland travel itinerary. Its picturesque setting is capped by its bay and harbor area, sheltered by the nearby island Kerrera (be sure to include the ferry ride to the island in your visit).
There's no end of fun things to do in Oban, whatever your interests, and the town itself serves as a great base for visits to the surrounding islands, including Staffa and Iona, which are popular for sea kayaking and other outdoor adventures.
Oban is also immensely walkable, whether you choose a gentle stroll along the pretty Corran Esplanade, or make the 144-step climb up to McCaig's Tower. Better still, do both as the views are amazing in both places.
There are also plenty of great little inns and traditional B&Bs for those wanting to spend more than a single day exploring Oban and its surrounds.
14. Falkirk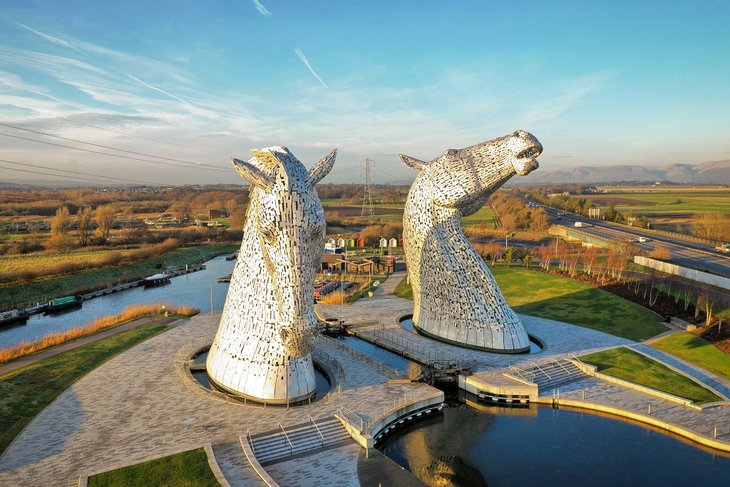 An easy 30-minute train ride from the Scottish capital of Edinburgh (and on the rail line to Stirling), the town of Falkirk is worth a stopover. There are two big draws here: the Falkirk Wheel and the famous Kelpies.
Opened in 2002, the Falkirk Wheel is a marvel of modern-day engineering that can lift eight boats at a time, connecting the historic Union Canal to the Forth and Clyde Canal. In addition to exploring the attraction's informative visitor center, be sure to book a cruise and a behind-the-scenes tour of the Wheel.
From here, it's just 15 minutes' drive (or a fun canal cruise) to the famous Kelpies. Looking not unlike horses' heads, these impressive 30-meter-tall sculptures dominate the surrounding scenery and make for a wonderfully unique selfie backdrop.