16 Top-Rated Tourist Attractions in Glasgow
We may earn a commission from affiliate links ()
Located on the River Clyde, Glasgow has been transformed from an industrial city to Scotland's cultural center, with its excellent museums, art galleries, concert venues, and festivals. Its Gaelic name, meaning "lovely green place," is apt, given its 70 parks and open spaces. Music lovers of all kinds will find plenty of things to do in Glasgow, known as Scotland's music capital, with venues that include the Theatre Royal (home of the Scottish Opera) and the Concert Hall (home of the Royal Scottish Orchestra).
Important cultural events include the Celtic Connections Music Festival and the Gourock Highland Games, and it's also a busy sports town, home to two major league football (soccer) clubs and a rugby club.
One of Glasgow's major attractions for tourists is its relationship with Charles Rennie Mackintosh, founder of the Glasgow School of Art, a major factor in the Arts & Crafts Movement. Buildings, museums, and even a cemetery feature his and his associates' works. To learn more about these and other fun things to do, be sure to refer often to our list of the top attractions in Glasgow Scotland.
See also: Where to Stay in Glasgow
1. Glasgow Cathedral
The city's most significant historic building is the 12th-century Glasgow Cathedral, also known as St. Mungo Cathedral or the High Kirk of Glasgow. Seen from both inside and out, it looks as if it dropped out of a giant mold: the lines are clear, and there's no superfluous ornamentation.
Projecting from the south transept is the Blacader Aisle, named after the first bishop of Glasgow. The grandest room in the cathedral, however, is the crypt, which houses the tomb of St. Mungo, founder of the bishopric, who was buried here in AD 603. Although a visit to the cathedral is regarded as one of the top free things to do in Glasgow, donations are always welcome. Guided tours are also available free of charge.
2. Glasgow School of Art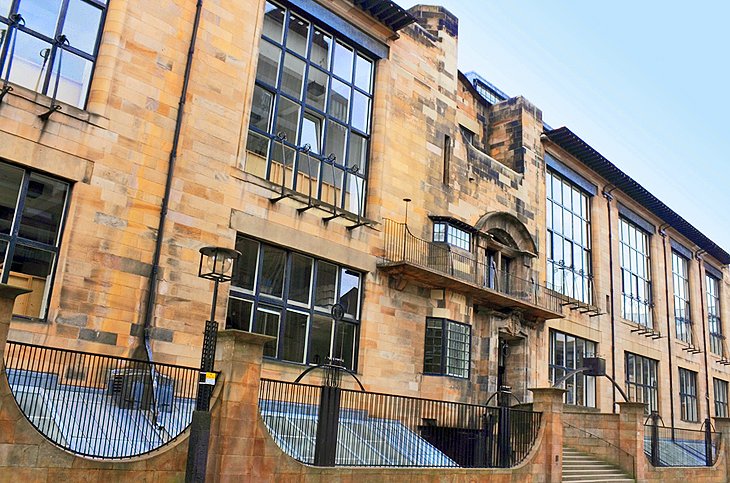 Mackintosh's Art Academy is essential viewing for lovers of fine architecture. Completed in 1909, this Art Nouveau building confirmed the reputation of 28-year-old designer Charles Mackintosh, not just as a master of the exterior-the grand west facade is dominated by three 65-foot-high oriel windows, and the smaller windows on the east front are reminiscent of Scottish castles-but also as a superb interior designer.
3. Kelvingrove Art Gallery and Museum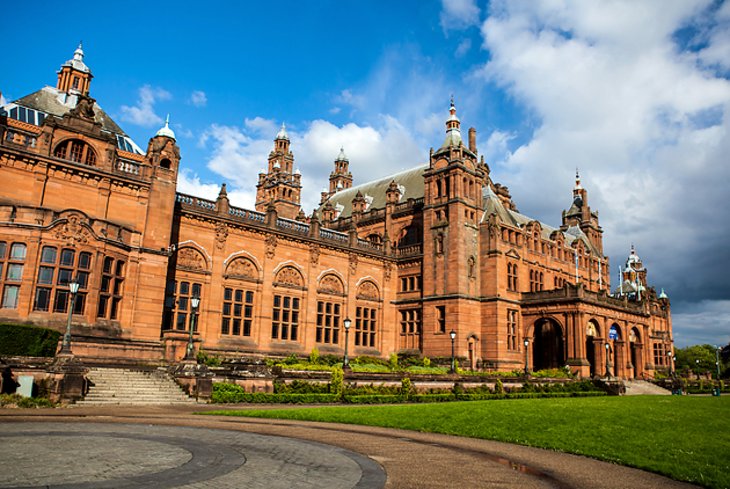 The bustling entertainment and shopping mecca of Sauchiehall Street, now almost entirely given over to pedestrians, is more than 1.5 miles long and offers the largest range of shops in the city. Sauchiehall Street ends at Argyle Street in the city's West End, a trendy area of cafés, restaurants, high-end shops, posh hotels, and, perhaps most importantly, the wonderful Kelvingrove Art Gallery and Museum.
Opened in 1901, the museum has a fine collection of British and continental paintings, including such gems as Van Gogh's portrait of the Glaswegian art collector Alexander Reid, and Salvador Dali's Christ of Saint John of the Cross.
An exceptional series of galleries feature the Glasgow School of Art and its best-known figure, Charles Rennie Mackintosh, with complete furnished rooms, pottery, metalwork, furniture, and other works of art. Scottish archaeological finds include Bronze Age tools and jewelry from Arran, Kintyre, and Glenluce.
4. George Square and the Merchant District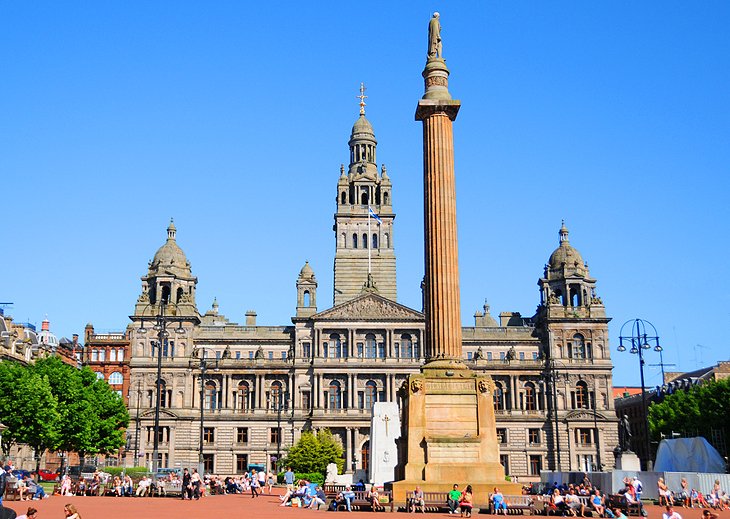 At the heart of Glasgow's historic Victorian city center stands the flower-bedecked George Square with its 12 statues of famous people associated with the city, including Robbie Burns, Walter Scott, and Queen Victoria. The east end of the square is dominated by the Town Hall and its 230-foot tower completed in 1890, while the Merchants' House is the headquarters of Britain's oldest Chamber of Commerce, founded in 1605.
South of George Square, a group of mid-19th-century warehouses are part of the city's trendy Merchant City district that, along with The Italian Centre, offer unique cafés, restaurants, and designer boutiques. The area is particularly attractive in winter, when families and those here enjoying some Glasgow sightseeing are bedazzled with an impressive display of Christmas lights.
5. A Walk through the Necropolis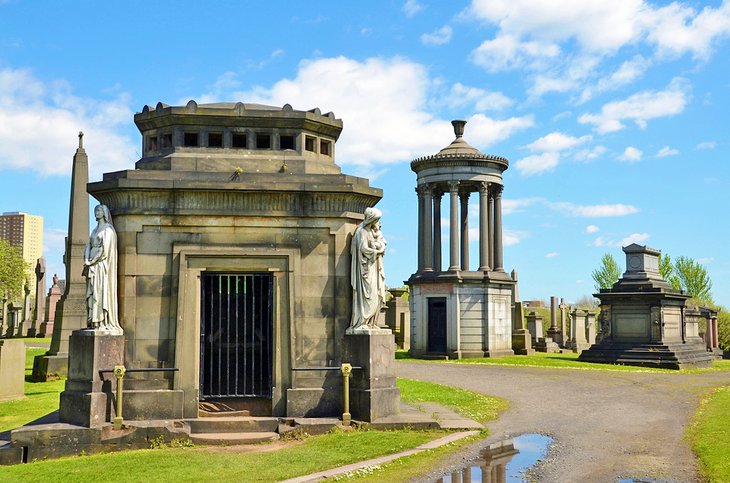 Neighboring Glasgow Cathedral is the Necropolis, a Victorian Gothic garden cemetery that covers 37 acres that has famously been described as a "city of the dead." It is filled with not only beautiful memorial stones – all told, some 3,500 of them – but also sculptures and buildings designed by Glasgow artists, including Charles Rennie Macintosh.
6. The University of Glasgow: The Hunterian Museum and Art Gallery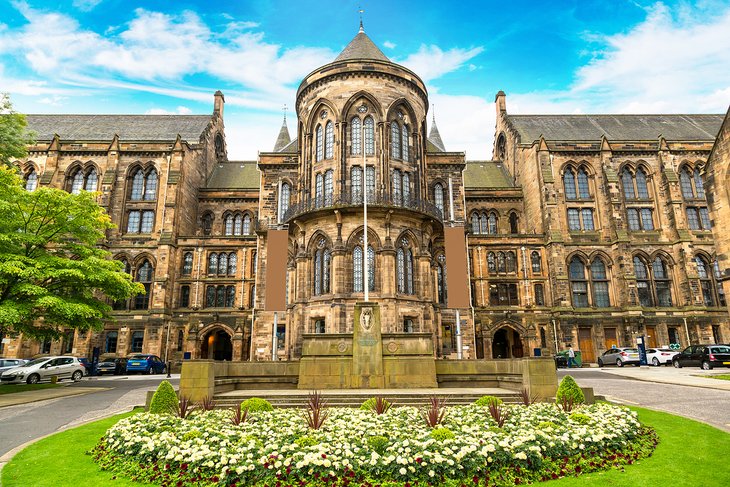 The University of Glasgow dates from 1451 and is the second-oldest school of higher education in Scotland. The university has employed many illustrious teachers over the centuries, including James Watt; Adam Smith; and the "father of antiseptic surgery," Joseph Lister. A permanent exhibition at the Visitor Centre in University Avenue goes into more detail about the important discoveries made by these and other scientists who taught here.
Another famous scientist with connections to the university was William Hunter, an 18th-century Glaswegian doctor who bequeathed his collection of anatomical parts, coins, and objets d'art to form the basis of the Hunterian Museum. The museum now includes collections from the departments of ethnography, zoology, geology, and archaeology, including many finds from Roman sites. Artwork on display includes works by Rubens, Rembrandt and Reynolds.
7. Riverside Museum and Tall Ship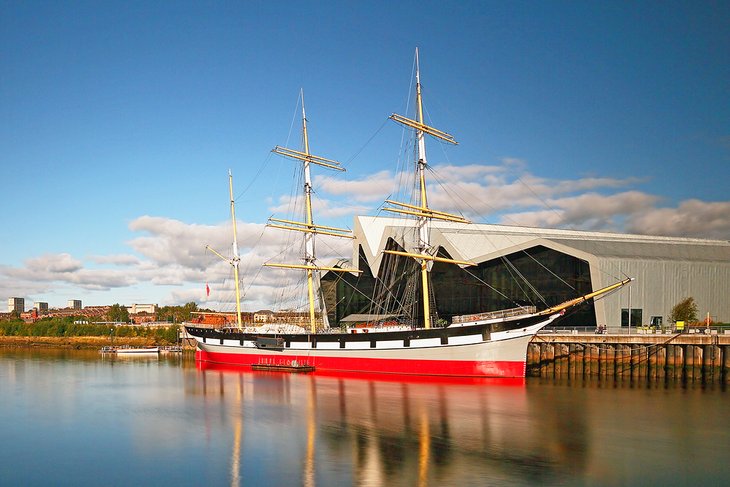 Glasgow's ultra-modern, award-winning Riverside Museum includes many of the exhibits from the city's former Transport Museum, including model ships, locomotives, trams, vintage cars, and horse-drawn carriages. The majority are Glasgow-built.
A superb reconstruction of a 1938 Glasgow street has been added to the displays, as well as exhibits on immigration and disasters, featuring the sinking of the Lusitania. The Tall Ship at Riverside is docked just outside, giving visitors the opportunity to explore the Glenlee, a Glasgow-built three-masted barque that has been carefully restored by the Clyde Maritime Trust. Interesting guided tours are available, sometimes with costumed guides.
Those interested in museums and antiquities should also plan on paying a visit to the Glasgow Museums Resource Centre. This fascinating facility is where many of the city's museums store their collections when they are not on display. Think of it a little like a visit to a Costco, but nothing's for sale. It's a large place, with its many storage rooms stacked high with everything from artworks and sculptures to armor and weaponry; in fact, more than 1.5 million artifacts are stored here, so chances are you'll see something of interest.
8. Glasgow Science Centre & Glasgow Tower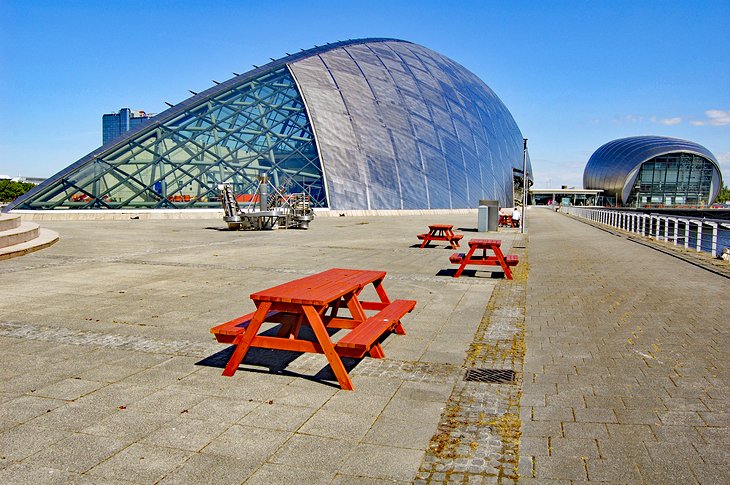 A must-visit sightseeing opportunity for families, the Glasgow Science Centre is a great way to spend time together. Located in the waterfront area near the Riverside Museum, this popular attraction is housed in a suitably striking titanium-clad building shaped like a ship's hull and offers no-end of hands-on fun and exploration.
Notable exhibits include human health, technology, and general scientific principles, along with a variety of laboratory-type stations where kids can attempt a few practical experiments based on their newly acquired knowledge. Also worth checking out here are the planetarium, an Imax cinema, and a science theater, where regular lectures and talks are held.
This is also the site of Glasgow Tower, Scotland's tallest building. It soars 127 meters (417 feet) high and offers panoramic views of Glasgow and the surrounding landscape from its observation platform. What makes this a truly unique spectacle, however, is that the entire structure is able to rotate a full 360 degrees. It was designed this way to withstand wind, and is the tallest of its kind in the world.
9. Pollok House and Pollok Country Park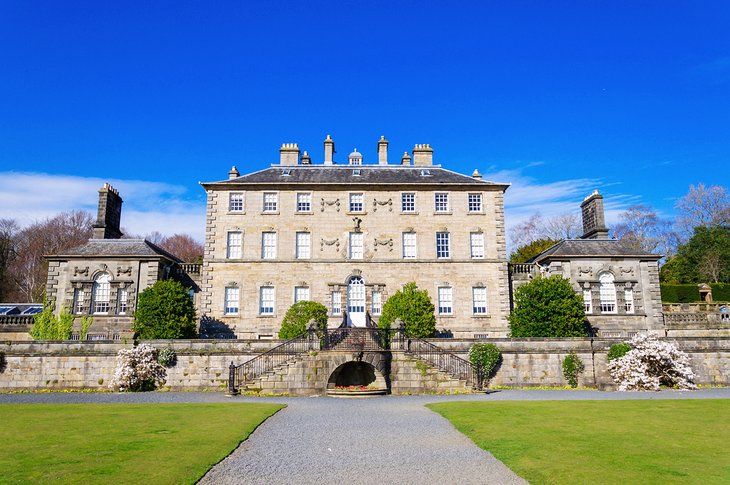 Close to four miles southwest of Glasgow's city center, the grounds of Pollok House cover an area of 355 acres. The home of the Maxwell family, this Edwardian mansion was built in 1752 by William Adam and his sons.
The majority of the expansive building is now open for visitors to explore, from the grand entrance hall to the extensive servants' quarters. Sir William Stirling Maxwell's collection of Spanish paintings by El Greco, Goya, Murillo, and Velázquez hangs on display, as well as several significant works by William Blake. Guided and self-guided tours are available.
10. Kibble Palace and Glasgow Botanic Gardens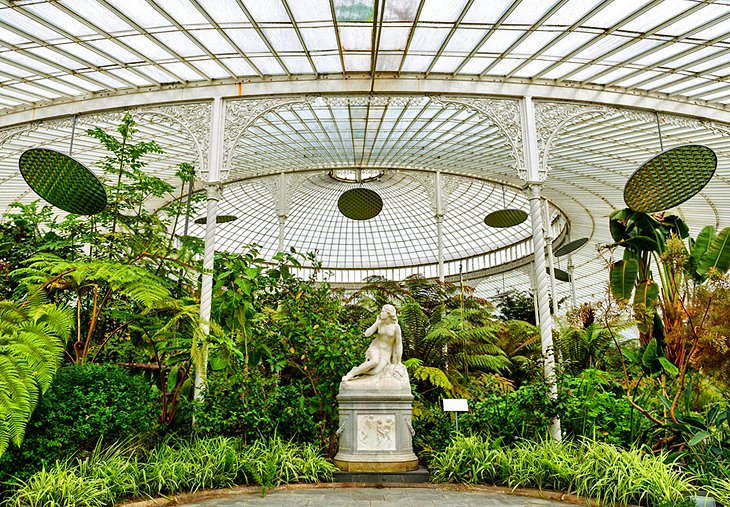 For more than 200 years, the Glasgow Botanic Gardens have served as an oasis of natural beauty for the residents and visitors of Glasgow's West End. Originally founded in 1817, the gardens began as a conservatory for students at the University of Glasgow.
Built in 1873, Kibble Palace is the main attraction and one of the largest glasshouses in Britain. It contains a collection of rare orchids; tree ferns from Australia and New Zealand; and plants from Africa, the Americas, and the Far East. The grand structure is constructed of wrought iron and glass, providing a striking setting. Additional glasshouses include a variety of tropical plants that can be enjoyed year-round.
Among the outdoor gardens are the World Rose Garden and Children's Garden, which has a playground. There is also a designated walking path designed with families in mind, as well as a Heritage Trail that leads to the Kelvin Walkway.
One of the most popular things to do at the Glasgow Botanic Gardens is have a formal tea at the Tearoom in the Curator's House. Open seasonally, visitors can enjoy sitting among the foliage and flowers while enjoying a traditional tea time. There are also year-round dining options on-site, as well as plenty of space to spread out on the grass with a picnic.
11. Glasgow Green and the People's Palace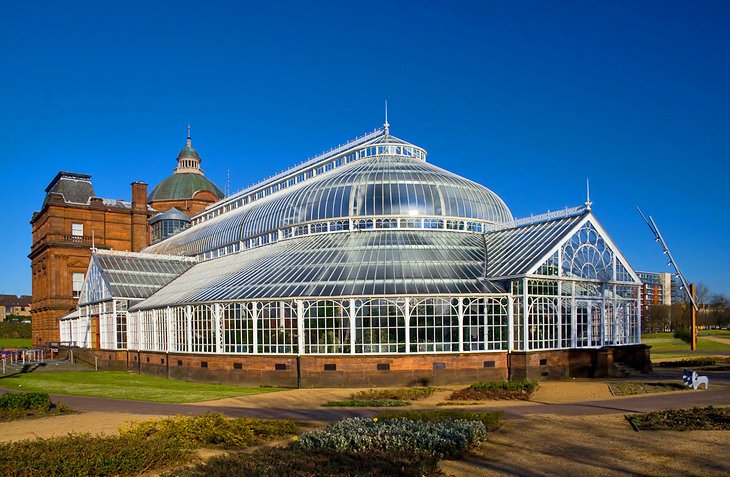 Laid out in 1662, Glasgow Green is by far the oldest of the city's parks and is an easy walk from the city center. One of the park's main attractions is the People's Palace, a museum built in 1898 that tells the story of Glasgow from 1750 through the 20th century. Exhibits include a reproduction of a "Single End" home from the 1930s, a look at "the steamie" bathhouses, and a display dedicated to remembering the dance hall at the Glasgow Barrowlands Ballroom.
12. The National Piping Centre and the Bagpipe Museum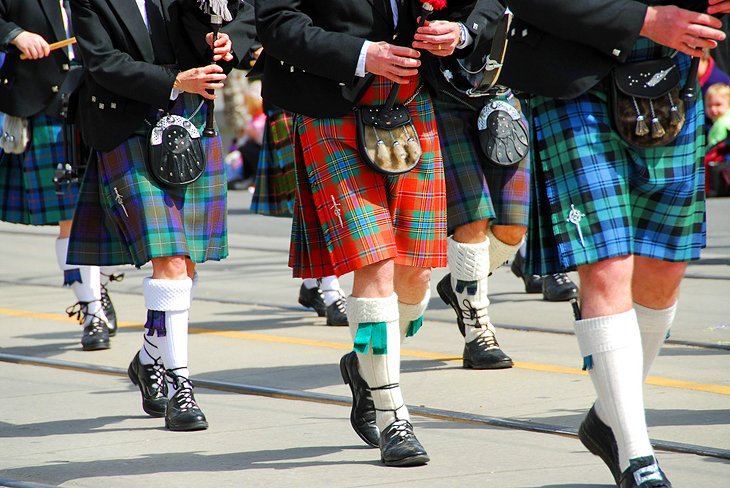 The National Piping Centre is an excellent resource for those with a passion for bagpipes and drumming, whether as a performer or a fan. Lessons and courses are available, including intensive bagpipe schools held at a variety of locations worldwide. The National Piping Centre is also home to the superb Museum of Piping, which includes piping memorabilia belonging to Robbie Burns and the 17th-century Iain Dall MacKay chanter, the world's oldest surviving bagpipe relic.
13. Gallery of Modern Art (& Other Must-Visit Galleries)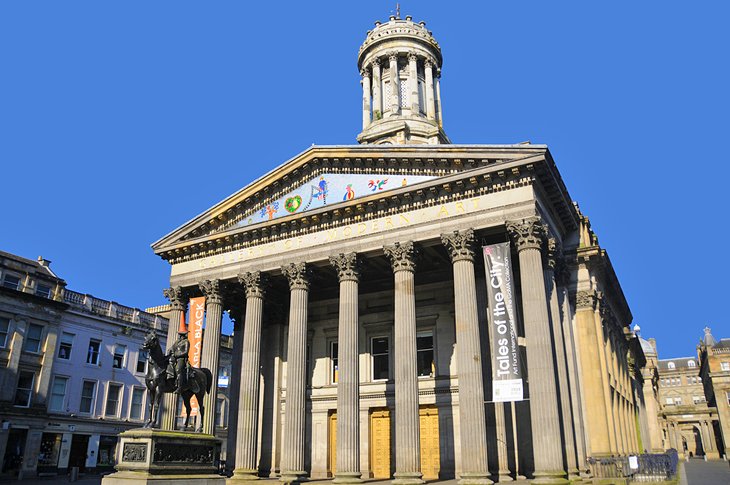 For art lovers, Glasgow is something of a feast. In addition to facilities such as the Kelvingrove Art Gallery, this revitalized city has more galleries and related things to do than could possibly be enjoyed in a day or two, so plan on staying longer to get a true Glaswegian art fix.
Leading our list of other must-visit art facilities is the superb Gallery of Modern Art. Known locally simply as the "GOMA," this Romanesque structure is home to an often changing roster of exhibits featuring both local and international artists, along with workshops and lectures. And keep a look out for the equestrian statue outside the facility-chances are it'll have a cone placed on its rider's head, a typical Glaswegian gesture indicating an often irreverent attitude to local authorities, who have long since given up removing it.
14. The Tenement House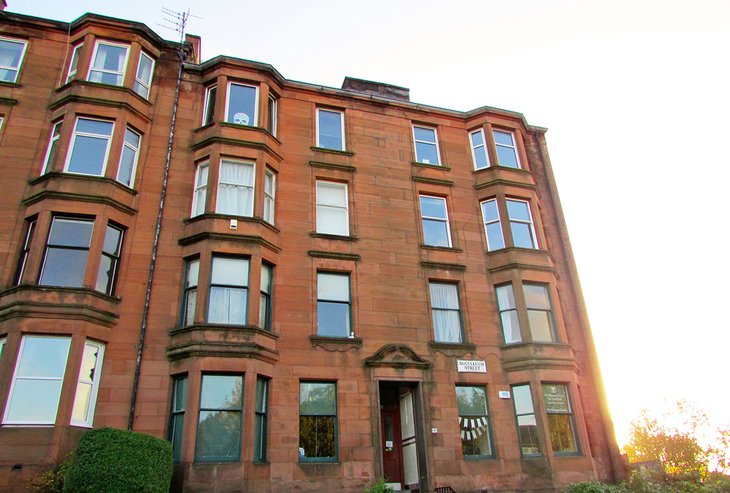 This small museum is a time capsule of the life of Agnes Toward, a typist who lived alone in one of Glasgow's 19th-century tenement apartments from 1911 through 1965. Although she remained in this home for over 50 years, Agnes's residence changed very little from how she kept it in the 1920s, almost frozen in time. Preserved by the National Trust for Scotland, the home sits just as it did when Agnes lived here.
Among the most interesting features of the apartment are its working gas lights and the original 1892 coal-fired kitchen stove, complete with stovetop, oven, and iron-heating racks. The kitchen is fully outfitted with century-old cookware and cleaning supplies, including a hand-crank laundry wringer. Each room contains its original furniture, including well-preserved Victorian-era horsehair chairs, a box bed, a piano, and a pedal-operated sewing machine in excellent condition.
15. Glasgow Central Station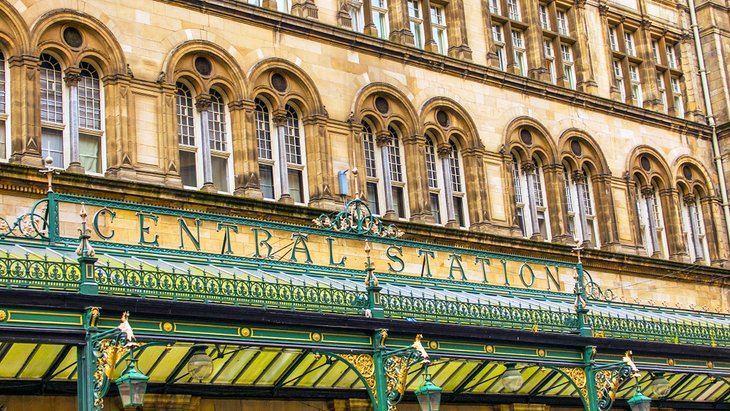 Glasgow Central Station is well worth a visit even if you aren't planning to hop aboard a train. This beautiful Victorian station exudes grandeur and historic charm while serving as Scotland's busiest rail station, fitted with modern amenities. It opened in 1879 as the city's second major station, and today houses a variety of restaurants, cafés, and shops.
Among its most stunning architectural features is Heilanman's Umbrella (Scottish Gaelic for "Highlandman's Umbrella"), a glass-walled bridge that connects the main station to Argyle Street. It was given this name because this was a common meeting place for immigrants from the north, providing them a centrally located spot that offered cover.
It is also home to the voco Grand Central Glasgow hotel, which features a lovely Queen Anne-style façade. Visitors can book tours that explore the station's hidden vaults and abandoned subterranean platforms.
16. The Lighthouse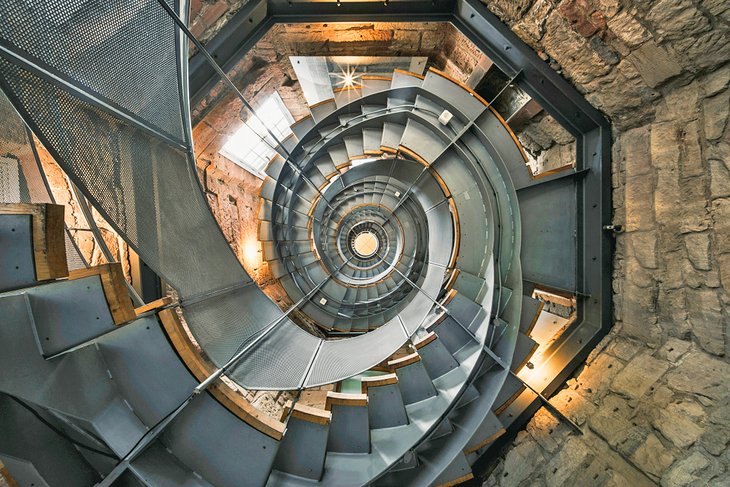 The Lighthouse is home to Scotland's Centre for Design and Architecture, which features both permanent and rotating art exhibits of contemporary Glasgow artists and designers. It is also home to an exhibit honoring Charles Rennie Mackintosh who designed the building, formerly home to the Herald newspaper. The Lighthouse is also known for Mackintosh Tower, a stunning stone structure that can be climbed via a spiral staircase for excellent views.
Where to Stay in Glasgow for Sightseeing
Glasgow's top attractions are so widely spread that it's impossible to stay near all of them. But it's a pleasant city to explore on foot, and many attractions are within walking distance of the cluster of shops and restaurants around the pedestrianized blocks of Sauchiehall Street. Fortunately, that area of Glasgow also has a number of these highly rated hotels. Here are a few of our favorites:
More Must-See Attractions near Glasgow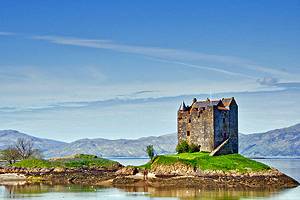 Some of Scotland's top attractions can be easily explored on day trips from Glasgow. One of the most famous sites in all Scotland, Loch Lomond is a short train ride from the city. From here, you can take one of Europe's most beautiful train rides, from Balloch to Oban, gateway to the Isle of Skye and the Hebrides. Southwest of Glasgow are lovely Ayrshire and Dumfriesshire, where you can follow a trail of attractions connected to poet Robbie Burns. The elegant city of Edinburgh is a train-ride away to the east, crowned by the impressive Edinburgh Castle.