10 Top-Rated Attractions & Things to Do in Oban
The busy town of Oban lies on the west coast of Scotland in a sheltered bay in the lee of the island of Kerrera. Just 49 miles (and an hour's drive) south of Fort William, this attractive coastal town has been one of Scotland's most popular resorts since Victorian times. It has also long served as an important port and harbor, providing services to Scotland's West Highlands and Hebrides regions.
One of the top things to do in Oban is to take one of the many popular boat excursions from Oban to the small islands of Staffa and Iona. Along the way, you'll be rewarded with superb views of the beautiful east coast of Mull.
Oban also makes for a good base for sightseeing excursions into the Highland mountains and lochs. And Ganavan Sands - situated behind Dunollie Castle, and considered one of the top beaches in Scotland - offers plenty of great opportunities for sunbathing, swimming, and water sports.
Plan your trip to this beautiful region of Scotland with our list of the top things to do in Oban.
See also: Where to Stay in Oban
1. Make the Climb to McCaig's Tower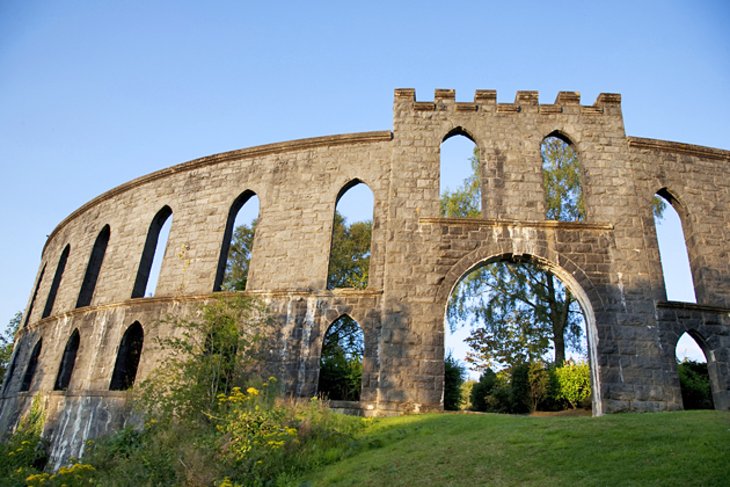 McCaig's Tower - also known locally as McCaig's Folly - makes a good vantage point for viewing Oban and the surrounding area. An interesting take on the Colosseum in Rome, the imposing structure was designed and built at Battery Hill at the end of the 19th century by wealthy banker, John Stuart McCaig.
Using local stone quarried in nearby Etive, he claimed the work would gainfully employ numerous townsfolk. However, it didn't take long before the locals realized this folly was really intended as a memorial to McCaig and his family. Unfortunately, the project - which was to house a museum and art gallery, as well as full-sized statues of the McCaig family - was mothballed when the banker died in 1902.
It's well worth climbing the 144 steps from the town to the gardens and the folly for the spectacular views, and, of course, a great selfie. It has also become a popular spot for wedding photos.
Address: Duncraggan Rd, Oban, Scotland
2. Take a Stroll along Corran Esplanade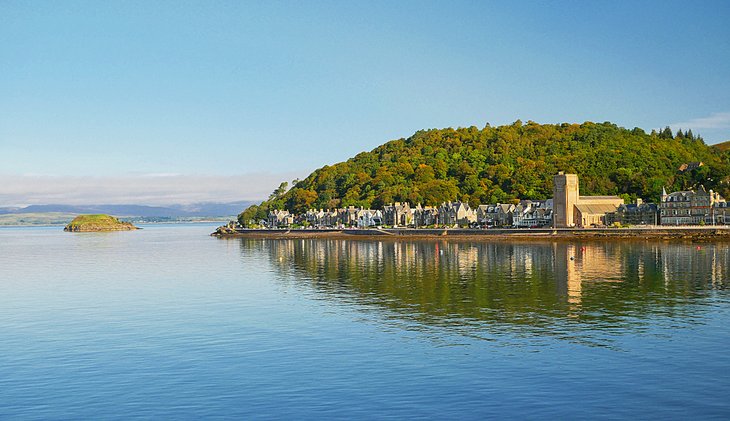 After taking in the breathtaking views and enjoying the pleasant gardens of McCaig's Tower, spend a little time exploring the town's waterfront. One of the best things to do here is to take a stroll along Oban's pleasant Corran Esplanade.
Reminiscent of the seaside towns usually associated with England, Oban prospered during Victorian times as well-heeled travelers descended on its inns and guesthouses, drawn by train from Glasgow and other points across Scotland to partake in its fresh air and pleasant setting. Not much has changed along the esplanade, which is still lined with shops, hotels, cafés, and restaurants.
Be sure to stop at the Oban War Memorial, a tribute to the fallen in WW1 and WW2, which offers superb views over the island of Kerrara. Another highlight is the Oban War and Peace Museum with its exhibits and displays relating to the town's wartime past.
Address: Duncraggan Road, Oban
Official site: www.obanmuseum.org.uk
3. Visit Dunollie Museum, Castle, and Grounds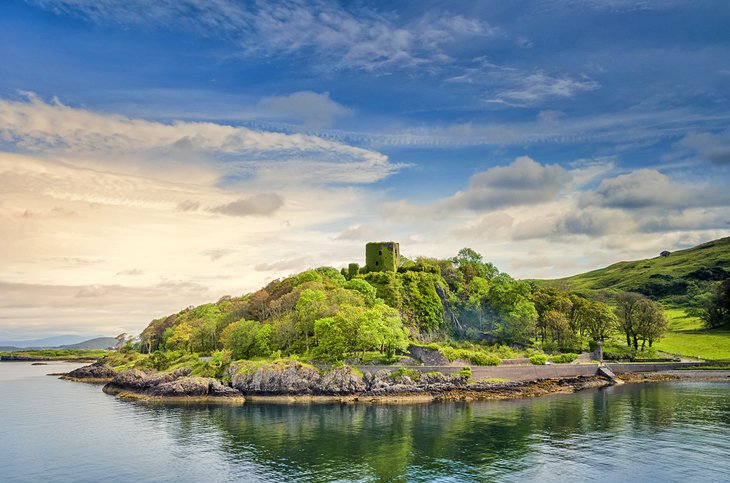 Located on the outskirts of Oban, the ruins of Dunollie Castle are a delight to explore. Along with its dramatic views towards the island of Kerrara, the site offers plenty to see and do in its excellent museum.
In addition to exploring the ruins, which date back to the 1400s, highlights of a visit to the imposing ruins include the 1745 House, home to a collection of artifacts and displays relating to the MacDougall clan and the local community over the centuries.
A variety of interactive displays and workshops are also held here, including weaving demonstrations, while guided tours are held daily. Visit on a Sunday, and you'll be rewarded with the chance to see a local piper in action. Also worth a mention is the castle's pleasant garden café.
Address: Dunollie House, Oban, Scotland
Official site: www.dunollie.org
4. See Dunstaffnage Castle and Chapel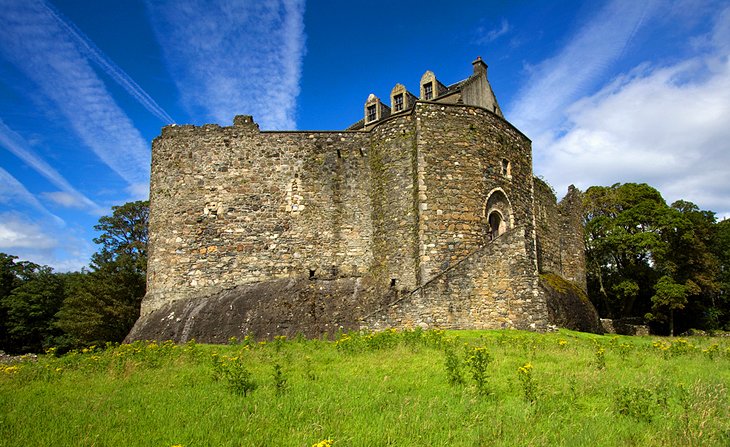 Dunstaffnage Castle, just four miles north of Oban, stands guard on a rock overlooking the entrance to Loch Etive. The three round towers and the walls, in places 10 feet thick, date from the 13th century, when the castle belonged to the Campbell clan, and are among the oldest in Scotland.
The residential tower was built in the 17th century, while the cannons on the ramparts were salvaged from a Spanish galleon that sank in Tobermory Bay during the time of the Armada. A few yards farther on, the ruins of a 13th-century chapel deserve special attention as several early Scottish monarchs are said to be buried here alongside members of the Campbell family.
Address: Castle Grounds, Dunbeg, Oban, Scotland
Official site: www.historicenvironment.scot/visit-a-place/places/dunstaffnage-castle-and-chapel/
5. Take a Tour of Castle Stalker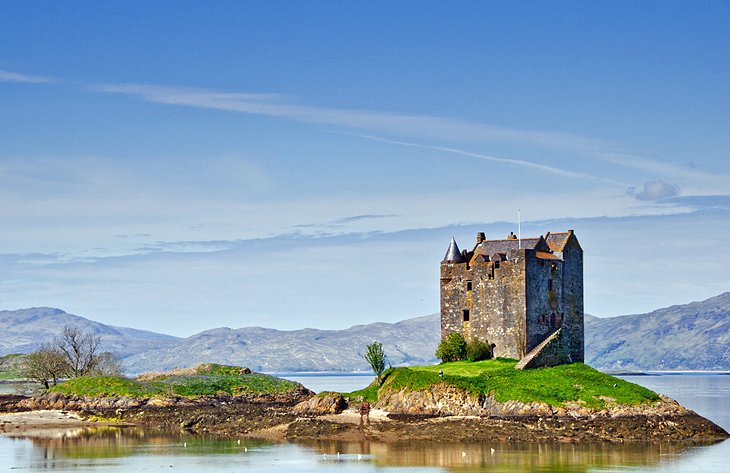 Castle Stalker, located a scenic drive away 25 miles north of Oban, occupies a romantic setting on a small island in Loch Linnhe. Built in the 14th century as the home of the Stewarts of Appin, it was later used by James IV as a hunting lodge - hence the name, which is Gaelic for hunter - and was restored in the 1960s. It's also well-known among comedy fans for its roll in the cult Monty Python and the Holy Grail movie.
This tourist attraction opens for tours from April to September each year. Tours must be booked in advance and include the boat ride to the island. Expect to spend approximately two hours on these fun daily tours, which are led by a member of the owner's family. (Editor's Note: Given the terrain, these tours are not suitable for those in wheelchairs or with mobility issues.)
Address: Castle Stalker, Appin, Scotland
Official site: www.castlestalker.com/wp/
6. Bonawe Iron Furnace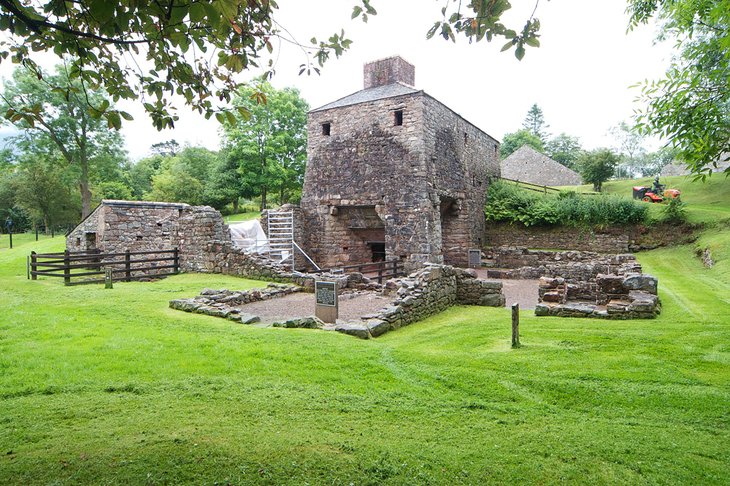 The historic Bonawe Iron Furnace, a charcoal-fired ironworks located on the shores of Loch Etive, was in service between 1753 and 1876. It has been faithfully restored with particular emphasis on the furnace and adjoining buildings, including the two large sheds used for charcoal storage.
The site once employed as many as 600 workers, most of them for woolgathering and charcoal making. A few years before it closed, the foundry was notable for making cannonballs that were used in the Battle of Trafalgar, one of the reasons why today the village of Taynuilt has a monument to Lord Nelson.
After your visit, spend some time exploring neighboring Glen Nant National Nature Reserve. This forested area was where workers felled the trees needed for charcoal production for the furnace.
Address: Taynuilt, Argyll, Scotland
Official site: www.historicenvironment.scot/visit-a-place/places/bonawe-historic-iron-furnace
7. Loch Etive and Ardchattan Priory Gardens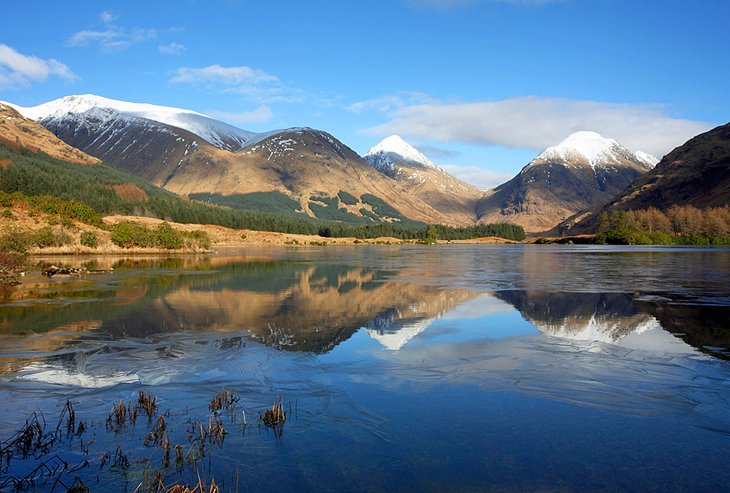 The northern tip of Loch Etive, only accessible by dirt road or boat, marks the start of the remote Glen Etive. Here, magnificent golden eagles fly, their wingspans reaching an impressive eight feet, and can sometimes be seen hunting. One of the top things to do on Loch Etive, and one of the best ways to see the loch and enjoy its stunning natural beauty, is to hop aboard a cruise boat such as those operated by Etive Boat Trips. These services run a variety of fun excursions.
The Ardchattan Priory Gardens, founded in 1230 by Valliscaulian monks from the Burgundian Val des Choux, is situated on the north bank of Loch Etive. Apart from the remains of the transept, Cromwell's troops left little else of the buildings, although the adjoining garden, which can be traced back some 700 years, contains over 200 varieties of shrubs, including some fine bush roses.
You'll also notice a number of yew trees here. These are ancestors of trees which were reputedly pruned by none other than Robert the Bruce, who also used their branches to fashion the bows for use against the English.
Address: Ardchattan, Oban, Scotland
Official site: www.ardchattan.co.uk
8. Take a Cruise on Loch Awe & See Kilchurn Castle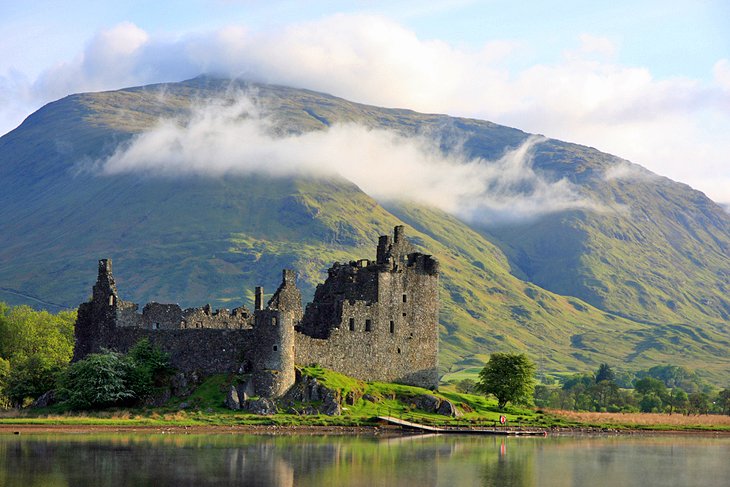 Lovely Loch Awe is one of Scotland's largest lakes. Together, it and the Pass of Brander - the roadway following the River Awe - offer superb vistas of a stunning mountain backdrop that includes the majestic double peak of Ben Cruachan (3,693 feet).
Pleasure cruises along the loch are available and are one of the top things to do when visiting. Departures are from the pier in the village of Lochawe, from where your boat heads south beneath wooded hillsides and past several islands, including Priest's Isle, formerly a priests' colony, and Inishail, once the site of a Cistercian monastery.
You'll also see the ruins of Kilchurn Castle occupying a picturesque spot on a small peninsula at the northern end of Loch Awe. Built in 1440, it originally had a tower and keep, but in 1693, the first Earl of Breadalbane reinforced the site with a curtain wall. The castle has also served as a backdrop for popular TV shows, including Outlander, as well as the Harry Potter movies.
Address: Lochawe, Dalmally, Scotland
Official site: www.historicenvironment.scot/visit-a-place/places/kilchurn-castle
9. Take a Ferry to the Island of Kerrera & Visit Gylen Castle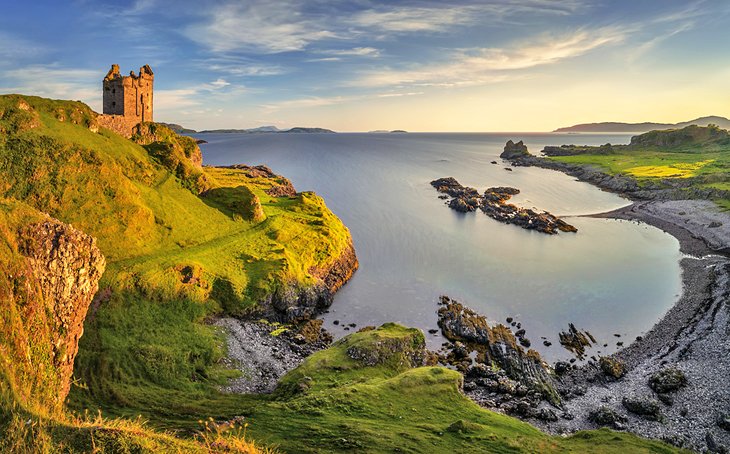 One of the most popular things to do when visiting Oban is to hop aboard the local ferry service from Gallanach, just south of Oban, and take the short voyage to the island of Kerrera. It's a relatively quick trip suitable for foot passengers only, as the island, with a population of just 45 souls at last count, has no paved roads - and those roads it does have are really only fit for mountain bikes, so leave the road bikes at home.
But at just four miles long and a mile wide, it makes the perfect getaway for hikers seeking somewhere new to explore. And as it's less than half a mile from the mainland, it's also a popular place to visit for kayakers, who can often be seen circumventing the island as they explore its shoreline.
A highlight of a visit is the chance to explore what's left of Gylen Castle. These long-abandoned fortifications date back to 1582, when the castle was built for the ruling MacDougall clan. Now mostly ruins, the castle is accessible via a mile-long footpath that's easy to spot after disembarking the ferry. After all that hiking and exploring, pop into the island's sole eatery, the Kerrera Tearoom, for a well-deserved spot of tea.
10. Take a Drive to Kilmartin Church and Castle Sween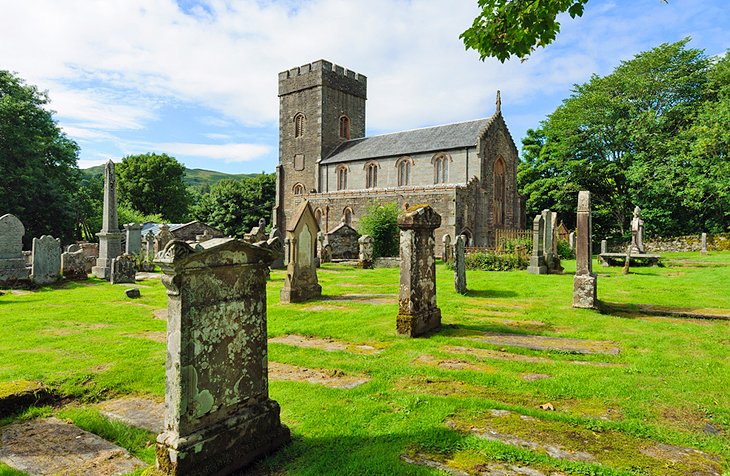 Although it's a 45-minute drive south of Oban, the village of Kilmartin is well worth a visit. Of particular interest are the unusual gravestones seen in the graveyard at Kilmartin Church, the oldest dating from Pictish times, the most recent from the 19th century. To the south of the tiny village, a number of standing stones have been preserved, the oldest of which, the Nether Largie South Cairn, date from the early Bronze Age around 5000 BC.
Also of interest is Castle Sween, a further 30-minute drive to the south and thought to be the oldest stone castle on the Scottish mainland. Built in the middle of the 12th century, it was destroyed in 1647 by Sir Alexander MacDonald.
Another attraction here is St. Columba's Cave, a rocky cavern just north of Ellary that was used by Stone Age man and where St. Columba first set foot on Scottish soil (a rock altar and cross symbols testify to the existence of an early Christian church). A notable collection of 15th-century gravestones are found 12 miles south of the cave near the ruins of Kilberry Castle.
Where to Stay in Oban for Sightseeing
Luxury Hotels:
A great choice for those with a taste for luxury, the Manor House

Hotel

is set in an attractive Georgian villa boasting beautiful sea views, upscale dining, and complimentary deluxe toiletries.
Mid-Range Hotels:
A great mid-priced hotel stay can be enjoyed at The Ranald

Hotel

, popular for its convenient location, cozy rooms, and free hot breakfast.
Classy rooms and quality bedding are the norm at the Perle Oban

Hotel

, which offers yoga classes and other amenities within an easy walk of the train station.
Failte Bed &

Breakfast

also offers great accommodations at a good rate. It's popular for its hilltop location near the town center, with a very considerate host, who serves homemade granola for breakfast.
Budget Hotels:
The Best Western The Queens

Hotel

is a great choice of a place to stay for its affordable rates, sea views, friendly staff, and complimentary buffet breakfast.
Tips and Tours: How to Make the Most of Your Visit to Oban
Day Trip from Edinburgh:
If you're based in Edinburgh and looking for a dynamite day trip, consider taking the Oban and the West Highlands Day

Trip

. With pickup at 8am from Edinburgh's Royal Mile and drop-off nearly 12 hours later, this is a brilliant way to squeeze in the very best of Scotland's dramatic Highland scenery. Highlights include the stunning scenery of the Trossachs National Park, stops on the shores of Loch Lomond and Loch Awe, and, of course, time in Oban itself for lunch. After visiting attractions such as McCaig's Tower, enjoy a pleasant bus ride back to Edinburgh, with a final photo op (and some shopping) in Inveraray. Along with the services of a professional guide, your adventure includes transportation in an air-conditioned mini bus.
More Related Articles on PlanetWare.com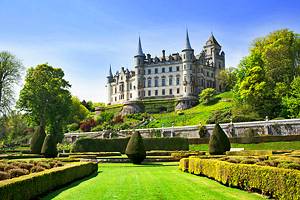 Easy Day Trips: A fun excursion from Oban is beautiful Loch Lomond, an area of outstanding natural beauty that is home to The Trossachs National Park, one of the top hiking destinations in Scotland. Just a little farther south, and you're in Glasgow, the country's cultural capital and home to world-class museums and art galleries. And if you're up for the spectacular drive to Inverness through the Highlands, a journey of 2.5 hours, you'll pass stunning Loch Ness along the way.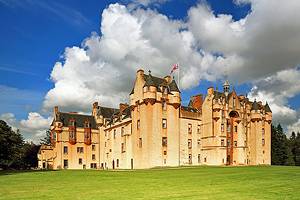 Must-See Cities and Towns: Scotland's most popular cities and towns include Edinburgh, the nation's capital, famous for the spectacular Edinburgh Castle and the Royal Mile and its well-preserved medieval architecture. Also worth visiting are Aberdeen, often referred to as the garden capital of Scotland for its many pleasant parks and green spaces, and Dundee, also located on the country's east coast and home to the two-mile-long Forth Railway Bridge.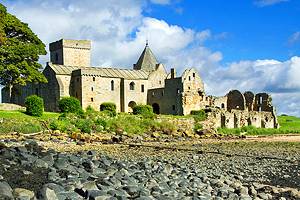 Scotland Travel Ideas: Scotland is one of the most popular travel destinations in the British Isles for good reason. Not only is this small country home to numerous beautiful islands, such as the Isle of Skye, long a popular hiking and sightseeing destination for its ease of access (it's connected to the mainland by bridge), it's also a big draw for golfers, here to sample the historic courses of St. Andrews. Finally, those interested in Scottish literature should head to the city of Ayr, famous as the birthplace of Scottish poet Robbie Burns.