11 Top-Rated Tourist Attractions on the Isle of Skye
From majestic castles to magnificent views, Scotland's famed Isle of Skye is a breathtaking paradise for hikers and nature-lovers alike. Plus, it's packed with notable tourist attractions and fun things to do.
The largest of the Inner Hebrides, this 80-kilometer-long wonderland has a rich history. Look out for dinosaur fossils, brocks (Pictish round towers), and the ruins of Viking houses as you explore the captivating countryside of this Scottish masterpiece. The island's best attractions can be attributed to Mother Nature, so be sure to give her a nod of thanks while you're touring her best works.
Skye's impeccable scenery is its most impressive feature. Peppered with untamed mountains and lush valleys, this remarkable island is a hiker's nirvana. With caves, waterfalls, beaches, and glens, explorers will find a new adventure at every turn. You'll definitely want to book a car for this trip, so you can take everything in at your own pace.
Also, be sure to pack water and snacks, as you won't be pulling over at roadside shops or gas stations. It's mostly you, the pastoral landscape, and magnificent peaks. Thankfully, commercialism hasn't yet made its mark on this illustrious isle.
Find the best places to visit with our list of the top attractions on the Isle of Skye.
1. Portree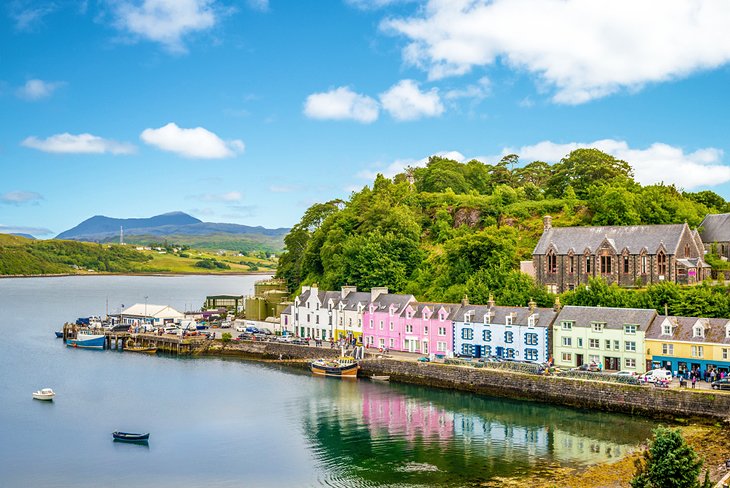 The Isle of Skye's main town, Portree, is a fantastic base for sightseeing on the island. This bustling port revolves around its scenic harbor, complete with a picturesque rainbow of houses. There is plenty of shopping on offer and a slew of restaurants from which to choose.
A worthwhile downtime option includes catching a show, concert, or film screening at the Aros Centre. Once you're well rested, it's time to enjoy the real reason people visit this famed Isle - the unbeatable scenery.
Lealt Falls are a must-see and lie a mere 18-minute drive away. While here, take a walk up to Loch Cuithir. A bit farther astray, but definitely worth a visit, is Eilean Donan Castle. One of the most stunning castles in the UK (and that's saying a lot), Eilean Donan sits an hour's drive away. You'll have to cross Skye Bridge, which connects the Isle of Skye to the mainland.
Once you've seen Portree's best tourist attractions (and those close by), it's time to head further afield. The easiest way to explore the Isle of Skye is by letting someone else do the driving. Book the Skye in a Day from Portree tour for a comprehensive look at top sights like Kilt Rock, Fairy Glen, The Old Man of Storr, and Neist Point.
2. Quiraing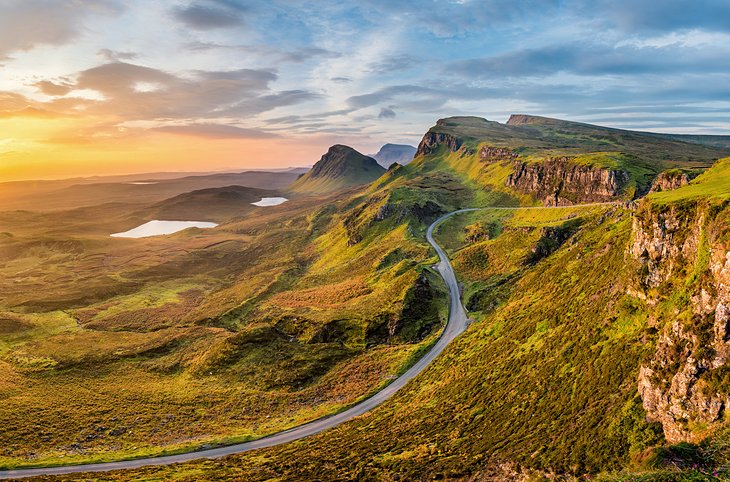 Located in the Trotternish area, on the northernmost summit of Skye, Quiraing is a magnificent place steeped in both natural beauty and history. Formed by a series of substantial landslips, this area boasts abundant cliffs, rock pinnacles, and captivating plateaus. Small lakes dot the base of the craggy mountains, adding to the area's immense allure and making it one of the top attractions on the Isle of Skye.
This region is in constant motion, which is why the nearby roads require constant repair. Multiple winding trails provide walkers with ample opportunities to find the best view, although you really can't go wrong when it comes to spectacular vistas in this locale. Charge your camera because this spot is a photographer's Shangri-La.
The most famous observation point is found at the top of the Quiraing Mountain Pass, where on a clear day, you can see to the seashore. Some say villagers hid their cattle in the Quiraing's hidden nooks and crannies in an effort to protect them from Vikings.
A four-mile loop around the region will take about two hours to walk, more if you stop to appreciate the scenery. It starts in the village of Staffin or Uig but may not be a safe bet if it's too windy or misty, so check local weather forecasts before heading out.
We highly suggest bringing water and snacks along, as well as waterproof gear and comfy walking shoes.
3. The Old Man of Storr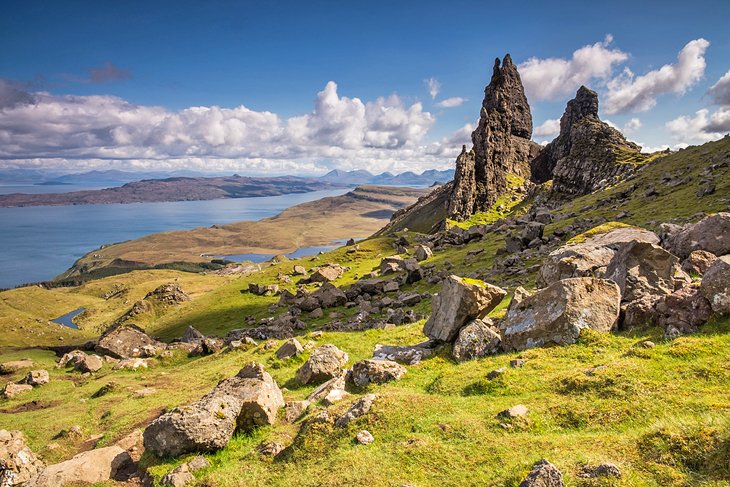 Numerous legends surround a group of majestic rocks known as The Storr. Also found in the Trotternish Region, a large pinnacle is particularly breathtaking. Surrounded by its rugged siblings, The Old Man of Storr is impossible to miss. This mysterious, and some would say haunted, marvel is a popular spot to take in stupendous views, especially during midday. It's also one of the most recognizable of the top attractions on the Isle of Skye.
While some believe The Old Man of Storr to be the thumb of a giant that once lived on Trotternish Ridge, others are content with a more scientific explanation: an ancient landslide created this spectacular wonder. No matter what you think, you're sure to be impressed with the unsurpassable views and lush beauty of this northern spectacle. Pack a camera!
A mere 15-minute drive from Portree, The Old Man of Storr is accessible on foot and will take about 75 minutes and 3.7 kilometers to walk up and back down. Wear proper gear and head out early if you want to beat the crowds, especially during summer.
4. Kilt Rock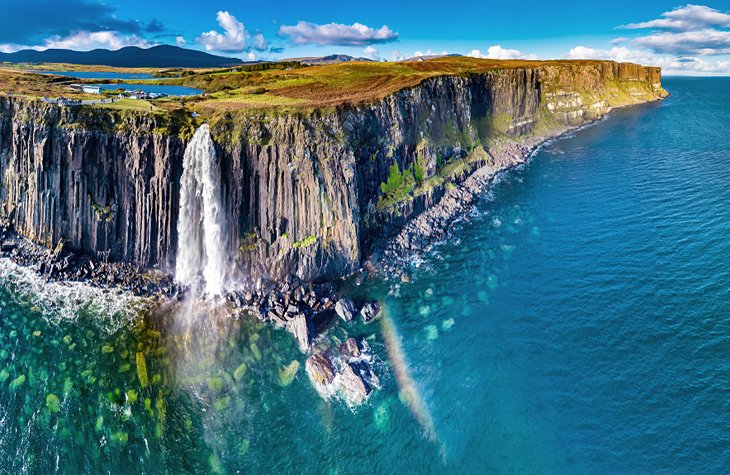 The kilt-like pattern of sedimentary and igneous rocks led to this sea-cliff's unique name. Your first glimpse of this 90-meter wonder, located on the Trotternish Peninsula, will literally take your breath away.
This dramatic cliff also boasts another of the top tourist attractions on the Isle of Skye, the Mealt Waterfall, a lavish cascade you will likely hear before you see. This impressive waterfall drops 51 meters into the Sound of Raasay, caressing the kilt-shaped basalt rock columns on its way down.
If you listen closely, you can hear the whistle made by the falls as the water crashes down. Similar to a bagpipe's eerie tunes, this whistle becomes even more dramatic on a particularly windy day. It's a long way to the sea below, so be sure to stay behind the protective barrier on the viewing platform.
5. Fairy Pools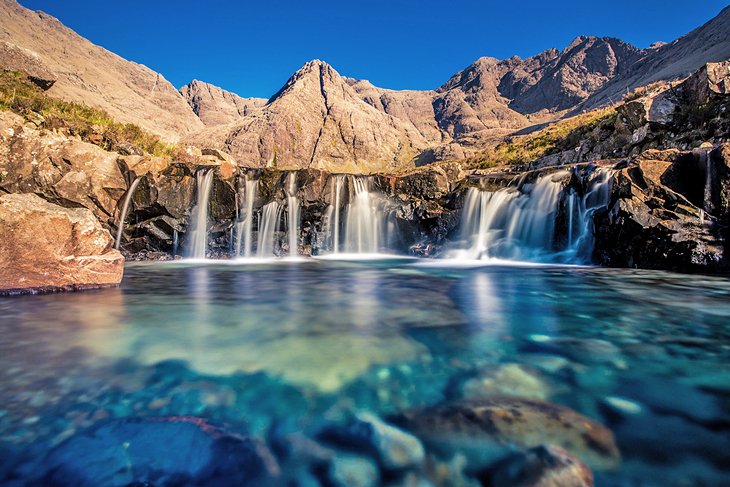 A magnificent slice of paradise is found at the foot of the Black Cuillin mountain range. Not easily spotted from the road, the spectacular Fairy Pools wow visitors who've made the easy 1.2-kilometer trek from the parking lot.
While the looming mountain range entices travelers to turn their gazes upwards, the crystal-clear water of the intricate Fairy Pools is so captivating, you'll find it difficult to keep your eyes on anything else.
Located near the village of Glenbrittle, this incredible spot is so serene, you'll almost forget that you're sharing the view with many other travelers. If you're hoping for true solitude, visit early in the morning so you can have the place to yourself.
The crisp streams, deep emerald pools, and rushing waterfalls are a photographer's dream, while the sparkling water invites the bravest of travelers to jump into its icy embrace. Others will enjoy seeing their reflections stare back at them from the pristine pools while they scramble across the rocks.
6. Fairy Glen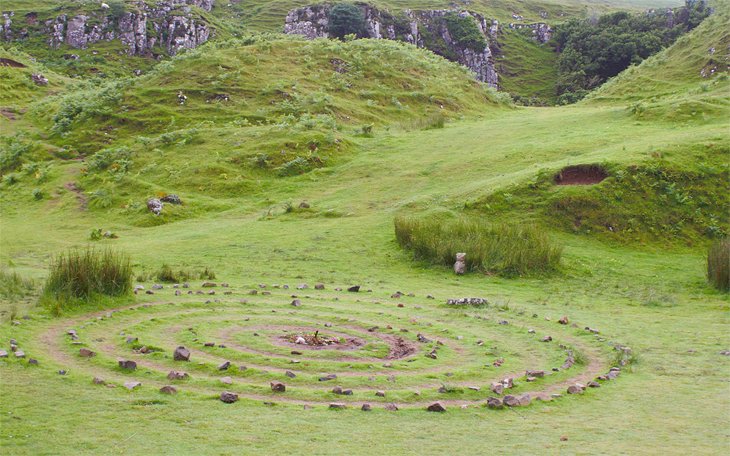 While there's no proof this enchanted spot was created by fairies, a visit to Fairy Glen will have even the biggest cynic believing in magic. Found on the west side of Trotternish near the village of Uig, Fairy Glen is utterly divine and overtly enchanting. This is one of the best tourist attractions for families on the Isle of Skye.
Grassy hills are ringed by paths worn down by the many sheep who call this ethereal land home. You'll find a ton of them wandering around the hilltops and hiding in the nooks and crannies spotted throughout the glen, bleating their welcome as you come near.
One of the tallest hills in Fairy Glen maintains its basalt top, which looks like an ancient man-made tower. Fittingly, it has been named Castle Ewan. Kids will love playing "king of the castle" from here, and chasing each other through the winding landscape in a game of tag.
A walk up these fairy-tale hills provides delightful views of a lush, charmed land you'll remember for years to come. As is the case with many of the gorgeous spots on this list, be sure you pack a camera!
7. The Skye Museum of Island Life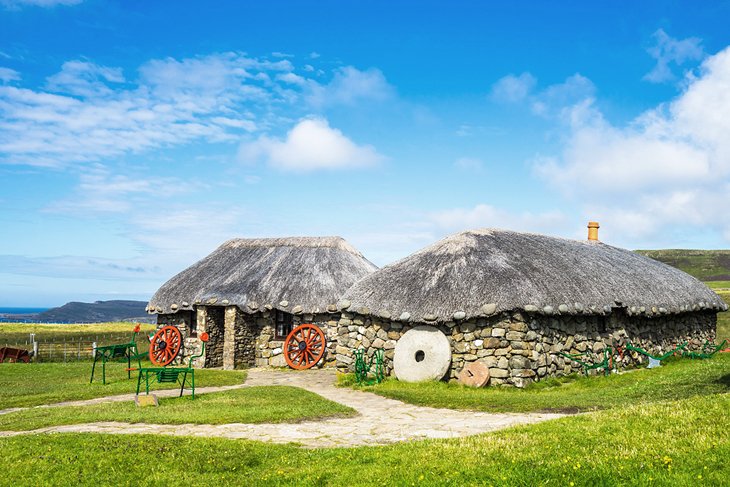 Step back in time with a glimpse of what life was like in an old Highland village. Situated in Kilmuir, The Skye Museum of Island Life features a preserved town of thatched cottages, one of which dates to the mid-19th century.
This unique museum opened in 1965 with a goal of "preserving a township of thatched cottages," and it has done so successfully. Head inside the historic homes to learn about the area's history, as well as how the settlers survived in this rugged terrain. Intricate exhibits teach visitors how the earlier villagers thatched a roof, tilled soil, made peat fires, and created tweed for blankets and clothes.
Within the museum and its cottages are the Croft Kitchen, Croft Bedroom, Barn, Weaver's Cottage, Old Smithy, and Celidh House. You'll also find everything from ancient bibles to agricultural equipment to bedding, along with incredible, sweeping vistas of the surrounding countryside.
8. Sligachan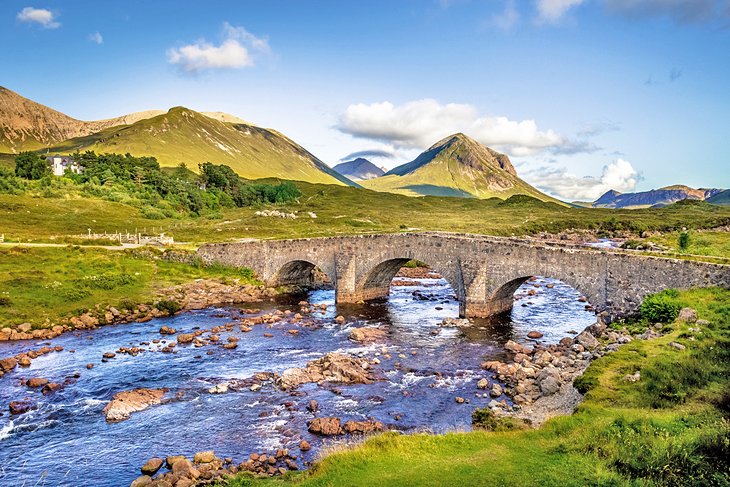 The best place to witness a picture-perfect view, Sligachan lies at the spot where the Black Cuillin meets the western seaboard. Below a captivating stone bridge runs the River Sligachan, a vista made famous on the front of a gazillion postcards.
The Red and Black Cuillins (a large range of rocky mountains) rest nearby, awaiting adventurous travelers willing to climb to their ragged peaks. While climbing these mountains is one of the most popular things to do in the Isle of Skye, it can also be incredibly arduous and even dangerous, especially if the conditions aren't great. '
Plan your journey before you leave and pack appropriate climbing gear, snacks, and water. You may even want to include a hiking stick to help you stay balanced on the often slippery trails.
Not an adventurous hiker? This tiny town is devoid of shops, but it's a good jumping-off spot for easier walks, and boasts a fun playground for kids. There's also a local restaurant to help warm your body and your belly.
9. Dunvegan Castle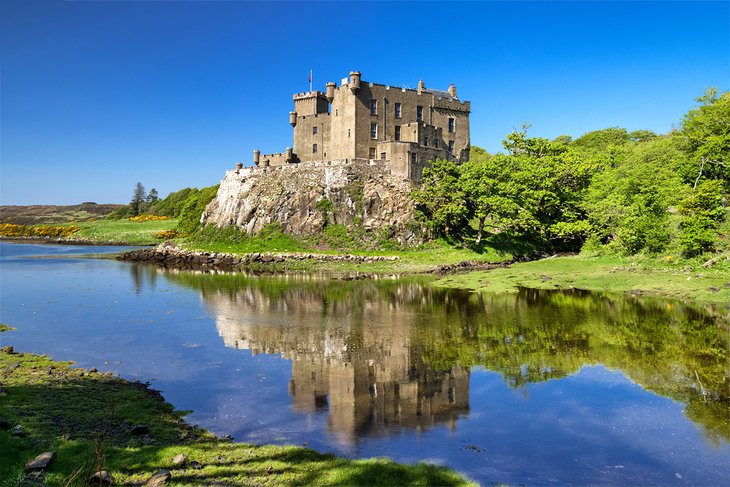 No Scottish trip is complete without a visit to a castle. The Isle of Skye's Dunvegan Castle is "the oldest continuously inhabited castle in Scotland" and one of the best tourist attractions on the Isle of Skye. It's been home to the chiefs of the infamous Clan MacLeod for over 800 years.
This picturesque Victorian-style castle dates from the 13th century and rises from the rock. Revamped in the 19th century, it is bordered by mountains, Loch Dunvegan, gardens, and woodlands.
The castle's most famous possession is Am Bratach Sith (a.k.a. The Fairy Flag of Dunvegan). Surrounded by legends of miraculous powers, fairies, and crusaders, this prized silk flag was used as a talisman for the Macleods in battle. It is thought to have originated in Syria or Rhodes in the 4th century. If you're lucky, you'll catch the annual fireworks display in early November.
While visiting, don't miss a boat trip to see the nearby seal colony. Also close (about 4.8 kilometers away) is the straw-roofed Black House of Colbost, which offers a glimpse into life in the 1800s. Named after the peat fires that blackened the insides of houses during the 19th century, this old house is part of the small Colbost Croft Museum on the Duirinish Peninsula.
10. Armadale Castle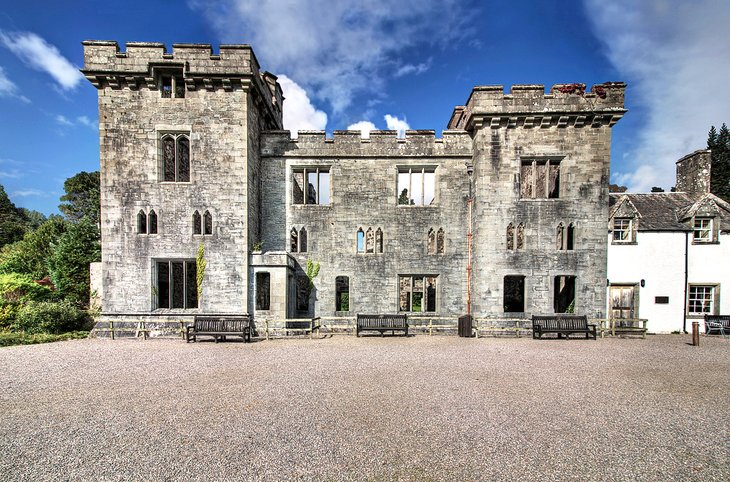 Home of the Clan Donald Centre and Museum of the Isles, Armadale Castle is one of the most visited attractions in the Isle of Skye. It, too, housed the chiefs of Clan MacDonald from the 1650s. It was burned by the government in 1690 (they were trying to convince Sir Donald MacDonald to submit to their ways), and a new house was built to take its place in the 1790s and again between 1815 and 1819.
To be frank, this isn't actually a castle, it's more of a stately home. In 1925, it was abandoned by the family only to fall sadly into disrepair. Today, it sits as part of the 20,000-acre estate on the Sleat peninsula at the southern end of the Isle of Skye. The restored gardens are spectacular, as are the nearby walking trails.
11. Talisker Beach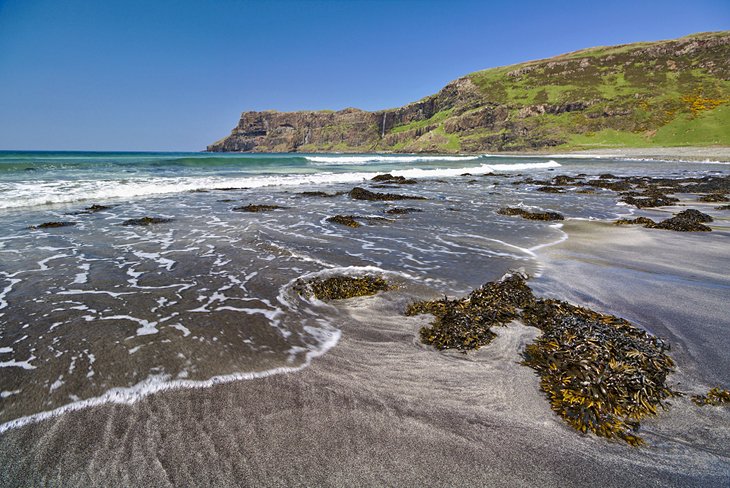 While not always voted one of the best beaches in Scotland, this magnificent beach is as unique as they come and lovely enough to entice you to stay all day. Large pebbles pepper the grey sand, while massive cliffs loom in the distance, captivating visitors with their beauty. No one would blame you for taking enough photos to overload your phone's storage.
Pack a sand pail and shovel to build sandcastles, and a picnic to enjoy on a blanket on the sand. Located on the western coast near Carbost village, Talisker Beach is an easy, and short, 1.6-kilometer walk from the parking lot, and a great place for kids and pets to frolic in the sea.
This is Scotland, though, so be prepared for chilly water. You'll want to pack a towel and a sweater, even in summer!
Tips and Tours: How to Make the Most of Your Visit to the Isle of Skye
Getting to the Isle of Skye can be a bit of a hike, especially if you've flown into Edinburgh or Inverness. While it's easy to hire a car, most rentals are manual, which means you're out of luck if you can't drive stick. It can also feel stressful to drive along narrow, winding roads in wet conditions, not to mention do it all on a different side of the road.
Luckily, there are multiple tours available in Scotland that offer visitors a sit-back-and-relax journey to (and through) the Isle of Skye. All you have to do is hop on the bus and enjoy the scenery.
The following tours take guests on a captivating journey to Skye's most popular and breathtaking sites. Best of all, they do so at a reasonable price.
One-Day Tour from Inverness:
Inverness is the jumping-off point for many visitors to the Isle of Skye. Home to the closest major airport, this vibrant city is also the starting spot for the Isle of Skye Full Day Tour from

Inverness

. Climb aboard and spend the day learning about the isle's history, as well as seeing impressive sights like Urquhart Castle, Loch Ness, Skye Bridge, and Eilean Donan Castle.
3-Day Tour from Edinburgh:
Edinburgh is quite far from the Isle of Skye–over 250 miles away, in fact. Depending on which route you take, you're looking at least a five-hour car journey, if not six and a half hours. Why not leave the driving to the professionals and enjoy a 3-Day Isle of Skye and Scottish Highlands Small-Group Tour from

Edinburgh

? This intimate tour takes visitors on an immersive journey through the highlights of the Highlands, stopping at must-see sights like Glencoe and Loch Ness. It also includes a two-night stay in beautiful Portree.