12 Top-Rated Tourist Attractions on the Isle of Skye
We may earn a commission from affiliate links ()
From majestic castles to magnificent views, Scotland's famed Isle of Skye is a breathtaking paradise for hikers and nature-lovers alike. The largest of the Inner Hebrides, this 80-kilometer-long wonderland has a rich history. Look out for dinosaur fossils, brocks (Pictish round towers), and the ruins of Viking houses as you explore the captivating countryside.
Skye's impeccable scenery is its most impressive feature. Peppered with untamed mountains and lush valleys, this remarkable island is a hiker's nirvana. With caves, waterfalls, beaches, and glens, explorers will find a new adventure at every turn. You'll definitely want to book a car for this trip, so you can take everything in at your own pace.
Find the best places to visit with our list of the top attractions on the Isle of Skye.
Note: Some businesses may be temporarily closed due to recent global health and safety issues.
1. Portree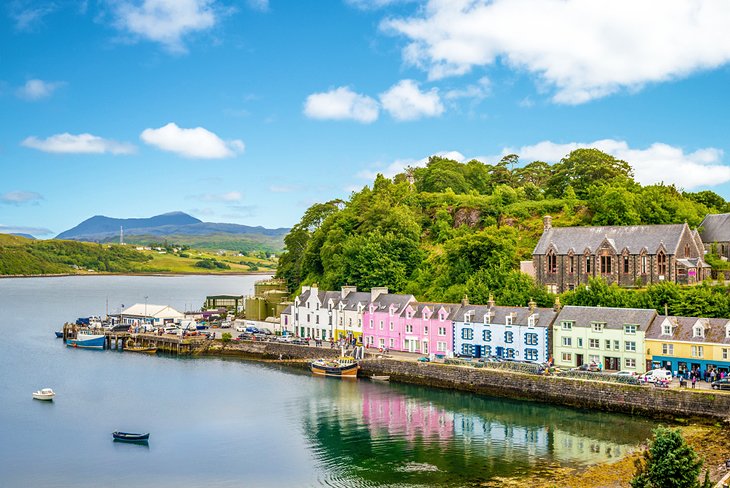 The Isle of Skye's main town, Portree is a fantastic base for exploring the island. This bustling port revolves around its scenic harbor, complete with brightly colored houses. There is plenty of shopping on offer and a slew of restaurants from which to choose. A worthwhile downtime option includes catching a show, concert, or film screening at the Aros Centre. Once you're well rested, it's time to enjoy the real reason people visit this famed Isle - the unbeatable scenery.
Lealt Falls are a must-see and lie a mere 18-minute drive away. While here, take a walk up to Loch Cuithir. A bit farther astray, but definitely worth a visit, is Eilean Donan Castle. One of the most stunning castles in the UK (and that's saying a lot), Eilean Donan sits an hour's drive away. You'll have to cross Skye Bridge, which connects the Isle of Skye to the mainland.
2. Quiraing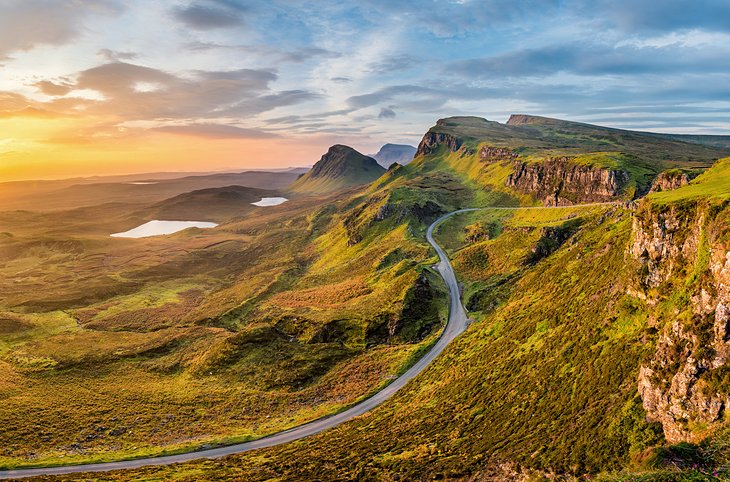 Located in the Trotternish area in the north of Skye, Quiraing is a magnificent place. Formed by a substantial landslip, this area boasts abundant cliffs, rock pinnacles, and captivating plateaus. Charge your camera because this spot is a photographer's Shangri-La. A four-mile loop will take about two hours to walk, more if you stop to appreciate the scenery. It starts in the village of Staffin or Uig but may not be a safe bet if it's too windy or misty, so check local weather forecasts before heading out.
3. The Old Man of Storr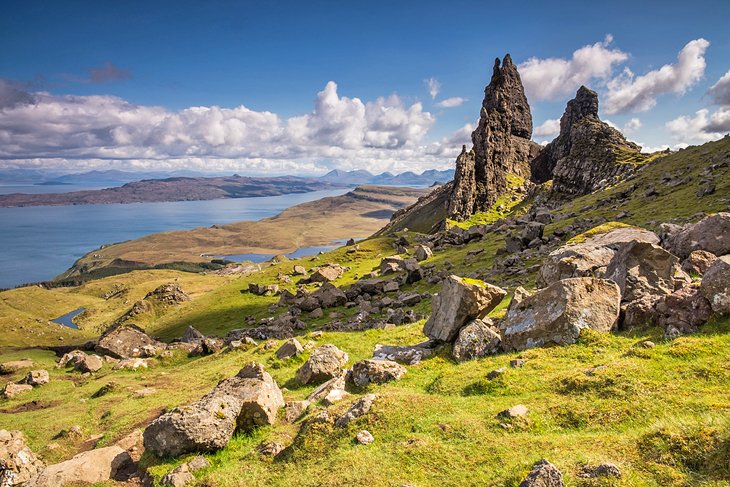 Also located in the Trotternish area, this impressive rock formation is a popular spot to take in stupendous views. A mere 15-minute drive from Portree, The Old Man of Storr is accessible on foot and will take about 75 minutes and 3.7 kilometers to walk up and back down. If you're lucky enough to be there on a bright, sunny day, you'll likely want to spend more time gazing out at the distance from above.
4. Kilt Rock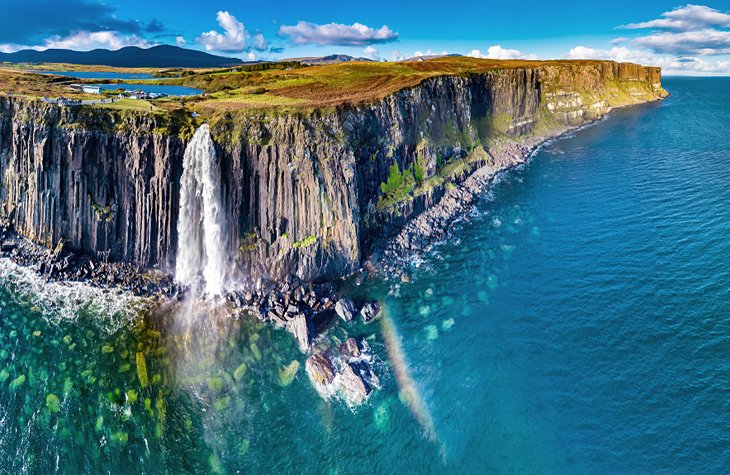 The kilt-like pattern of sedimentary and igneous rocks led to this sea-cliff's unique name. This dramatic cliff also boasts the Mealt Waterfall, which drops 51 meters into the Sound of Raasay. If you listen closely, you can hear the whistle it makes as the water crashes down. It's a long way down, so be sure to stay behind the protective barrier on the viewing platform.
5. Fairy Pools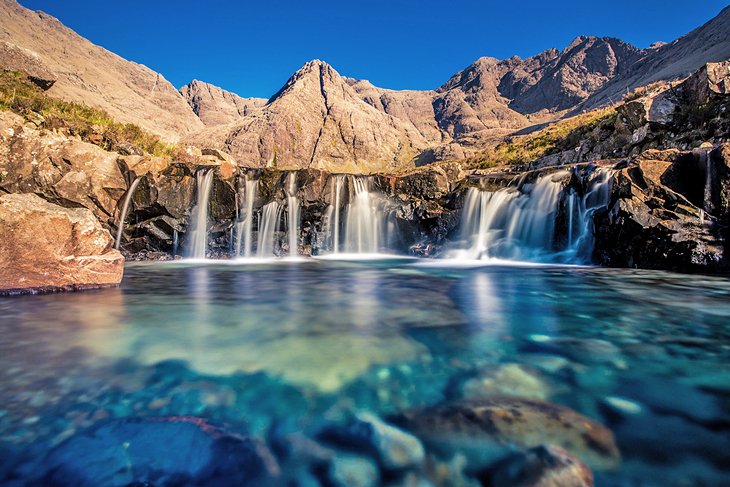 Found at the foot of the Black Cuillin mountain range, the Fairy Pools aren't easily seen from the road. A short 1.2-kilometer walk from the parking lot, you'll come across beauty you wouldn't have expected in such a mountainous locale. Near the village of Glenbrittle, crystal clear water invites the bravest of travelers to jump into its icy embrace. Others will enjoy seeing their reflections stare back at them from the pristine pools while they scramble across the rocks.
6. Fairy Glen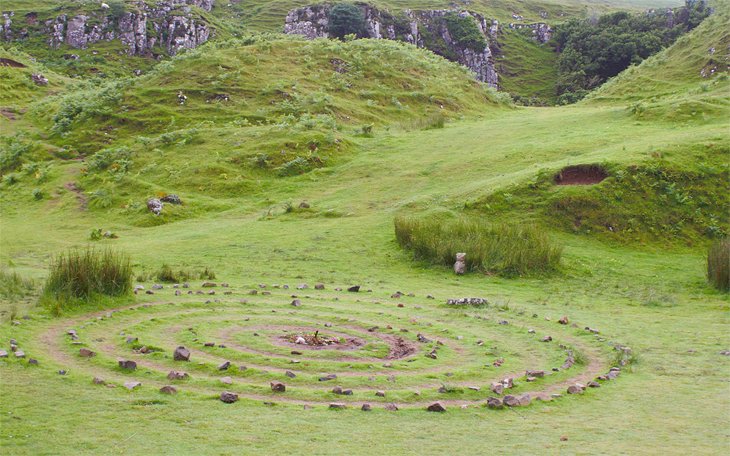 7. The Skye Museum of Island Life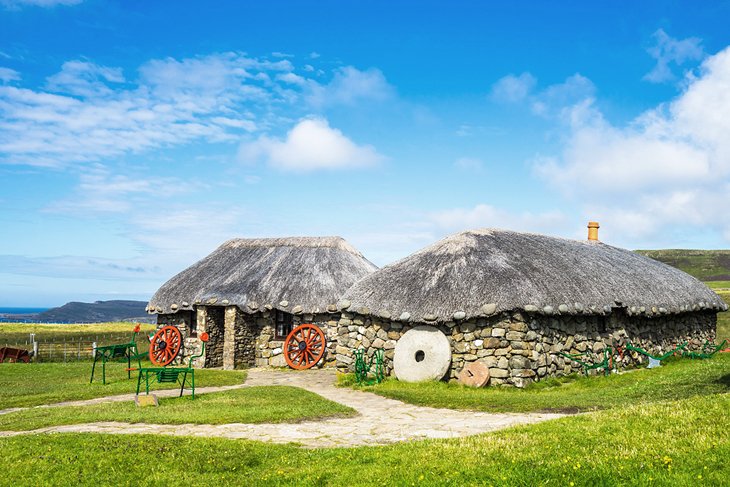 Step back in time with a glimpse of what life was like in an old Highland village. Situated in Kilmuir, The Skye Museum of Island Life features a preserved town of thatched cottages, one of which dates to the mid-19th century. Learn how they thatched a roof, tilled soil, and created tweed for blankets and clothes. You'll find everything from ancient bibles to agricultural equipment to bedding in this quaint museum.
8. Sligachan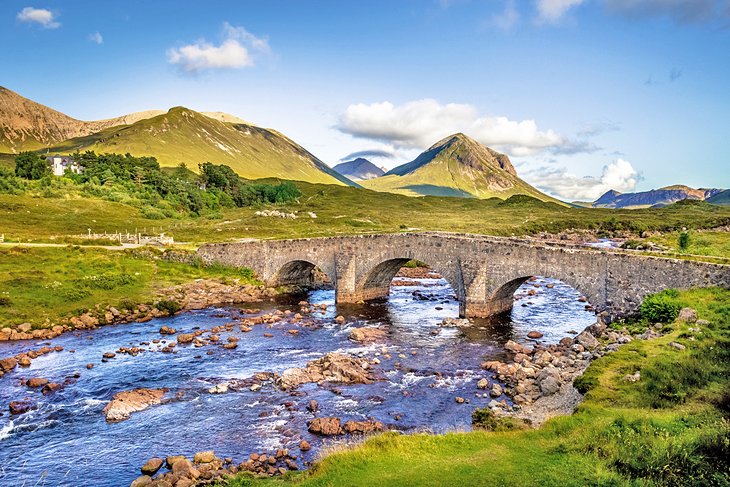 The best place to witness a picture-perfect view, Sligachan lies at the spot where the Black Cuillin meets the western seaboard. Below a captivating stone bridge runs the River Sligachan. The Red and Black Cuillins (a large range of rocky mountains) rest nearby, awaiting adventurous travelers willing to climb to their ragged peaks. Not an adventurous hiker? This tiny town is devoid of shops, but it's a good jumping-off spot for easier walks and boasts a fun playground for kids.
9. Dunvegan Castle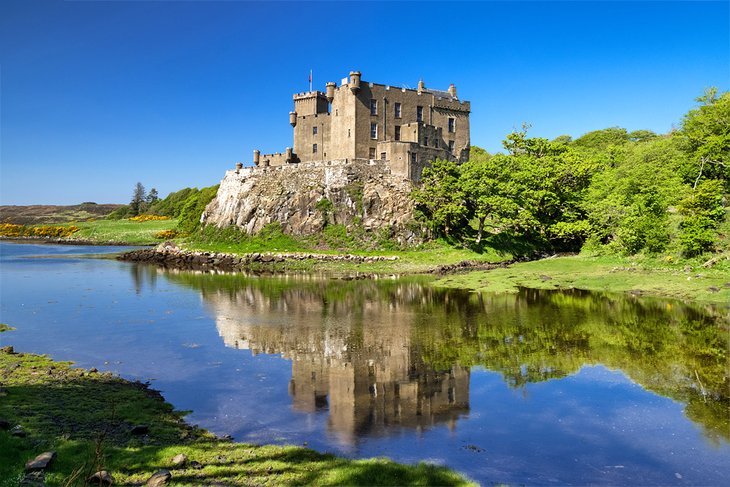 No Scottish trip is complete without a visit to a castle. The Isle of Skye's Dunvegan Castle is "the oldest continuously inhabited castle in Scotland." It's been home to the chiefs of the infamous Clan MacLeod for over 800 years. This picturesque Victorian-style castle dates from the 13th century and rises from the rock. Revamped in the 19th century, it is bordered by mountains, Loch Dunvegan, gardens, and woodlands.
The castle's most famous possession is Am Bratach Sith (a.k.a. The Fairy Flag of Dunvegan). Surrounded by legends of miraculous powers, fairies, and crusaders, this prized silk flag was used as a talisman for the Macleods in battle. It is thought to have originated in Syria or Rhodes in the 4th century. If you're lucky, you'll catch the annual fireworks display in early November.
While visiting, don't miss a boat trip to see the nearby seal colony. Also close (about 4.8 kilometers away) is the straw-roofed Black House of Colbost, which offers a glimpse into life in the 1800s. Named after the peat fires that blackened the insides of houses during the 19th century, this old house is part of the small Colbost Croft Museum on the Duirinish Peninsula.
10. Armadale Castle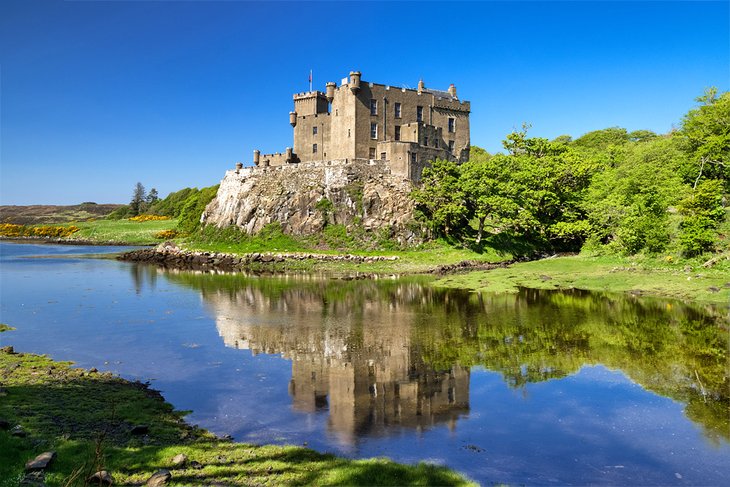 Home of the Clan Donald Centre and Museum of the Isles, Armadale Castle also housed the chiefs of Clan MacDonald from the 1650s. It was burned by the government in 1690 (they were trying to convince Sir Donald MacDonald to submit to their ways), and a new house was built to take its place in the 1790s and again between 1815 and 1819.
In 1925, the castle was abandoned by the family only to fall sadly into disrepair. Today, it sits as part of the 20,000-acre estate on the Sleat peninsula at the southern end of the Isle of Skye. The restored gardens are spectacular, as are the nearby walking trails.
11. Talisker Beach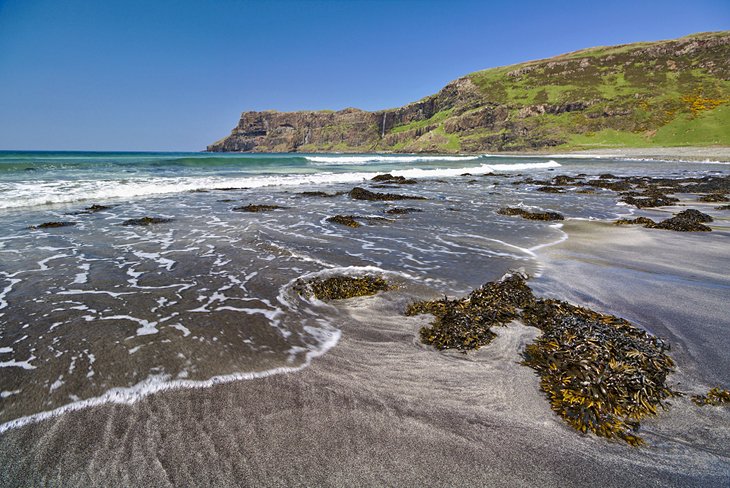 This magnificent beach is as unique as they come. Large grey pebbles pepper the grey sand, while massive cliffs loom in the distance. This would make a perfect spot for a picnic or a mid-summer swim. Located on the western coast near Carbost village, Talisker Beach is an easy (and short) 1.6-kilometer walk from the parking lot, and a great place for kids and pets to frolic in the sea.
Where to Stay on the Isle of Skye
There's little worse than booking a less than stellar hotel, especially when your tired feet are begging for a rest. Worry not, these delightful hotels up the charm while offering unsurpassable views and service.
The Cuillin Hills

Hotel

in Portree offers a clean and comfortable spot to lay your head and a delicious breakfast complete with the requisite blood pudding.
Stay at the Hotel Eilean

Iarmain

in Sleat for a beautiful experience. From the whitewashed walls to the sensational scenery and delectable food, there's nothing to dislike.
The Duisdale House

Hotel

is also in Sleat. This boutique hotel is the epitome of style and offers travelers a luxurious stay complete with romantic gardens and an outdoor hot tub.