11 Top-Rated Attractions & Things to Do in Fort William
We may earn a commission from affiliate links ()
Located on the northeastern shore of Loch Linnhe, Fort William is known as the UK's "outdoor capital." Behind Inverness, it's the second largest settlement in the Highlands, with a beauty so captivating, you'll want to extend your stay. Plus, there's no shortage of great attractions and fun things to do in Fort William, which makes it easy to settle in for a while.
Famous for its multiple hillwalking trails, mountain climbing, bike paths, and snow and water sports, this Scottish town is a mecca for adventure travel. It's also home to Ben Nevis, the UK's tallest mountain, which makes this a popular destination for climbers.
Prefer to keep your adventure more low-key? Taking it easy is simple in this historic town. From walking to castle hopping to fishing, Fort William has plenty to offer those who prefer a slower pace. It also boasts a wide array of delicious restaurants to help you pass the time, many of which offer amazing views.
No matter which path you choose to take in Fort William, you'll be surrounded by immense beauty and unbeatable vistas. Fun fact: Fort William was the first British town to use hydroelectricity to light its streets.
Find the best places to visit with our list of the top attractions and things to do in Fort William.
Note: Some businesses may be temporarily closed due to recent global health and safety issues.
1. Climb (or Photograph) Ben Nevis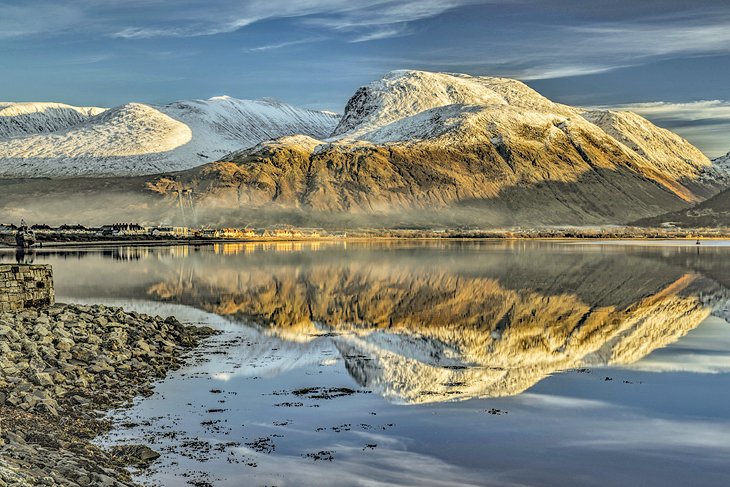 One of Fort William's main draws is Ben Nevis, which is Gaelic for malicious (or venomous) mountain. If you're stuck on it during a storm or thick fog, you'll understand how this impressive crag earned its moniker. At 4,411 feet, Ben Nevis's summit is a long way up - about eight hours of climbing there and back to be exact. Many hikers choose to pitch a tent for the night, so they can enjoy the breathtaking sunset.
That said, the paths to the top can be quite steep and treacherous, so inexperienced hikers and those traveling with young kids may be better off admiring the reddish granite peaks from below. If you attempt the climb, be well prepared with extra snacks, water, and a change of clothes. It's often wet and slippery.
Your reward for a long, steep hike to the top: a breathtaking panoramic view. Mountains and lochs of the Scottish Highlands stretch as far as you can see, which is about 150 miles on a clear day. If the fog doesn't roll in to spoil your vista, you can even catch a glimpse of the Irish coast. Charge your camera before you go, and be sure there's lots of extra space on your SD card!
2. Book a Nevis Range Mountain Experience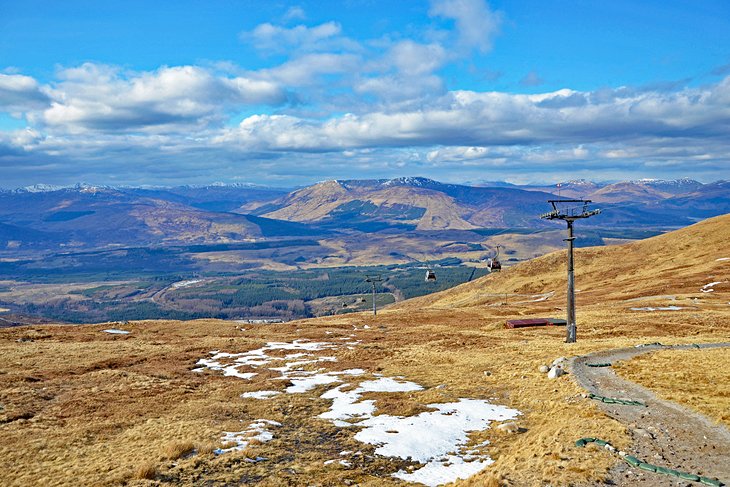 As mentioned above, no trip to Fort William is complete without a visit to Ben Nevis. Do it in style with the Nevis Mountain Range Experience. Your heart will skip with excitement as you soar 650 meters above the ground in a mountain gondola. Located on Aonach Mor, Britain's 8th highest mountain, the gondola was built to carry skiers, but has been lauded for its unparalleled views.
If you're lucky enough to go on a clear day, you'll be left speechless by the beauty extending in every direction. Lakes, valleys, coniferous forests, and patchwork farmers fields blanket the region while massive granite hills surround you. Run through the fields, climb among the trees, or bike down the hilly trails to truly enjoy the clean mountain air.
Traveling during the winter? Lucky you! Grab a hot chocolate at the top of Aonach Mor and enjoy the spectacular landscape while you ski or snowboard your way down to the valley. Be sure to pack layers, including a hat and gloves, as it can get super cold at the top.
Official site: www.nevisrange.co.uk
3. Hike to Steall Falls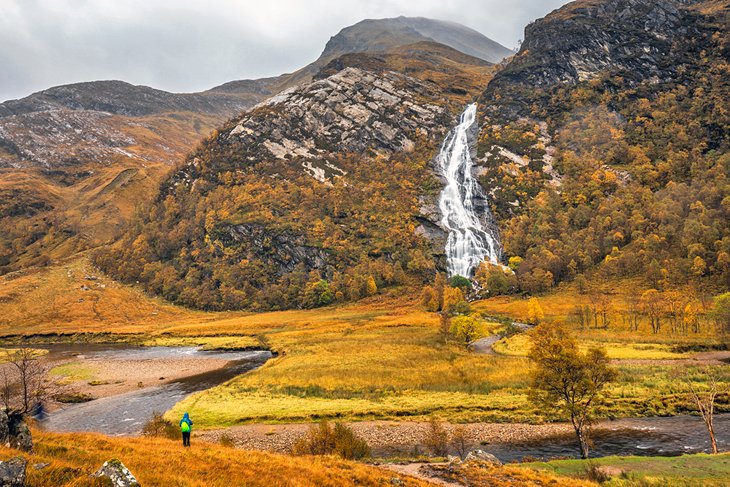 The walk to Steall Falls from the Glen Nevis car park is majestic. Worries dissipate with the calming sounds of wind, rushing water, and footsteps on the rocky path below. An easy but sometimes slippery trek, the well-worn path to the falls takes you through deep green, moss-covered trees that look as if they could start walking and talking at any moment. Perhaps that's one of the reasons the makers of Harry Potter chose this spot as the setting for an intense Quidditch match.
You may hear the falls before seeing them in the heart of the dramatic Nevis Gorge. As you get closer, you'll notice a steel rope bridge hovering precariously over the water below. It's best to wear hiking boots or a good pair of running shoes if you're planning to traverse the wobbly (but strong and sturdy) wires. Your reward: an up close and personal view of the falls, the second highest in Scotland at over 394 feet.
The trail starts at the end of the Old Military Road, where it leads up Ben Nevis.
4. Walk across Neptune's Staircase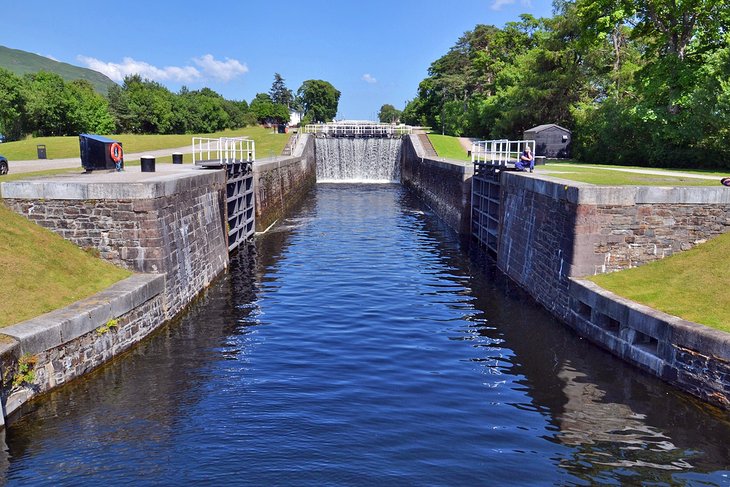 This incredible example of engineering prowess sits in a small village called Banavie, four miles north of Fort William. Neptune's Staircase is a series of locks that span a quarter mile and raise the canal by 19 meters to allow boats to travel up or down. Built by Thomas Telford in the early 19th century, it remains Britain's longest staircase lock and a fascinating system to watch.
If you time it right, you can catch a glimpse of the Jacobite Steam Train billowing across a nearby bridge. Have your camera at the ready! Even better, you'll be able to watch the locks in motion and marvel as two bridges swing out of the way to allow a passing boat to enter before closing and allowing the lock to fill with water.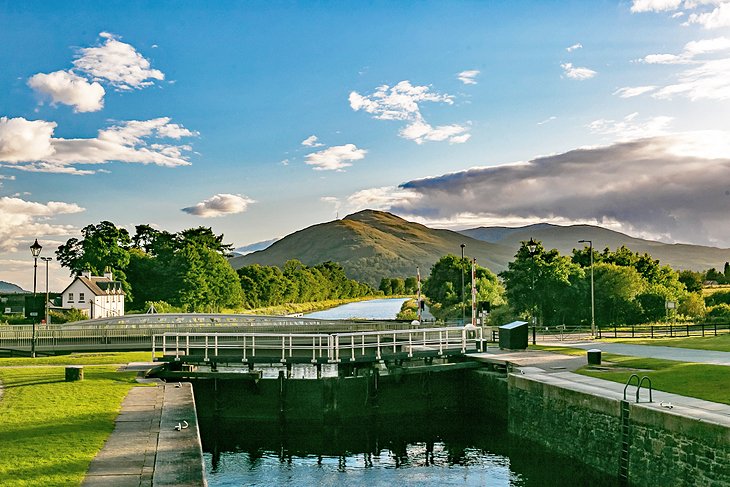 When the area is devoid of action, and you've tired of walking the endless paths and admiring the view (a hard thing to get bored by), wander through the nearby shops or grab a bite at a local restaurant.
Address: Great Glen Way, Fort William
5. Step Back in Time at Old Inverlochy Castle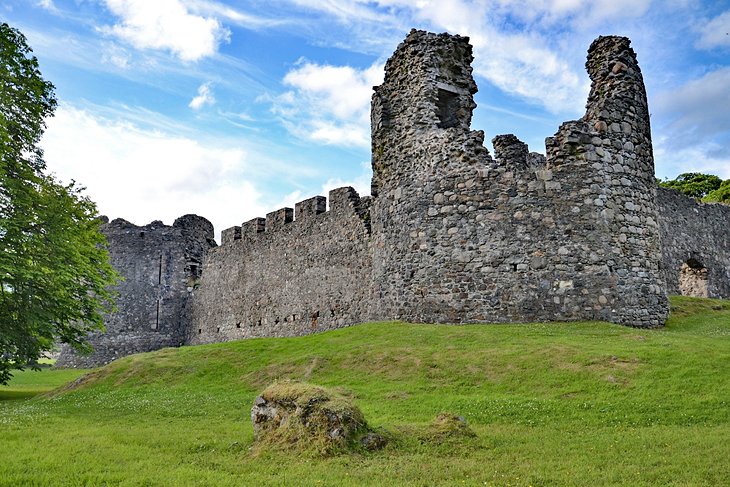 You can't visit Scotland without stopping to see a castle. While some exist as exquisitely preserved buildings that ooze history, others, like the Old Inverlochy Castle, survive as mere ruins of their formerly grandiose selves. Don't let that fool you.
Built in the late 13th century, the Old Inverlochy Castle may be small, but its history is mighty - and you can read about it on the informative boards positioned throughout. Built by the Comyns of Badenoch, Old Inverlochy Castle changed hands multiple times throughout history, most often as a result of warfare.
This small stone ruin may be crumbling in many places but wandering around it provides a sense (sometimes an eerie one) of what it might have been like to live in the center of the first and second battles of Inverlochy. It's worthy of a walk around, at least for an hour, and presents a pretty spot for a picnic.
Address: About a mile outside of central Fort William, on the A82
Official site: www.inverlochycastle.co.uk
6. Visit the West Highland Museum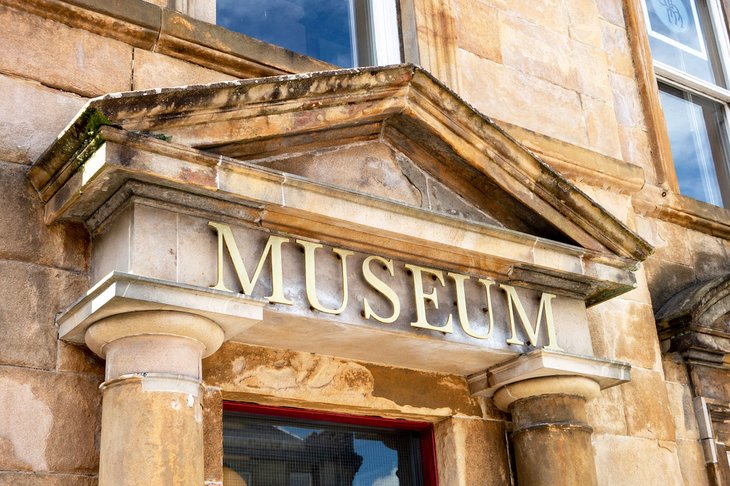 Visit the West Highland Museum for an in-depth look into the history of the West Highlands. In addition to interesting exhibits, you'll also make fast friends with many incredibly friendly (and knowledgeable) volunteers.
Each volunteer is passionate about the history of Highland life and can guide you through the museum's multiple displays, including those about Bonnie Prince Charlie (a.k.a. Prince Charles Edward Stuart) and the Jacobites (supporters of King James VII of Scotland and II of Britain).
Conveniently located in the center of town, The West Highland Museum was founded in 1922, making it one of the oldest museums in the Highlands. Here, you'll find the Goldman coin collection, polished stone axes, ancient pottery, and stonework from a wrecked Spanish Galleon, and 1,500-year-old artifacts from a crannog site.
Address: Cameron Square, Fort William
Official site: www.westhighlandmuseum.ork.uk
7. Climb aboard the Jacobite Steam Train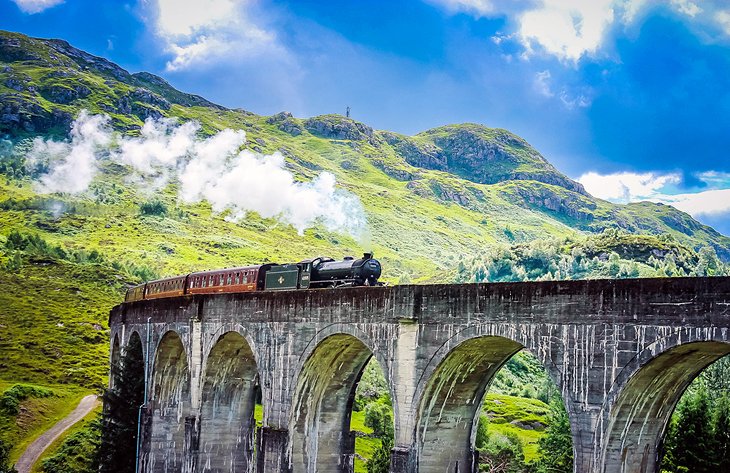 Climb aboard the Hogwarts Express — oops, we mean Jacobite Steam Train. Most famous for its role as the Hogwarts Express in the Harry Potter movies, the Jacobite chugs its way along 84 miles of railway between Fort William and Mallaig.
Book a first-class seat for the best, open-coach views as you pass Loch Morar, the deepest freshwater loch, and Loch Nevis, the deepest seawater loch. You'll also cross over the stupendous, 21-arched Glenfinnan viaduct, which was made famous as the bridge to Hogwarts in the Harry Potter films. Book a high tea to enjoy as you whip along the tracks — it will make your journey feel even more authentic.
If you can tear yourself away from the magnificent vistas, stop by the gift shop for some Harry Potter-themed memorabilia. An important traveler's tip: book a visit between late April and Early October to ensure your spot on the train - it doesn't run during the late fall and winter months.
Address: Fort William Train Station
Official site: westcoastrailways.co.uk/jacobite/steam-train-trip
8. Admire the Beauty of Glenfinnan Church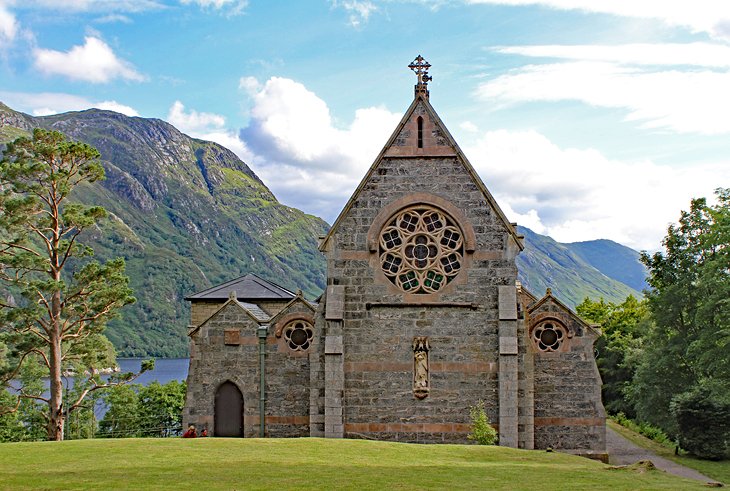 If you aren't paying attention on your way into town from Mallaig, you could miss this quaint church, and that would be a shame. It's easy to do. You're driving along, gaping at the astonishing hillsides, squinting at the sun shimmering off Loch Shiel, and then you spot something amazing flash by. Our advice: slow down and keep your eyes open. The church, which was consecrated in 1873, is found about 30 minutes outside of Fort William and rests just above the lake.
Also known as the Church of St. Mary and St. Finnan, this Gothic building is small but impressive. Inside, you'll find an understated altar lying below a bright and colorful stained-glass window in a unique flower pattern. You'll also find sculptured columns and memorial stones to Bonnie Prince Charlie and the MacDonald family. Outside, the view is nothing short of spectacular.
9. Rock Out at Treasures of the Earth Museum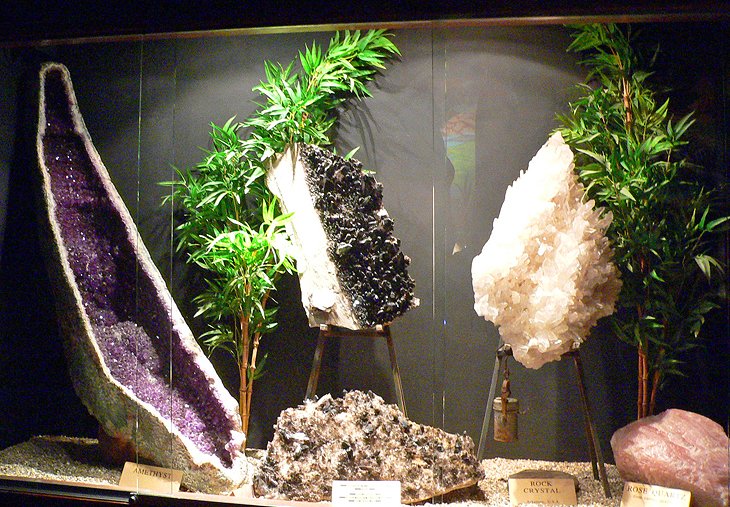 If you're a fan of geology, this museum is for you. If rocks bore you, this might be one to miss. Home to a private collection of crystals, gemstones, and fossils, Treasures of the Earth Museum makes looking at rocks a precious experience (get it?). Where else can you enter a cave in which crystals change color and glow?
Originally built as a Catholic church, Treasures of the Earth is small (a half hour is likely all you'll need to see everything on offer) but it has an impressive array of exhibits, including fossilized dinosaur skulls. It lies slightly outside Fort William, four miles away, in the town of Corpach.
Kids and grownups alike will enjoy touching seven-foot-tall amethyst geodes, which were formed over 200 million years ago. Some of the fossils date back 500 million years - not bad for a tiny museum in the Highlands.
Another bonus: the gift shop. With a wide array of fossils, jewelry, and gem stones to choose from, you're sure to find a treasure with a reasonable price tag.
Official site: treasuresoftheearth.co.uk
10. Wander around Saint Andrew's Church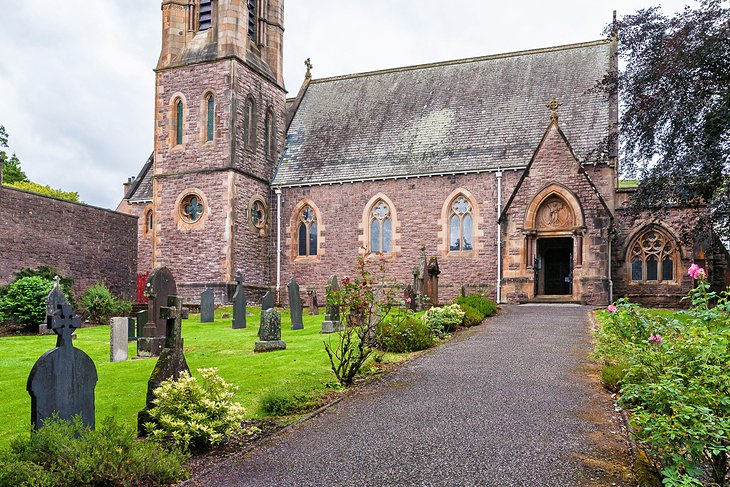 This quaint church can be found just off the northern end of Fort William's High Street. Set back from the street by a churchyard and surrounded by stores, this historic building is easy to miss, so keep your eyes peeled. A member of the Scottish Episcopal Church, Saint Andrew's appears simple, but the intricate details (i.e. detailing on the organ's pipes and elaborate ceiling bosses) are remarkable. The Caen stone altar is the church's focal point, but the salient choir stalls lining the sanctuary are especially impressive.
During the week, you'll likely find yourself alone to admire the church's stained-glass windows in peace and solitude. If visiting for a Sunday service, you'll probably be asked to join the other constituents for tea. If you're one of those lucky enough to be invited, stay! The community is a kind one, and they tell wonderful stories.
Address: High Street, Fort William
11. Eat, Drink, and Be Merry at Cameron Square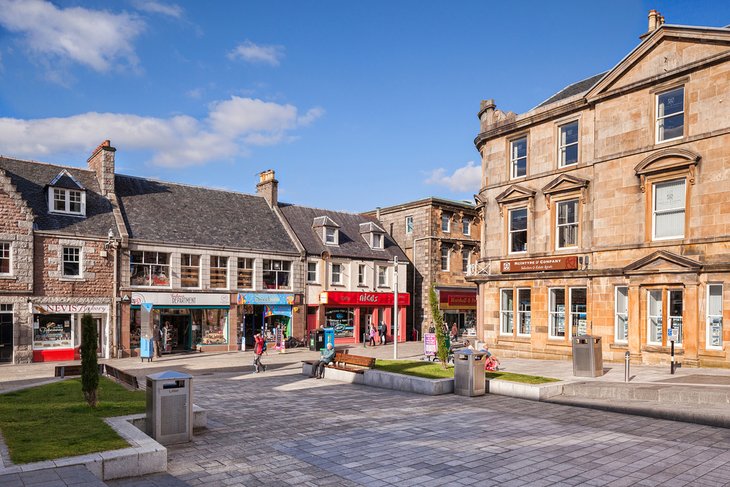 Cameron Square is the place to be for those who like to shop, socialize, and eat tasty meals. In fact, it serves as the heart of Fort William. Here, you'll be greeted by shops; eateries; cafés; and, of course, the West Highland Museum.
Beside the museum lies one of the best restaurants in Fort William: Garrison West, where visitors can tuck into a traditional dish of haggis, neeps, and tatties, warm and delicious soup, or a mouthwateringly good sticky toffee pudding.
Many years ago, Cameron Square served as a meeting place for important events such as signing up to fight with the British army. Today, this pretty spot hosts live concerts and is home to a cinema.
In 2018, a bronze statue of a Ford Model T was placed in the square to commemorate a car that drove to the summit of Ben Nevis in a legendary publicity stunt in 1911. You can see a film about it during your visit to the West Highland Museum.
Where to Stay in Fort William for Sightseeing
Luxury Hotels:
Inverlochy Castle

Hotel

is the most luxurious place to stay in Fort William. Set amid the glens, lochs, and mountains of this West Highlands area. There are just 17 rooms and suites, and each is individually decorated in an elegant, old-fashioned style. Amenities include a complimentary breakfast, an excellent restaurant, a game room, and free parking. Bikes can be rented, and the property is pet-friendly.

Inverskilavulin

is located on a gorgeous estate just nine miles from the center of Fort William. It has two-bedroom luxury lodges at the foot of the Corbett Hills. The lodges have stunning panoramic views from large windows, and come with beds draped in Egyptian cotton linens, and marble bathrooms. They also feature kitchenettes and are kid-friendly. The small property is pet friendly. This is a good luxury back-to-nature selection.
Ardrhu House Fort

William

is another exclusive small luxury property. It can accommodate just 15 guests, and the rooms and suites here can be booked together for small destination weddings or individually for weekend getaways. It's set on a private beach with panoramic ocean views, and amenities include a complimentary breakfast, hot tub, and sauna. The inn is also pet-friendly for those traveling with a dog.
Mid-Range Hotels:
In Fort William town, Nevis Bank

Inn

is a modern, elegant mid-range choice. Rooms and suites have stylish décor, high-end linens on beds, and walnut wood furnishings. The suites feature extra large king beds and living space with a sleeper sofa. Amenities include a restaurant, complimentary tea, and free parking.
In a home dating back to 1850, The Lime

Tree

is a 3-star boutique hotel with cozy, individually decorated rooms of varying sizes and shapes. There is an art gallery on-site, as well as an award-winning restaurant overlooking Loch Linnhe. The location in the center of town is also convenient.
With views of Loch Linnhe and the surrounding woodlands, Caledonian

Hotel

is another good-value choice. Book one of the front facing views for direct lake views. There is free Scottish-style entertainment most nights in the hotel's ballroom. Other amenities include a restaurant and snack shop.
Budget Hotels:
Premier Inn Fort William

Hotel

is just a five-minute walk from the train station in the town center. It is a good budget choice with clean and spacious rooms that are family-friendly. There is a restaurant and free parking on-site.
Also check out the Travelodge Fort

William

for a budget-friendly sleep. Rooms can accommodate up to four people, although the space is cramped, with a double bed sided by single beds. The hotel is also pet friendly.
More Related Articles on PlanetWare.com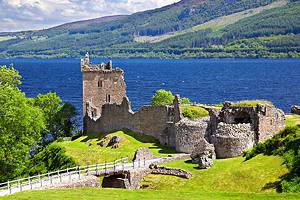 Explore Scotland: Discover more of the region with our article on the Top Attractions in Inverness and the Scottish Highlands. If you are looking for places to add to your itinerary, consider stopping to see the sights of Oban or touring around Loch Ness.