11 Top-Rated Things to Do in Sussex, England
Once an ancient medieval Anglo-Saxon kingdom, the historic county of Sussex offers no end of fun things to do for vacationers and day-trippers.
Consisting of the ceremonial counties of West Sussex and East Sussex, this beautiful spot in southeast England benefits from being easy to get to, with major road and rail connections from London to Brighton and beyond. This southern county is also well-served by airlines using Gatwick and Heathrow airports.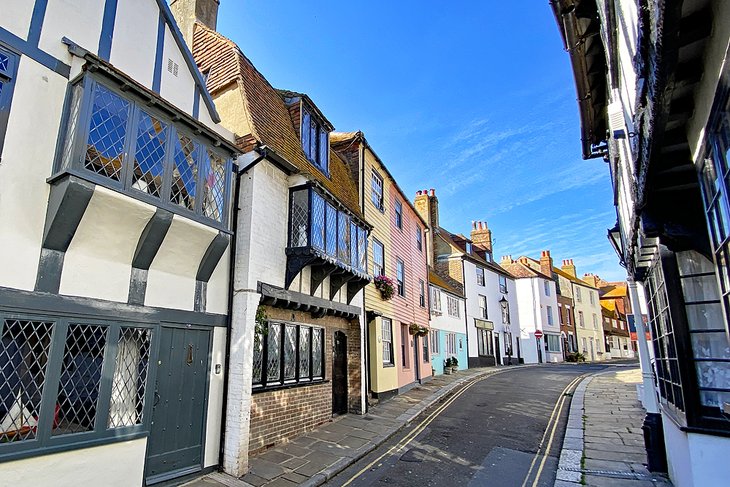 Sussex also just so happens to be one of the prettiest regions of England. In addition to the spectacular South Downs, with their stunning white-chalk cliffs facing the English Channel, the countryside here is fun to explore, with lovely vistas, pretty villages, historic castles, and old manor homes at every turn.
Whether you're planning a scenic drive or prefer to explore on foot, the list of great places to visit in this lovely corner of England is endless.
To help you plan your perfect vacation in the beautiful southeast of England, read through our list of the top things to do in Sussex.
1. Visit the Royal Pavilion, Brighton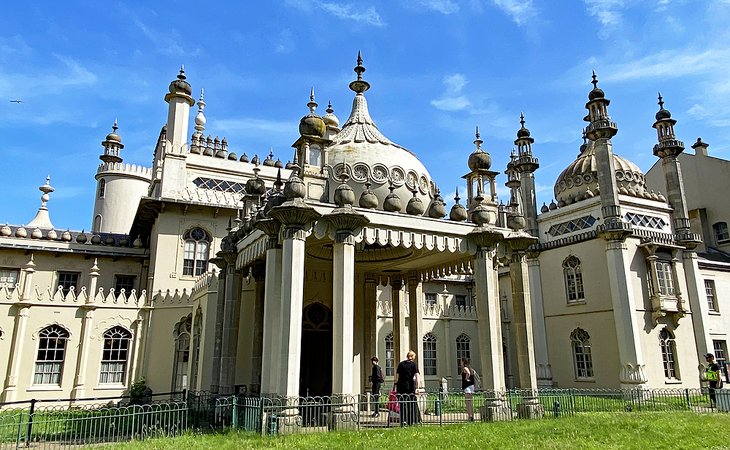 Built in the late 1700s for England's King George IV, Brighton's Royal Pavilion is a unique take on the traditional royal summer palace.
Designed in the Mogul style once common in India, the building's domes and minarets certainly give it an exotic appearance that juxtaposes the more traditional Georgian- and Victorian-era architecture this popular seaside resort is known for.
Located close to the seafront and other popular Brighton attractions, the Pavilion's grounds are a popular place to explore during the spring and summer months, with students and tourists alike staking a place on the grass to relax. Guided tours of the building are available, as are self-guided audio tours.
Feeling peckish? Participate in the afternoon tea experience in the Royal Pavilion Tearoom.
Address: 4/5 Pavilion Buildings, Brighton
Official site: https://brightonmuseums.org.uk/visit/royal-pavilion-garden/
2. Explore Old Town Hastings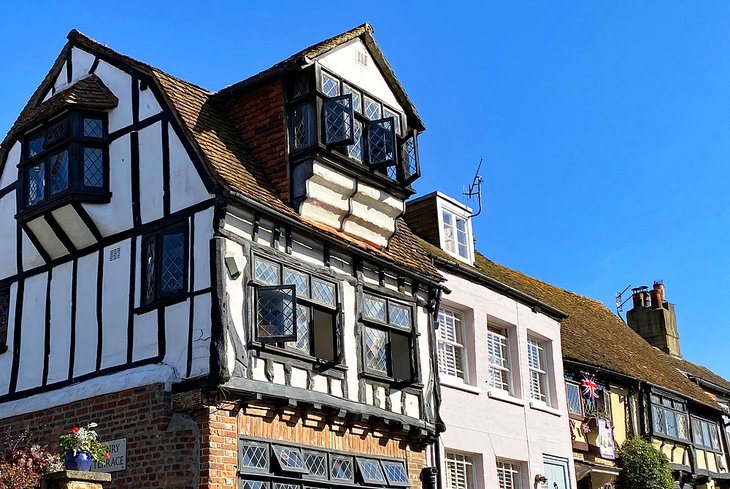 Tucked away behind the bustling Hastings seafront and its attractions, Old Town Hastings is a great place for a stroll.
Nestled between East Hill and West Hill, start your exploration on All Saints Street. Almost directly opposite the Hastings Contemporary art gallery, All Saints Street features a fascinating mix of old timber-framed homes, historic inns, and former shop buildings from different periods, some dating back as far as the 1400s.
Along the way, you'll come across numerous narrow passageways leading off the street in both directions; let your curiosity get the better of you and wander. Those heading west will take you onto High Street, where you'll find a variety of great shopping opportunities worth checking out.
You'll also see the 15th-century St. Clements Church and, if you look hard enough, the old High Street home featured in the hit crime series, Foyles War.
3. Shop in The Lanes, Brighton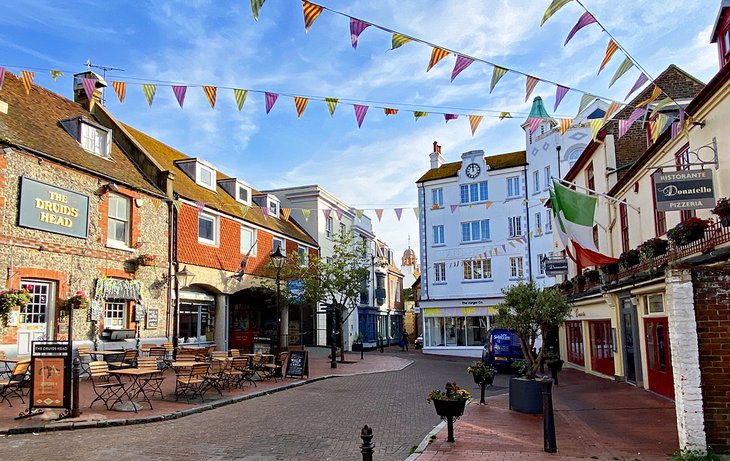 Located between Brighton train station and the town's seafront, The Lanes are a lot of fun to explore. These usually busy alleyways date back to the 17th century and are lined with old townhomes and cottages that today serve as fashion boutiques, art galleries, and eateries.
It can get busy here, but if you're an early riser, you can beat the crowds and enjoy these narrow windy passageways at a leisurely pace. Grab an early morning coffee from a café in Old Steine, the original village green, before heading to the North Laine area.
Like The Lanes, the North Laine neighborhood features an array of interesting shops and businesses, including numerous jewelry stalls and shops, as well as fun places to visit such as the Brighton Toy and Model Museum.
Address: Meeting House Lane, Brighton
4. Tour Arundel Castle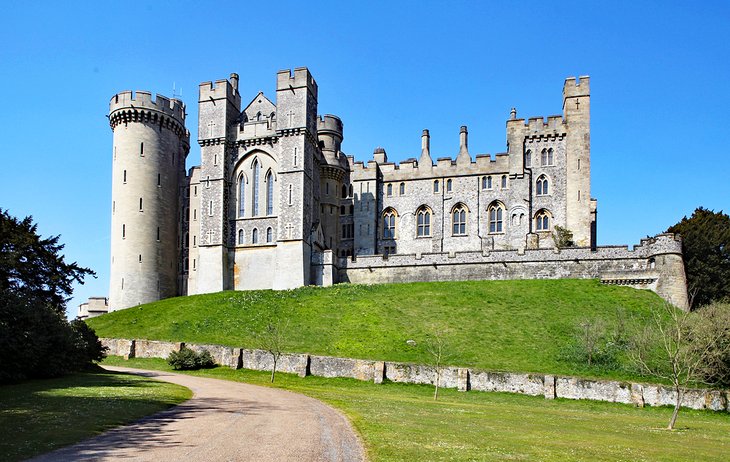 Built in the 11th century, Arundel Castle in West Sussex is widely regarded as one of the most beautiful castles in England.
This picture-perfect structure dominates the small town after which it's named, and while much of what you see was added centuries after its original construction, its medieval roots remain very much intact.
Its well-preserved interior features original furnishings and tapestries, along with a sizable art collection. The gardens are also worth exploring, and during the summer months they provide a stunning backdrop to medieval-themed fairs and re-enactments.
Location: Arundel, West Sussex
Official site: www.arundelcastle.org
5. Wander Medieval Rye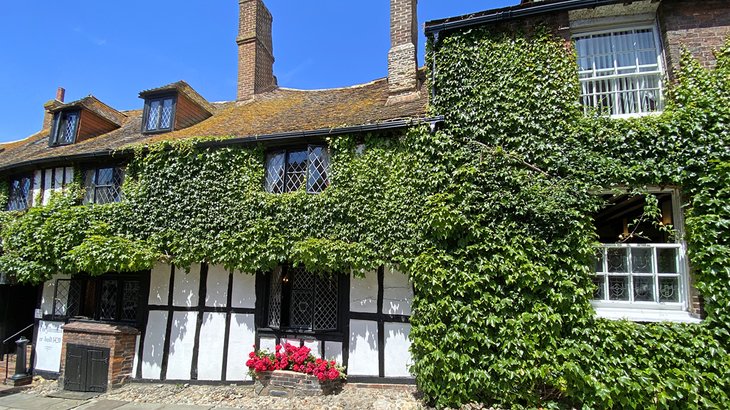 Situated close to the Kent/Sussex border, the small town of Rye is famous for its many charming and well-preserved medieval and Tudor buildings. Once an important port, the cobblestone streets are fun to wander on foot, offering something interesting to look at every step of the way.
Highlights include Mermaid Street with its many timber-framed old homes, many of them now serving as interesting shops and boutiques. Pop in to the famous Mermaid Inn, which can trace its roots all the way back to 1156. Rye Castle Museum is also located in the old town center and provides a fascinating look at the town's rich history.
Afterwards, be sure to wander over to the Ypres Tower. This former defensive tower offers incredible views over the town and the surrounding countryside. Those wanting to experience a great traditional tea should pop in to The Cobbles Tea Room.
6. Take a Hike to Beachy Head and South Downs National Park, Eastbourne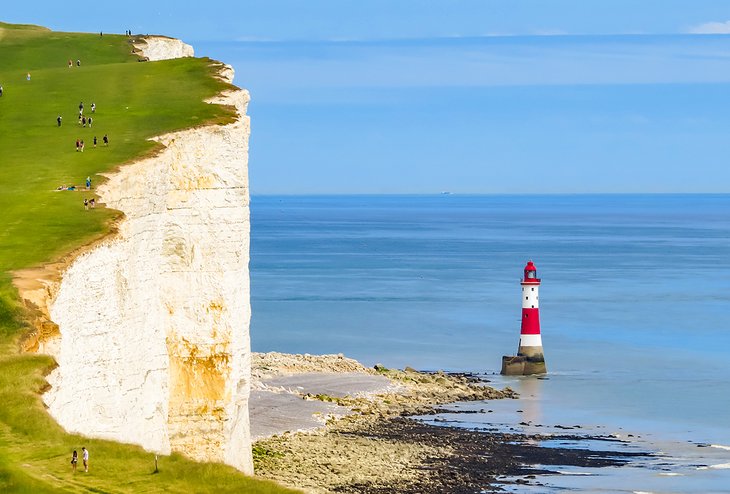 Paying a visit to spectacular Beachy Head is undoubtedly one of the top things to do in Eastbourne.
Now part of South Downs National Park, England's newest national park, you'll first see Beachy Head from the beachfront in Eastbourne. Rising up out of the English Channel and dominating the west end of the town, this huge 530-foot-tall white cliff looks even better after you've climbed it.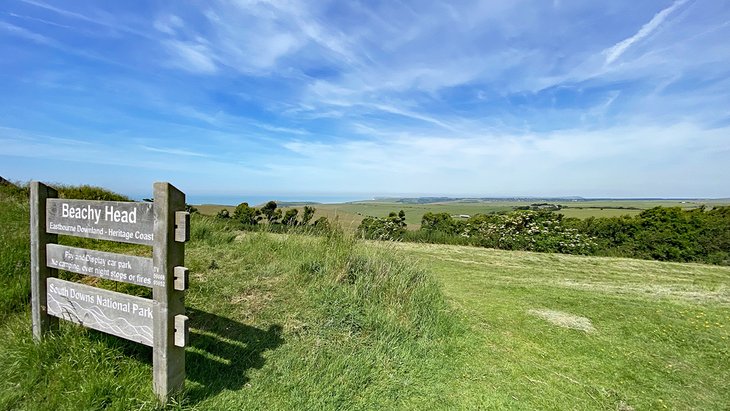 The views from the top back over Eastbourne and the Channel are simply stunning, and make the at-times-steep climb well worthwhile. If the walk seems a little daunting, you can take the scenic Beachy Head Road to the top where there's ample parking with easy access to the trails.
Public washrooms and a restaurant are also located near the parking area. The Beachy Head Countryside Centre also provides useful maps and information on this area of outstanding natural beauty.
Location: Beachy Head, Eastbourne
7. Visit English Heritage - 1066 Battle of Hastings, Battle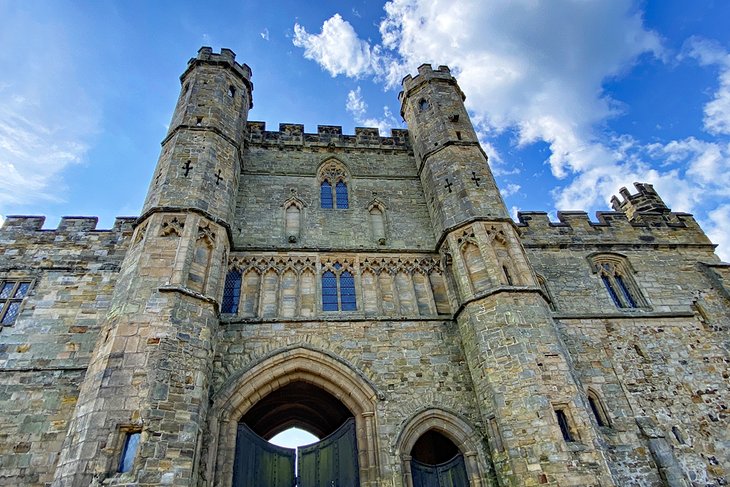 A pretty 20-minute drive from Hastings seafront and one of the nicest small towns in Sussex, Battle is famous as the location where William the Conqueror beat the English in 1066 and cemented his claim to the throne.
Battle Abbey, built by William to commemorate the battle and its dead, stands looking down over the town's attractive old High Street and is fun to explore.
Pop in to the English Heritage - 1066 Battle of Hastings Visitor Centre to learn more about this pivotal event in English history. Guided tours are available, as are audio guides. In addition to exploring the abbey ruins, you'll get to explore the site of the actual battle.
While you can spend a few hours exploring this must-see attraction, be sure to allocate at least a little time to explore the town itself. In addition to its many historic timber-framed buildings, you'll want to visit the 900-year-old St. Mary The Virgin Church.
Location: Butter Cross, High Street, Battle
Official site: www.english-heritage.org.uk/visit/places/1066-battle-of-hastings-abbey-and-battlefield/
8. See Romantic Bodiam Castle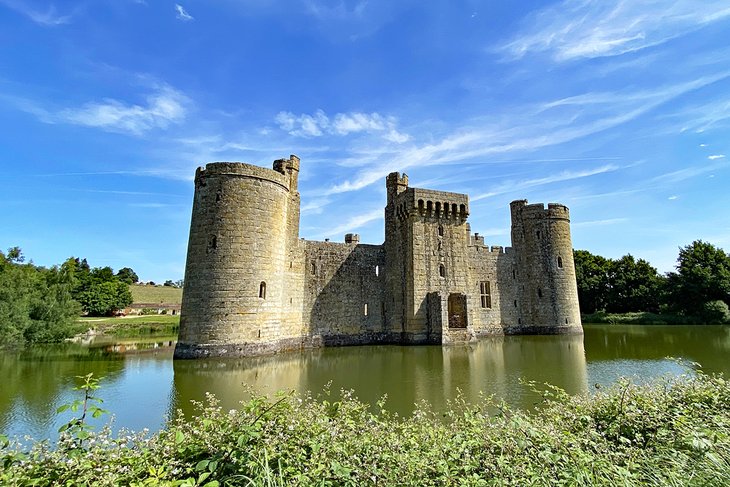 A pleasant 15-minute drive north of Battle, and you'll find yourself in the small Sussex village of Bodiam. Here, surrounded by a large moat, stands Bodiam Castle, one of the most romantic old fortresses in England.
Built in the 1300s and now partly in ruins, enough remains of the old fortress to provide a picture of just how impressive it must have been in its heyday.
Spectacular views over the castle interior and grounds can be enjoyed from its towers that, though a steep climb, are well worth the effort. Fun things to do include having the kids don medieval-era costumes and participate in a variety of hands-on learning experiences.
If you're able to make a day of it, combine your visit with a ride aboard a steam train. Operating out of the small Kentish town of Tenterden, the Kent & East Sussex Railway offers a variety of fun excursions to its Bodiam train station.
Location: Bodiam, East Sussex, England
Official site: www.nationaltrust.org.uk/bodiam-castle
9. Reach for the Sky on the British Airways, i360, Brighton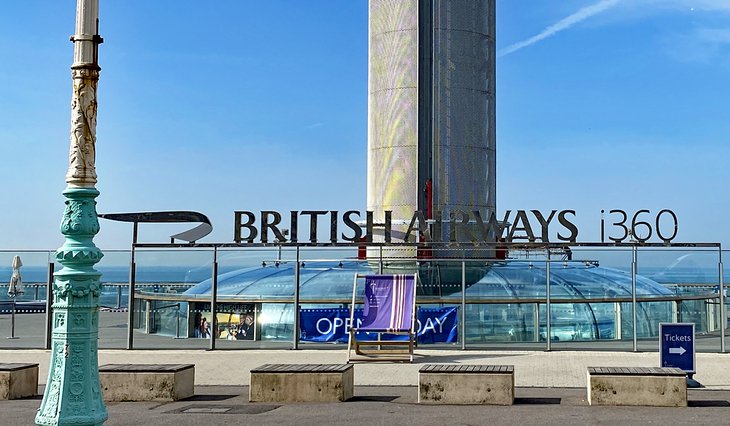 Enjoying a ride aboard the British Airways i360 is another of the many fun things to do in Sussex. Standing tall on Brighton's lovely seafront, the world's first vertical cable car stands 531 feet high and offers superb views over the sea and the town.
Up to 200 guests at a time enter the observation platform at ground level and are transported slowly up the tower. After a few minutes paused at the top, the slow descent begins, ensuring plenty of time to grab some great photos of the view or some selfies. A tea room and gift shop are located on the premises.
This fun attraction can be easily combined with a walk along the wide promenade and a visit to other popular sightseeing attractions including Brighton Palace Pier, the Brighton Pavilion, and the town's many excellent beaches.
Address: Lower Kings Road, Brighton
Official site: http://britishairwaysi360.com/
10. Visit Chichester Cathedral, Chichester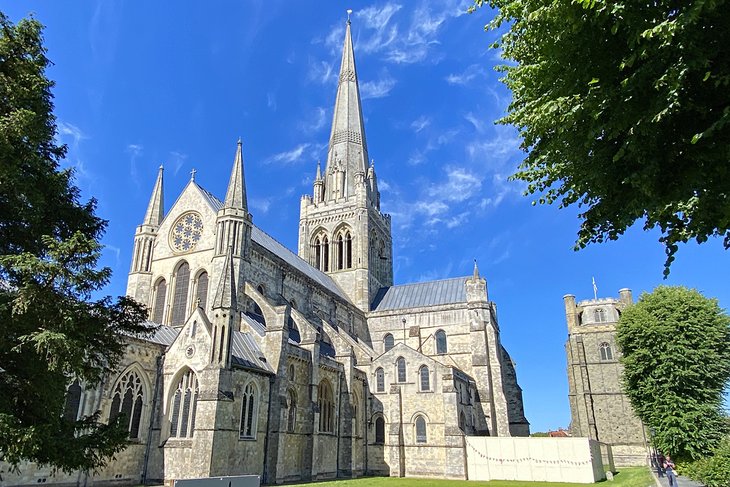 The most westerly urban area in Sussex, the pleasant cathedral city of Chichester is a superb place to visit for those who enjoy exploring historical landmarks without the crowds found in destinations such as Canterbury or Cambridge.
True, it does take a little longer to get here by train from London than those two cities, but Chichester is every bit as pleasant to explore–and without the crowds and line-ups
Topping most lists of attractions here is Chichester Cathedral. Built in 1075, it's not as large as many other English cathedrals, but it's every bit as interesting. Highlights of a visit include the shrine of St. Richard of Chichester, an early bishop, along with numerous stone carvings and artworks.
If traveling with kids, be sure to request details of the educational trails that combine a little fun while they learn. Check their official website for news of events and concerts, and details of guided tours.
Location: Chichester, West Sussex
Official site: www.chichestercathedral.org.uk
11. Relax on Brighton Beach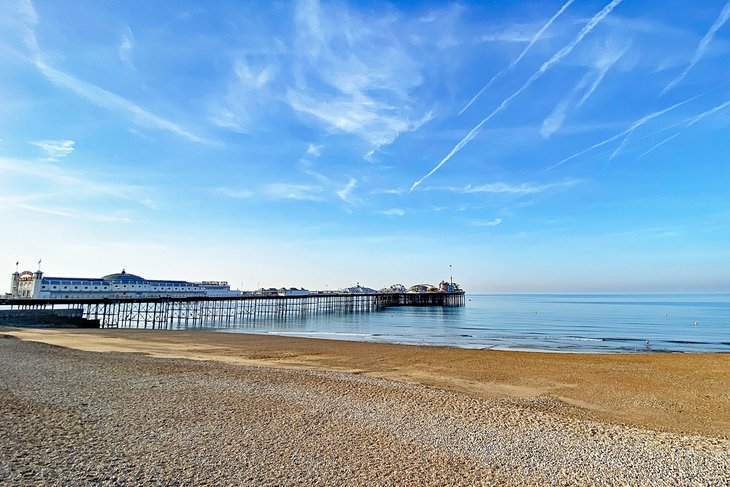 Sussex is home to a number of first-rate beaches, not least of which is Brighton Beach.
Centered around Brighton's Palace Pier, this pebble beach has been a gathering point for sunseekers since Georgian times. In fact, lining the promenade are numerous fine examples of Georgian architecture, none more impressive than Brighton Pavilion.
As easy as it is to be distracted by the many seafront attractions in Brighton, there's plenty to do on the beach. Highlights include sunbathing and swimming, of course, while families will enjoy watching the kids explore and play in the hard-packed sand that reveals itself at low tide. Lifeguards are on duty during peak summer months, and washrooms and change facilities are located along the promenade.
Fun water sport activities available on Brighton Beach include kayaking, windsurfing, wakeboarding, and paddleboarding. Basketball and volleyball courts are also provided, along with a play area with splash pool for kids.
Address: Brighton Seafront Office, 141, Kings Road Arches, Brighton, East Sussex
Read More: Best Beaches in Brighton, East Sussex
Map of Things to Do in Sussex, England