12 Top-Rated Attractions & Things to Do in Rye
A charming fairy-tale-like town, Rye is a picturesque spot to enjoy a day trip or short getaway in East Sussex. Crooked old Tudor buildings, romantic cobblestone streets, and bright floral blooms make it impossible to dislike this quaint locale, which is why so many choose to spend a weekend holiday here. And despite its small size (it has a population of only 15,000), Rye offers visitors an abundance of attractions and things to do.
The town is steeped in history. Many remnants of its medieval heyday remain, some intact and others in ruins, while tales of its exciting past as a smuggling port run wild.
When visiting, you'll find a slew of eclectic shops selling everything from antiques and vintage clothing to trendy fashions, art, home decor, and souvenirs. There are also plenty of rave-worthy restaurants lining the town's narrow passages and paths, cobbled streets, and winding laneways, all making this town irresistible.
The town is easily reachable from London by car or rail (it lies about two hours away, whichever means you use to get here).
Plan your sightseeing itinerary with our list of the top attractions and best things to do in Rye, England.
1. Explore Old Town Rye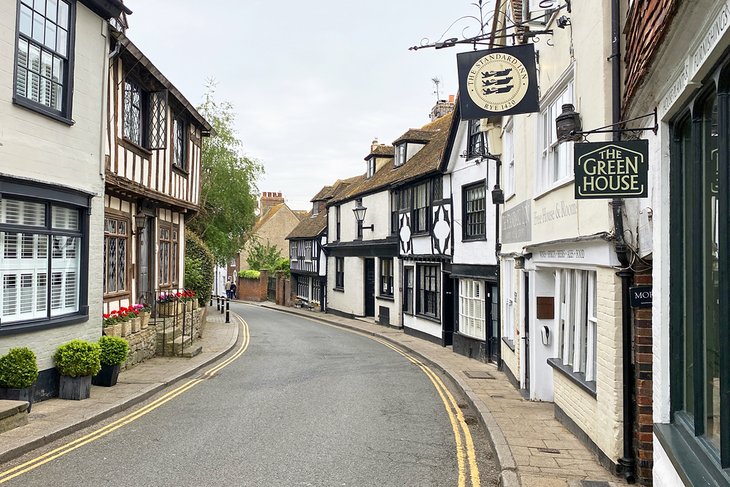 Although now two miles away from the English Channel, Rye was, when it was incorporated in 1289, an important port positioned directly on the sea. Consequently, you'll see many references to this maritime past pretty much everywhere, from street names to its architecture.
The best-known reference is, of course, famous Mermaid Street, which anchors (pun intended) the town's historic old town center. Here, you'll find the Mermaid Inn, a favorite haunt of sailors, and a number of well-preserved old timber-framed homes dating from this period.
At the time, Rye was considered one of the finest of the Cinque Ports, a group of five important harbors that were fortified to defend against potential attack. Pay a visit to Ypres Tower, and you'll experience the commanding views the fortress would once have had over the water.
Numerous other references to this maritime role can be found as you wander the old town's alleys and laneways, from restaurants serving traditional fresh-caught seafood dishes to nautically themed shops and fun guided tours that visit the haunts of pirates and smugglers.
2. Go Bird-Watching at Rye Harbour Nature Reserve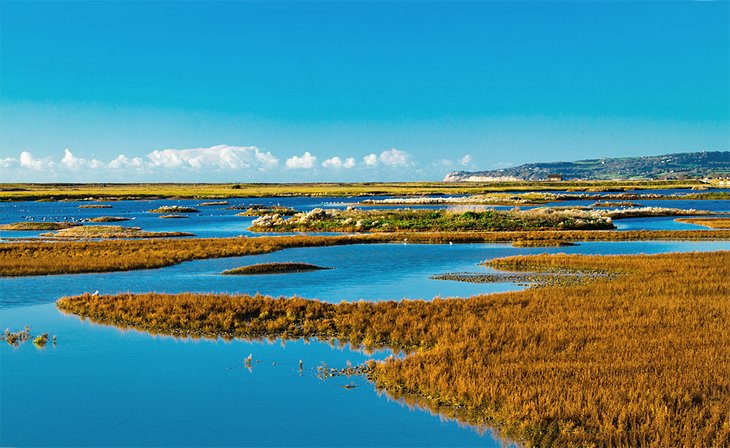 Nature enthusiasts will adore Rye Harbour Nature Reserve, especially those with a penchant for bird-watching. The over 1,000-acre reserve consists of everything from marshland to sand to woods, and it boasts over 4,000 different species of animals.
Choose from one of five comfortable bird-watching huts (a.k.a. hides) to enjoy not just the wildlife, but the spectacular scenery. The one closest to Camber Castle never disappoints, and a visit to enjoy some bird-watching is by far one of the most popular things to do in Rye.
Alternatively, take a hike along one of the many footpaths leading you around the reserve's salt marshes, saline lagoons, and vast grassland. The main paths are flat and wide, which make them perfect for those pushing a stroller, wheelchair, or bike.
The Rye Harbour Discovery Centre opened in 2020, adding a warm and comfortable spot to relax, learn, and observe animals. In addition to its unique design, which blends in seamlessly with its surroundings, the center features useful information and resources, as well as a great little café.
Insider's Tip: Pack binoculars and a camera with a good zoom lens, and plan on spending at least a few hours at this natural wonderland.
Address: Harbour Rd, Rye Harbour, Rye
Official site: https://sussexwildlifetrust.org.uk/visit/rye-harbour
3. Visit Rye Castle Museum and Climb Ypres Tower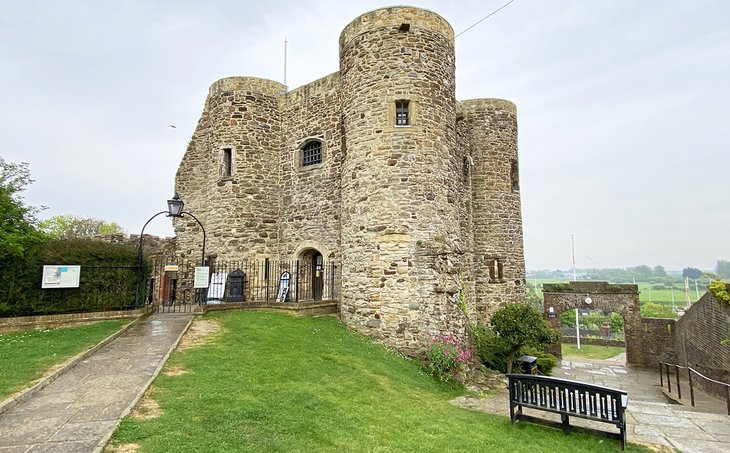 Rye Castle Museum is one of the best attractions in Rye. It consists of two sites: The Ypres Tower and the East Street museum itself, which is a short walk away. Ypres tower was commissioned by Henry III as part of a defense strategy against French invaders and was later used as the town's prison.
The Women's Tower, which lies down a small staircase in the garden, acted as the country's first prison for women. The views from the terrace are lovely.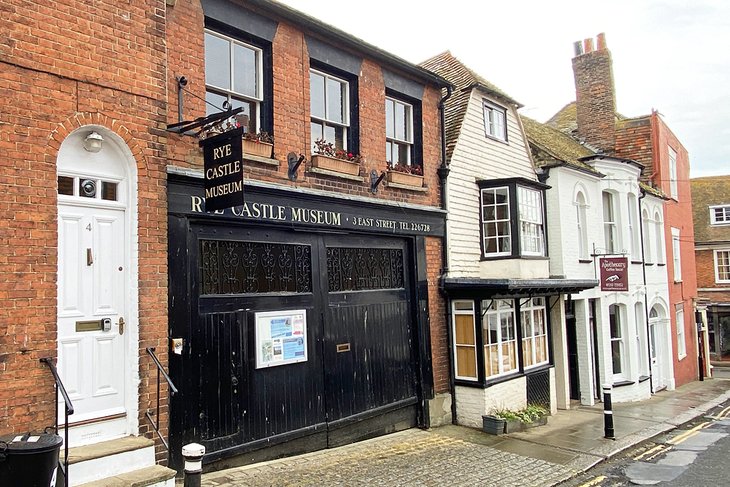 The East Street site, which opened in 1999, provides visitors with an opportunity to view the museum's collections and learn even more about the history of Rye and the Ypres Tower. It's open from April 1st to October 31st.
Both locations are kid-friendly and make learning about history a joy for those of any age. At both spots, children are encouraged to get up close and touch many of the exhibits, including interactive maps and an area where they can try their hands at pulling a medieval arrow and lifting a heavy sword.
Address: 3 East Rye Street, Rye, East Sussex
Official site: http://ryemuseum.co.uk/
4. Admire the View from the Parish Church of St. Mary, Rye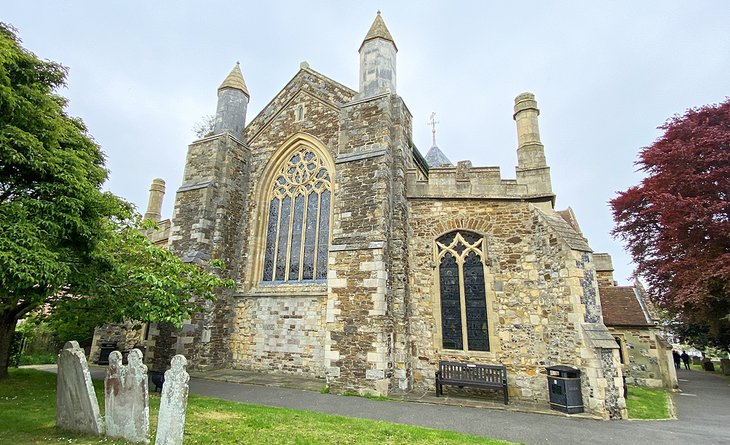 The magnificent Parish Church of St. Mary, Rye, also known as the Cathedral of East Sussex, has graced the hilltop on which it stands for over 900 years. Its tall spire can be seen from miles away, welcoming visitors to enter its hallowed stone walls.
The church has the requisite stained-glass windows and magnificent stonework of other places of worship created around the same time. What sets this beautiful church apart, though, is the remarkable St. Mary's Tower.
A climb up steep, narrow steps to its top offers visitors a breathtaking sight. The sprawling vista over the churchyard, town, and countryside below is worth the climb if you can make it. Plus, the tower is a popular spot for marriage proposals, so you may witness history in the making.
Insider's tip: Keep your eye out for the historic Rye Water House, an ancient cistern (a.k.a. water tank) that lies in the churchyard.

Address: Church Square, Rye, East Sussex
Official site: www.ryeparishchurch.org.uk
5. Take Photos on Mermaid Street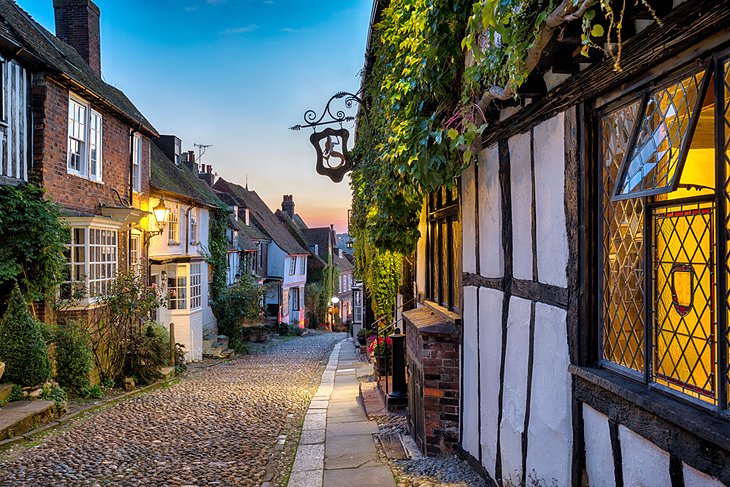 Mermaid street is one of the most photographed streets in England and one of the best attractions in Rye. Cobblestoned and lined with crooked timber houses bursting with blooms, it's easy to see why.
Walking along this relatively steep and narrow old laneway transports visitors back in time with photo-worthy treats around every corner. Mermaid Street runs between Strand and West Streets in the old town center and is home to one of southeast England's most famous inns: The Mermaid Inn. This Grade-III-listed historical Tudor inn is adorable, despite its history as a haunt for smugglers.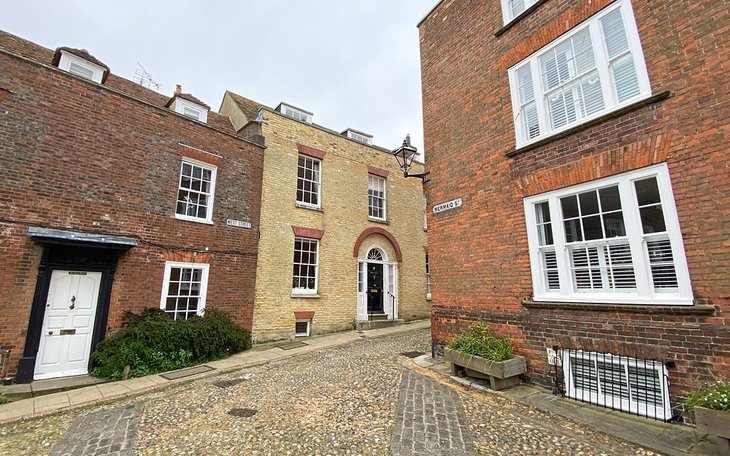 Also here is the family-run The Mermaid Street Café, a perfect place to visit to relax, indulge in a cake, or full English breakfast. You can also get in some people watching, too, either from a window seat inside or an outdoor table.
And while wandering the street, pay attention to the fun house names. From "The House With Two Front Doors," one of the top bed and breakfast locations in Rye, to "The House Opposite," a Grade-II-listed home that's ideally located directly opposite the Mermaid Inn. Both are delightful and unique, and well worth including as a backdrop for a selfie.
Insider's Tip: Mermaid street can be steep at times, and the cobbled stones get slippery when wet. Leave the stilettos at home in favor of comfortable walking shoes.
6. Lamb House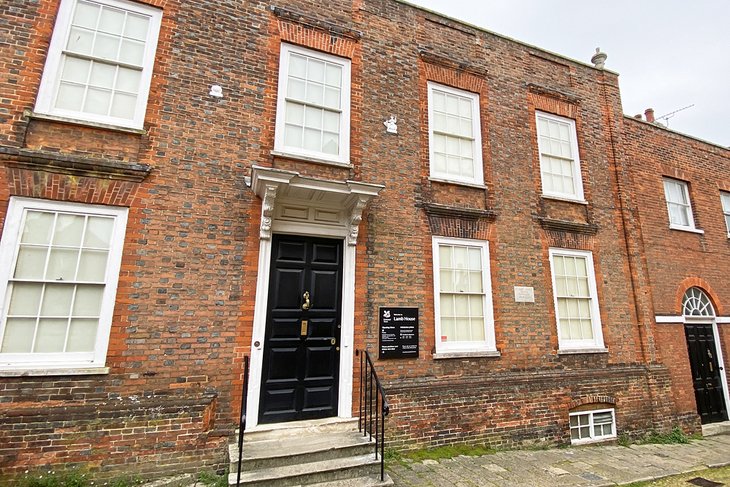 Once home to authors Henry James and E.F. Benson, Lamb House provided much inspiration for their famous works. This small yet regal house can be recognized in James' description of Mr. Langdon's home in An Awkward Age. And it's one of the most popular tourist attractions in Rye.
While James did much of his writing in the Green Room, he spent most of his summers working in the Garden Room. Sadly, this was destroyed during a bombing raid in 1940.
Today, visitors can see the Green Room firsthand, or visit the entrance hall, oak parlor, dining room, and King's room, among others. Luckily for those craving an inside peek into the authors' minds, Lamb House was recently revamped to allow more access to their most beloved spaces.
Insider's Tip: Enjoy a cuppa at the Courtyard Tea Room. Borrow a book and enjoy a few moments of solitude with a slice of cake. It's only open from Fridays to Tuesdays, so plan accordingly.
Address: West Street, Rye, East Sussex
Official site: www.nationaltrust.org.uk/lamb-house
7. Play in the Surf at Camber Sands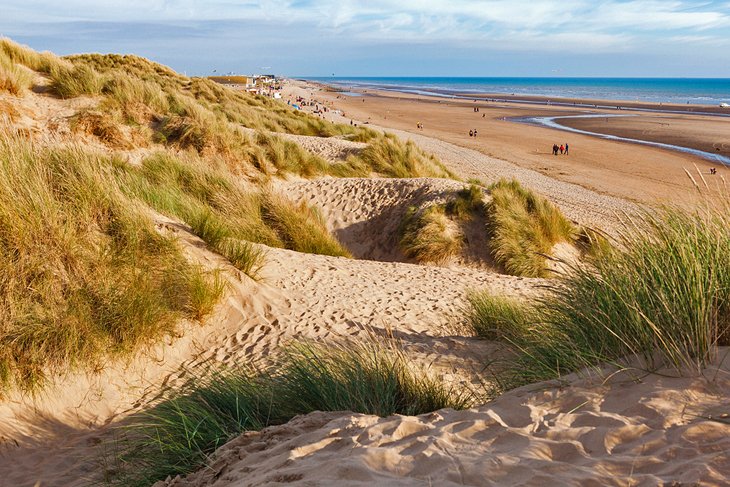 Bordering Rye Harbour Nature Reserve on one side and RSPB Dungeness on the other, Camber Sands isn't technically in Rye. But it will only take about five minutes to drive here.
This popular sandy beach is a haven for English weekenders from Rye and London, especially in the summer. While visitors flock here for a calming respite filled with crashing waves and miles of soft golden sand, it's the grassy sand dunes that really take your breath away.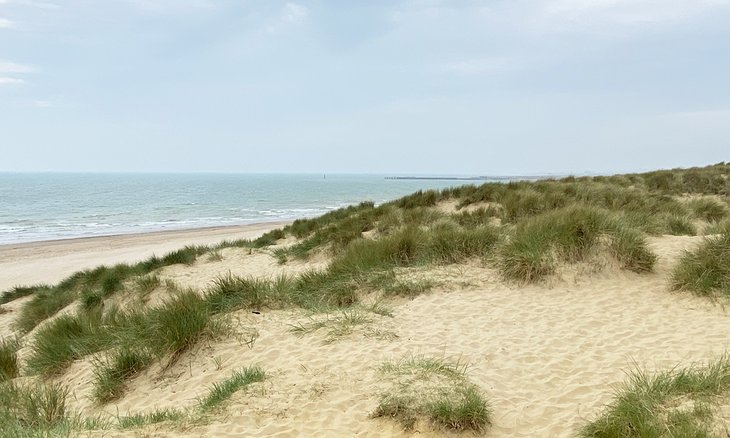 Camber Sands is the longest, and only, dune system in East Sussex. Whether you're looking to soak up the rays, walk along the beach, or swim in the sea (brrr), Camber Sands is a remarkable holiday spot. Plus, lifeguards are constantly on duty, and restrooms and concessions are available nearby.
Insider's Tip: Beware of the tides, which move quickly. The currents can be quite strong when the tide goes in and out.
Address: Camber, East Sussex
8. Take a Walk through the Landgate Arch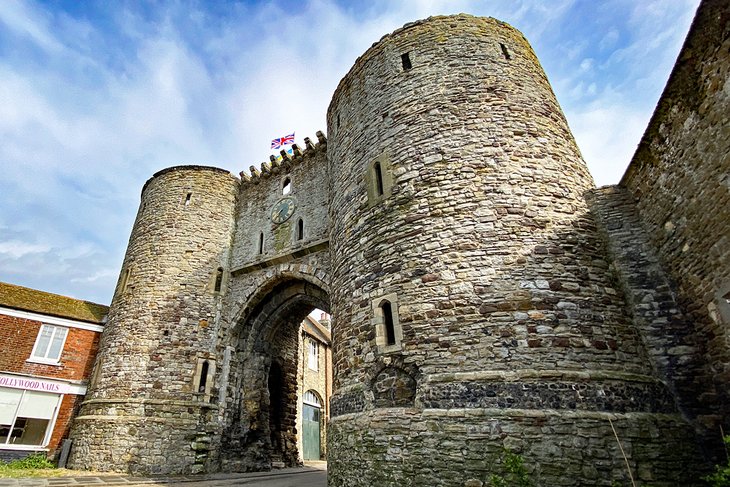 Built in 1329, this ancient arch, flanked by two large drum towers, was created to help fortify Rye and act as the town's only connection to the mainland. At the time, Rye was an island, and the gate provided the only access to land at high tide.
Once accompanied by a drawbridge, portcullis, and three other gateways, this impressive stone arch and its clock, added in 1862, are all that remains. The Sandgate, Baddings Gate, and Postern Gate were removed after suffering substantial damage.
The Landgate is a Listed Grade 1 Ancient Monument and a highly recognizable feature of the older section of town. Despite its age and somewhat narrow opening, cars are still able to drive under the arch, which is four feet higher than it was originally due to the road being lowered over time.

Address: Corner of Landgate and Tower Street, Rye, East Sussex
9. Rye Heritage Centre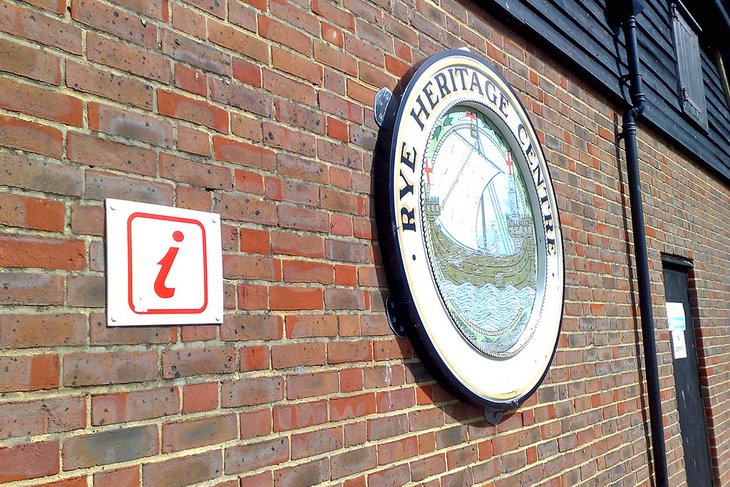 If you've ever wanted to feel like Gulliver in Lilliput, head to the Rye Heritage Centre. Home to a to-scale, handmade model of Victorian-era Rye, this unique center offers visitors a fascinating glimpse into life as it was lived during this time. It's not very large, so you won't need to spend more than an hour here.
Devoted to making learning fun, the center's Story of Rye sound and light show guides guests through 700 years of the town's history. Also on-site is a collection of Old Pier arcade games that remarkably still work.
The gift shop sells an array of gifts to take home, as well as area maps, art, and other fun gifts. Before you leave, book a guided walking tour.
Address: Strand Quay, The Old Sail Loft Rye, Rye, East Sussex
Official site: www.ryeheritage.co.uk/
10. Follow the Path along the Royal Military Canal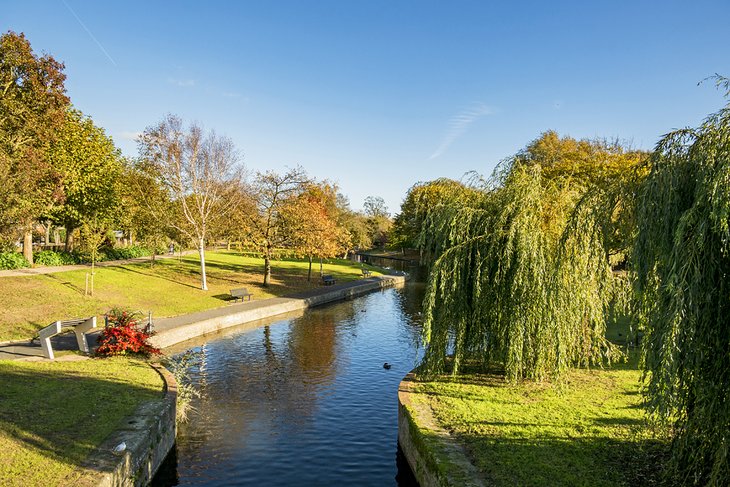 Feel any residual stress melt away as you wander along the calming Royal Military Canal. A scenic walking and cycling path makes it easy to follow the water's course as it flows from Iden Lock to the Appledore Dam.
In addition to serving as a well-trodden walking route, the canal boasts an interesting history. It was hand dug in the early 19th century to serve as a defensive barrier between the towns of Hythe and Winchelsea.
The canal is currently used to control water levels in the surrounding marsh and to help protect the region from damaging floods. A haven for wildlife, this is also a wonderful place to enjoy bird-watching.
The Royal Military Canal is stocked with fish including carp, perch, bream, and pike, but you'll need a permit from the Rother Fishery Association (RFA) to try your luck at catching one.
Address: Military Road, Playden, East Sussex
11. Hike to Camber Castle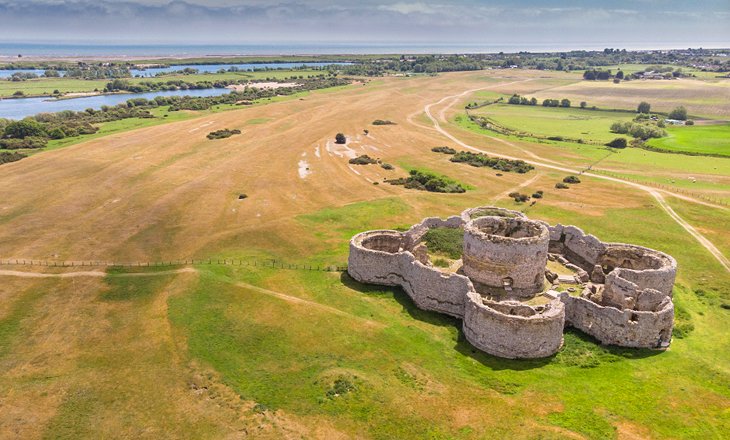 This unique fortress, also known as Winchelsea Castle, was built in the early 16th century by Henry VIII. He commissioned the stronghold to protect the surrounding coast from French invaders.
Initially, the castle consisted only of the artillery, which the controversial king realized wasn't enough to offer protection. Over time, more sections were built, creating the concentric circles that make up this interesting stronghold.
Located a mile from Rye, the bold, stone castle appears beautifully from a lush landscape peppered with sheep and cattle. For those craving a closer look, plan your visit carefully. The castle is only open the first Saturday of the month from August to October. The Sussex Wildlife Trust also include tours to the castle in their guided walks of the Rye Harbour Nature Reserve.
Insider's Tip: There's no vehicular access to Camber Castle, which is only accessible by foot. Pack comfy shoes and plan on an easy and pleasant trek through the neighboring fields. Just watch where you step!
Official site: www.english-heritage.org.uk/visit/places/camber-castle/
12. Explore Bodiam Castle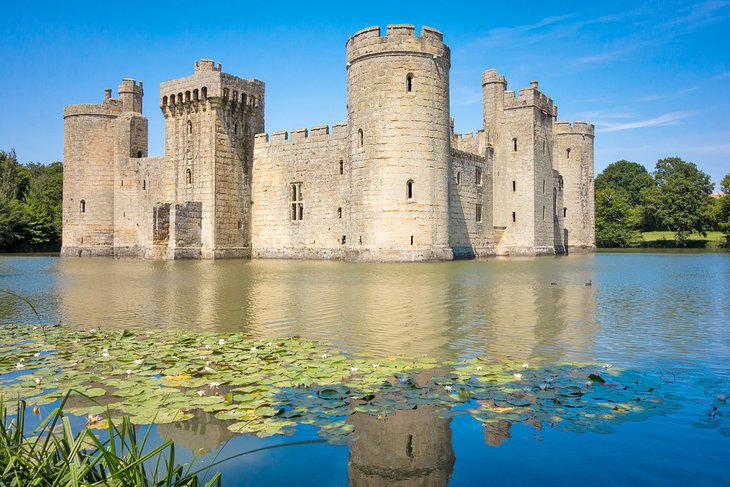 Bodiam Castle lies 13 miles north west of Rye and takes about 25 minutes to reach by car. Although not technically in town, exploring this historic spot is a popular thing to do in Rye. Well preserved as far as ruins go, this 14th-century marvel offers guests a wonderful glimpse into medieval life.
Wind your way up and down the spiral staircases, but be careful: the steps are quite narrow. You can also view the battlements; see the expansive, carp-filled moat; and gaze at the portcullis in the gatehouse before wandering the lush grounds.
Kids adore it here, which is easy to understand, as the castle offers frequent child-centered programs including story time, archery, crafts, quests, bat hunts, and armor displays.
When you're feeling hungry, visit the Castle View Café for a picnic or treat, or enjoy a cream tea in the Wharf Tea Room.
Address: Near Robertsbridge, East Sussex
Official site: www.nationaltrust.org.uk/bodiam-castle
Where to Stay in Rye for Sightseeing
For a small town, Rye boasts multiple hotels and bed and breakfasts, meaning there are plenty of places to choose from; most are in the mid to budget price ranges. We recommend you consider the following delightful hotels and guesthouses for an enjoyable stay close to the top attractions in Rye.
Luxury Hotels:
While technically a bed and breakfast, the beautiful five-star Saltcote Place

Rye

is as close to a luxury hotel as you'll find in Rye. Your first-class experience begins the moment you book your stay. Hosts Alan and Paul will get to know you over the phone or e-mail to create a bespoke menu, as well as share local day trip and dining suggestions. It's worth booking directly in order to receive their personal care, as well as a better price. The suites are spacious, and the grounds impeccable.
Mid-Range Hotels:
Looking for a nice hotel that won't break the bank? Book a stay at Winchelsea

Lodge

. A four-star gem surrounded by lush countryside, this old Sussex barn is charming, comfortable, and perfectly located for a visit to Rye, Hastings, Battle, and Camber Sands.
The Mermaid

Inn

is one of the most unique mid-range hotels you'll ever book. In addition to intricately carved beds, a secret stairway (behind a bookcase, of course), and creaking floorboards, this historic Tudor inn boasts a large restaurant with linen-paneled walls.
The Lookout

Rye

offers modern amenities and chic décor within the town's ancient walls. It's also the only hotel in Rye to offer an indoor pool, sauna, spa, and hot tub.
Budget Hotels:
The Hope Anchor

Hotel

is a good deal for those on a budget. Staff are friendly, and breakfast is included. Most rooms in this 18th-century former inn offer unbeatable views. If you want more space, avoid booking the small doubles/twin rooms.
A small, family-run establishment, The Regent

Motel

is centrally located in the heart of bustling Rye.
More Related Articles on PlanetWare.com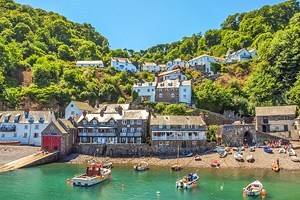 More Small English Towns: Few countries do quaint quite like England. From fairy-tale villages like the Cotswold's Castle Combe to the idyllic seaside town of Clovelly in Devon, these top-rated small towns won't disappoint. Those looking for a two-day adventure will enjoy each of these top-rated weekend breaks, which includes multiple small towns like Stratford-upon-Avon, Windsor, Durham, and Kent.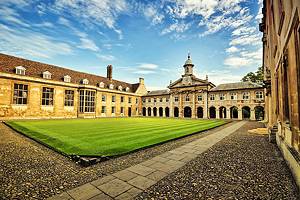 Explore England: Whether you're a fan of big cities like London, or crave the more laid-back vibe of the historic and jaw-droppingly gorgeous Bath, England offers something for every type of traveler. Looking for a historic tour? Don't miss Cambridge, where you can punt down the River Cam while peeking into a few of Cambridge University's architectural masterpieces. York is another university hot spot that's not to be missed. And for those craving a seaside escape, England is known for its long, sandy beaches. While the weather may not be ideal for year-round sunbathing, this British Isle boasts some of the top-rated beaches in the UK.