7 Best Beaches in Whitstable, Kent
The closest Kentish seaside town to London, Whitstable has a long tradition of welcoming travelers to its beaches. Just 1.5 hours east of England's capital city by train, and almost as quick by car depending on traffic, Whitstable first got the attention of a travel-hungry public, eager to sample its beaches and sea air, in the early 19th century.
With the advent of the railway and the construction of the harbor in the 1830s, both built originally to handle the flow of freight to the nearby city of Canterbury, the reputation of Whitstable's beaches soon spread.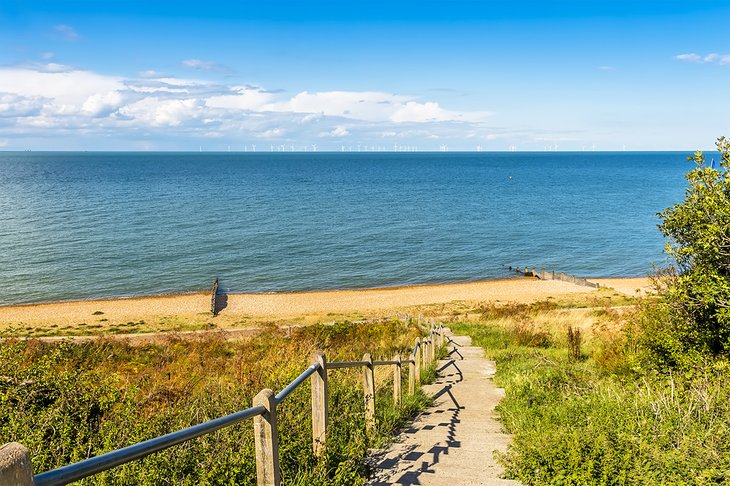 This reputation lives on to this day, and a recent renaissance in Kent's seaside towns, particularly Whitstable and neighboring Margate just a short ride farther along the coast, has seen beach amenities and experiences improved and tweaked to better suit modern day sensibilities.
For example, outdoor adventurers are increasingly flocking to Whitstable for water-based activities, like kayaking, paddleboarding, and swimming. And families wanting to teach the kids a little more about nature find fun things to do like crabbing and searching for marine life in the many rock pools exposed when the tide's out. Speaking of tides, you can check for up-to-date tide times in Whitstable before you go.
To learn more about some of the best places to visit in England for a seaside break, read through our list of the best beaches in Whitstable, Kent.
1. Whitstable West Beach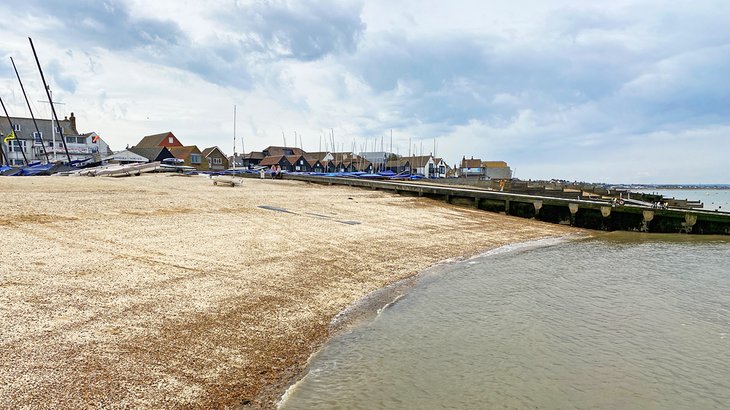 One of the best shingle beaches in Kent, Whitstable's West Beach is certainly picturesque. Centrally located and considered to be the main beach in Whitstable, it stretches from the town's harbor all the way to the community of Seasalter a mile to the east.
Given its length, there's plenty of room for families and couples to spread out. A unique feature of the beach are the wooden barriers, or "groynes," that were added many years ago to halt beach erosion. They also contribute a certain amount of privacy, too, especially when the tide is out.
While water sports enthusiasts enjoy the beach for its great sea swimming, sailing, and windsurfing, there's also plenty of fun things to do on land. Topping the list for many is taking a coastal stroll along the promenade, which stretches all the way to Seasalter along the beachfront.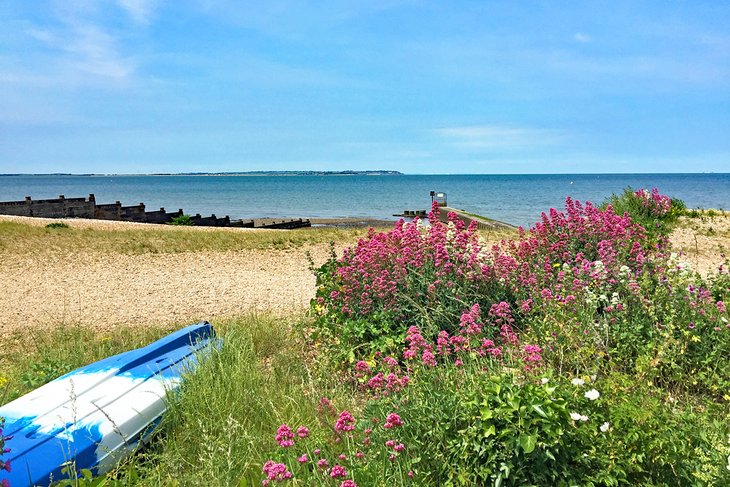 There are numerous dining and refreshment opportunities, too, including that seaside staple of fish and chips, featuring fresh caught fish hauled in by the vessels lining the beach and harbor.
While the waters here are clean and safe, families with younger children should note that there are no lifeguards on duty.
Ranked one of the top dog-friendly beaches in Kent, your four-legged furry friends are permitted year-round.
Address: Marine Terrace, Whitstable, Kent
Read More: Top-Rated Attractions & Things to Do in Whitstable, England
2. Tankerton Beach, Whitstable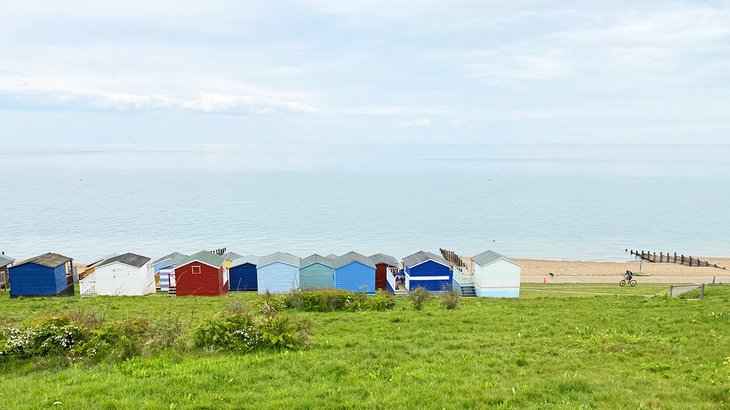 Just a short walk away from West Beach, you'll find yourself soaking up the wonderful sea views from Tankerton Slopes. But as nice as the views are, you'll want to make your way down to Tankerton Beach.
Lined with brightly painted beach huts that can be rented for periods from a few hours to a full day or two, this long shingle beach boasts clean water and safe lifeguard-supervised swimming and is well suited for families. While a portion of the beach remains exposed at high tide, you'll want to keep an eye on the tides in order to get the most out of your beach experience.
Exploring the countless exposed rock pools at low tide is a real treat for the kids. In addition to finding numerous varieties of shellfish, the area's good for crabbing, a fun pastime where kids catch, observe, and then release these fascinating little sea creatures.
If you time it right, you might also have the chance to explore "The Street." This natural causeway reveals itself at low tide and can be followed some distance out to sea. However, be sure to keep an eye on that tide schedule, as this unique Whitstable attraction will disappear again at high tide.
When you're done having fun on the beach, or when the tide does roll in, you can enjoy a pleasant stroll along the beachfront promenade. Tankerton Beach also features bathroom facilities, picnic areas, a café, and a skatepark.
3. Hampton Beach, Herne Bay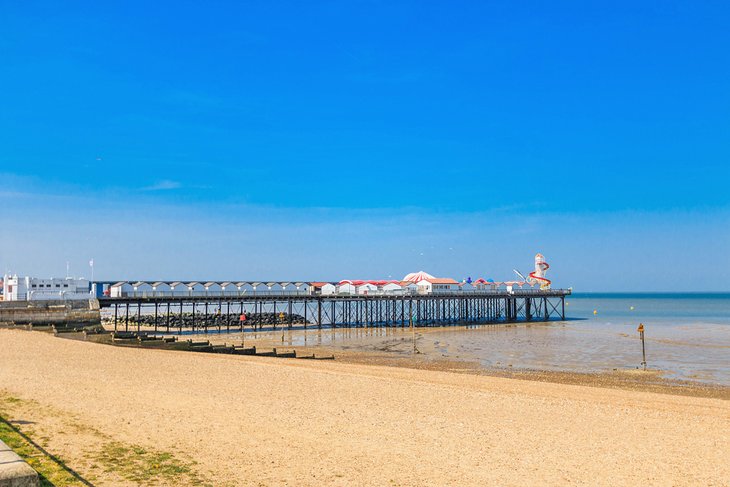 Located an easy four-mile drive east of Whitstable, Hampton Beach in Herne Bay has benefitted from a resurgence in interest in Kent's coastal towns over the past few years. As a result of an influx of second-home owners and the resultant increase in vacationers staying for days at a time, the beachfront has itself undergone a degree of improvement and rejuvenation.
Stretching all the way from Hampton Pier east as far as Herne Bay Pier, a distance of just over a mile, this mainly pebbled beach does boast a few sandy spots here and there, some of which are only exposed at low tide. You'll also want to explore the fascinating wood groynes, installed decades ago to prevent coastal erosion, for interesting marine life.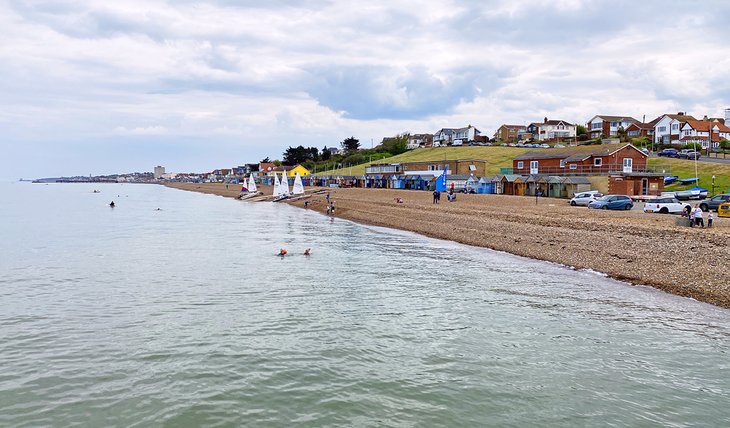 When you're done at the beach, you'll want to allow some time in your itinerary to enjoy a pleasant stroll along the promenade. Known as the Spa Esplanade, it's an easy 30-minute walk to Herne Bay Pier.
Along the way, you'll find numerous great photo opportunities, with the many brightly painted beach huts making for a great backdrop. You'll also want to frame a few fishing boats in your shots, too, for a quintessential English seaside photo to take home with you.
Ample parking is available, and beach huts can be rented.
Address: Spa Esplanade, Herne Bay, Kent
4. Studd Hill, Herne Bay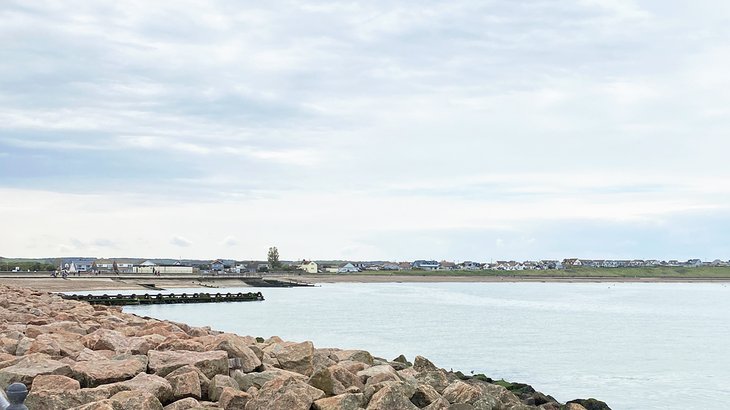 Glance westward from Hampton Pier, and you'll find yourself gazing along a lovely stretch of coast that curves off into the distance as far as the eye can see. Known as Studd Hill Beach, this mostly shingle beach is popular with water sports enthusiasts interested in everything from sea swimming to windsurfing, as well as kayaking and paddleboarding.
While much of the shingle section of the beach is usable for gentler activities, such as sunbathing at high tide, decent stretches of sand are exposed when the tide's out, allowing at least a few hours relaxing and walking on something a little easier on the feet.
With the small seaside community of Hampton-on-Sea as a backdrop, it's certainly a picturesque setting. The accompanying groynes add to the photogenic nature of this part of the Kent coast, too, and make a great backdrop if you're taking photos out over the Thames Estuary.
A lengthy promenade leads all the way to Hampton Pier on the east end of the beach, with an additional mile-long walk leading all the way to Herne Bay itself. There's also a lovely park at the east end of the beach, near Hampton Pier. It's a popular spot for families wanting to enjoy a picnic while the kids have fun in the playground.
Location: Hampton-on-Sea, Herne Bay, Kent
5. Herne Bay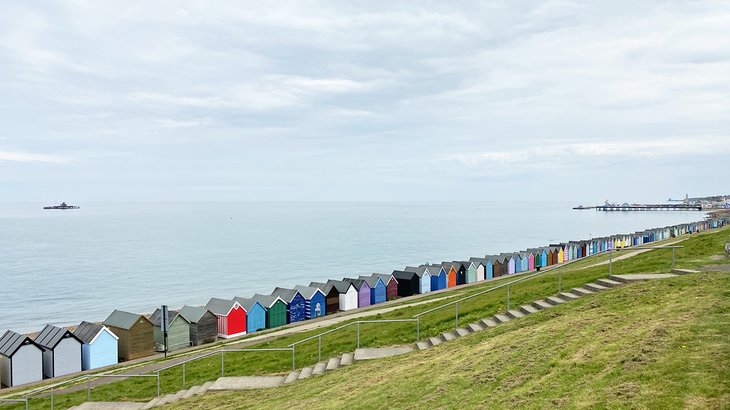 The pretty seaside town of Herne Bay, just a short drive east of downtown Whitstable, has a solid reputation for the quality of its main beach and its authentic English seaside setting. Situated adjacent to the town's harbor and close to a wide variety of amenities and attractions, Herne Bay has everything needed for a memorable family day at the beach.
While the upper portion of the beach is mostly shingle, a good amount of sand does appear once the tide's out. Time your visit right, and there'll certainly be an opportunity to sunbathe, swim, and play about with sand under the toes. Deck chair and beach hut rentals are available to add to the experience and can be reserved by the hour or by the day.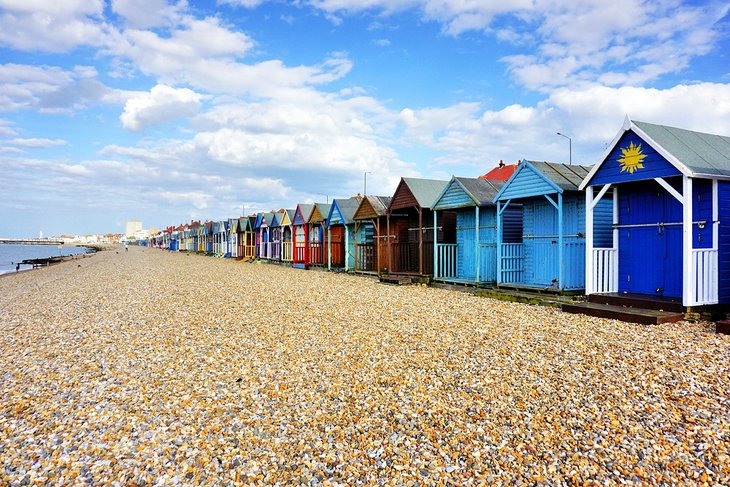 Traveling with kids? Lifeguards are on duty, providing an additional layer of security while the youngsters are in the water. And when they're done having fun splashing about on the beach, take them to the pier for some arcade fun. The pier's also a great place to show the kids how to catch crabs. Nets and buckets can be rented from a variety of vendors along the pier and waterfront.
There are plenty of great eateries lining the promenade and beachfront, too. In addition to serving up fresh-caught seafood, delivered daily from the town's own fishing fleet, a number of vendors serve up sweet treat seaside classics like donuts and those famous "99" soft-serve ice creams.
Herne Bay is also a popular stopover for hikers and cyclists tackling the Oyster Bay Trail. Stretching for nearly seven miles from Whitstable to Herne Bay, it actually connects to longer coastal trails that take in such locations as Reculver, site of a former Roman fort and now ruined church.
6. Reculver Beach
Located 12 miles east of Whitstable, Reculver Beach is quite unique for a beach on Kent's northern coast, not just for its long sandy bay, but also for its dramatic coastal vistas. Set on the west end of the beach and perched high up on a premonitory stand the imposing ruins of a long-ago abandoned church.
These fascinating ruins, along with two tall church towers, are all that remain of the 12th-century church, which itself was erected on the site of one of the first Roman fortresses to be built in Kent. The site can easily be reached from the beach, so be sure to allow at least a little time to explore it.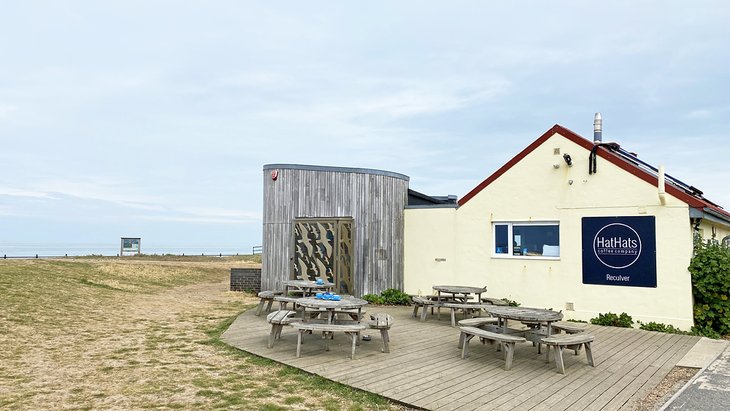 As for the beach, a smattering of sand among the pebbles makes it especially popular for families. And unlike most beaches in Kent, a narrow ribbon of beach, often sandy, remains exposed, even at high tide. And given its relative remoteness – there's none of the usual seaside attractions here, just a car park and a playground – those families that do turn up are usually relatively few in number, ensuring this pleasant beach doesn't get too crowded.
Another unique feature is an abundance of wildlife, particularly migratory birds. While their target is most often the adjoining 64-acre Reculver Country Park, many can be spotted on and around the beach.
History buffs may also be interested to know that Reculver Bay was the testing site for the famous "dam buster" bouncing bombs used to such devastating effect in WWII.
7. Margate Main Sands, Margate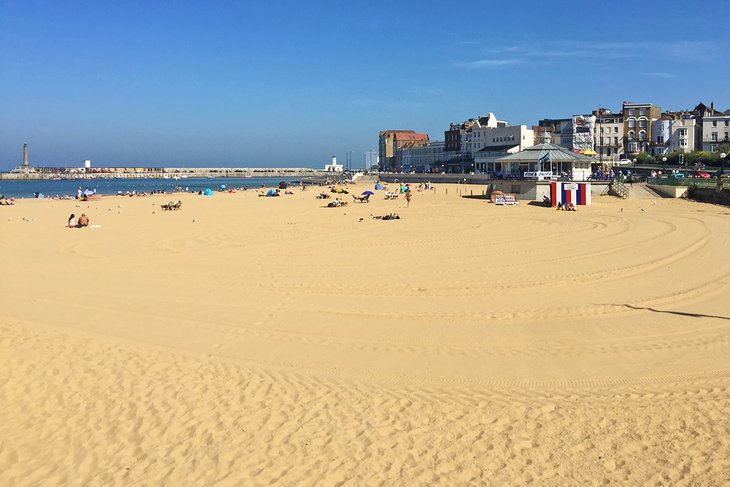 While it's an extra 30 minutes' drive or train ride east from Whitstable, Margate Main Sands is certainly worth adding to your list of beaches to visit when in this part of Kent. In fact, making the journey between these two popular beach destinations can be easily accomplished between tides, allowing you to effectively experience two of the best beaches in Kent, and get in some additional sunbathing and swimming, in a single day.
There's plenty of water activities to enjoy in Margate's best beach, too. In addition to swimming, you can enjoy adventure and dolphin spotting cruises and fishing charters, and even rent kayaks or Jet Skis.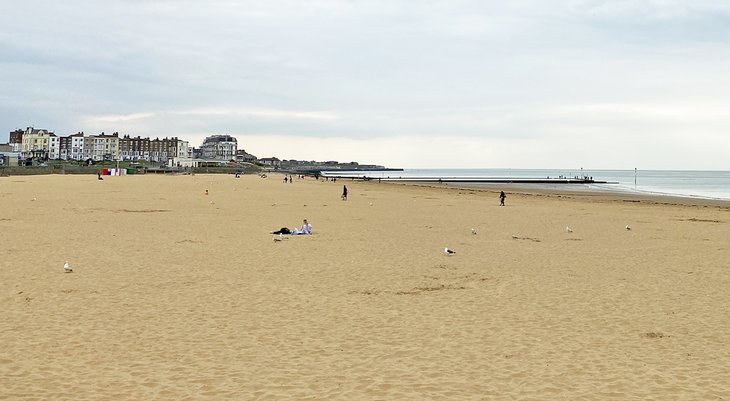 One of the most popular beaches in Southeast England, it can get busy though, with crowds drawn here not just for the sandy harborside beach, but to also enjoy the many things to do close by in Margate. Just steps away from the sand, you'll find yourself immersed in typical, traditional English seaside fare such as amusement arcades, snack food vendors, and souvenir shops. But, let's face it, that's all part of the fun.
Read More: Best Beaches in Margate
Map of Beaches in Whitstable, Kent