14 Top-Rated Things to Do in Colchester, England
Colchester boasts everything you'd hope to find in an English village. The oldest recorded city in Britain (circa 5th century), this Essex town is filled with remarkable remnants of its storied past. A towering Norman castle, extensive Roman walls, and preserved timber homes are only a few must-see attractions.
Other unmissable sights are more modern in nature. These include a contemporary art museum, eclectic shops, and one of the country's best zoos, plus winding lanes that curve their way through the town center, lined with fashionable shops of all sizes and a vast array of tasty restaurants.
Just slightly over two hours northwest of London, Colchester is a popular weekend destination for big city folk looking to unwind. A bustling arts scene means visitors won't be at a loss for entertainment. From concerts to theater performances to festivals, there's always something fun to do.
Find out where to start your journey with our list of the top things to do in Colchester.
1. Go Wild at the Colchester Zoo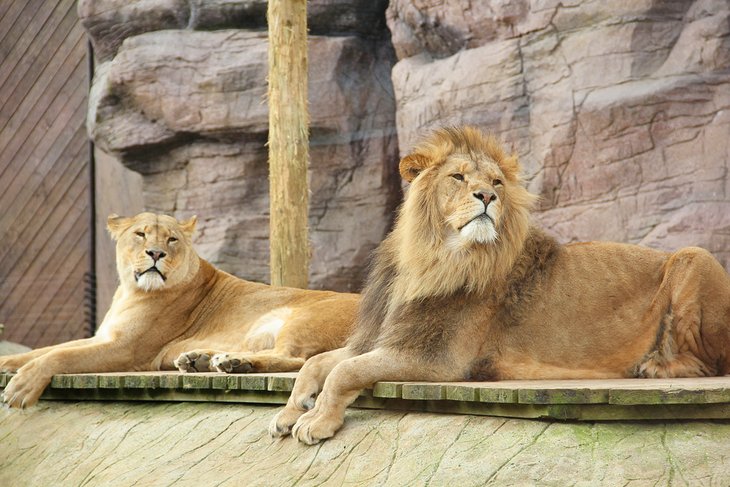 It's not often that a zoo tops a list of things to do in an English town. When it comes to menageries, though, this impressive spot is not to be missed. Over 220 species from across the globe live within the 60 acres of the Colchester Zoo.
You'll come face to tail with a Komodo dragon, hear a lion roar, and ogle at a white tiger among the vast parkland and lakes that make up this intriguing tourist attraction. Perhaps one of the most exiting exhibits is the underwater tunnel at the Patagonia sea lion pool.
Like all great zoos, this one hosts animal encounters that allow guests to feed giraffes and elephants or become a zookeeper for a day — once they pony up an additional fee. For a fraction of the fee, visitors can feed the rainbow lorikeets in the Australian Rainbows aviary.
Address: Maldon Road, Heckfordbridge
2. Unleash Your Inner History Buff at Colchester Castle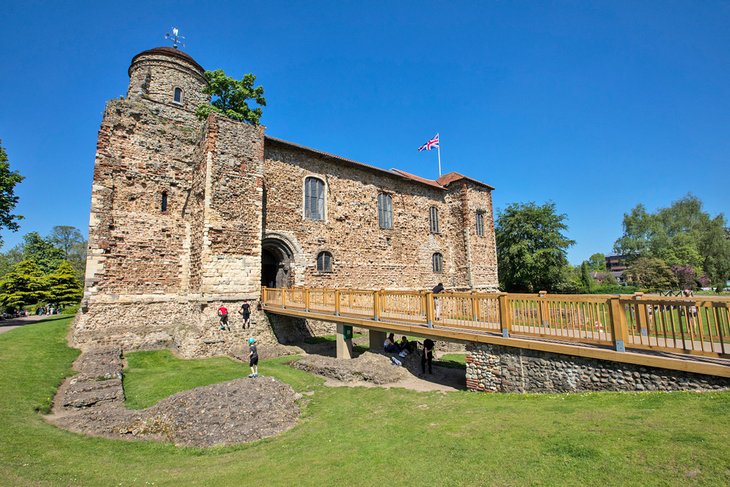 The most popular attraction in town, Colchester Castle is believed to have been constructed in the late 1070s by order of William the Conqueror. It was built upon the foundation of the Temple of Claudius, which was erected during the town's stint as Britain's first Roman capital.
Today, the well-preserved castle stands as a reminder of Colchester's remarkable history and serves as a magical backdrop for many photos. Its Norman keep is the largest surviving example in Europe.
The Colchester Castle Museum, which lies inside the castle, includes artifacts that were important in the building's storied past. Together, these highlight over 2,500 years of the town's fascinating journey through times ruled by the Celts, Romans, Vikings, Normans, and Saxons.
Old world meets new inside the museum, which uses up-to-date technology to create interactive displays and fascinating projections. Among the most famous artifacts are the Sheepen Cauldron, medieval paintings, armor from the Civil War, and various Celtic coins.
Address: Castle Park (off High Street), Colchester
3. Destress at Beth Chatto's Plants & Gardens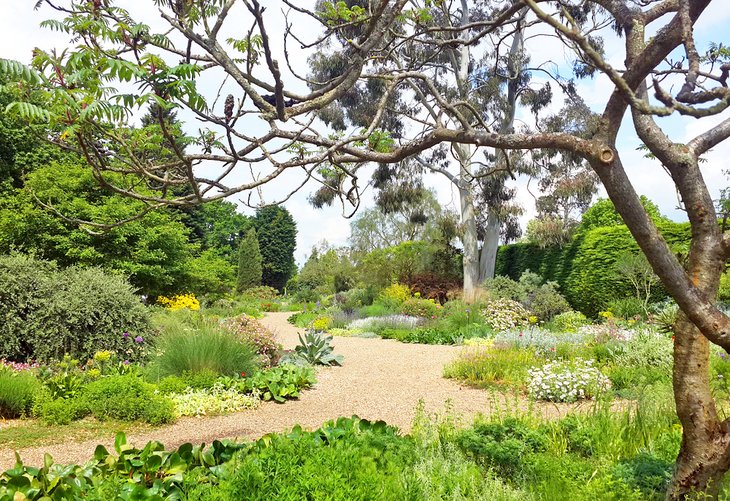 If you're looking for serenity, you'll find it within the six-plus acres of exceptional grounds at Beth Chatto's Plants & Gardens. An awe-inspiring beauty, this natural wonderland is a treat for your senses, and it's only six miles from the heart of Colchester.
Started by Beth Chatto and her husband in 1960, this sprawling utopia is one of the most unique gardens you'll see. Instead of one large, well-manicured allotment, the estate hosts numerous types of gardens, each of which thrives in a different environment.
When she purchased the land, Beth was stumped by how to transform the unruly gravel, bog, and bramble areas into a flourishing garden. So, she set to work and planted flowers, bushes, and shrubs that would flourish in the varied conditions.
The result: a beautiful and interesting mix of plants and a Gravel Garden so unique (these plants are never watered) that it has become famous worldwide.
Insider's tip: Set aside time for a visit to the Tea Room. Remarkably bright and airy, this relaxing spot serves up a mean cuppa and delectable sweet treats.
Address: Elmstead Market, Colchester, Essex
4. Have a Picnic at Castle Park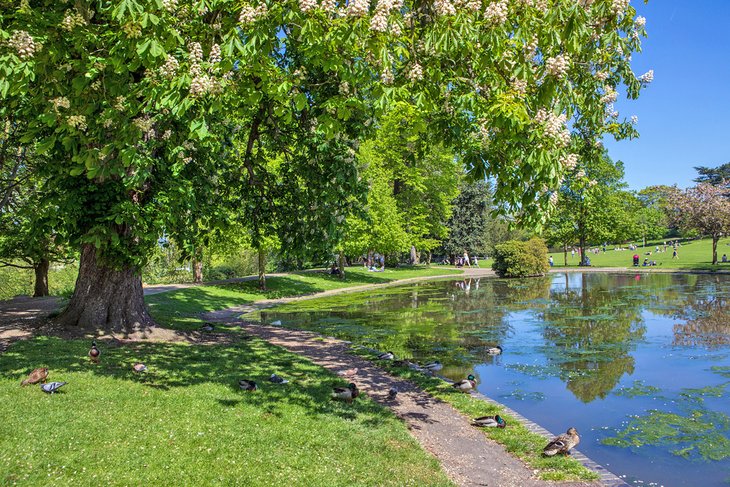 You won't want to miss the remarkable Victorian Park that surrounds Colchester Castle. A luxurious spot loved for its vast greenery, bright blossoms, and picturesque lake, these lovely grounds are the site of many a gathering. Over 2,000 years of history are packaged beautifully into this 11-hectare park.
Divided into Upper and Lower sections by the town's Roman Walls, Colchester Castle Park is listed on the English Register of Parks and Gardens of Special Historical Importance. And it's one of the town's most well-loved attractions.
From locals picnicking on the weekend to wedding parties snapping photos to crowds assembling for concerts or firework shows, there's always something happening at this fun spot. A playground, mini golf course, and bouncy castle are perfect distractions for kids, while adults will enjoy lazing on the green.
Address: High Street, Colchester
5. Explore the Ruins of St. Botolph's Priory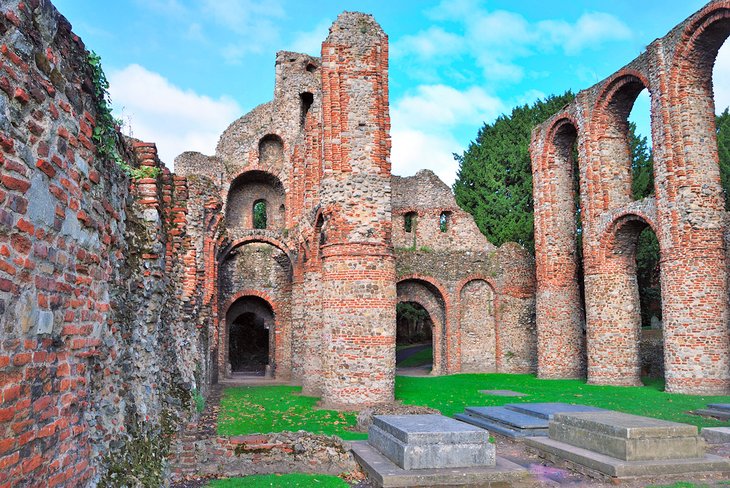 It's easy to forget you're living in the 21st century when wandering the ruins of one of the first Augustinian priory churches in England. Founded around 1100, most of St. Botolph's Priory was destroyed by cannon fire during the English Civil War siege of Colchester in 1648.
Today, only the ruined nave remains, but it's impressive to walk around. During the 18th and 19th centuries, the nave was used for burials. Today, you'll find walls in varying states of disrepair, but all feature the Roman bricks once reused to build the intricate pillars and rounded archways.
The priory's intricate West Front is one of the area's highlights. It remains an impressive and lasting example of Norman architecture. The priory is free to visit.
Address: Priory Street, Colchester
6. Tour the Roman Walls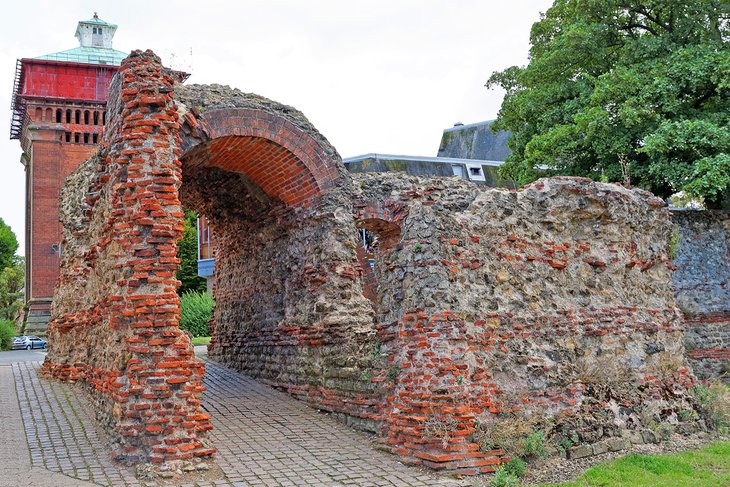 The Roman Town walls surrounding Colchester are a testament to the town's ultimate strength and resilience. The walls were built by the Romans to protect the city after Boudicca (Queen of the Iceni) destroyed Colchester in AD 60. Five gates were created to garner access through the massive structure.
Information boards are located at various spots around the wall to teach visitors about its important past. Those hoping to learn even more can sign up for a guided sightseeing walk about town (including the walls) at the Colchester Visitor Information Centre.
Insider's tip: For a more personal touch, book a tour with Jess Jephcott, a local history buff who guides people around the walls on the last Sunday of every other month (except during July through September).
7. Be Entertained at the Colchester Arts Centre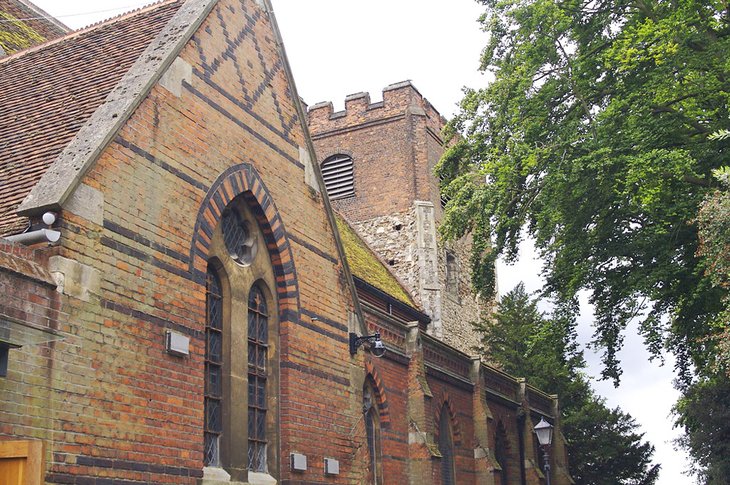 Looking at it from outside, you'd never know that so much action takes place in this sweet little church. A hub of entertainment for the entire community, the unique Colchester Arts Centre hosts events for those aged one to 100. And you never quite know what you're going to get.
Depending when you arrive, you might find a local farmer's market, teenage dance party, comedy show, or knitting club. Often, guests can attend concerts by the "greats" before they become "greats" (we're talking the likes of Coldplay, The Killers, and the Strokes).
Inside these hallowed walls, you'll find a stage, state-of-the-art lighting, and sound equipment, and a funky vibe that can't be beat. The intricate stained-glass windows add an ethereal feel.
Address: Church Street, Colchester
8. Snap Photos in the Dutch Quarter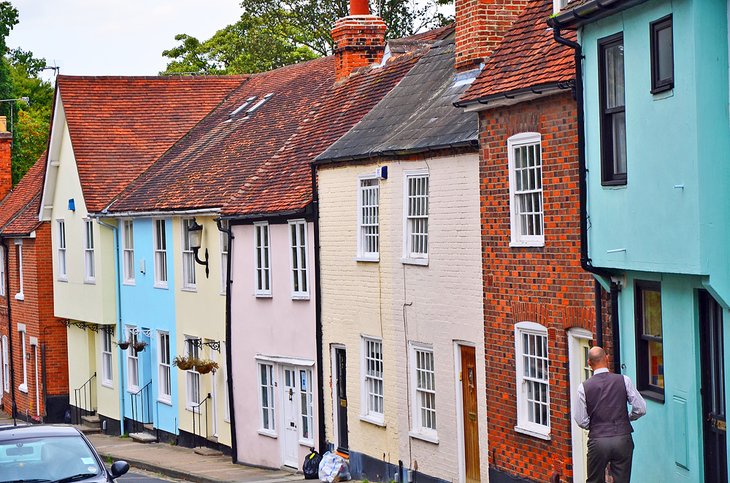 Colchester's Dutch Quarter is a photographer's dream spot. Quaint medieval buildings line the narrow streets, popping color onto an often dreary scene. Once home to Flemish Protestant refugees on the run from religious persecution, these 16th-century homes were designed prior to the arrival of the Dutch.
Located just north of High Street, the Dutch Quarter, which was once a quiet residential section of town, began to fall into disrepair in the early 20th century. Luckily, after receiving an award from the Civic Trust Building, the area was revamped during the 1970s.
Today, this charming area offers visitors a quiet respite from the bustle of town and a perfect place to take photos you'll want to share with everyone back home.
9. Get Inspired at Firstsite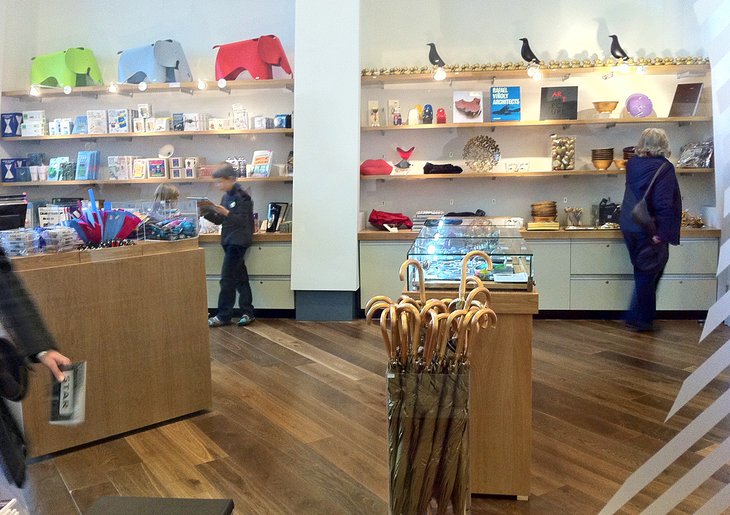 An interesting world of talent lies within Firstsite, a fabulously unique visual arts organization. Existing in stark contrast to the historic relics that lie outside its walls, this contemporary society is shrouded in modernity.
From the exquisite golden crescent-shaped building (designed by famed architect Rafael Vinöly) to the intriguing contemporary art exhibitions housed within its walls, creativity seeps from this venue's every pore.
Located in the heart of Colchester, Firstsite is more than just a gallery. It's an experience. Guests are welcomed by a wide variety of constantly changing exhibits. They're also privy to a wide selection of events and activities that can be enjoyed by children and adults alike.
Learn to paint, watch a theater production, listen to an opera, or enjoy a ballet — your entertainment options are virtually endless. Then, grab a bite in the new café or buy a gift from the shop. A bonus: admission is free.
Address: Lewis Gardens, High Street, Colchester
Official site: https://firstsite.uk/
10. Wander through Highwoods Country Park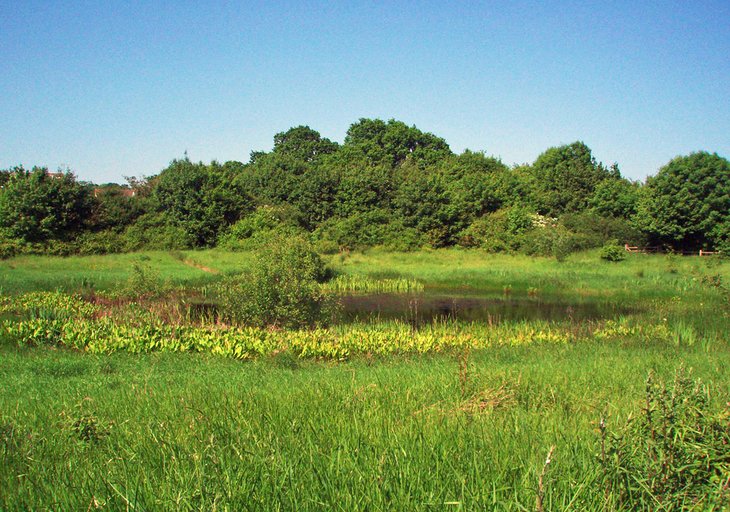 Feel your worries dissipate as you step foot in the vast expanse that is Highwoods Country Park. Wander through woods bursting with bluebells during spring, relax in a wildflower meadow, or fish in the lake. No matter what activity you choose, you'll be happy to decompress in this lovely place.
Rent a bike and peddle your way around, admiring the pristine conditions that helped the park win the coveted Green Flag Award since 2004. This is a hot spot for locals to enjoy a picnic, walk the trails, and catch unbeatable views of Colchester.
In 2012, Highwoods became an Accredited Country Park, which means it is protected from future development, free to enter, well-staffed, boasts nearby restrooms, and has a mostly natural landscape. You'll also find three playgrounds, a visitor center, and gift shop (which also sells tea and coffee) on-site.
Address: Turner Road, Colchester
Official site: https://www.colchester.gov.uk/country-park/
11. Step Back in Time at Hollytrees Museum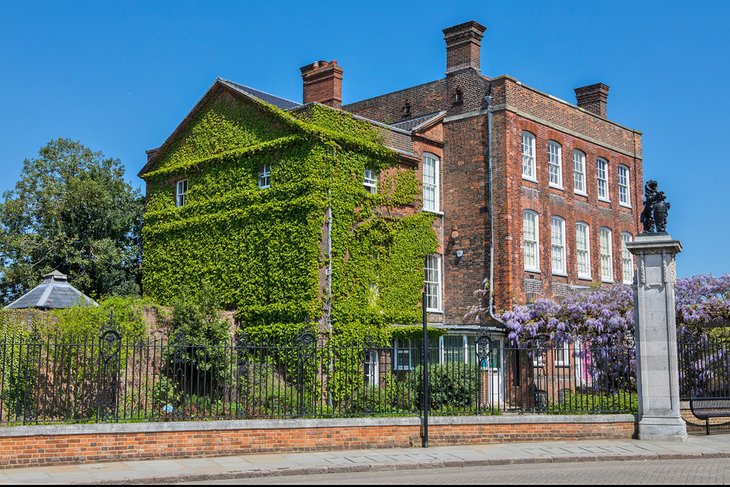 Hollytrees Museum is located beside Colchester Castle. Housed in a stunning Georgian townhouse, this interesting spot boasts hands-on exhibits even the most museum-averse kids will love. As they wander through the building, guests learn first-hand what family life was like for those living in Colchester over the past 300 years.
Kids can dress up as servants and attempt to use a dolly peg to experience clothes washing as it was done many years ago. Perhaps they'll be more willing to help with a load or two at home now that they can appreciate modern devices such as washing machines.
Costumed characters traipse throughout the house, ready to answer questions and give an even more in-depth look at how the world differed for those of all classes and genders through the years. Ancient toys, clocks, watches, and art are on display. The sensory garden is a lovely place to rest.
Address: Castle Park, Colchester
12. Appreciate Natural Beauty at Munnings Art Museum
The Munnings Art Museum lies in Dedham, a small village seven miles north of Colchester. A breathtakingly gorgeous spot made famous in John Constable's bucolic paintings, the landscape surrounding this museum is a work of art in itself.
Housed in a vibrant yellow house, the museum features an annually changing exhibit of Sir Alfred Munnings' works (paintings, sculptures, and drawings). More than 200 pieces are hung (or displayed) chronologically among the eight gallery rooms.
Insider's tip: Take time to stop at the lovely Flatford Mill, a water-powered mill once owned by John Constable's father and the subject of one of his most famous paintings.
Address: Castle Hill, Dedham
13. Find Your Inner Archeologist at Roman Circus Walk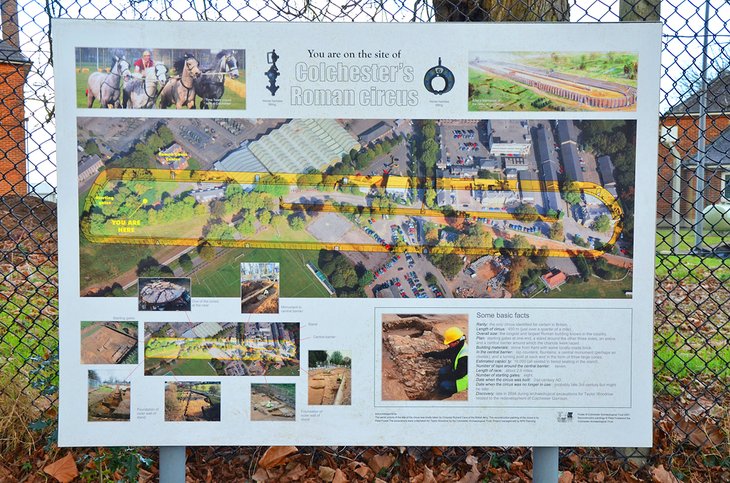 Despite Colchester's well-known history, its incredible Roman Circus Walk was only recently discovered (in 2004). An oval track used for chariot racing, this is Britain's only Roman Circus. Thought to have once housed 8,000 spectators, it's thought the circus dates back to the early 2nd century AD.
Colchester's Roman Circus Visitor Centre is reachable from the Roman Circus Walk. It boasts a bevy of information about the track, as well as other area history. You'll also learn more about the archeological excavation of the site.
The on-site Roman Circus Café can be found in the visitor center and offers warm tea, coffee, scones (of course), as well as other light meals and snacks.
Address: Roman Circus Walk, Colchester
14. Get Ecologically Educated at the Colchester Natural History Museum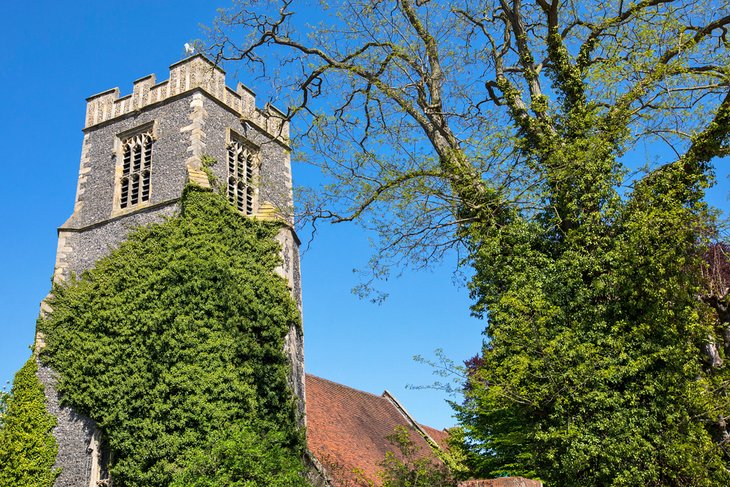 The Colchester Natural History Museum can be found inside the All Saints Church. An interesting spot for a museum, the large, open spaces; Gothic exterior; and Norman nave lend an authentic, ancient feel to the exhibits.
A popular place for families with young children, the museum boasts a slew of hands-on exhibits that make learning fun. Who wouldn't want to learn about the mammoths and hippos that roamed this area so many years ago? And what child wouldn't beg to crawl through a badger sett?
Founded in 1958, the museum focuses on nature found in the surrounding area (i.e. northeast Essex). And, many of the exhibits focus on current threats to the region's wildlife (we see you, climate change). The creatures displayed here are crafted from real animal skin, which is why they look so authentic.
Address: High Street, Colchester
More Related Articles on PlanetWare.com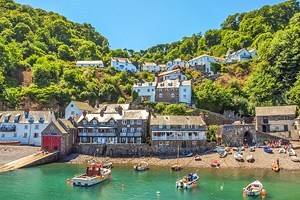 More Places to Visit in England: If you dream of walking through pastoral English meadows, touring medieval castles, and eating mushy peas, you'll love each of these small towns in England. Those looking for a busier vacay filled with bucket list items won't want to miss these top tourist attractions.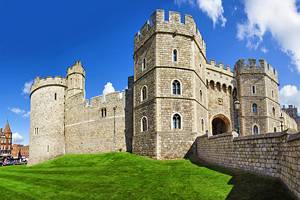 Other Must-See English Towns: There's nothing quite like the peace you find wandering around crooked laneways peppered with medieval homes. If you're hoping to up the charm factor of your next English vacation, don't miss a visit to Windsor (home of the Queen's "other" castle) and Cambridge (a bucolic gem packed with high-brow scholars and grand buildings).