10 Top-Rated Tourist Attractions in Windsor, England
The small town of Windsor in Berkshire lies on the south bank of the River Thames, 22 miles west of the center of London. With its lovely, old half-timbered houses; winding alleyways; and cobblestone lanes it retains a picturesque medieval appearance. The town is a popular tourist destination due to Windsor Castle, one of the official residences of the Royal Family. Whether you are visiting as part of a day trip excursion from London or other parts of England, be prepared to spend the best part of a day here (and bring a picnic) as there are so many fun things to do.
1 Windsor Castle
A grand castle built atop a chalk hill, Windsor Castle has served as the summer residence of British Royals for more than 900 years. One of Britain's most beautiful residences, it is also the largest inhabited castle in the world and has been added to numerous times by many monarchs, including William the Conqueror who built the first castle here in 1078. Along with its spectacular grounds - the site covers some 13 acres - Windsor Castle is fun to explore at a leisurely pace.
Attractions include magnificent St. George's Chapel, traditional home of the 26 Knights and Ladies of the ancient Order of the Garter; the final resting place of Queen Victoria's much-loved husband, Albert; the State Apartments containing the Queen's Gallery and dining hall, each with magnificently painted ceilings and woodcarvings; and, of course, the lovely Great Park, which extends along the south side of the castle for nearly six miles.
Although open to the public just six days per year, the neighboring Frogmore Estate is worth adding to your itinerary. If timed right, you'll be rewarded with the rare opportunity to tour one of the lesser-known (but equally sumptuous) Royal retreats, home to the final resting place of Queen Victoria.
Location: Windsor Castle, Windsor
2 The Royal Windsor Wheel
In Windsor's Alexandra Gardens, the Royal Windsor Wheel boasts some of the best views over the historic old town and castle (on clear days, riders can see all the way to London). Operating throughout the summer, the 12-minute ride in fully-enclosed six-person gondolas has been running since 2006 and has become one of Windsor's leading attractions. Transporting some 200,000 guests each season, this vast 402-ton Ferris wheel reaches a height of almost 200 feet. If you can swing it, opt for the VIP gondola for a little added comfort, which is appropriate, really, as you look down on splendid Windsor Castle.
3 Windsor Festival and Theatre Royal
The annual Windsor Festival runs each autumn from mid-September to early October with daily events in venues such as the Waterloo Chamber, Windsor Castle, St. George's Hall, and Eton College Chapel. Since its inception in 1969, the festival has offered orchestral, choral, chamber, and organ concerts, along with dance performances and lectures. International performers are often invited to perform a repertoire of classical works.
Culture buffs will also want to check out the program at Theatre Royal. Just a stone's throw from Windsor Castle, the venue hosts everything from theatrical productions to live music and prides itself on being the UK's only unsubsidized year-round theater (it's also considered one of the best outside of London's West End).
Address: 11 High Street, Windsor
4 Legoland Windsor Resort
Legoland Windsor is a fun family resort set in 150 acres of parkland. The attraction is dedicated to the creativity and imagination of children of all ages with rides, interactive play areas, and millions of plastic bricks. This popular destination draws in excess of two million visitors a year and is well worth spending a day exploring. If possible, try to plan your visit to coincide with one of this vast amusement park's many themed events. Favorites for kids of all ages include a knight-inspired fireworks show, Christmas and Halloween festivals, as well as special events for toddlers. Also worth checking out is the new on-site medieval-themed hotel.
Address: Winkfield Road, Windsor
5 Eton College
The small town of Eton lies on the north side of Windsor Bridge and is famous for its college, founded in 1440 by Henry VI. The institution is synonymous with English education, and past students include Henry Fielding, William Pitt, Percy Shelley, William Gladstone, the Duke of Wellington, and some 20 English prime ministers. The red-brick main building dates from the school's founding and extends around two quadrangles. But the most remarkable feature is the school chapel; completed in 1441, it contains old brass plates and wonderful paintings (1470-1490) depicting scenes from the life of Mary. A bronze statue of Henry VI stands in the main quadrangle, and a passageway leads from Lupton's Tower to the cloisters with the hall and library. (Public visits are available for small groups and individuals, and the school also offers a number of educational summer programs.)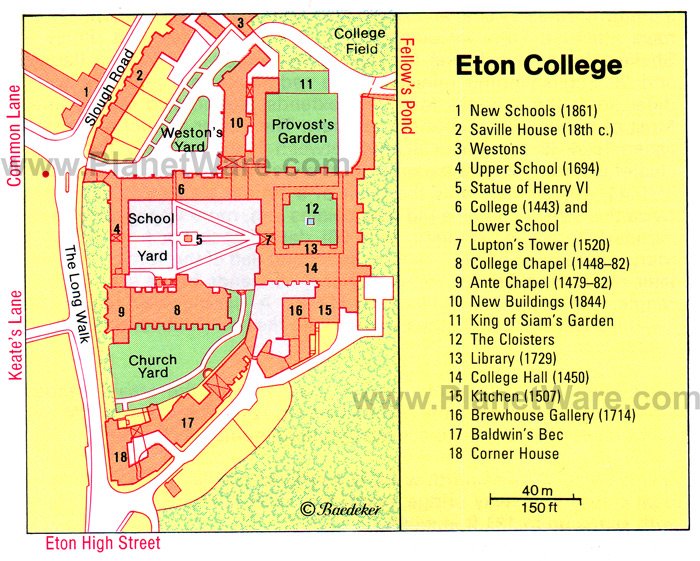 Eton College Map
Want to use this map on your web site?
Copy and Paste the code below:
6 Ascot Racecourse
Undoubtedly England's most famous racecourse, Ascot is used for thoroughbred horse racing and boasts nine of the UK's top 32 annual races. Closely associated with the Royal Family (it's only six miles from Windsor Castle), Ascot hosts 26 days of racing per year, the highlight being The Royal Meeting in June with its famous Gold Cup. The racecourse is also home to the Royal Ascot Cricket Club and Ascot United Football Club. Also worth a visit for tourists is the nearby Royal Windsor Racecourse, noted for its figure-of-eight course, one of only two in the UK.
Address: High Street, Ascot, Berkshire
7 The Savill Garden
The Savill Garden, considered one of the country's most impressive ornamental gardens, is located on the edge of Windsor Castle's Great Park and is an integral part of Windsor's Royal Landscape. Opened in the 1930s, it contains a wide variety of plants in a beautiful natural setting. Shrubs, alpine meadows, and a formal garden of roses and herbaceous plants are only some of the points of interest at this 35-acre property. Other highlights include a collection of 60 sculptures dispersed throughout the property, along with numerous quiet spots to stop and appreciate the surrounding floral splendor.
Location: Great Park, Windsor
8 Dorney Court
An easy six-mile drive west of Windsor's town center, Dorney Court is well worth a visit. Considered one of the best surviving examples of Tudor architecture in England, this 500-plus year-old mansion has been occupied by the same family throughout its rich history. Set amid rolling parkland and boasting lovely gardens, it is certainly a picturesque property, an effect that is heightened by the presence of the pretty Norman-era Church of St. James the Less adjacent to the manor house. Interior highlights include numerous fine portraits and paintings, silks and tapestries, period furniture, elegantly carved wood paneling, and a 17th-century priest hole (not to mention a tearoom). While there, be sure to check out nearby Dorney Lake, a rectangular man-made lake designed specifically for rowers to practice their sport.
Location: Dorney, Windsor
9 Windsor and Royal Borough Museum
On High Street, in the town's attractive Guildhall constructed in 1689, the Windsor and Royal Borough Museum makes a great addition to any Windsor itinerary. Focusing on the history of both the town and its surrounds, the museum's large collection contains artifacts dating as far back as the Ice Age right up to the present time. Highlights include a fine collection of prehistoric tools, artifacts from the Bronze Age as well as the Roman and Saxon periods, and numerous items related to the town's Victorian heyday. Those who follow the Royal Family will also be interested in taking a guided tour that includes the chance to view the Ascot Room where Prince Charles married his long-time sweetheart, Camilla Parker-Bowles.
Location: The Guildhall, High Street, Windsor
10 Thames Boat Trips
From Windsor, it's possible to undertake several charming sightseeing trips along the River Thames, which continually branches off and forms islets, boasting some of the loveliest parkland scenery in England. Launches not only take passengers into London but also to interesting places like Kingston-upon-Thames (journey time to London is approximately five hours). Oxford, about 70 miles away, is a two-day journey through charming scenery. Better still, look into renting a canal boat (or barge) from one of the many companies specializing in this wonderful mode of transport.
Where to Stay in Windsor for Sightseeing
We recommend these wonderful Windsor hotels near top attractions like the famous castle: