11 Top-Rated Attractions & Things to Do in Whitstable, England
We may earn a commission from affiliate links ()
Spending a weekend in Whitstable is a rite of passage for big city folks looking to unwind. An easy jaunt from nearby Canterbury, this charming fishing village garnishes the northern Kent coast with fun attractions, colorful houses, delightful fishermen's huts, a picturesque shingle beach, and eclectic shops.
Eating fresh seafood at the shore, cruising around the bay, and taking long walks on the beach are among the top things to do in Whitstable, a town so adorable, you'll hate to put your camera away.
While the village itself is small enough that you won't need a car to get around, there is enough to do, and enough great food to eat, that you won't get bored when visiting for a couple of days.
Plan your sightseeing in this charming seaside town with our list of the top things to do in Whitstable.
Note: Some businesses may be temporarily closed due to recent global health and safety issues.
1. Grab a Bite at Whitstable Harbour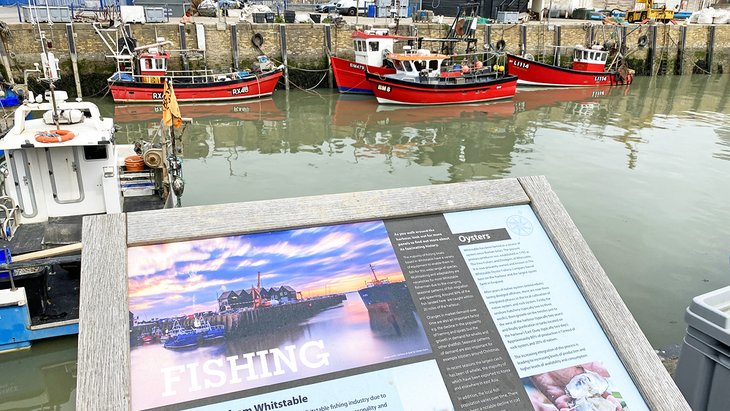 Whitstable Harbour, with its bobbing boats and quirky shops, is a big draw for those looking to soak up the quintessential English seaside charm. While the town is fun to visit at any time of year, summer weekends provide the best opportunity for people-watching and outdoor dining.
Whether you choose takeaway fish and chips from Ossie's, or grab a 99 (a traditional English, soft-serve vanilla ice-cream) from a vender along the boardwalk, food seems to taste better when eaten seaside. Not surprisingly, this is one of the best things to do in Whitstable.
The harbor was built in 1832 to serve the Canterbury and Whitstable Railway (a.k.a. the Crab and Winkle line), "the first regular steam passenger railway in the world." In 1834, the railway sold its first season's pass at Canterbury to people on their way to the Whitstable beach.
At that time, a Crab and Winkle line of ships carried coal between London and Canterbury, using the harbor as part of its freight route.
Address: Harbour Street, Whitstable, Kent
2. Enjoy the View from Tankerton Slopes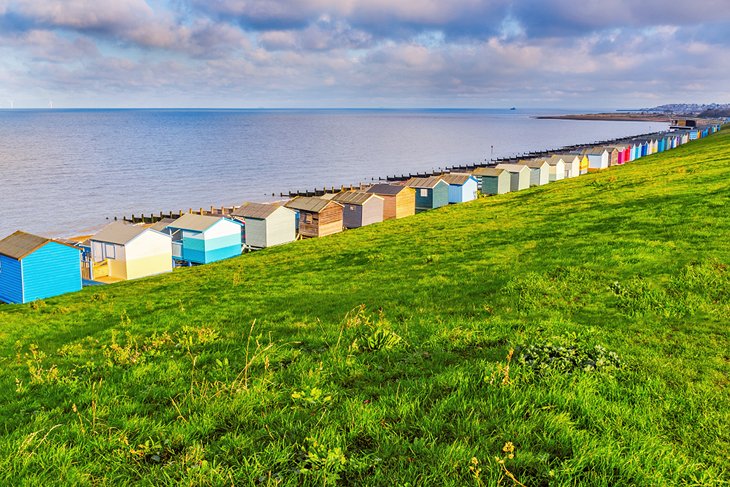 If you're looking for a place to relax and enjoy Whitstable at its best, it's here. The cliff-top Tankerton Slopes offers tremendous sea views on a path that eventually leads to Herne Bay.
Grassy and mildly steep, this popular spot tenders an impressive vantage point for those looking for a postcard-worthy photo. Colorful huts line the beach below, while golden sand stretches for miles, especially when the tide is out.
Kids will love climbing on the old cannon to reach an even higher vantage point. Plus, the Maunsell Sea Forts are nearby and easy to spot from up here. Strange, robot-like structures, these were designed during the second World War as an anti-aircraft defense. In contrast to these historic icons lies a horizon spotted with modern windmills. Talk about a perfect place to play "I spy."
Insider's Tip: Parking is free along the road near the slopes, but it can get busy on weekends, so arrive early or be prepared to wait for a spot.
Address: Marine Parade, Tankerton, Whitstable, Kent
3. Breathe the Salty Air at Tankerton Beach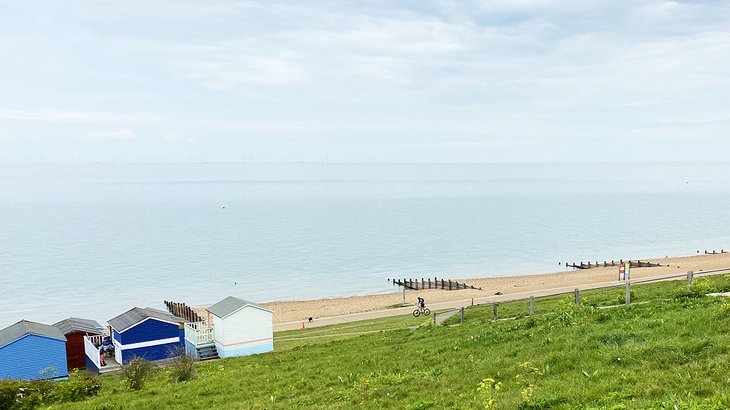 Lying directly below the Tankerton Slopes at the southern end of Whitstable lies Tankerton Beach, one of the top attractions in Whitstable. It's here that you'll find "the Street," a natural peninsula brought to life when the tide is low. This sandy outcropping is dotted with rock pools, which make great fun for kids looking to spot marine creatures up close.
You'll want to wear shoes on this old-fashioned beach. It's made up of hard, sometimes sharp stones (a.k.a. shingles) that make walking a bit of a challenge, especially if you're barefoot. It's beautiful, though, with low wooden barriers built out from shore and extending into the sea.
While you may not want to settle on the beach for long due to its uncomfortable base, there are plenty of cafés, restrooms, and shops nearby. And you won't notice the rocks as much if you pack a deck chair.
It's relatively calm here, and lifeguards are on duty during high season, which makes for easy swimming during the warmer months.
Address: Tankerton Road, Whitstable, Kent
4. Have Tea at Whitstable Castle & Gardens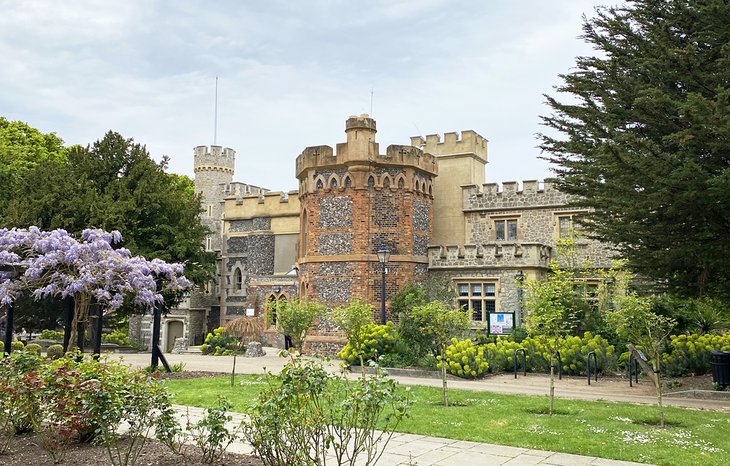 What quaint English town would be complete without a castle? The town's main fortress, Whitstable Castle was originally known as Tankerton Towers. While the building itself is small when compared to other English bastions, it's still impressive and regal. The main reason people visit this attraction, though, is more organic in nature–the gardens.
Perfectly manicured lawns, lovely flower beds, and an impressive array of mature oak trees entice visitors to stay just a little longer in this top Whitstable attraction. The fragrant rose garden is another treat guiding tourists towards a beautiful central fountain. Benches are placed here to help encourage guests to literally stop and smell the roses.
Insider's Tip: Visit the Orangery Tearoom while you're here and treat yourself to a traditional cream tea. They even offer gluten-free options. If the sun is shining, choose a seat on the outside patio.
Address: Tower Hill, Whitstable, Kent
Official site: whitstablecastle.co.uk/the-castle
5. Shop in Harbour Market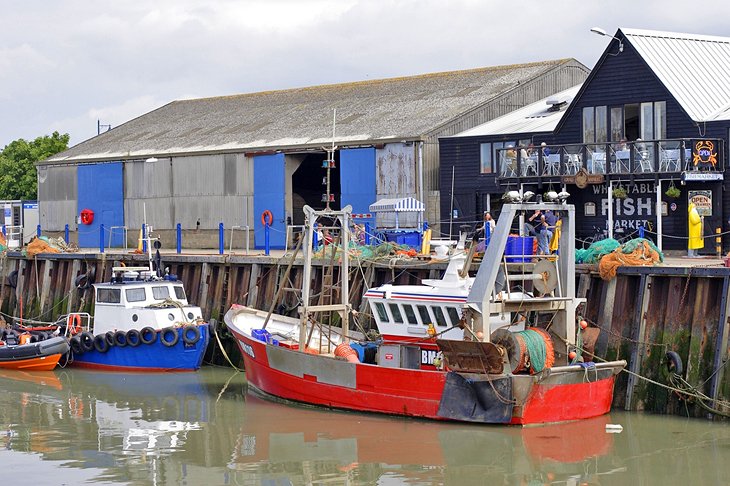 It's no surprise that Harbour Market is one of the top things to do in Whitstable. A small open-air market in Whitstable Harbour, each shop is housed in an adorable beach hut. Those looking to engage in a little retail therapy will enjoy the wide variety on offer, as well as the (mostly) reasonable prices.
In addition to selling pretty much everything you can think of–from t-shirts and baby blankets to handmade tea towels, fresh produce, and paintings, the market is a fantastic place to spend an hour. Since it's small, you won't need much more time than that.
Each shop is eclectic, and many of the owners are as unique as their wares, making this a great people watching locale. Add the gorgeous sea backdrop complete with bobbing boats, and you'll be content to wander for even longer.
During summer weekends, guests can expect live music, great takeaway food, and impeccably good fudge.
Insider's Tip: Head here on a weekend as many of the shops are closed on weekdays. If you're hoping to truly enjoy some unique retail therapy, be sure to visit during high season.
Address: The South Quay, Whitstable Harbour, Whitstable, Kent
Official site: https://harbourmarketwhitstable.co.uk/
6. Discover The Street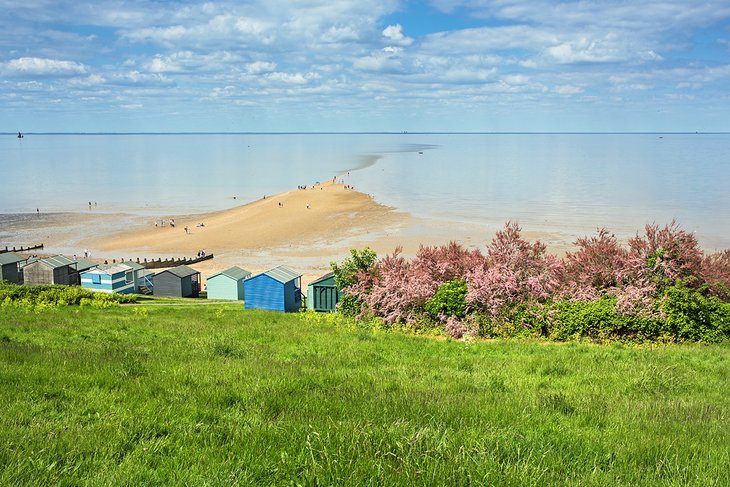 The Street is elusive at certain times of the day, only revealing its rocky base at low tide. Stretching about half a mile from Tankerton Beach to the Thames Estuary, this thin sliver of land is worthy of a visit. That said, you'll have to time your trip well if you don't want to end up with wet feet.
Look back from The Street's tip, and you'll be rewarded by an unsurpassable view of Tankerton Beach and Tankerton Slope, colorful fisherman cottages happily dotting the horizon.
As mentioned earlier, The Street is made of shingles and stones, so it's quite rocky. Be sure to wear good shoes if you're hoping to walk it. While you're here, see if you can spot any creatures in the tide pools, or swimming just offshore.
7. Bike along Crab and Winkle Way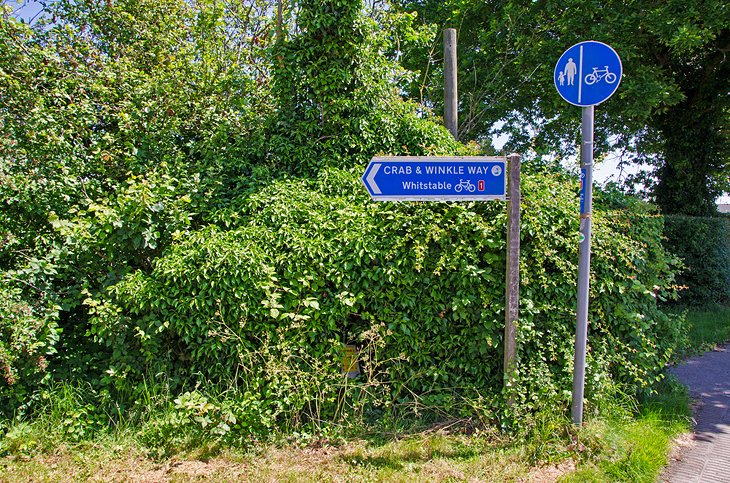 The Crab and Winkle Way is a lesser known bike route leading cyclists through about 10 miles of the winding countryside from Whitstable to Canterbury. What better way to get to know a country, than by traversing its wilderness and marveling at the lush fields and magnificent sky as you pedal?
Part of the National Cycle Network, this well-tended path passes farms, crosses bridges, and heads through forests. The path is made of a mixture of elements, depending where you are–tarmac, stones, gravel, and dirt can all be navigated along it. You can also expect to see varying types of path–from tree-lined wonders to neighborhood streets to wide-open spaces.
There are no massive hills or mountains to climb, but it can be a bit challenging at times. Overall, though, cycling along the Crab and Winkle Way is a perfect activity for those who aren't the most confident bike riders.
If you don't stop to rest, marvel at the livestock, or take hundreds of photos, the route should take about an hour and a half to two hours to complete. But there's no need to do the whole thing. Even staying close to town will give you an idea of the area's extensive beauty.
Insider's Tip: Keep your eyes posted for trail signs. They're usually easy to spot but get trickier to find when you're in the heart of Canterbury.
8. Unwind in Duncan Down
If you're a fan of captivating views, you'll love Duncan Down. The largest village green in the country, this vast, grassy expanse spans 52 acres slightly southwest of the town. It provides ample spots for picnics, mowed areas that serve as walking trails, and a wonderful overview of Whitstable.
Winner of a Green Flag Award, this park is exceptionally well maintained, and boasts an array of wildlife attracted here by the sparkling stream, woods, scrubland, and grasses. Be sure to pack snacks, as you'll be tempted to stay awhile.
If you're hoping for the best view, don good hiking shoes. The climb to the highest point can get quite steep, not to mention slippery in wet weather. Once you reach the top of the hill, take a few moments to park yourself on a bench and enjoy the surrounding countryside and town vistas.
9. Get Intrigued at the Whitstable Museum and Gallery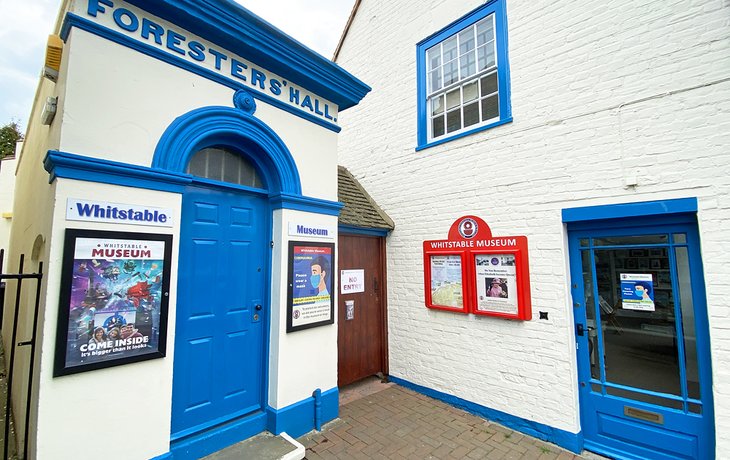 The Whitstable Museum and Gallery is housed in the most adorable, slate-shingled building. Painted white at the front, its blue trim brightens up the façade, inviting people to enter for a trip back in time.
The museum's most impressive display is located right in its center–the INVICTA engine. This historic steam locomotive was one of the first to be used on the Canterbury & Whitstable Railway (a.k.a. Crab & Winkle Line), pulling the first paying passengers from Canterbury to Whitstable. As of June 2019, it's on show right here for all to admire.
Film buffs will like the Peter Cushing display (a.k.a. "Cushing Corner"). The actor, who starred in Star Wars and Doctor Who, was a Whitstable resident for 35 years.
Although small, the Whitstable Museum is the perfect size for children with a short attention span and offers an interesting look into the people and trade that made up the town's past. It's run by volunteers who exemplify the friendly community that makes up this seaside town.
Insider's Tip: The museum is closed on Mondays, so plan your visit accordingly.
Address: 5A Oxford Street, Whitstable, Kent

Official site: https://www.whitstablemuseum.org/
10. Visit St. Alphege Church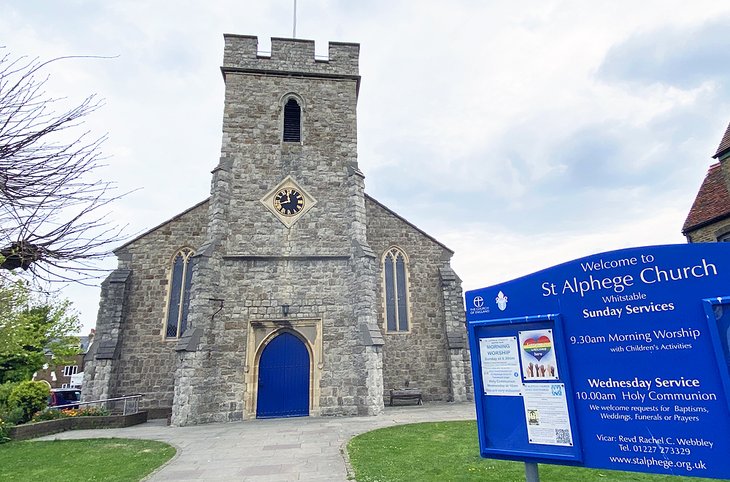 Set in the midst of the busy high street, deep in the heart of Whitstable, stands the stoic St. Alphege church, a popular attraction in town. Its turreted steeple is impossible to miss, as is the English flag that flies high above it.
A small Anglican church, St. Alphege is worth a quick stop to admire the intricate stonework and stained glass from inside. Within the main foyer is what many tourists tout as the church's best asset–a café.
Kind staff and chatty volunteers sell delicious cakes and various other treats guaranteed to please any palate. Plus, the coffee exceeds that found in any of the large chains. Looking for something to warm you? They also serve tea, hot food like jacket potatoes, and light lunches. Another bonus: the prices are extremely reasonable.
Address: High Street, Whitstable, Kent

Official site: https://stalphege.org.uk/
11. Get Your Eat On!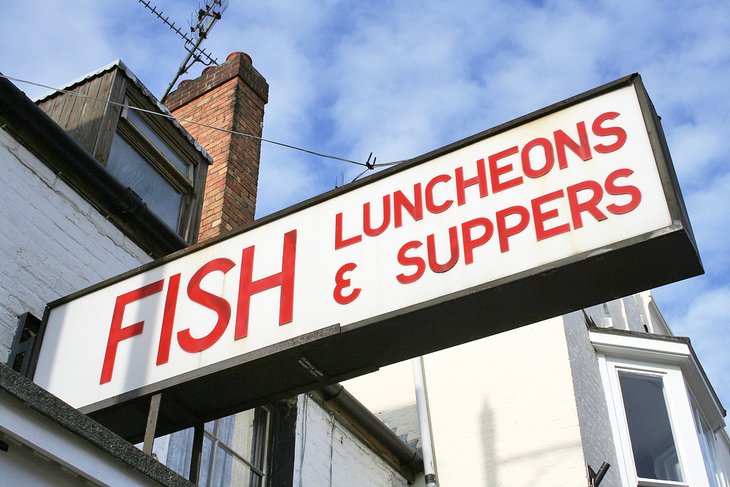 One of Whitstable's main draws is its foodie scene. With fresh seafood being unloaded from fishing boats daily, you'll be hard-pressed to find a better place to enjoy a sardine sarnie. There are so many great restaurants here that it can be hard to choose.
Many of the best eateries, though, have nothing to do with the sea. Oxford Street's Potato Tomato is a small restaurant with a big, eco-conscious heart and an impressive vegan menu. It's best to reserve a spot to ensure you can taste their fantastic fare.
Birdies is a French bistro with extra charm. For an afternoon treat, do your taste buds a favor and visit Whats Up Cupcake? on Harbour Street. With flavors like John Dear, Plain Jaynes, Marty Mocha, Cheeky Monkey, and Juicy Lucy, there's something for everyone. Let's be honest, you had us at cupcake.
Family-run JoJo's is a real treat, featuring tasty fare with a Mediterranean twist. The Greek salads are divine. The dishes are made to share, so come with friends and a big appetite. You'll find it on Herne Bay Road.
Where to Stay in Whitstable for Sightseeing
When it comes to spending the night in town, Whitstable's hotel offerings are slim. It's such a small town that there aren't a ton of options for places to rest your weary head. Below are a few of the best hotels in this quaint fishing village. Since there aren't any luxury accommodations, those hoping for a higher class of stay may want to look a bit further afield in nearby, and much larger, Canterbury.
Mid-Range Hotels:
The Crescent Turner

Hotel

is as close as it gets to a luxury stay in Whitstable. Boasting 18 rooms, this stylish boutique hotel offers guests a phenomenal view of the coast from the top of Wraik Hill. The grounds are beautiful, and breakfast is delectable.
The Marine

Hotel

also offers impeccable sea views from its supreme (almost) beachside location. Its 30 rooms are clean, modern, and spacious, and the on-site restaurant, which was awarded a Visit England Breakfast Award, is a crowd pleaser.
The family-run Hotel

Continental

fronts the sea and is positioned a mere five-minute walk to the High Street. The crisp, tidy rooms were recently updated and boast impeccable views.
Budget Hotels:
The Premier Inn

Whitstable

provides simple and modern accommodations, as well as an on-site restaurant. Parking is free, as is access to Wi-Fi.
A stay at Hillview Whitstable Bed and

Breakfast

is about as peaceful as it gets. Set in a rural section of town, this sweet B&B is conveniently close to the Crab and Winkle Way.
The Premier Inn Whitstable

hotel

is a bit generic but has everything you need in a good hotel–comfy beds, clean bathrooms, and courteous staff.
More Related Articles on PlanetWare.com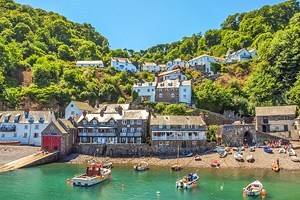 More Quaint English Towns: One of England's best features is its penchant for small and charming towns. From tiny fairy-tale villages like the Cotswold's Painswick to cobblestoned Rye in East Sussex, there's no shortage of gorgeous towns to visit. Check out these beautiful small towns in England, and add a few to your must-see list. A look at these fun and interesting weekend breaks will give you even more ideas (including the adorable Stratford-upon-Avon and regal Windsor) for your next trip.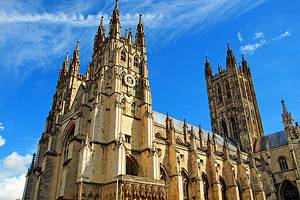 Day Trips from Whitstable: Whitstable is a charming seaside escape, perfect for a weekend break. If you're looking for a bit more excitement, head out of town. Within a half hour, you'll reach Canterbury, which boasts the magnificent Canterbury Cathedral and a bevy of phenomenal restaurants. Forty-five minutes south, you'll come to the port town of Dover, home to the spectacular chalk cliffs known as the White Cliffs. Seven miles west, you'll find trendy Folkestone, one of the country's busiest ports.