8 Best Beaches in Broadstairs, Kent
Located on the east coast of Kent, the charming town of Broadstairs has long been a popular beach destination for holidaymakers and day-trippers from London. Situated a little farther along the same peninsula as the well-known seaside town of Margate, Broadstairs first gained exposure among wealthy Georgian-era Londoners wanting to escape the crowded capital.
But it was the rapid growth of rail travel in Victorian times that put the town on the radar as a must-visit English beach destination. Regular visits by such iconic English characters as Charles Dickens cemented its reputation.
Surrounded by chalk cliffs, secluded bays, and sandy beaches, Broadstairs has lost none of its quaint coastal charm. Pay a visit today, and you'll find yourself on the same cliff-top promenade that Dickens and his peers would have strolled, enjoying the same views over Viking Bay and Broadstairs Main Beach.
Not that Broadstairs hasn't moved with the times. Old inns are now boutique guesthouses and seafood restaurants (sometimes both), and the old townhomes and merchants residences now house art galleries and high-end retail outlets.
Broadstair's beaches still draw crowds, too. With London just 1.5 hours away by car or train, it's a great day-trip destination for families, exposing kids to a bounty of marine-life at low tide. Adventure-seekers are also discovering what are considered to be some of the best beaches in Kent for outdoor activities, including surfing, sea kayaking, paddleboarding, and even hiking along the excellent Viking Coastal Trail.
Looking for a memorable English seaside experience? Be sure to include some of the best beaches in Broadstairs on your list of places to visit in Kent.
1. Broadstairs Main Beach: Viking Bay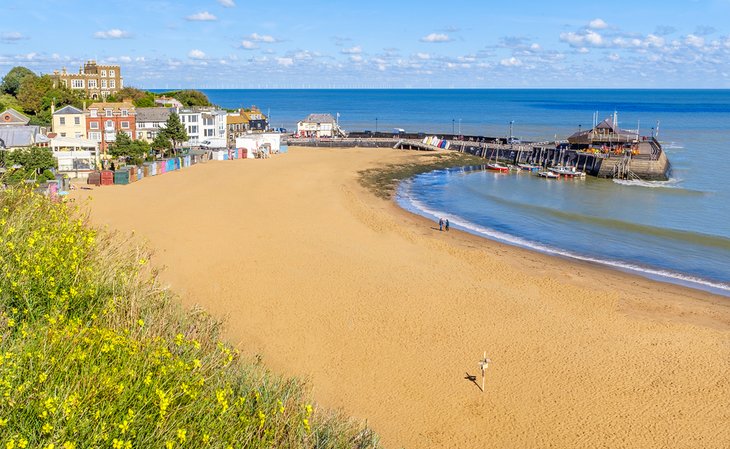 As you explore the Broadstairs Main Beach area, it's easy to understand why Victorian holidaymakers like Charles Dickens were so taken with this pleasant seaside town in Kent. Often referred to as Viking Bay Beach after the chalk cliff bay in which it's nestled, Broadstairs Main Beach consists of a lovely stretch of soft sand that curves gently around you.
The views in almost any direction are stunning. Whether you choose to look out over the English Channel at passing pleasure craft, ferries, and freighters, gaze out over the horseshoe-shaped sand beach that curves nearly 180 degrees, or glance back at the shoreline with its colourful changing huts and white chalk cliffs, you'll not get bored.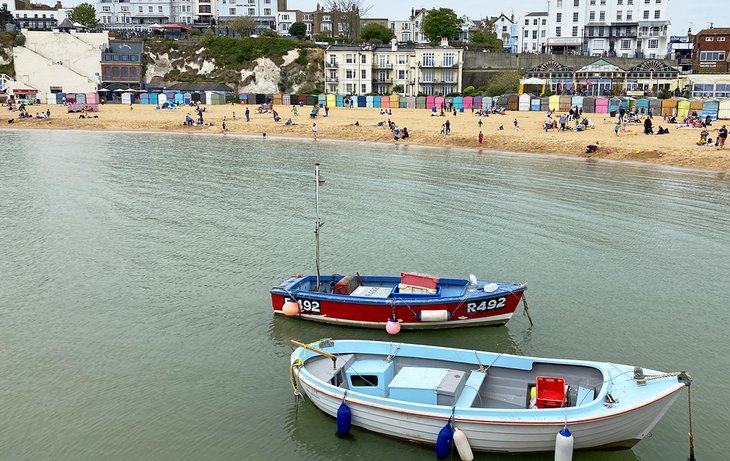 In addition to its fine sand and clean, clear waters, this Blue Flag beach offers a number of other noteworthy features. These include on-duty lifeguards during peak months, a tidal pool that hangs onto the water for the kids to splash about in when the tide's out, as well as a surf school. Deckchair and changing hut rentals are also available.
Off beach, there's also plenty of fun things to do in Broadstairs. Head along to the north side of the beach to Broadstairs Harbor, home to a small but photo-worthy gathering of fishing boats. Be sure to also take a stroll to Bleak House, where Dickens reputedly wrote David Copperfield. And for those not wanting to have to make the climb up to the town and promenade, a handy cliff-side elevator is available.
Address: Victoria Parade, Broadstairs, Kent
2. Joss Bay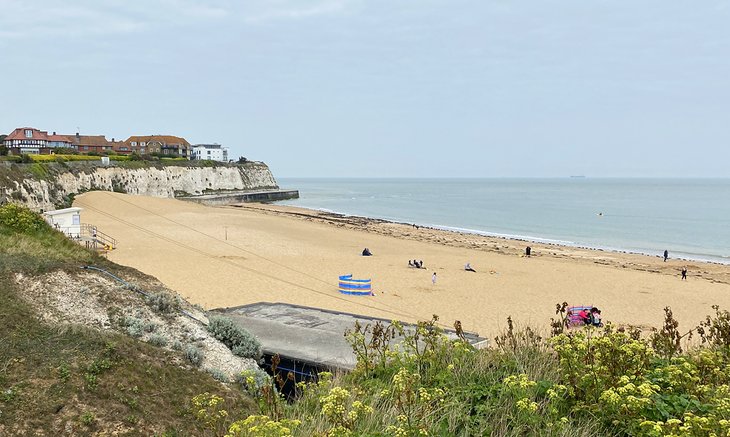 Joss bay is another popular sandy beach in Kent that's worth including on your travel itinerary. Located 1.5 miles from Broadstairs town center, this 200-meter-long beach is also sheltered by those attractive white chalk cliffs this part of England is so well known for.
Not only do the surrounding cliffs add to its photo-worthiness, they also help prevent erosion, ensuring the beach's soft sand stays where it's supposed to. It also makes for ideal paddling and swimming conditions, something that's especially attractive to families with smaller children. Swimming is also made safe with a peak-season lifeguard service.
Joss Bay is also a popular spot for surfers, its waves giving it a reputation among surf enthusiasts. It's also home to one of Kent's oldest surf schools. Joss Bay Surf School offers lessons for all levels of surfers, as well as equipment sales and rentals. Other water activities include kayaking and jet skiing, and equipment for both can be rented here. The beach is also connected to the Viking Coastal Trail, as 32-mile trail that's popular for hiking and biking.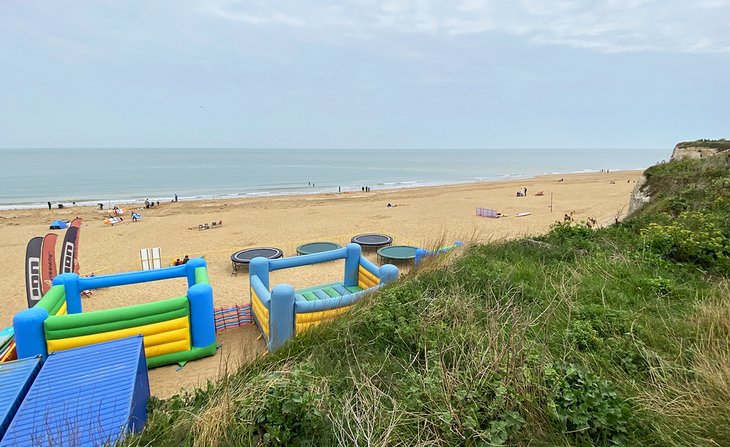 Snacks and beach supplies can also be found in the nearby café and shop, and deckchairs and sun loungers are available to rent. Amusements and rides for the kids are also located just off the beach.
Address: Joss Gap Road, Broadstairs, Kent
3. Botany Bay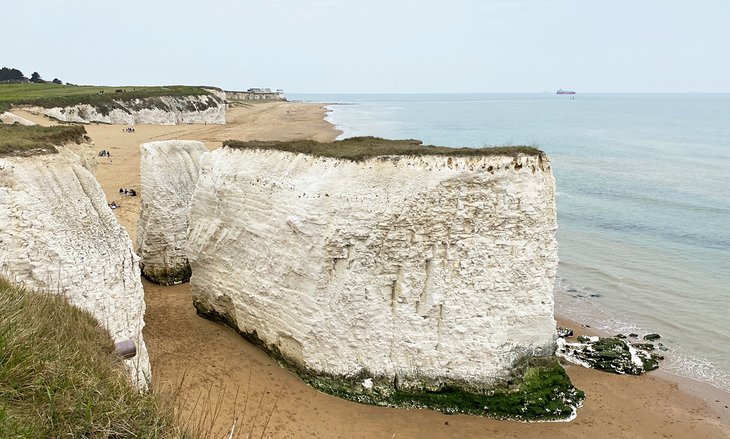 Located an easy 2.5 miles north of Broadstairs Main Beach, Botany Bay Beach is undoubtedly one of the most interesting of Kent's many beaches. In addition to its picture-perfect golden sands and clean, clear water, Botany Bay is home to some of this stretch of coastline's most dramatic geological features. It's named after its counterpart in Australia, where local criminals would be sent when caught in the act of smuggling.
A set of sea stacks stand tall at the south end of the beach. Carved out of the soft, white-chalk cliffs by years of wave erosion, they provide a stunning and unique backdrop for visitors to this popular Blue Flag beach.
In addition to playing in the sand, swimming, and admiring the views, there are plenty of other fun things to do in Botany Bay. Water-based activities include kayaking and canoeing, as well as paddleboarding and surfing. It's also a great spot for rock pooling, so when the tide's out, be sure to go and look for shellfish and other marine life in the pools of water left behind.
The beach features lifeguards throughout the busier seasons. Refreshments are also available from a beachfront restaurant and a café, and deckchairs can be rented by the hour or day.
Paid car parking is available, but spaces are limited so try to arrive early or later in the day to claim your spot.
Address: Marine Drive, Cliftonville, Broadstairs, Kent
4. Stone Bay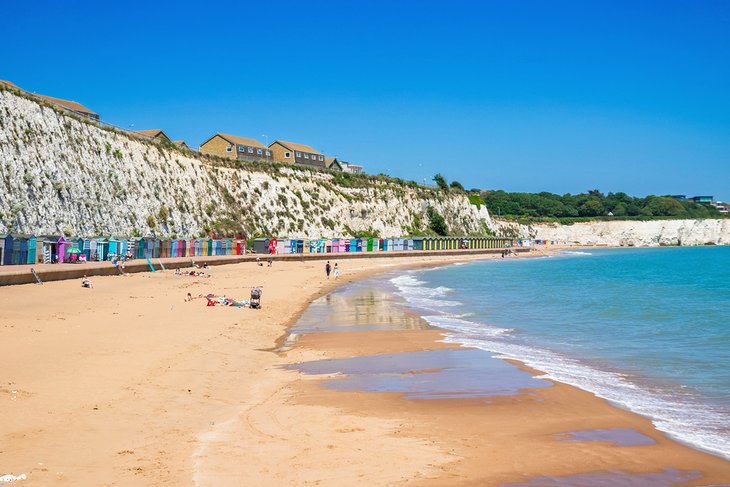 This quiet, sandy beach just 15 minutes' walk from Viking Bay Beach is a popular spot with families. The draw here is not only the lovely sand beach, but the myriad of other fun things to do in Stone Bay. Kids young and old alike will find plenty of games to challenge and thrill them in the amusement arcades lining the beach, while everyone in the family can appreciate the food establishments, many offering fresh-caught local seafood.
There's also a surprising amount of great places to shop, many of them, like some of the best eateries, easily accessible from the promenade. And Stone Bay's proximity to Broadstairs, an easy walk away along the clifftop promenade, adds even more potential for off-beach fun.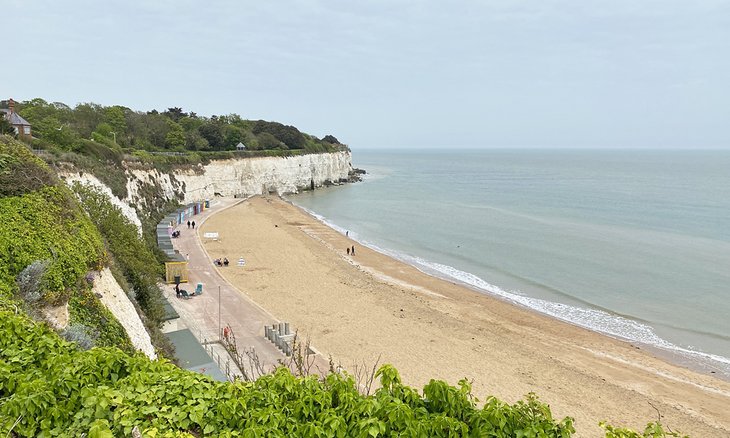 But of course, you're here for the beach, awarded a Blue Flag beach status for its water quality. There's plenty of sand exposed, even when the tide's in, ensuring there's room to spread out once you've staked out your place in the sun. It's also an extremely safe beach, with shallow water entry and lifeguards on duty throughout the summer months
5. Kingsgate Bay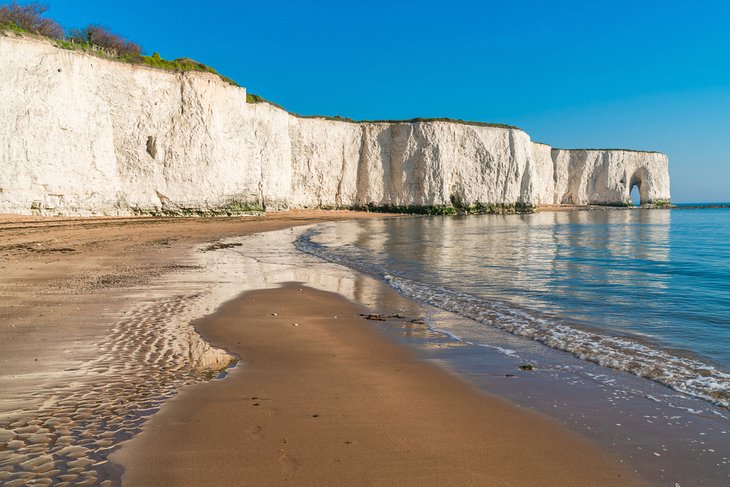 Located just a short two-mile drive north from Broadstairs, Kingsgate Bay is popular among beachgoers who enjoy a quieter seaside experience. While families with younger kids may be tempted to stay closer to Viking Bay or one of the other beaches that feature lifeguards, the older crowd, including couples, tend to like the fact there's fewer children around.
But what it lacks in lifeguards and amenities, Kingsgate Bay Beach more than makes up for when it comes to providing a fun beach experience. Sheltered by high cliffs and reachable only by a set of steep steps set in the cliff face, it boasts a sandy, pebble-free beach that's sheltered from sea breezes or rough seas.
Fun for adventurers is the chance to explore the nearby sea caves, some of them accessible from the beach itself. It's also one of the area's only year-round dog-friendly beaches.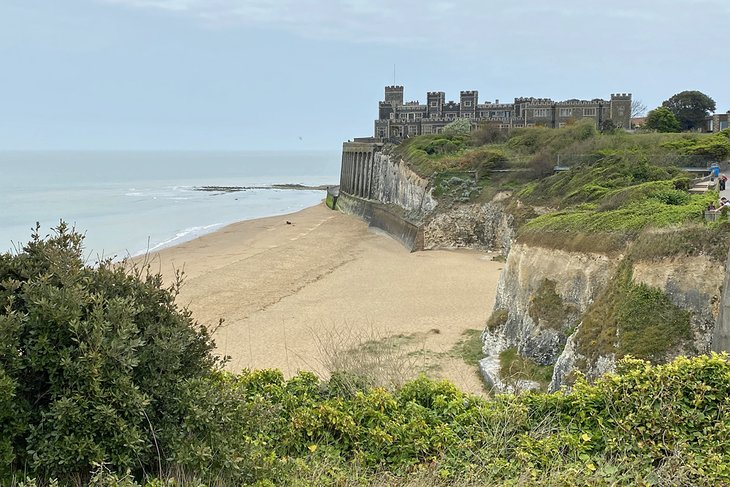 Another distinguishing feature is Kingsgate Castle. Built in the 1700s and perched dramatically above a cliff overlooking the southern portion of the beach, it offers superb views over the beach and coastline. It's now a restaurant, so be sure to pop in for something to eat while you admire the views.
Address: Whiteness Road, Broadstairs, Kent
6. Dumpton Gap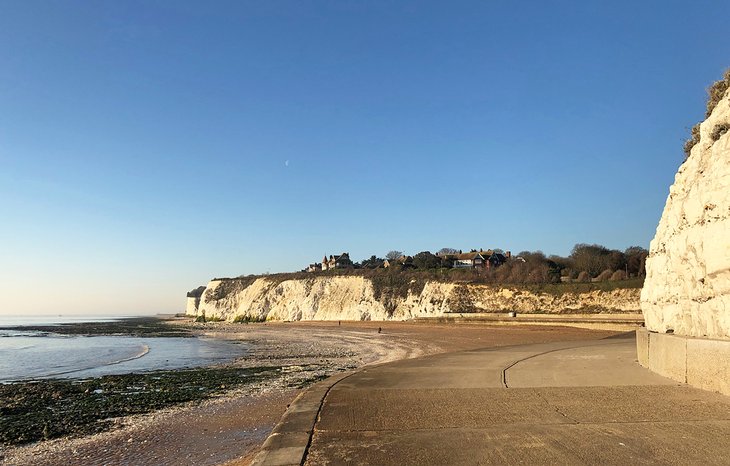 Located between Broadstairs and Ramsgate, and only one mile from downtown Broadstairs, Dumpton Gap has much to recommend it. It's especially suited to those wanting to spend time on a smaller, quieter beach while exploring the Kent coast.
In fact, it's so close that at low tide this secluded 150-meter-long stretch of sand can be accessed from either town simply by walking along the base of the white cliffs. But if you are planning to walk along the seashore, be sure to check local tide charts to ensure it's safe to do so. Alternatively, you can follow the promenade from Dumpton Gap to Louisa Bay, a pleasant walk of just 10 minutes.
Accessible by a steep pathway, a good portion of the sandy beach remains exposed at high tide, ensuring there's always somewhere for the kids to play and build a sandcastle. And when the tide's out, wander down to the exposed rock for some fun rock pooling for crabs and crustaceans.
Traveling with a four-legged friend? Dumpton Gap Beach is also one of the only beaches in the area that allows dogs at any time of year. Despite its size, it does have a number of useful amenities, including beach hut rentals, washrooms, and a nearby snack vendor. Free street parking is also available.
Address: Dumpton Gap Road, Broadstairs, Kent
7. Louisa Bay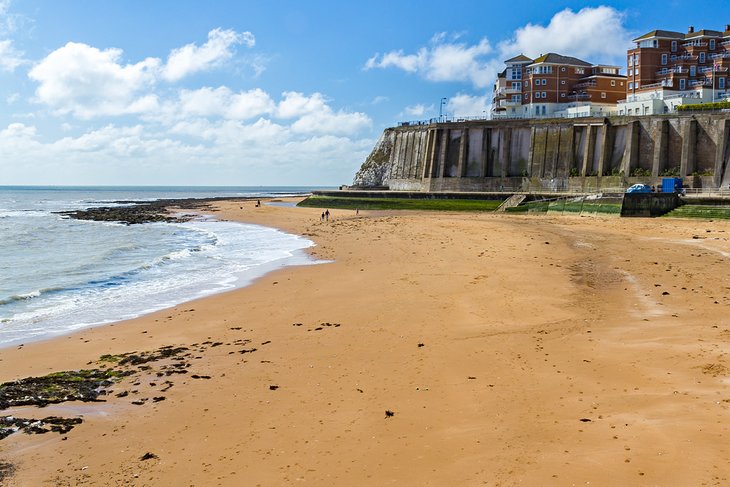 An easy stroll away from Viking Bay, Louisa Bay offers a relatively quiet retreat away from Broadstairs Main Beach. Families visit not just for the sandy beach, but also for the rock pools exposed when the tide's out. Teeming with marine life, they're a delight to explore, whatever your age.
While the beach does disappear underwater when the tide rolls in, there's fun to be had on the promenade. Pull up a chair at the great little beachside kiosk that serves snacks and beverages, or rent a chalet to hang out in until the tide rolls out again. Alternatively, head out for a hike along the 32-mile-long Viking Coastal Trail and explore other parts of this pretty part of Kent.
The beach is best approached on foot from Ramsgate, as parking is limited. Amenities are also somewhat limited but do include seasonal washrooms, and there is access for those with mobility issues.
A kiosk on Louisa Bay provides tea, coffee, and snacks, and is open between April and September. There are a number of cafés within a short walking distance of the bay.
Address: Louisa Bay, Queens Gardens, Broadstairs, Kent
8. Ramsgate Main Sands, Ramsgate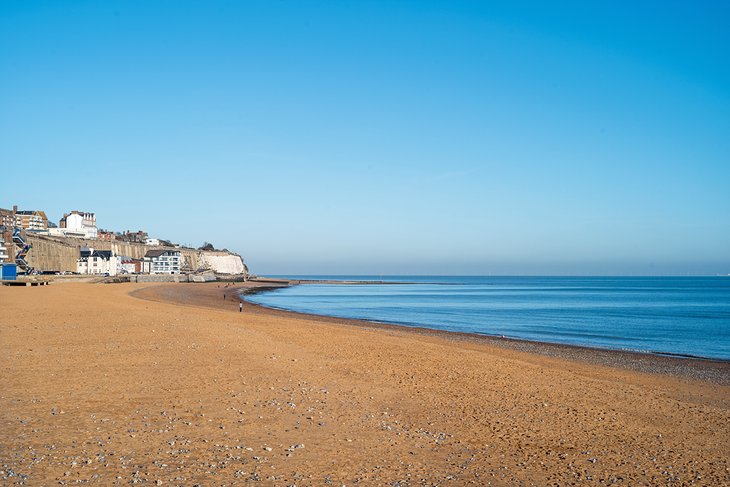 The popular seaside resort town of Ramsgate is certainly worth including on your list of Broadstairs beaches to visit. Here, you'll find bustling Ramsgate Main Sands, the quintessential English seaside beach.
Nestled between picturesque white chalk cliffs, this large sandy beach remains partly exposed at high tide, ensuring the kids won't have to watch their sandcastle disappear if they've built them far enough up the beach. The water here is also clean and clear, and the added security of lifeguards on duty make it perfect for those with youngsters.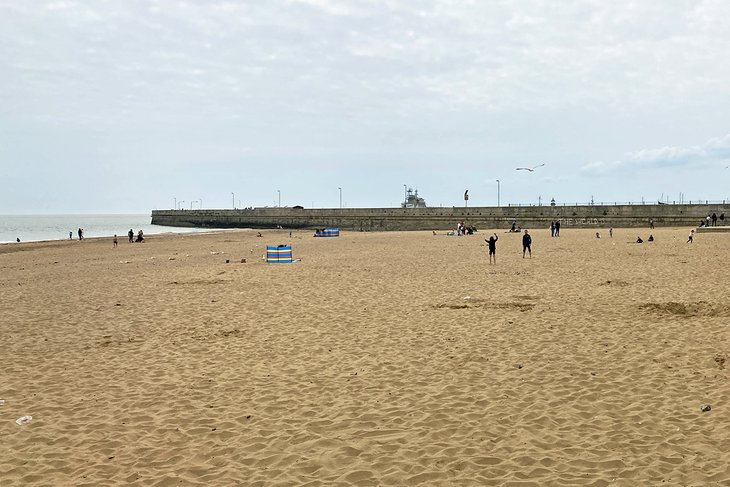 Ramsgate Main Sands is also a great place to enjoy other water-based activities, too, including everything from jet skiing to sailing, as well as fishing. It's also fun exploring the promenade area, as well as Royal Harbour, a great place to grab some fresh seafood or an ice cream. There are also amusement arcades for older kids to enjoy.
Address: Marina Esplanade, Ramsgate, Ramsgate, Kent
Map of Beaches in Broadstairs, Kent
Broadstairs, Kent - Climate Chart
Average minimum and maximum temperatures for Broadstairs, United Kingdom in °C
J
F
M
A
M
J
J
A
S
O
N
D

7

2

7

2

9

3

12

5

15

8

18

11

21

13

21

13

19

11

15

9

10

5

8

3

PlanetWare.com
Average monthly precipitation totals for Broadstairs, United Kingdom in mm.

46

33

41

43

38

48

46

46

56

61

66

48
Average minimum and maximum temperatures for Broadstairs, United Kingdom in °F
J
F
M
A
M
J
J
A
S
O
N
D

43

34

44

34

48

36

52

40

59

45

65

51

69

55

69

55

65

52

58

47

50

40

45

36

PlanetWare.com
Average monthly precipitation totals for Broadstairs, United Kingdom in inches.

1.8

1.3

1.6

1.7

1.5

1.9

1.8

1.8

2.2

2.4

2.6

1.9