11 Best Beaches in Margate, Kent
Margate is the easternmost town on Kent's north coast. Its proximity to London, just over an hour away by train, long ago cemented the community's reputation as one of England's most popular seaside towns.
Margate's first-rate beaches are the big draw for day-trippers and weekenders today, as they were when the town first started welcoming tourists in the late 1700s. In addition to the centrally located Margate Main Sands, there are a number of great beaches to explore in and around Margate, each with its own unique reasons to be visited.
Traveling with kids? Besides the family-friendly and centrally located main beach, check out Walpole Bay, popular for families for the rock pools teeming with marine life that are exposed at low tide. Looking for water-based adventures? Consider renting a Jet Ski at Palm Bay Beach or Ramsgate Main Sands, just a little farther along the Kent coast.
Pack a picnic and some sunscreen, and find out the lowdown on these and other great places to visit for some seaside frolicking with our list of the best beaches in Margate.
1. Margate Main Sands, Margate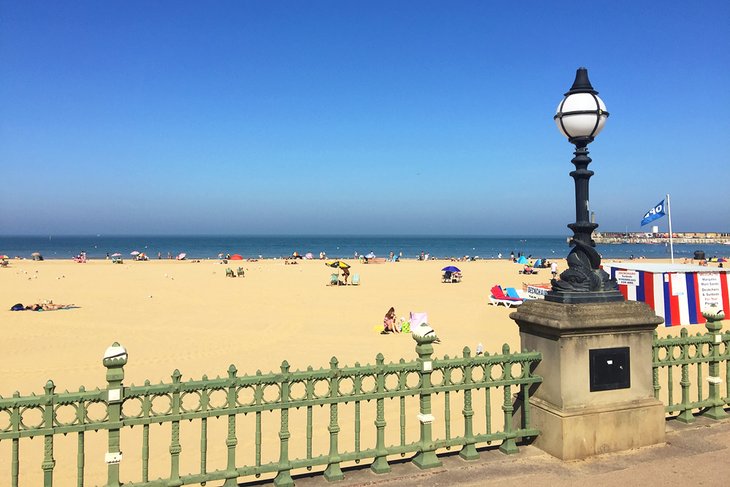 If you're only able to tackle one beach in Margate, make it Blue Flag awarded Margate Main Sands. Set, as its name suggests, in the heart of the town, this 200-meter-long stretch of sand has something for everyone.
For families, this wide, soft-sand beach remains partially exposed, even at high tide, ensuring the kids won't have to stop digging for treasure, building sandcastles, or burying dad. It's also safe, with shallow, sheltered waters and a tide that's not too strong as it comes and goes. Check tide times for Margate before you go.
In addition to swimming in the sea, when the tide is out, kids can also enjoy splashing around in the beach's tidal pool. This large, rectangular walled area on the beach fills up with fresh seawater during high tide, and when the tide's out, retains plenty of water. Said to be one of the biggest such tidal pools in England, it covers nearly four acres of the beach.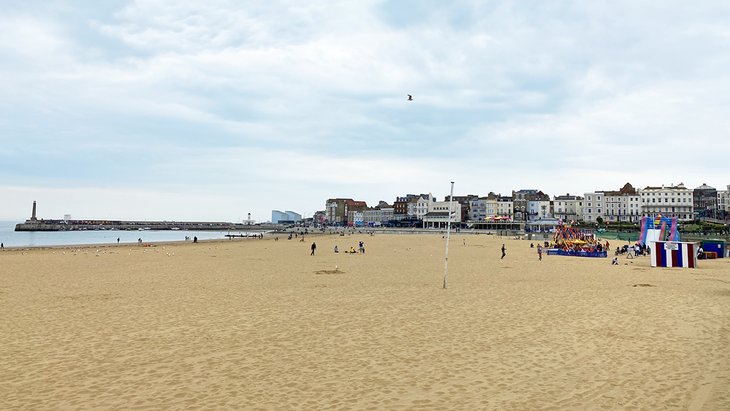 Other fun things to do for kids on this Margate beach include enjoying a traditional seaside donkey ride. And for older kids and teens, there's plenty of fun to be had in the arcades that line the bustling beachside promenade.
There are also numerous food vendors just steps away from the beach, selling everything from fresh-caught seafood, fish and chips, and ice cream. Margate's famous theme park, Dreamland, also has a beachfront entrance. Admission is free, and you pay as you go on its historic retro rides.
Address: Marine Terrace, Margate, Kent
Read More: Top-Rated Things to do in Margate, Kent
2. Palm Bay Beach, Cliftonville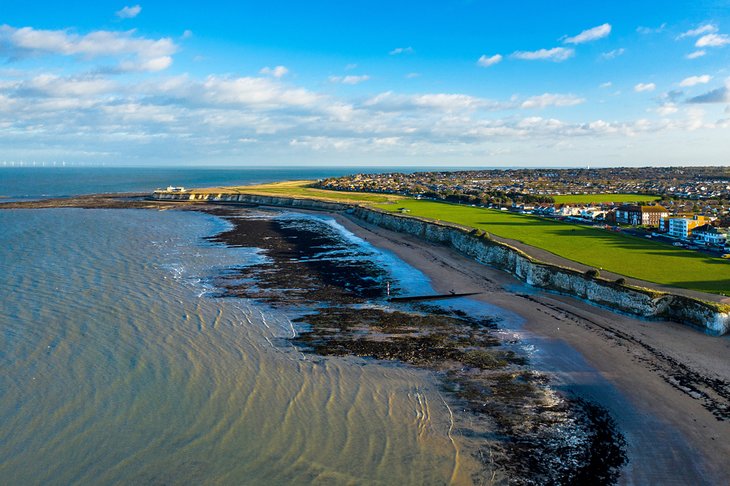 Located just five minutes' drive, or 30 minutes' walk, east of downtown Margate, Palm Bay Beach has become a popular spot for water sports enthusiasts to congregate. In addition to Jet Skis, which can be rented here, it's also a popular spot for windsurfing and sea kayaking. The regional waterskiing club is also located here.
Accessible by a cutting under a pedestrian footbridge, it's also a popular beach for other outdoor activities such as swimming, beach volleyball, and picnicking. The fact that there are few amenities for kids in the vicinity means there are usually fewer families about, making it an ideal spot for couples to relax together.
Other amenities include a café, washrooms, tennis courts, and lifeguards. And for those traveling with pets, this is notable as one of the few Margate beaches that allow dogs during the peak summer months. There's plenty of parking nearby, too.
Address: Promenade, Cliftonville, Margate, Kent
3. St. Mildred's Bay, Westgate on Sea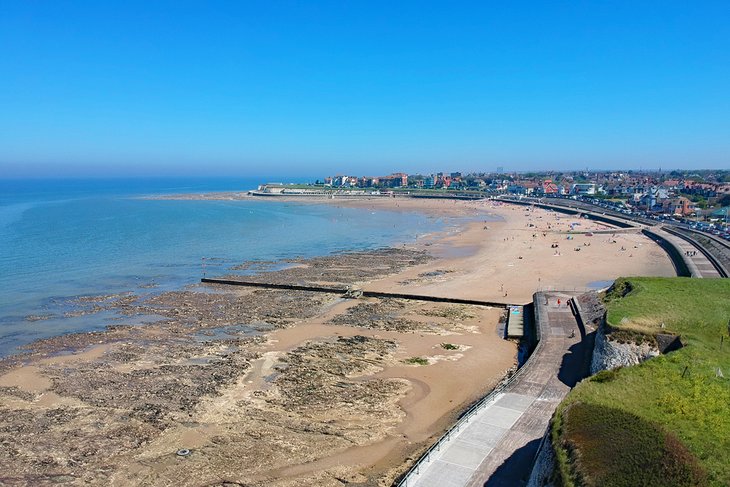 Take a 10-minute drive west of Margate Main Sands, and you'll find yourself in St. Mildred's Bay. Located in the quaint, quiet seaside town of Westgate on Sea, this sheltered bay features a Blue Flag sandy beach that's as popular with families as it for those traveling without kids. It's especially popular for windsurfing and sailing.
St. Mildred's Bay is surrounded by a promenade that also serves as a sea wall at high tide. The swimming is good, with clean water and a gentle sloping beach. Lifeguards are on duty on weekends in the summer months, and a tidal pool adds to the fun by holding onto a good amount of water when the tide's out.
Other amenities include washrooms and changerooms, beach chalet and deckchair rentals, a café, tennis courts, crazy golf, and a putting green. A number of restaurants are located close by.
Address: Beach Road, Westgate on Sea, Kent
4. Minnis Bay, Birchington-on-Sea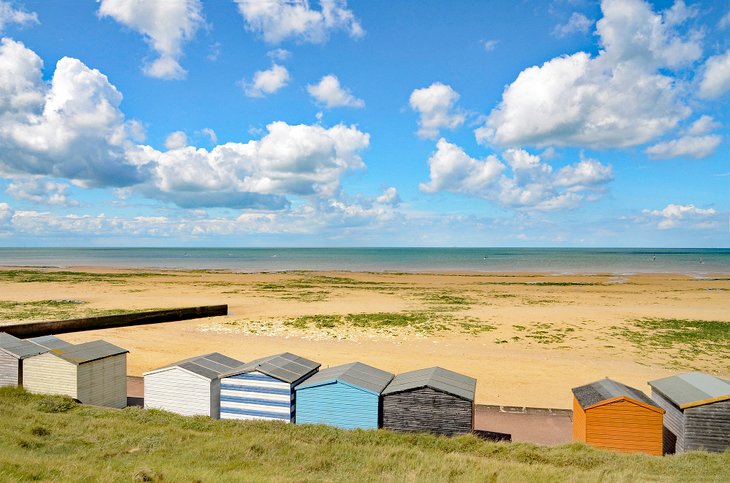 Another popular beach destination, Minnis Bay is an easy 15 minutes' drive west of Margate in the community of Birchington-on-Sea. Popular for its long, wide stretch of beach, the Blue Flag-awarded Minnis Bay beach also boasts a gentle sloping frontage, ensuring easy water access for kids.
Other popular things to do include paddleboarding, kayaking, windsurfing, sailing, and volleyball. The promenade is also a popular fishing spot when the tide is in.
When not playing in the sand, kids will also enjoy exploring the exposed rock pools when the tide is out. There's also a playground located just off the promenade. A network of walking trails also makes use of the promenade before linking up with other seaside towns, including Margate and Herne Bay.
Address: The Parade, Minnis Bay, Birchington-on-Sea, Kent
5. West Bay Beach, Westgate on Sea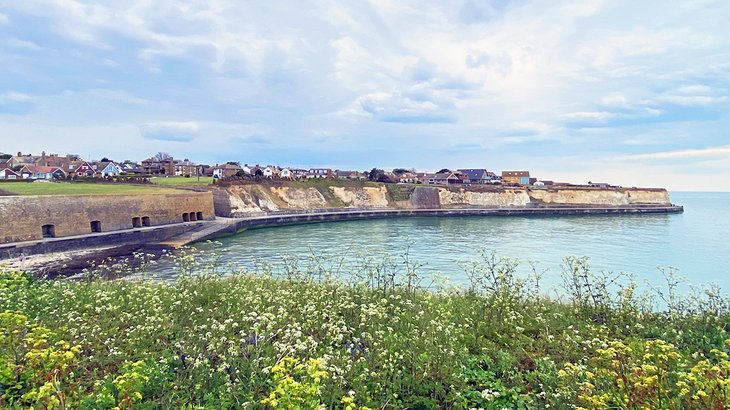 Just a little farther west of Westgate on Sea's popular St. Mildred's Bay beach and separated by an attractive white chalk point of land that's fun to explore, West Bay features a lovely sand beach that's popular with families. Entirely tidal, it's equally pleasant to visit during periods when this fine-sand beach is entirely covered with water.
When the tide is out, in addition to playing in the sand, the kids will be kept busy exploring the many exposed rock pools in search of sea creatures like crabs. And for an added measure of safety, lifeguard services are provided during the summer months and busy bank holidays.
Notable amenities include washrooms, rentable beach chalets, and a café that's a popular spot to dine in as the sun sets. The promenade is another good place to claim a spot to watch the sun go down.
Address: Esplanade, Westgate-on-Sea, Kent
6. Broadstairs Main Beach, Viking Bay, Broadstairs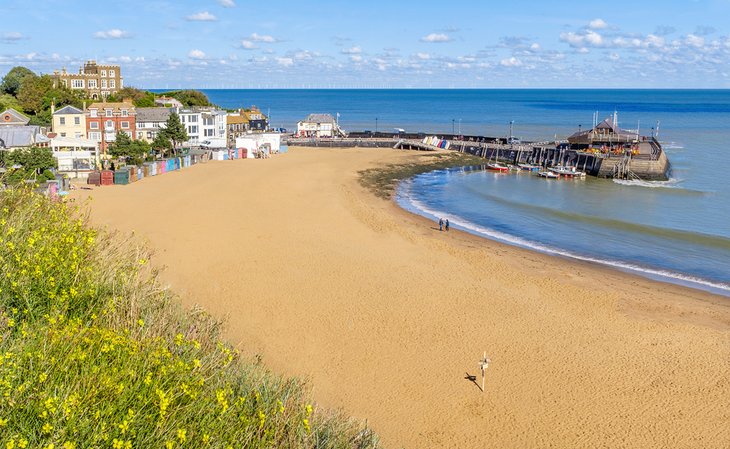 Set in lovely Viking Bay, Broadstairs Main Beach — often simply referred to as Viking Bay Beach — is a scenic 15-minute drive from downtown Margate and boasts many of the same seaside attractions. Lining this family-friendly, sandy beach are an eclectic mix of snack vendors, souvenir shops, and games arcades, ensuring there's plenty to do when the tide's in or the kids get bored.
Not that they'll ever be bored with the beach. The swimming here is safe, with a shallow water shoreline, and lifeguards are on duty during the summer months. Older kids can enjoy activities such as swimming, surfing, and beach volleyball. Fishing can also be enjoyed off the adjacent pier.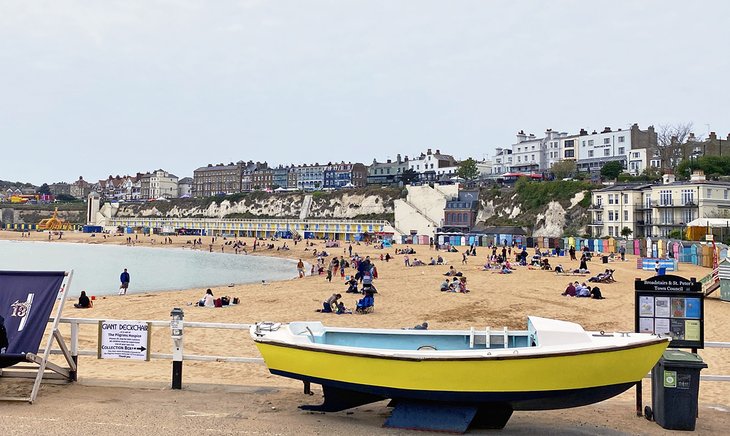 The beach is ringed by a promenade, which extends onto the harbor, providing a great view of the fishing vessels responsible for all that great seafood you can indulge in.
7. Botany Bay Beach, Broadstairs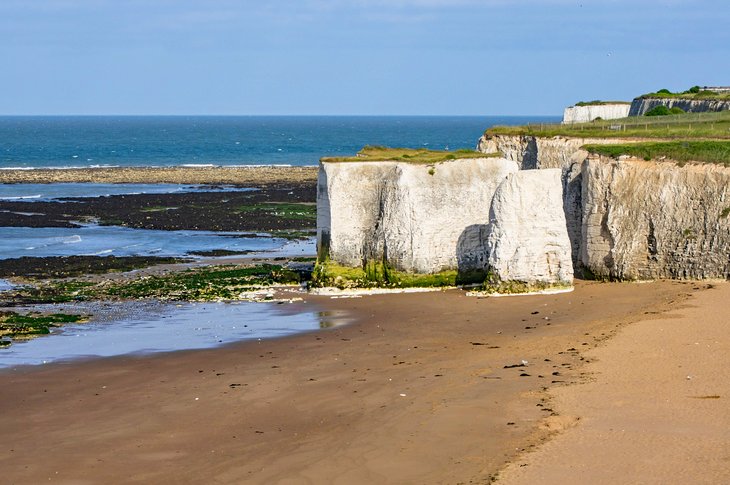 Botany Bay Beach is another great Broadstairs destination that's easy to get to from Margate. Long, deep, and sandy, this Blue Flag beach is also extremely picturesque, boasting a number of photogenic sea stacks adjacent to its chalk-white cliffs.
In addition to lifeguard-supervised swimming, endless sandcastle building potential, and rock-pooling for crabs, there are plenty of grown-up activities to do, too. Popular choices for older kids and adults include kayaking and canoeing, paddleboarding, and surfing.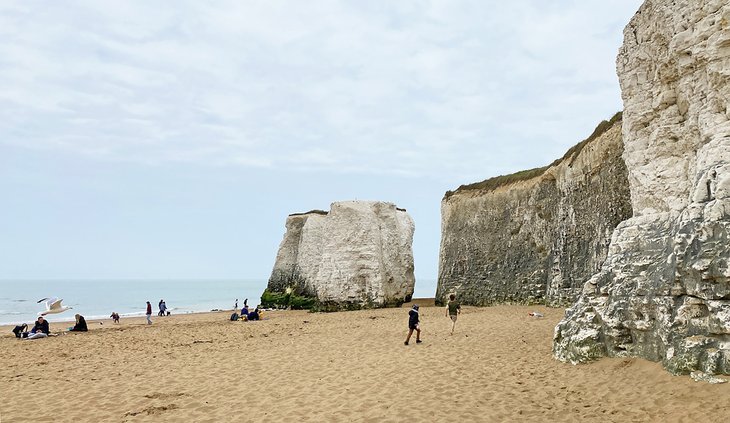 In addition to beach hut and deckchair rentals, snacks and refreshments are available from close-by vendors.
Location: Marine Drive, Cliftonville, Broadstairs, Kent
8. Ramsgate Main Sands, Ramsgate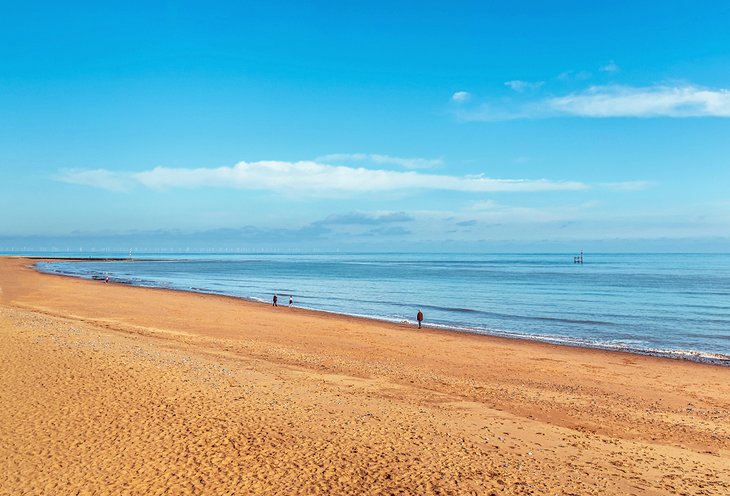 Building sandcastles and splashing about in the clean water aren't the only fun things to do in Ramsgate for kids. Just a few minutes farther along the coast from Broadstairs, the Blue Flag Ramsgate Main Sands is ringed by those attractive white cliffs Kent is famous for, making it a picture-perfect spot to get in some family sightseeing.
Take time to stroll the promenade and explore the extensive harbor walls as you admire the many small fishing vessels dotted around. Treat the kids to a sweet ice-cream treat, or better still, fresh-caught classics like hot fish and chips.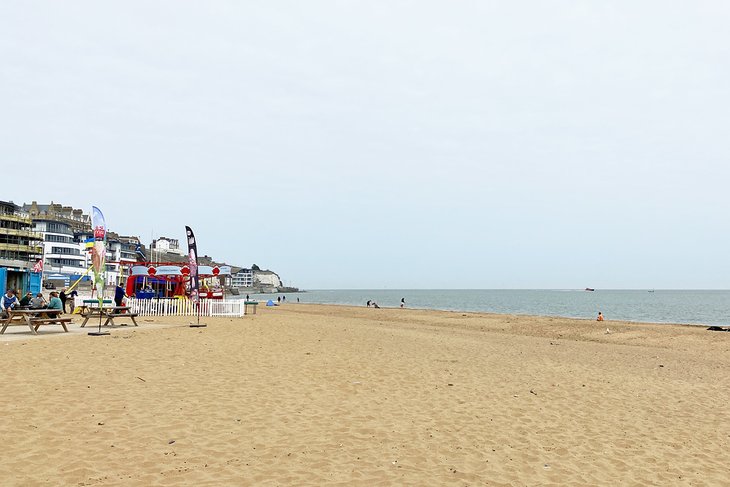 Other fun beach activities you should look into include jet skiing, windsurfing, and sailing. Fishing is also popular here, and a number of boat operators offer fishing charter trips. And if you're planning on being here for the whole day, consider renting a beach hut and deckchairs for added comfort. Hourly rentals are also available.
Address: Marine Esplanade, Ramsgate, Kent
9. Westbrook Bay, Margate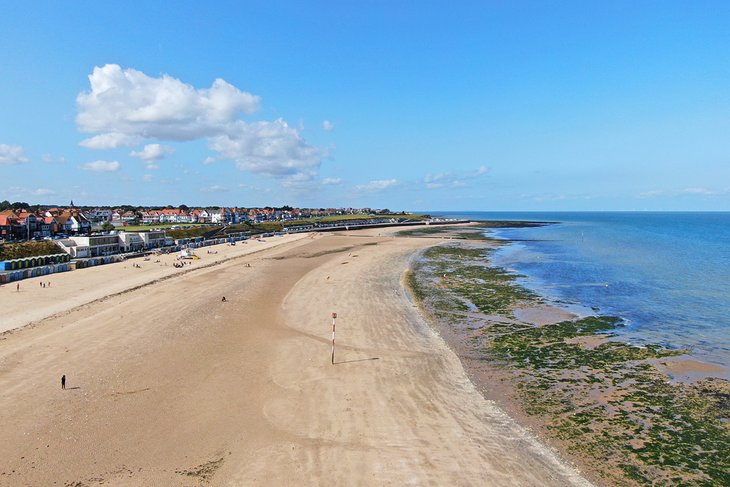 Take an easy 20-minute stroll away from Margate Main Sands, and you'll find Westbrook Bay. The perfect spot for those wanting a respite from the busier central Margate beach area, Westbrook Bay beach is a must for fans of motorized water sports.
The bay itself has been designated a water-ski area, so at pretty much any time of day, you'll see skiers putting on displays of their talents. It's also popular with fans of Jet Skis, with rentals available from a variety of locations in Margate.
Of course, this isn't to say this excellent, long sandy beach can't be enjoyed by those preferring to stay on land. Families enjoying the sand for playing should pick a spot higher up the beach, as a portion of it remains above water at high tide, meaning more fun in the sun and sand. Rock pooling is also fun to do, and chalet rentals are available.
When you're ready for a little action, take a stroll along the promenade, play a round of crazy golf, or bring rackets for a game of tennis.
Address: 2 Royal Esplanade, Westbrook, Margate, Kent
10. Walpole Bay, Margate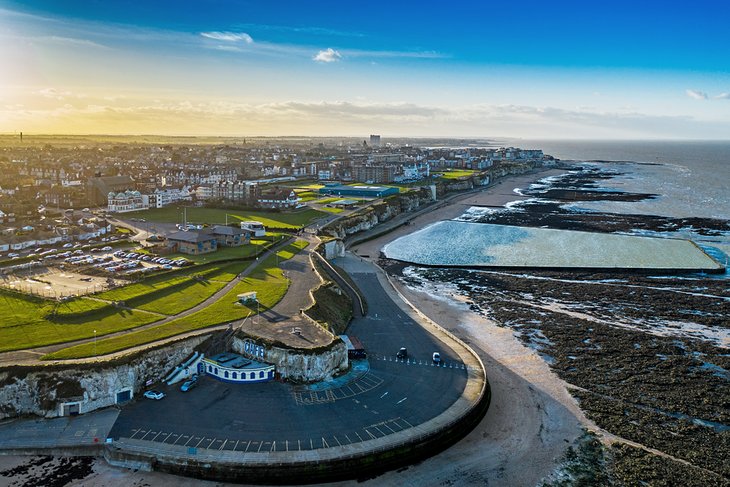 Located just a few minutes east of the downtown core, Walpole Bay is a great alternative to the busier Margate Main Beach. What you'll miss out on amenities and attractions, however, you'll more than make up for in many other ways.
There's usually a lot more space to spread out here, with none of the crowds or the general hubbub that ensues around larger, more touristy seafronts. The fun for families here is all about playing on the sand and checking out the myriad of creatures exposed in the rock pools when the tide goes out.
Walpole Beach also has a large tidal pool for safe swimming and splashing about when the tide's out. When you do want a little off-water fun, treat the kids to a round of mini golf and an ice cream.
Address: Fifth Avenue, Cliftonville, Margate, Kent
11. Margate Harbour Arm Beach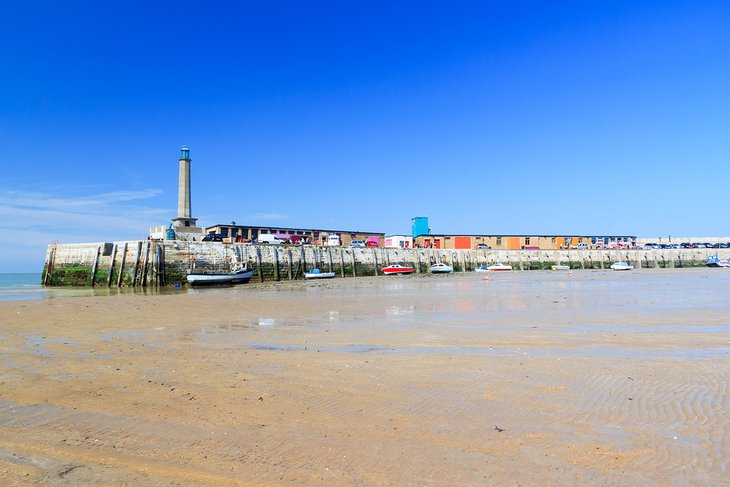 To the east of Margate Harbour Arm, between it and Walpole Beach, is a narrow stretch of beach that, while it disappears at high tide, is a good spot that's often overlooked.
Sheltered by the Harbour Arm to the left as you face the water, it's great for adults, especially strong swimmers and those who enjoy paddleboarding or sea kayaking.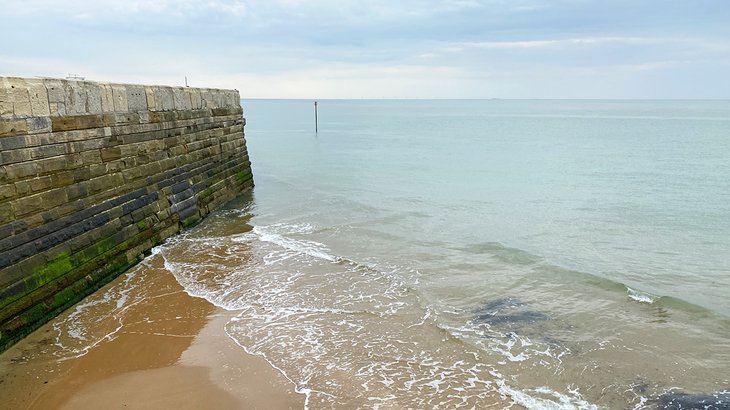 When the tide's out, a large swath of rock pools is exposed, and while slippery, they can be fun to explore for signs of marine life, including an abundance of crabs and shellfish. There's also an Antony Gormley "Another Time" statue that slowly seems to rise out of the water with the ebbing tide.
And when the tide does come in (and it will!), head to the Harbour Arm for some snacks and refreshments.
Map of Beaches in Margate, Kent
Margate - Climate Chart
Average minimum and maximum temperatures for Margate, United Kingdom in °C
J
F
M
A
M
J
J
A
S
O
N
D

7

2

7

2

9

3

12

5

15

8

18

11

21

13

21

13

19

11

15

9

10

5

8

3

PlanetWare.com
Average monthly precipitation totals for Margate, United Kingdom in mm.

46

33

41

43

38

48

46

46

56

61

66

48