12 Best Things to Do in Margate, Kent
Ask any resident of England to give you a few tips for great places to visit in Kent, and chances are the coastal town of Margate will at least get a mention. Located on Kent's northeast coast and about an hour's drive or train ride from London, "Meergate," as it was once known, has a well-deserved reputation as one of the country's top seaside destinations.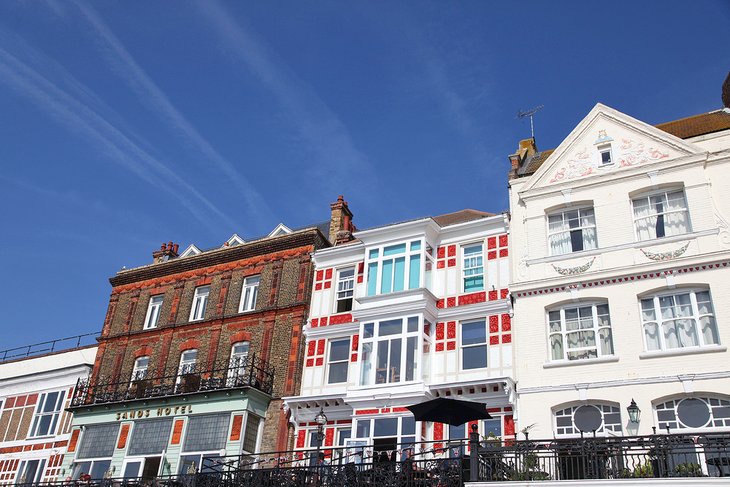 Whether you're here for a day trip, a weekend, or even longer, Margate has taken great strides in recent years to improve and enhance the visitor experience. While the traditional and sometimes tacky souvenir shops and fast-food outlets are still around, you don't have to try too hard or go too far to find fresh-caught seafood or boutique shops selling local arts and crafts.
As well as boasting one of the best beaches in Kent, Margate has also benefited from the addition of a number of world-class attractions over the years. These include the state-of-the-art Turner Contemporary art gallery and the overhauled and updated Dreamland Margate, which after years of neglect has found its groove with its fun retro theme park rides.
To find out more about these and other great attractions in this historic seaside town, be sure to read through our list of the top fun things to do in Margate, Kent.
1. Get Your Art Fix at the Turner Contemporary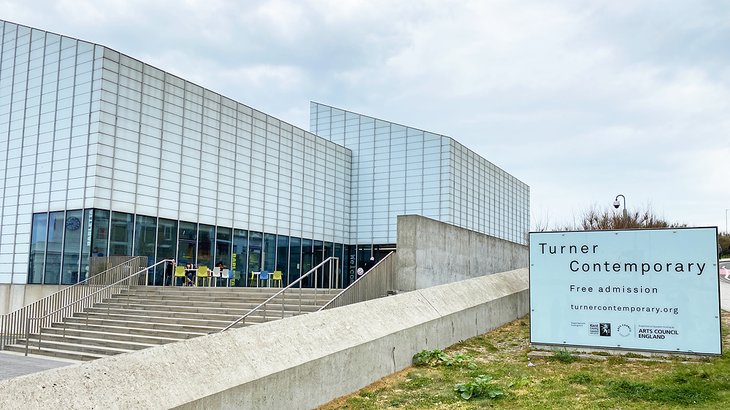 Topping our list of the best things to do in Margate, the Turner Contemporary celebrates the town's deep connection to one of Britain's best-known painters, Joseph M.W. Turner. The leading Romantic painter stayed in Margate for around 20 years when not in London, and his work often featured local landmarks.
In the years since it opened in 2011, nearly four million visitors have passed through, firmly cementing its reputation as one of the country's top art galleries. In that same period, Turner Contemporary has featured well over 100 visiting exhibits from a wide group of artists, ensuring there's always something new to see here. There's also a café located on the premises.
In addition to its support for local and national artists, the gallery puts on numerous events, programs, and workshops for visitors young and old. The building itself is considered something of an artwork. Designed by leading UK architect David Chipperfield, it in fact stands on the very spot on the seafront where the former guesthouse frequented by Turner once stood, and offers superb views over the sea.
Address: Rendezvous, Margate, Kent
Official site: https://turnercontemporary.org
2. Be Intrigued by the Shell Grotto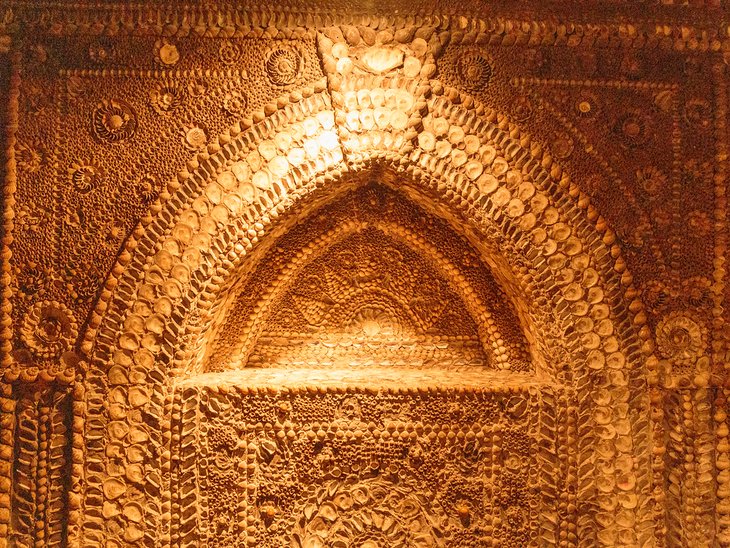 Since being discovered in the early 1800s, the fascinating Shell Grotto has enthralled visitors to Margate. Part of the appeal is the fact that very little is known about this unique attraction, leaving visitors to speculate for themselves how it all came to be.
It consists of an underground passageway whose surface has been almost entirely covered with ornate patterns of seashells. Explanations for its creation include everything from a pre-Roman-era astronomical calendar to a secret hideaway for the Knights Templar to a Victorian-era hobbyist looking to create a unique "folly."
During your visit, you'll not only learn more about these and other possible theories in the small on-site museum, but you'll also have a chance to view the nearly five million shells used in its construction up-close, including those used to make what could possibly have been an altar.
Address: Grotto Hill, Cliftonville, Margate, Kent
Official site: www.shellgrotto.co.uk
3. Enjoy the Beach at Margate Main Sands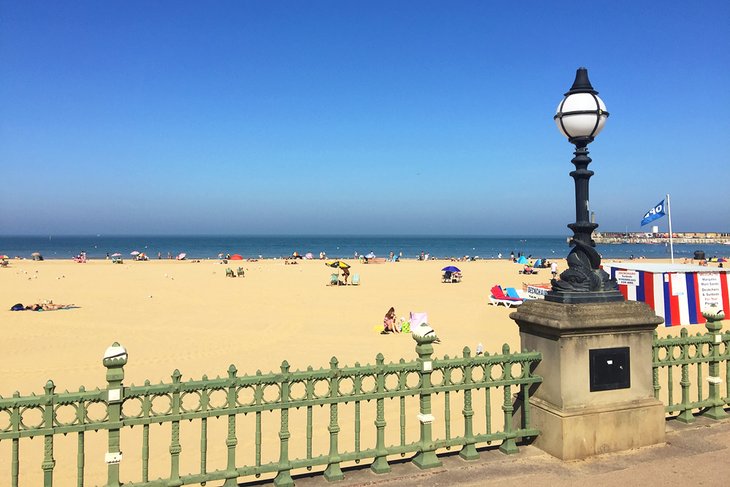 Margate was attracting tourists from destinations such as London even before the advent of the railway, which arrived in the mid 1800s. But once a rail connection was in place, Margate Main Sands, the town's central beach, became the place in Kent for those seeking "curative" sea air and, as often as not, a little sunshine.
Some 200 meters in length, it's a curving stretch of sand that, unlike many other popular beaches in Kent, stays partly above water at high tide. Consequently, if you arrive early enough to claim your spot at the "top" of the beach near the promenade, there's a good chance you can stay there pretty much all day. In addition to being a great family beach for its gently sloping sand and safe swimming, there are plenty of other nearby distractions, too.
Food vendors are plentiful, with many, like Peters Fish Factory, featuring fresh-caught seafood landed daily at the adjacent harbor. There are plenty of arcades and rides for kids young and old, including many at the nearby Dreamland theme park, and the promenade itself is a great way to explore the seafront.
Address: Marine Terrace, Margate, Kent
4. Shop & Dine in Margate Old Town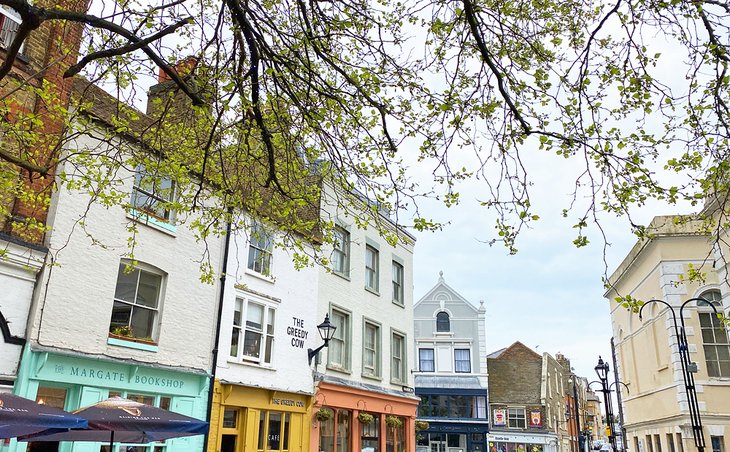 Wander just a block away from the seafront, with its beach-related attractions, and you'll see quite a different side of Margate. Margate Old Town features a maze of narrow, sometimes cobbled streets lined with well-preserved buildings that once housed guesthouses, small inns, and B&Bs, but that are now home to a wide array of retail and dining options.
Rubbing shoulders with classy art galleries are trendy boutique shops and antique stores and numerous hip cafés and restaurants, all worth a visit depending on whether it's time to shop or time to eat. Standouts include the vibrant Old Kent Market, featuring a variety of local vendors, and Market Place, with its attractive old Georgian-era townhomes.
Other highlights of the Old Town district include the Margate Museum, set in a former police station and jail from the 1850s, and the 16th-century Tudor House, the town's oldest home.
5. See Classic Toys at the Hornby Visitor Centre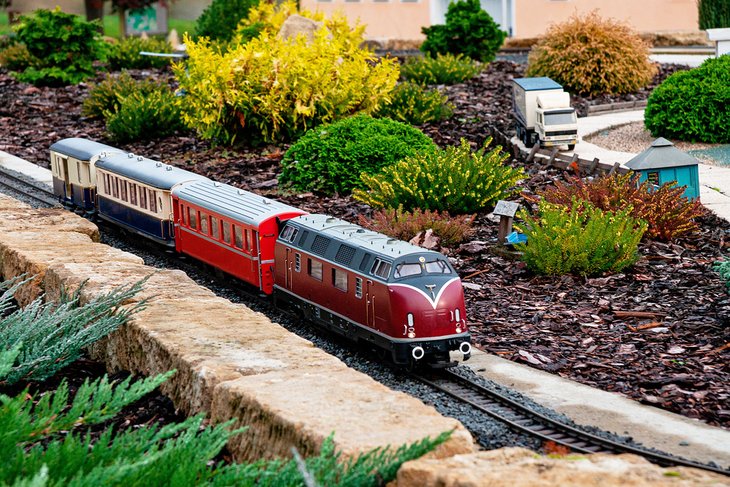 Here's one for kids, big and small: The Hornby Visitor Centre. Just a short drive from the beachfront, this fun tourist attraction features toys and model trains manufactured by the famous Hornby brand, along with a fascinating look at the company's long history.
Founded in 1901, Hornby was synonymous with boys toys for decades, with a resurgence of interest leading to the opening of the Hornby Visitor Centre in 2010. Since then, the collection has grown, as has interest from the public, with the attraction's first-rate toy displays and model train layouts drawing visitors of all ages.
Other highlights include toys from related Hornby brands, including Airfix, Scalextric, and Corgi, from their launch up to their latest incarnations. A well-stocked shop is also located on the premises.
Address: Westwood Industrial Estate, Westwood, Margate, Kent
Official site: https://uk.hornby.com/hornby-hobbies-visitor-centre
6. Shop in the Old Kent Market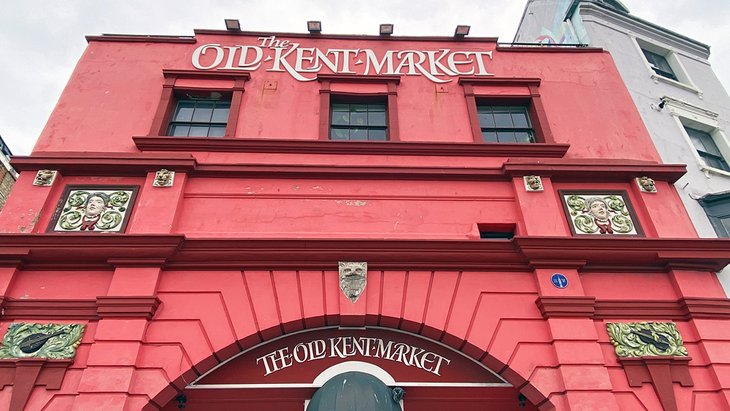 If you're anywhere near Margate Main Beach, you'll find it pretty difficult to miss the Old Kent Market. Occupying an old cinema, this bright red building has been renovated to accommodate an eclectic array of local vendors, all under one roof.
In addition to chatty, helpful vendors selling everything from rare vinyl records to artworks and crafts, there are numerous excellent food vendors worth sampling, with offerings including baked goods and sweet treats, Greek dishes, and authentic Italian pizzas.
Address: 8 Fort Hill, Margate, Kent
Official site: www.oldkentmarket.com
7. Arrange a Tour of Margate Tudor House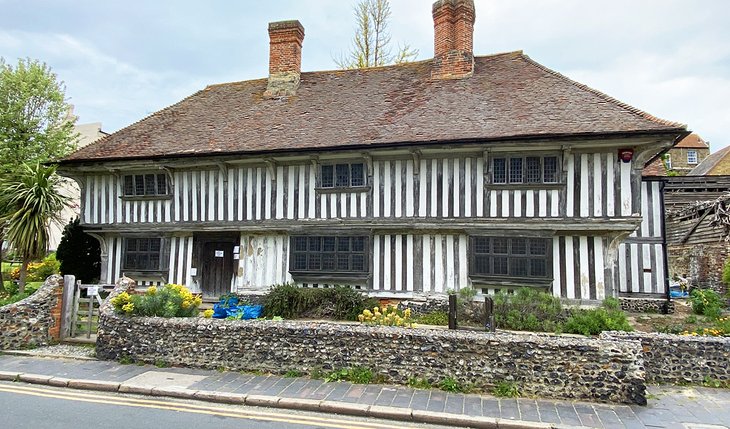 The town's oldest building, Margate Tudor House, also just so happens to be the prettiest. Constructed in 1525 in what was then known as "Meergate," it was, at the time, a wealthy farmer's house and displays a variety of features unique to the period.
Many of these features, including its two-story layout, were quite new at the time, with the home being a perfect example of the transition that was taking place, from the medieval hall-style home to instead opting for numerous smaller rooms. Other notable attributes that would have been considered modern at the time were its twin chimneys and an early form of double glazing.
Saved from demolition in the 1930s and renovated using techniques from the Tudor period, it's now surrounded by a delightful period garden. Guided tours are available and can be arranged through the attraction's official website.
Address: 60 King Street, Margate, Kent
Official site: www.thanet.gov.uk/locations/tudor-house/
8. Learn about the Town's Rich Past at the Margate Museum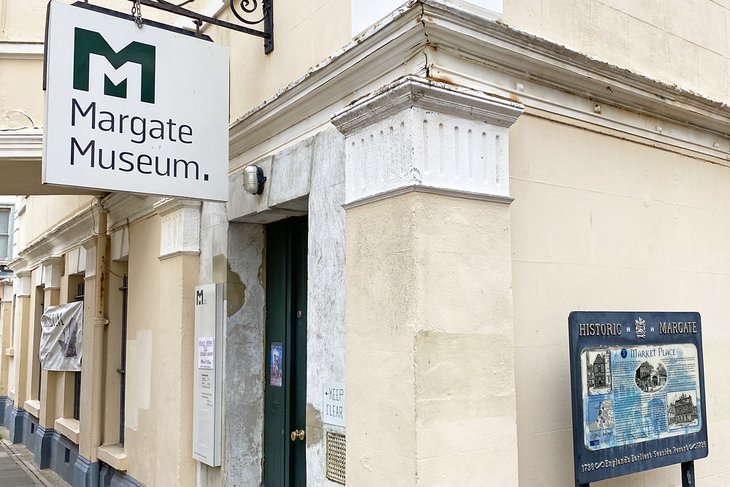 Located in Old Town Margate just a block away from the beach, Margate Museum offers an interesting and educational look into the town's rich past. It's set in the former town hall and once served as a police station. A highlight is taking a peek into the old Victorian prison cells and magistrates court.
There's a broad range of exhibits dealing with some 5,000 years of history, including displays of artifacts, photos, and paintings. It also features fascinating exhibits focusing on the early days of Margate's becoming a resort town, including details of the old machines that once ferried people out into the water to bathe.
Guided tours are available at no cost and can be arranged with advance notice. Also, check their opening times prior to your visit.
Address: Market Place, Margate, Kent
Official site: www.thanet.gov.uk/locations/margate-museum-old-town-hall/
9. Take in a Show at Theatre Royal Margate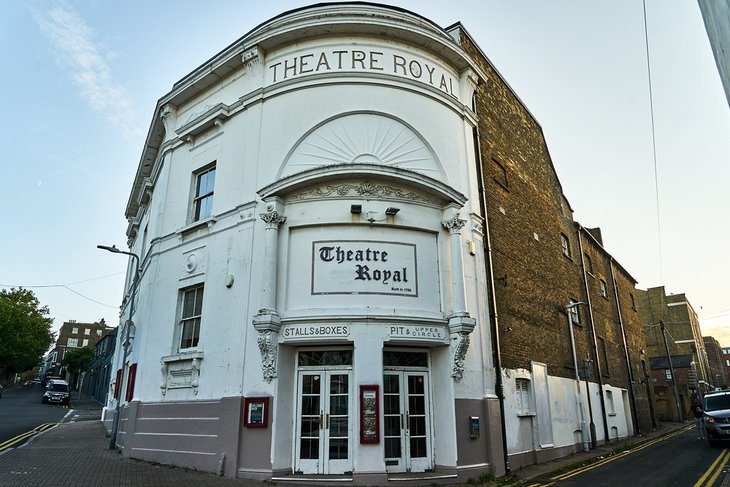 Built all the way back in 1787, Theatre Royal Margate is notable as the last surviving place of entertainment designed by architect J.T. Robinson. While the exterior remains largely the same as when it was built, the interior underwent a major redesign in the 1870s and is of historic significance.
If you're planning an overnight stay, try to catch a performance. Popular shows include comedy and music concerts, as well as frequent family-focused entertainment.
Address: Addington Street, Margate, Kent
10. Explore the Margate Caves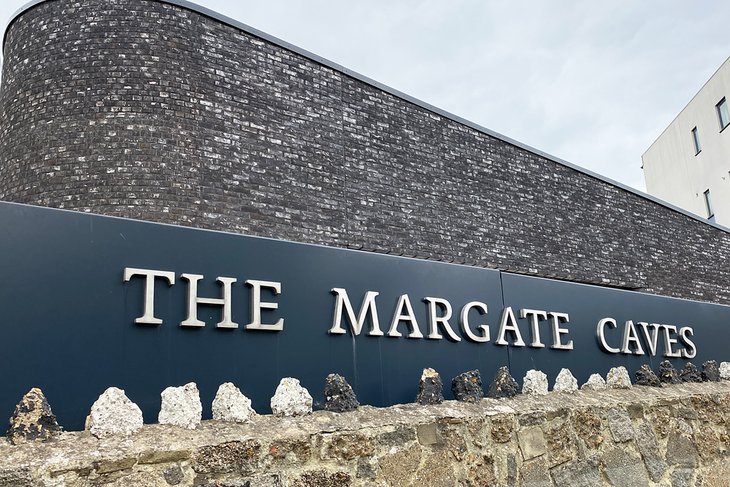 Discovered in 1863 a few decades after the town's famous Shell Grotto was uncovered, the Margate Caves are another Victorian-era attraction that should certainly be included on your Kent travel itinerary. Constructed during the mining of chalk, they remained closed for over 100 years before being rediscovered and turned into a tourist attraction.
Recently restored and renovated between 2011 and 2019, the caves are still drawing visitors eager to delve underground and into their past. Highlights of a visit include informative displays about the region's unique landscape and geology and its impact on the local population.
A café and shop are located in the on-site visitors center, and there's also a pleasant garden available for visitors to enjoy.
Address: 1 Northdown Road, Margate, Kent
Official site: www.margatecaves.co.uk
11. Take a Fun Trip Back in Time at Dreamland Margate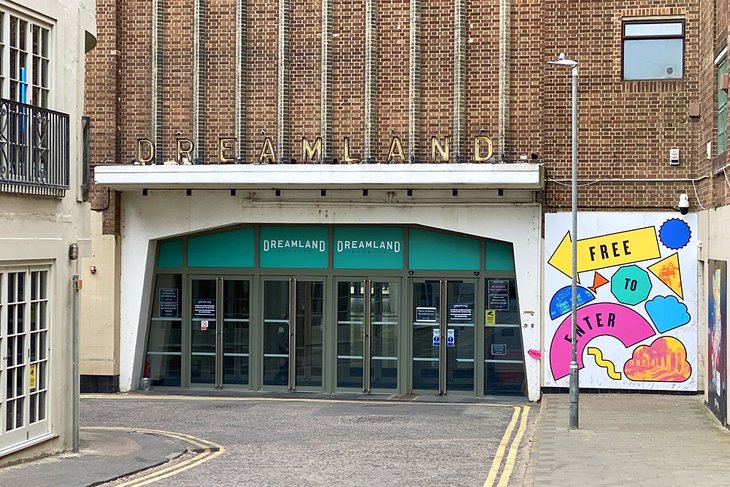 Dreamland is able to trace its roots all the way back to the 1880s, but the name wasn't adopted until 1920, when this theme park's first roller coaster was added. After a period of decline in the 90s and early 2000s, this family-friendly attraction was only saved from demolition by a public outcry and was instead renovated and rebranded to focus on providing classic seaside entertainment using historic rides and attractions.
The resulting retro theme park has proven a huge hit and is a lot of fun for young and old alike. Highlights include the historic roller coaster, also referred to as a "Scenic Railway," along with a number of historically significant rides donated by other theme parks across the country. These include a ghost train, a hall of mirrors, and a unique chairlift ride.
Dreamland is now more successful than ever. You can easily spend a few hours away from the beach as you enjoy this unique, reimagined, retro theme park. Be sure to check its official site for news of concerts, festivals, and other fun events.
Address: 49-51 Marine Terrace, Margate, Kent
Official site: www.dreamland.co.uk
12. Margate Winter Gardens
Billed as Kent's largest historically significant entertainment venue, Margate Winter Gardens was opened in 1911 and has been a staple of holiday fun and entertainment in the town ever since.
Consisting of a unique design featuring a main stage that could be enclosed in bad weather plus an outdoor amphitheater, the venue is capable of holding more than 4,000 spectators. The Winter Gardens have hosted some of the biggest names in British entertainment, from The Beatles in 1963 to today's most popular rock and pop acts.
Address: Fort Cres, Cliftonville, Margate, Kent
Map of Things to Do in Margate, Kent
Margate - Climate Chart
Average minimum and maximum temperatures for Margate, United Kingdom in °C
J
F
M
A
M
J
J
A
S
O
N
D

7

2

7

2

9

3

12

5

15

8

18

11

21

13

21

13

19

11

15

9

10

5

8

3

PlanetWare.com
Average monthly precipitation totals for Margate, United Kingdom in mm.

46

33

41

43

38

48

46

46

56

61

66

48