11 Best Things to Do in Kent, England
Often referred to as the "Garden of England" due to its endless acres of orchards and lush gardens, the county of Kent offers no end of fun things to do for those willing to wander a little further off the beaten track.
Not only is Kent well-known for its relatively mild climate, it also boasts some of England's oldest and most important historic attractions. It was in Kent that the Romans launched their invasion of England some 55 years before the birth of Christ, and where, over 500 years later, the Christian faith was first introduced to the island nation. As a result of these events, you'll often find Roman ruins brushing up against important religious sites, as is the case in the cathedral city of Canterbury.
Kent also boasts some of the most spectacular scenery in England. Visit the east coast of Kent, and you'll see the famous White Cliffs of Dover looking out towards neighboring France, visible in the distance. This same coastline is home to some 50 or more Kentish beaches, most of them easy day trips from London.
To learn more about these and other great places to visit in this lovely corner of South East England, read through our list of the top things to do in Kent.
1. Take a Tour of Canterbury Cathedral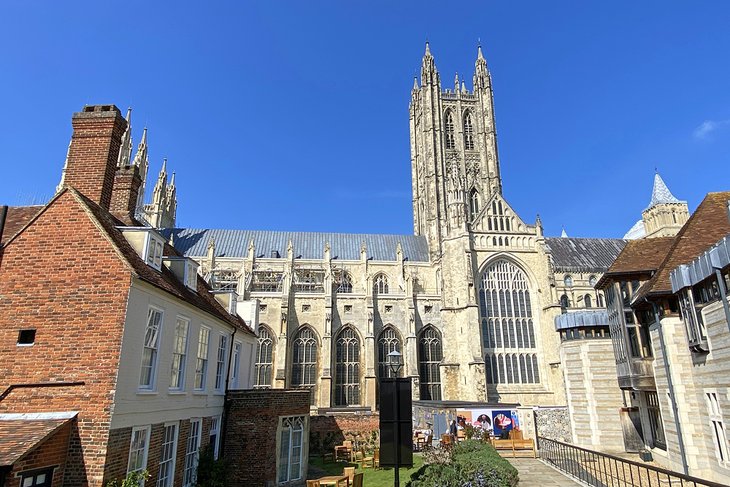 With its roots established by Saint Augustine in 597 CE, Canterbury Cathedral is not only the country's oldest Christian site, it's also the most important. The main church of the Anglican faith (Church of England), this impressive structure took over 340 years to build and is one of the most visited cathedrals in Europe.
Now a UNESCO World Heritage Site, Canterbury Cathedral is best experienced as part of a guided tour. Bookable in advance, your timed entrance will include important features, including the 12th-century choir with its statues of six old English kings, the Chapter House, and the Great Cloister. You'll also see the spot in the Northwest Transept where Archbishop Thomas Becket was murdered by request of King Henry II in 1170.
While typical tours of the cathedral last around an hour, you can generally linger longer on the grounds. It can get extremely crowded though, so if you're hoping to get some good photos of the structure without the crowds, book the earliest possible admission time. A souvenir and gift shop are located on Burgate Street and can be visited without cathedral admission.
Address: 11 The Precincts, Canterbury, Kent
Official site: www.canterbury-cathedral.org
2. Explore Dover Castle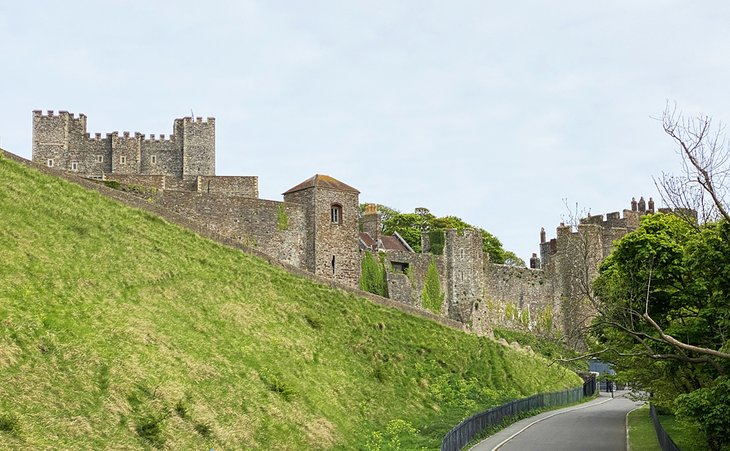 Built on the ruins of an already 1000-year-old Roman fort in 1180, Dover Castle is a must-visit when traveling Kent's east coast. Standing guard over the Straits of Dover, which separate England from Europe, this impressive looking castle has survived countless threats from a variety of aggressors, most recently in WWII.
A visit today includes entrance into the immaculately preserved Norman Keep. Now operated as a museum by English Heritage, it's here you'll find fascinating exhibits relating to the castle's history, including in times of conflict. You'll also see the Great Tower with its original chambers still intact, as well as the tunnels built during the Napoleonic war, and which were used again in WWII as part of the defenses of the English Channel.
Guided tours are highly recommended and feature costumed guides well-versed in the castle's rich history. Be sure to also check the attraction's website for details of special themed days, which can include everything from pirate festivals to knights and jousting tournaments.
Address: Castle Hill Road, Dover, Kent
Official site: www.english-heritage.org.uk/visit/places/dover-castle/
3. Follow the Viking Coastal Trail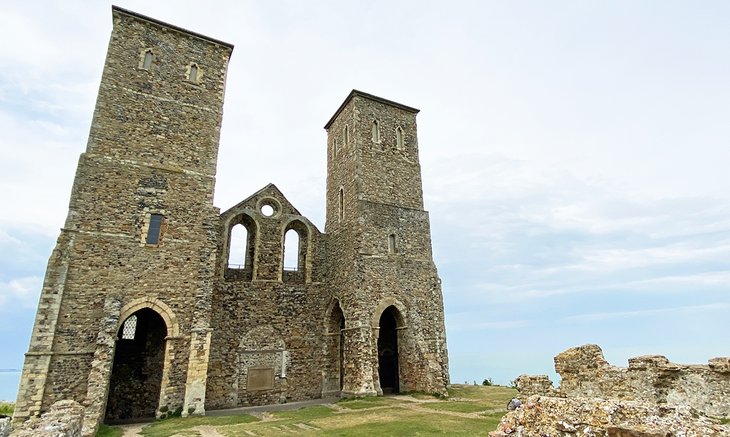 Since it opened in 2001, the 25-mile-long Viking Coastal Trail has become one of Kent's most popular multi-use leisure routes. A circular route that traces the borders of the municipality of the Isle of Thanet, the majority of the route follows Kent's coast from Reculver in the north all the way to Ramsgate and Cliffs End in the east, passing through the seaside town of Margate on the way.
Part of the UK's National Cycle Network, the route is especially popular for cyclists wanting to explore Kent and includes a section of quiet roads that provides a taste of the county's pretty inland countryside. Although doable in a day, consider breaking the trip up with stops along the way. In addition to historic sites like Reculver, a former Roman encampment with picturesque ruins of a later-built abbey, there are also numerous beaches worth stopping at, along with coastal villages offering great places to stay.
Location: Isle of Thanet, Kent
Official site: www.vikingtrail.org
4. Step Back in Time at Leeds Castle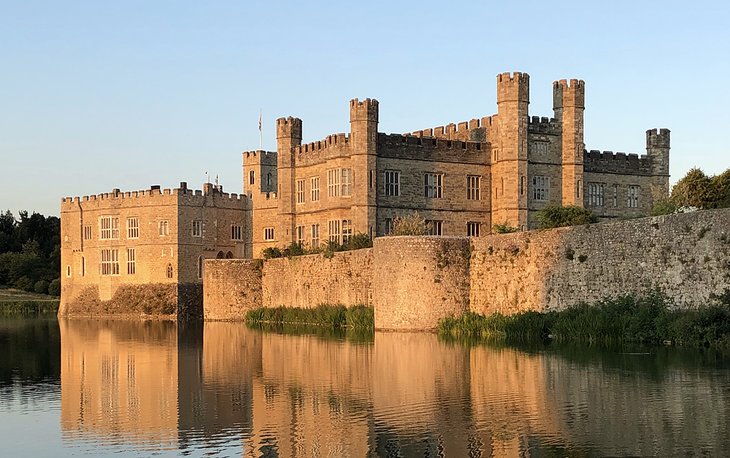 One of the most picture-perfect castles in England, Leeds Castle has a rich and storied history. It's located seven miles east of the county town of Maidstone. A castle was known to have been located here since the 9th century. While much of what you see today was built across three islands in more recent times, its oldest section, the Gloriette, was constructed in 1280.
Leeds Castle opened to the public for the first time in 1976, and a visit today offers no end of fun things to do for those wanting to spend the best part of a day here. Highlights include museum displays of antiques and artifacts from over the centuries, fascinating exhibits related to its construction and rich history, as well as plenty of fun activities for young and old alike.
Programs for families include everything from medieval-themed festivals and jousting tournaments to craft shows and markets. Outdoor adventures, including ziplines and aerial walkways, can also be enjoyed, along with Segway tours and a fun land train.
The big event, held each year since the 1980s, is its annual Leeds Castle Concert. This epic day-long event culminates after nightfall with a performance of Tchaikovsky's 1812 Overture accompanied by fireworks and canon fire.
Address: Broomfield, Maidstone, Kent
Official site: www.leeds-castle.com
5. See the White Cliffs of Dover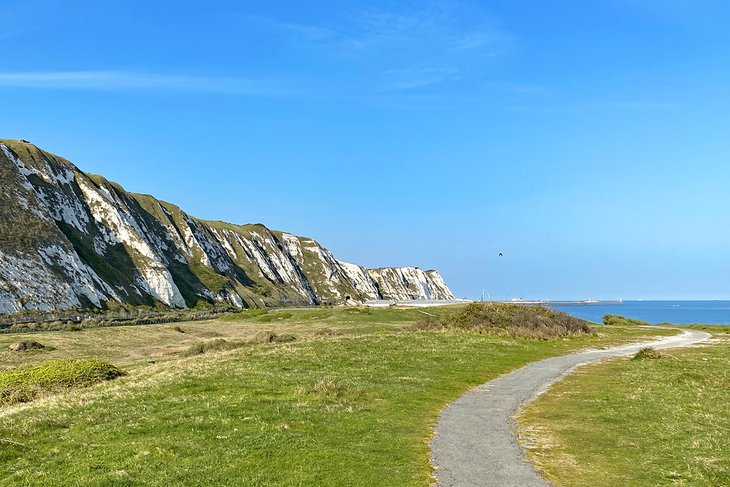 Few sections of English coastline stir the emotions quite like the famous White Cliffs of Dover. There are a number of ways to explore these iconic white chalk cliffs, which stretch for eight miles. You can explore them from the air via a heritage Spitfire (not cheap); from the sea, aboard a cross-channel ferry, cruise ship, or tourist boat (a little time consuming); or by clambering above the cliffs along a well-maintained trail network (easy peasy!).
The latter is certainly the cheapest and most practical and involves paying a visit to the Gateway to the White Cliffs Visitor Centre, perched atop the cliffs with incredible views over the Port of Dover. You should spend at least a little time at this National Trust site before venturing out and exploring the cliffs. You'll find plenty of useful information about the area's unique geology, as well as its wildlife and plant life.
From the visitor center, a variety of trails head off to the clifftops, as well as to historic landmarks such as Fan Bay Deep Shelter, a tunnel network established during WWII. Excellent views of the White Cliffs can also be enjoyed from Samphire Hoe a few miles west of Dover.
Address: Langdon Cliffs, Dover, Kent
Official site: www.nationaltrust.org.uk/the-white-cliffs-of-dover
6. Spend Time on the Best Kent Beaches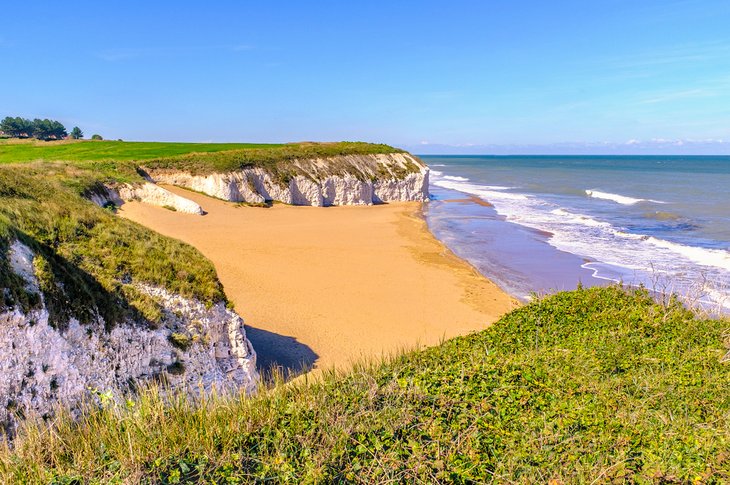 Stretching for a distance of 350 miles, Kent's coast is home to some of the most scenic coastline in all of England. Dotting this coastline are some 50 or more beautiful beaches. While not all are easy to get to, those that are tend to draw beachgoers from across the Southeast and London.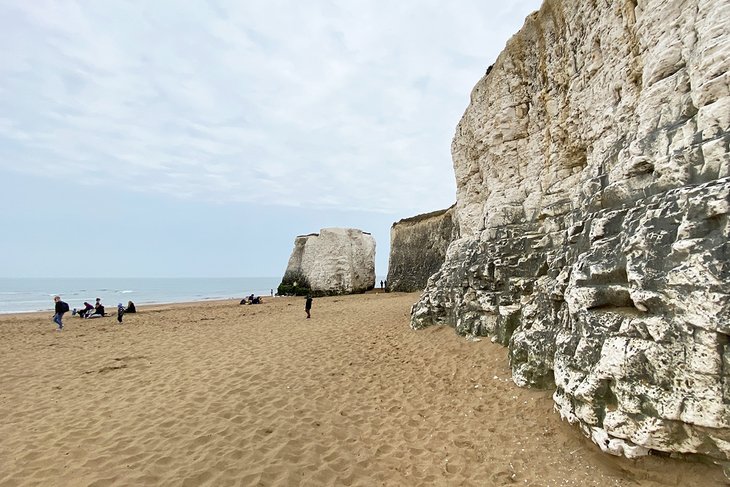 Among the most popular are Botany Bay Beach in Broadstairs, popular for its stunning sea stacks carved out of the cliff face by centuries of coastal erosion; Margate Main Sands, famous for its sandy beach and traditional seaside attractions; and Whitstable's Tankerton Beach with its neat rows of colorful beach huts.
7. Take the Kids to Howletts Wild Animal Park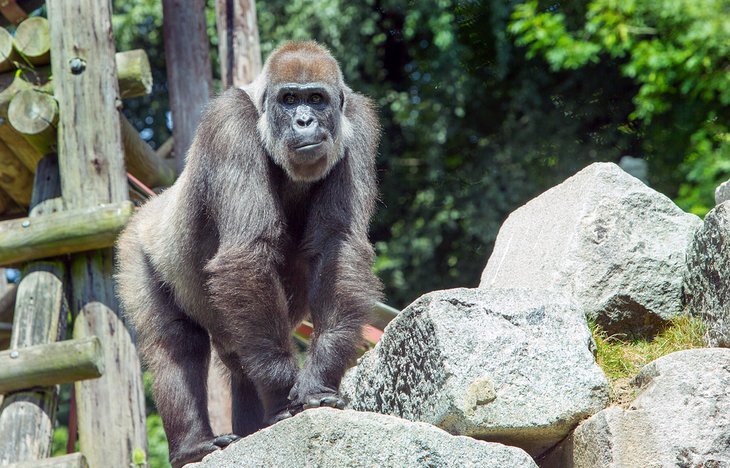 Opened to the public in 1975 after 20 years as a private zoo, Howletts Wild Animal Park makes for a great outing for families. Well-known for its research and breeding programs, Howletts boasts one of the largest herds of African elephants, as well as a large family of gorillas.
In addition to allowing close up views of its many creature residents, a number of unique animal encounters are also available. These experiences include everything from assisting with daily feeding and care routines and fun "Junior Keeper" programs to shadowing a professional zookeeper for the day.
Those wanting to prolong the adventure can also take advantage of the zoo's unique accommodation offerings. These include everything from a treehouse hotel to standalone glamping sites, some overlooking the animal enclosures.
Address:Bekesbourne Ln, Bekesbourne, Littlebourne, Canterbury, Kent
Official site: www.aspinallfoundation.org/howletts/
8. Play Outdoors at Mote Park, Maidstone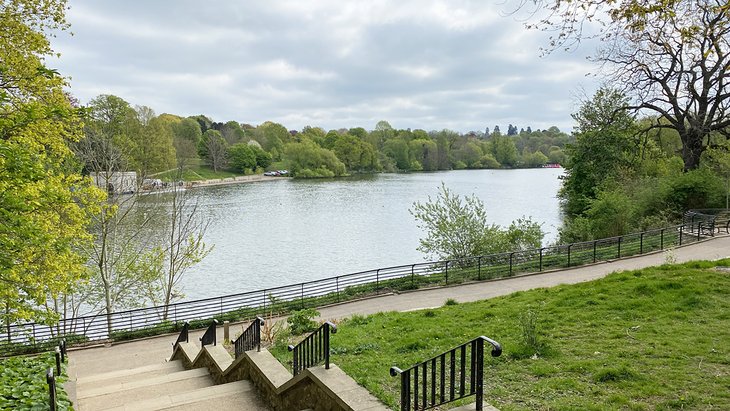 Set on a large 440-acre site in the county town of Maidstone, Mote Park is one of the best places to visit in Kent for those who enjoy green spaces and the great outdoors. Once the grounds of a privately owned country estate, this well-manicured park is fun to spend at least a few hours exploring.
Highlights of a visit include walking or cycling the park's extensive trail network, taking the kids for a ride on the miniature railway, or renting a boat and going for a paddle on the lake. In addition to cafés and snack vendors, Mote House is now home to a great restaurant, The Romney, which also serves a delicious afternoon tea.
Address: Mote Ave., Maidstone, Kent
9. Spend a Day at the Seaside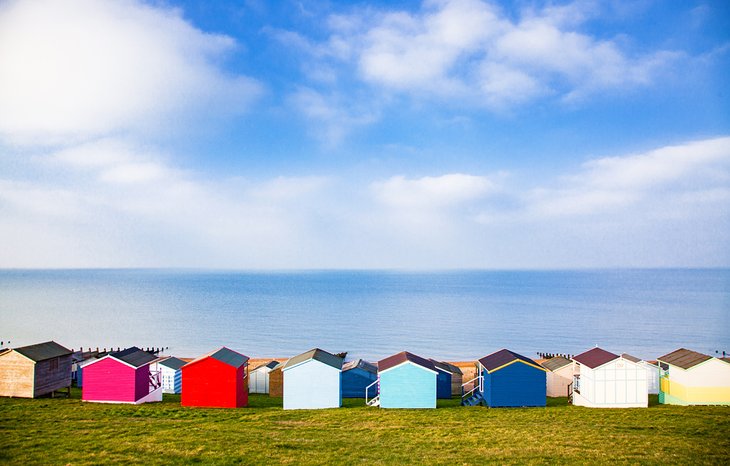 Many of Kent's seaside towns and villages have managed to retain that unique charm that so appealed to the first day trippers in Victorian times.
One of the best known of these is Margate on the north coast. An easy one-hour train trip from London, Margate has re-invented itself after a slump and decline in the late 20th century, with once tacky attractions like Dreamland being reimagined as a retro theme park with vintage rides and amusements. Margate's beaches are also considered among the best in southern England.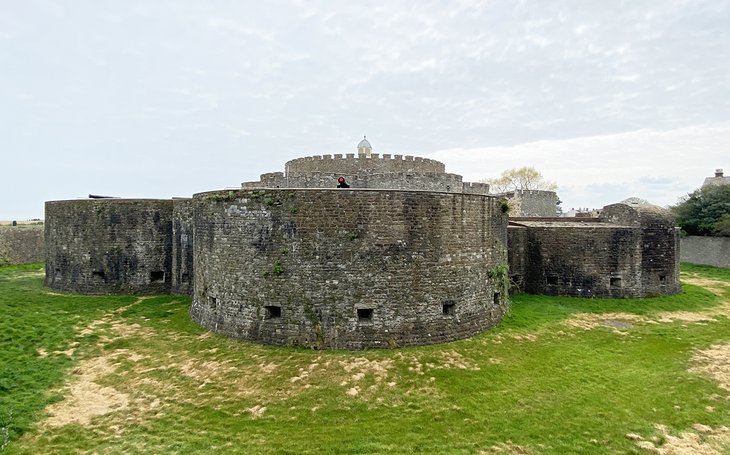 Other popular Kent destinations that continue to offer fun, authentic seaside experiences include Whitstable with its revitalized harbor area; Broadstairs, with its historic pier; and Deal, with its unique six-sided castle and historic Timeball Tower built to enable passing ships to gauge the time and tides.
10. Rochester Castle & Cathedral: Where Dickens Walked & Worked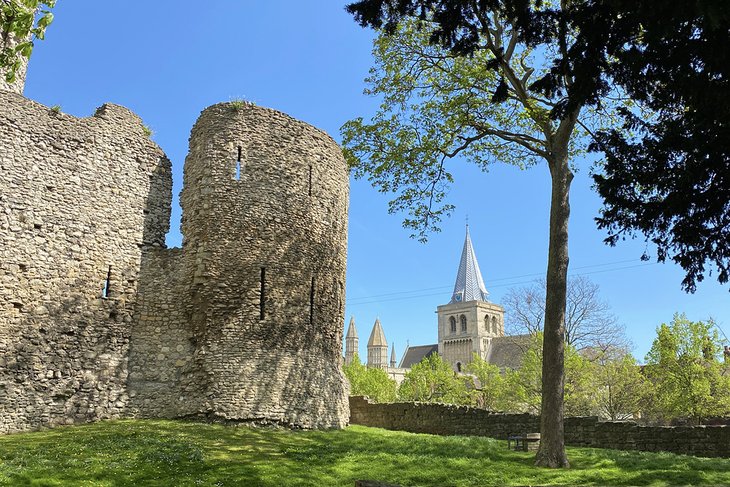 Famous for its connections to Charles Dickens, who lived and wrote in locations in Rochester and neighboring Chatham, the historic city of Rochester makes for an excellent day out. It's located on the banks of the River Medway, an easy commute from London. Most notable among its many attractions is Rochester Castle.
While much of the castle lay in ruins for centuries, the well-preserved shell of its 12th-century central keep continues to impress. Its well-maintained grounds are also pleasant to explore, and are used for a variety of fun events and festivals. Picnic facilities and a shop are also located on the premises.
Directly across the road stands the equally impressive Rochester Cathedral. While the cathedral is able to trace its roots as far as 604 CE, making it England's second oldest, much of what can be seen today was built in the 11th century. Numerous events and concerts are held here each year and are well worth attending.
Address: Castle Hill, Rochester, Kent
Official site: www.english-heritage.org.uk/visit/places/rochester-castle
11. Visit Folkestone Harbour Arm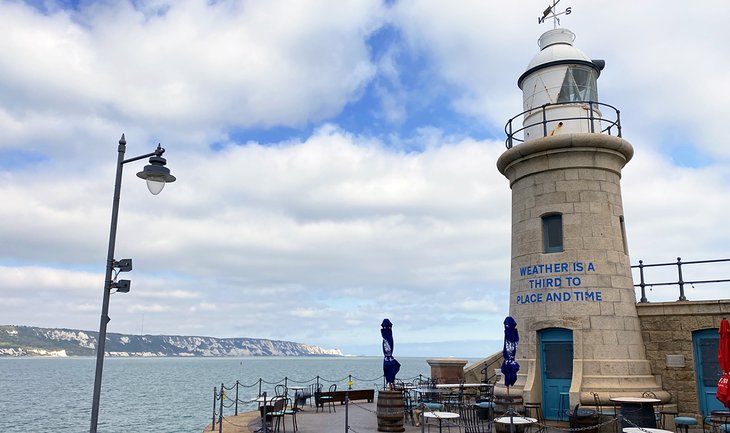 Once an important English port and ferry terminal, the town of Folkestone has reinvented itself as a leading place to visit in Kent. Central to this move has been the revitalization of Folkestone Harbour, including the historic Harbour Arm. Built in the 1800s for use by ferry services and fishing boats, it was largely unused in the late 20th century and entered a period of decline.
Town visionaries and developers, however, have transformed Folkestone Harbour Arm into a must-visit creative and cultural center. Where once trains unloaded passengers and cargo, the old railway station has been transformed into a mix of pedestrian walkway, concert venue, and sculpture garden. And where the ferries once docked, adjacent to the lighthouse, venue space and food vendors now thrive, providing refreshment and entertainment to concertgoers and visitors.
Other highlights of a visit include panoramic views across to Samphire Hoe and the White Cliffs of Dover, as well as a unique humanoid sculpture by Antony Gormley that disappears underwater at high tide.
Location: Folkestone Harbour, Folkestone, Kent
Official site: https://folkestoneharbourarm.co.uk
Map of Things to Do in Kent, England