10 Top-Rated Attractions & Things to Do in Folkestone
The Kentish seaside resort of Folkestone is a popular place to visit in England for its pleasant coastal setting and picturesque, revitalized harbor area.
Folkestone's development as an important holiday destination began in the mid-19th century with the building of the railroad from London. Consequently, much of the town's characteristic architecture dates mainly from Victorian times.
Fun things to see and do in Folkestone include spending time in seafront amusement arcades and pavilions, taking a refreshing stroll along the wide promenade and Harbour Arm, or dining in a restaurant or café in the town's trendy Creative Quarter.
And be sure to take a walk through the well-tended parkland extending along the coast. Some of the most popular walks include East Cliff and Warren Country Park, which offer fine views across to Dover's famous White Cliffs and even as far as France in clear weather.
Learn more about the best places to visit with our list of the top attractions and things to do in Folkestone, Kent.
1. Explore Folkestone Town Center & Creative Quarter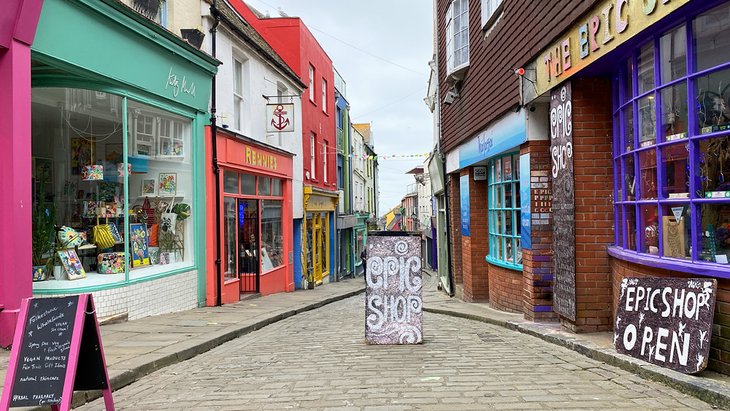 Folkestone is the quintessentially English coastal town. Here, day-trippers and weekenders can experience everything a trip to the seaside should entail: arcades, funfairs, pebble beaches, as well as pleasant promenades and a quaint fishing harbor.
Much of the old downtown core has been transformed into the trendy Creative Quarter. Consisting of narrow alleys, cobbled laneways, and well-preserved old merchant's shops and quarters, it's located just steps away from Folkestone Harbour and convenient parking.
Now populated by artist studios, boutique shops, and art galleries, it's fun to explore on foot, especially if you take your time. There are also many great cafés and restaurants worth visiting, some offering fresh caught local seafood.
Carry on past the Creative Quarter, and you'll find yourself in Folkestone Town Center, another great place to wander around, shop, or grab a bit to eat. Here, you'll also find the informative Folkestone Museum and Visitors Center, a must-visit attraction with displays related to the area's development.
Other town center highlights include bustling Market Square on Rendezvous Street, the Parish Church of St. Mary & St. Eanswythe, and the Roman Painted House. For an authentic dining experience, visit the historic Pullman restaurant for great sandwiches, cod and chips, or vegan dishes.
Address: Old High Street, Folkestone, Kent
Official site: www.creativequarterfolkestone.org.uk
2. Folkestone Harbour & Harbour Arm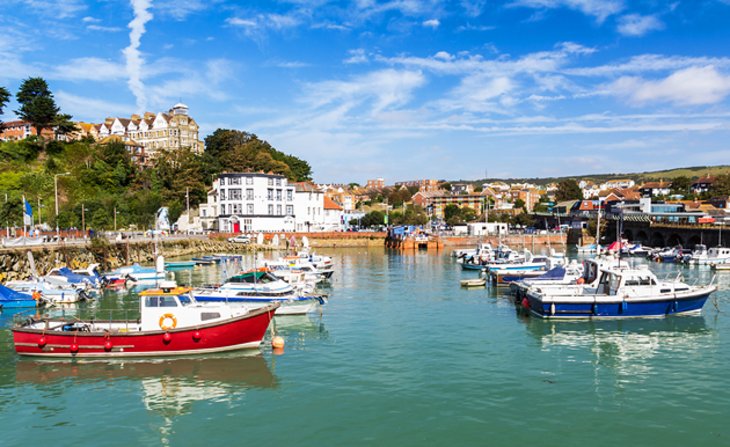 The superb Harbour Arm is another exciting redevelopment project in Folkestone. Built in the 1800s to protect the local fishing fleet and to provide mooring for the then newly established ferry service to Boulogne in France, it has been transformed in recent years into a must-visit tourist and entertainment attraction.
A highlight is the Harbour Arm's refurbished train station. Though no longer in operation, its gently curving platforms are now used as a promenade, with seating and sculptures now occupying the space once reserved for trains. It also now serves as a unique venue for concerts.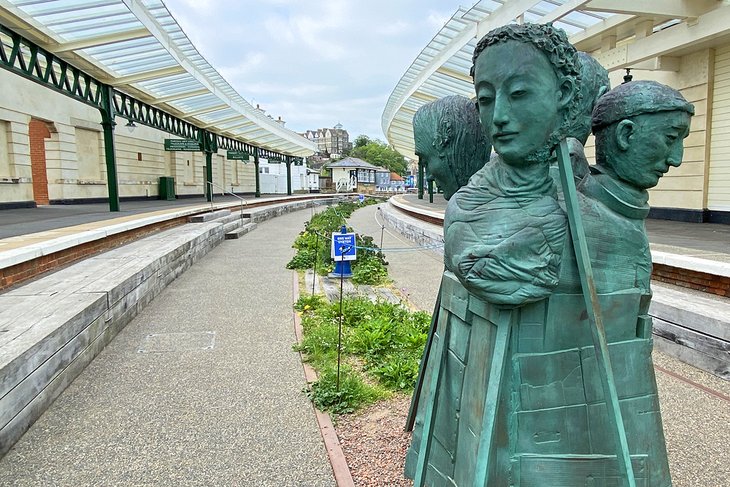 Perched at the end of the Arm is a small lighthouse, now serving as a restaurant and café, from which commanding views over the harbor and north to the White Cliffs of Dover can be enjoyed. Another highlight is a compelling statue by Antony Gormley entitled Another Time. At low tide, the figure can be viewed gazing outward toward the English Channel.
Other fun things to do around Harbor Arm include renting a bike and enjoying the cycle route, or pulling up a chair and admiring the fishing boat sheltering in the inner harbor.
Address: Harbour Approach Road, Folkestone, Kent
Official site: https://folkestoneharbourarm.co.uk
3. Take a Ride through the Channel Tunnel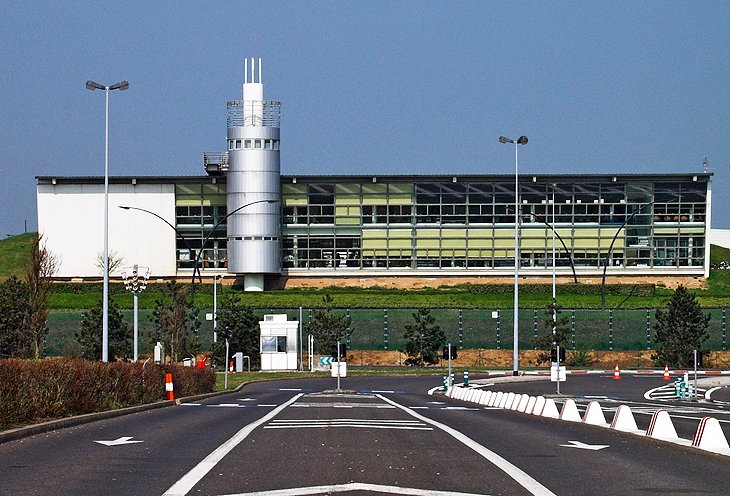 Nearly 250 years in the making – the first plans to establish a fixed link between Britain and the continent were made as early as 1751 – the super-fast Eurotunnel transportation service that uses the Channel Tunnel began operation in 1994. Today, this remarkable feat of engineering moves in excess of 11 million passengers a year between London and cities such as Paris and Brussels.
The tunnel (or "Chunnel") crosses under the English Channel between Calais and Folkestone and includes 31 miles of double-track in the main tunnels, plus extensive surface-level terminal facilities. In addition to its passenger services, Le Shuttle trains convey cars, coaches, and heavy goods vehicles.
A notable nearby landmark is the Folkestone White Horse. Continuing a centuries-long tradition that has seen similar giant artworks created on other chalk hills across England, this magnificent horse was created in 2003 and seems to literally leap out of the hillside overlooking the Channel Tunnel terminal.
Address: Ashford Road, Folkestone, Kent
Official site: www.eurotunnel.com/
4. The Folkestone Museum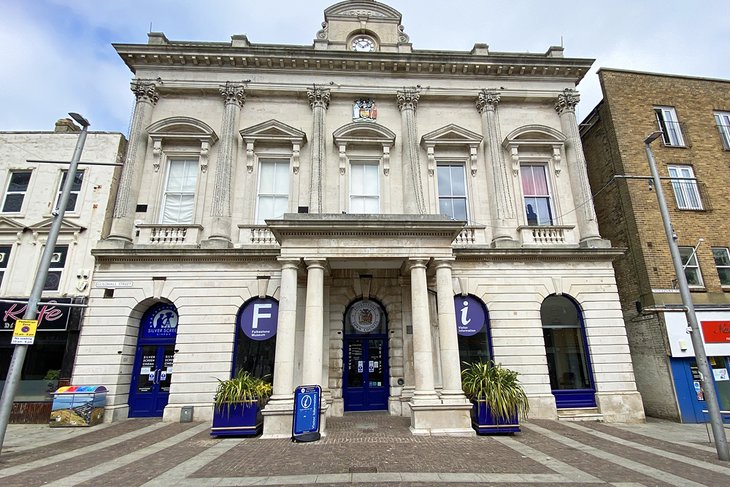 Centered around a collection of fossils that came into the town's hands in the late 19th century, the Folkestone Museum is well worth adding to your travel itinerary. Located in the historic Town Hall, the museum today features a variety of fascinating exhibits dealing with the town's history in addition to the fossils and a large collection of artifacts related to natural history.
Displays of period clothing and artwork tell the story, with a particular focus on its rise in popularity as a holiday resort in Victorian times. There's also a great collection of artifacts and materials related to the town's rich maritime heritage. This includes model vessels, items relating to fishing, as well as details of the problem of smuggling in the 1700s and 1800s.
The war years are also featured in the "Frontline" exhibit. A gift shop is located on the premises.
Address: 1-2 Guildhall Street, Folkestone, Kent
Official site: https://folkestonemuseum.co.uk
5. Visit the Church of St. Mary and St. Eanswythe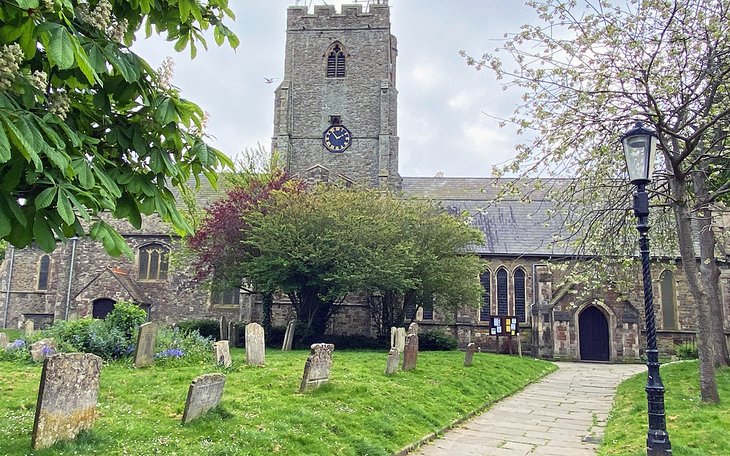 The Parish Church of St. Mary and St. Eanswythe should also be included in your Folkestone travel itinerary. Located on Church Street near Old High Street, parts of the church can be traced as far back as the 13th century.
Rebuilt in the 1800s, one of its most notable features is its unique central tower. It's also worth visiting for its stained-glass window showing William Harvey, who discovered the body's circulatory system and was born here in 1578.
Also worth noting is the church's reliquary. Discovered buried in a wall during renovations in the late 19th century, the bones it contained were later proven to be the remains of St. Eanswythe, who died in the 7th century. You can see the spot where they were found, and since reinterred, marked by a small brass door and grille.
Group tours for between 10 and 20 people can be arranged.
Address: Church Street, Folkestone, Kent
Official site: https://stmaryandsteanswythe.org
6. Pay Your Respects at the Battle of Britain Memorial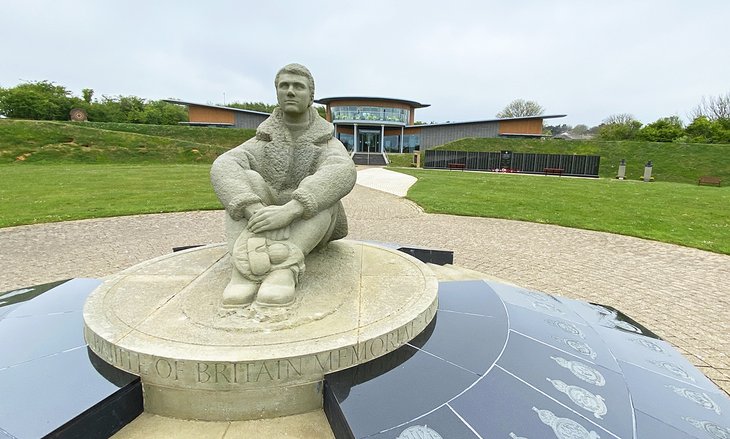 The Battle of Britain Memorial, formerly known as the National Memorial to the Few, is located at Capel-le-Ferne. Maintained by the Battle of Britain Memorial Trust, this striking monument is dedicated to Churchill's famous "Few," the pilots who fought in the skies above this part of England to keep the country free from invasion.
The memorial itself includes the names of the 3,000 men who flew, fought, and died in what is widely considered Britain's most crucial battle of the 20th century.
Address: New Dover Road, Capel-le-Ferne, Folkestone, Kent
Official site: www.battleofbritainmemorial.org
7. All Aboard the Romney, Hythe & Dymchurch Railway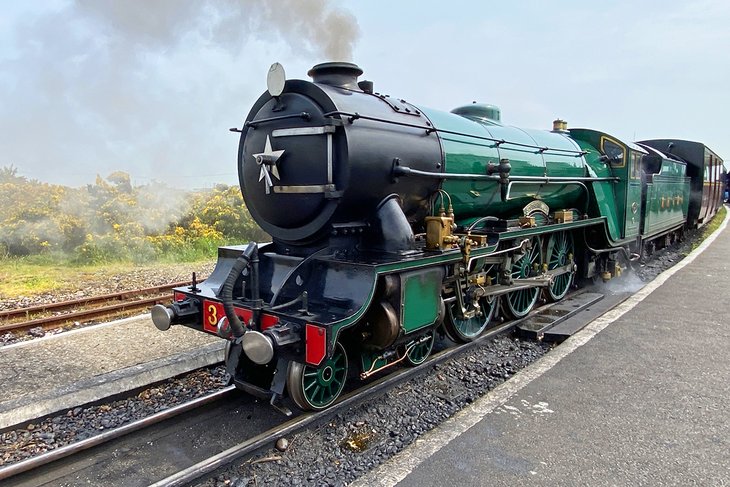 The Romney, Hythe & Dymchurch Railway (RH&DR), nicknamed the "world's biggest smallest railway," runs on tracks just 15 inches apart and is set against a backdrop of some of Kent's most picturesque countryside.
Consisting of the world's largest collection of 1/3-scale steam locos, this remarkable, fully functioning railway operates along 13.5 miles of track stretching across Romney Marsh from Hythe all the way to Dungeness, a National Nature Reserve. You can actually make a stop at this unique destination, which consists of one of the world's largest expanses of shingle and is also home to the Old Lighthouse, opened in 1904.
Built in the 1920s and famously opened by Laurel and Hardy, the RH&DR saw action during WWII, both as an armored train and as part of the oil-pipeline network for D-Day. These days, a return trip takes just over an hour, though you'll want to break up your journey by stopping at one or more of the railway's six stations in order to visit the nearby beaches, amusement arcades, shops, nature walks, and cycling paths.
Check the RH&DR's website for the year-round operating schedule, as well as for news of fun themed events, charters, and programs such as learning to drive a steam engine.
Location: New Romney Station, New Romney, Kent
Official site: www.rhdr.org.uk
8. Leas Cliff and Lower Leas Coastal Park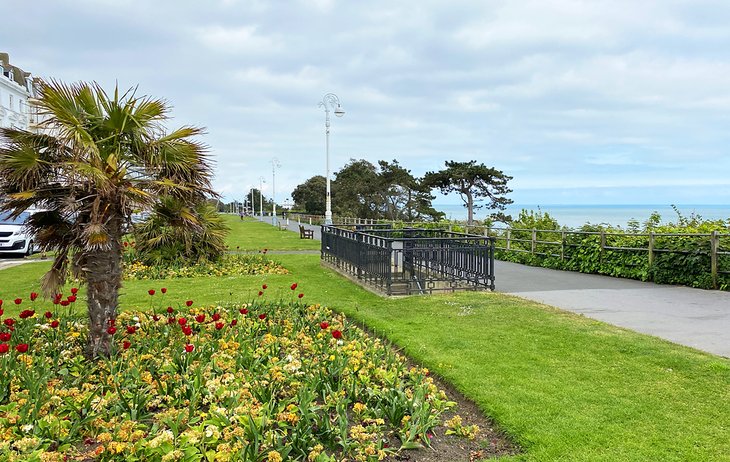 The real historic gem of Folkestone is the elegant residential area known as The Leas, with its attractive squares and gardens dating from 1843. Here, you'll find amazing cliff views over the English Channel, lovingly attended gardens with bench seating, and the popular Leas Cliff Hall entertainment venue.
It's also where you'll find the Lower Leas Coastal Park, split into three recreational zones. Beginning at Leas Lift, the town's 125-year-old funicular railway, the formal zone consists of attractive pine avenues, gardens, and flowers that bloom year-round.
Other highlights include the fun zone, home to one of the largest free adventure play areas in England, as well as a popular amphitheater. Finally, the park's wild zone is dedicated to conservation and local wildlife. Picnic spots and a café are located within the park.
Address: Lower Sandgate Road, Folkestone, Kent
9. Take a Trip to Sandgate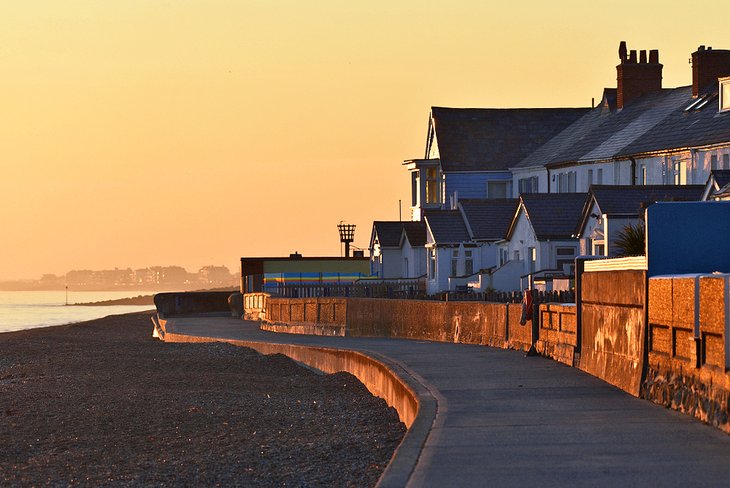 A short journey south of Folkestone, the charming coastal village of Sandgate is a great side trip for sightseeing thanks to its beaches and wonderful views of the English Channel.
The village High Street is a fun place for shoppping. It's famous for its antiques and collectables, plus has a wonderful selection of small independent shops and restaurants, including traditional fish and chips.
Sandgate also has a rich history and was once a hangout for smugglers. It also faced the threat of invasion twice: once during Napoleonic times and again in WWII.
Address: High Street, Sandgate, Kent
Official site: www.sandgate-kent.org.uk
10. Tour the Kent Battle of Britain Museum
The Kent Battle of Britain Museum is set in an old armory in nearby Hawkinge and features the RAF Room, the Luftwaffe Room, the Aircraft Armaments Room, and an art gallery. Said to house the world's largest collection of Battle of Britain artifacts, the museum in fact houses items collected from more than 700 crash sites across the country.
A number of highly informative displays have been set up, complete with maps, documents, photos, and artifacts from fighting aircraft that crashed in the area. A café is located on-site.
Address: Aerodrome Road, Hawkinge, Kent
Official site: www.kbobm.org
Map of Attractions & Things to Do in Folkestone