14 Best Beaches in Kent, England
Known as "The Garden of England" for its pretty countryside and picturesque villages, Kent could just as well have been given a nickname for its plentiful beaches.
Kent is England's most southeasterly county, and a drive along its lovely coastline seems to reveal a beach at almost every turn. Stretching 350 miles from the mouth of the River Thames all the way to Dungeness in the south, the Kent coast boasts over 50 great beaches that draw visitors from across the southern counties and London, England's capital city.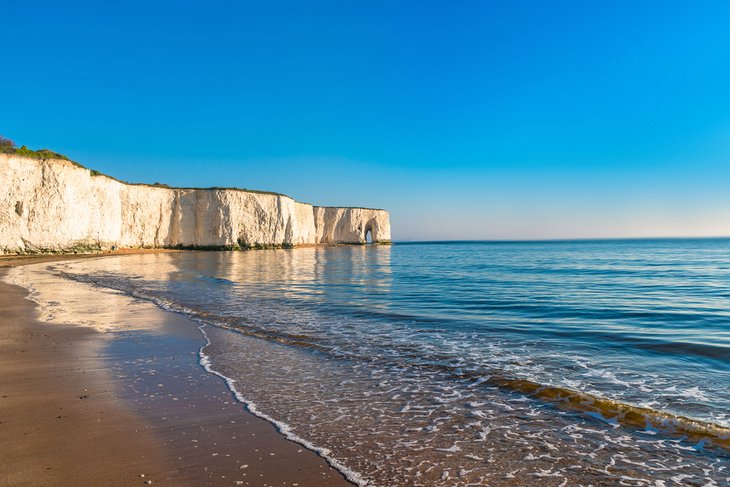 Along the way, you'll find everything from family-friendly, harborside sand beaches like Margate Main Beach, located just steps away from theme parks, arcades, and great seafood restaurants, to remote, crowd-free bays lined with shingle beaches that are popular with serious swimmers and surfers.
A word to the wise: as an island nation, England's beaches are often partially (or sometimes completely) submerged during high tide. To help you plan your beach visit, check Kent tide times before you go.
Whatever your vacation preferences, you're guaranteed to find the perfect beach to suit your needs on our list of the best beaches in Kent, England.
1. Botany Bay Beach, Broadstairs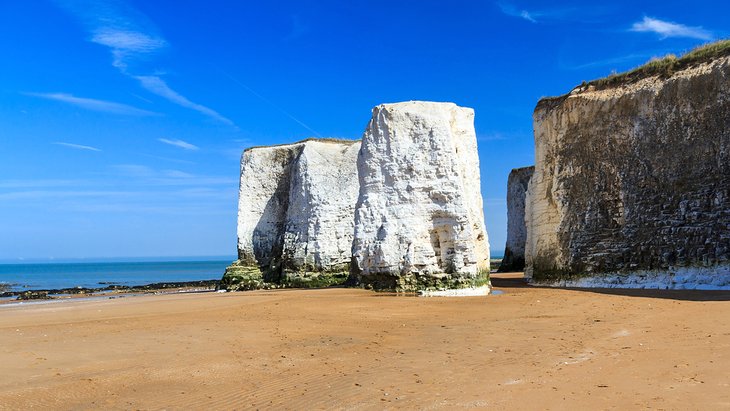 One of England's most popular Blue Flag beaches, Botany Bay Beach is located on the northeast coast of Kent and has much to offer beachgoers. Just over an hour's drive or train-ride from London, it's the most northerly of a string of seven pretty bays in Broadstairs.
Not only does it boast a number of lovely chalk cliffs and unique coastal features, such as a sea stack, it also offers one of the best stretches of sandy beach in Kent. Popular things to do here include safe swimming under the watchful eye of lifeguards during peak seasons, sea kayaking, canoeing, paddleboarding, and even surfing.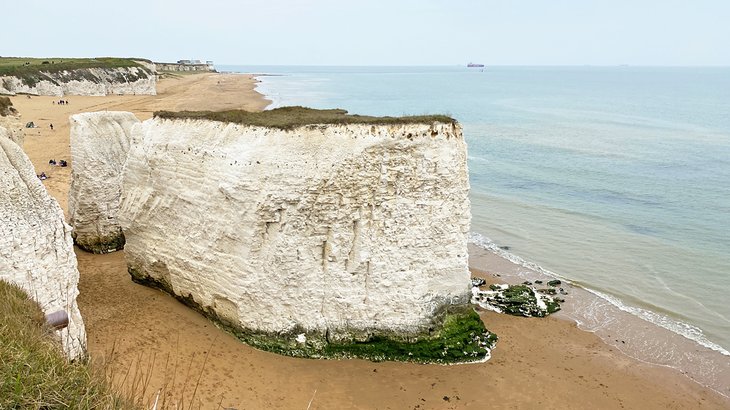 Botany Bay is so pretty, in fact, that you may even recognize it from films, TV shows, and even music videos. Parking can be tight, so arrive early if you can, and a café sells snacks and drinks. Deck chair rentals are also available, and the beach is dog-free during the summer months.
Address: Marine Drive, Cliftonville, Broadstairs, Kent
2. Tankerton Beach, Whitstable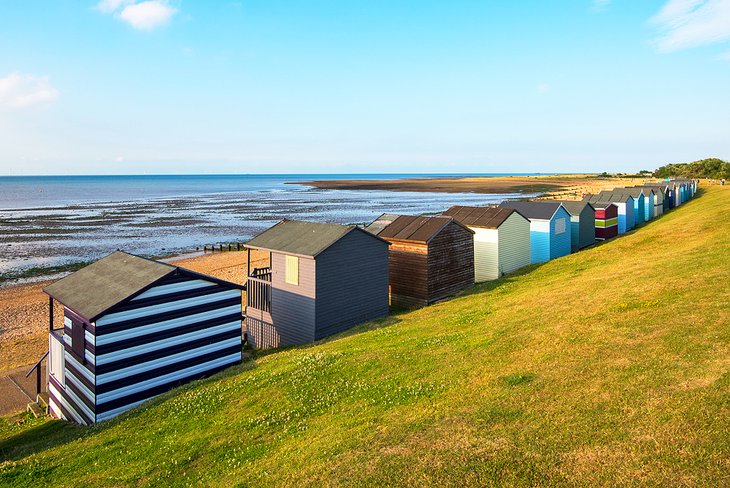 An easy 30-minute pilgrimage from the popular cathedral city of Canterbury, Tankerton Beach in Whitstable offers a quintessential English seaside experience. Often first viewed from one of the many benches atop Tankerton Slopes, this long shingle beach is lined with a pleasant promenade and brightly painted change huts, which can be rented for a small charge.
While some of the beach is accessible at high tide, you'll want to wait for the tide to recede before setting up your deck chair or laying out your towel. In addition to a good, clean swimming area, Tankerton beach is fun for families wanting two explore local marine life in the rockpools revealed at low tide.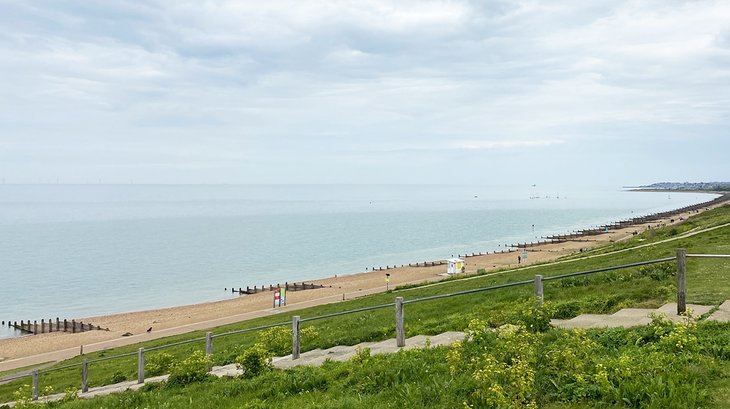 An interesting feature unique to Tankerton is "The Street," a long stretch of causeway that's only revealed at low tide and which stretches out to sea. Sailing is also popular here, as are water-based activities like kayaking. Other facilities include washrooms, a café, picnic areas, and a skatepark.
Read More: Best Beaches in Whitstable, Kent
3. Joss Bay Beach, Broadstairs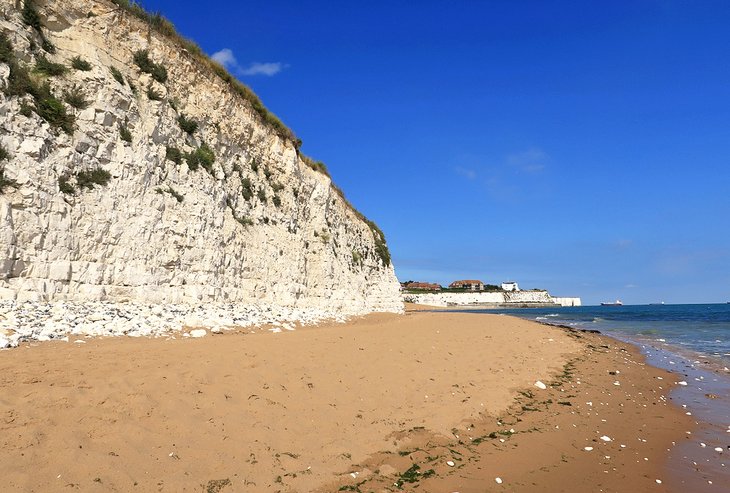 Joss Bay is another great beach for visitors to explore when visiting either Margate or Broadstairs (it's located between these two Kentish towns). Featuring a 200-meter-long stretch of sandy shoreline, the beach here offers a sheltered refuge that's surrounded by those pretty white cliffs that Southeast England is so well-known for.
Named after a notorious local smuggler from the 1700s who reportedly was never captured, the beach at Joss Bay is popular with families and adventurers alike. It offers great sea swimming along with some of the best surfing in England.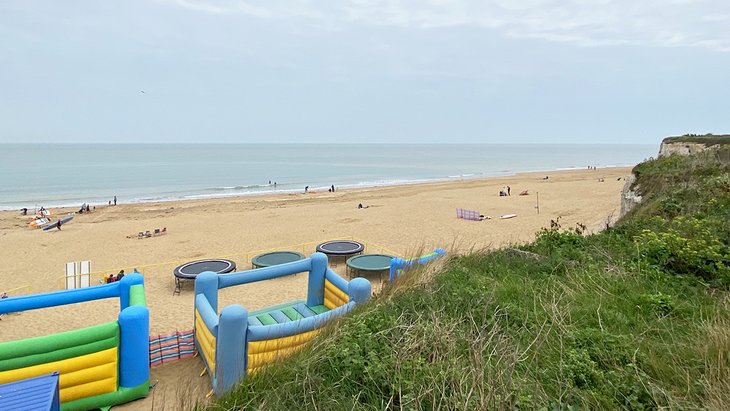 Facilities include beach chair rentals, a café, a kids' play area, ample parking, and a surf school. A golf course is also located nearby. Dogs are not permitted in the peak summer season.
4. Margate Main Sands, Margate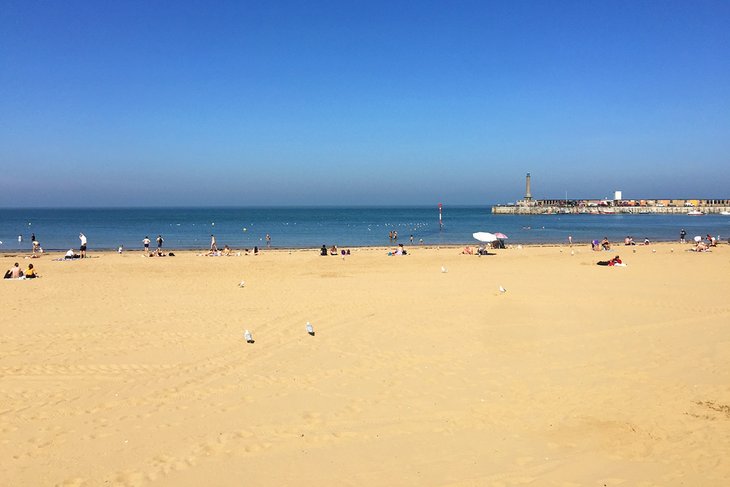 Margate has for many decades had a reputation as one of Kent's most popular seaside holiday destinations and has undergone something of a renaissance in recent years.
While its beach, Margate Main Sands, is still lined with arcades and souvenir shops, major attractions, such as the Dreamland theme park, have been renovated and updated to reflect modern tastes. So, too, has the beach area, which as well as catering to the traditional family beach vacation crowd, now also offers a broad array of activities to lure a younger and more adventurous audience.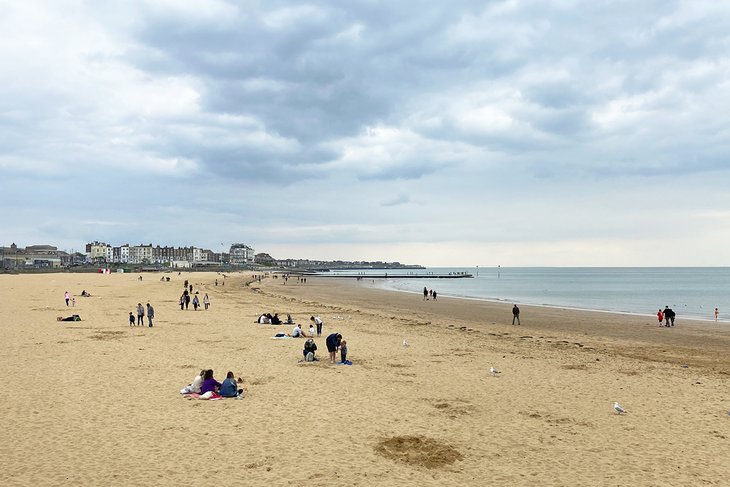 Topping this list are water-based activities such as surfing and kayaking, as well as fun cruises out into the Thames Estuary and English Channel to spot dolphins. Swimming is, of course, popular, and the harbor is nice to wander around, too. Best of all, unlike many other beaches in Kent, a large portion of this one remains above water when the tide rolls in.
Address: Marine Terrace, Margate, Kent
Read More: Top-Rated Things to Do in Margate, Kent
5. Dungeness Beach, Romney Marsh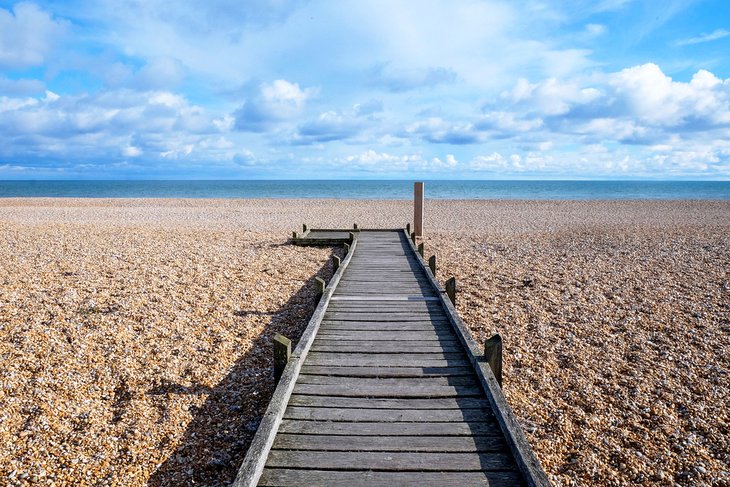 Long, wide Dungeness Beach is not only a great spot for sunbathers, it's also unique in Kent in that it's an important nature reserve. Tucked away at the southeastern-most corner of the county, the beach has vast quantities of shingle deposited here over millennia, which protect much of Romney Marsh behind it, an area of low-lying marshland that's home to a diverse array of flora and fauna.
Don't let Dungeness's rather austere appearance put you off. Its almost surreal, desert-like appearance shouldn't detract from the fun you can have sunbathing and relaxing; swimming; or even getting in some sea fishing for bass or mackerel, to name but a few species to be caught here.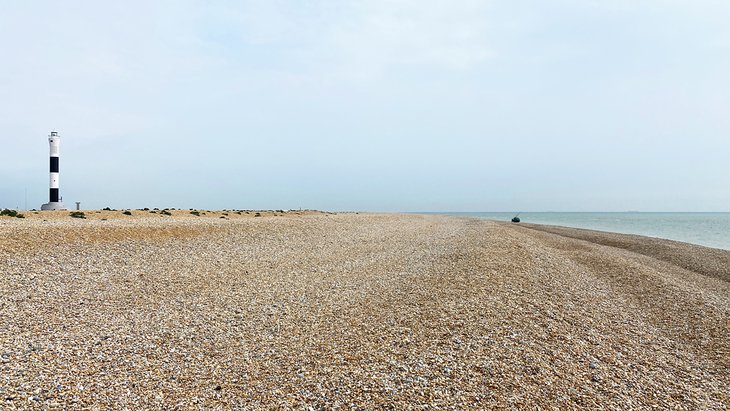 There are also a few interesting attractions to see, including no less than two lighthouses, and a number of much-photographed cottages. One of them, Prospect Cottage, is famous for its driftwood garden and for being the former home of movie director Derek Jarman.
6. Dymchurch Beach, Romney Marsh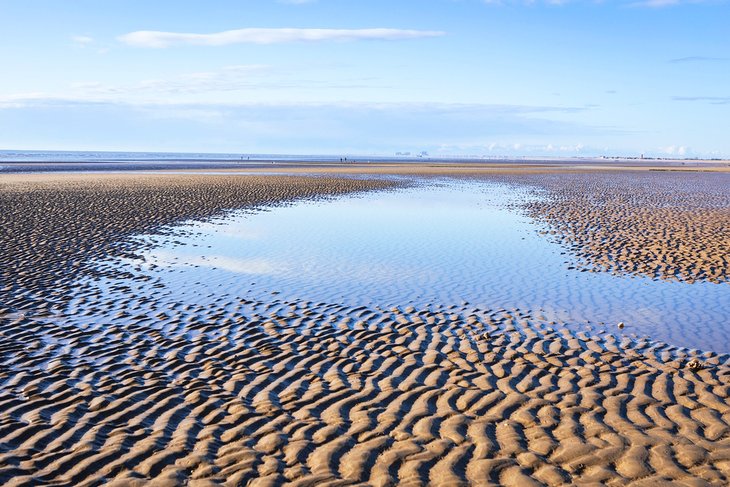 Lovely Dymchurch boasts one of the longest stretches of sand in the Southeast of England. Sretching for some three miles along the Kentish coast between Hythe and St. Mary's Bay, Dymchurch Beach has long been a favorite for families, drawn for the shallow-entry water and sand that's perfect for the kids to play in.
One of the smaller, less built-up coastal towns in Kent, Dymchurch recently benefitted from improvements to its sea walls, resulting in the addition of a lovely new promenade that's fun to stroll when the tide is in.
An enjoyable diversion for the kids, the Romney Hythe & Dymchurch Railway, billed as the "world's 'biggest' smallest railway," operates narrow-gauge trains along this stretch of coast, linking Hythe to Dungeness. You can alight at the station in Dymchurch to take advantage of some time on the beach.
7. Deal Castle Beach, Deal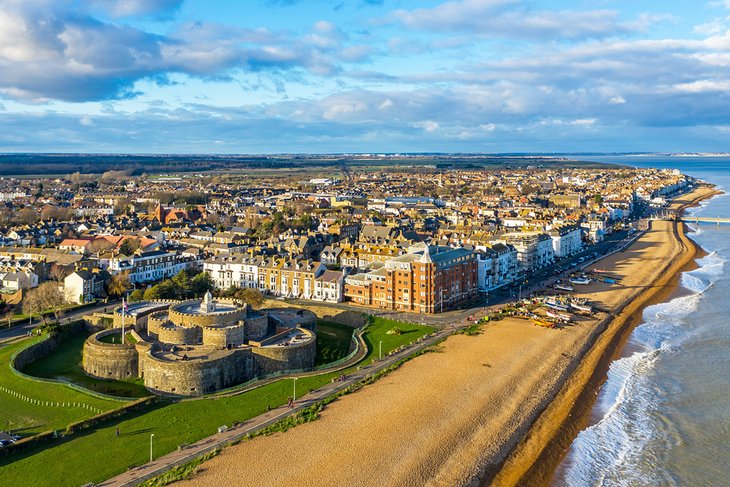 Deal is another Kent destination that offers not just a great beach, but other fun things to do as well. Located midway between the major port city of Dover to the south and Ramsgate to the north, this pebble beach is split in two by Deal Pier, a simple affair built in the 1950s that's popular for fishing and its views back over the seafront.
Deal Castle Beach is, as its name suggests, also where you'll find one of Kent's more unusual fortresses. Built in 1540 to guard the coast against French invasion, it consists of six bastions, and provides what's undoubtedly one of the most interesting backdrops of any beach in England.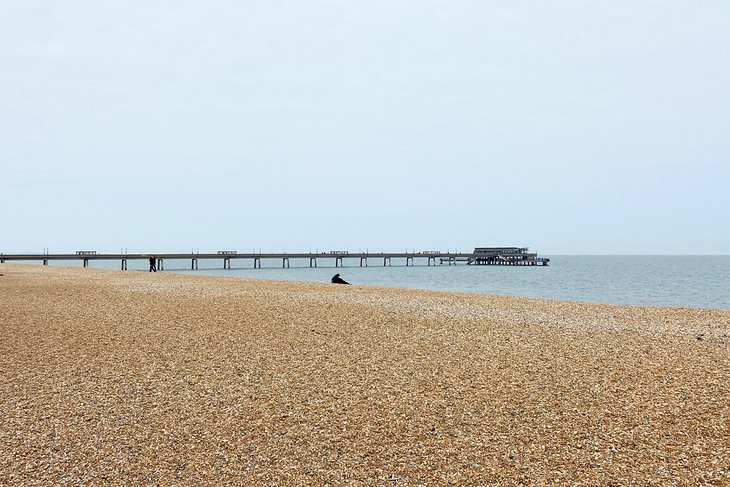 Other notable attractions within sight of the beach include a pleasant promenade; a small fleet of working fishing boats and the winches used to pull them out of the water; and the famous Deal Timeball, a tower built to indicate the correct time to passing ships.
8. Stone Bay Beach, Broadstairs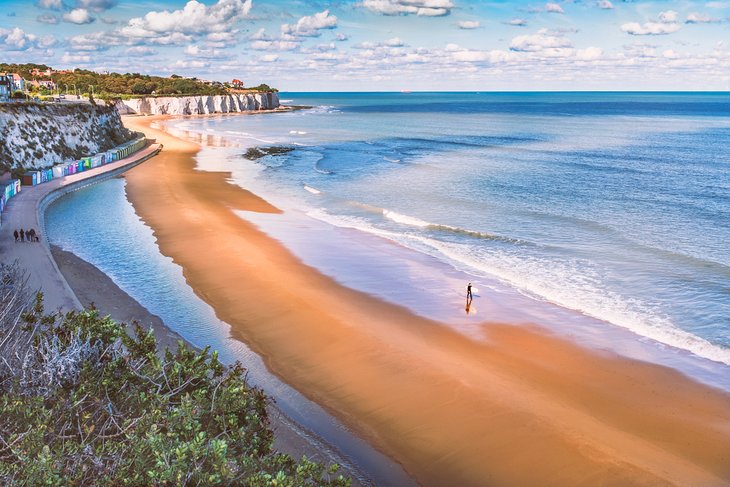 Another Broadstairs gem, Stone Bay is one of the town's quieter sandy beaches. It's a great choice for families for its proximity to the amusement arcades, shops, and dining options in town, all an easy stroll away along the promenade.
This beach was awarded Blue Flag status for the quality of its water. Lifeguards are present during the summer months and holiday weekends. If you're spending the whole day here, consider renting one of the handy beachfront chalets.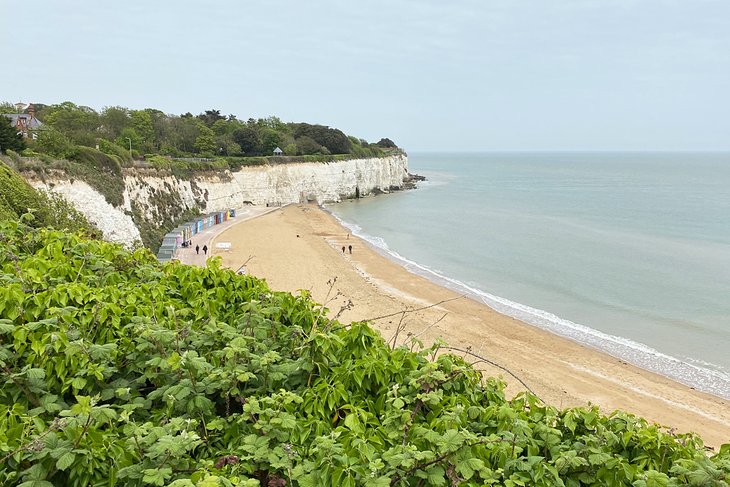 In addition to great swimming, kids will enjoy exploring the many rock pools revealed at low tide, with an opportunity for some crabbing (be sure to encourage your kids to put them back!). Easy access to the beach is provided for those with mobility issues.
9. Folkestone Beach, Folkestone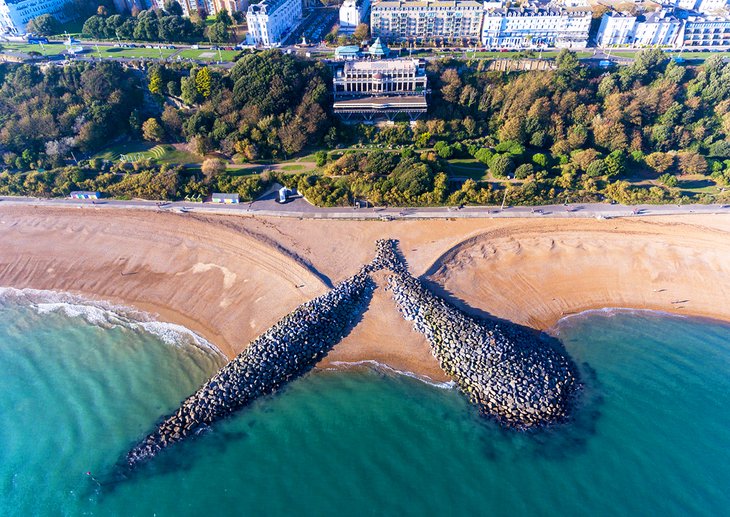 The coastal town of Folkestone has long been a favorite for holidaymakers. Once a busy port that rivaled nearby Dover for cross-channel ferry traffic, the town is now focusing on providing day trippers and weekenders with an authentic and first-rate English seaside experience.
The star of Folkestone's many things to do is its centrally located main beach. Easily accessible from the boutique shops and dining options located in downtown Folkestone, including the vibrant Creative Quarter, this pebble beach is also just steps away from the renovated Folkestone Harbor Arm. Repurposed as a major entertainment attraction, it's here you'll find everything from great coffee and sweet treats to savory meals available from thee resident food vendors.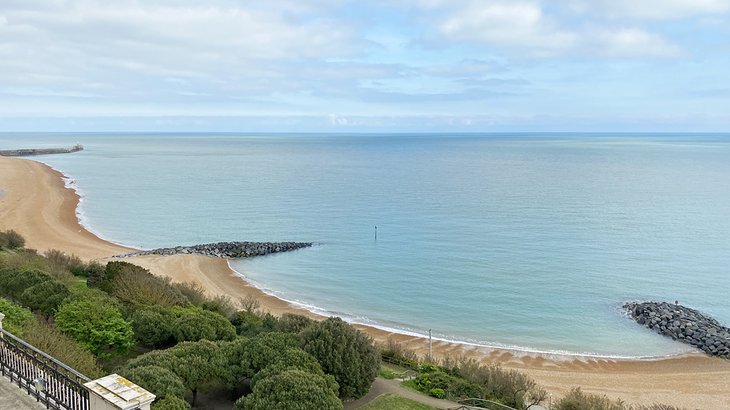 To the south of the main beach is Lower Leas Coastal Park, a great place to visit for picnics or a stroll when you're done playing in the water.
10. Kingsgate Bay Beach, Broadstairs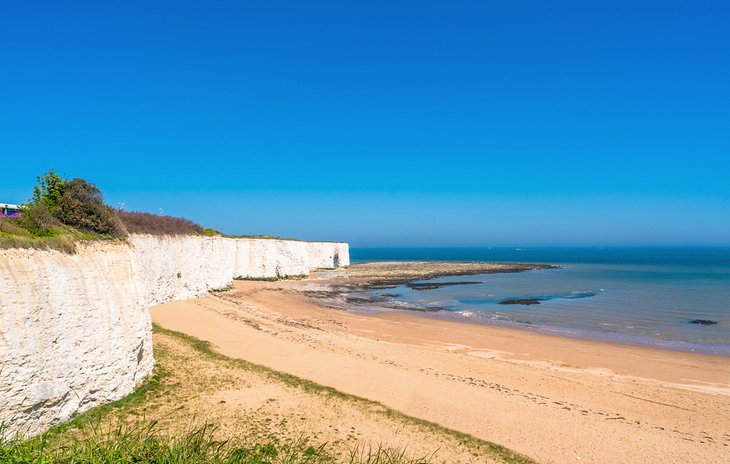 Protected by a sheltered cove, Kingsgate Bay Beach boasts a lovely sand beach in a picture-perfect setting. Surrounded by tall chalk cliffs, the area is popular among cavers for the many sea caves dotted about.
It's also one of the quieter beaches in Kent, largely due to the fact there are no lifeguards on duty, and that it's a short drive outside Broadstairs, and parking is limited. If you do plan on visiting Kingsgate Bay, arrive early, and check the high tide times.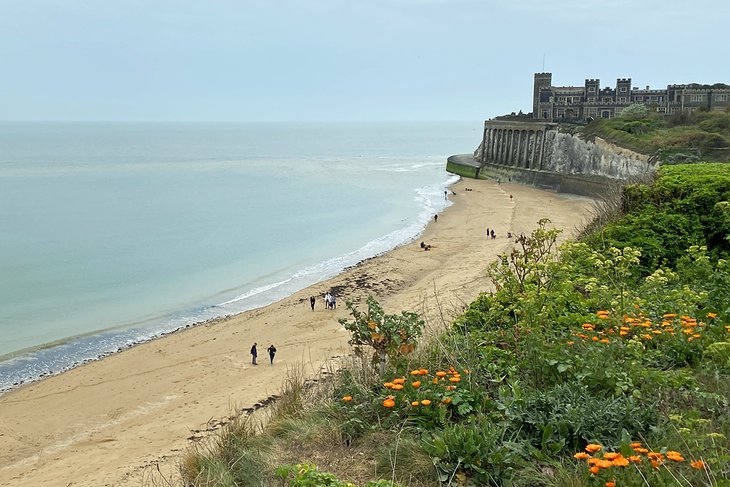 That said, even if the tide's in, you can pass the time waiting for it to retreat by admiring the views of 18th-century Kingsgate Castle at the south end of the beach. There's also a restaurant at the north end that offers superb views over the beach below.
Address: Kingsgate Bay Road, Broadstairs, Kent
11. Ramsgate Main Sands, Ramsgate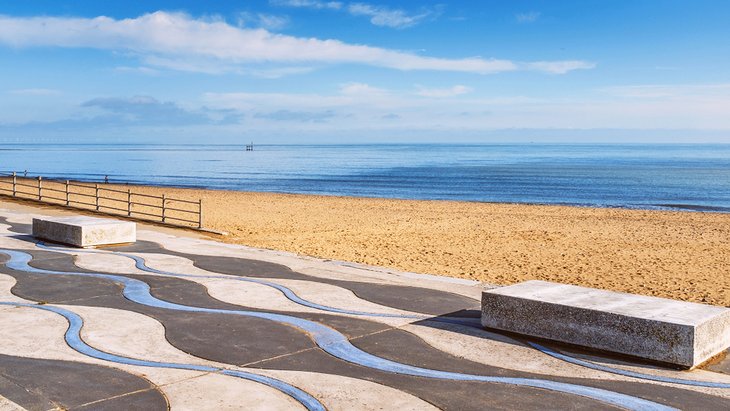 Ramsgate Main Sands is another popular beach for those who admire Kent's quintessential white cliffs. Sheltered by tall chalk cliffs, it's one of the east coast's best sandy beaches and is perfect for those traveling with children for its gentle access and clean water. Other notable activities include fishing, jet-skiing, windsurfing, and sailing.
There are also plenty of fun things for kids to do when they're done building sandcastles and splashing about in the water, and the attractive Royal Harbour with its marina is just steps away and offers drinks, snacks, and ice cream for hungry youngsters.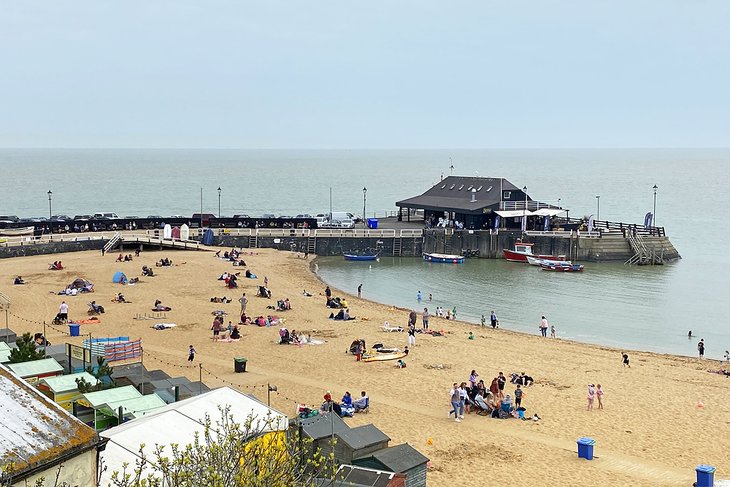 Lifeguards are on duty during the busy summer season and bank holidays, while dogs are permitted during the winter and shoulder seasons. Deck chairs are available to rent.
12. St. Margaret's Bay Beach, Dover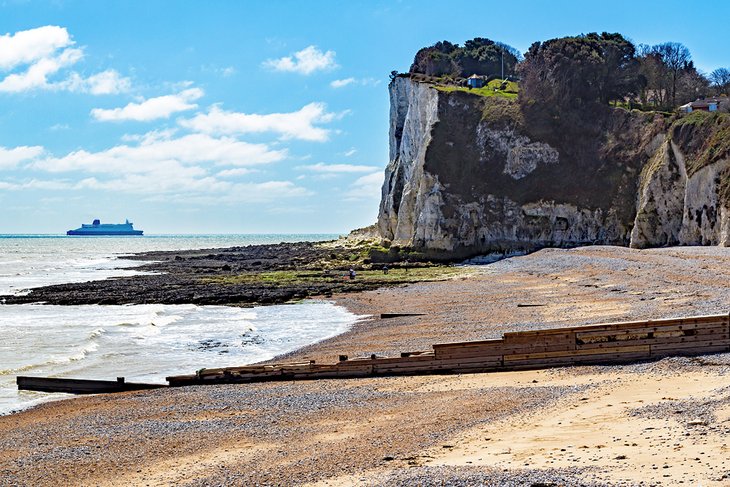 Famous for its stunning coastal setting, St. Margaret's Bay Beach near Dover is well worth a visit even if swimming isn't your thing. Featuring tall, white chalk cliffs, this pretty coastal town boasts great views, not just of the shoreline but, on a clear day, across the English Channel all the way to France.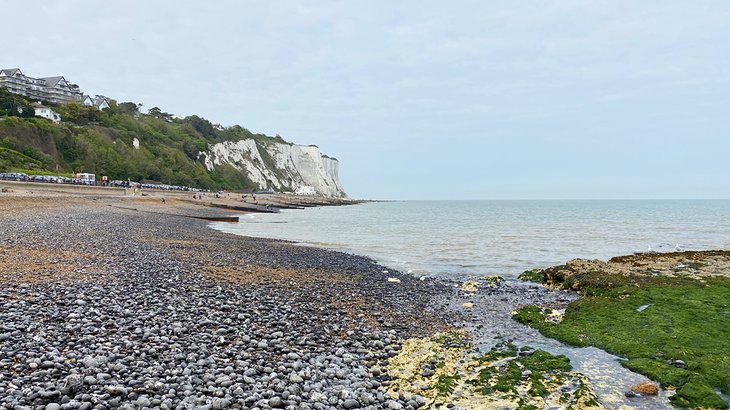 Kids in particular love the shingle beach when the tide goes out and reveals a world of rock pools just waiting to be explored. While the steep drive down to the beach takes a little getting used to, you'll be glad you did it once you get there.
St. Margaret's Bay is also popular for its fishing, as well as its scenic promenade.
13. Minnis Bay Beach, Birchington-on-Sea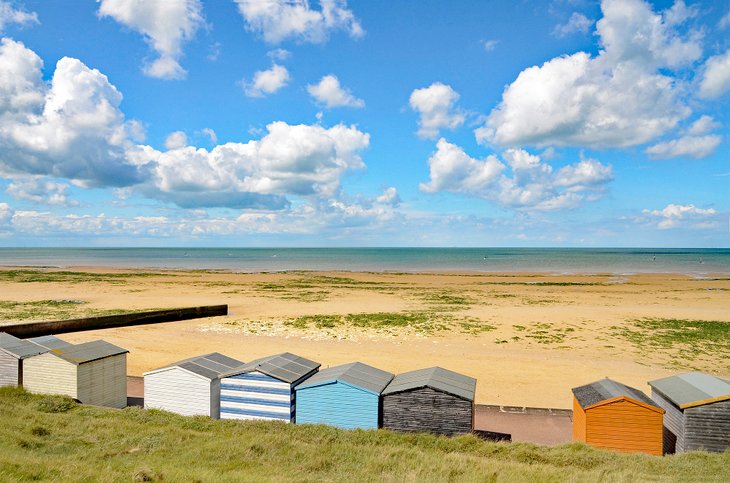 Just a short drive from the towns of Herne Bay and Margate, Minnis Bay Beach is one of Kent's longer sand beaches. A gently sloping shoreline and clean water makes this Blue Flag beach perfect for families with younger children and toddlers; they'll be eager to explore the nearby sand dunes, paddling pool, and playground.
Older kids can also have fun. Water-based activities include kayaking, paddleboarding, windsurfing, fishing, and sailing. There's also plenty of room for a fun game of beach volleyball. A lifeguard service is provided.
14. Broadstairs Main Beach – Viking Bay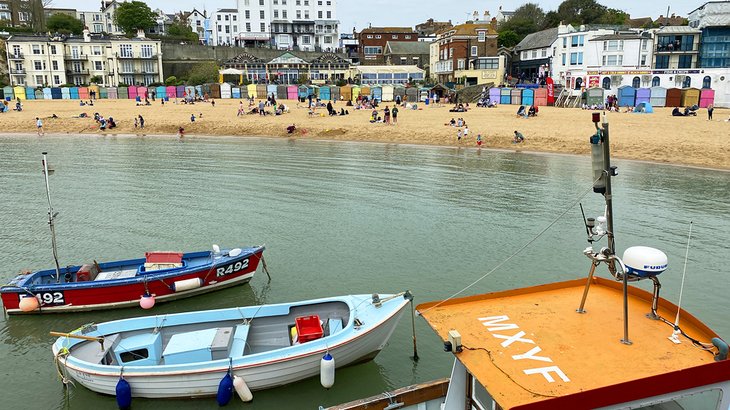 Viking Bay is where you'll find Broadstairs Main Beach. Given its idyllic seaside setting and proximity to amenities and attractions, it does get busy, so an early arrival is recommended if you plan on claiming a spot on the sand. It's a good safe beach for families, with on-site lifeguards in peak seasons.
There are plenty of fun things to do both on the beach and around its perimeter. Surfing and swimming top most lists, but there's also a pleasant promenade with access to arcades, souvenir shops, and restaurants. A number of kiosks selling fresh seafood are dotted around the picturesque harbor, with the fishing boats that caught them not more than a few feet away.
Map of Beaches in Kent, England