9 Best Beaches in Hastings, East Sussex
While not quite as well known as other English beach destinations such as the Sussex seaside towns of Brighton and Eastbourne, Hastings is certainly on the up-and-up.
Famous as the place where the Normans landed and took over the English throne in 1066, the town has, in recent years, undergone something of a renaissance. The fact that Hastings has one of the longest stretches of beach on the south coast certainly helps.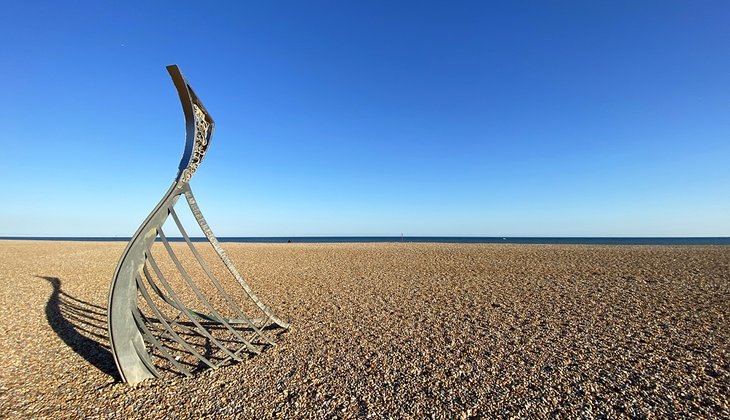 Though beaches in Hastings are mostly pebble, there are sandy sections at low tide, and they are also wide and never as crowded during holidays and peak seasons as most other Sussex beaches.
This makes them not only a great place for families needing space for the kids to play, but also for water sports enthusiasts wanting to indulge their passions.
To learn more about these and other fun things to do in this historic seaside town, be sure to read through our list of the top beaches in Hastings, East Sussex.
1. Hastings Beach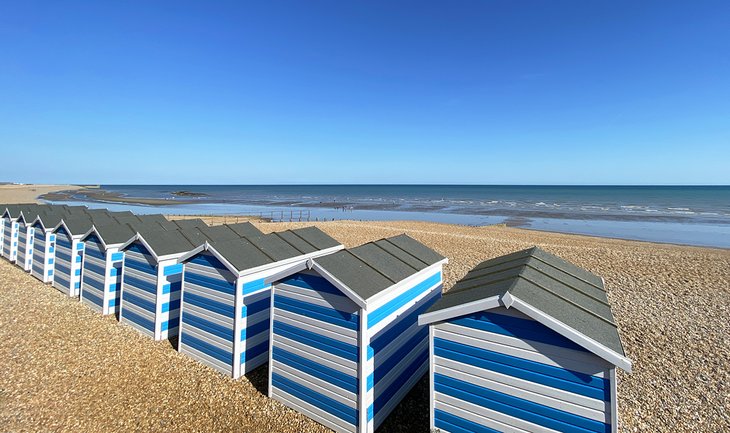 An easy 10-minute walk away from Hastings' main train station, Hastings Beach is an excellent place for beachgoers to set up their deck chairs.
Located between Warrior Square and Pelham Place, this stretch of pebble beach nearly doubles in size when the tide is out. In fact, low tide's a good time for a visit, as the receding waters reveal hard-packed sand that's good to walk on as well as a number of rockpools that are also fun to explore.
Considered the town's main beach, Hastings Beach benefits not just from clean water, but also from lifeguard services during the peak months of summer. Families also appreciate the fact that the beach is cleaned regularly, ensuring a safe environment for kids.
Those interested in water sports can also make use of rental facilities such as Epic Life Hastings, which rents paddleboards, as does Turtle Bay Paddleboard Lessons & Hire.
The beach is backed by a wide promenade that leads to neighboring St. Leonards-on-Sea on one side and the amusements and attractions of Pelham Place on the other.
In addition to facilities such as public washrooms and change facilities, the promenade is lined with a number of eateries and snack vendors, and provides access to Hastings Pier.
Location: Eversfield Place/Verulam Place, Hastings, East Sussex
2. St. Leonards-on-Sea Beach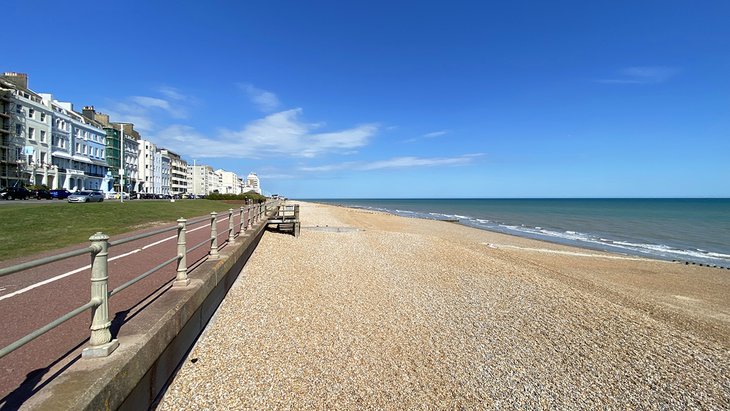 Located to the west of Hastings Pier and only a stroll away from the pier and other Hastings attractions, mile-long St. Leonards-on-Sea Beach is a great place to lay down your towel for some restful sunbathing.
Never as busy as Hastings' main beach, this shingle beach does show off a sandy side when the tide's out. Though hard-packed, these shallow sand flats are fun to splash around in, while the exposed rocks can also be explored.
In addition to plenty of on- and off-street parking, there are public washrooms in the Marina Pavilion, as well as nearby shops selling beach supplies and groceries. There are plentiful dining opportunities here, too, including Half Man! Half Burger! that offers great takeout food.
When you're done having fun on the beach, explore the lengthy promenade, as well as the old townhome-lined streets and parks that give the neighborhood a quite different feel to the rest of Hastings.
Location: Marina, St. Leonards-on-Sea, Hastings, East Sussex
3. Pelham Beach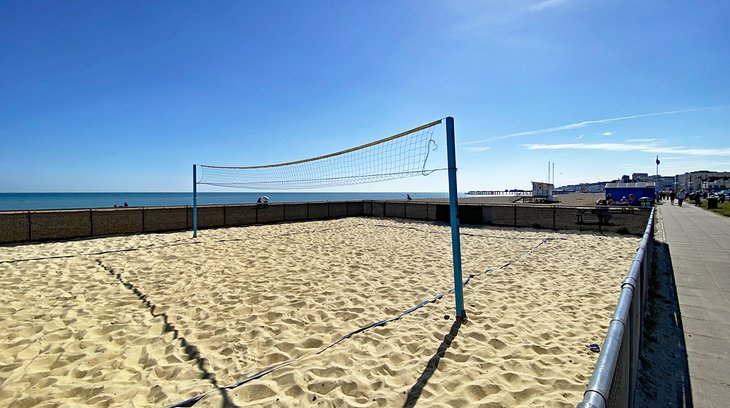 If you're traveling with kids or are simply looking for other fun things to do on and around the beach in Hastings, then head to Pelham Beach.
Set opposite Pelham Place, the beach here is, like the other Hastings beaches, predominantly shingle with hard-packed sand revealed at low tide. When the tide's out, though, the beach is wide with plenty of room to explore, and for those wanting to linger, deckchairs are available for rent.
Amenities are plentiful, with a large parking area adjacent the beach, along with public washrooms and lifeguard services provided during the summer months.
On-water activities include kayaking and windsurfing, and if younger kids want to have a boat of their own for a while, a small man-made lake offers swan-shaped pedal boats to cruise about in.
In addition to easy access to plenty of food options, there's little chance anyone will get bored when you factor in the off-beach fun. Hastings Miniature Golf boasts no less than three themed 18-hole courses, and is within a short walk of a Ferris Wheel, a go cart track, and trampolines.
Address: Pelham Place, Hastings, East Sussex
4. The Stade Beach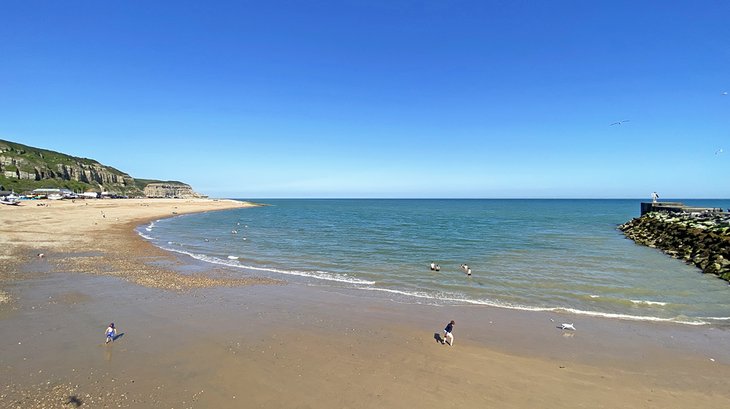 You can't miss The Stade Beach, a short walk from Pelham Beach. You'll know you're there when you see a series of deep ruts scratched into the pebbles, looking like something heavy's been dragged out of the water and across the beach.
These were made by fishing boats like the ones you see today, which have been dragged across Stade Beach, to and from the water, for well over a thousand years. Although modern techniques are used to do the hard work these days, it's no less impressive a sight.
Sheltered by a large breakwater on one side and a concrete groyne on the other, space on this small beach is somewhat limited due to the presence of so many fishing boats, as well as the car park. It is, however, generally quiet, and once the tide goes out there's an added stretch of hard-packed sand to enjoy.
In addition to exploring attractions such as the tall, black net drying huts The Stade is famous for, there's the Hastings Miniature Railway to ride, the Hastings Aquarium, the Shipwreck Museum, as well as a fascinating fishermen's museum.
Address: The Winch Road, Hastings, East Sussex
5. Rock-a-Nore Beach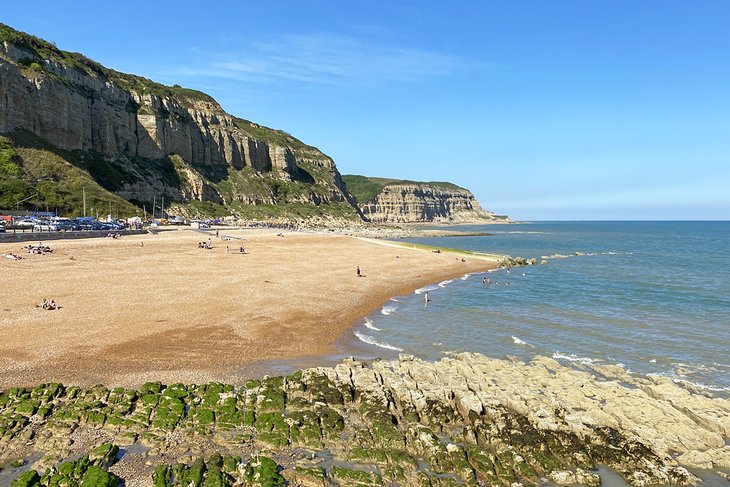 At the easternmost point of Hastings' seafront, next to The Stade, is Rock-a-Nore Beach. While it's the smallest of Hastings' beaches, it's the most sheltered, protected from winds by its cliff backdrop and the large concrete groynes at either end of the beach.
This sheltered setting makes it an ideal spot for both casual and serious swimmers alike, though no lifeguard services are provided.
Rock-a-Nore is a popular spot for paddleboarding and kayaking, and makes for a good spot to explore the dramatic cliff-faced coastline to the east of Hastings.
Unloading your equipment is easy if you do get parked here, with the beach just steps away. It's especially lovely here at sunset thanks to the uninterrupted views over the English Channel.
Paid parking is available, but given its location at the end of Rock-a-Nore Road, it can get busy, so you may want to use the larger car parks near Pelham Beach and cover the short distance on foot.
Other facilities, such as washrooms and food options, are also unavailable here, but are easy to get to in the neighboring The Stade and Pelham beaches.
Address: Rock-a-Nore Road, Hastings, East Sussex
6. Bulverhythe Beach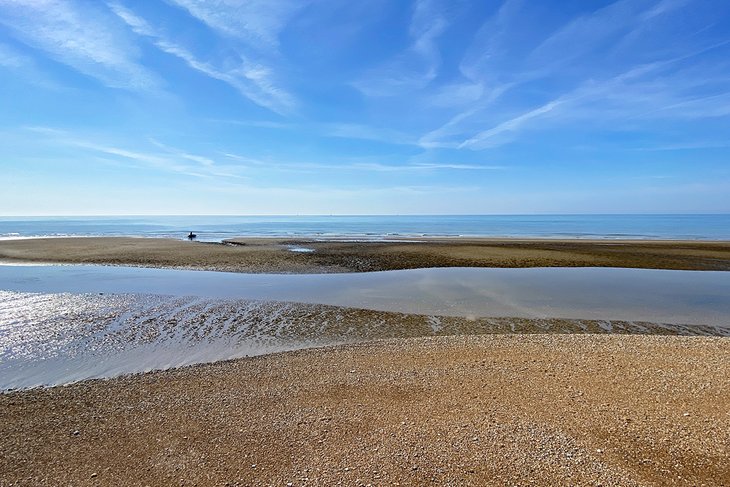 While you could make the one-mile trek to Bulverhythe Beach from St. Leonards-on-Sea Beach on foot or bike along the National Cycle Network trail, which follows the coast here, there's also plenty of parking at the beach for those who prefer to drive.
Although a continuation of the same wide shingle beach, Bulverhythe Beach is generally a lot less busy than the Hastings beaches to the east.
While off-beach amenities such as dining and shopping are only a short walk away, the distinct lack of the usual seaside attractions such as amusement arcades and souvenir shops ensures a more relaxed, quieter beach experience.
One thing you will find in abundance here, however, are beach huts. These brightly colored change-rooms-cum-shelters line the beach in both directions, sometimes two or three deep, and can be rented by the day or week, or even purchased outright.
The only place to get food here is the appropriately named Bathing Hut Café, which serves everything from traditional fish and chips to vegan dishes and homemade cakes.
History buffs will also want to check out the large wreck of a sailing vessel that ran aground here in the mid-1700s; you'll spot its decaying hull when the tide's out.
And if you've come by bike or fancy another mile-long walk, follow the promenade to neighboring Glyne Gap Beach.
Address: Cinque Ports Way, Bulverhythe, Hastings, East Sussex
7. Bexhill Beach, Bexhill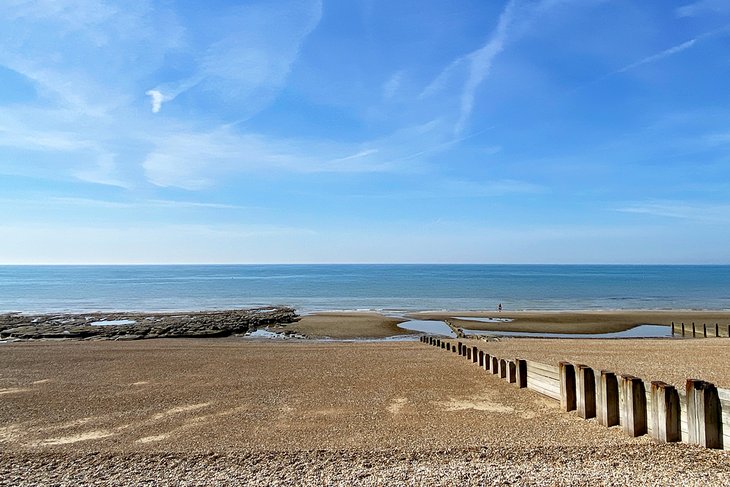 Usually shortened to simply Bexhill, the attractive seaside town of Bexhill-on-Sea offers beachgoers plenty of fun things to do when they're done enjoying the beach.
A day at Bexhill Beach is time well spent, and is generally a lot more laid back and relaxed than its larger neighbors, Hastings and Eastbourne.
Backed by a long promenade, this mostly shingle beach does offer up some sandy sections when the tide's out, ensuring the kids can get in some sandcastle building as well as safe splashing about in the shallow, clean water.
There's also plenty of room to spread out, so bring a blanket and a beach umbrella and enjoy a fun family picnic. Alternatively, grab some grub to-go from any one of the beachfront kiosks or cafés.
Popular water sports activities include sailing, rowing, paddleboarding, and windsurfing. Kayaking and jet skiing are also popular, and local equipment rental companies can set you up with everything needed to get out on the water.
Swimming areas supervised by lifeguards are clearly marked, adding a layer of security for parents.
Address: De La Warr Parade, Bexhill-on-Sea, East Sussex
8. Pett Level Beach, Pett Level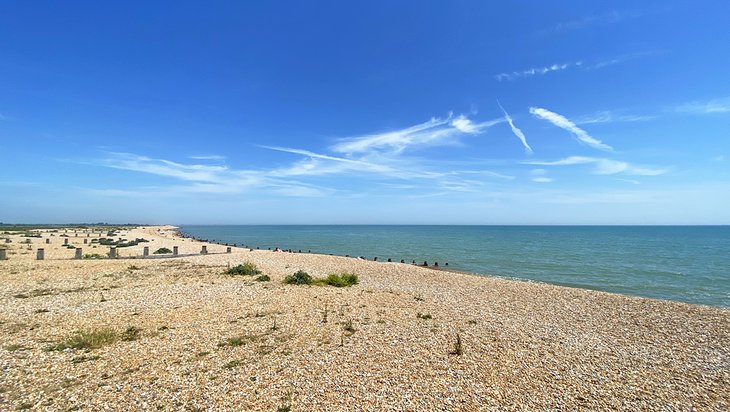 Head east from Hastings and you'll notice a distinct change in landscape. Here, as you drive toward the historic town of Rye, those lovely white cliffs give way to a lowland area of marsh and farmland, as well as some of the county's best beaches.
One of the most popular coastal features along this stretch of Sussex coastline, Pett Level Beach is long and predominantly shingle, with only small areas of hard-packed sand revealed at low tide.
But don't let that stop you from laying down a towel and enjoying this usually very quiet, relaxing beach experience. The presence of a large number of groynes along this stretch of beach also provides a little shelter from sea breezes and sun.
If visiting with kids, be sure to take them to the westernmost section of the beach. Here, at the aptly named Cliff End, low tide reveals the remains of a unique fossilized forest that predates the Ice Age.
Also of interest are the remains of the HMS Anne in Pett Level. This historic warship ran aground in 1690, and its remains can be spotted at low tide.
If you're a bird-watcher, bring your binoculars. Located just behind the beach, the four man-made lakes that comprise Pett Pools are stop-overs and nesting grounds for a wide variety of birds.
Other popular activities here include kitesurfing and windsurfing. Ample on-street parking is available.
Address: Pett Level Road, Pett Level, East Sussex
9. Winchelsea Beach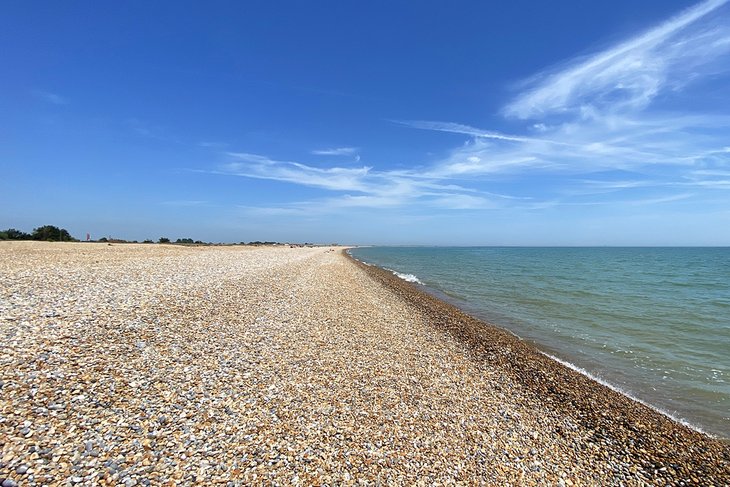 The last stop on the Sussex coast before Camber Sands, the village of Winchelsea Beach offers plenty of good reasons to linger.
Its relatively remote location 10 miles to the east of Hastings, the nearest large town, means it's never crowded. It's also a long beach, and together with neighboring Pett Level Beach, creates an uninterrupted five-mile stretch of shingle beach to hang out on.
Popular for its sunbathing, swimming, and surfing, what it lacks in amenities (there aren't any!) it makes up for by being peaceful and uncrowded.
That said, the historic town of Rye is only a few miles away and offers great dining experiences, numerous attractions, and unique shopping opportunities.
Address: Pett Level Road, Winchelsea Beach, East Sussex