16 Top-Rated Beaches in England
England's coastline is glorious. Between dramatic sea cliffs, yawning bays, and remarkable beaches, you're in for a treat while visiting this verdant isle. Stunning swathes of golden sand can be found on England's best beaches. They run along the length and breadth of the country, fronting towns and cities, skirting estuaries, and embellishing islands both big and small.
Outstandingly diverse in their environmental makeup, the best beaches in England afford endless vacation opportunities for families, solo travelers, and anyone looking to spend time beside the sea. Hotels, restaurants, and first-rate leisure amenities, including an abundance of fantastic water sports facilities, serve many of these beaches.
Some top beaches are located off the beaten track and make ideal retreats for those seeking peaceful oceanfront solitude. If you're looking for a romantic beach for couples, you'll find plenty to choose from along England's stunning shoreline.
Some of England's best beaches are located near bustling towns and cities, which offer conveniently placed ice-cream stands, beachfront shops, and entertainment venues. Still more reside near historic landmarks, lending an ancient allure to their sandy bases.
Find the perfect picturesque pocket of sand for your next vacation with our list of the top beaches in England.
1. Bournemouth Beach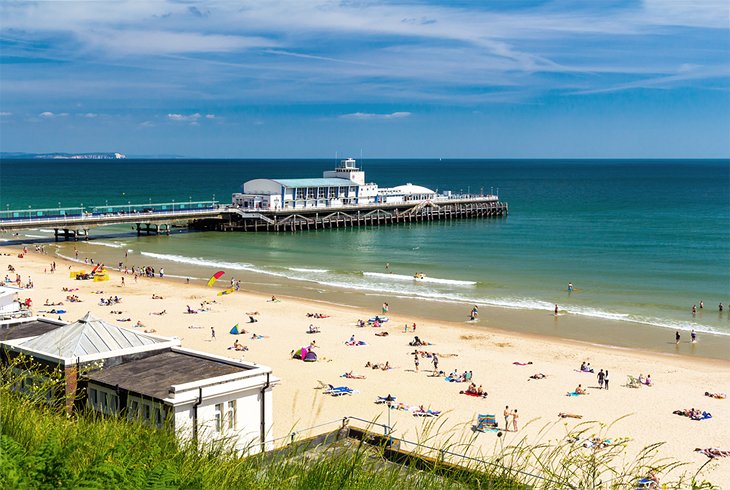 Comprising over 11 miles of glorious golden sand, the grand sweep that is Bournemouth Beach in fact embraces several areas, from Hengistbury Head in the east, through Southbourne, Boscombe, Bournemouth itself, and westwards toward Poole.
An entire entertainment industry has grown up in and around the city of Bournemouth - a favorite south coast resort destination since the Victorian era. Theaters, concert halls, cafés and restaurants, cinemas, and numerous hotels embellish the town center and the esplanade, with a beach that is considered one of the best beaches in the UK.
Distinguished by its landmark pier, Bournemouth Beach itself offers a host of family-orientated leisure activities, including an exciting pier-to-shore zipline, the Happylands Amusement Park and the nearby Bournemouth Oceanarium.
Out of season, the waters either side of the pier are the realm of surfers. And even if you're not much of a beachgoer yourself, the walk along the seafront is a wonderfully relaxing, salt-laced option anytime of the year. Remember to pack a sweater and towel. Even sunny summer days in South England can invite a crisp breeze, especially by the coast. Also, the water is quite cool.
Located just two hours southwest of England's capital, Bournemouth Beach is one of the best beaches near London. In the summer, it becomes a flocking point for Londoners looking for a quiet, sandy weekend away in South England.
Location: Bournemouth, Dorset
2. Fistral Beach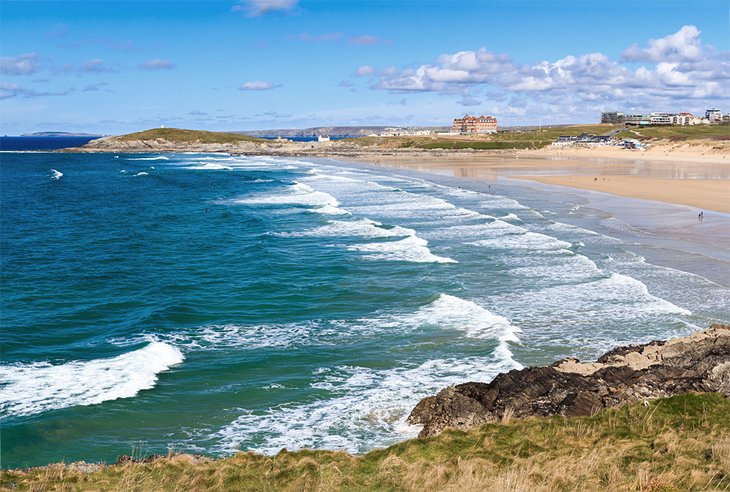 The UK's premier surfing destination, Fistral Beach enjoys legendary status among water sports enthusiasts. Straw-blonde sand; world-class waves; and a picturesque setting put this beach in a league of its own. Not surprisingly, it tops the list of the best beaches in England.
A year-round destination, Fistral is at its most vibrant and animated during the summer months. This is when you can fully appreciate the leisure amenities geared towards beachgoers and the pro-surfer, anything from trendy boutiques stocked with colorful beachwear to the funky restaurants lining the boardwalk, including an eatery named for British celebrity chef Rick Stein.
Home to the UK Pro Surf Tour, Fistral also welcomes novices eager to hone their surfing technique: the family-run Fistral Beach Surf School is renowned for its coaching methods, and they'll have you up and hanging 10 in no time at all! Known as the "home of British surfing," this establishment boasts multiple rentals and lessons for surfers of all ages and abilities.
Annual gigs held at the beach include the unique surf night and the famous Boardmasters Surf, Skate & Music Festival.
Location: Newquay, Cornwall
3. St. Brélade's Bay Beach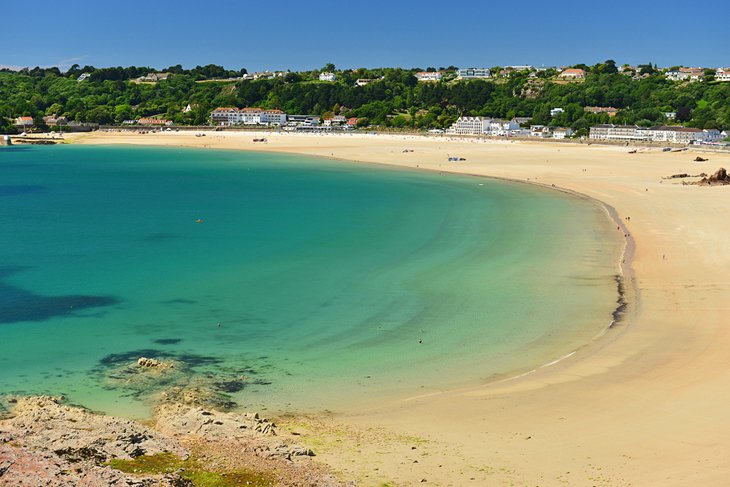 A favorite beach destination for families, St. Brélade's Bay is sandcastle central, a playground for kids with buckets and spades and all the time in the world. The beach is noted for its soft, white sand and safe swimming and is served by an elegant boardwalk, a palm-fringed esplanade lined with cafés and restaurants. You'll also find plenty of tourist shops selling beachwear and helpful items like flip-flops and candy-colored beach balls. Blink, and you might just think you're in the tropics.
South facing, St. Brélade's Bay is sun soaked for most of the day: sunbathing spots are at a premium mid-summer! The warm shallows make ideal paddling territory for inquisitive toddlers to splash around in and explore. At low tide, you can walk the whole beach, a wonderful winter activity option for young and old alike. This is by far one of the best beaches in England for families.
Beachgoers with mobility issues can access the beach with assistance from the local charity BeachAbility, which provides specially adapted wheelchairs for use on the sand.
Location: St. Brélade, Jersey, Channel Islands
4. Weymouth Beach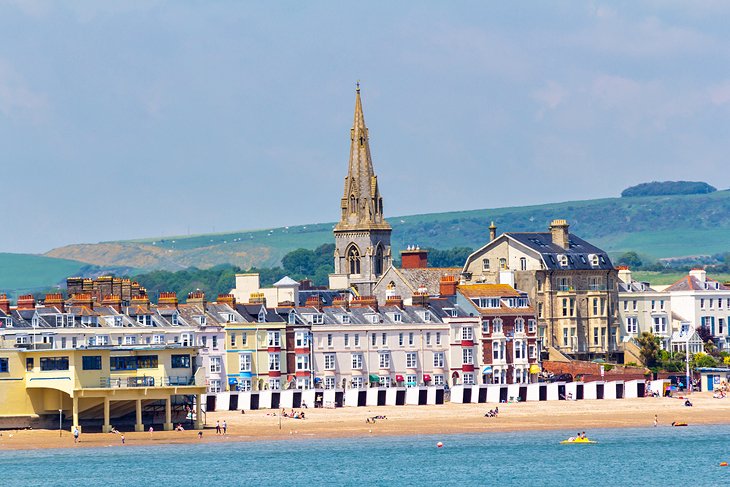 A favorite seasonal haunt of Britain's King George III (1738-1820), scenic Weymouth is regarded as one of England's most traditional seaside resorts and home to one of the country's best beaches. The yawning arc of its expansive beach forms Weymouth Bay, a popular year-round vacation destination.
During the summer months, the beach – three miles of wide, gently sloping sand – becomes an open-air stage for all sorts of wonderfully old-fashioned attractions, pastimes that include donkey rides, Punch & Judy puppet shows, and sandcastle competitions (the sand on Weymouth Beach is regularly voted the best for making sandcastles). There's also a funfair set on the esplanade and the Weymouth Pavilion, a first-rate theater and entertainment complex.
King George visited the beach on the advice of his physician, who recommended the monarch immerse himself in the warm waters to treat an ongoing skin condition. Instead, the ailing king made bathing fashionable, and Weymouth Beach today is famous for its crystal-clear shallows, awarded a Blue Flag environmental award for cleanliness.
Location: Weymouth, Dorset
5. Brighton Beach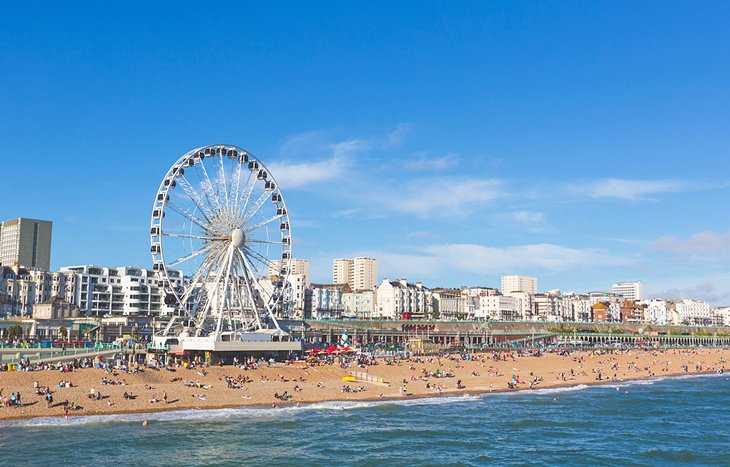 Brighton is one of England's liveliest and most culturally diverse towns. In addition to its bustling tourist attractions, Brighton boasts a fabulous 5.5-mile shingle beach. As such, Brighton and its beachfront have previously been voted one of the top 10 city beach break destinations in the world. Wear shoes and pack a thick towel or beach chair, as its base is pretty rocky.
With the famous Brighton Pier providing a suitably iconic backdrop, the destination attracts beachgoers from around the country, as well as water sports enthusiasts lured by kayaking and stand up paddle boarding options, plus classic beach activities like volleyball and extreme Frisbee.
The pier is also home to the Palm Court Restaurant, a large, domed arcade, the historic Helter Skeleter slide, and multiple theme park attractions and games. Kids will love it here.
Many of the beach's historical attractions were built during the Victorian era, such as The Grand Brighton hotel, opened in 1864, and the Volks Railway, Britain's oldest electric railway, inaugurated in 1883 and still in service today. Enhancing the area's modern, cosmopolitan vibe are crowd-pullers like the British Airways i360 – the world's tallest moving observation tower – and Sea Life Brighton, an aquarium brimming with seriously happy fish.
As well as being home to a vast range of restaurants, sports facilities, amusement arcades, and year-round entertainment, Brighton is also known for nearby Cliff Beach, Britain's first naturist beach.
Location: Brighton, East Sussex
6. Bigbury-on-Sea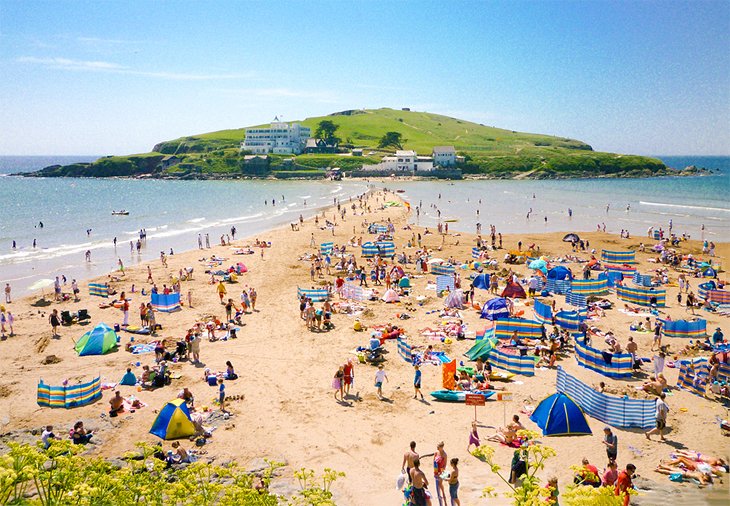 The quaint village of Bigbury-on-Sea nestles within a designated Area of Outstanding Natural Beauty, a stunning canvas heightened by the presence of Burgh Island, Bigbury's famous landmark set 270 yards offshore. The beach, the largest sandy beach in South Devon, fronts a vacation resort that even in mid-summer retains an old-fashioned air about it.
Dotted with rock pools at low tide (a delight for youngsters to explore), an exposed causeway offers a link to the island, noted for its Art Deco hotel, which has been featured in several movies and television productions. Even at high tide, tourists can still get to Burgh onboard a unique "sea tractor," which trundles slowly across the shallow bay to a landing stage set below the hotel.
In breezy conditions surfers, bodyboarders, and windsurfers congregate along the beach to take advantage of a restless sea, but for the most part, Bigbury-on-Sea belongs to couples and families seeking a quiet seaside break on one of the most picturesque coastlines in southern England.
Location: Kingsbridge, Devon
7. Blackpool Beach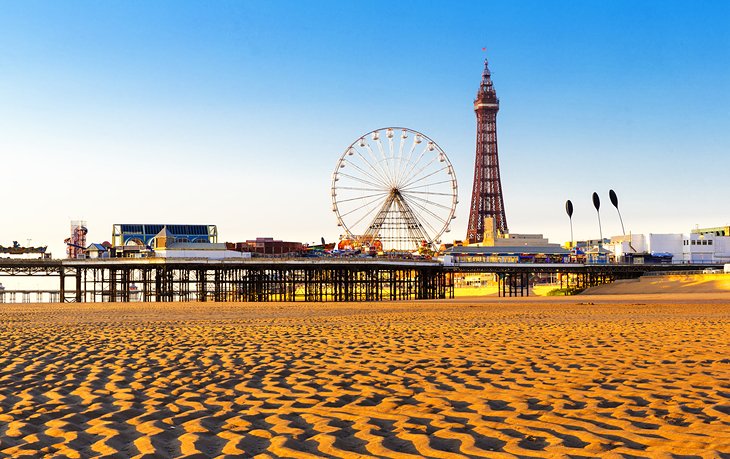 One of England's most famous tourist destinations, Blackpool rose to prominence in the mid-19th century and by 1880 was arguably the most popular seaside resort in the country.
While not nearly as alluring as it was in its Victorian heyday, Blackpool Beach nonetheless continues to attract millions of visitors a year, drawn as much to a collection of major landmarks as a sense of nostalgia for a traditional day beside the seaside.
Celebrated for the 513-foot Blackpool Tower, the design of which was inspired by the Eiffel Tower in Paris, the town is also known for its annual lights festival, the Blackpool Illuminations, which first lit the place up in 1879.
Blackpool Beach, recently awarded Blue Flag status, is the only British beach to boast three fabulous piers, each a major tourist draw in its own right. The town's esplanade, the famous Golden Mile, is crammed with leisure amenities, from mini theme parks to old-fashioned tearooms.
A family favorite, the Blackpool Pleasure Beach amusement park includes the fantastic ICON, the UK's first ever double-launch roller coaster. And even if you're not a thrill seeker or sun lover, Blackpool still makes a great day out in a uniquely English kind of way.
Location: Blackpool, Lancashire
8. Pelistry Bay Beach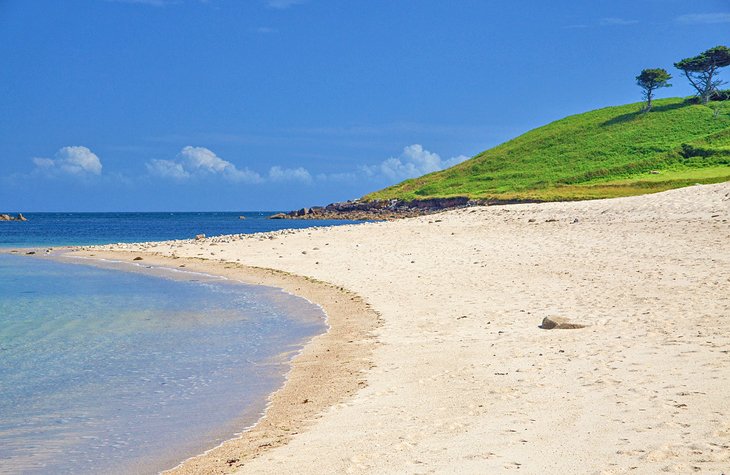 Sheltered on St. Mary's, one of the small islands that make up the Isles of Scilly off the Cornwall coast, Pelistry Bay is seldom overcrowded due to its secluded location. But therein lies the attraction. The pocket-sized beach, a carpet of fluffy pale sand, is the perfect place to enjoy some well-earned rest and relaxation away from the tourist hordes that tend to overwhelm Cornwall during the summer months. This is one of the best beaches in England for couples looking for a romantic escape.
The Scilly Isles (pronounced as "Silly") can be reached via air or sea, and the effort to get there is rewarded with an unspoiled cluster of subtropical islands, each blessed with their own unique character. St. Mary's, the largest and most populous island, has a concentration of low-key holiday accommodation and leisure amenities. But it's the natural environment that the less hurried visitor will appreciate, especially places like Pelistry Bay.
An added attraction is Toll's island, anchored in the bay and connected to St. Mary's by a sandbar. At low tide, it's possible to walk to this delightful offshore stepping-stone. Just remember to make a note of the tide times if you don't want to end up being stranded.
Location: Isles of Scilly, Cornwall
9. Porthcurno Beach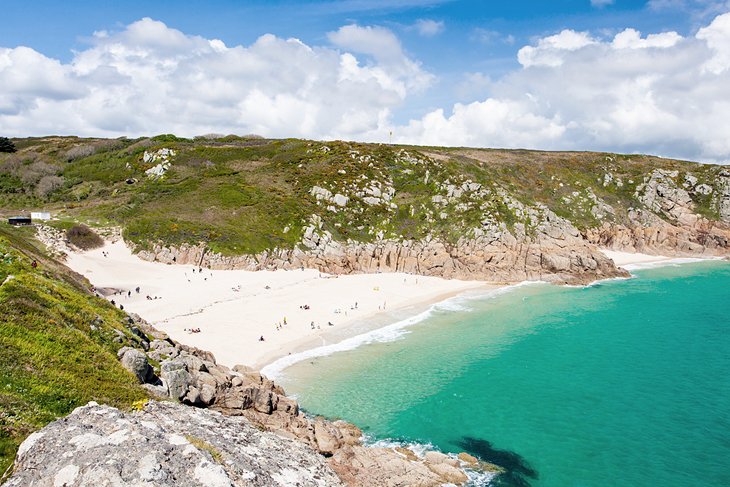 Embracing the beach at Porthcurno Bay is a spectacular coastal cliff range. You'll find the crescent-shaped wedge of sand that comprises one of the finest beaches in England located at its base. Part of the Cornwall Area of Outstanding Natural Beauty, Porthcurno is a visual feast and the subject of many a landscape artist and photographer.
Beachgoers can take advantage of a car park at the top of the cliff, which is served during the high season by a café and restaurant. Semi-isolated and offering a fair bit of privacy, this is a beach to escape the masses, but it doesn't always offer safe swimming. Wind, tides, and sea currents sometimes conspire to make bathing treacherous; paddling at low tide is a safer option.
Besides stunning scenery, Porthcurno is noted for the unique Minack Theatre, an open-air venue carved out of the cliffs and commanding glorious coastline views. Between May and September, performances are staged by a variety of theatrical companies. Plays have previously included works by Shakespeare. Minack often appears in listings of the world's most spectacular theaters.
Location: Near Lands End, Cornwall
10. Woolacombe Beach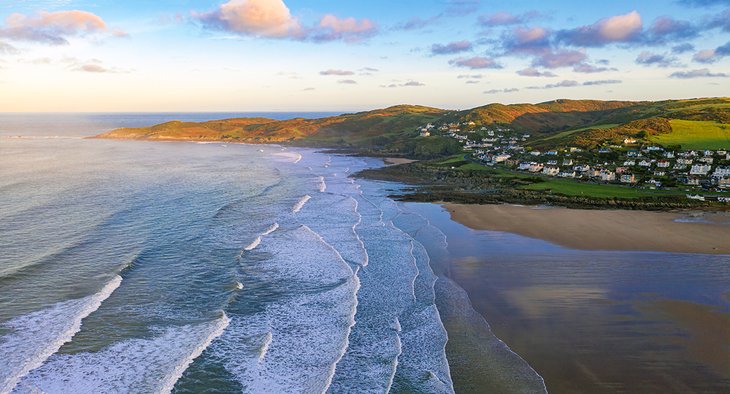 It's no secret that many of the best beaches in England lie in Devon. A popular summertime destination, this three-mile-long stretch of golden sand welcomes visitors to soak up the sun's rays, surf the waves, and boogie board along the shore.
Prefer to enjoy a quiet beach vacation? With so much sand on offer, it's easy to find a more secluded stretch of the beach, even in the high season.
Speaking of high season, this is the perfect beach for families in Devon in summer. Lifeguards are on duty, the sun has warmed the water to a less heart-stopping temperature, and you're sure to find an ice cream close by.
Grab a meal at a nearby eatery in Woolacombe, or pack a picnic if you don't mind getting a little sand in your lunch when the day is particularly windy.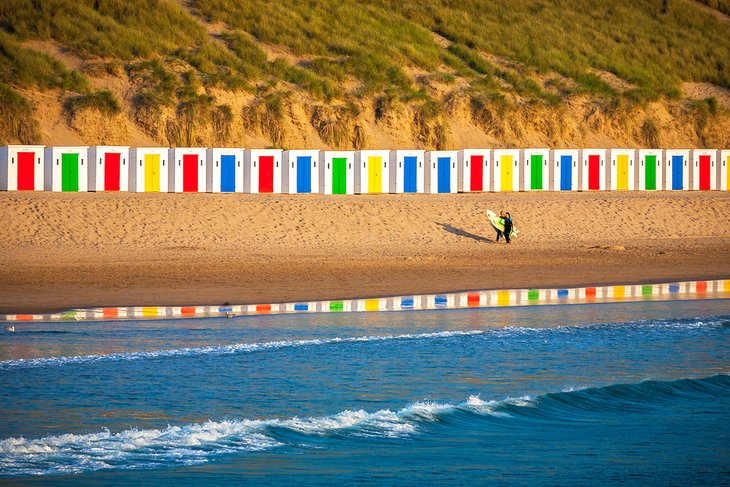 If your family includes a four-legged member, you're in luck. Woolacombe beach is one of the best dog-friendly beaches in England, and they're welcome here year-round.
That said, dogs aren't permitted between the rocks on the north end and the stream, between Good Friday (or April 1st if that's earlier) and September 30th. They must also be leashed during this time if you're walking between the stream and Mill Rock.
Location: Woolacombe, Devon
11. Compton Bay Beach
Located at West Wight and bereft of any notable leisure amenities, this is a wonderful do-it-yourself beach. That means beachgoers should pack everything they need to enjoy a day out on one of the island's most prominent stretches of sand.
Compton Bay Beach comprises a contrasting blanket of both golden and black sands met by rolling seas and a sometimes capricious breeze. Adding further color are the honey and caramel-hued sandstone cliffs that provide a pleasant backdrop. It's also the place where seabirds hover on rising thermals.
The beach is gently shelved and, for the most part, soft underfoot. However, you need to be aware of a few lengths of submerged rock that finger out to sea and remain hidden at high tide. Paddling is safe in the shallows.
Further out when conditions permit, surfers can ride in decent Channel swells. This area of the Isle of Wight is famous for its fossilized dinosaur footprints. During low tide, it's quite common to see fossil hunters combing the beach for a 65-million-year-old souvenir.
Budding paleontologists can book tours on the beach to see dinosaur footprints in the sandstone ledge at Hanover Point that are exposed at low tide.
Location: Freshwater, Isle of Wight
12. Saunton Sands Beach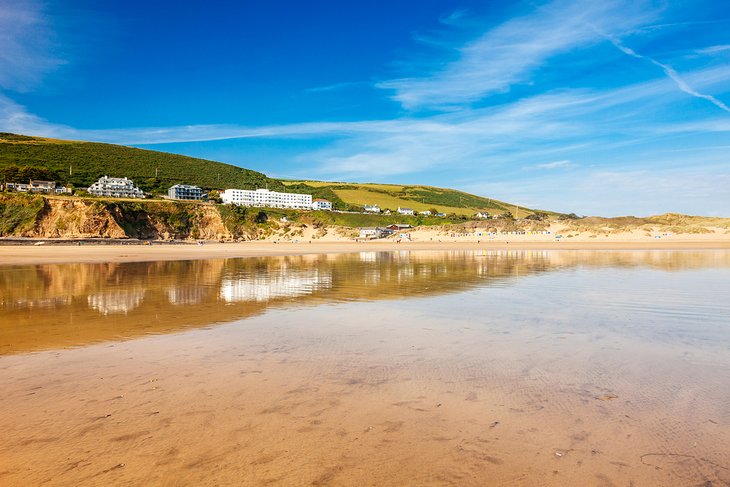 Saunton Sands Beach is one of the best, family-friendly beaches in Devon. This is also an ideal spot to bring any furry friends.
Boasting three miles of pristine golden sand, it's not surprising that this pretty spot made it onto our list of the best beaches in England. It's also a top beach for those looking to swim and surf.
Saunton Sands Beach has been chosen as a film location for multiple movies, including, Aquaman and the Lost Kingdom and The Guernsey Literary and Potato Peel Pie Society. This long beach is backed by the UNESCO Biosphere Reserve and large sand dunes, making it especially attractive.
Facilities include toilets, rentals of beach chairs and huts, as well as surfing gear, a seaside beach shop, and a restaurant.
Location: Saunton, North Devon
13. Tankerton Beach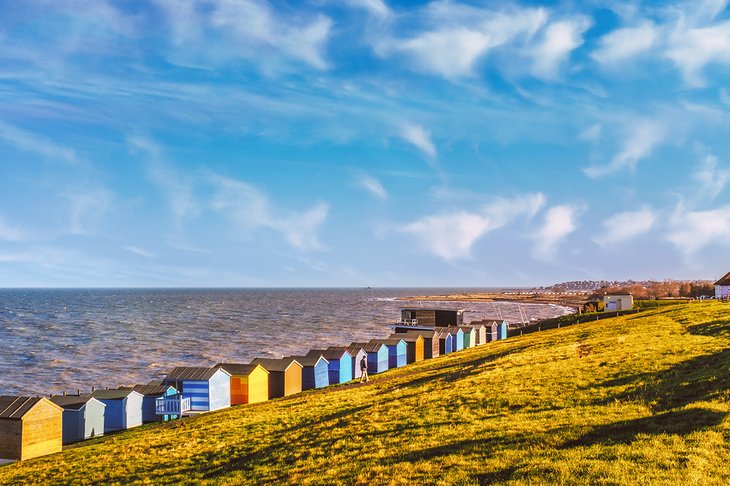 Tankerton Beach is another of the top beaches near London. Set on the dramatic shore of Whitstable, a small fishing village located just under an hour and a half southeast of London, this golden shingled beach is a beauty to behold.
A popular beach for Londoners looking to escape the hustle and bustle for a few hours, Tankerton Beach is easy to reach. Trains run from London's St. Pancras, Cannon Street, and Victoria Stations.
Tankerton Beach is presided over by lifeguards during high season and is relatively calm in comparison to other beaches near London. It is also conveniently located close to Whitstable's charming shops and restaurants.
Pack a deck chair and shoes for your visit to this old-fashioned beach. It is quite rocky and at times, sharp stones can make it a challenge for less abled walkers to enjoy a jaunt.
Above the beach lies Tankerton Slopes, a grassy area that provides spectacular views of Whitstable Harbor, colorful fishermen's huts, and the sparkling water below. A path backs the slopes, eventually making its way to Herne Bay for those up for a bit of a jaunt.
Location: Whitstable, Kent
14. Bamburgh Beach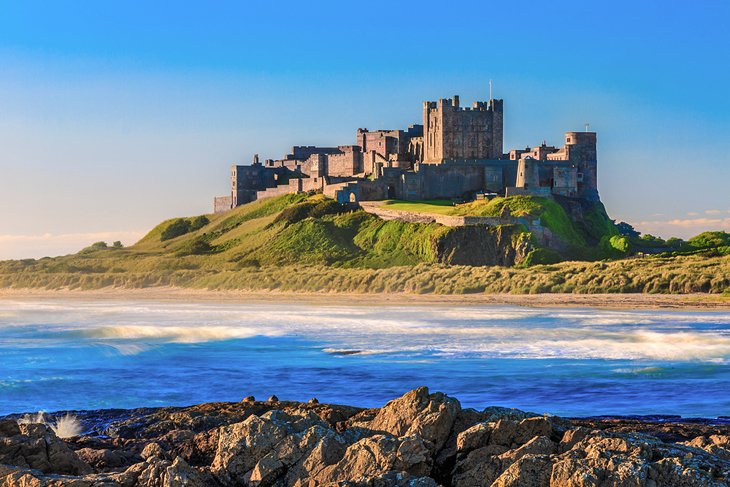 This majestic sweep of sand is named for imposing Bamburgh Castle whose brooding ramparts overlook one of northern England's most iconic beaches. A castle is known to have stood here since the 6th century, though what you see today dates largely back to the 12th century.
A pristine swathe of sand backed by a shifting bank of flower-topped dunes, the beach at Bamburgh is a rewarding surfing and kitesurfing destination. In fact, this beach is one of Northeast England's top beaches for surfing and kitesurfing. The water is fairly chilly throughout the year but can offer welcome respite during particularly hot summers. Pack a wet suit.
The rock-pooling opportunities afforded around the Stag Rocks lighthouse will appeal to anyone who appreciates marine life in miniature. Kids, meanwhile, have endless raw material to construct a castle using the real thing as a nearby visual reference. Otherwise this is prime walking territory, a landscape that is also fun to explore on horseback.
Opposite the beach are the inner Farne Islands, once the home of monks and hermits and now the domain of a fantastic variety of seabirds.
Location: Bamburgh, Northumberland
15. West Wittering Beach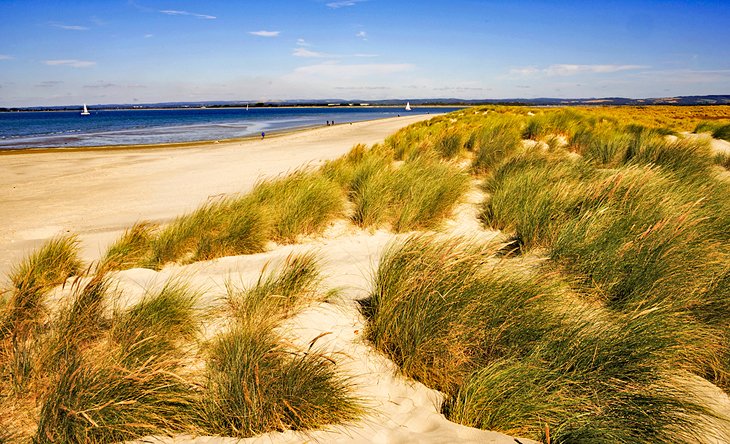 Hugging the coast not far from the historic city of Chichester is the village of West Wittering. This cute spot is renowned for its A-list celebrity residents and a splendid beach – one of the best Blue Flag beaches in the country.
A traditional bucket-and-spade destination for visiting families, West Wittering Beach also falls within the boundaries of a Site of Special Scientific Interest. While here, guests will recognize the international importance of the surrounding wetlands, a habitat recognized for its wildlife, birdlife, and astonishing beauty.
The sea, known for its exceptional water quality, draws wind and kitesurfers. Low tide presents an exciting area of adventure – a series of shallow lagoons that kids (and adults) of all ages will find irresistible to explore. Leisure facilities extend to a popular beach café, a useful shower block, and a water sports club.
The National Trust manages the surrounding land, and the area in and around East Head makes for some rewarding ambles over nature trails anytime of the year. And what of those celebrities? Don't be surprised to see Rolling Stone Keith Richard or actress Kate Winslet pottering around the village.
Location: Wittering, West Sussex
16. Wells-Next-the-Sea Beach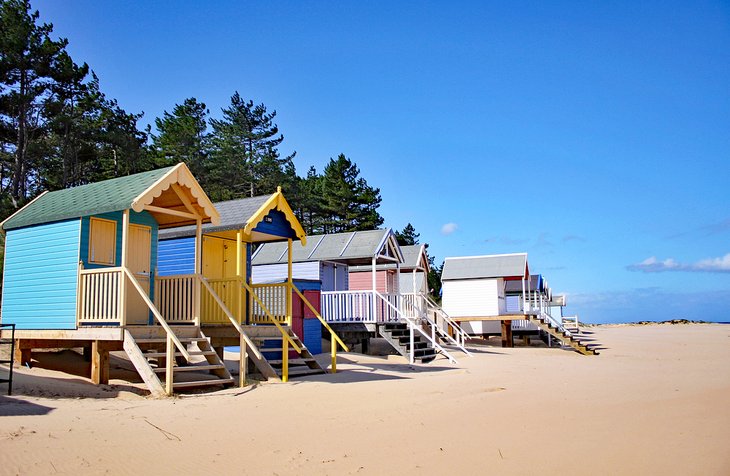 Wells-next-the-Sea beach consists of a large, sweeping area of golden sand peppered with brightly colored beach huts and backed by sand dunes. It is picturesque, clean, and comfortable, not to mention a highly valued part of the Holkham Estate in Norfolk.
The beach lies about a mile outside the town of Wells, and can be accessed easily on foot along a raised path. Along Beach Road, you'll find the convenient Beach Café, and there are plenty of amenities on-site to make it easy to spend a full day. The toilet blocks include showers.
Your four-legged friends are free to join you on this popular stretch of beach. While dogs aren't permitted to access the first 200 yards from the main entrance, they are welcome to roam from the pinewoods entrances year-round. Keep them on a leash until they hit the beach.
If you're coming with a car, use the car park run by the Holkham Estate. An all-day ticket is your cheapest bet and allows visitors access to Holkham Park.
Location: Wells, Norfolk
Map of Beaches in England
More Related Articles on PlanetWare.com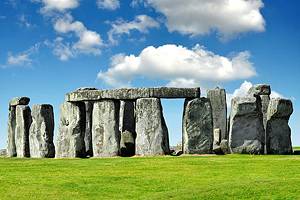 Explore More of England and the UK: For more ideas to help plan your travels, see our article on the Top Tourist Attractions in England and the Best Places to Visit in the UK. And of course, if you are spending time in London, be sure to have a read through our Top-Rated Tourist Attractions in London.