16 Top-Rated Cities in England
We may earn a commission from affiliate links ()
Although it's a relatively small country, England offers no end of great places to visit. As the cornerstone of the United Kingdom – the UK also consists of Scotland, Wales, and Northern Ireland – England has, for centuries, been a center of government, as well as the scene of countless important historic events.
Spend time sightseeing in any one of its many top cities and towns, or touring its pretty countryside and picturesque villages, and you'll find yourself stumbling across an endless array of visit-worthy attractions.
To help you get the most out of your travel itinerary, be sure to refer to our list of the top easy-to-explore cities in England.
1. London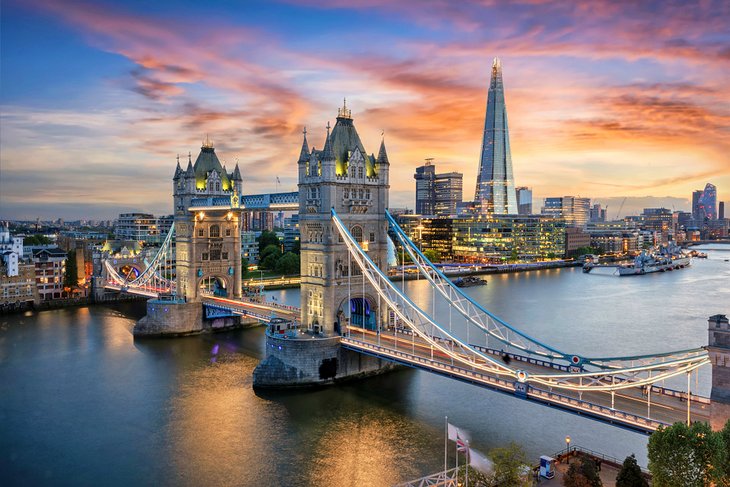 It's pretty much impossible (and certainly not recommended) to visit England without spending time in its capital, London. One of the world's largest and most cosmopolitan cities, this sprawling metropolis is, despite its vast size, surprisingly easy to get around thanks to its first-rate (though sometimes crowded) public transit systems.
Hopping aboard a double-decker bus or a famous black cab is in fact a great way to get your bearings, and will take you past iconic landmarks including the Tower of London and neighboring Tower Bridge, Buckingham Palace, as well as Westminster, where you'll see the Houses of Parliament and Big Ben.
Once you've got your bearings, start walking. London is an endlessly fun city to explore on foot. Grab a map (or better still, use an app) and plot routes along the Thames, taking in the London Eye and Southbank. Hit Hyde Park and Regents Park, two beautiful green spaces (better still if you've planned ahead and secured a Harrods hamper), and walk around any of its famous markets, including Camden, Portobello, or Borough markets.
2. Bath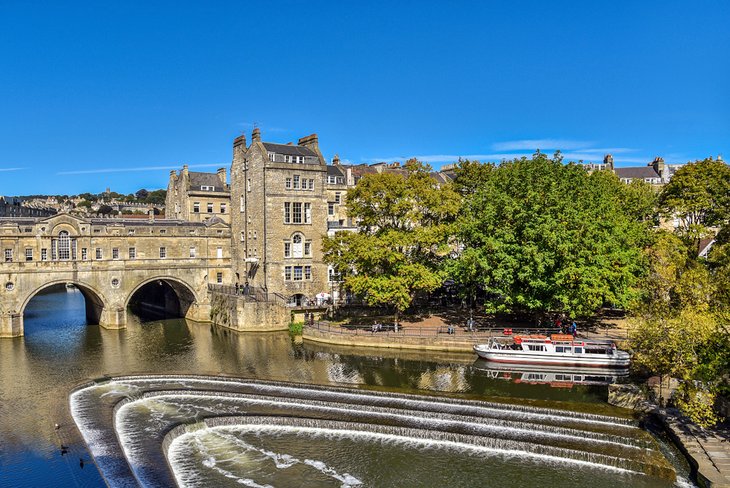 Just an hour and a half from London by train, Bath has gained a reputation as one of the most romantic of England's cities. For starters, this lovely, livable city in Somerset was where the Romans constructed the famous Roman Baths, a remarkably well-preserved edifice built around a hot spring that continues to draw visitors from across the world.
These famous waters can be enjoyed at the neighboring Thermae Bath Spa, just a stone's throw away from the Roman Baths and a great place to relax and unwind with a loved one... or on your own (the views over the city from the rooftop pools are amazing).
Bath is also a popular travel destination for its splendid architecture. Nowhere is this more noticeable than in the city's magnificent Royal Crescent, a spectacular and long curved row of 18th-century townhomes. Be sure to allow some time to visit #1 Royal Crescent, now a museum offering a glimpse into this era of the city's history.
Accommodation: Where to Stay in Bath: Best Areas & Hotels
3. York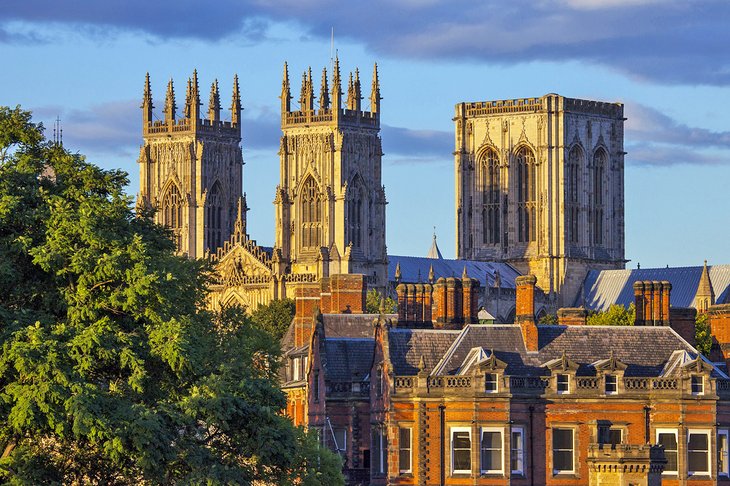 Located at the top end of the country in North Yorkshire is another charming old city to explore that was also founded by the Romans: York. While there are only a few signs of the early Roman settlement here, it's the amazingly well-preserved medieval architecture that you'll find most impressive.
The best place to begin your exploration is York Minster. Located in the center of the city, this spectacular medieval church is the largest in England, with regular tours taking in its impressive interior, including the crypt.
From here, you're not far from the famous views over the Shambles, a network of 14th-century lanes and alleys lined with charming timber-framed buildings now housing shops, restaurants, and tearooms.
A must-do while in York is clambering up the City Walls. This massive structure to this day encircles most of the city, and the five-kilometer stroll around its entirety is well worth it... especially for the great views over the old city center.
Accommodation: Where to Stay in York
4. Canterbury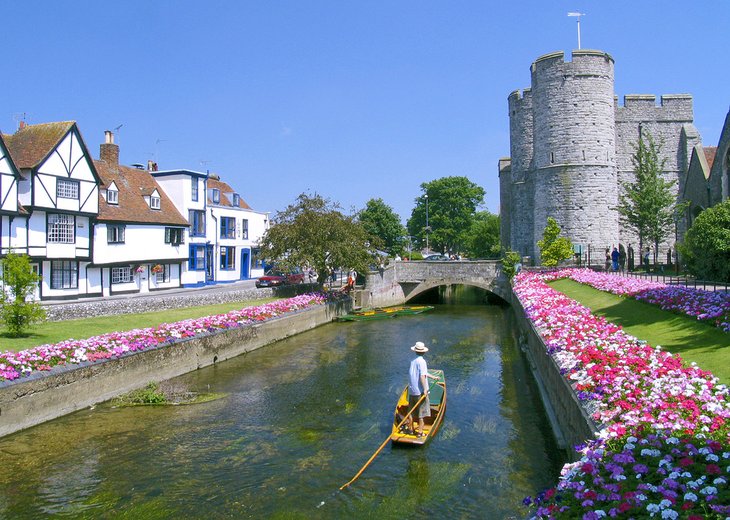 Like York, Canterbury has long been an important religious center in England. While evidence of the original Roman settlement can still be seen (check out the city's great Roman Museum), it's Canterbury Cathedral that is the big draw for tourists.
The seat of the Church of England, this beautiful UNESCO World Heritage Site was already a place of pilgrimage when Archbishop Thomas Becket was brutally murdered here – possibly under instructions from then king, Henry II – in 1170. You can even visit the exact spot this dastardly event took place.
Accommodation: Where to Stay in Canterbury
5. Oxford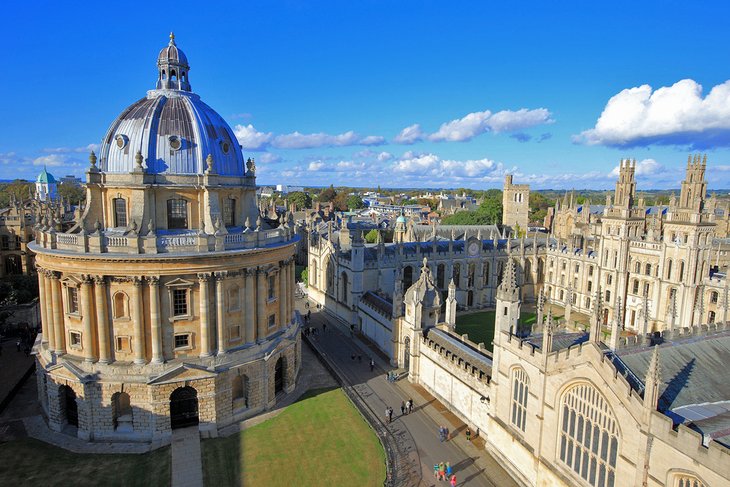 Just a short train ride north from London is the university city of Oxford. As the home of the world's oldest university, Oxford has plenty of history to explore, much of it accessible on foot without interference from traffic. Along the way, you'll see plenty of finely preserved medieval-era buildings, along with many that were added centuries later.
A highlight is finding the historic (and photogenic) Carfax Tower, well worth the climb for its magnificent views; and the Bridge of Sighs in Hertford College, which joins two of the campus' buildings.
Other highlights of an Oxford visit should include a tour of one of the colleges. A favorite for film fans is Christ Church College, known to Harry Potter fans as the scene of the Hogwarts dining room.
If you're visiting outside of term time, check into the availability of a stay at this or one of the other colleges, offering use of their dorms for visitors - a truly memorable experience in the heart of the historic city.
Accommodation: Where to Stay in Oxford: Best Areas & Hotels
6. Durham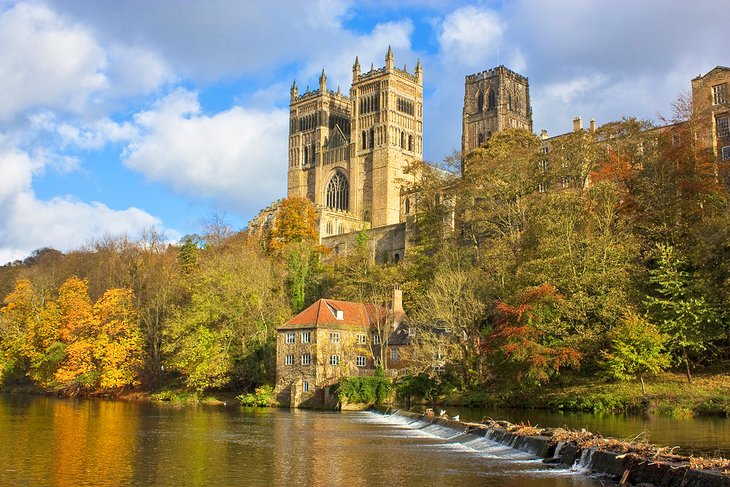 Considered one of the most attractive small cities in England (by virtue of its cathedral, the benchmark by which a place is deemed a city), Durham is a delightful place to explore due to having one of the highest densities of UNESCO-designated buildings - over 600 at last count.
Much of these lovely old buildings, some of which date back to medieval times, are centrally located and within a short stroll of two of the city's top attractions: Durham Cathedral and Durham Castle. Built in 1133, the cathedral is especially attractive. It's best to join one of the attraction's informative tours to ensure you don't miss any of the good bits, such as its finely decorated naves and chapels, the 325-step climb up its tower, and the rich treasury collection in the crypt.
And after exploring this and the 11th-century castle, be sure to allow extra time to wander the old streets surrounding the old Town Hall, which itself dates back to the 11th century. Durham is also a great place to shop, and there are also many good places to visit for a meal here, too, from classy restaurants to casual inns and pleasant teashops.
Accommodation: Where to Stay in Durham
7. Salisbury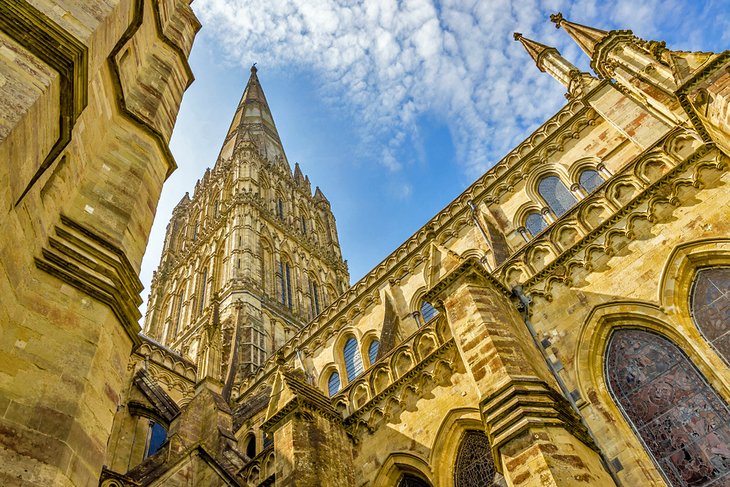 Salisbury is another cathedral city that should be included in your England travel itinerary. While Salisbury Cathedral's attractive exterior is itself spectacular and dominates the city's historic skyline, it's what's inside that draws the crowds.
Built in 1220, the cathedral is perhaps most famous for being home to an original Magna Carta, a precious historic document drawn up in the 1200s as a charter of rights for the people of England. Many of the well-preserved old streets and architecture surrounding the cathedral, including a number of smaller churches, also date from this period.
Salisbury is also an ideal jumping-off point from which to explore what is perhaps England's most famous landmark: Stonehenge. Situated 16 kilometers from the city center – and well served by a variety of tours and excursions – this remarkable World Heritage Site has been something of a draw for humans long before tourism became a thing. In fact, it's known that pilgrims have been visiting this important site for over 4,500 years, making the journey from as far afield as central Europe - no mean feat for the time.
While the site itself is quite large - it covers an area of more than 20 square kilometers - you'll want to stick close to the visitor center; from here, you'll be able to get a good sense of the site's unique history before heading to the viewing trails. (Editors note: Given the popularity of Stonehenge, it's recommended you purchase admission tickets in advance of your visit in order to avoid disappointment.)
Accommodation: Where to Stay in Salisbury
8. Liverpool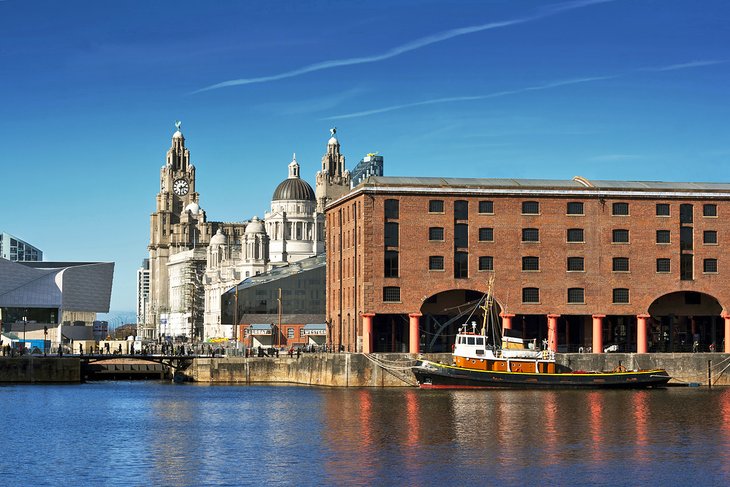 Long one of England's most important ports, the city of Liverpool has done a remarkable job of preserving – and commemorating – its rich maritime history. Head to the Albert Docks area, for example, and you'll find yourself in the midst of a warren of old warehouses and wharves that have been carefully restored and now serve as homes, places of work, or shopping and dining destinations.
A must-visit is the Merseyside Maritime Museum, which tells the stories of the vessels that helped put Liverpool on the world map, as well as the countless millions who sailed from here to new lives across the Atlantic. Other notable museums and places to visit should include the Museum of Liverpool, along with the city's branch of the Tate Gallery.
No visit to Liverpool, though, would be complete without visiting at least one attraction or landmarked dedicated to the city's favorite sons: The Beatles. Whether you take a Beatles-themed tour or go it alone, be sure your trip down memory lane includes the Cavern Club, where they cut their teeth on the live circuit. The homes of Paul McCartney and John Lennon can also be visited, and a great museum that covers their career, The Beatles Story, is also located in Albert Docks.
Accommodation: Where to Stay in Liverpool
9. Brighton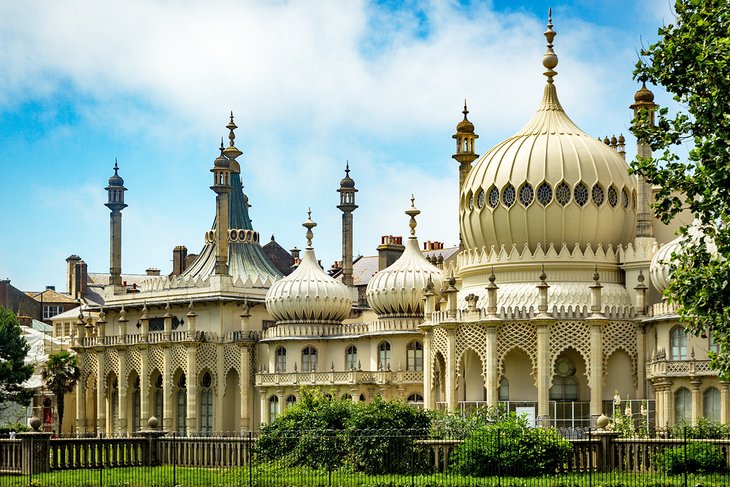 With a well-deserved reputation as one of England's top resort towns, Brighton makes for a fun and easy trip from London for those wanting to experience a seaside getaway.
Set overlooking a long stretch of beach on the English Channel, it – along with the adjacent town of Hove – has been welcoming holidaymakers since the 18th century, all drawn here for the fresh air, the hotels, as well as endless fun things to do.
Highlights of a visit include strolling the town's lengthy promenade and stopping in at the Victorian Palace Pier with its arcades and souvenirs.
Another must-see is the Royal Pavilion, a former summer home of King George IV that wouldn't look out of place in India. Add to this the beach, the many great festivals and events, pleasant parks, and great eateries, and Brighton is guaranteed to tickle your fancy.
10. Bristol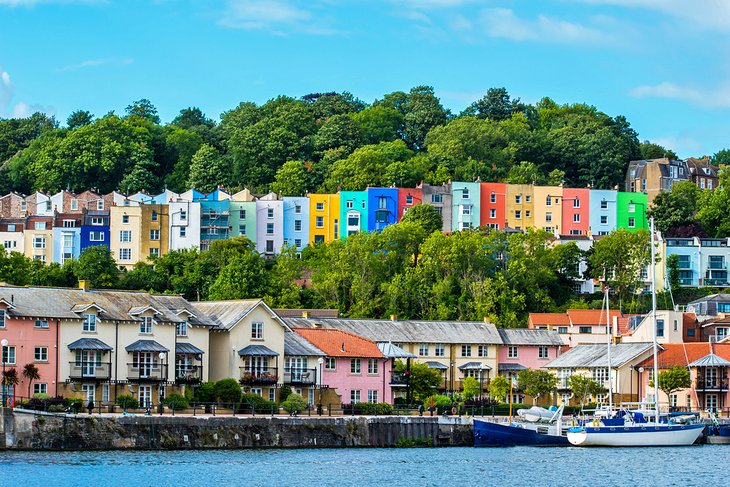 Although it never saw the numbers of migrants passing through it that Liverpool experienced – largely due to the smaller size of its port – the city of Bristol was once an important embarkation point for those heading westward.
Sheltered inland on the Avon River and with direct access to Bristol Channel and the Atlantic, it was here that explorers such as John Cabot would venture forth on their voyages of discovery in the late 15th century, soon after to be followed by adventurers and settlers seeking new lives in the New World. Be sure to visit the Cabot Tower, an impressive landmark built in the 1800s to commemorate the explorer's feats.
Other maritime-related things to do in Bristol include paying a visit to SS Great Britain. Famous for being the very first steam-powered vessel to provide a trans-Atlantic passenger service, this remarkable vessel was designed and built by I.K. Brunel, who left another enduring landmark for the city: the Clifton Suspension Bridge. Considered one of the most romantic views in England, this elegant structure should definitely be on the "to do" list of anyone looking for a beautiful place to photograph in England.
Accommodation: Where to Stay in Bristol: Best Areas & Hotels
11. Cambridge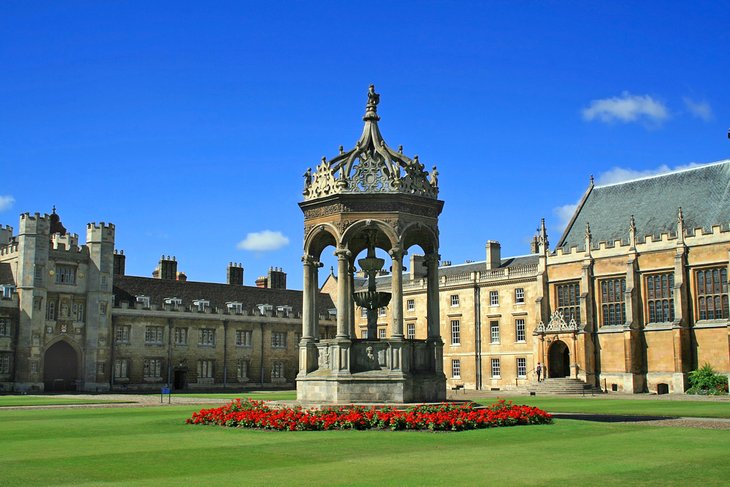 Like its collegial cousin to the west, Oxford, the city of Cambridge makes for a wonderful excursion for those staying in London thanks to its being less than an hour away by rail. Best known as a place of higher learning, Cambridge is a delight to explore on foot thanks to its numerous college campuses.
The college campuses consist of well-maintained lawns and courtyards surrounded by immaculately preserved buildings housing faculty and students. There are, all told, 31 colleges here, some dating as far back as the 13th century, when Cambridge University was established. Must-sees include Queens' College, parts of which date back to the 1400s, where you'll find the much-photographed Mathematical Bridge, and King's College, famous for its chapel and choir.
Set aside at least a little time to get out on the River Cam. The best way to enjoy views of the city and its colleges from the water is aboard one of the many punts that ply the water here. Traditionally powered by students (though now less likely so), these flat-bottomed boats are pushed along by a "punter" at a gentle-enough speed to allow passengers to get a proper, slow-paced view of their surroundings. Time well spent, for sure.
Accommodation: Where to Stay in Cambridge
12. Manchester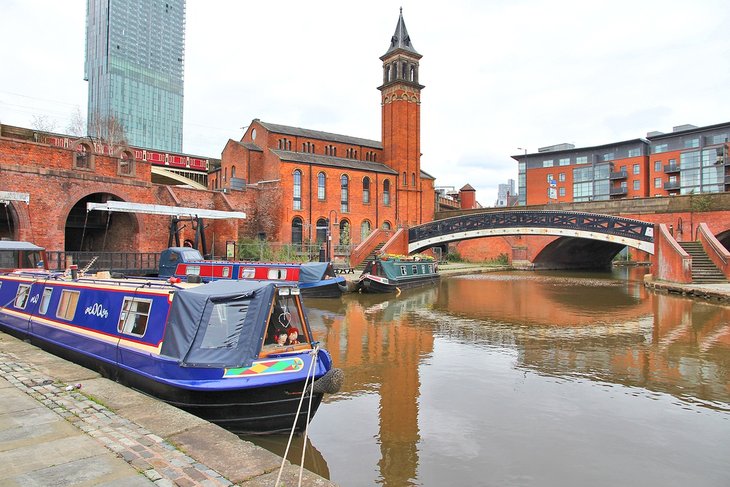 If you're looking to concentrate your travels in northern England – or perhaps even venture west into Wales – the former industrial city of Manchester is a great place to kick off your adventure. Just a short train ride from Liverpool, Manchester is served by a first-rate international airport that's just minutes' away from the city's top attractions.
One of the top things for visitors to do is explore Manchester's extensive canal network. A blast from the city's industrial past – Manchester was for decades a major English manufacturing center – these once-busy waterways lead to Castlefield, a neighborhood known for its attractive old Victorian townhomes and warehouses, many of which now house boutique shops, art galleries, cafés, and restaurants.
13. Nottingham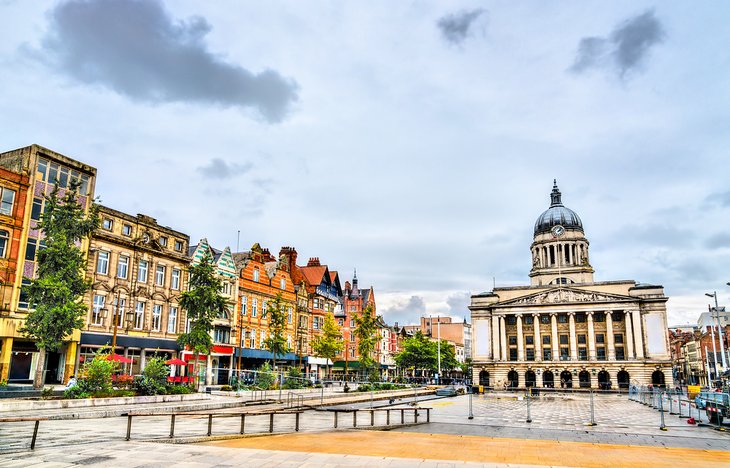 Think of Nottingham in England, and you'll no doubt conjure up childhood memories of that Hollywood staple, Robin Hood. Yet while there's no shortage of references to the English legend in Nottingham – his likeness is used widely here, of course – there's much more to this attractive Midlands' city than its best-known hero.
Consisting of wide, tree-lined streets and plenty of green space and parks, Nottingham offers many things to do. Highlights include wandering the old market square and its markets (Nottingham was famous for its lace), as well as its famous castle. The city is also built on a large cave network, and many of these caves can be explored as part of the City of Caves attraction.
And those who do want to learn more about Robin Hood can easily find nearby Sherwood Forest. There's even a trail that extends 104 miles from the castle deep into what was once the hero outlaws' neck of the woods, passing through some of the region's best scenery along the way.
14. Dover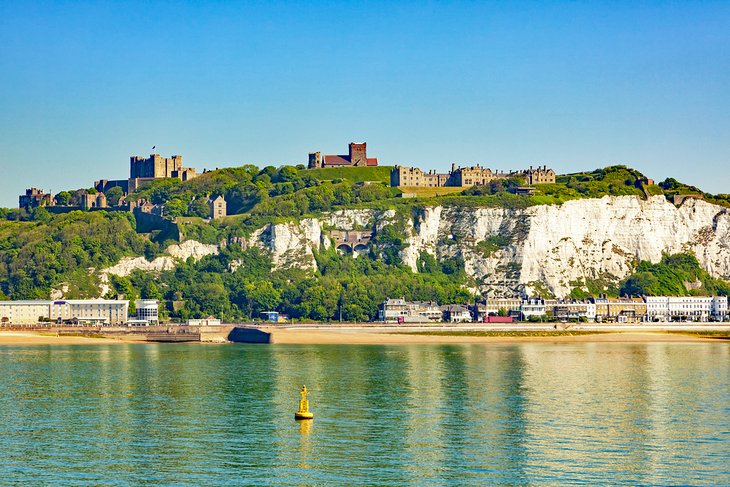 Few places in the world can boast the kind of views that Dover, in Kent, can. In fact, on a clear day, you can see all the way to France, a distance of just 30 miles as the crow flies, and a trip that can still be made by ferry.
This strategic position overlooking the English Channel led to the coastal town's importance over the centuries. The remains of a Roman lighthouse can still be seen within the grounds of famous Dover Castle, a fortress built in 1168 and garrisoned during the Napoleonic wars and again as recently as WW2. It's now a fascinating museum, with much to do, including medieval festivals and other events.
And, of course, you'll want to take in the spectacular White Cliffs of Dover. These iconic white chalk cliffs can be enjoyed via walks and trails. Pack a picnic, as well as those binoculars.
Read More: Top-Rated Tourist Attractions in Dover
15. Birmingham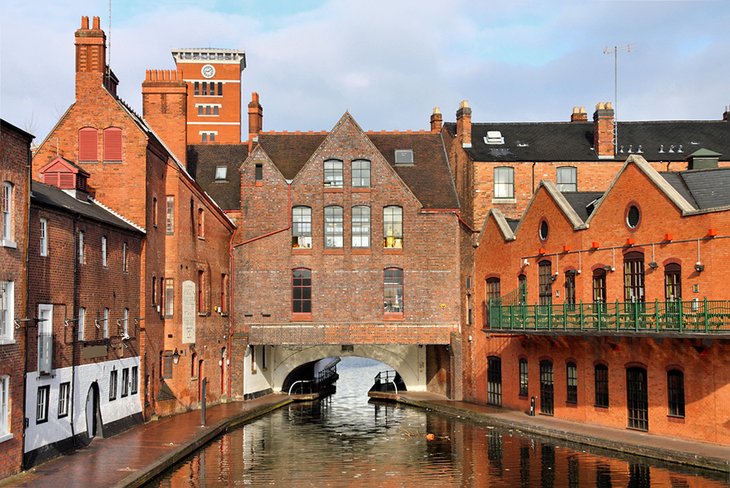 Though not as big as London, Birmingham - the country's second largest urban area - is big. Like its neighbor to the North, Manchester, Birmingham was shaped by the rapid growth that took place during the Industrial Revolution, a period when it cemented its reputation as a world leader in manufacturing.
Evidence of this rich past can be seen everywhere, especially along the historic canals that crisscross the city. They were once a vital means of moving goods in and out of Birmingham, but these days, you're far more likely to see a canal barge rigged out for pleasure trips (in fact, a few days or so spent aboard one of these delightfully slow watercraft is a must-do experience in England).
Whether by barge or on foot, be sure to include a visit to the charming Gas Street Basin neighborhood on your list of things to do in Birmingham. Here, you'll find everything from quaint canal-side inns and tearooms to lovely boutique shops selling handcrafted goods and arts and crafts.
16. Hastings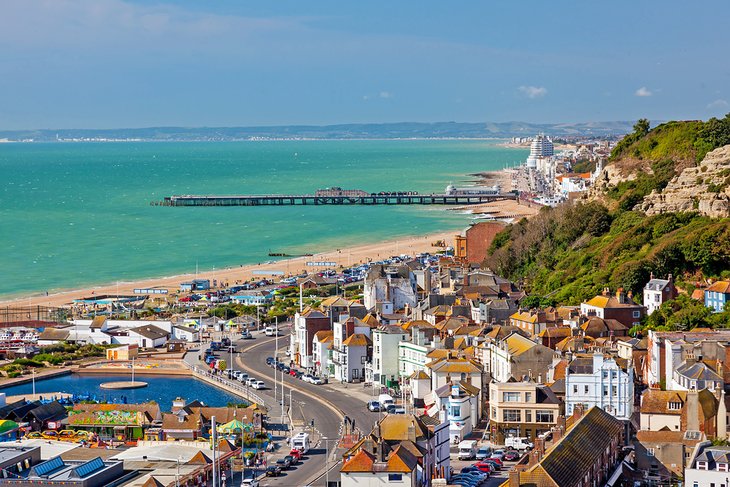 Hastings in East Sussex is another coastal town that has played an important role in English history. It was here in 1066 that William the Conqueror landed and defeated the English forces in the Battle of Hastings. The campaign in fact ended in the market town of Battle, a few miles inland, after King Harold was slain, resulting in William taking the crown.
After seeing the sites in Hastings – you'll want to explore the Stade and the Historic Net Shops in the old fishing harbor area – be sure to make the six-mile trek to Battle. Here, you'll find an excellent visitor's center with exhibits relating to the historic events that took place in the area, as well as the ruins of a large Benedictine abbey church that was ordered built by William on the site of the battle.