11 Top-Rated Beaches in Sussex
Together, the counties of East Sussex and West Sussex can lay claim to having some of the best beaches in England.
Stretching over 140 miles along the country's south coast, from the historic town of Rye in the east all the way to the cathedral city of Chichester in the west, the beautiful Sussex coastline offers something for all beachgoers. Best of all, most of the fun is located an easy commute from London.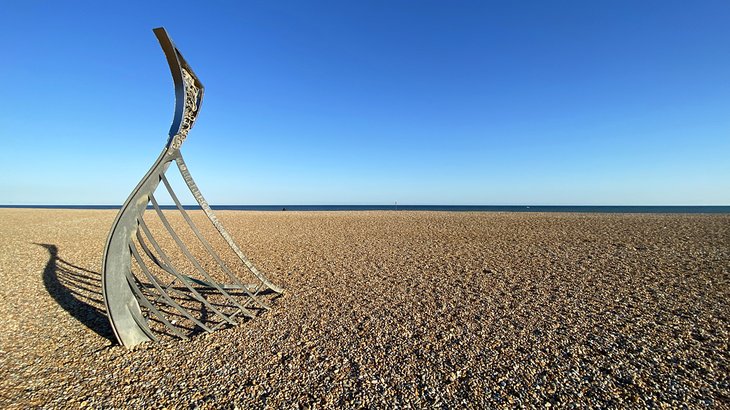 Those seeking a traditional English beach experience tend to flock to family-friendly resort towns like Brighton and Eastbourne or any one of the numerous smaller seaside towns and villages overlooking the English Channel.
And, if the proximity to attractions and amenities is less of a concern, sandy beaches like Camber Sands offer plenty of opportunity for swimming and other water-based fun.
Whatever your preference, plan your visit to England's beautiful southern coastline with our handy guide to the best beaches in Sussex.
1. Brighton Beach, East Sussex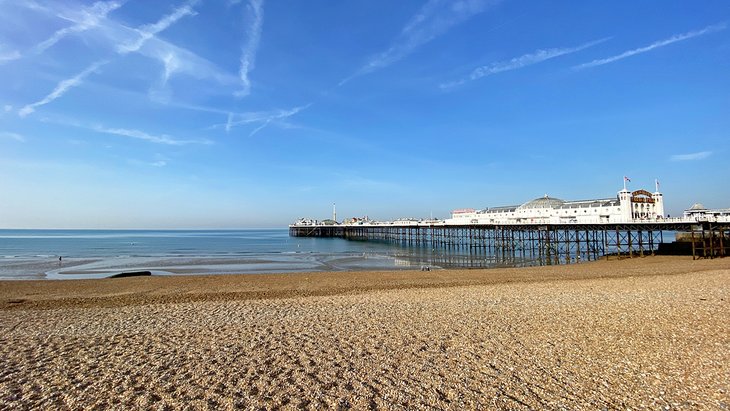 Ranked one of the best beaches near London, Brighton Beach can be reached from England's capital city via train in an hour, or around two hours by car. However you choose to get to Brighton Beach, this attractive shingle beach offers plenty of opportunity for beachgoers to spread out and have fun.
Those seeking excitement and a wide array of fun things to do should head straight to the town's main beach area.
Centered around famous Brighton Palace Pier, there's plenty of fun to be had here besides sunbathing and swimming. Numerous food options are just steps away, from classic fish and chips to classier fare at places like Ohso Social, to quick bites and ice cream.
When you're done on the beach, you'll be close to major Brighton attractions such as the Sea Life Aquarium, the historic Royal Pavilion, and, of course, the pier.
Address: Brighton Seafront Office, 141, Kings Road, Arches, Brighton, East Sussex
Read More: Best Beaches in Brighton, East Sussex
2. Camber Sands, East Sussex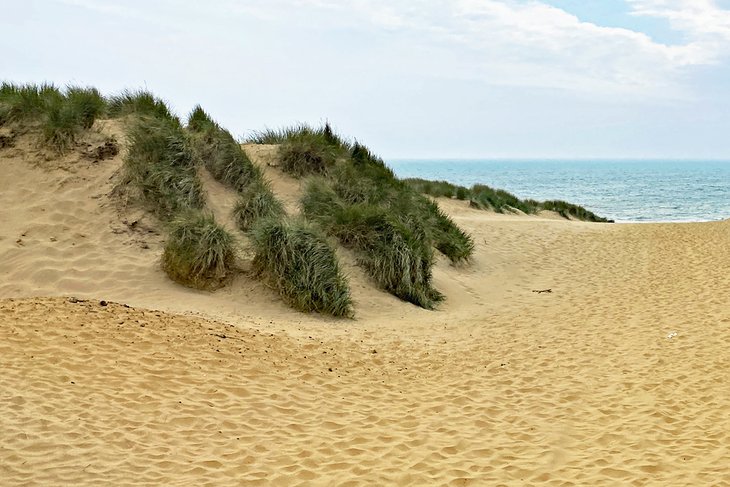 Camber Sands is certainly one of the most unique beaches in Sussex. Whereas most beaches in this part of South England are made up of pebbles, the soft, sandy beach at Camber is not unlike something you'd see on beaches in Florida or even the Caribbean.
Backed by a network of tall sand dunes that stretch for five miles end-to-end, the beach here is wide enough and long enough to handle the usually large crowds that descend upon it when the weather's warm.
Those wanting the added security of lifeguards should head to the beach's western end near the mouth of the River Rother.
Amenities including public washrooms and ample car parking are available, although be prepared to walk up and over the dunes to access them.
When you're done on the beach, visit nearby Rye to explore the cobbled lanes and alleyways of this picturesque medieval town.
Location: Camber, East Sussex
3. Eastbourne Beach, East Sussex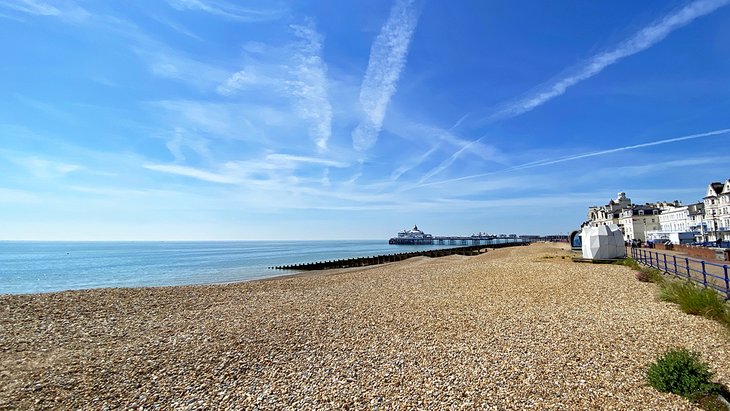 An easy trek from either Brighton to the west or Hastings to the east, Eastbourne Beach offers the kind of traditional seaside experience the first Victorian visitors would have enjoyed.
Backed by a long, wide promenade and the magnificent, manicured gardens lining the Grand Parade, the shingle beach here never gets as busy as its neighbors, and offers a more laid-back, less-hurried vibe.
Four miles long, Eastbourne Beach is also extremely popular with outdoors enthusiasts. Popular water-based activities include the adrenaline rush of kitesurfing and surfing to less-vigorous but equally fun activities such as paddleboarding and kayaking. It's also a popular spot for windsurfers and wild swimming.
There are also plenty of fun things to do in Eastbourne off-beach, too. Highlights include exploring the attractions located on Eastbourne Pier, the Redoubt fortress, or venturing out to enjoy the spectacular views from nearby Beachy Head.
Address: Grand Parade, Eastbourne, East Sussex
Read More: Best Beaches in Eastbourne, East Sussex
4. Hastings Beach, East Sussex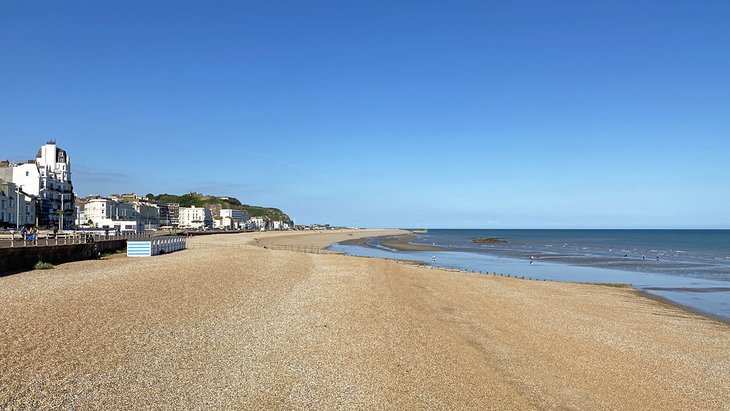 The historic seaside town of Hastings has much to offer day-trippers and holidaymakers alike. And, if a fun time at the beach is top of your list, you won't be disappointed.
Boasting an extremely long and wide stretch of shingle, with some hard-packed sand at low tide, the beach here is as well-suited for relaxation as it is adventure.
Families love the fact there are plenty of other things to do in Hastings for the kids, including arcade games, mini-golf, and even a fun mini-train ride. Water sports enthusiasts like the fact they don't have to wander too far from the main beach area, adjacent the pier, to enjoy their preferred pastime in peace.
Feel free to wander, too. Nearby St. Leonards-on-Sea is just a 15-minute walk and offers an equally lovely beach area. Both it and Hastings Beach offer washrooms and change rooms, ample parking, as well as no end of places to eat.
Location: Eversfield Place / Verulam Place, Hastings, East Sussex
Read More: Best Beaches in Hastings, East Sussex
5. Bognor Regis, West Sussex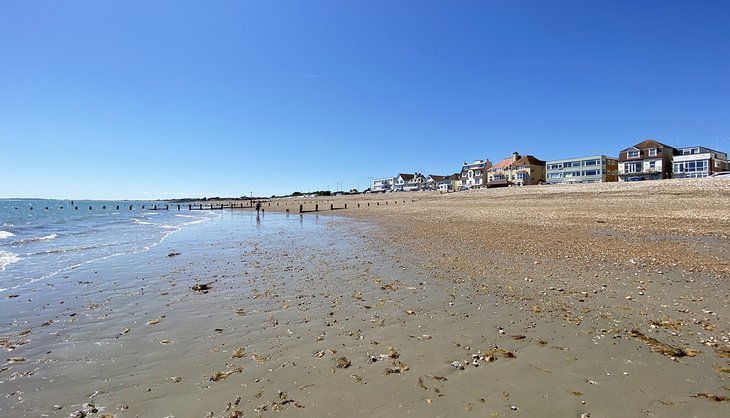 The best-known seaside town in West Sussex, Bognor Regis has been welcoming beachgoers since the advent of the railway in the mid-1800s. It was the introduction of packaged seaside holidays in the 1950s, however, that really put Bognor on the map.
While such extended summer vacations are still popular, a day on the beach in Bognor Regis is equally appealing. The town's two main beaches, West Beach and East Beach, together offer a long, wide stretch of pebble beach lined with a pleasant nearly three-mile-long promenade.
At low tide, a large hard-packed area of flat sand is exposed and makes for a great place for kids to play. There's also a large sand pit adjacent the promenade for the kids to play in.
Amenities include lifeguard services, public washrooms and change facilities, as well as plenty of shopping and dining opportunities.
Address: The Esplanade, Bognor Regis, West Sussex
6. Pevensey Bay, East Sussex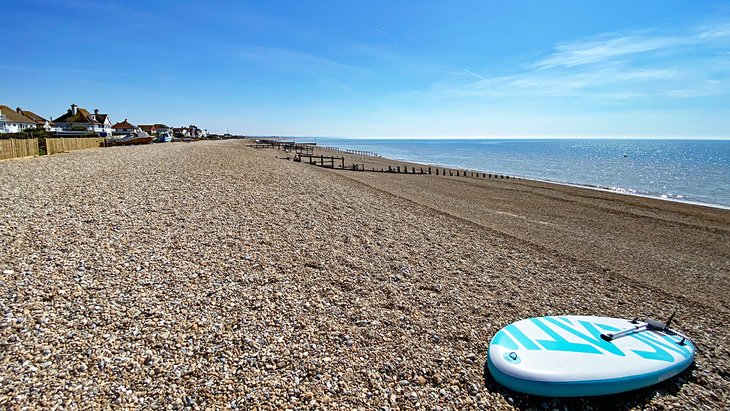 Head a few miles east of Eastbourne, and you'll find yourself in Pevensey Bay. Established as a fishing village back in the 1600s, these days Pevensey Bay is best known for its lovely beach.
Consisting of a long stretch of pebbles deposited from nearby Beachy Head, the beach experience here is certainly a much quieter, more relaxed one than is found in other larger Sussex beach locations.
Fun things to do include relaxing on the wide beach, swimming, picnicking, and enjoying walks along the promenade.
Water-based fun includes everything from jet-skiing to kayaking, as well as sailing and windsurfing. The Pevensey Bay area is also well-known for its bird-watching experiences in the nearby Pevensey Levels.
Address: Sea Road, Pevensey Bay, East Sussex
7. Worthing Beach, West Sussex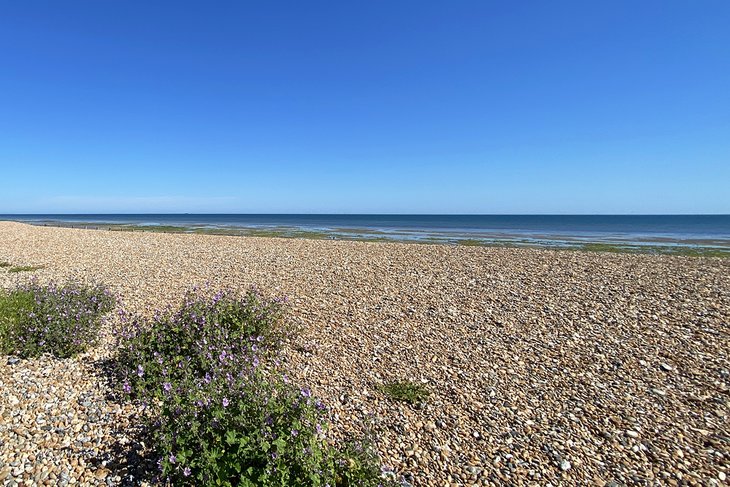 Just a short drive from Brighton, the seaside town of Worthing offers an altogether quieter beach experience to its larger neighbor to the east.
Worthing Beach has remained relatively unspoiled, and its five-mile length ensures that even in the busy seasons there's plenty of space to spread out on.
In addition to relaxing and sunbathing on this mostly pebble beach, families also enjoy the fact that hard-packed sand, along with some rockpools, are exposed at low tide and offer kids no end of opportunities to explore.
Off-beach fun includes strolling along the wide promenade, exploring the downtown area, or enjoying a meal of fresh seafood. Fishing off Worthing Pier is also fun.
In addition to its shopping, dining, and entertainment opportunities, beachgoers can also make use of public facilities such as change rooms and street parking.
Address: Marine Parade, Worthing, West Sussex
8. Bexhill Beach, East Sussex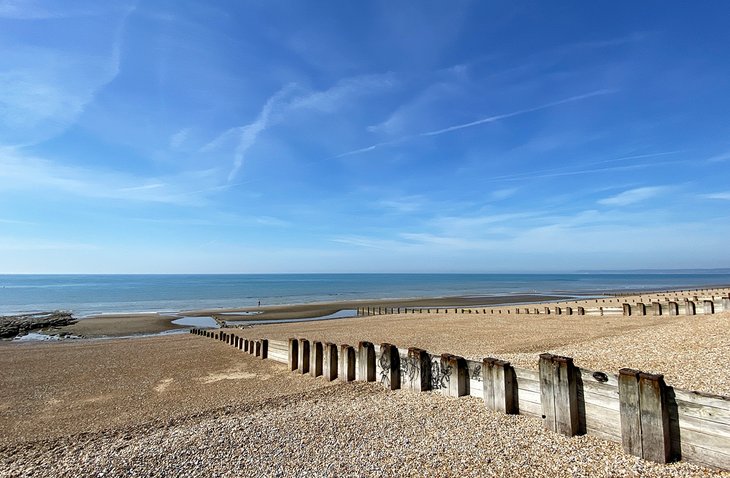 Located mid-way between Eastbourne and Hastings, Bexhill-on-Sea has been a popular seaside destination since it was incorporated in 1902.
Bexhill Beach remains the big draw, and features a long stretch of pebble beach with some exposed sand at low tide.
While families enjoy the clean shallow waters and the fact that lifeguard services are provided during peak months, water sports enthusiasts like the fact there's usually plenty of space to launch their kayak, canoe, or paddleboard.
Other popular water-based activities include rowing, sailing, and jet skiing, with a number of rental companies close by for those new to these sports and needing equipment or lessons.
The beach also backs onto a wide promenade, making it easy to access food and beverage outlets, as well as shopping opportunities and attractions. Washroom facilities are available, along with ample parking.
Address: De La Warr Parade, Bexhill-on-Sea, East Sussex
9. Bracklesham Bay, West Sussex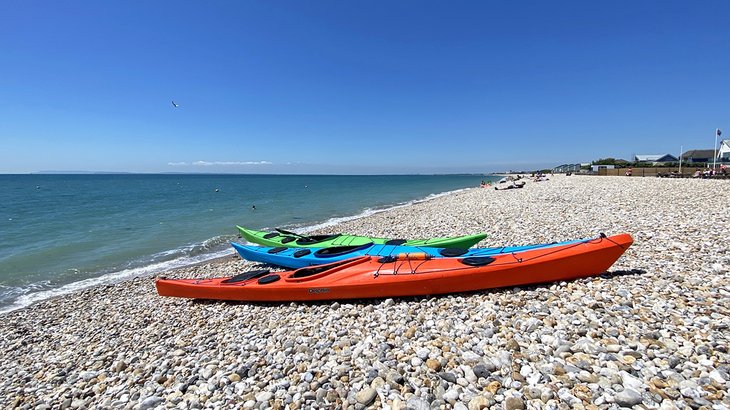 A pretty 20-minute scenic drive from the cathedral city of Chichester, the beach at Bracklesham Bay is set in a nearly 500-acre conservation site.
As a result, you can expect a quite different beach experience to that on offer at most other Sussex beaches. Here, the focus is very much on relaxation and peace and quiet while you sunbathe and lounge on the beach.
This mostly shingle beach is a long one, and when the tide's out, the exposed hard-packed sand certainly adds to the sense of space.
Glance out towards the English Channel, and on a clear day you can even see as far as the Isle of Wight in the distance. An added sense of seclusion is provided by the groynes exposed at low tide, which also provide a little shelter from sun and wind.
As well as swimming, other popular activities at Bracklesham Bay Beach include hitting the water in a kayak or canoe. Youngsters enjoy hunting for fossils, which are plentiful here, and it's also a popular spot for birdwatching.
Location: Bracklesham Bay, West Sussex
10. East Wittering Beach, West Sussex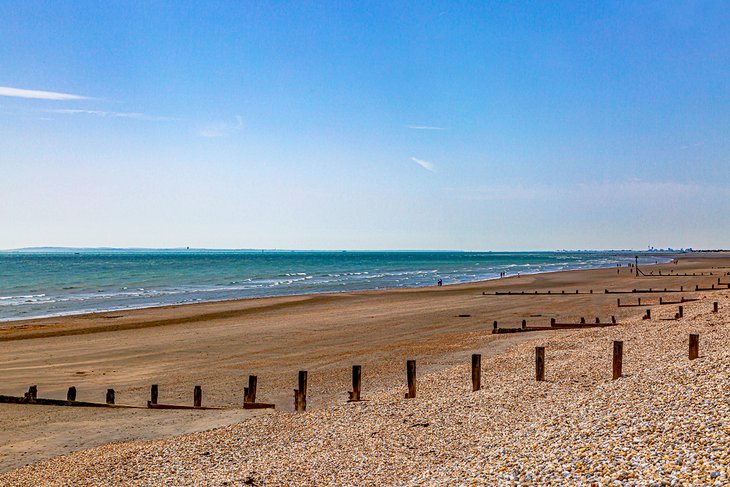 East Wittering Beach is another West Sussex beach that's an easy drive from Chichester.
While predominantly a shingle beach, some hard-packed sand is exposed at low-tide, making it a great place for families wanting a quieter beach getaway.
While there are no lifeguards on duty, the water is shallow enough near the shore to be safe under adult supervision. The normally calm waters are also popular with water sports enthusiasts, especially those new to such activities as windsurfing, kitesurfing, and surfing.
Amenities such as washrooms and parking are available in the village of East Wittering, along with a variety of eateries.
A number of trails through the dunes behind the beach are fun to explore. Also worth checking out is West Wittering Beach, just two miles away.
Location: East Wittering, West Sussex
11. Pagham Beach, West Sussex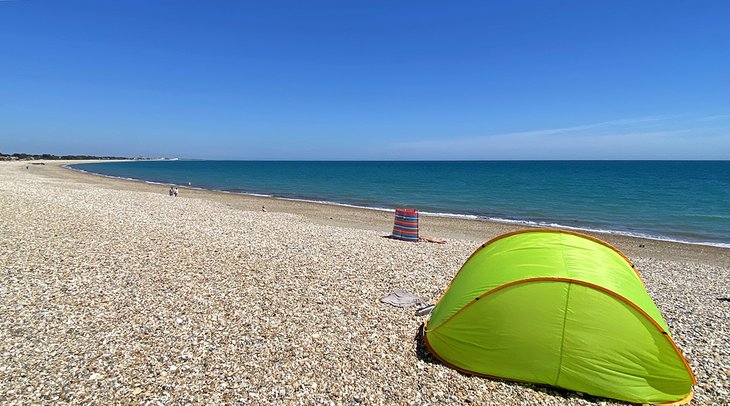 Just four miles to the west of Bognor Regis, Pagham Beach is another splendid spot for those who enjoy their beaches on the quiet side.
Boasting a claim to be one of the sunniest places to visit in England, this quiet shingle beach is perfect for those wanting a peaceful, relaxed beach experience.
When not lounging around under your sun umbrella, fun things to do in Pagham Beach include taking a swim to cool off or hopping aboard a kayak or paddleboard for a fun workout. The beach is also a popular spot for those wanting to try their hand at sailing, with a local sailing club located here, as well as windsurfing.
The area is also popular for those interested in observing local flora and fauna, with a conservation area created to protect bird species and other wildlife.
Address: Front Road, Pagham, West Sussex