9 Best Beaches in Eastbourne, East Sussex
Located on the East Sussex coast, midway between the popular resort town of Brighton to the west and historic Hastings to the east, the best Eastbourne beaches are certainly equal to those of its neighbors.
Stretching from Sovereign Harbour in the east of the town all the way to Holywell four miles to the west, Eastbourne's town beaches offer a variety of beach-going experiences.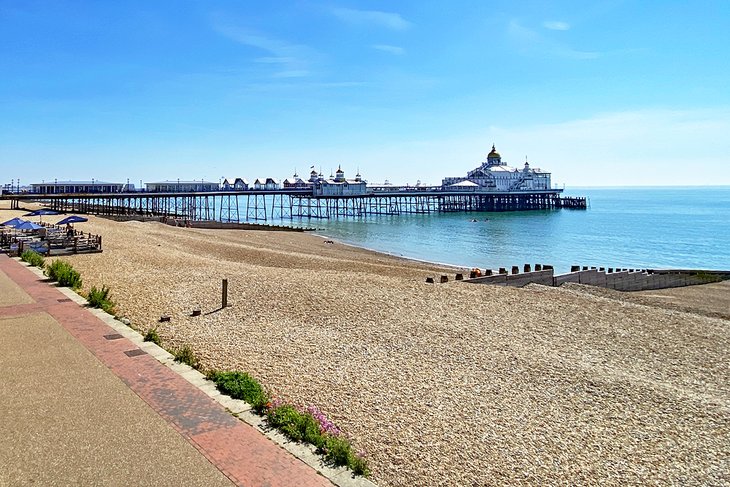 Those seeking a traditional English seaside experience will find it on the beaches located either side of Eastbourne Pier, one of the town's most popular attractions.
For those who prefer more adventurous things to do, Eastbourne and its beaches offer plenty of opportunities to get out on the water, too. Available activities include everything from paddleboarding to kitesurfing, as well as swimming and sunbathing.
Add to this list the opportunity to get in some fantastic hiking over the famous Seven Sisters chalk cliffs to Birling Gap Beach, and you'll want to drag your exploration of Eastbourne's beaches out as long as possible.
To find out more about some of the best places to lay down your towel in East Sussex, be sure to read through our list of the top beaches in Eastbourne.
1. Grand Parade Main Resort Beach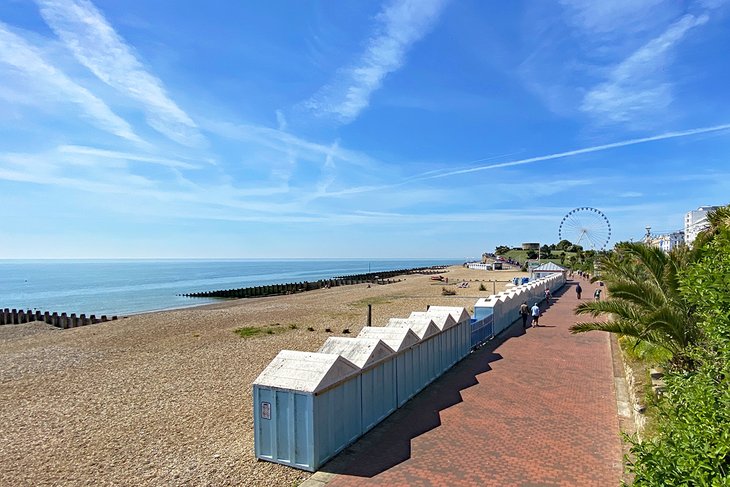 Thanks to its central location and proximity to Eastbourne's top attractions, Grand Parade Main Resort Beach is, as its name suggests, where most first-timer visitors to Eastbourne should go.
Along with the attractive seafront, the beach here, often referred to simply as Eastbourne Beach, has much to offer most beachgoers.
While mostly pebbles with small areas of sand only exposed at low tide, this wide beach is popular with families for its shallow, clean water and the presence of lifeguards during the busy summer season.
Swimming is of course popular, as is sunbathing, with the beach's wooden groynes providing added shelter from any sea breezes and currents.
Amenities are plentiful, with public washrooms, changing rooms with showers, on-street parking, and a wide promenade all easily accessible. Beach hut rentals are available by the day or week, along with deck chairs and sun umbrellas. On-water fun includes fishing, sailing, and surfing.
The beach is also just steps away from Eastbourne Pier with its kid-friendly arcades and traditional food and drink outlets, as well as a Victorian tearoom.
Other nearby Eastbourne attractions include an early 19th-century fortress, a bandstand offering a regular schedule of music, a lifeboat museum, and the elegant Carpet Gardens on the aptly named Grand Parade.
Address: Grand Parade, Eastbourne, East Sussex
2. Royal Parade Beach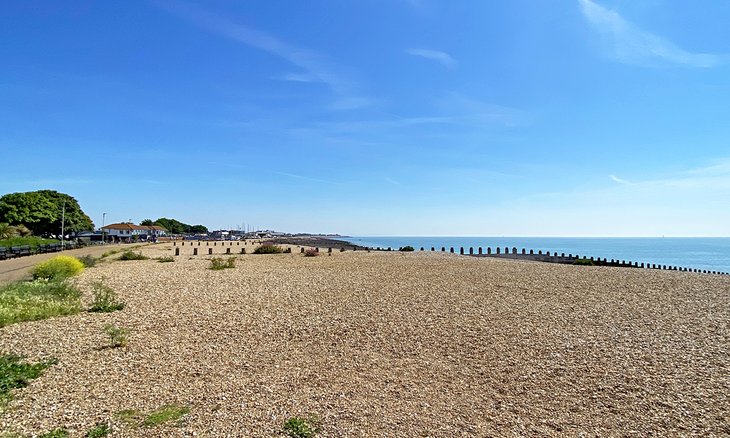 At the eastern end of Eastbourne's seafront, Royal Parade Beach is usually a lot quieter than the town's main beach.
It's here, a short walk away from the busier, more touristy Eastbourne beaches, that the locals tend to go, along with those visitors who prefer an altogether more relaxing beach experience.
In addition to having more beach on which to spread out, visitors to this wide shingle beach have plenty of opportunity to participate in their preferred water sports, or to try their hand at new ones.
Among the most popular activities are windsurfing, kitesurfing, and sailing, as well as fishing. Off-beach fun includes cycling and walking along the wide promenade.
Amenities include washrooms and plenty of street parking, as well as nearby eateries offering snacks, meals, and hot and cold drinks. This section of the beach is pet-friendly, but dogs should be kept on a leash during the busier seasons.
Address: Royal Parade, Eastbourne, East Sussex
3. East of Pier Beach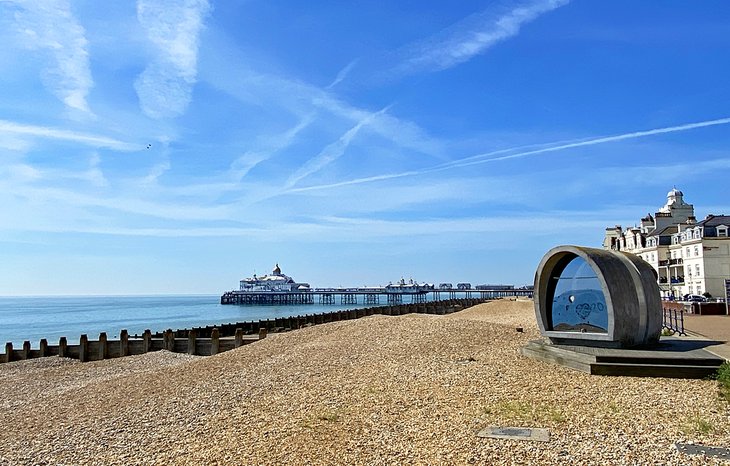 This area of pebbled shoreline to the immediate east of Eastbourne Pier, between it and Royal Parade Beach, offers a generally quiet, relaxed beach experience. This is because most of the beachfront attractions are located on Eastbourne's main beach on the other side of the pier,
While not an officially designated beach, this area is known as East of Pier Beach among locals and regular visitors.
Built in 1870 at the height of the town's rapid Victorian-era expansion, the 1,000-foot-long structure dominates the seafront here, providing an attractive backdrop for those enjoying the beach.
It also makes for a fun place to explore at low tide, with the area around the pier consisting mostly of exposed rock and hard-packed sand.
Nearby amenities include public washrooms, plenty of on-street parking, as well as numerous accommodation options and eateries.
Address: Marine Parade, Eastbourne, East Sussex
4. Redoubt Beach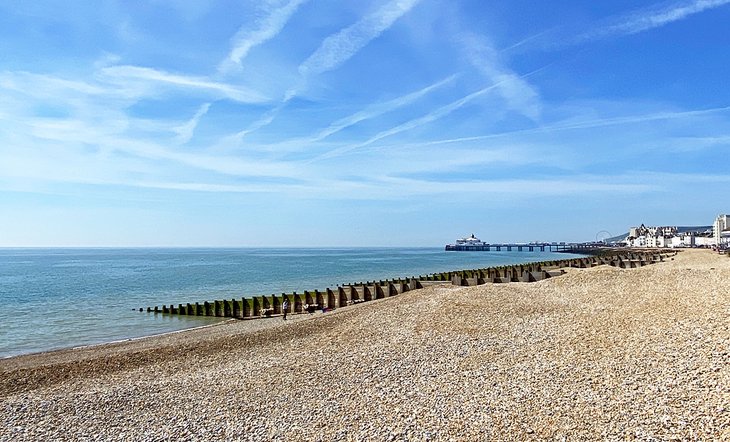 Another beach that's anchored by a major Eastbourne landmark is Redoubt Beach.
Only 15 minutes' walk east of the pier, the beach here is shingle, with only a little hard-packed sand revealed at low tide. It is, however, usually not at all crowded, allowing serious sunseekers plenty of room to lay down a towel and set up a beach umbrella.
The highlight of the beach, though, is its unique setting. Dominating the shoreline, the large, circular Redoubt Fortress presents as imposing a sight today as it did when built in 1810 as a deterrent against French aggression.
Next to it is a pleasant green space—a park-like setting that houses The Pavilion Café, a great place for a meal or beverage offering excellent views over the beach.
In addition to nearby shopping and dining options, there are public washrooms, and street parking is available.
Address: Eastbourne Redoubt, Royal Parade, Eastbourne, East Sussex
5. Western Parade Beach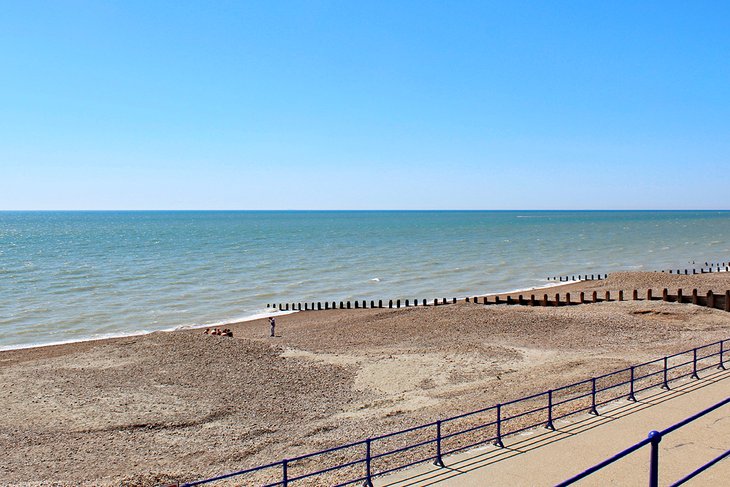 A different, somewhat smaller, Napoleonic-era fortress marks the location of another popular beach in Eastbourne: Western Parade Beach.
Here, the Wish Tower, a Martello Tower built in the early 1800s, stands tall on the Wish Tower Slopes, as if still standing guard over this long stretch of pebble beach.
Its location to the west of the town's main beach and the pier means it's certainly easy to get to, with the half-mile stroll along the promenade taking only about 15 minutes.
While its proximity to the main beach and the pier means it can get a little more crowded than the beaches located a little farther away, you tend not to see the same dense crowds as at other Sussex shores, such as the beaches in Brighton.
Families enjoy this pebble beach not just for the clean, shallow waters along the shoreline, but also for the sandy areas and rock pools that appear at low tide. Once revealed, kids can spend the time until the tide begins its inward journey again playing in the sand and scouring the rock pools for crabs and other marine life.
Amenities include public toilets, changing rooms, and showers, and there are numerous dining options close by as well as ample street parking.
In addition to the adjacent Western Lawns, a perfect spot for a picnic, the park is home to the Eastbourne Wheel, a large Ferris wheel offering superb views over the town; the many Eastbourne beaches; and the English Channel.
Address: King Edward's Parade, Eastbourne, East Sussex
6. Holywell Retreat Beach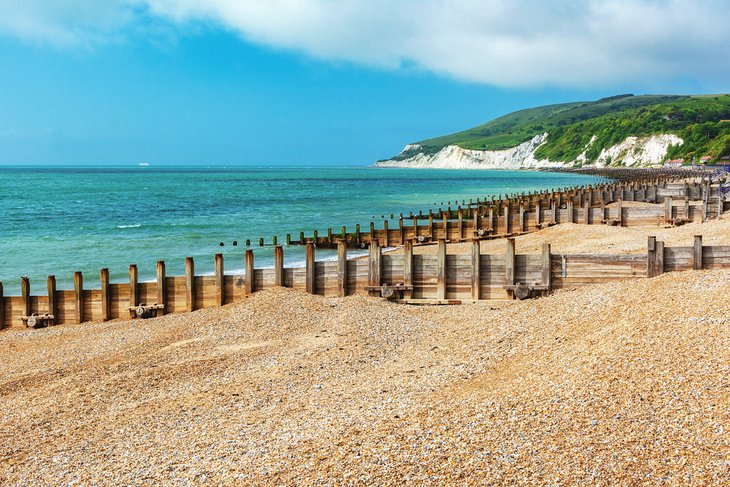 If you gaze to the west from Wish Tower Slopes, you'll find yourself looking at Holywell Retreat Beach. It's here that Eastbourne's four-mile-long shingle beach ends and the majestic South Downs start.
Look westward from the beach, and you can see these beautiful white-chalk cliffs extending along a shoreline which, where the beach ends, gives way to rocky outcrops and boulders.
Some of the closest rock pools are easy for families to explore and offer no end of fun for kids wanting to explore beyond the beach.
Facilities include public washrooms and showers; baby changing facilities; a children's playground; and a café, the Hollywell Tea Chalet.
There is also a long stretch of parkland with formal gardens that extend to the cliffs, and access to trails that'll take you to Beachy Head and the Seven Sisters cliffs. Parking is plentiful and free.
Address: Duke Drive, Eastbourne, East Sussex
7. Pevensey Bay Beach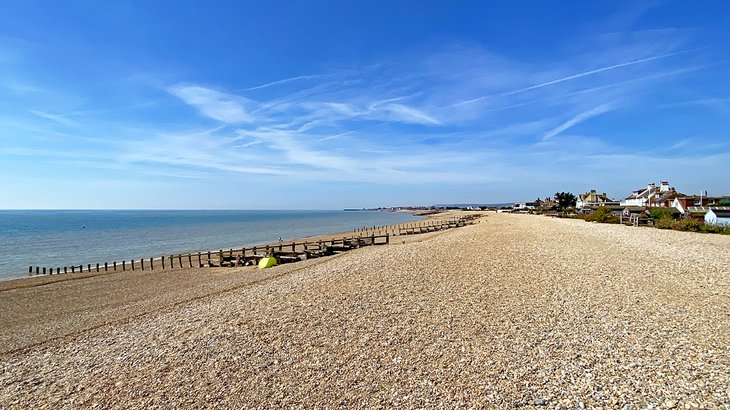 Take a four-mile drive east of Eastbourne, and you'll come to the picturesque coastal community of Pevensey Bay.
This historic 17th-century fishing village is home to Pevensey Bay Beach, a pleasant stretch of pebble-deposited shoreline formed, like all Eastbourne beaches, by the continual erosion of Beachy Head, seven miles to the west.
The beach's popularity among tourists gained steam only in the 1930s, and today's tourists tend to be those that prefer their beach experience on the quiet side.
In addition to enjoying relaxed activities like sunbathing and swimming, adventure enthusiasts can enjoy water sports such as kayaking, canoeing, windsurfing, sailing, and jet skiing.
Pevensey Bay is also a popular spot among bird-watchers who are here to visit Pevensey Levels. Located to the northeast of the village, this marshy area is home to a bounty of wild flowers, insects, and the birds that feed off them.
Other fun things to do in Pevensey Bay include visiting Pevensey Castle or enjoying a beachside picnic.
Amenities include public washrooms, including some with access for those with mobility issues, a dedicated parking lot, and nearby food options. The beach is dog-friendly year-round.
Address: Sea Road, Pevensey Bay, East Sussex
8. Birling Gap Beach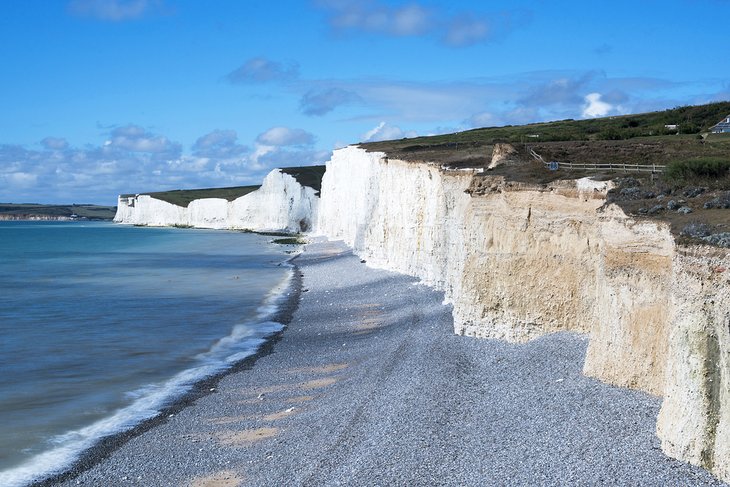 The road from Eastbourne to Birling Gap Beach is undoubtedly one of the most spectacular scenic drives in Sussex, if not all of England.
Just over five miles away from Eastbourne Pier, you'll find your ears popping as you climb up the spectacular South Downs to Beachy Head, a 531-foot chalk headland, before dipping down into Birling Gap. It's simply breathtaking.
So, too, are the views from Birling Gap Beach. Part of the Seven Sisters group of chalk cliffs, Birling Gap is an area of outstanding natural beauty, set in a dip that overlooks the English Channel and this spectacular stretch of coastline in both directions.
Part of the same chalky soil that Dover in Kent's famous White Cliffs are made from, the Seven Sisters make perhaps the most dramatic backdrop a beachgoer could wish for.
While beach amenities are few and far between and amount to nothing more than clean public washrooms and a café at the National Trust Birling Gap Visitor Center, let's face it, that's not why you're here.
You're here for the beach, a mostly pebble affair with some sandy areas revealed at low tide. Low tide also brings with it numerous rock pools to explore, an experience made all the more memorable due to those imposing white cliffs looming large around you.
If you're able to descend the steep tower staircase to the beach from the cliffs, you may then also want to consider tackling one of the fun circular walking trails. These cover the beach and the cliffs, and can be done in around 90 minutes.
Also, fun exploration packs for kids can be acquired at the Visitor Center that deal with specific topics such a wildlife and fossils.
Address: Beachy Head Road, Eastbourne, East Sussex
9. Bexhill-on-Sea Beach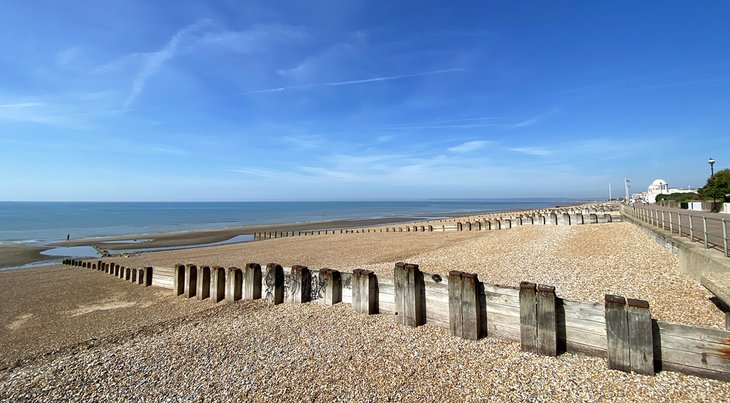 Located midway between Eastbourne and the seaside attractions of Hastings, Bexhill-on-Sea makes for a great Sussex day trip.
Offering up a traditional, low-key beach experience without the glitz, it's as popular a beach destination for families as it is with those who enjoy water sports.
A long, shingle beach that backs onto a wide promenade, some sand does reveal itself at low tide, suitable for the kids play on or adults to wade out and swim in the clear, clean water.
And when you're done on the beach, send the kids with some pocket change to test their skills and have fun at the nearby amusement arcades.
Adventure sports here include kitesurfing and windsurfing, as well as kayaking, jet skiing, and sailing.
Address: De La Warr Parade, Bexhill-on-Sea, East Sussex