19 Top-Rated Small Towns in England
Choosing the best small towns in England is no easy feat. This luscious land bursts with villages so enchanting, they capture tourists' hearts, making it almost impossible to choose one over the other. Not surprisingly, the picturesque backdrops found in these adorable small towns have inspired countless paintings, poems, and novels, not to mention helped to fill many a phone's photo storage.
From historic fishing hamlets to towns teeming with Cotswold charm, England does quaint like no other. We're talking charmingly crooked buildings, thatched roof homes, babbling brooks, and gardens so lovely, you'll swear they were made by fairies. No wonder England is one of the world's most visited countries.
Our list of the best small towns in England spans the countryside, from one coast to the next. Each charming town will whet your traveler's appetite and leave you wanting to stay for just a little bit longer. And who knows, maybe you really will spot a fairy.
Discover the most magical places to visit with our list of the top small towns in England.
1. Castle Combe, Wiltshire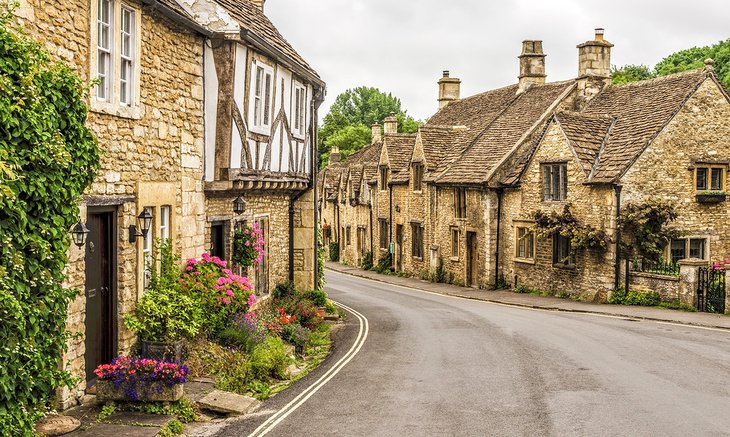 Stepping foot in Castle Combe is like being transported back in time - or into the pages of a book.
No one can argue its reputation as "the prettiest town in England." Bursting with charm in the form of perfectly preserved houses built with honey-colored Cotswold stone and narrow laneways lined with fresh blooms, Castle Combe also tops the list of the best villages in the Cotswolds.
Beauty is found at every turn in this historic village. From the town center's ancient water pump nestled behind fresh flowers to the stone market cross to the hallowed walls of St. Andrew's Church, there's never a lack of something lovely to photograph. The church is also where you'll find the faceless, working medieval Castle Combe Clock.
Don't expect to find big box stores, billboards, or tourist shops in this idyllic locale. This lack of in-your-face commercialism is a large part of its charm, easily making this one of the top small towns in England.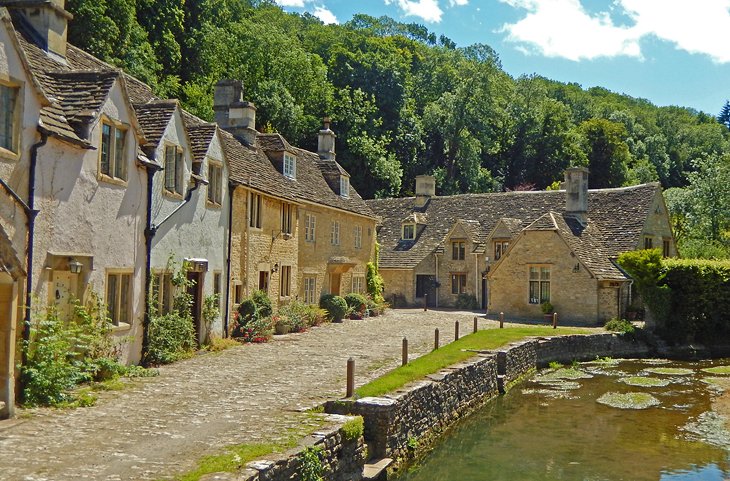 As you walk through this tiny paradise, be sure to buy fresh fruits, veggies, herbs, or baked goods from the make-shift markets set up outside people's homes. And don't miss a meal in one of the town's restaurants. The White Hart has been around since the 14th century and offers service (and traditional English fare) with a smile. On a nice day, you can enjoy your meal on a picnic table outside.

The only downside to Castle Combe? You won't be alone. Used often as a backdrop for movies and television shows (you may recognize its charming town center from Steven Spielberg's War Horse), this hidden gem has become a hot spot for tourists. Aim to get here early or visit off-season if you're hoping for a quieter experience.
Tip: Walk across the low bridge that crosses the Bybrook to the 14th-century The Manor House Hotel and Golf Club. Once home to feudal lords, this impressive, stately manor is now a five-star hotel.
2. Painswick, Gloucestershire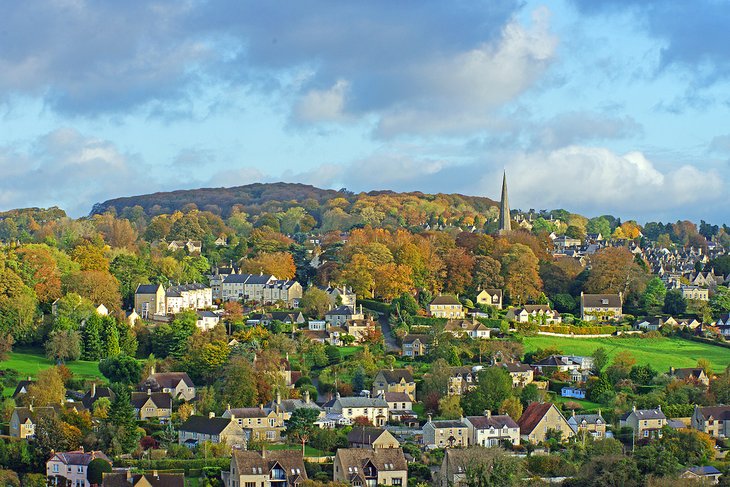 Ever wanted to live in a fairy tale? Visit Painswick. Walking through the St. Mary's churchyard will amaze even the biggest cynic. Armed with 99 spectacular yew trees (legend says the 100th won't grow), the grounds will make you forget the outside world. It's been named "Queen of the Cotswolds" for good reason.
Run through the tree tunnel, marvel at the tabletop tombs, and search the church tower for signs of the Civil War. The tombs date to the 17th century. If you happen to be here in time for a service, stick around; the locals are friendly and welcoming, with interesting tales (and sometimes tea and biscuits) to share.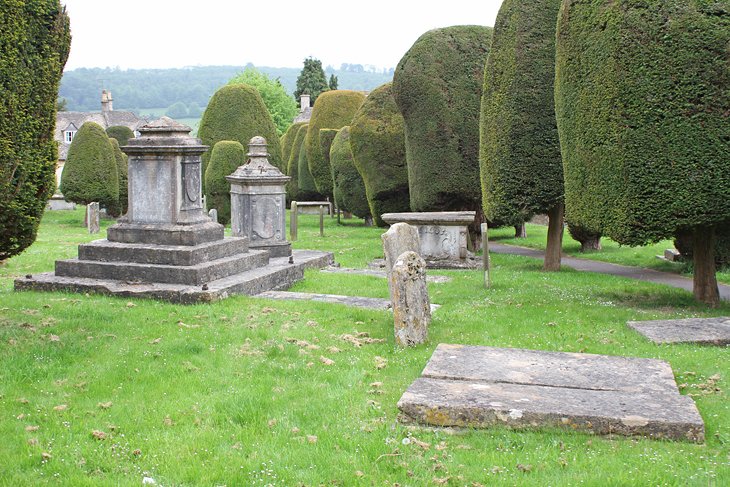 Next, lose yourself in the winding streets lined with quintessentially English homes. Like Castle Combe, the houses here are made of Cotswold stone. If you look closely enough, you'll be able to find remnants of Painswick's past as a wool town, including donkey doors on Bisley Street.
Don't miss Rococo Gardens, which offers spectacular views of the countryside in addition to its lovely gardens. It's slightly outside of town, but more than worthy of a visit.
Bonus: If you're up for a long walk, Painswick is on the Costwold Way footpath. Running from Chipping Camden to Bath, this famous path runs 100 miles in length.
3. Rye, East Sussex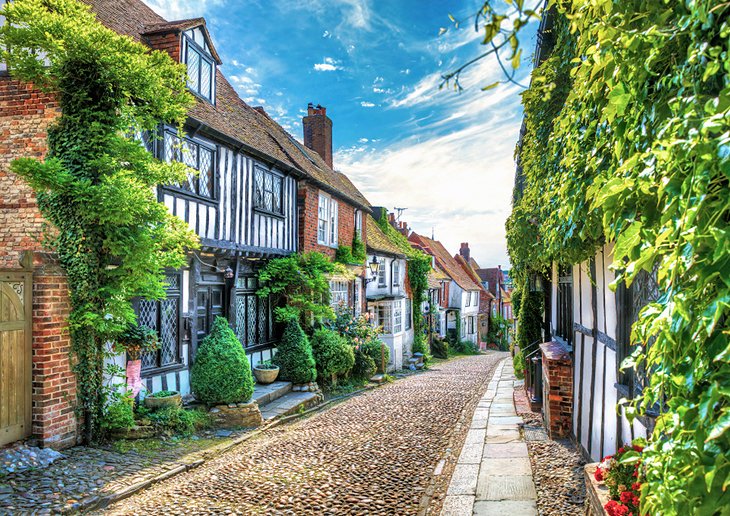 It's hard to get sick of walking through cobblestone streets, especially when they're lined with charmingly crooked houses. An hour and a half west of the top tourist attractions in Brighton, Rye is both peaceful and picturesque. This fortified hilltop town offers incredible countryside and river views to all who visit. It's easy to see why this quaint village tops our list of the best small towns in England.
Start your sightseeing tour on Mermaid Street, making sure to take in the 15th-century timber-framed houses. Make a game out of finding the one with the most unique name-like "The House with Two Front Doors."
Wander down one of many secret passages before finding your way to Simon the Pieman for the most delicious scone (with cream and jam, of course).
The Mermaid Inn is the street's most famous historic building, and one of the oldest inns in England, not to mention one of the best hotels in Rye. Dating back 600 years, this unique spot was rebuilt in 1420 and features a cozy restaurant. Don't worry, it's also home to modern amenities.
Next, you'll want to take in the shops. Peppered with a few chain stores, Rye is better known for its vintage and eclectic shops selling everything from books to antiques.
Tip: The best spot to enjoy the view is St. Mary's church tower. From here, you can truly appreciate the terra-cotta roofs of the houses below.
4. Windsor, Berkshire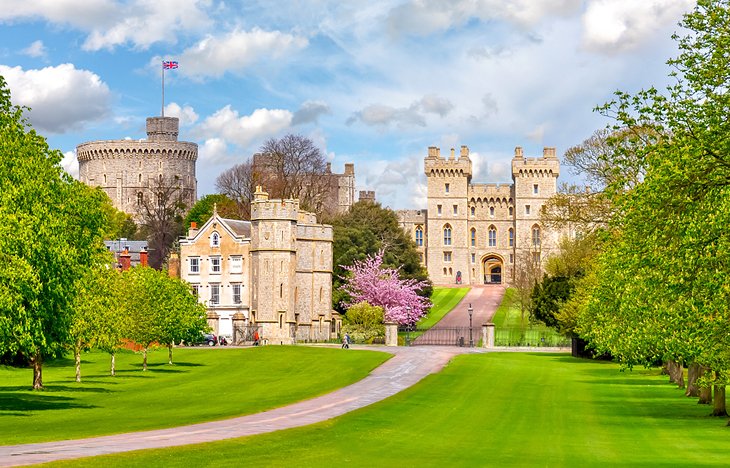 While it received added fame as the royal wedding venue for Prince Harry and Meghan Markle (and as the backdrop for their first photo with baby Archie), Windsor has been a popular tourist destination for centuries. The main reason people flock to this top small town in England? Windsor Castle. The largest occupied castle in the world, this also serves as a weekend and holiday home for the Queen.
This royal residence sits atop a hill and is home to the famed St. George's chapel. To get to it, you must walk up a pretty, winding street lined with shops. Delicious fudge can be found here, so dip into the stores and try a bite. Be prepared to wait in line when you reach the castle, as the security and check-in processes take a while.
England is well known for its spectacular gardens (there has to be an upside to all that rain). Windsor won't disappoint. In addition to the phenomenal castle grounds, the town boasts Windsor Great Park. Head south from the castle, and you'll be rewarded with the Long Walk (2.65 miles and 5,000 acres) flanked by trees. Inside, you'll find Saville Garden. Opened in 1951, the highlight is a rose garden best seen from an elevated walkway.
Things to do nearby include Legoland (a popular spot for ride-loving families) and the Ascot racecourse.
5. Clovelly, Devon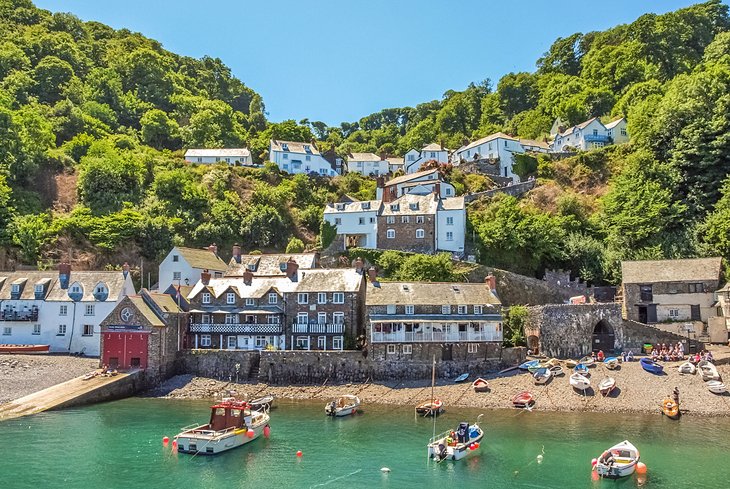 The beauty in this sweet small town is beyond measure. Cobbled, winding streets are lined with white cottages adorned with flowers. They literally ooze charm. The village is set into a 400-foot cliff in North Devon, the bottom of which ends at an ancient port. Built in the 14th century, the harbor is still used today.
The best part? Tourists don't have to dodge cars while exploring this heart-warming small English town, instead, they'll have to make way for donkeys and sleds - no vehicles are allowed.
Staying the night in this quiet, tranquil haven is a must for those looking to unwind. Plus, if you stay in the town, your small entry fee is generally waved. The fee covers parking, a short film about the town's history, two museums (Kingsley museum and Fisherman's Cottage), and access to the Clovelly Court Gardens.
Tip: The streets require a steep climb, which can be tough for some, but the view from the top is worth the somewhat cumbersome trek.
6. St. Ives, Cornwall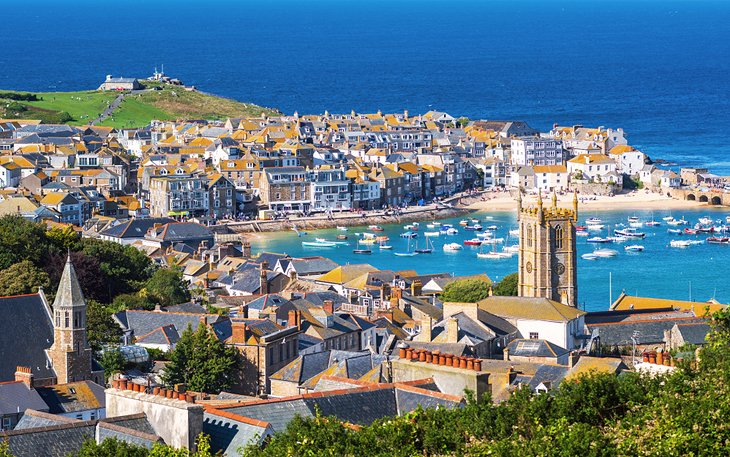 This gorgeous coastal town was once a fishing village. Over the years, however, it has become famed as a popular seaside resort. With its impeccable harbor and clean, soft, sandy beaches, St. Ives has received many accolades -"Best Seaside Town," "Best Family Holiday Destination," and one of the "Top 10 European beaches." Narrow, winding cobbled streets increase the charm factor, as do the fishermen's cottages and eclectic shops.
A perfect place for water-lovers and sun-worshippers, this Cornwall hot spot boasts sheltered coves for easy swimming. Grab a surfboard and ride the waves at Porthmeor beach, and rent a windsurfer or try your hand (or feet) at waterskiing.
Not a swimmer? Head out for a walk along the coast. Make time to visit the Tate St. Ives, an impressive art gallery with views of the Atlantic Ocean.
Tip: St. Ives is a popular vacation spot for the Brits, so be sure to book a hotel well in advance, especially if you plan to visit during the more popular summer months.
7. Warwick, Warwickshire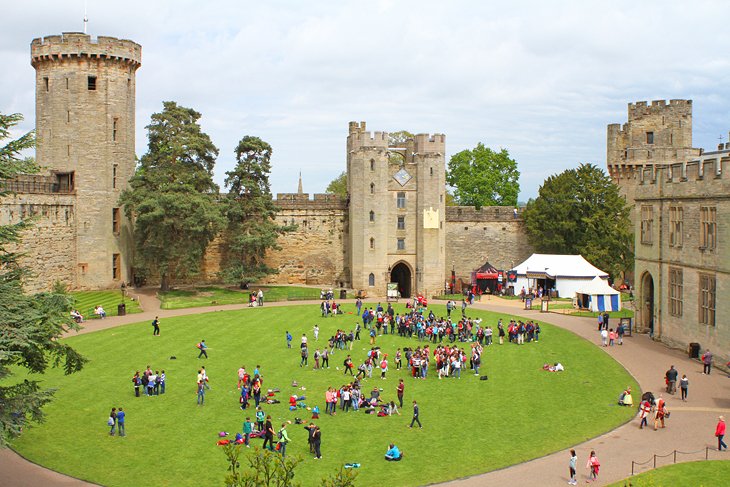 History abounds in this pretty town near the River Avon. Start with a tour of Charlecote Park, the stately Victorian home of the Lucy family. In addition to wandering the expansive grounds, set aside time to explore rooms that are open to the public - the library is a favorite.
Next, you'll want to schedule time for Warwick Castle – an example of what would happen if Disney and the Knights of the Roundtable had a baby. The castle has the impeccable charm of all English castles, with the bonus of being very well preserved. Families will love its ties to the Horrible Histories franchise, which allows kids to travel through a maze filled with interactive games that help them travel through time – from the Vicious Vikings to the Vile Victorians.
Also found on these entertaining grounds are, a princess tower, castle dungeon, and the ever popular Falconer's Quest, a remarkable birds of prey show.
Lord Leycester Hospital is another don't-miss site. A living museum (the name is derived from "hospitality," not "hospital"), this beautiful building is home to ex-service personnel/brethren who act as guides. It's less costly than Warwick Castle and boasts a tearoom with tasty treats.
Fun fact: Warwick Castle offers glamping on its grounds, with special early castle access for its guests and "knight school" in the evening. You'll sleep in a cozy bed within a large canvas tent and feast in a medieval banqueting hall.
8. Lyndhurst, Hampshire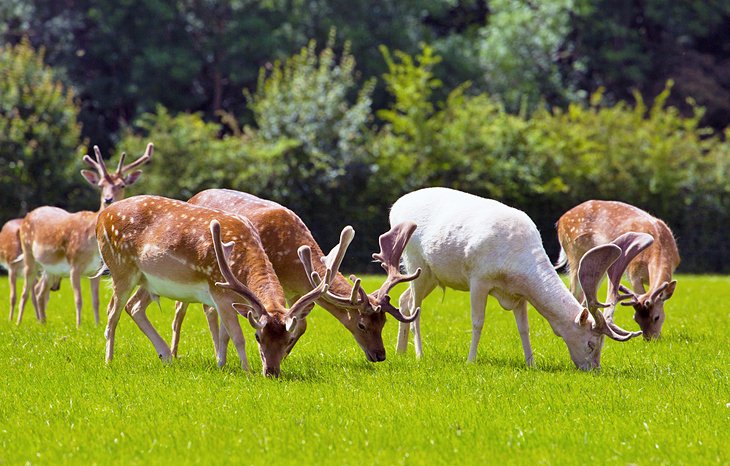 Nestled in the heart of England's New Forest, Lyndhurst is truly a hidden gem, and undeniably one of the best small towns in England. It was established as a royal hunting ground by William the Conqueror in 1079. Today, it's a good base for those who'd like to spend the night in The New Forest without having to do so in a tent.
Whether you're a fan of biking, running, or walking, Lyndhurst offers access to numerous trails through the forest. Look out for the wild animals-cows, sheep, and horses roam free in this region.
In town, you'll find numerous small restaurants and quirky shops. Tasty Pastries offers fresh baked treats and Cornish pastries, while the charming Peggy May's café tenders a traditional English experience. The Forest Cream Tea, complete with two homemade scones, clotted cream, and a pot of tea, tops the list.
Don't miss St. Michael and All Angels, Lyndhurst's Parish Church. The stained-glass windows are lovely, but most tourists visit the churchyard in search of a grave. Alice Hargreaves, best known as the inspiration for Lewis Carroll's Alice in Wonderland, is buried here.
The Crown Manor House Hotel is one of the best hotels in Lyndhurst. Set in the center of town, its location is ideal, but this 15th-century charmer is so tranquil and cozy, you'll be happy you chose it for your romantic, countryside getaway.
9. Henley-on-Thames, Oxfordshire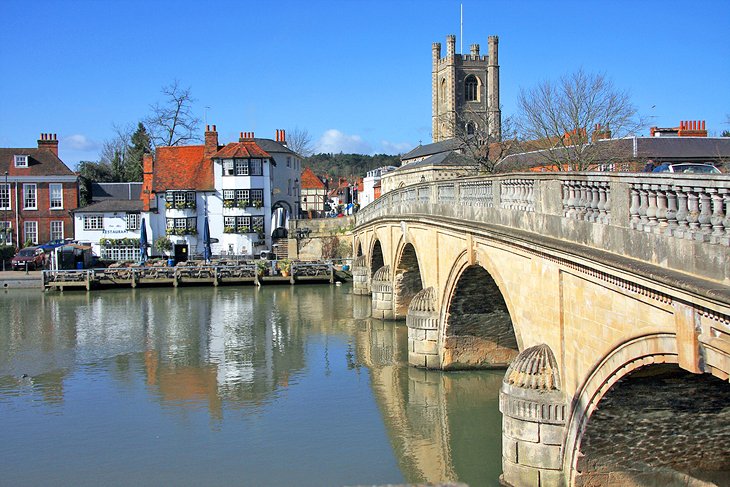 Home to the famous Henley Royal Regatta (a boat race in early July that brings in thousands of visitors), this beautiful spot was established as a market town in the 12th century. Walking the Thames Path National Trail is a must. It runs from Marsh Lock to Hambleden Lock.
Not a fan of walking? Rent a canoe instead and get out on Henley's main attraction-the water. Henley's River & Rowing Museum has been voted one of the world's 50 best museums (by The Times). It focuses on the river and rowing as an international sport.
A visit to Grey's Court is always enjoyable. Although small, this National Trust house is worth a look-see, especially in the spring, when the garden's bluebells and wisteria are in bloom.
Make time for a respite at Chocolate Café, a local hot spot known for – you guessed it – chocolate treats. The hot chocolate, in particular, is a must-try. It's best enjoyed sipped slowly while taking in the river view.
10. Bourton-on-the-Water, Gloucestershire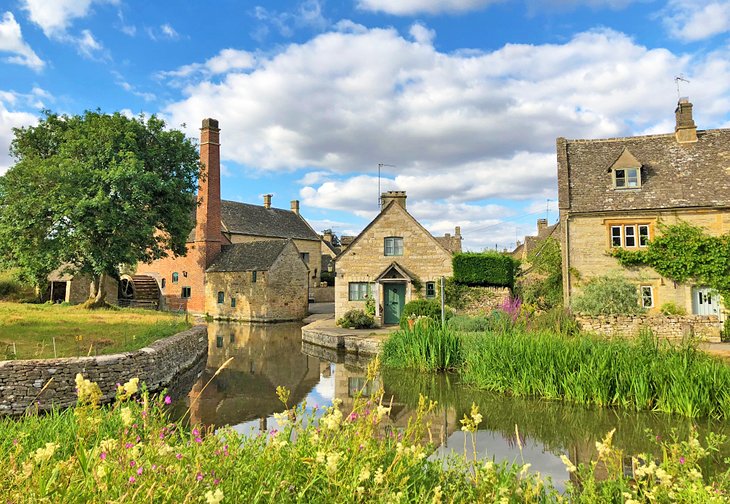 No trip to the Cotswolds is complete without a trip to its stellar small town, Bourton-on-the-Water. Peppered with low, arched stone bridges that cross the River Windrush, it has been dubbed the "Venice of the Cotswolds."
The high street is packed with quirky shops selling everything from antiques to tea cups to sportswear. It's also bursting with restaurants - Green & Pleasant has delectable sandwiches and lemon pie, plus gluten-free options.
The Cotswold Motoring Museum is a must for car lovers. Clever, simple, and funny descriptions make learning about classic automobiles a delight. It's much bigger than it seems from the outside, so plan for at least an hour (or two) here.
The Dragonfly Maze is a fun way to spend an afternoon. Solve the clues (and get through the maze) to find the dragonfly - don't worry, the lovely lady in charge will help when you get stuck.
Bird lovers, prepare yourselves for Birdland. Over 500 of our winged friends call this nine-acre gardens and woodlands home. Spend time getting to know the flamingoes over a "cuppa" at the Flamingo Point Café.
11. Avebury, Wiltshire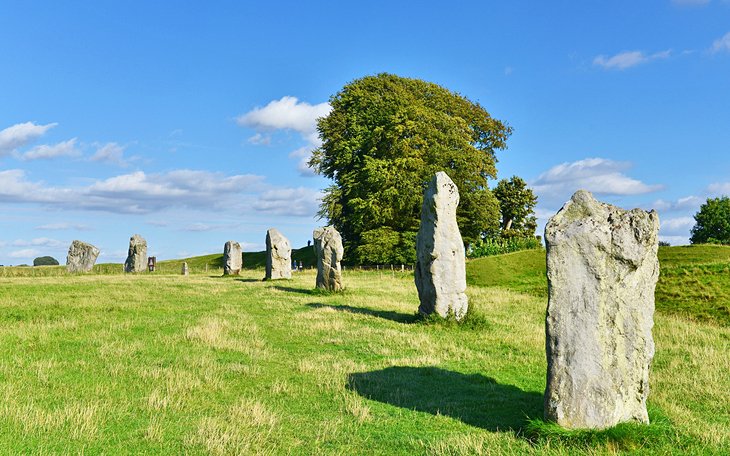 Many argue that Avebury's henge and stone circles are more enjoyable to visit than the over-crowded (and roped-off) Stonehenge. Built sometime between 2850 and 2200 BC, this henge encircles part of Avebury village. This National Trust site also contains the largest stone circle in Britain.
Wear appropriate footwear to get up close and personal with the impressive stones, as it is often muddy and slippery. There's no real need to stay overnight, as the village is tiny and sits an hour from the larger Salisbury, best known for Salisbury Cathedral, which houses the Magna Carta.
While driving, watch out for the white, chalk horse on White Horse Hill near Uffington. Nearby Silbury Hill is also worth a stop if you're traveling on the A4, but it can't be climbed.
12. Dedham, Essex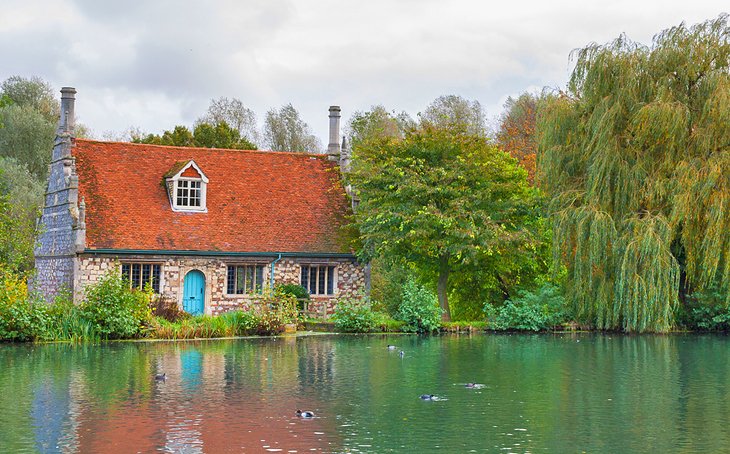 This sweet town inspired the work of Britain's greatest landscape artist, John Constable. Once you visit, you'll understand why. Spotted with Georgian-fronted town homes, Dedham is idyllic. The surrounding countryside transports visitors to a place of calm and tranquility.
Perhaps the most well-loved aspect of this area are the water meadows, which beckon to artists, photographers, walkers, and others who love to spend time outdoors.
Castle House is home to the Munnings Art Museum, featuring work from another local artist-horse painter Sir Alfred Munnings. He, too, appreciated the area's beauty.
Take a boat trip along the River Stour to nearby Flatford Mill. While here, spend time at the John Contstable Exhibition in Bridge Cottage and walk in his footsteps through the local countryside.
13. Alfriston, East Sussex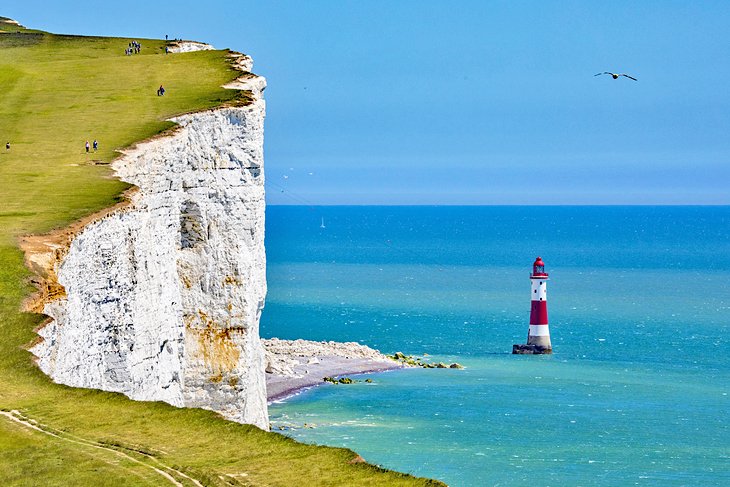 Tourists flock to the South Downs National Park year-round. With over 1,600 kilometers of rolling hills, ancient woods, and picturesque landscapes, it's easy to see why. The white cliffs of the Seven Sisters are another of the park's main draws.
With so much land to cover, tourists often search for a place to find respite. Nearby Alfriston is the perfect spot. Bursting with quaint boutiques, cafés, and galleries, there's something for everyone to love in this small town.
The Cathedral of the South Downs (a.k.a. St. Andrews Church) is not to be missed. Built in 1360, it sits on the edge of the village green (Tye) right by the river Cuckmere. Built in the shape of a cross, it's also home to the Alfriston Clergy House, a Wealden hall-house with a thatched roof and timber frame. It's only open between March and December, so be sure to time your visit.
Tip: Don't miss the old, and thankfully disarmed, Alfriston mine. It washed up at the River Cuckmere in 1943 and was placed on the green in hopes of inspiring visitors to "spare a coin in grateful thanks that Alfriston is not just another ruin, which would have been the case had the mine exploded."
14. Whitstable, Kent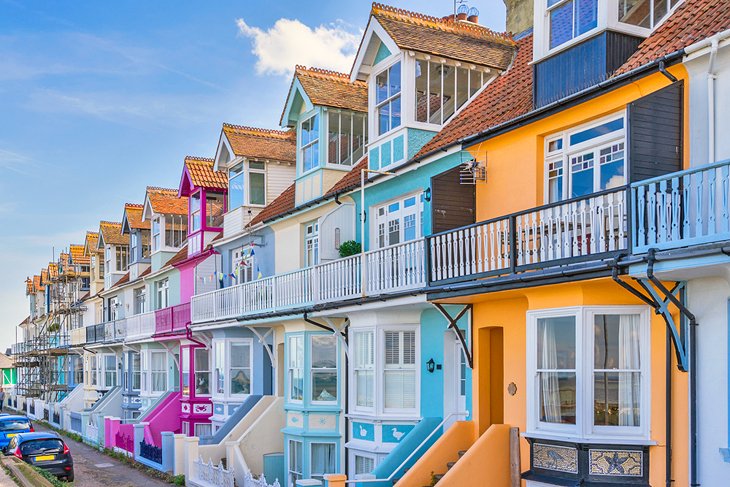 This small seaside town is a perfect spot to escape the hustle and bustle of city life. You won't need a whole day here, so book a hotel in nearby Canterbury, which is a mere five miles away. Whitstable is best known for its colorful houses and fishermen's shacks. Walking along the shore will bring you face to bow with a bevy of boats awaiting their next catch.
You'll love wandering through the lively Whitstable Harbour. On a warm, sunny day, it's packed with bathing suit-clad tourists enjoying 99s (English soft-serve vanilla ice-cream). Colorful beach sheds line the harbor, selling everything from baby clothes to jams to inflatable rafts. Seafood is perhaps the best reason to visit this waterfront gem. After all, it's literally being served fresh off the boat.
Tankerton Slopes lies atop a grassy expanse, offering visitors clear sea views while they walk a path that eventually leads them to Herne Bay. Below the Slopes lies Tankerton Beach, a pretty shingled beach that is best enjoyed while wearing shoes.
15. Burford, Oxfordshire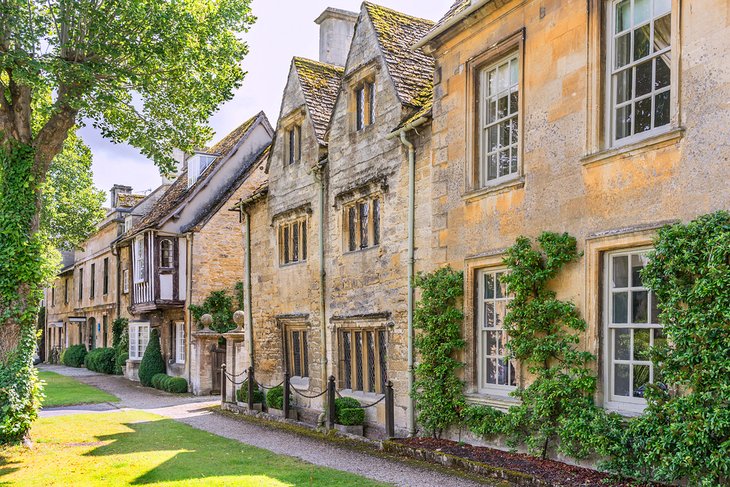 Another Cotswold gem tops our list of the best small towns in England. Located about 30 kilometers west of Oxford, this adorable village is a photographer's dream. Georgian buildings are interspersed with a mix of thatched roof homes and Cotswold stone cottages.
The town's main street is lined with quirky shops and tearooms, as well as inns and restaurants. It slopes steeply towards the River Windrush, offering shoppers the loveliest of views. A visit to St. John the Baptist church is a must while you're in town. Over 100,000 visitors take the time to admire this hallowed venue, which was built between 1175 and 1500.
If you have kids in tow, and even if you don't, you should visit the nearby Costwold Wildlife Park & Gardens. Here, you'll come face to eye with a giraffe, peek at a porcupine, or ogle a lion, all within the 160 acres of parkland.
16. Bibury, Gloucestershire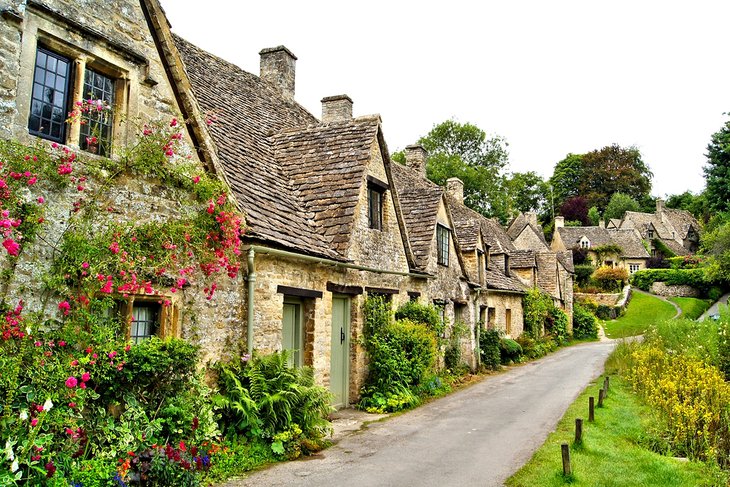 Bibury is another Costwold gem that lies a mere 15-minute drive northeast of Cirencester, the "Capital of the Costwolds." Beloved for its impeccably preserved cottages, scenic setting on the banks of the River Coln, and ancient Arlington Mill, it's easy to see why this small town has been dubbed "the most beautiful village in England."
Arlington Row is by far the best tourist attraction in Bibury. Its picture-perfect 14th-century weavers' cottages have been photographed a zillion times. This is one of the most recognizable streets in England. It's even featured inside the UK passport.
Fans of fishing won't want to miss Bibury Trout Farm, the town's catch-your-own fishery.
Insider's tip: Visit early in the morning if you're hoping to avoid crowds. As one of the best villages in the Cotswolds, Bibury can get quite busy, especially during spring and summer.
17. Shaftesbury, Dorset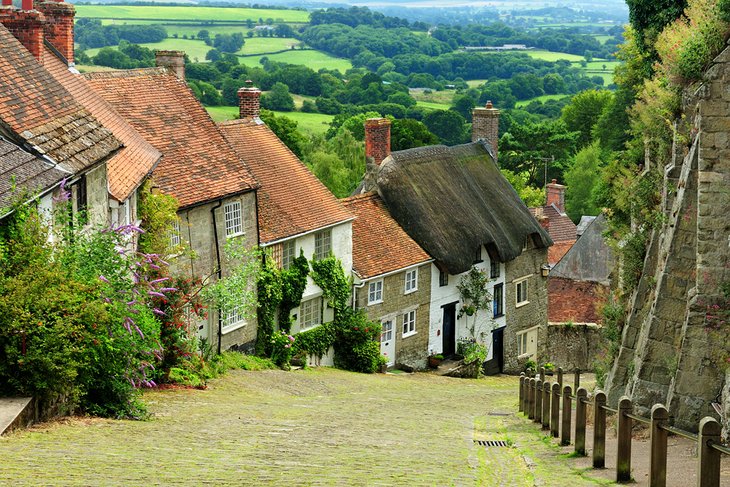 In addition to its quintessentially English, thatch-roofed cottages, charming tea shops, and historic cobblestone streets, Shaftesbury boasts a hill-top view of the resplendent Blackmore Vale.
While you should be prepared to do a bit of hill climbing while exploring this adorable small town in England, the remarkable vistas are worth a steep walk. Plus, you'll be so awed by the delightful stone houses lining the streets that you may not even notice the incline.
Gold Hill is the most famous tourist attraction in Shaftesbury. A popular cobblestone street, one side is lined by the ancient stone wall belonging to Shaftesbury Abbey.
Gold Hill Museum lies atop the hill's slope, offering stunning views, as well as a beautiful cottage garden and eight galleries spread between two buildings – one that was originally the priest's house, and the other a former lodging for market traders.
The Grosvenor Arms tops the list of the best hotels in Shaftesbury. A quaint yet stylish inn, this refurbished spot seamlessly mixes historic charm with modern amenities. With only 16 guest rooms, you're guaranteed a quiet and pleasant stay.
18. Lavenham, Suffolk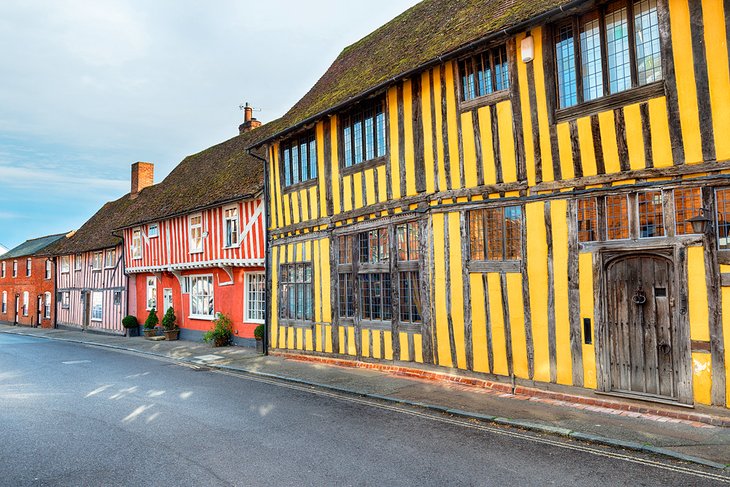 It's impossible to dislike the colorful streets of Lavenham. Once a medieval wool town, this historic village is today one of the prettiest small towns in England. Timber-framed homes awash in pastel hues brighten a dreary English day in this picturesque town.
Many of the remaining buildings date to the 15th century, lending an ancient allure to this picturesque town. Guildhall (or the Guildhall of Corpus Christi as it is formally known) is one of the top attractions in Lavensham, and it dates to 1530.
This timber-framed masterpiece seeps with over 500 years of history. It was used as a religious meeting place, prison, and workhouse, among other uses over the years. Today, it stands as a museum with exhibits that bring the town's interesting past to life.
The Swan at Lavenham Hotel & Spa is one of the best hotels in Lavenham. This 15th-century accommodation is both quaint and charming. Its rich décor (think timber-beamed ceilings and elegant linens), friendly service, and relaxing spa make this a luxurious place to spend a few nights.
19. Chipping Campden, Gloucestershire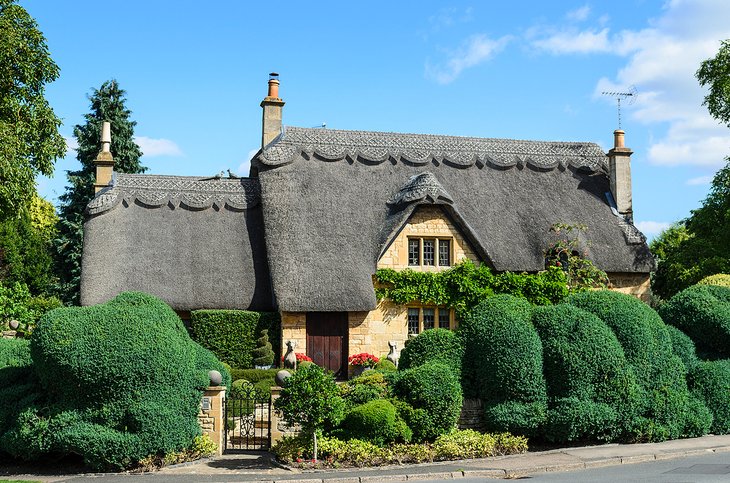 Chipping Campden is one of the largest and most vibrant of the Cotswold villages. That said, it's still considered a small town in England. It was once a bustling market town, and today, you'll find its iconic stone marketplace rising from the center of town, reminding everyone of Chipping Campden's prowess during the wool trade.
Shops, restaurants, and quaint cottages line the ancient streets that spread out from the marketplace, enticing visitors to stroll the area at a leisurely pace. Badgers Hall Tea Room and The Bantam Tea Rooms both offer lodging, as well as a delicious (and perfectly warmed) cup of tea.
The Court Barn Museum of Craft & Design is the top attraction in Chipping Campden. Inside its historic walls, visitors learn about the town's history. From C. R. Ashee's Guild and School of Handicraft (circa 1888) to Robert Welch and David Mellor's work as award-winning cutlery designers in the late 1950s.
Reward your senses with a trip to nearby Hill Barn Farm just outside the tiny village of Snowshill. This vast family farm is home to Cotswold Lavender and over 500,000 of the divine-smelling, bright purple plants. Mid-July is the best time to see (and smell) these beauties in bloom.
Map of Small Towns in England