From London to Brighton: 3 Best Ways to Get There
Wanting to get from London to Brighton is a long-standing tradition in England. This delightful East Sussex seaside destination overlooks the English Channel and has been a tourist magnet ever since it became fashionable in the late 18th century for wealthy Londoners to escape the big city grime for a spot of sea air and a stroll along the promenade.
While these first tourists arrived by horse and carriage, the introduction of rail services in the 1800s opened up the now easy 50-mile journey to the middle- and working classes. Brighton boomed as a result, and grew even more in popularity as a holiday destination with the advent of the automobile.
In fact, some of these first cars, now more than 100 years old, still partake in the famous London to Brighton Run, an annual event that commemorates the first such race that took place in 1896. While these vintage vehicles can take four hours or more to make the journey (while some, of course, don't finish!), driving to Brighton today can be almost as easy as taking a fast train.
While it's not likely you'll ever make the journey from London to Brighton by vintage car, you can get a little taste of what the early steam train journey was like courtesy of the Bluebell Line. Running for 11 miles between Sheffield Park and East Grinstead, this classic steam train adventure is easily accessible by car as you drive to Brighton and makes for a delightful excursion for the whole family while offering a taste of what the journey would have been like in the 1800s.
Whatever mode of transport you prefer, take a read of our list of the best ways to get from London to Brighton for inspiration and ideas.
1. From London to Brighton by Train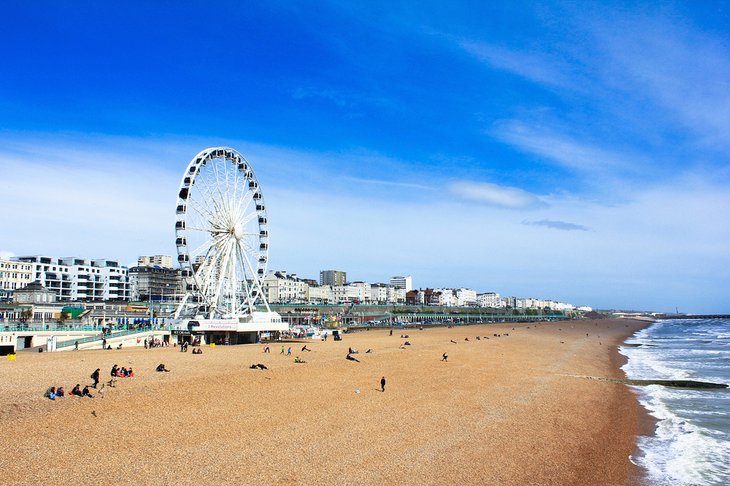 With regularly scheduled rail services and a journey time of around an hour, getting from London to Brighton by train is certainly something you should consider. And while frequent daily train departures occur from two of the city's biggest train stations, London Victoria and London Bridge, the route is also serviced from a number of other stations, including St. Pancras, London Blackfriars, and Farringdon, ensuring you're never too far away from a good connection with the coast.
While your choice of departure station may depend on which area of London you're staying in, the Southern Railway service out of Victoria and London Bridge is probably your best option. Trains to Brighton depart from both locations frequently. They also connect with Gatwick Airport for those planning to hit the beaches in Brighton straight from the airport (or just before flying home).
Southern Railway also offers a number of advance booking options online for travel to Brighton, many of them at a discounted rate if you book in advance of your travel. Add to this a great off-peak travel option, reduced rates for kids, as well as group discounts, and this pretty rail journey can be quite affordable for families, too.
Other options can also provide some much welcome discounts off the cost of your journey. Check out National Rail for any deals, as well as the excellent BritRail Pass. Available to overseas visitors, this handy train pass can be purchased in advance and provides access to rail services for periods of a day or two and up to a few weeks or more, with only a few restrictions.
And while the railway station is nearly a mile from the town's famous promenade and pier, the 25-minute walk takes you past (or close to) some of the top attractions in Brighton. But if walking's not your thing, and you want to get to the seafront (or your Brighton hotel) quickly, taxis and local bus services are available at the station.
2. From London to Brighton by Car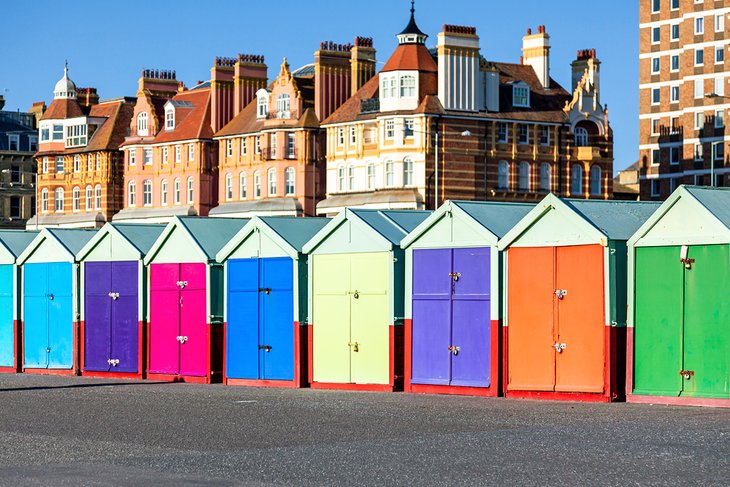 While the 50-mile journey from Central London to Brighton by car can take around two hours (an hour longer than travel by train), it certainly is doable and is not without its benefits. Those wanting to use a car for a family daytrip to Brighton or even a romantic getaway (we consider it one of the best places to visit in the UK for couples) will find the drive comparatively easy by local standards, especially once you hit the M23 motorway on the outskirts of Greater London (the A23 leads directly to it).
And once in Brighton, you'll find no end of parking on the town's perimeter. Brighton's free park and ride location is at Withdean Sports Complex on the northern edge of town, so easy to get to. Just leave your car here and buy a bus ticket for the #27 route to the downtown core... and have fun! Brighton bus services run every day all year round, except Christmas Day.
Parking is of course available at most hotels (including valet parking services at some) depending on location. However, a general rule of thumb: the closer you are to the busy downtown core the more likely you are to have to pay for this privilege.
3. From London to Brighton by Bus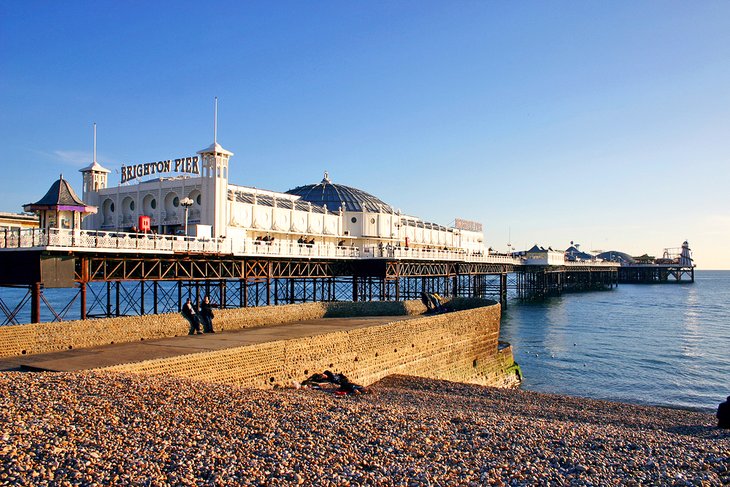 Getting from London to Brighton By bus (or "coach") is probably one of the easiest such journeys you'll make in the UK aboard this mode of transport. It's also incredibly cheap (or can be).
Buses depart from Victoria Coach Station up to a dozen times a day (most days), with a single one-way fare sometimes being available for as little as £5 (or around $7 US). That said, there are often restrictions on these cheaper fares, such as having to travel off-peak. While generally not a problem for tourists, it does mean adjusting your travel times accordingly to ensure you get the best bang for your buck.
The journey time can vary somewhat depending on the usual factors such as time of day, day of the week, and traffic congestion. You'll typically want to allow around 2.5 hours for the journey to be safe, though it can sometimes be a little quicker (or slower!) depending on road conditions.
To check for the most up to date schedules and current pricing, visit the National Express website for more information.