From London to Stonehenge: 4 Best Ways to Get There
Thanks to its size – you could literally fit it into the United States around 70 times – England is an easy country to tour. And for those planning to spend much of their time in the nation's capital, this is especially good news. England is crisscrossed by an excellent network of roads and rails, most of which either start in London or pass by close enough to make them handy for travelers.
Take Stonehenge as an example. One of England's top places to visit, Stonehenge can easily be reached by car, guided tours, or a combination of rail and bus transportation options. Best of all, the journey itself can offer many more great sightseeing opportunities, especially if you choose to have a tour company do the driving.
To help you plan your England travel itinerary, we've put together the following list of the best ways to get from London to Stonehenge.
1. From London to Stonehenge by Tour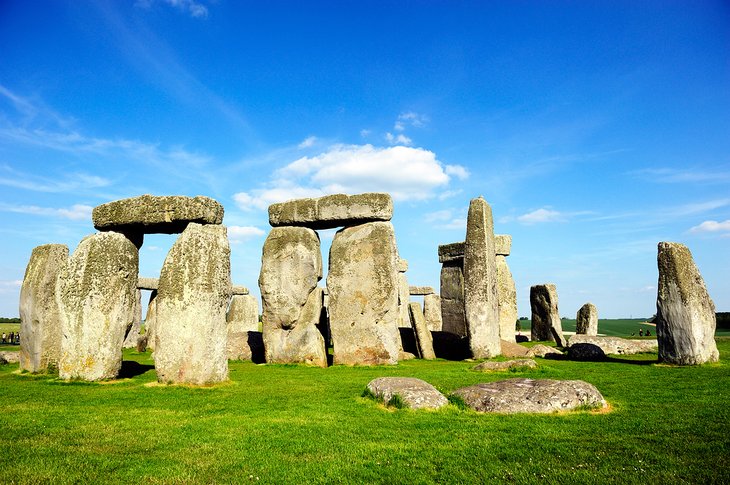 For those wanting to see multiple attractions while in England, an organized day trip from London to Stonehenge via Windsor Castle and including Bath is a great option. This superb day-long excursion lasts approximately 11 hours and manages to allow you to tick off three of the country's most popular tourist destinations in one go (albeit a long one!).
After an early 8am departure from the Victoria Coach Station in Belgravia, London, you'll kick things off with a visit to majestic Windsor Castle. Famous as the world's oldest castle still in use by royalty, much of it can be toured when there's no one home (check whether the flag is flying; it is when the Queen's home).
There's certainly much to see and do in Windsor Castle, so the hour and 15 minutes you get to spend here is pretty crammed. Rest assured, though, your professional guide will ensure you get to see the best bits while you're here. Highlights include famous St. George's Chapel (where Prince Harry married Meghan Markle), a tour of the State Apartments, as well as catching the colorful Changing of the Guard ceremony.
Next stop is the beautiful city of Bath in Somerset. You know you've arrived when you drive past famous Pulteney Bridge (so have your cameras ready). This most romantic of English cities is fun to explore, and you'll be provided with a chance to see top Bath attractions, including a 40-minute tour of the Roman Baths. As you head to your next destination, you'll also take a drive past Bath Abbey and those famous, elegant Georgian-era Royal Crescent townhomes.
Then, it's on to your final destination: Stonehenge in Wiltshire. Here, armed with the provided audio guide headset and interactive map, you'll learn not only how this magnificent 5,000-year-old structure was built, but also its cultural significance over the centuries. Your hour-long stop here includes entrance to the excellent Stonehenge Visitor Centre, along with the chance to buy some souvenirs.
In addition to audio guides and the services of a professional tour guide, this top tour of Stonehenge from London includes ticket admissions and transportation.
2. From London to Stonehenge by Shuttle Bus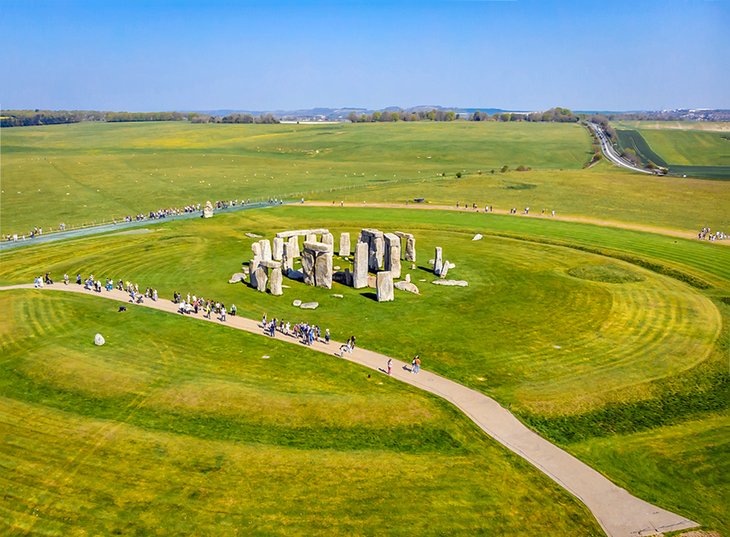 For those wanting to spend more time at Stonehenge, this is another option that's well worth considering. While this one also hands the responsibility of getting you to your destination to others happy to do it for you, it allows a great deal more freedom to explore this historic attraction at your own pace.
From the moment you climb aboard your London to Stonehenge shuttle bus at Victoria Coach Station, you're free to relax and enjoy the scenery as you travel from London through the charming English countryside to your drop-off point directly at the Stonehenge Visitor Centre. The drive is around two hours each way.
With two hours to explore at your own pace, you'll have plenty of time to truly get to know this amazing landmark. To help, a handy audio-guide is provided With your admission, and you can add to the experience by enjoying the many interactive exhibits and artifacts on display at the visitor center.
In addition to your transportation, admission is included with the cost of the trip. There's also an option to add a basic one course meal to your adventure, or you can opt to pick something up for yourself in the on-site restaurant.
3. From London to Stonehenge by Train and Bus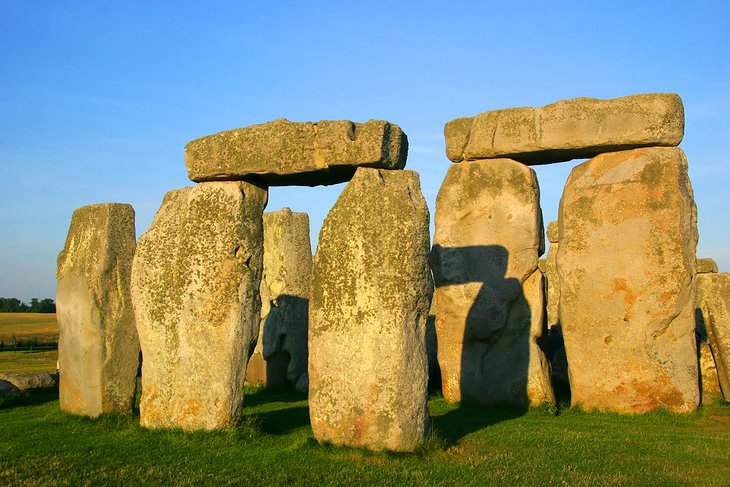 While there are no direct trains from London to Stonehenge - it's located in the middle of Salisbury Plain - rail travel is certainly something to consider, especially if you've got time on your hands.
The best option is to hop aboard the South Western Railway service to Salisbury at London Waterloo station. Trains depart regularly (there are usually two or three an hour), and the journey takes between 1.5 to 2 hours. The cheapest fares kick in after the morning rush hour, while savings can be enjoyed by travelers with advance purchase of a BritRail Pass, which can be acquired online.
While a bus from London to Salisbury can be cheaper, it can take longer than the train (up to three hours) and offers fewer departures. Buses leave from London's Victoria Coach Station as early as 6am.
However you get here, once in Salisbury, you'll need to have made plans to either rent a car and drive the 20 minutes to Stonehenge, grab an Uber or taxi, or take a bus. Cyclists may want to look into renting a bike, as you could even cycle to it in around an hour.
Fortunately for travelers, a company called Salisbury Red offers a convenient hop-on, hop-off shuttle bus service that connects directly from Salisbury city center to Stonehenge (admission included). An option to stop at the ruins of Old Sarum is available.
4. From London to Stonehenge by Car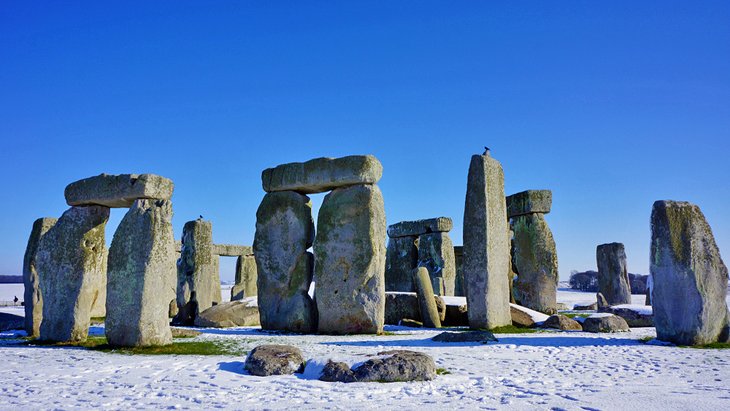 While some may enjoy driving from London to Stonehenge, it's important to remember a few key things. First, the Brits do drive on the opposite side of the road to most other countries, something that can be a little disorienting if you aren't used to it.
Their cars are also right-hand drive, meaning there's a bit of a learning curve for those traveling from places like the US, Canada, and Europe. Add to this the heavy traffic in London, plus congestion taxes, and you may want to make use of the various options mentioned above.
That said, if you're planning on taking a couple or more days, you can certainly make the most of the opportunity to explore the English countryside. And there are no end of lovely spots to visit along the way, from the beautiful Cotswolds to the charming city of Winchester. That said, journey times may be a little shorter if you pick up a car upon arrival at Heathrow Airport, so you may wish to collect a car and hit the road upon your arrival in England.
For those heading straight to Stonehenge from central London - a distance of around 88 miles - expect the journey to take between 2 to 2.5 hours, depending on traffic. From London, you'll head due west along the usually busy M3, before taking the A303 and eventually the A360 direct to Stonehenge. While parking at Stonehenge is free for those with tickets, it can be busy, especially in peak season.
An alternative that will avoid the usually heavy traffic along the approaching roads to Stonehenge is to park in Salisbury and grab the shuttle bus service mentioned in #3 above. Five park-and-stay options are available, all convenient to the city center and the shuttle bus. An added advantage is that you can also spend time exploring popular Salisbury attractions, including its magnificent cathedral.