12 Best Walks in London
When most think of London, it's the city's regal architecture, famous shops, and top tourist attractions that come to mind. While you're sure to clock thousands of steps exploring these fabulous spots, London also offers a healthy dose of sprawling green fields and winding trails to enjoy on your walks.
Verdant parkland and meandering paths blanket large portions of London. While the Thames Path snakes its way along nearly 80 miles by the bank of the famed river, the Diana the Princess of Wales Memorial Walk guides visitors through the city's most impressive green spaces, like Hyde Park and Kensington Gardens.
As you move farther outside London's heart, even more magical walks and remarkable wildlife become unveiled. All you'll need is a brolly, a camera, and a good set of walking shoes.
Before you go, use our list of the best walks in London to choose which pedestrian adventure to try first.
1. Westminster Abbey to the Tower of London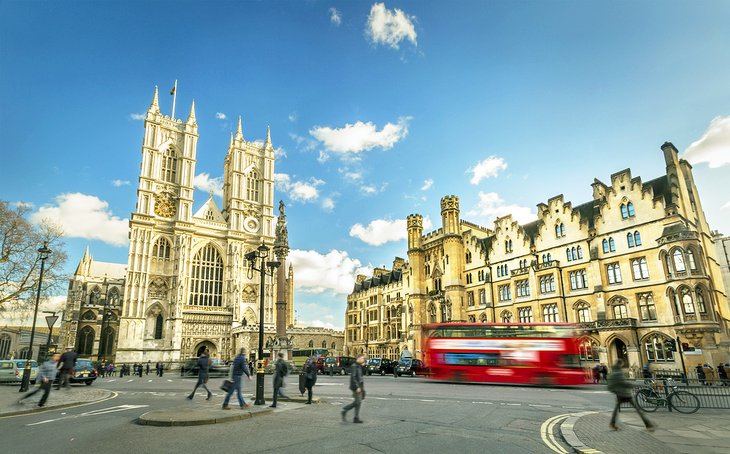 There's nothing quite as breathtaking as seeing Big Ben and the Houses of Parliament from the east end of Westminster Bridge. Throw in the iconic vista of the London Eye and Westminster Pier, and you'll find picture-perfect backdrops that make any selfie worth keeping. This is one of the highlights of the three-mile path from Westminster Abbey to the Tower of London.
We suggest starting your walk at Westminster Station. Take time out to walk to Westminster Abbey and gaze at its grandeur before turning around to spot the famous clock in all its glory. If you're lucky, you'll even hear it chime. With so many of London's top tourist attractions on this route, it's no wonder this has been deemed one of the best walks in London.
Now, jostle through the crowds to cross Westminster Bridge. Stop halfway to enjoy the view, then continue to the other side, where you'll turn left onto Belvedere Road. Walk between 50 and 100 paces before posing for photos in front of one the best views in London.
Continue along Belvedere Road to Waterloo Bridge, which also proffers fantastic vistas. Along the way, you'll pass Jubilee Gardens. Continue past the Oxo Tower and Blackfriars Bridge. Next, you'll spot the Tate Modern, where you can enjoy a cuppa in the scenic café before continuing across Southwark Bridge and taking a right on Wallbrook Wharf.
Follow the path as it winds its way along Steel Yard Passage and back to the bank of the Thames, which will lead you to the Tower of London.
2. Diana Princess of Wales Memorial Walk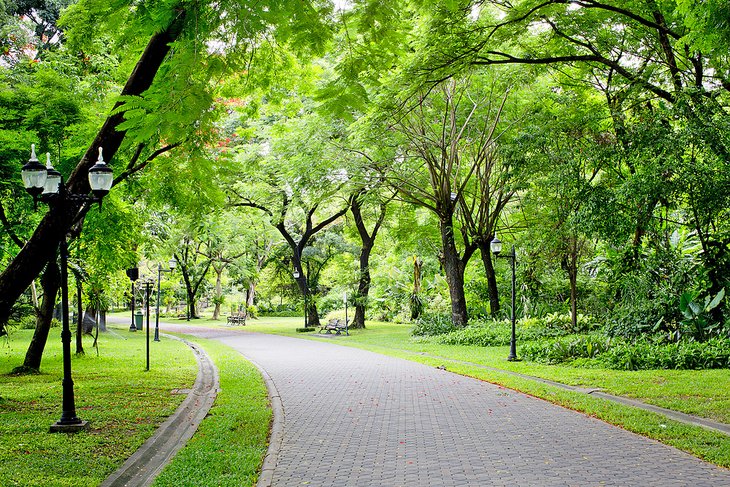 Whether you were a Princess Di fan or not, you'll enjoy the seven-mile-long walk that honors her life. Ninety plaques adorn the ground, commemorating the spots where the Princess of Wales spent time. Expect to pass her old home, Kensington Palace, as well as other local haunts she either lived in or frequented, like Buckingham Palace, Clarence House, St. James's Palace, and Spencer House.
The route makes its way through four of London's eight Royal Parks: Kensington Gardens, Hyde Park, Green Park, and St. James's Park. You can grab takeaway from a local eatery, pack a picnic, or enjoy a bite in the Orangery at Kensington Palace or The Dell Restaurant at the east end of the Serpentine.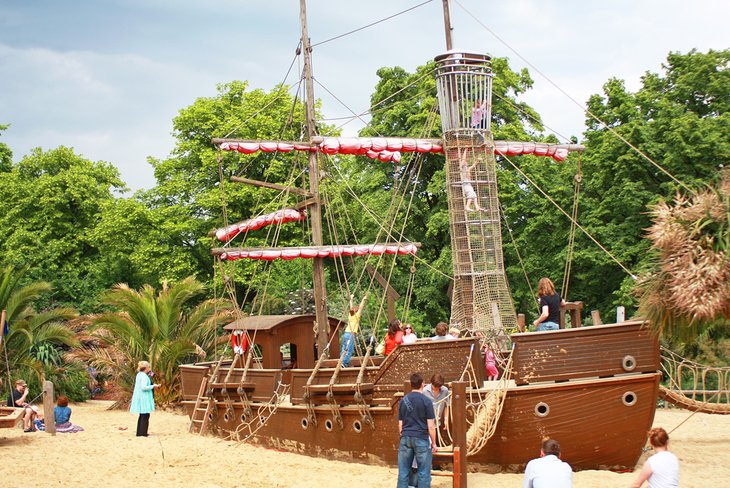 There's also a small snack bar (with ice cream) at the Diana Princess of Wales Memorial Playground. This is by far one of the best playgrounds in London, complete with an almost life-sized pirate ship and teepees.
Enjoy a moment of reflection by the goose-lined Round Pond, The Long Water, the Serpentine, and St. James's Park Lake along your route. Also on the route are The Albert Memorial, Queen's Gate, Queen Anne's Alcove, Canada Gate, and The Wellington Arch.
Official site: https://www.royalparks.org.uk/parks/hyde-park/things-to-see-and-do/sports-and-leisure/the-diana-princess-of-wales-memorial-walk
3. The Thames Path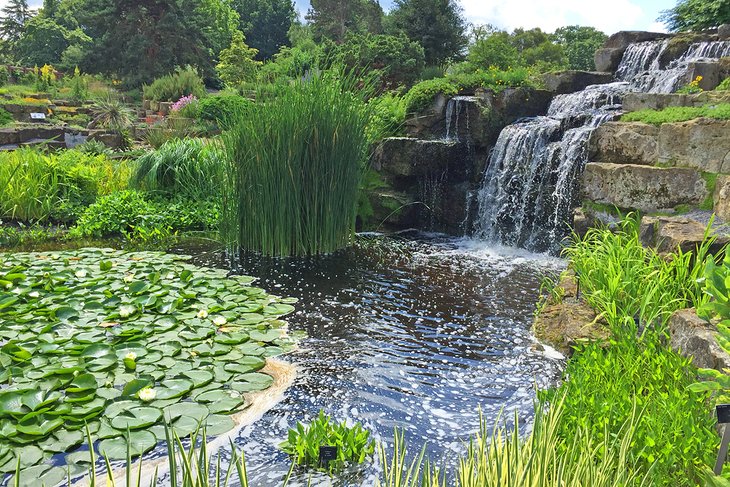 It's easy to find the Thames Path; just head to the UK's most famous river as it snakes its way through London. At 80 miles in length, this winding route is a massive trail divided into four sections on both sides of the river's banks.
Depending where you pick it up, you'll wander across the city's historic bridges, garner impressive views of iconic monuments, and catch sight of the otherworldly Thames Barrier. If you're lucky, you may even see the barrier in action during one of its monthly tests.
The trail is well marked by signs depicting the Thames Path National Trail symbol. Depending on which route you choose, you'll spot the remarkable Hampton Court Palace (we suggest setting aside a couple of hours to explore this fabulous spot and its gardens), Tower Bridge, South Bank, Kew Gardens (again, set aside an extra two hours at least for a picnic and exploration of its massive grounds), and The Royal Docks.
A lesser known, but lovely section of this walk can be enjoyed in the Southwest. Begin at Putney Bridge (near Putney Bridge Tube Station) and follow the trail towards Hammersmith Bridge. You'll pass the Barnes Wetland Centre on your way, which is well worth a visit. While you're there, grab a bite at their on-site café. Cross Hammersmith Bridge to follow the trail back to Putney Bridge, passing Craven Cottage, home of the Fulham Football Club.
The Thames Path is easy and usually well marked from west London to its end at the Thames Barrier in Greenwich. At times, you'll have to veer a bit off course to maneuver around buildings, but it's pretty simple to find your way.
Official site: https://tfl.gov.uk/modes/walking/thames-path
4. Richmond Park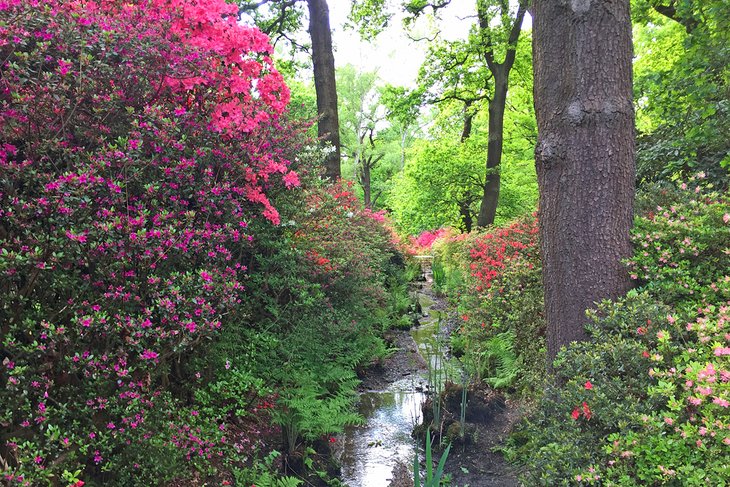 Richmond Park is a haven for outdoor enthusiasts. Located in London's Southwest, this 2,500-acre park is so vast, you'll want to schedule at least a half day for your wanderings. While traversing the multiple walking paths (most of which run through fields), you'll find magnificent trees so lively, you'll think you're in Narnia. You might also see the park's most beloved creatures, deer.
One of the eight Royal Parks, this magnificent National Nature Reserve is protected as an important habitat for wildlife and a European Special Area of Conservation. In addition to the hordes of deer, you'll find birds of all kinds and the most impressive woodland gardens you've ever seen. Known as the Isabella Plantation, this magical wonderland is impressive at all times of the year, but in spring, it comes abloom with colors so bright, they look painted. Don't miss it!
Tasmin Trail is Richmond Park's main walking path. Just over seven miles, this lengthy trail winds its way along the perimeter of the park, welcoming everyone from cyclists to walkers to joggers to horseback riders to make use of its mostly flat terrain.
King Henry's Mound offers an impressive vantage point, including unsurpassed vistas of the Thames Valley and a view of St. Paul's Cathedral in the distance on a clear day. No matter where you wander, you'll be awed by the park's beauty.
No picnic? No worries. Grab a bite and tea at Pembroke Lodge or a quick or sweet treat at Roehampton Café or the Broomfield Hill Kiosk when hunger pangs hit.
Official site: https://www.royalparks.org.uk/parks/richmond-park
5. London Wall Walk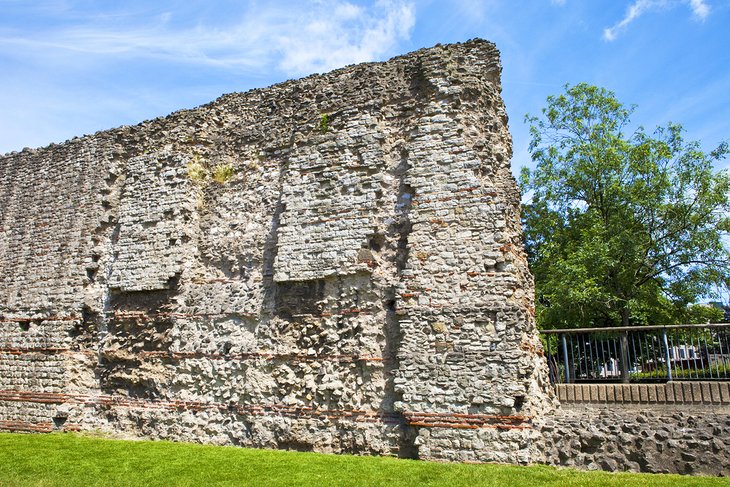 You know a walk is going to be good when it was developed by the Museum of London. Not only will you find detailed plaques (a.k.a. markers) denoting the points of interest on the route, but you can rest assured you'll see the most important historical remains in the area.
This palatable 1.75-mile route is one of the best walks in London. It follows what remains of the City Wall, a Roman wall built during 200 CE and added on to and rebuilt many times over the following centuries. It was kept up until the 18th century.
Today, multiple sections can be seen along the trail. Their historical significance is detailed in the 21 markers that traverse the route from the Tower of London to the Museum of London in the heart of the city.
An easy walk, this trail is accessible for all and should take anywhere from one to two hours to complete, depending on how long you take to examine the different locales.
6. The Wandle Trail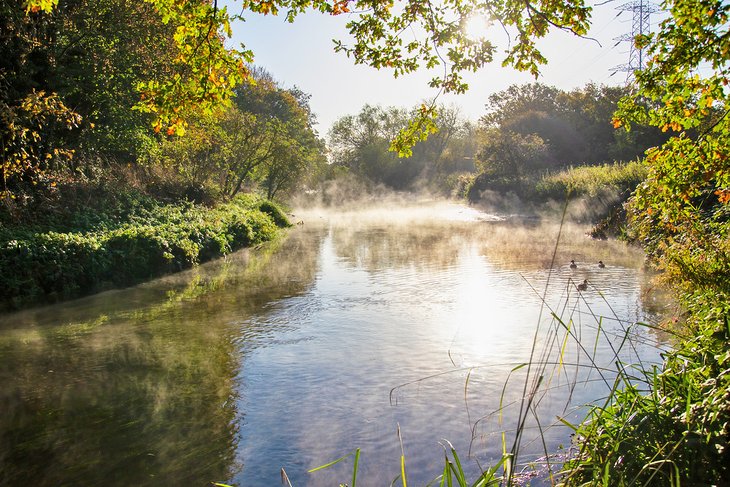 Head to suburbia to join the expansive Wandle Trail. This 15-mile path follows the River Wandle (a tributary of the Thames) on its way from the Thames Path in Wandsworth to Croydon. If you're sick of walking, hire a bike and cycle, at least for part of the journey.
On the route, you'll pass the Wandle Delta, King George's Park, The Pickle Ditch, Waddon Ponds, Watermeads Nature Reserve, Merton Priory Walls, and the Wandsworth Museum. The main starting points include Wandle Park in Croydon or Carshalton Ponds in Carshalton.
Southfields or Wimbledon Park Tube stations will lead you to the trail, while the Wandsworth Town rail station is the best place to enter if you want to start at the beginning (or end, if you begin in Croydon).
A mostly flat trail, the terrain makes this a relatively easy route to follow, although it is not wheelchair accessible in some places. Visitors are rewarded with multiple picturesque water views of the chalk stream, as well as many glimpses into the area's historic mills.
Official site: https://wandlevalleypark.co.uk/projects/wandle-trail/
7. Battersea Park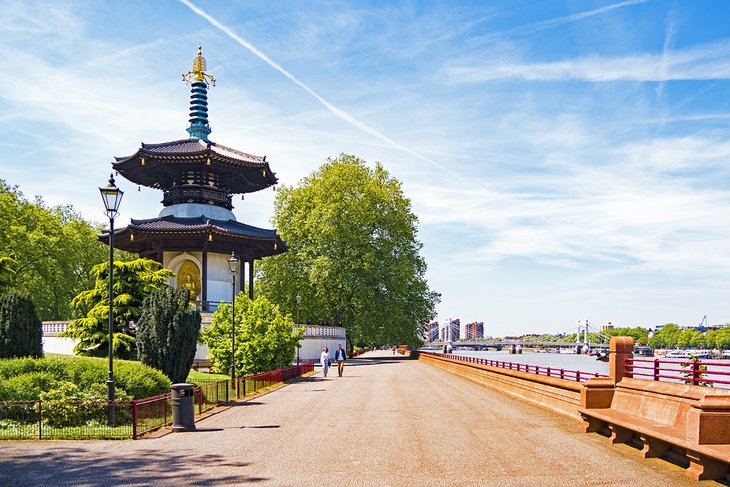 Battersea Park is a local favorite that lies in London's southwest. You'll find it sprawled between Albert and Chelsea Bridges, across the Thames River from the Chelsea Embankment. Spanning 200 acres, this Victorian park was built in the mid-1800s and offers numerous walking trails. This is also where you'll find the picturesque London Peace Pagoda and lovely views all around.
Resting quietly on the river, the large, tree-lined pathways are easy to maneuver whether you're walking, cycling, or pushing a stroller. Hire a bike, visit the very palatable Battersea Park Zoo, or visit the Pump House Gallery during your walk. There's also a Go Ape! high ropes course on-site for those who'd like to continue their wandering up high, and a Putt in the Park mini-golf course.
As for an official walking route, we suggest starting with a loop of the perimeter. Then, head along Central Avenue, Maple Leaf Walk, and Carriage Drives North and East to get to the playgrounds, sports fields, and other fun stuff we mentioned earlier. Don't miss the lake, bandstand, or Old English Garden.
If you time your walk right, you may be able to catch some fireworks, a concert, or some other fun festival.
Official site: https://wandsworth.gov.uk/batterseapark
8. Jubilee Greenway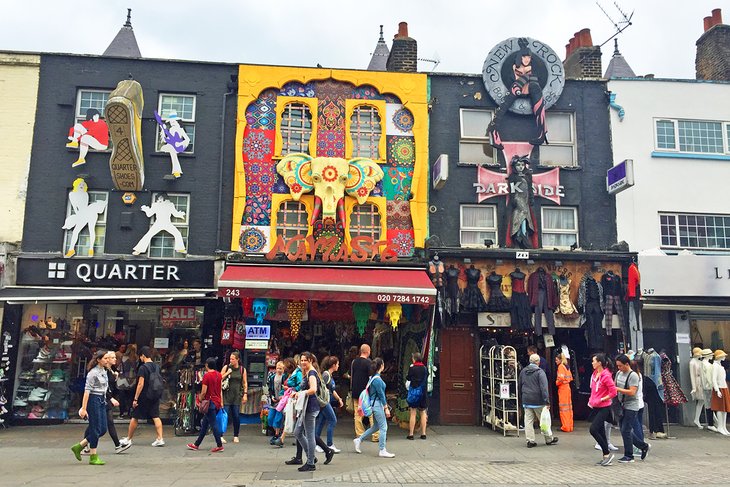 The Jubilee Greenway is London's most recent official walk. It was created to mark both the Queen's Diamond Jubilee and the London Olympic Games in 2012 and is 60 kilometers (over 37 miles) long - one kilometer for each year of the Queen's reign.
Divided into 10 sections, this path leads walkers from Buckingham Palace to Limehouse Basin, passing some of London's best attractions, and Olympic sites. The Queen herself unveiled one of the glass pavement markers outside her Buckingham Palace home, which is one of the best places to begin this lengthy journey.
If you've already been there, done that, in terms of seeing the city's government buildings, try Section 6 of this walk instead. It begins at the Woolwich Foot Tunnel (near Woolwich Arsenal train station) and follows the Thames from the Woolwich Ferry Dock to Greenwich Pier. Along the way, you'll pass the O2 Arena, Royal Naval College, Flood Barrier, Morden Wharf, and the Victoria Deep Water Terminal.
Section 2 is another must-see area of this lengthy walk in London. It passes Regent's Park, where you can take some time out to wander its many winding pathways and visit the ZSL London Zoo.
Begin in Little Venice, which you can reach easily from Warwick Avenue Tube station. You'll pass Regent's Canal, the Catholic Apostolic Church, and busy Edgeware Road. Keep following the trail, up Aberdeen place until you come to Lord's Cricket Ground, which is a great place to stop for a few hours if you're interested in watching a match.
One of the best markets in London, the unique and vibrant Camden Market, is the end point of this route. You can grab a tasty bite here and shop for everything from jewelry to handmade shirts to unique souvenirs.
Official site: https://tfl.gov.uk/modes/walking/jubilee-greenway
9. Jubilee Loop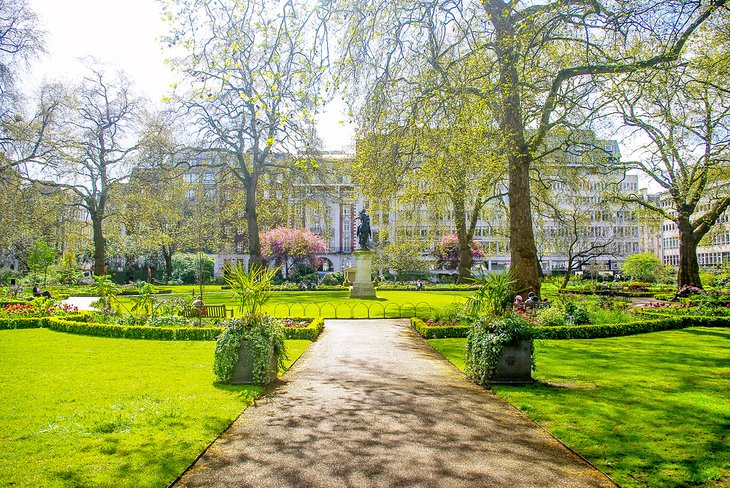 Different from the Jubilee Greenway, the Jubilee Loop runs two miles, connecting the city's most important government and royal buildings. It follows the Jubilee Walkway. Sound confusing? It isn't. To begin, merely head to the south side of Trafalgar Square, which is easily reached after a quick, three-minute walk from Charing Cross station.
Head towards The Mall, where you'll enjoy a magnificent view of Buckingham Palace, passing St. James's Park and Green Park on the way. Stop to take in the Queen's residence, perhaps timing it with the daily Changing of the Guard.
Loop around St. James's Park to see it from the other side, and follow Birdcage Walk to Westminster. You'll want to factor in some extra time here, as it's impossible to rush a visit to Westminster Abbey, Big Ben, and the Houses of Parliament. Once you've finished ogling these iconic architectural masterpieces, backtrack slightly to turn onto Horse Guards Parade.
Here, you'll catch sight of the grand building of the same name and shortly make your way back to Trafalgar Square. Have more time on your hands? Keep walking along the Strand to find bustling Covent Garden, one of the best places to go shopping in London. Somerset House is another gem found along this walk.
10. Parkland Walk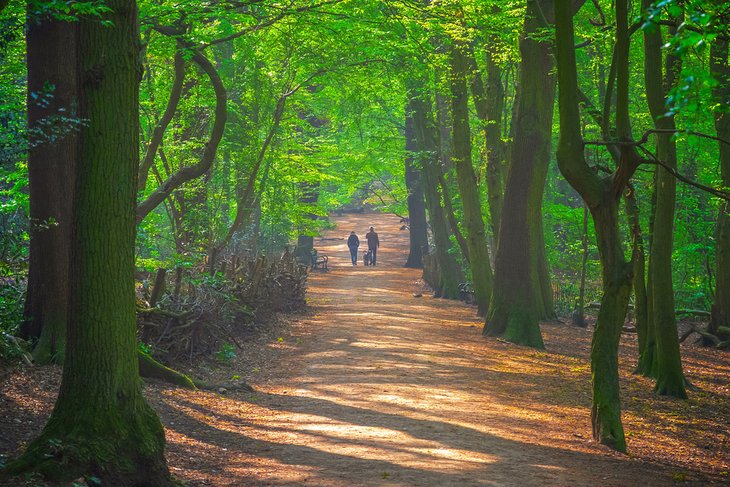 It's easy to forget you're in the middle of one of the world's biggest cities when following the Parkland Walk in North London's Highgate. A 4.5-mile route that follows a former railway line, this protected land is the "longest linear nature reserve in London."
Those with sore knees, be warned. A few parts of this walk are a bit steep and hilly, especially near Holmesdale Road. This also isn't entirely wheelchair accessible.
Not just your regular walk, this fun adventure is peppered with small artworks (about 35 to be exact) on The Art Trail. They depict the natural wonders found in the area and were created by local artist Ben Wilson.
The Wildlife Trail is a must for those who love all things nature. It is spotted with wildflowers, a pond, and a winding path that boasts signs depicting the incredible flora and fauna native to the area. The entrance is on Holmesdale Road.
Bring binoculars, as you'll likely want a closer look at the birds that call this area home. From kestrels to blue tits to grey wagtails, you never know what you'll be lucky enough to see.
Official site: https://parkland-walk.org.uk/
11. Take a Music Walking Tour of London's SOHO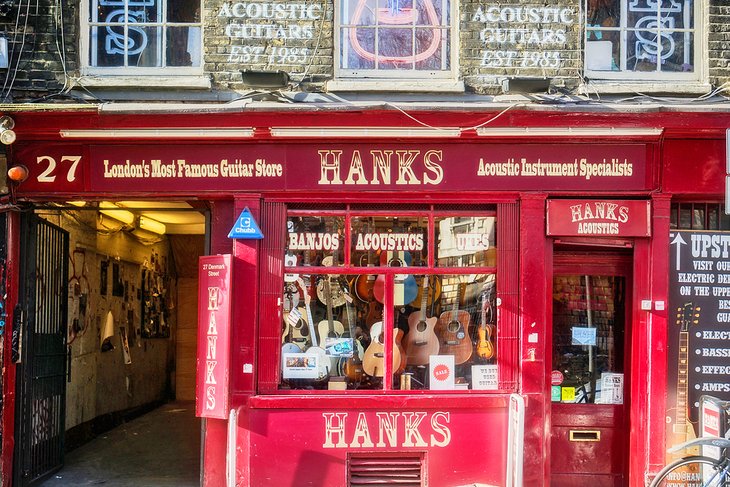 In just two hours, music buffs can have their minds blown by following a walking tour of London's most notorious musical haunts. Whether you're a fan of The Beatles, Oasis, the Sex Pistols, Prince, or David Bowie, this inclusive tour will intrigue your musical side, and show you a few spots you're sure to recognize.
The tour departs at 10:30am and begins at Exit 3 of Oxford Circus Tube station. It ends at a famous restaurant at 18 Bateman Street. Along the route, you'll spy the place where Elton John had his first job as a tea server, Paul McCartney's business headquarters, a beloved coffee shop, and a building that once served as Mozart's home.
The guides are as into their tunes as you'd expect, which makes for a fun and entertaining tour you'll be happy you booked.
12. The London LOOP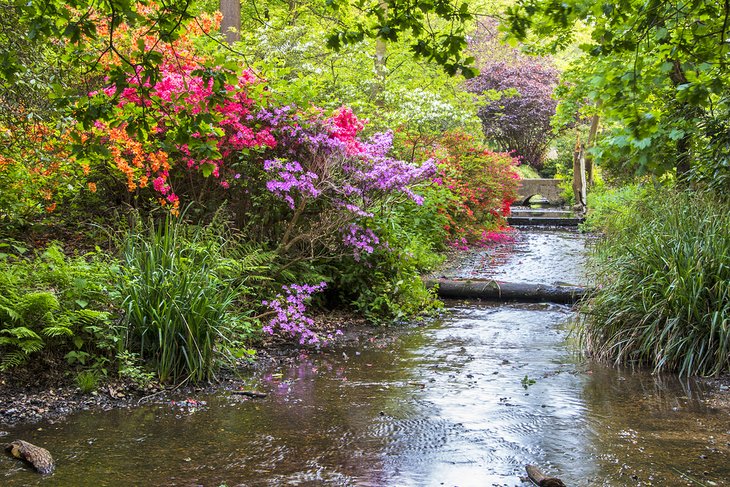 Feeling extra energetic? Head to the London LOOP. A 150-mile stretch, this walk runs basically around the perimeter of London, offering adventurous walkers a lovely way to get to know the city's lesser-known regions on foot.
Not up for days filled with walking? The LOOP is divided into 24 manageable sections that guide walkers between Erith Station to Purfleet. Choose the section that's best for you depending on your interests.
Hadley Green, Hainault Forest Country Park, and Bushy Park are just a few of the leafy spots you will encounter on your journey, and there are plenty of historic sites to see along the way. You can also spot Enfield Lock and the lush Farthing Down.
To find your way, look for the white discs featuring an arrow, blue flying kestrel, and green writing. In country sections, these are mounted on wooden posts. In more urban areas, look for a walking man symbol adorning aluminum signs. These are usually attached to lampposts or other street furniture.
Official site: https://tfl.gov.uk/modes/walking/loop-walk
Map of Walks in London