10 Top-Rated Attractions around Hyde Park, London
Hyde Park, together with Kensington Gardens, which adjoins it on the west, forms the largest open space in London. And it's big.
Extending 1.25 miles east to west and half a mile north to south, it requires at least two or three hours walking time to cover both Hyde Park and Kensington Palace. That said, the time it takes will depend on your pace, and whether you choose to stop for a snack or beverage, a picnic, or a sit-down on a rented deckchair for an hour or two.
Originally part of Westminster Abbey, it was taken over by Henry VIII in 1536 and became a royal deer park before eventually being opened to the public by Charles I in 1635. Today, it's one of London's most popular attractions. And whether you're here for a pleasant stroll, a picnic, or some serious sightseeing, it should be a must-see on your London to-do list, regardless of the season you visit.
In fact, visiting at other times of year can have its own unique fun. Held mid-November to early January, the Hyde Park Winter Wonderland sees the park transformed into London's largest and most spectacular Christmas market.
Plan your visit to this impressive green space with our list of the best things to do and top attractions around Hyde Park, London.
1. Hyde Park: London's Most Famous Green Space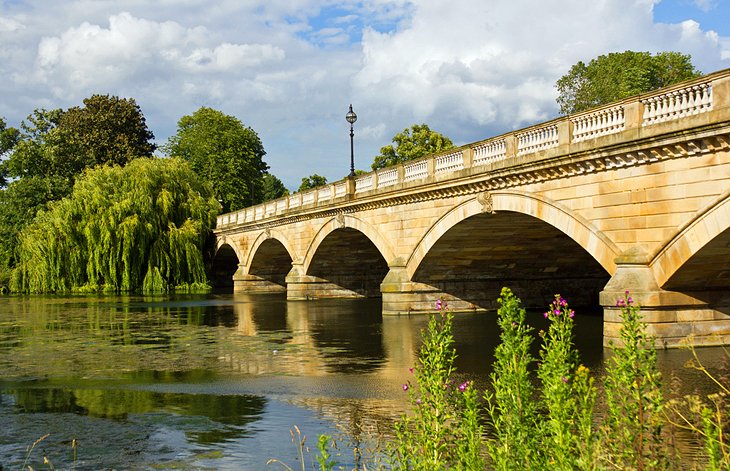 One of Britain's Royal Parks, Hyde Park covers some 350 acres and provides a variety of fun things to do for visitors. Many visiting "the People's Park" for the first time will naturally gravitate to the lake, the Serpentine. Forty acres in size, it was built in 1730 and is a popular spot for boating. The Serpentine Lido, a 100-meter section of the lake, has even been set aside for swimming (changerooms are available).
To the north of the Serpentine is a bird sanctuary with Epstein's figure of Rima, the bird-girl heroine of W. H. Hudson's novel, Green Mansions. Another interesting statue is the Pan Statue on the park's south side, which shows a family rushing toward the park led by a flute-playing Pan.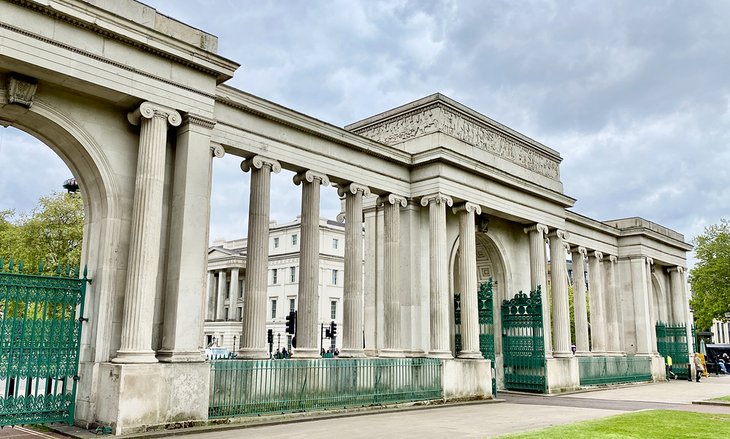 Suitably named the Grand Entrance, the main entrance to the park consists of an impressive triple archway. Built in 1828, it includes a reproduction of the Parthenon frieze. Nearby is the 18-foot-tall statue of Achilles cast from a captured French cannon, erected in honor of the Duke of Wellington, and a copy of a figure on the Quirinal in Rome.
Other highlights include the wonderful Diana Memorial Fountain, a spectacular structure made from 545 pieces of Cornish granite and designed to reflect the life of Princess Diana.
Address: Rangers Lodge, Hyde Park, London
Official site: www.royalparks.org.uk/parks/hyde-park
2. Take a Tour of Kensington Palace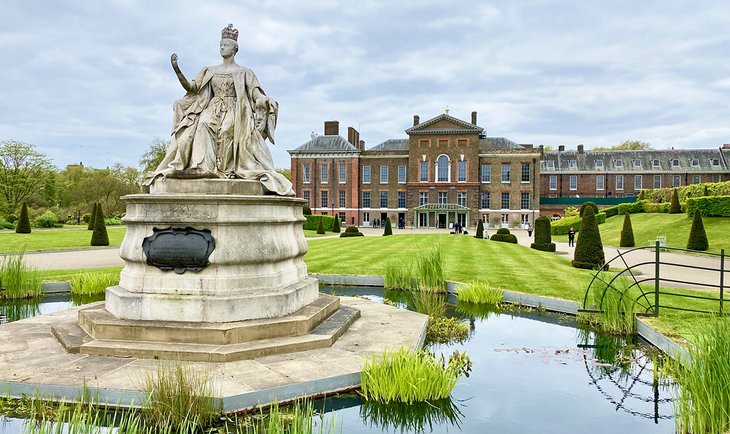 Kensington Palace became a private residence for English royalty in 1689. The last king to reside in the palace was George II, and it was here that Queen Victoria was born and, years later, received news of her accession.
The State Apartments are open to the public and include an exhibition of coronation robes and the Queen's Gallery with its numerous royal portraits. Other highlights include the spectacular Queen's Staircase, designed by Sir Christopher Wren in 1690, and the quarters of Queens Victoria, Mary, and Anne, along with their personal possessions.
Afterwards, be sure to pop into the Palace Pavilion Restaurant for a spot of tea (breakfast and lunches are also available), or grab a snack in the café. Picnics are also allowed in the gardens, and guided tours are available.
Address: Kensington Gardens, London
Official site: www.hrp.org.uk/kensington-palace/
3. Wander Kensington Gardens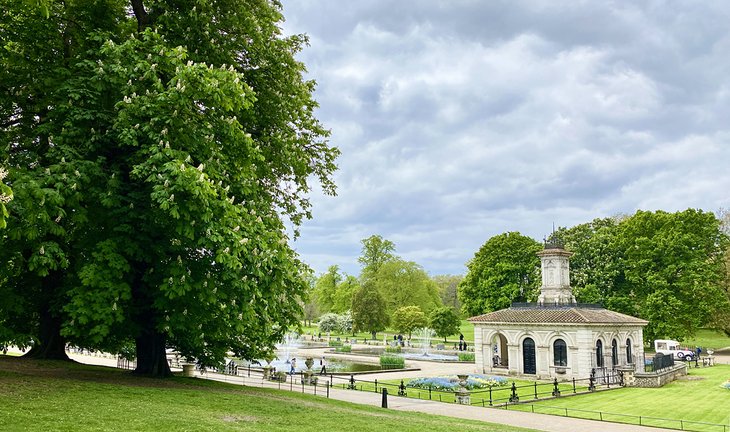 While easy to mistake as a part of Hyde Park due to its proximity and history (they were once one and the same), Kensington Gardens is in fact quite distinct. Cross over the Serpentine Bridge from the less formal parkland spaces and greenery of Hyde Park, and you'll find yourself in what was once the private gardens of Kensington Palace but is now an area of 265 acres that is open to the public and begging to be explored.
Laid out in 1728 by Queen Caroline, the old palace grounds feature a variety of attractions worthy of visiting. A highlight is the spectacular Italian Gardens on the north end. Established near Lancaster Gate in the 1860s and a gift from Prince Albert to his wife Queen Victoria, this elegant garden is a delight to explore and enjoy, so take your time.
Featuring marble statues, urns, and fountains, an attractive pump house, geometrically aligned flower beds, and large raised terraces, the effect is simply breathtaking. Stop and enjoy the vistas on any one of the benches dotted around the perimeter of the garden, or while enjoying a tea or coffee and pastry at the Italian Garden Café.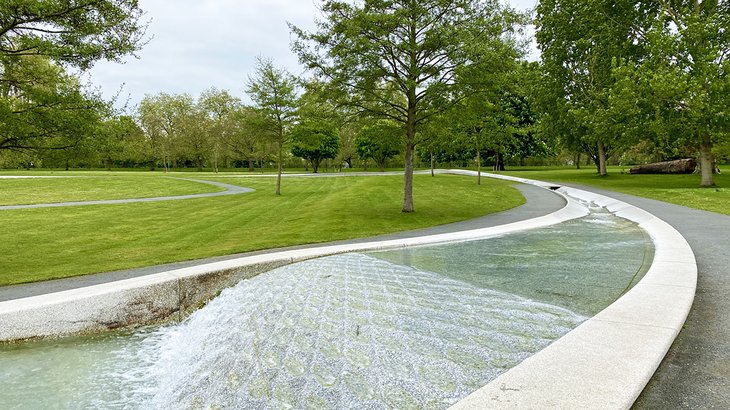 Other highlights of a walk around Kensington Gardens include superb views over the Serpentine and Kensington Palace, the soothing waters of the Princess Diana Memorial Fountain, and the fascinating Arch sculpture by Henry Moore.
Official site: www.royalparks.org.uk/parks/kensington-gardens
4. The Wellington Museum: Apsley House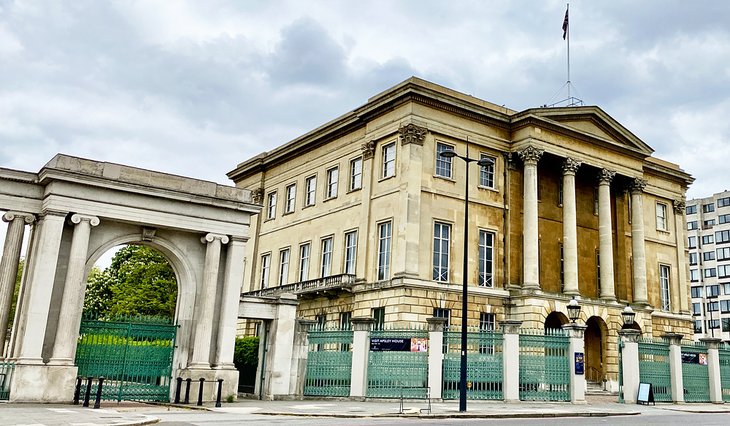 The first Duke of Wellington bought Apsley House after his famous victory at Waterloo. The Duke made numerous alterations, most notably adding the Waterloo Gallery, where many of London's most lavish banquets were held.
The building was opened as the Wellington Museum, a branch of the Victoria and Albert Museum, in 1952. Today it houses magnificent collections of paintings, including Velázquez's Waterseller of Seville, along with numerous gifts presented to Wellington after the war.
Some 83 of the 200 pictures in the collection came from the Spanish royal collection and were captured by Wellington at the Battle of Victoria in 1813 and later given to him by a grateful King of Spain. Other artists featured in the collection are van Dyck, Correggio, and Rubens, as well as Dutch genre paintings and contemporary British paintings, including Wilkie's Chelsea Pensioners Reading the Waterloo Despatch, portraits of his comrades at arms, and Napoleon with his family.
Informative audioguides are available, and an on-site shop sells related souvenirs and gift items.
Address: 149 Piccadilly, Hyde Park Corner, London
Official site: www.english-heritage.org.uk/visit/places/apsley-house/
5. The Wellington Arch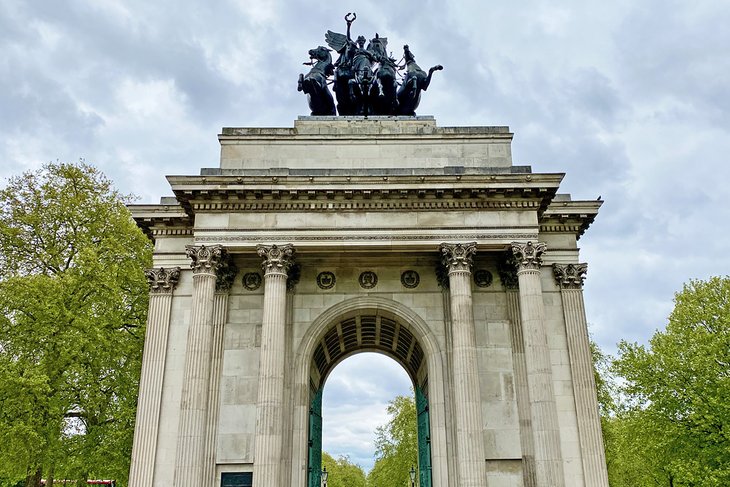 The iconic Wellington Arch is located outside the Duke of Wellington's former residence at Apsley House and commemorates his most famous victory at Waterloo. Its most dramatic feature is the spectacular bronze chariot with the figure of Peace. Also nearby is a bronze statue of Wellington on horseback with its figures of a Grenadier Guard, a Scottish Highlander, a Welsh Fusilier, and an Inniskilling Dragoon.
In addition to an exhibition about the history of the structure, the arch has a gallery with rotating exhibits exploring the history and heritage of England, and a viewing platform offering great city views.
Address: Apsley Way, Hyde Park Corner, London
Official site: www.english-heritage.org.uk/visit/places/wellington-arch/
6. The Albert Memorial: Tribute to a Royal Romance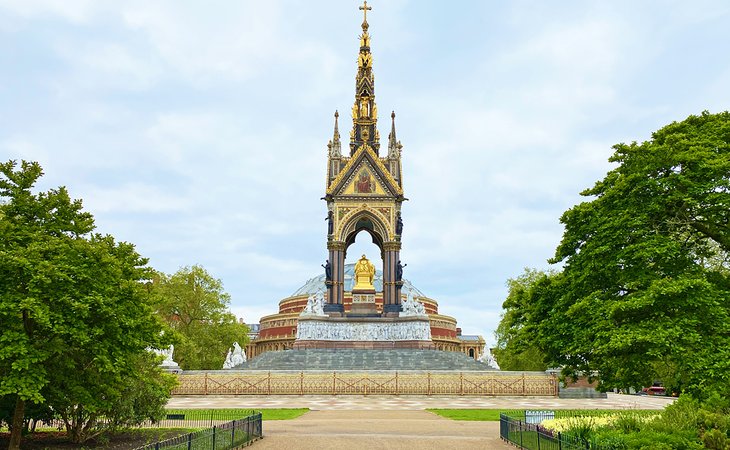 The extremely ornate golden memorial to Prince Albert of Saxe-Coburg and Gotha (1819-61), Queen Victoria's consort, is located in Kensington Gardens and was built in a neo-Gothic style. Albert is seated under a richly decorated canopy standing 190 feet high, holding in his hand the catalogue of the Great Exhibition of 1851.
Around the pedestal are 178 marble Neoclassical reliefs of artists and men of letters of every period. At the corners of the pedestal are sculptured groups symbolizing manufacturing, engineering, commerce, and agriculture, and at the outer corners of the steps are other groups symbolizing the continents of Europe, Asia, Africa, and America.
7. Speakers' Corner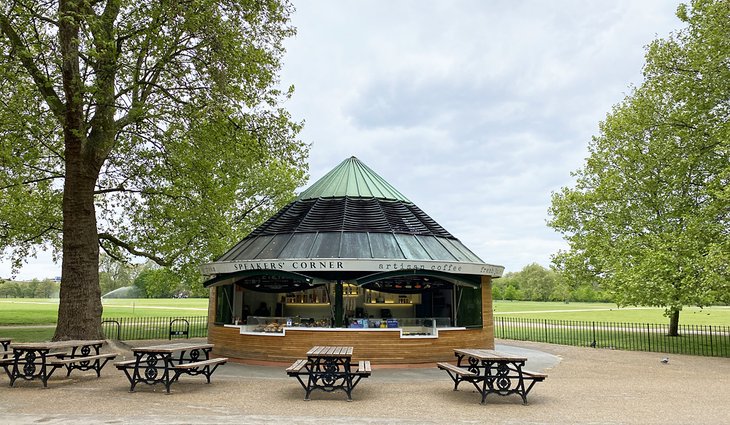 Speakers' Corner is a traditional forum for free speech, which is always busy on weekends. Located opposite Marble Arch, it's where anyone with a grievance or a mission, or simply something to say, can find an audience.
It's particularly busy on Saturday and Sunday afternoons when soapbox orators address listeners with often-eloquent religious or political messages, many of whom seem to relish the lively heckling. Jomo Kenyatta, former President of Kenya, spoke here in his younger days, and Idi Amin, later notorious as a dictator of Uganda, was often in the crowd before rising to infamy.
A pleasant park-side café is located steps away from Speaker's Corner and serves up good coffee and snacks.
8. Hyde Park's War Memorials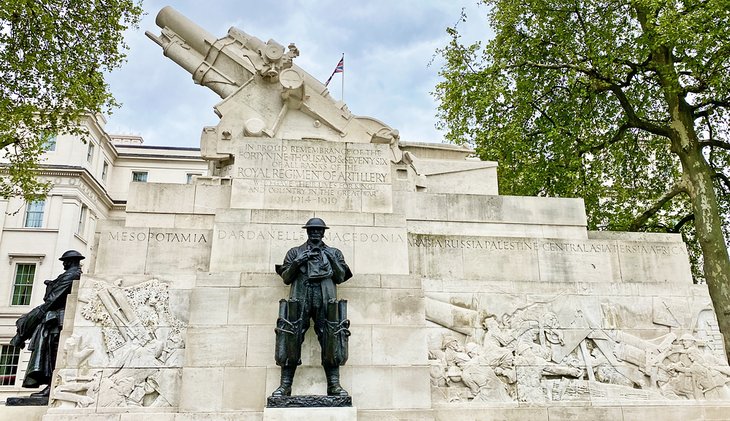 As Britain's most famous public park, Hyde Park is home to a number of important war memorials. The easiest of these to spot, the Royal Artillery War Memorial was completed in 1925 and dedicated to those who served and died in the Royal Regiment of Artillery.
Close by is the Machine Gun Corps War Memorial, with its figure of David, completed the same year. Also search out the Cavalry Memorial, depicting St. George on a horse standing over a dragon, and one of the newest, the RAF Bomber Command Memorial, erected in 2012.
Other sites in Hyde Park are dedicated to fallen soldiers from other parts of the world who died in the two world wars. These include memorials to the Norwegian Navy and Merchant Fleet, the Australian War Memorial, and the Canada Memorial.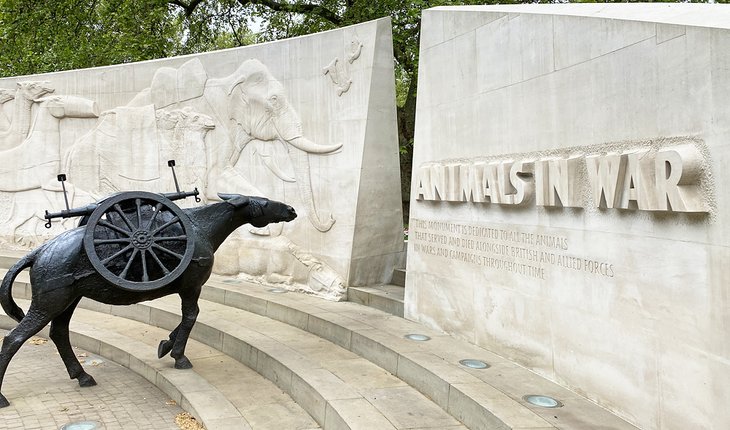 One of the most inspiring (and newest) memorials is dedicated to our four-legged friends. The Animals in War Memorial. Although located just outside Hyde Park near Brook Gate, it's a stunning piece of work that was unveiled in 2004. Featuring statues of mules and horses, it's dedicated to those animals who served the Commonwealth forces in both WW1 and WW2.
9. Hyde Park Corner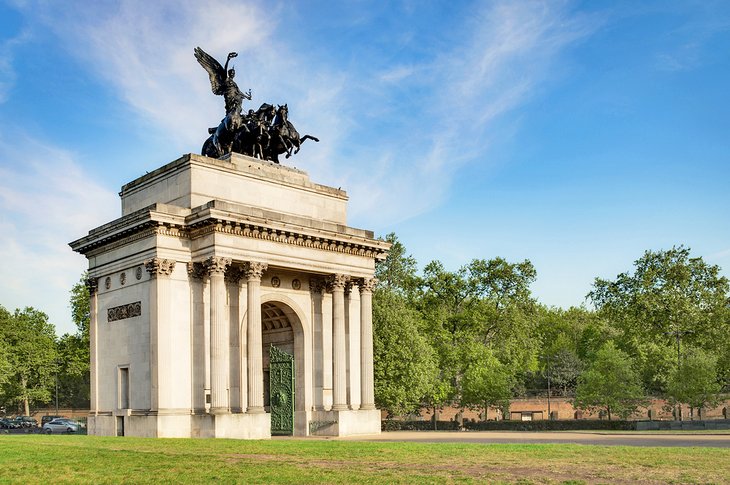 Although perhaps most famous as London's busiest road junction, Hyde Park Corner is certainly worth a visit while in the area, if only to say you've been here.
The corner leads north to Marble Arch and Oxford Street, east to Buckingham Palace, west to the Albert Hall, and southwest to Kensington, Brompton (for Harrods department store) and the Victoria and Albert Museum, as well as the Natural History Museum. One of Hyde Park's best known monuments, the Wellington Arch, is also located here.
10. The Serpentine Galleries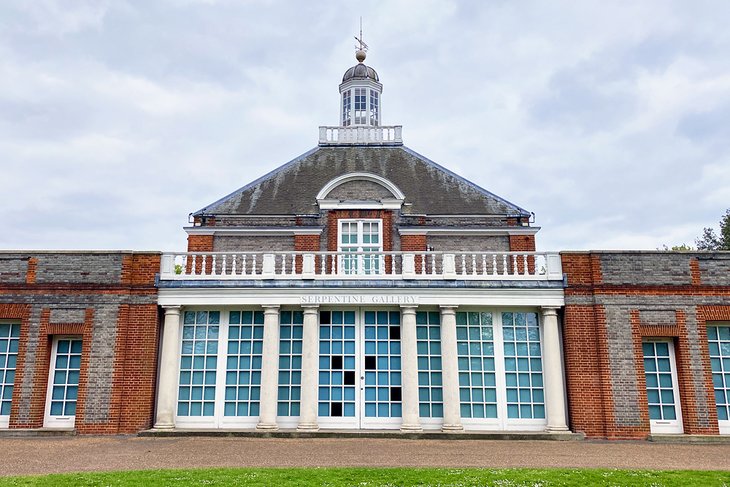 The superb Serpentine Galleries are located either side of the Serpentine in the grounds of Kensington Gardens, and are one of the top free things to do in this part of London. Considered among Britain's most important contemporary art galleries, they're hugely popular with tourists and receive more than a million visits every year.
Each summer, the Serpentine Gallery hosts a temporary summer pavilion created by one of the country's leading architects and is used for special exhibits and events. Among those whose work has been displayed are Man Ray, Andy Warhol, Henry Moore, and Damien Hirst.
The newer Serpentine North Gallery opened in 2013 in a 19th-century gunpowder store and includes a large ultra-modern gallery space, a gift shop, bookshop, and restaurant.
Official site: www.serpentinegalleries.org
Touring Hyde Park's Attractions
Numerous tour companies are available to help you get to the Hyde Park attractions you most want to see. But one of the best options is to retain the services of a professional tour guide. Britain's superb Blue Badge Guide program consists of holders of the UK's highest guiding qualification, allowing guides to be selected based on their knowledge of a particular attraction.
For details, visit the Guild of Registered Tourist Guides' website and enter the attraction you're most interested in.
Getting to Hyde Park
By Underground (Tube): The nearest tube stations are High Street Kensington, Hyde Park Corner, and Notting Hill Gate.
By Train: For details of links to London from across the country, visit www.nationalrail.co.uk.
By Bus: The following buses stop close to Hyde Park: Numbers 70, 94, 148, and 390 to Bayswater Road and 9, 10, 49, 52, 70, and 452 to Kensington High Street.
By Road: Hyde Park is located in the heart of London, so driving is somewhat of a challenge. It's also within the Congestion Charge zone, meaning charges apply. If you must drive, park at an outlying train station and take the train or underground.
Parking: On street parking is very limited.
Address
Westminster, London W2 2UH
What's Nearby?
If you have any energy left after exploring vast Hyde Park, head over to South Kensington to visit the Victoria and Albert Museum (aka the V&A) and, if you have time, the superb Natural History Museum. Another landmark associated with Queen Victoria is Albert Hall, England's most famous concert hall, built in 1871 as a memorial to the Queen's husband.
Buckingham Palace is located at the east end of the Park, as is Clarence House, home of the Prince of Wales. Special tour options are available at both locations, and the daily Changing of the Guard ceremony in the Royal Mews in front of the palace is a must-see daily at 11:30am.
Hyde Park is also close to St. James's Park with its views of Buckingham Palace, as well as the main attractions along Whitehall Road, including Westminster Abbey. Another park worthy of a visit is nearby Holland Park, especially attractive in spring for the blooming tulips.
Map of Attractions around Hyde Park, London
More Related Articles on PlanetWare.com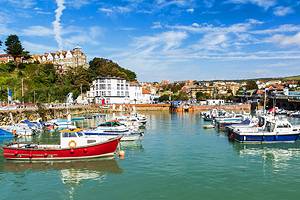 Easy Day Trips: The British capital of London makes a great jumping-off point from which to explore the surrounding countryside. Head southeast to Kent by rail, and you can enjoy a visit to Canterbury, home to spectacular Canterbury Cathedral and ancient Roman ruins. Other destinations in the "Garden of England" worthy of a visit include Dover, home to the famous white cliffs, and Folkestone with its attractive seafront.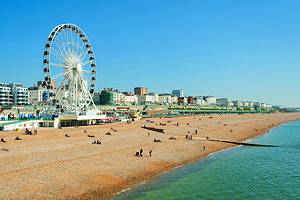 A Trip to the Seaside: The Brits do enjoy their seaside resort towns. Popular coastal destinations within an easy train ride of London include Brighton in Sussex, famous for its pier and popular for romantic couples' getaways, and the former fishing town of Hastings, famous for its role in the battle for the English throne in 1066. Also worth visiting is the historic port city of Southampton, famous as the place from which the Titanicsailed, and with numerous references to the ill-fated vessel.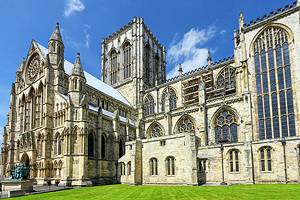 UK Vacation Ideas: With so many wonderful places to visit in the UK, it can be a little tricky knowing which to include on a list of must-visit destinations. Some of the best bets include Edinburgh, home to one of the country's best surviving castles, Edinburgh Castle, and beautiful Bath, named after the Roman baths built here over 2,000 years ago. And if you can manage a third on your UK itinerary, why not make it the city of York, home to a stunning cathedral and the best preserved medieval town centers in the country.